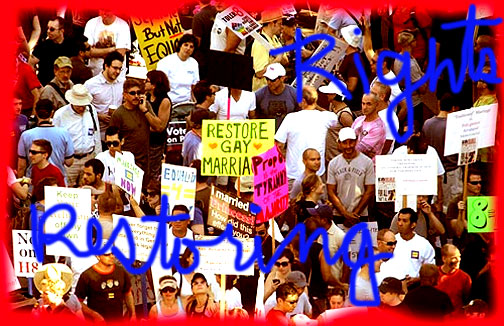 I'm in DC for the rest of the week, but as Washington embraces its new president (and the last minute souvenir buyers jam the temporary Obamanalia Obamabilia* stores, some of which, in all seriousness, were open until 2 a.m. to accommodate the frenzied shoppers) I've begun turning my eyes back toward California where I note that Jerry Brown, after having been in town for several days worth of inauguration glad-handing, is now back to work challenging federal judges and filing legal briefs.
For instance:
After California's November election produced the loathsome Proposition 8, Jerry urged the California Supreme Court to review the initiative for its constitutionality.
And, indeed, in short order, as expected the court decided to hear three lawsuits that challenge Prop 8 on Constitutional grounds.
As the wheels of justice move forward, last week, 63 amicus briefs were filed for and against the challenges: 20 supporting the ban on gay marriage, 43 opposing it.
Then late yesterday, Cali Attorney General Jerry filed a pithy response to the 20 briefs filed by Prop 8 supporters.
Referring to his response to the briefs, Brown said that "…the amendment process cannot be used by a bare majority to strip away the fundamental and inalienable rights of a protected minority without a compelling justification. Since there is no compelling justification, Proposition 8 must be stricken."
I think he's right. And, after reading Jerry's response (which you can find here), I think there's a very good chance that the California Supremes will think so too.
Kenneth Starr, who is one of those leading the legal charge to protect Prop. 8, contends otherwise and says that, "Proposition 8 is a moderate measure that represents a deeply rooted, multigenerational judgment of the people of California about the definition of marriage." Blah, blah, blah.
The state Supreme Court may begin hearings as soon as March.
PS: When Melissa Etheridge was in town for the inauguration, she told a reporter at Bay Windows, New England's largest GLBT newspaper, that while they were both in DC Jerry Brown had told her that he was "very, very confident that, in March, Proposition 8 will be overturned."
Bets anyone?
**********************************************************************************
*Need more sleep soon to avoid making up odd and wrongly-suffixed words.