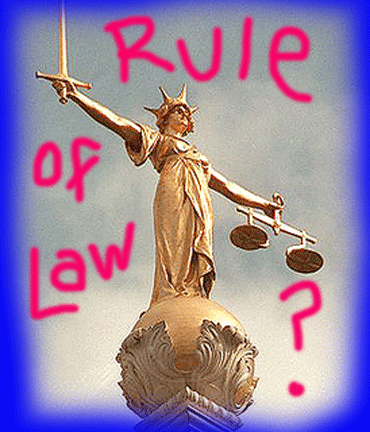 A couple of alarming articles surfaced over the weekend that are must reads. First there was the piece from next week's New Yorker in which Sy Hersh reveals that the Bush administration is stepping up covert operations in Iran. And then there is the following:
**********************************************************************************************

In the last few years I've seen the principle described below play itself out in criminal court a couple of times, but always assumed I must be witnessing some kind of awful legal anomaly. Evidently not—according to a fascinating and horrifying article in Sunday's Washington Times about how previous arrests and charges—even if the charges have been dropped or the defendant has been entirely acquitted—may still be used against a defendant when he (or she) is being sentenced for another crime. The concept is called "acquitted conduct enhancement" (nice little euphemism that) and it is yet another example of how we have gone completely off the rails with much of our sentencing policy in this country.
Here's the opening to the article.

Nearly a year to the day before he resigned, Attorney General Alberto R. Gonzales told his prosecutors to pursue the death penalty against a D.C. man accused of running a violent drug gang in Washington known as the "Congress Park Crew."

But after at least four years of investigation, eight months of testimony and eight weeks of deliberations, a federal jury ruled the government couldn't prove there was a criminal conspiracy called the Congress Park Crew, let alone that its purported leader, Antwuan Ball, 37, had committed any murders.

Jurors acquitted Ball in November 2007 on every count of a massive racketeering, drug conspiracy and murder indictment except a $600, half-ounce, hand-to-hand crack-cocaine deal in Southeast Washington seven years ago.

Perhaps thinking his freedom was at hand, Ball cried when the verdicts were read. Indeed, under federal guidelines, he could expect to be released within a few years.

However, federal prosecutors are asking U.S. District Judge Richard W. Roberts to send Ball to prison for 40 years, basing their request partly on charges that were never filed or conduct the jury either rejected outright or was never asked to consider.

And then there's an amazing letter from one of the jurors on Ball's murder/conspiracy trial. Here's an excerpt [after the jump]. But please read the whole thing.

As you remember, Judge Roberts, we spent 8 months listening to the evidence, filling countless court-supplied notebooks, making summaries of those notes, and even creating card catalogues to keep track of all the witnesses and their statements. We deliberated for over 2 months, 4 days a week, 8 hours a day. We went over everything in detail. If any of our fellow jurors had a doubt, a question, an idea, or just wanted something repeated, we all stopped and made time. Conspiracy? A crew? With the evidence the prosecutor presented, not one among us could see it. Racketeering? We dismissed that even more quickly. No conspiracy shown but more importantly, where was the money? No big bank accounts. Mostly old cars. Small apartments or living with relatives.

It seems to me a tragedy that one is asked to serve on a jury, serves, but then finds their work may not be given the credit it deserves. We, the jury, all took our charge seriously. We virtually gave up our private lives to devote our time to the cause of justice, and it is a very noble cause as you know, sir. We looked across the table at one another in respect and in sympathy. We listened, we thought, we argued, we got mad and left the room, we broke, we rested that charge until tomorrow, we went on. Eventually, through every hour-long tape of a single drug sale, hundreds of pages of transcripts, ballistics evidence, and photos, we delivered to you our verdicts.

What does it say to our contribution as jurors when we see our verdicts, in my personal view, not given their proper weight. It appears to me that these defendants are being sentenced not on the charges for which they have been found guilty but on the charges for which the District Attorney's office would have liked them to have been found guilty. Had they shown us hard evidence, that might have been the outcome, but that was not the case.
Incredible.

(Chapeau tip to Doug Berman at Sentencing Law and Policy who has covered this issue for some time.)