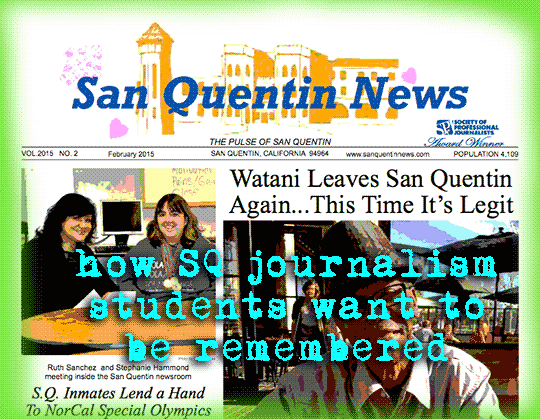 SAN QUENTIN INMATES COMPOSE THEIR OWN OBITUARIES IN WRITING CLASS
In this exceptional multimedia Column One story by the LA Time's Chris Megerian, San Quentin State Prison inmates share obituaries they've written for themselves as part of a writing assignment. The inmates designed their own demise (several chose to die protecting others) and for what they wanted to be remembered.
Here's a clip, but definitely go over to Megerian's story and read and watch for yourself:
Since Julian Glenn Padgett arrived in 2006, he's enrolled in academic classes and played Shylock in a prison production of Shakespeare's "The Merchant of Venice." Even while sitting in a cramped storage closet during a break from his work at the inmate-run newspaper, he spoke with the intensity of an actor on stage. Asked about committing murder, he cited a Walt Whitman poem.

Padgett stabbed and killed a man he believed was a romantic rival. Therefore, his victim cannot "contribute a verse" in "the powerful play" of life.

"I don't want to be remembered as the man to do that," he said. Like You, he doesn't mention his crime in his fictional obituary.

Padgett, a 51-year-old Ethiopian Jew who wears a knit kippa over his dreadlocks, was convicted in 1997 in Sacramento and isn't eligible for parole until 2023.

His obituary is brimming with passion for outdoor activities that are out of reach.

"Julian loved everything to do with nature," he writes, "and often took trips with many of his friends on the weekends where they would go camping, horse back riding, snow and water skiing and his favorite mountain climbing."

Padgett describes an epic death from an earthquake striking the Bay Area. It was the first thing that came to mind, he said.

"Earthquakes are memorable. They're forces of nature," he said. "To take me out, it would take something like that."
---
THE 21ST CENTURY POLICING REPORT AND COMMUNITY POLICING IN LOS ANGELES
The day after Sunday's LAPD Skid Row shooting of an unarmed homeless man, the White House released an interim report from the President's Task Force on 21st Century Policing (established after the controversial deaths in Ferguson, New York, Los Angeles, and Cleveland at the hands of officers). The report lauded the LAPD's Watts and East LA community policing teams as well as its civilian oversight commission.
However, the shooting highlights how important it is that Los Angeles law enforcement agencies continue working toward better community relations through training, new programs, and policy changes.
KPCC's Erika Aguilar has more on the issue. Here are some clips:
"Law enforcement cannot build community trust if it is seen as an occupying force coming in from outside to rule and control the community," the report states.

The task force was formed in December in response to the national debate on policing after officers in Ferguson, Los Angeles, New York and Cleveland killed young African-American men.

In the federal report, the Los Angeles Police department's community policing teams in Watts and East Los Angeles were highlighted for building on-the-ground relationships with public housing residents. Officers there are assigned to community policing teams for five years and are offered more pay, according to the federal report.

Los Angeles also earned a mention for its civilian oversight board.

But shootings like the one on Skid Row expose the remaining rifts between police and communities.

Criminology professor Elliot Currie of the University of California, Irvine said having multiple policing programs is a good start, but the goal is for police departments to implement relationship-based policing across the board.

"What we want is for these not to be considered as scattered programs that we implement within a police department that's otherwise unchanged," Currie said. "But that we slowly shift the whole conception of what a police department is."
Here is a clip from Los Angele Sheriff Jim McDonnell's statement to the task force late last month about the challenges the sheriff's department faces with regard to ensuring better interactions with the mentally ill:
We are…ill equipped to address the challenges of this population in patrol. Patrol personnel lack the requisite mental health training and we have a dearth of Mental Evaluation (or "MET") Teams and community supports to help deputies properly handle and deescalate contacts with mentally ill persons. In 2013, nearly 40% of all use of force incidents involved individuals suffering from mental illness and in too many cases we "arrest" our way out of these encounters rather than diverting individuals to the community treatment and care they need.

The strategies that can enable us to change this paradigm exist and are in place in pieces around the nation, but have yet to be brought to scale throughout the country. We need:

1. Resources to support crisis intervention ("CIT") training so deputies working the streets (as well as within Custody) know how to identify and respond to individuals with mental disorders and, wherever possible, divert entry into the justice system.

2. Support for MET teams where we pair deputies with mental health clinicians and create a comprehensive response to those in crisis. In LA these teams are few and far between – often they operate only during business hours and can be as much as an hour away from a critical incident.

3. Support for community-based resource centers with multidisciplinary treatment in a therapeutic environment that avoids incarceration. These models exist elsewhere and, in the long run, result in improved outcomes as well as fiscal savings.

4. A new paradigm with strategies that focus on alternatives to incarceration – including mental health courts and other diversion strategies.
---
THE DOJ'S FERGUSON FINDINGS
In an 86-page report released Wednesday, the US Department of Justice cleared Ferguson officer Darren Wilson of "prosecutable [civil rights] violations" in the death of Michael Brown.
A separate DOJ investigation found systemic racial bias and policing-for-profit within Ferguson's police force and court system. Among other findings in the scathing 100-page report, black residents accounted for 85% of FPD's traffic stops, 90% of citations, and 93% percent of arrests. The report calls for….
The Washington Post's Mark Berman and Wesley Lowery have a helpful cliff-notes list of the report's highlights.
(And here's a WaPo list of alarming statistics from the report.)
---
WHAT CUTTING THE US PRISON POPULATION BY 50% WOULD LOOK LIKE
The Marshall Project's Dana Goldstein explores what it would take to fulfill the goal of the #Cut50 movement to reduce the nation's jail population by 50% within 10 years. That would mean more than a million fewer people would be locked up, through things like changing sentencing laws, bolstering diversion and reentry programs, and split-sentencing.
This figure is not attainable even by giving up the war on drugs and completely eradicating incarceration for non-serious/non-violent/non-sex offenses. Those convicted of violent crimes would have to be part of the population reduction equation.
This has criminal justice reform advocates on both sides of party lines disagreeing about the 50% goal, whether it's feasible and inline with public safety, and what it would take to get there.
Goldstein's story includes an interactive section that allows you to move sliders for offender groups and make your own 50%. (Go try it.) Here's a clip:
Vikrant Reddy, coordinator of the Right on Crime campaign, agreed. "The focus among conservatives is the low-level nonviolent offenders." As for Cut50, "I just don't like the name of this organization. The reason is because I see this issue, and most conservatives see this issue, in terms of public safety. If I felt confident the levels of incarceration we have in the United States made us a safer society, I would begrudgingly say, 'So be it.'"

"I really admire what Cut50 is trying to do, but I am concerned that people are going to misunderstand it," Reddy added. "The bottom line is not just getting the levels of incarceration down. The end point is that crime rates are still too high." (Crime is currently at a four-decade low, although rates remain high in segregated, high-poverty neighborhoods.)

Civil rights activist Van Jones is co-founder of Rebuild the Dream, the organization promoting the "Cut50" tagline. Jones and Gingrich are co-hosting a March 26 conference in Washington, D.C. to bring criminal justice reformers together across party lines. Jones acknowledges that conservatives have not signed onto the Cut50 goal. But he points out that many people convicted of violent crimes have, in fact, not hurt anyone physically, such as offenders picked up for theft or burglary and discovered to have a gun on them.

"We might want to look at whether someone who had a gun but didn't use it should be considered violent," Jones said. "People will say that's gun crime and you can't talk about them. Well, I think that's ridiculous."

That might discomfit some liberals who favor stricter gun controls. Meanwhile, the idea of the home as a castle has been popular on the right, resulting in laws that rank burglary alongside violent bodily assault. So on both sides of the political spectrum there is lingering support for the tough sentences that would have to be reduced in order to cut the prison population by 50 percent.

Jones and other reformers, both progressive and conservative, say it is not yet time to focus on the hot-button question of whether to redefine violent crime. "We're not heavily leaning into that part of the conversation yet, because there is so much common ground on the nonviolent offenders, the indigent population, and the mental health population. We think we can get some momentum going," Jones said.

Meanwhile, some scholars point out just how modest — by international and historic standards — a 50 percent reduction in the prison population would be.

"When does mass incarceration become regular incarceration?" asked Michael Jacobson, a former New York City corrections and probation commissioner and director of the CUNY Institute for State and Local Governance. To bring the United States to a prison incarceration rate equal to that of European nations — or to our own rate in the early 1970s — we would have to slash our incarceration rate from 623 per every 100,000 adults to about 150 per 100,000. That would be a reduction of approximately 80 percent.