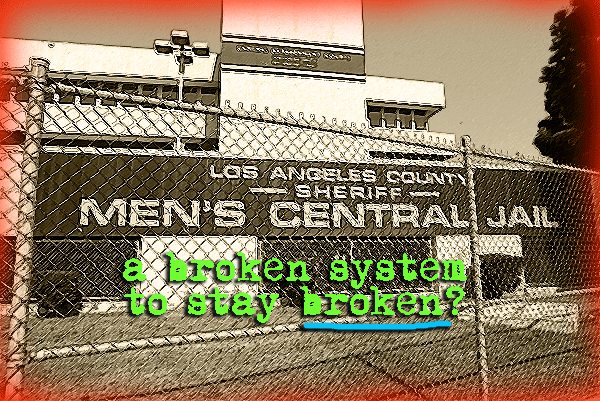 LA WEEKLY QUESTIONS RUSHED $2 BILLION JAIL PLAN AND ABSENCE OF MENTAL HEALTH DIVERSION
Phillip Cho, a man suffering from paranoid schizophrenia, was arrested for attempted commercial burglary after trying to purchase a $2,000 case of cigars while in the midst of an elaborate delusion regarding newly acquired wealth. Cho was jailed in Twin Towers for three months, causing his mental health to further deteriorate. Cho's caseworker assured him that he would be moved out of jail to a residential treatment facility within two weeks, but the waiting list turned out to be months long.
Instead of receiving the therapeutic care he needed, Cho says he suffered abuse at the hands of Twin Towers jailers, as well as psychologically damaging solitary confinement in a silent, padded room. Cho has been released and re-incarcerated several times, not unlike many mentally ill offenders in LA. Cho has written a book about his encounters with the criminal justice system, and his time in the Towers.
Twin Towers jail was built in 1997 specifically as an upgraded facility to better address the needs of mentally ill inmates. Sound familiar? In May, LA County Board of Supervisors hastily approved a $2 billion plan to replace the dilapidated Men's Central Jail. A staggering 3,200 out of 4,860 beds are reserved for the mentally ill.
In a crucial investigative story, the LA Weekly's Chris Walker brings up some very important questions about the jail-replacement plan and why Los Angeles seems to be bent on warehousing people with mental illnesses instead of diverting them into treatment.
While the board was gearing up to vote on the $2 billion replacement plan, it was also working out the plans for a women's facility in Mira Loma, for which the state's funding of $100,000 was about to expire.
The Supervisors rushed into a vote on Men's Central Jail plans, it seems, with the idea that they were working against the clock to secure the Mira Loma money. While the money for the women's facility had nothing to do with the men's facility, the Supervisors had the construction consulting firm lump the two plans together.
Here's a clip from Walker's assessment of the situation:
Could the vote by the Board of Supervisors — which some critics call a nod to the past that could negatively affect tens of thousands of lives — have been forced by an obscure fiscal deadline?

The Weekly's request for public records concerning the vote and events leading up to it, made to the office of outgoing County Chief Executive Officer William Fujioka, shows that the five supervisors faced a use-it-or-lose-it deadline to secure $100 million in state funding for a women's detention center in Mira Loma — which has nothing to do with Men's Central Jail.

The state money, made available through Assembly Bill 900, is set to expire later this year. County officials didn't want to lose the huge sum. For reasons that remain murky, the far more complicated proposals to replace Men's Central Jail were lumped together with the Mira Loma facility plan in the documents prepared by Vanir Construction.

In a March 18 memo to the Board of Supervisors obtained by the Weekly, CEO Fujioka told the supervisors they had to pass one of the five Vanir proposals for replacing Men's Central Jail in order to secure the state money for Mira Loma.
Were there other reasons for rushing the vote? At the time, all but one candidate for sheriff urged the board to wait to make a decision until after a new sheriff was in place. And Los Angeles DA Jackie Lacey had launched a task force of 70 mental health professionals to look into alternatives to locking up the mentally ill. Lacey was informed of the particulars of the jail plan the day before the vote was to happen. She put together and presented to the board an early report, explaining that her task force had found better ways to work with the mentally ill and bring down the recidivism rate. Apparently, the neither the board nor Lacey were informed of the other's work until it was too late. Neither were the Supes briefed on a trip LASD officials took to Miami to see the county's hugely successful mental health diversion program in action.
The die was already cast, and the board voted in favor of a massive and costly new jail.
Miami-Dade, San Francisco, and Nashville, all in the same boat as LA County at one time, are now seeing major success with mental health diversion programs. Miami-Dade cut their recidivism rate for mentally ill inmates down to 20%, compared with LA County, where 75% of mentally ill offenders return to jail.
Why were the Supes not informed of the Miami trip—one in which LASD attendees received actual "how-to" guides for replicating mental health diversion in their own county?
It…raises serious questions about an $18,000 trip taken last October by a group of L.A. County law enforcement officials, including Sheriff Cmdr. David Fender, who flew to Miami and saw firsthand its success in diverting mentally ill arrestees into treatment — part of the group's "best practices" tour around the nation. Documents obtained by the Weekly show that L.A. Sheriff's officials met with Miami's top brass and received detailed "how-to" guides explaining the steps required to establish a comprehensive mental health diversion program from the ground up.

Yet nothing came of what the group learned in the other cities.

Assistant DA Bill Hodgman, who was on that fact-finding trip, delivered the how-to reports to his boss, Lacey, galvanizing her mental health task force to push for change in Los Angeles.

Yet the Board of Supervisors never received the documents from the DA or the Sheriff's Department.

Supervisor Yaroslavsky, who voted against the new jail, complained about not being briefed. "I think I have been, as a member of this board, somewhat shortchanged by not having that information available to me as I'm being asked to make a decision — a $2 billion decision."
This fall, DA Lacey will present another task force report, at which time the Supes are expected to vote on allocating $20 million for mental health diversion. But that doesn't change the $2 billion jail rebuild.
Steve Fields of San Francisco's Progress Foundation, whose diversion program treats the mentally ill for a fraction of the price of jailing them, asks what's holding LA back:
According to California's Administrative Office of the Courts, the yearly cost to support an individual with mental illness in a housing program in Los Angeles is $20,412.

It costs about $60,000 a year to jail him.

"I don't know what is taking [Los Angeles] so long," Fields says. "Counties that wanted to do this in California have had access to state funding for a long time."
---
LA'S LGBTQ FOSTER KIDS (20% OF FOSTER POPULATION) MORE LIKELY TO REPORT MISTREATMENT BY THE SYSTEM
LGBTQ kids in Los Angeles County's foster care system are twice as likely to report being mistreated by the system, a new study by UCLA's Williams Institute. The study found that one in five foster kids (1,400) identify as LGBTQ, twice that of kids in LA's general population, and that 86% of LGBTQ-identifying kids were a racial minority.
Researchers also found that, on average, LGBTQ kids had more placements than other foster kids, were more than twice as likely to live in a group home, and three times as likely to have been hospitalized for emotional reasons.
This is the first study to put a number on LGBTQ foster population in any child welfare system—let alone Los Angeles, which houses the largest foster care system in the nation. It was commissioned by the Los Angeles LGBT Center and funded by a federal grant.
The LA Times' Hailey Branson-Potts has more on the study. Here's a clip:
"People refer to it as the 'dirty little secret' that there are so many LGBTQ kids in foster care, but nobody's been able to document it," said Lorri L. Jean, chief executive of the Los Angeles LGBT Center, which commissioned the study.

"We need to know who these kids are because only if we know who they are can we help them," she said.

In any given month, the Los Angeles County Department of Children and Family Services has about 7,400 youths between the ages of 12 and 21 in out-of-home care, according to the study. Of those, about 1,400 identify as LGBTQ.

The study, funded by a federal grant, is the first of its kind quantifying sexual orientation and gender identity of youths in any foster system, its authors say.

Despite their large numbers in the foster care system, LGBTQ youths have been "relatively invisible," the study said. Many do not feel safe telling their foster families or social workers about having same-sex attractions or questioning their gender identity.

[SNIP]

"We have seen decreases in overt homophobia in the foster care system, but that doesn't mean it's not subtly still present," [the executive director of the Children's Law Center of California, Leslie Starr] Heimov said. One recent case involved a child who was adopted and kicked out after her parents learned she was a lesbian.

The Williams Institute study noted that most of the LGBTQ foster youths in L.A. County were, like their straight counterparts, racial minorities. The study found that 83% of LGBTQ youths in foster care were Latino or black.

Bianca Wilson, a Williams Institute researcher and author of the study, said many of these youths can face added discrimination for "being both sexual minorities and ethnic and racial minorities."
The California Report's Rachael Myrow spoke with Williams Institute researcher and author of the study, Bianca Wilson, who said:
"We found that LGBTQ…were moved around more, were more likely to be in group homes, experiencing emotional distress. And these are all seen as barriers to finding permanent homes."
---
CA MEDICAL BOARD INVESTIGATING DOCTORS PRESCRIBING PSYCH MEDICATIONS TO FOSTER KIDS
Earlier this week, Karen de Sá's alarming investigative report in the San Jose Mercury News exposed the excessive use of psychotropic medications to treat California kids in the foster care system. It has spurred state lawmakers into planning legislation to curb the over-medication.
And now, at Sen. Ted Lieu's request, the state medical board says it has launched an investigation into whether doctors are prescribing medication to change behavior, rather than treat mental illness, and thus, "operating outside the reasonable standard of care."
Karen De Sá has the update. Here's how it opens:
With pressure on California's foster care system to curb the rampant use of powerful psych meds on children, concern is mounting about the doctors behind the questionable prescribing.

For months, the state has adamantly refused to release data that this newspaper sought to expose which physicians are most responsible. Now, in response to a request from state Sen. Ted Lieu, California's medical board is investigating whether some doctors are "operating outside the reasonable standard of care."

The action comes after this newspaper's investigation "Drugging Our Kids" revealed doctors often prescribe risky psychotropic drugs — with little or no scientific evidence that they are safe or effective for children — to control behavior, not treat serious mental illness. Many of these drugs are approved only for schizophrenia, bipolar disorder and other relatively rare mental illnesses.

To examine the problem, the newspaper spent nine months negotiating with the state Department of Health Care Services to release a decade of prescribing data that did not identify individual patients.

The numbers the state finally provided showed that almost 1 in 4 adolescents in the California foster care system have been prescribed psychotropic medications over the past decade. Of the children on medications, almost 60 percent are being prescribed antipsychotics, a powerful class of drugs with serious side effects.
---
ON AIRTALK, KPCC'S LARRY MANTLE DISCUSSES CALIFORNIA BILL TO END "WILLFUL DEFIANCE" EXPULSIONS
Earlier this month, the California Senate passed a bill, AB 420, that would eliminate "willful defiance" as grounds for expulsion in any grade, and suspension in grades K-3. The bill, authored by Assemblyman Roger Dickinson, is now headed for Gov. Jerry Brown's desk.
On Thursday's AirTalk, host Larry Mantle talked about the legislation with Brad Strong, Senior Director of Education at Children Now, the organization co-sponsoring the bill, as well as Joshua Pechthalt, President of the California Federation of Teachers (which took a neutral stance on the measure).