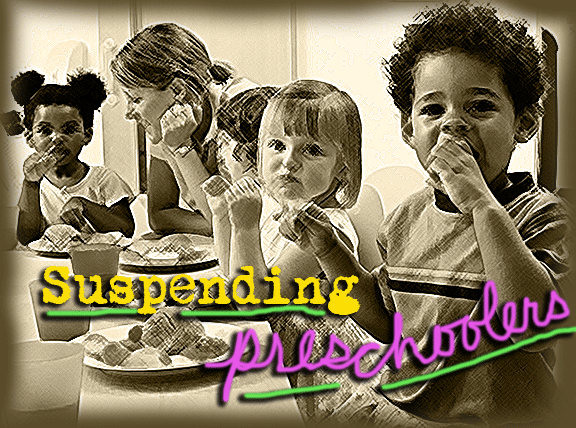 ERIC HOLDER & ARNE DUNCAN SHOCKED AT SUSPENSION OF PRESCHOOLERS
This past Friday the Civil Rights division of the US Department of Education released a report detailing the disturbing number of suspensions and other forms of discipline in American schools. The statistics on preschool suspensions, in particular, were so high that they succeeded in shocking the US Attorney General and the Secretary of Education.
The Center for Public Integrity's Susan Ferris has the story. Here's a clip:
Attorney General Eric Holder and Secretary of Education Arne Duncan expressed shock at data released Thursday showing that thousands of preschool kids were suspended nationwide during the 2011-2012 school year. The suspensions fell heavily on black children, who represented 18 percent of preschool enrollment yet 48 percent of all suspensions.

"I was stunned—I was stunned—that we were suspending and expelling four-year-olds," Duncan said at a Washington D.C. elementary school, where he and Holder discussed findings of the latest Civil Rights Data Collection by the U.S. Department of Education's Office for Civil Rights. The survey showed that nearly 5,000 preschool students were suspended in the 2011-12 academic year.

"This preschool suspension issue is mind-boggling," Duncan said. "And we need to as a nation find a way to remedy that tomorrow."

Duncan said training is needed at schools that suspend large numbers of kids at all grade levels to demonstrate a "better way" of handling problem behavior. "We know there is a correlation between out-of-school suspensions and ultimately locking people up," Duncan said. "And folks don't like it when we talk about it. But for far too many children and communities the 'school-to-prison pipeline' is real."
Here's the report.
---
SAME DATA FINDS AFRICAN AMERICAN PRESCHOOLERS MUCH MORE LIKELY TO BE SUSPENDED
Jesse Holland of the Associated Press looks deeper into the racial disparities in school suspensions found in the recently-released Dept. of Education report, including suspensions in the nation's preschools, where African American preschoolers account for a stunning 48 percent of suspensions.
Here's a clip:
Advocates long have said get-tough suspension and arrest policies in schools have contributed to a "school-to-prison" pipeline that snags minority students, but much of the emphasis has been on middle school and high school policies. This was the first time the department reported data on preschool discipline.

Earlier this year, the Obama administration issued guidance encouraging schools to abandon what it described as overly zealous discipline policies that send students to court instead of the principal's office. But even before the announcement, school districts have been adjusting policies that disproportionately affect minority students.

Overall, the data show that black students of all ages are suspended and expelled at a rate that's three times higher than that of white children. Even as boys receive more than two-thirds of suspensions, black girls are suspended at higher rates than girls of any other race or most boys.
---
ALARMING SPIKES IN CHILD ABUSE & NEGLECT IN VARIOUS STATES
The Wall Street Journal reports about the frightening rise in child abuse deaths that is getting lawmakers to pay attention. Since the WSJ is hidden behind a pay wall, The Crime Report summarizes the story. Here's a clip:
Seventy-eight children died in Florida last year as a result of abuse or neglect—36 of whom had prior involvement with the state Department of Children and Families, says the Wall Street Journal. The string of deaths triggered public outcry, plunged the state's child-welfare system into crisis and led to the resignation of the agency's secretary. Now, the Florida legislature has made overhauling the system one of its top priorities in the session that began this month. Gov. Rick Scott, a Republican seeking re-election this year, has called for nearly $40 million in additional funding. Other states and localities are embroiled in similar controversies. In Massachusetts, the September disappearance of a 5-year-old boy, who is feared dead, went unnoticed by the state's child-welfare agency for three months, prompting the governor to order an independent review. In California, the brutal death of an 8-year-old boy allegedly abused by his caregivers led Los Angeles County supervisors to create a commission on child protection that is due to issue recommendations next month…..
---
KPCC'S FRANK STOLTZE PROFILES BOB OLMSTED
KPCC's Frank Stoltze has a new profile of retired LA County Sheriff's Department commander Bob Olmsted. That makes three candidates that Stoltze has interviewed and profiled. (He's also done stories on candidates Jim McDonnell and James Hellmold.)
The profiles aren't long but they're smart, featuring those who express pros and cons on each man.
You can find the podcast here, and here's a clip from the written version of the Olmsted story:
Whistleblowing cops usually end up as pariahs. Bob Olmsted is no different.

"I've got a problem with a guy who runs to the FBI," says retired Sheriff's Lieutenant Craig Ditsch. "We have some very good people who have been indicted."

A federal grand jury has indicted 20 current or former sheriff's officials on civil rights and corruption charges – in part because of Olmsted. Most of the charges relate to excessive use of force against jail inmates, or efforts to cover it up.

Now, Olmsted is using his whistleblower past to distinguish himself among the seven candidates hoping to succeed former Sheriff Lee Baca as head of one of the nation's largest law enforcement agencies.

Olmsted once oversaw Men's Central Jail as a commander, and went to his superior seeking to remove a problem captain. When Olmsted didn't get the help, he went higher.

"I told my chief, 'I'm going over your head,'" Olmsted recounts. He sounds like a worried parent when he describes the corrosive effect of bad deputies.

"Who is protecting these young guys, the good guys?" he asks. "Nobody."

In 2011, when Baca and his former undersheriff, Paul Tanaka (now a candidate for sheriff), refused to help, according to Olmsted, he went to the FBI. Olmsted had just retired from the department.

Last summer, before Baca abruptly resigned and a slew of other candidates jumped into the race, Olmsted announced his run for sheriff. It was a bold move by a political novice against a powerful incumbent.

"It was my duty to run," Olmsted says.

[SNIP]

While many current and former deputies loathe the idea of a whistleblower becoming sheriff, retired Commander Joaquin Herran is a proud supporter of Olmsted.

"He had the guts to go do the right thing for the right reason," Herran says. "Other people did not."
---
AND WHILE WE'RE ON THE TOPIC, HERE'S WHAT THE DAILY NEWS SAYS ABOUT THE LASD SHERIFF CANDIDATES AND THE RACE
The Daily News' Christina Villacourte interviews experts about what the voters need to look for as they contemplate whom to choose as LA County's new sheriff, and talks briefly to the candidate themselves.
Here's a clip:
[Laurie] Levenson, the criminal law professor, said the new sheriff must meet stringent criteria.

"I think integrity is key," she said. "It should be somebody who's experienced in law enforcement, and who has the confidence of law enforcement personnel."

"He should be a good manager, politically savvy, and with a great deal of courage to take on the different issues that confront the county — from homeland security to modern approaches toward law enforcement, even inmate rehabilitation and penal reform," she added.

If a candidate were to win the majority of votes on June 3, the county Board of Supervisors could remove interim Sheriff John Scott, and appoint the sheriff-elect to lead the department immediately. If no candidate exceeds 50 percent, the top two would face a runoff election on Nov. 4 and the winner would be sworn in Dec. 1.

If voters choose poorly, the consequences can be costly — literally.

"County taxpayers paid about $40 million last year in settlements and jury verdicts for illegal behavior on the part of the Sheriff's Department," American Civil Liberties Union Legal Director Peter Eliasberg said.
---
Pre-art photo of preschool kids from PreschoolMatters.org