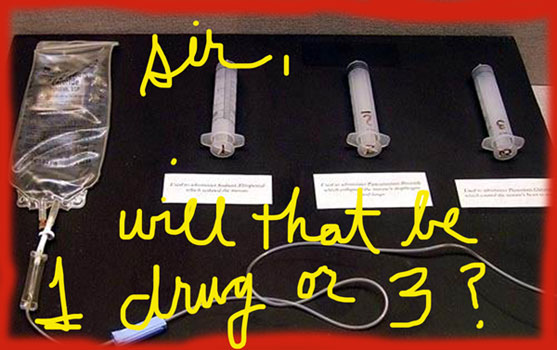 Governor Schwarzenegger has pushed back the execution of convicted murderer Albert Greenwood Brown for another couple of days in order to give the court—actually three courts—time to once more review appeals.
Just to be clear, no one is suggesting that the state has the wrong man in Albert Brown.
Brown was convicted of raping and murdering 15-year-old Susan Louise Jordan in 1982 and there seems to be no doubt of his guilt.
The delay concerns the question of whether or not the state's existing 3-drug lethal injection technology is still so tortuous that it should be considered a violation of the 8th Amendment to the United States Constitution.
As things stand now, the deliberations on the issue seem to have sunk into a quicksand of complications.
For one thing, even the company that makes sodium thiopental, one of the three drugs used in California's lethal mix, has—according to the AP—informed prison officials across the country, "we do not support the use of any of our products in capital punishment procedures."
And, remember, this is from the folks who stand to make money off the deal.
Moreover, the delay puts the execution within hours of the expiration date of the state's entire supply of sodium thiopental.
(If none of the appeals are successful, Mr. Brown will die on Thursday morning at 9 a.m.)
And then if the sell-by date passes, the state can't get any more of the stuff at all this year. It seems the factory is backed up with production problems, meaning there is a shortage of the drug, so we cannot resupply until some time in early 2011.
---
PICK YOUR POISON (LITERALLY)
Then, last Friday, things got genuinely weird when U.S. District Judge Jeremy Fogel, who was asked to stay the execution, declined to do so, but asked the condemned man what kind death cocktail he would prefer: one drug or three?
A startled Brown said he didn't know. So, Fogel told him if he chose one drug, and the state insisted on three, then he Fogel would call off the execution.
On Monday, Brown's attorneys took the matter to another judge-–who also declined to stay the execution, but offered no Lady or the Tiger choices about how many drugs would be used to kill Brown.
Still later on Monday, an unhappy 9th Circuit Court of Appeals stepped in and said that the thingy about giving the condemned a choice of one injection or three was not, in fact, okay.
The justices ordered U.S. District Judge Jeremy Fogel to do his damn job and figure out whether Brown's appeal for a stay of execution was valid or not. (or words to that effect).
That is where things stood as of midnight Monday night
---
SO HOW ABOUT WE DON'T DO IT AT ALL, LIKE, EVER?
Meanwhile, using the delay as a jumping off point, the San Jose Mercury News has published an exasperated editorial opposing capital punishment in California altogether.
Here's the heart of it:
Most death penalty supporters say it deters crime, but proof of that claim is scarce. And even as it fails in its central mission — preventing crime — the death penalty costs billions. California spends an estimated $125 million a year to administer it. Brown's 28 years on death row, according to the ACLU, have cost $4.8 million more than we'd have paid if his sentence were life without parole.

So California has spent about a half-billion dollars the past four years without executing a single prisoner, not to mention the $400 million it's spending to build a 1,400-bed death row and $853,000 for a sparkling new death chamber. Wouldn't that money be better used to hire more police, beef up crime labs and assist victims?

Some say these costs could be avoided if the state would just speed things up. Doing so, however, would cost tens of millions more, since the reason for the bottleneck is that there aren't enough lawyers and court staff to handle the necessary appeals.

But now is not the time to hit the accelerator. More than 100 people have been freed from death row in the past 35 years, including five last year. A criminal in Alameda County is six times more likely to get the death penalty than one in San Mateo County. Black defendants have received a third of all death sentences in the state but are less than 7 percent of the population.

California spends billions on a system that is so convoluted and archaic that it has resorted to asking a prisoner to choose which type of lethal injection he would prefer. It's time to stop tinkering and abolish the death penalty.
Yeah. What they said.