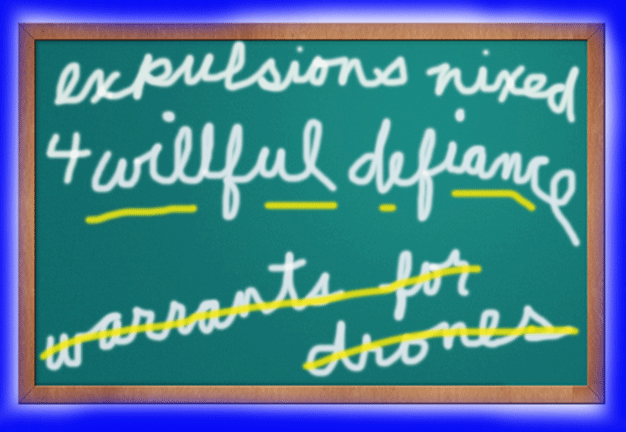 GOVERNOR SIGNS FIRST IN NATION LAW TO LIMIT "WILLFUL DEFIANCE" SCHOOL SUSPENSIONS & EXPUSIONS
On Saturday, Governor Jerry Brown signed into law AB 420, a bill that limits suspensions and eliminates all expulsions for the catch-all category of "willful defiance," which—until now—could have kids tossed out of school for such minor misbehaviors as talking back, failing to have school materials and dress code violations.
According to a statement issued by Public Counsel, the pro bono law firm that is one of the bill's sponsors, the new law makes California the first state in the nation to put such limits on the use of willful defiance.
Brown's signing of AB 420 is the culmination of several years worth of work by juvenile advocates, education reformers and others who have led the recent movement away from the zero tolerance discipline policies that were dominant since the 1980's, and toward positive discipline and accountability approaches that been found to keep children in school. The issue of willful defiance has been a particularly intense focus for reformers in that the elastic designation accounts for 43% of suspensions issued to California students, and is the suspension category with the most significant racial disparities.
"In just a few short years, school discipline reform has become an important education policy priority in California because the stakes are very high," said Assemblyman Roger Dickinson (D-Sacramento), who authored the bill. "Research has shown that even one suspension can make it five times more likely that a child will drop out of school and significantly increase the odds they will get in trouble and head into our juvenile delinquency system."
While, AB 420 doesn't do away with willful defiance altogether, it is considered an important step in that, as a compromise measure, it has gotten agreement from people who were initially reluctant to ax the category completely. like Gov. Brown, and certain state legislators. (The law eliminates all willful defiance suspensions for children in grades K-3 and bans all expulsions for the category for all grades. It is to be reviewed in 3.5 years.)
It should be noted that the Los Angeles Unified School District banned all suspensions for willful defiance spring.
The new law was co-sponsored by Public Counsel, Children Now, Fight Crime Invest in Kids, and the ACLU of California and supported by a statewide coalition of organizations.
---
BROWN VETOES BILL LIMITING LAW ENFORCEMENT USE OF DRONES SAYING IT WENT TOO FAR
The bill, which would have required law enforcement to obtain warrants before using surveillance drones, got a thumbs down from Governor Brown on Sunday night, one of about a dozen bills that Jerry nixed on Sunday.
The LA Times Phil Willon and Melanie Mason have more details on the story. Here's a clip:
Brown, in his veto message, said that although there may be some circumstances when a warrant is appropriate, the bill went too far.

The measure appeared to impose restrictions on law enforcement that go beyond federal and state constitutional protections against unreasonable search and seizures and the right to privacy, the governor stated.

The bill, AB 1327, would have required the government to secure a warrant from a judge before using surveillance drones except in cases of environmental emergencies such as oil or chemical spills. Three other states have placed a moratorium on drone use by state and local agencies

Assemblyman Jeff Gorell (R-Camarillo), the bill's author, had argued that the expanded use of drones, or unmanned aerial vehicles, by law enforcement has pushed the boundaries of the public's reasonable expectation of privacy, triggering a need for protection.
---
SHERIFF SCOTT SAYS NO ASSOCIATION WITH CONVICTED LASD MEMBERS WITHOUT WRITTEN PERMISSION
On Friday, Los Angeles County Sheriff Scott sent out two official messages to department members regarding the conviction of seven current and former LASD members, and last week's sentencing of six of the seven defendants.
(Deputy James Sexton was convicted in a retrial earlier this month, but will not be sentenced until December 1. Sexton's first trial resulted in a 6-6 hung jury.)
In the first message, Scott wrote of emotional reactions to Tuesday's sentencing of the six to prison terms ranging from 21 to 41 months, that "have left many Department members stunned," he wrote. "The six defendants in this case were our co-workers and friends."
It was clear, Scott wrote, that the convictions and lengthy sentences were, "in part, the result of failed leadership" at various levels of the LASD.
"The question that burns in the hearts of many is whether those who were the most responsible have been held accountable for their actions…"
The second announcement, headlined "FEDERAL CONVICTIONS AND PROHIBITED ASSOCIATIONS POLICE" clarified one of the sad artifacts of the convictions of the seven LASD defendants: All department members are aware that they are not allowed to associate with convicted felons. But this rule suddenly became confusing and in need of sorting out with the conviction of the seven LASD defendants, each of whom have long time friends—and in many cases best friends—among their former colleagues still working for the sheriff's department.
So the following was sent out on Friday:
With respect to personally associating with the individuals who were convicted, the policy requires:

*A written request for authorization, directed to the unit commander

*Unit Commander response, whether approved or denied, to be documented in writing

*Both documents to be filed in the requesting employee's personnel file.
The statement further instructed that the policy doesn't prevent donations of funds to the defendants or their families. But it split hairs by stating that department members may not attended fundraisers for those convicted.
The policy prohibits doing favors for or associating with persons where the association would be detrimental to the image of the Department, such as in cases of persons adjudged guilty of a felony crime.

Therefore, Department members are prohibited from attending fundraising events for the individuals who have been convicted, whether the individuals are present or not.

Unit Commanders are not authorized to make exceptions with respect to this aspect of the situation involving the recent Federal convictions.
---
NO LONGER A PRISONER OF THE DRUG WAR
A wonderful longread by the LA Times' Jenny Deam paints a journalistic portrait of Billy Ray Wheelock, who is an example of the kind of inmate that, in the last three decades, has filled the nation's prisons to overflowing as a consequence of our ill-considered war on drugs. In the case of Wheelock, however, the story has a happy ending—even though that happy ending is very belated.
Here are two clips:
Wheelock had been sent to prison in 1993 at age 29 during an era of no-mercy drug sentencing. At the height of the country's war on drugs, crack cocaine offenders were locked away by the tens of thousands, often with no key in sight.

Most were men, most were poor, most were black.

Wheelock was all three.

His story embodies what many, including judges and former prosecutors, now see as a judicial system gone wrong. He is the first to admit he was guilty and deserved to do time. He had been arrested three times on crack charges.

But he says he was never violent and never owned a gun. He says he only sold a bit of rock sometimes to make ends meet. "For that I got life? Life?"

Years passed and Wheelock waited, sure someday someone would see that his punishment did not fit his crime.
Here's when such draconian sentencing began:
In 1986, Congress created a mandatory drug sentencing law and took aim squarely at crack cocaine. Under the law, a person convicted of possessing 5 grams of crack would get the same five-year sentence as someone selling 500 grams of powder cocaine.

Since 1980, there have been an estimated 45 million drug arrests in this country. The number of people in U.S. prisons for all crimes has quadrupled from about 500,000 in 1980 to 2.2 million now, "and that growth was disproportionately driven by the drug war," said Marc Mauer, executive director of the Sentencing Project, a Washington research and advocacy group.

In the beginning, many in the judicial system were true believers, certain that if a person knew harsh sentencing awaited him he might think twice about selling drugs. But as the millennium turned, judges began to complain that their discretion had been stripped away by mandatory sentencing. Lawmakers also questioned not only the fiscal responsibility of keeping so many locked up for so long but also the humanity of such a stark racial divide, since crack cocaine disproportionately imprisoned minorities.

Calls for reform were bipartisan. In 2010, Congress showed rare unity and passed the Fair Sentencing Act to reduce the disparity between crack and powder cocaine sentences.
Read on to discover more about Wheelock's story.

---
HOMEBOY 5K: "EVERY ANGELENO COUNTS"
If you've got an interest in getting excellent exercise with crowd of interesting and varied companions, doing the aforementioned for an important LA cause—and coming away with a snazzy t-shirt—-the annual Homeboy Industries 5K on October 18 is likely the perfect event for you.
The race starts at 8 a.m., on Saturday, October 18, at Homeboy Industries (130 W. Bruno Street, Los Angeles, CA 90012) with registration and packet pick-up from 6 to 7:30 a.m.
If you'd like to register in advance, Wed. Oct 1 is the cutoff. But you can still show up early on the day of the race and pay a last minute registration fee ($45), to run, jog, or walk with the crowd.
The purpose of the race, as you might imagine, is to raise money for Homeboy Industries, which serves more than 12,000 former gang members each year and offers full time employment to 200 men and women in an 18-month program that allows them to redirect the trajectories of their lives and "re-identify who they are in the world."
With this in mind, the yearly 5K is designed as more than merely a fundraiser. Here's how the Homeboy folks explain it:
The Homeboy Industries "Every Angeleno Counts" 5k is an opportunity for us to walk, run, and stand with thousands of former gang-members whose lives are being completely transformed. Every Angeleno can help dispel the myth that some lives matter less than others.
So grab your running shoes and com'on down.
---