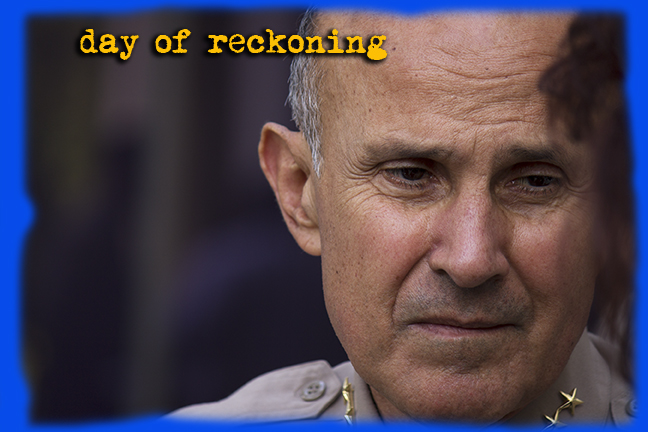 Early Wednesday morning the news began to leak that former Los Angeles Sheriff Lee Baca had agreed to plead guilty to a felony charge of making false statement—or statements—to federal authorities when he was interviewed in 2013 about elements of the wide-ranging corruption and civil rights investigation into wrongdoing at the nation's largest sheriff's department, which Baca had run for fifteen years.
In the plea agreement signed on February 8, and filed in federal court Wednesday morning, Baca admitted that he lied to the FBI and members of the U.S. Attorney's Office during an April 12, 2013 round of questioning. At that time, among other denials by Baca, the former sheriff falsely claimed ignorance of the fact that, in 2011, two LASD sergeants were going to approach FBI special agent, Leah Marx, and threaten her, hoping to get information about the feds' rapidly expanding investigation into brutality by deputies in the LA County Jail.
In fact, Baca has now admitted, he gave instructions that the officers "should do everything but put handcuffs on her." Her being Agent Marx.
Mr. Baca also denied participating in conversations about "keeping the FBI and inmate [ Anthony Brown, a federal informant] away from each other, according to the statement of facts in the plea agreement
According to federal officials, discussions with Baca's attorney about a possible deal have been going on for the past few months while an investigation into Baca's actions continued. The initial approach was made from Baca's side.
The government has been investigating the sheriff for multiple years as part of a general investigation into corruption and wrongdoing inside the department he led, according to U.S. Attorney Eileen Decker.
"Today's charge and plea agreement demonstrate that illegal behavior within the sheriff's department went to the very top of the organization," said Decker.
Throughout the investigation there were denials" of wrongdoing from Baca, she said.
"He had the opportunity to lead, but he did not lead."
Baca is expected to enter his formal plea Wednesday afternoon at 2:30 PM in federal court.
More after the hearing.
---
Photo of Lee Baca by Saxon Brice