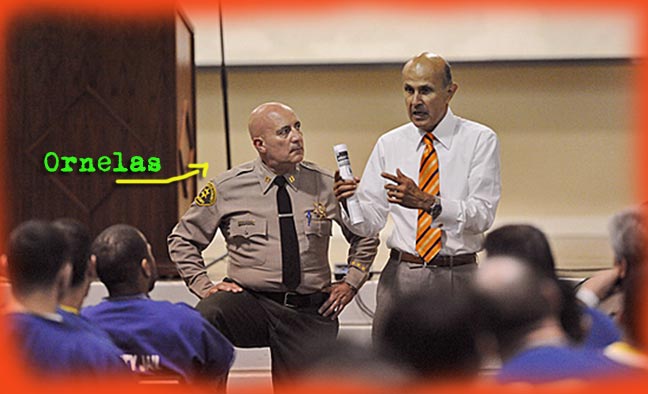 FOLLOWING FED JUDGE'S REJECTION OF BACA'S PLEA DEAL, FORMER LASD COMMANDER IN CHARGE OF MEN'S CENTRAL JAIL DISCUSSES BACA'S FAILURE TO MANAGE HIS UNDERLINGS
In an interview with KTLA's Kareen Wynter, former L.A. County Sheriff's Department Cmdr. Ralph G. Ornelas, says former Sheriff Lee Baca did not properly supervise the actions of his number two in command, former Undersheriff Paul Tanaka.
"[Baca] didn't do the one thing that was extremely paramount, was to manage the people below him," said Ornelas, who was in command of Men's Central Jail from March of 2011 until mid-2013.
At a sentencing hearing for Baca last week, U.S. District Court Judge Percy Anderson dynamited Baca's plea deal (a sentencing range of 0-6 months in prison). Now, Baca and his lawyers can either come back with a deal Anderson is more likely to accept, or withdraw the plea and go to trial.
Paul Tanaka was sentenced to 5 years in federal prison for the dual crimes of obstruction of justice and conspiracy to obstruct justice while a federal investigation into brutality and corruption in the county jail system was taking place.
Ornelas, who testified against Tanaka, said Baca's sentence needs to send a message. "It's bigger than Baca," he said.
---
http://vimeo.com/175761200
LIZ RYAN: YOUTH DETENTION PRACTICES TOO SIMILAR TO ADULT PRISONS
A growing body of research on teenagers' still-developing brains (notably the areas of the brain governing impulse control, critical thinking, and consideration of consequences), has led to major juvenile justice reforms at the local, state, and federal levels. Yet, the majority of juvenile lock-ups don't reflect the fact that kids and teens are fundamentally different from adults.
Writing for Medium, youth justice advocate and CEO of No Kids in Prison, Liz Ryan, points out some of the ways that juvenile detention centers mimic adult prisons, and why the similarities—like solitary confinement, a focus on punishment, dehumanizing treatment, and rampant violence and victimization—are especially harmful to children. Of course, not every youth facility subjects kids to these injustices, but most do.
In California, it's taken many years to improve conditions for locked up kids. In 2003, the nonprofit Prison Law Office sued the state of California over huge problems in the California Youth Authority facilities. In order to settle the case in 2005, the state agreed to "provide wards with adequate and effective care, treatment and rehabilitation services, including reducing violence and the use of force, improving medical and mental health care, reducing the use of lock-ups and providing better education programs." It took the state more than a decade to implement the necessary reforms and end the lawsuit (like reducing use of force, overhauling education, and implementing evidence-based rehabilitation programs).
Here's a clip:
Focus on punishment, not rehabilitation

Youth prisons were designed to serve as an alternative to adult prisons by having a more rehabilitative focus. It hasn't turned out this way in many instances, even when the purpose of the juvenile facility is defined in a state's statute to rehabilitate youth.

For example, in Connecticut, the Department of Children & Families (DCF) states that the mission of Connecticut's youth prison, the Connecticut Juvenile Training School (CJTS), "is to provide a safe, secure and therapeutic environment while providing opportunity for growth and success."

This mission statement which promotes a rehabilitative approach is not consistent with the report and videotapes released by the Office of the Child Advocate last year documenting youth being brutalized by staff. These actions appear to be more about punishment than rehabilitation.
---
LAPD CHIEF AND RAPPER THE GAME TEAM UP TO CALL FOR AN END TO VIOLENCE IN LOS ANGELES
In a video released Wednesday, Los Angeles Police Chief Charlie Beck and rapper the Game announced they would be partnering on a new anti-violence campaign.
The duo called for an end to bloodshed in the city. Chief Beck pointed out that of the nearly 1,000 people shot in 2015, close to 300 died, and 80% of both victims and shooters were young men of color.
"We have to stop killing one another," the Game said.
Snoop Dogg and the Game led a peaceful march to LAPD headquarters earlier in July, and joined LAPD Chief Charlie Beck and LA Mayor Eric Garcetti for a press conference.
---
BRINGING COPS AND THE COMMUNITY TOGETHER TO TALK ABOUT POLICING
On Thursday night, the Reseda Church of Christ hosted a town hall for community members, city officials, police, and clergy to discuss race and policing to "facilitate healing and reconciliation" between law enforcement and communities of color.
The predominantly black congregation has lost two members to violent encounters with officers.
"For us to make progress, we've got to focus on the reduction of overall violence in these communities," said LAPD Deputy Chief Bob Green, who spoke at the meeting.
LA Daily News' Brenda Gazzar has more on the town hall. Here's a clip:
In 1982, congregant James Mincey, 20, died after he was put in a chokehold by a Los Angeles police officer during a struggle in Lake View Terrace. The public outcry that resulted from the Pacoima man's death prompted limitations on the use of the controversial technique by the LAPD.

On May 16, 2013, another congregant, Christian Eaddy, 25, was fatally shot during an encounter with Los Angeles police in Pacoima. His cousin had called 911, reporting that Eaddy was sticking himself with syringes and was armed with two knives. Police said Eaddy refused commands to drop the knives and continued to approach the officers before one used a stun gun on him and another shot him. Another cousin, however, said Eaddy was 3 feet away from officers when he dropped the knives and was shot, according to prosecutors who investigated the case.

Winrow said Eaddy had the mental capacity of a 10-year-old. No criminal charges were filed and the case is in civil litigation, he said.

The 63-year-old minister, who lives in Granada Hills, believes that more community policing as well as having more officers from the communities they patrol would help reduce such incidents.

"Sometimes we view people not in the same way that we view our own, and we become more likely to make mistakes of judgement," Winrow said. "Those kinds of mistakes … can cost people their lives."
MORE ON THE ISSUE OF POLICE-COMMUNITY RELATIONS
On KPCC'S Take Two, host Alex Cohen spoke with Jerry Hoffman, co-chair of the community police advisory board for the LAPD's Northeast division, and Ruben Arellano, Sergeant at the Northeast division, discussed how to get involved and improve police-community relations through open dialogue and other tools. Sgt. Arellano suggests attending the community advisory board's meetings and attending the LAPD's community citizen's academy—where, one night a week for 10 weeks, participants get special lessons on policing issues. Attendees learn about everything from traffic stops and chases, to how Internal Affairs works. Go take a listen.