HOW SEXTON WAS RELEASED IN SURPRISE RULING
Last week, on January 12, after a surprise ruling by U.S. District Court Judge Percy Anderson, former Los Angeles County Sheriff's deputy James Sexton was ordered released into six months of home detention followed by another six months of formal probation.
As part of his resentencing, Sexton is expected to "…testify truthfully in all future proceedings and trials related to this matter," Anderson stipulated.
Two years earlier, in December 2014, Sexton was sentenced to 18 months in federal prison after being tried twice (his first trial ended in a 6-6 hung jury) and convicted the second time around of the duel charges of obstruction of justice and conspiracy to obstruct justice, for his part in helping to hide federal informant Anthony Brown from his FBI handlers. Convicted bank robber Brown, a bright but often truth-challenged character, was part of an undercover FBI investigation into corruption and civil rights abuses by sheriff's deputies inside LA County's troubled jail system.
Sexton is one of eight former department members who have been convicted of obstruction. (A ninth former department member, former captain Tom Carey, was originally charged with obstruction but pleaded guilty to a lesser charge of perjury, and has yet to be sentenced.) He was a 25 year-old junior deputy, and three years out of the sheriff's academy at the time when the events resulting in the charges against him took place in August and September of 2011.
When government prosecutors made what is called a Rule 35 motion, asking for Judge Anderson to reduce Sexton's sentence, they did so in part because he had cooperated with them by providing information and testifying at Baca's first trial, and because they planned to have him testify again—likely more extensively. But as leader prosecutor Brandon Fox, and Sexton's attorney, Tom Obrien, told Anderson, there was a lot more to the request. Due to Sexton's cooperation with the feds, during the four-and-a-half months he'd already spent in prison, since he voluntarily surrendered himself early to the Board of Prisons on August 31, 2016, Sexton had been harassed and convincingly threatened by prison inmates, who had discovered his identity as a "disgraced cop," and a cooperator, a whistleblower, a snitch.
Because of this label, Sexton's year-and-a-half prison term was not being spent in anything resembling club fed. Instead, Obrien told the court, for his own safety the BOP had locked his client in the SHUs of various medium and high security prisons, where he spent 103 days handcuffed to waist chains everywhere he went, getting food through the tray door, and locked down for 23 hours out of 24.
Sexton was serving "much harsher time than I think the court intended," Obrien told Anderson. For more than two months—70 days—the prisoner was in complete isolation. Unless he is released, this is how he will do his time, Obrien said. Furthermore, whenever he is transported between facilities, or to Southern California to testify or to be questioned by the government, he is back at risk, because he is likely to run into inmates he had contact with as a cop. "I am concerned for his safety," said O'Brien.
Prosecutor Fox, with whom Sexton had previously maintained a notably adversarial relationship, also told the court that, at the former deputy's grand jury appearances, he'd found Sexton to be cocky and arrogant with a self-assured "chip" on his shoulder. Yet, in talking to the waist-chained, far thinner, fully-bearded inmate now in court wearing khaki-colored prison jumpsuit, he'd found a changed person, with a "very different" demeanor, "humbled" by his conviction and his prison experience, which was "unusual" in these cases, Fox said.
After Fox and O'Brien spoke, Sexton requested that he be allowed to address Judge Anderson directly.
---
REGRET, SHAME & REMORSE
Still in handcuffs and the waist chain, he was at the podium for about 15 minutes, talking for much of the time about his feeling of regret, shame and remorse for his actions in the summer of 2011.
At one point he talked about how, at sentencing, the judge used Sexton's father as the example of why the former deputy should have known better. "I don't think you understand the extent of how true and right you were," Sexton said to Anderson. "My father is the product of the foster childcare system, put there as the result of an abusive single parent." His dad also "built himself from nothing," he said, "told how, in 1991 Ted Sexton took over the Tuscaloosa, Alabama, sheriff's office, that was in the heart of the American civil rights movement." His dad modernized the department, said Sexton, through "accountability, collaboration, and transparency," and diversified it "by recruiting and promoting people of color when it was still unpopular" and considered by some, taboo.
"He's why I chose the profession," said Sexton, who choked up several times as he talked. "He was then and is now my hero. I failed him and I failed his example in 2011, and that is something I will never be able to redeem in my life…."
A former eagle scout with a West Point appointment who once interned for Vice President Joe Biden, and was awarded a master's degree at the University of Southern California, shortly before his 2014 conviction, Sexton is a bright guy and a smart writer. Still his broad and detailed expressions of regret seemed genuine, even seemly to Fox who, like Sexton, has a cynical streak.
Still many observers thought it likely that Judge Anderson would say no to cutting Sexton's sentence.
But that's not what happened. After a lengthy sidebar with the attorneys, and some very long minutes of the judge sitting in the courtroom in silent contemplation, Anderson announced that he was going to "grant the motion." Sexton's sentence would be changed to "time served." He would have one year of formal probation, the first six months of which would be served in home detention.
At first, not everyone was positive that they'd heard right. One of Sexton's attorneys, Sana Swe, burst into exhausted tears alongside Sexton's wife, who began sobbing.
Prosecutor Fox came over to Sexton and shook his hand.
As so it was that, after spending four-and-a-half months in a total of 10 federal facilities, Sexton, now 32, was permitted to leave federal custody with wife, who picked him up from the U.S. Marshall's office in downtown Los Angeles the same evening as the hearing, and drove him home.
Under the rules of his resentencing, Sexton is confined to his house, unless he has a legal or medical reason to leave, or a non-ambiguous emergency. When he has a place of work approved, he will be allowed to travel to and from the job.
(After his conviction in 2014, James worked as a project manager for a company that produces, among other things, "database integration software" developed for the intelligence community and other "public safety end users.")
According to judge Anderson's order, Sexton will also be required some kind of electronic ankle jewelry or other monitoring device
The other primary requirement of his resentencing and release is that he must "testify truthfully in all future proceedings and trials" having to do with the federal obstruction of justice issue.
Specifically that means that, as Anderson made clear, Sexton is expected to be a crucial witness in the retrial of former sheriff Lee Baca. In the last trial, the prosecution mined a small part of what Sexton reportedly knows personally about Baca, and about the former sheriff's actions relating to the events that make up the obstruction charges. In the upcoming trial, government prosecutors are expected to dig a lot deeper.
---
"PRESERVING POWER" NOT "PURSUING JUSTICE"
In addition to talking about his regret and shame about his actions, at the January 12 hearing, Sexton also talked about the parts of the culture of the Los Angeles County Sheriff's Department that allowed corruption to flourish, making clear that he not only had agreed to testify again, he wanted to do it.
One of the reasons he went to trial—twice—instead of trying to make a deal with the government, Sexton said, was that he and his family, "…wanted to preserve the record that the orders" that resulted in his conviction "came from the top, and that I was not a rogue operator." Sexton said even his grandfather, a Korean war vet and "a self-made man form humble beginnings." was "appalled at the casual nature, the indifference, and the expectations that my executives had for me to follow questionable orders that are now undisputedly found to be illegal."
Sexton's wife, Keely, he said, put it best. She said the higher-ups in the sheriff's department "had no interest in pursuing justice. Rather it was an effort to preserve power."
And he had personally "enabled" that pursuit, Sexton said, grimly.
Sexton also talked about the former sheriff, whom he has known personally since he was 15-years-old due to his father's friendship with Baca. In his courtroom allocution for the judge, Sexton described Baca as "a man who continues fight and defend himself in the court of public opinion, but has always elected to remain silent and even disassociated" from his responsibility" for orders that Sexton said he could "not have possibly carried out if it were not for the delegation of his authority from the office of sheriff."
Sir, Sexton said, as the judge stared silently back at him, "Operation Pandora's Box did not happen in a vacuum. I want to be more than the problem, and a small part of the solution. I was well raised, well trained, and once well-respected." But he was "bent" by "misplaced loyalties, a culture of plausible deniability and working the grey," Sexton said. He had always prided himself on his willingness to "speak truth to power," sometimes with more vigor than was necessary. But, the one time he failed to stand up against what he knew to be wrong was when it came to Anthony Brown and Operation Pandora's Box. "And I washed it down with justifications and ambition."
In 2013 and 2014 "it was the first time in my life that I have ever felt expendable," Sexton said. "…I recognized that men who claimed they loved me and cared for my career would simply sacrifice me for their title and positions of power. "
He was, he said, "put on the road to perdition the day I stepped into those jails. But it's not an excuse, and I can't take it back."
---
THOMPSON ALSO TO TESTIFY AND TANAKA SURRENDERS TO THE BOP
Although, for the past five months, Sexton was the only one of the eight sentenced for obstruction of justice to actually go to prison, that situation has now changed. On Monday, January 16, 2017, former undersheriff Paul Tanaka surrendered to federal officials, to begin his 60-month sentence at a minimum-security camp in Englewood, Colorado. His appeal to the Ninth Circuit Court of Appeals is still pending.
Former deputy Gerard Smith's surrender date has been delayed until February 27, because reportedly the BOP is not ready for him yet. (Although the BOP seemed to get ready for Tanaka in speedier fashion.)
Former deputy Mickey Manzo, who is sentenced to 21 months, will surrender by March 27, which will give the government time to call him as a witness in the February trial of Lee Baca.
Former lieutenant Greg Thompson will also surrender on March 19, 2017, to begin his 37 months in federal lock-up. The two month delay in his surrender date is caused by the fact that two days following Sexton's release, the government moved that Thompson's surrender date be delayed because, he may also be a witness for the prosecution.
---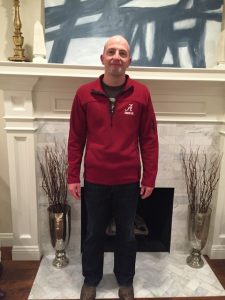 ADJUSTING TO LIFE ON THE OUTSIDE
As is the case with most former prison inmates, Sexton found his first days back included It was hard for him to go into a mall or large story when he went shopping with his wife for food and supplies. "I used real silverware for the first time. That's was weird." Plus he realized he no longer had to inhale his food, he said. In the SHU, he" had to be finished by the time [the guards] passed by a second time." And when he was not in Supermax, he noted that mealtime was "by far the most dangerous time." So he had to eat quickly and be on guard.
The best advice he got when he was new to prison, Sexton said, were the words last man and excuse me. "If you see a line, find out who the last man is. "Don't cut through it. Don't break it." The third tip was, "everyone wants to see where your heart is." But 'last man and excuse me,' he was told, "will eradicate 99 percent of your problems. It's incredibly simple human behavior. The inmates don't want fights. They don't want to risk a lockdown," he said.
Sexton told Judge Anderson that, his most valuable and also his most humbling experience during his time in the Federal Correctional Institution in Talladega, Alabama, was a friendship he developed with another inmate, "a gentleman who could not come from a more polar [opposite] background" than his own, a background that included "systemic poverty and gang violence," including the loss of his brother less than a week before Sexton arrived.
"He extended to me a grace, and acceptance and understanding that I was humbled by." Sexton realized with shame, he said, that, had their roles been reversed, "I don't think I could have done the same."
And did being locked-up change his view at all of incarceration reform in general…?
Sexton laughed sadly. "Yeah," he said. "I get it now."