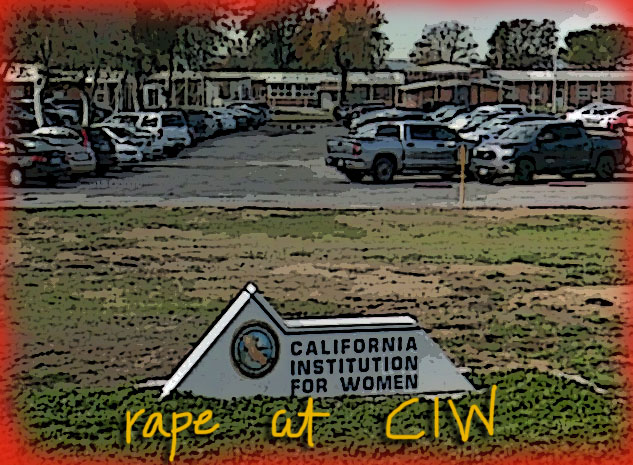 FORMER CIW INMATE FILES FEDERAL LAWSUIT ACCUSING GUARD OF DAILY PHYSICAL AND SEXUAL ASSAULTS
DeEtta Williams, a former inmate at California Institution for Women, has filed a federal lawsuit against a guard named Michael Ewell, whom Williams says sexually assaulted her daily for six months, and against the California Department of Corrections and Rehabilitation (CDCR).
Williams says Ewell would take her out of her cell at 5:30a.m., when no other officers were around, and sexually assault her in the guards' office. Ewell allegedly choked Williams, slapped her, groped her, raped her multiple times, threatened her family, and more over the six-month period. Williams finally had a breakdown, and started losing weight and losing her hair. Williams tried to commit suicide. Eventually she told CIW Warden Kimberly Hughes about the repeated rapes. Williams spent the rest of her time behind bars in the psychiatric unit.
According to the lawsuit, Ewell sexually assaulted a female guard at a men's prison in 2013 before being transferred to CIW.
The CDCR reportedly launched an investigation into Ewell's conduct in early 2015. Williams was involved in the investigation, and reportedly gave testimony before the State Personnel Board in March. By May, Ewell was no longer employed as a corrections officer at CIW.
Ewell was not the only officer assaulting the women locked up at CIW, according to Williams—there were at least three others.
It's worth noting that CIW has experienced an alarmingly high number of suicides (six), and suicide attempts (73), since at least 2013. And there's much debate about what's causing the spike. (Read about the issues at CIW, and about the women who died behind bars—here, and here.)
Earlier this month, in two memos sent out on the same day, the CDCR announced the retirements of CIW Warden Kimberly Hughes and Central California Women's Facility (CCWF) Warden Deborah "DK" Johnson—a reported house-cleaning for the two troubled facilities.
LA Weekly's Hillel Aron has more on the lawsuit. Here's a clip:
Williams, now 45, was sentenced to 18 years in prison in 1997, for what she says was a marijuana deal gone wrong that led to one death. She was transferred in CIW in 2004. After getting into a fight in 2010, she was given a three-year term in solitary confinement. Toward the end of her term, she met Ewell.

According to the lawsuit, Ewell began making inappropriate comments toward Williams, and even took pictures of her in the shower while she wasn't looking.

Ewell gave Williams special treatment – he got her out of solitary, got her into a better unit and got her a good job. He then began to take Williams out of her cell at 5:30 a.m., while the other inmates were asleep, and while Ewell was the only guard on the unit. Williams would tell Ewell about her wife and four children; Ewell would respond, "I know you want a real man."

The officer's sexual advances became more and more aggressive, according to the complaint, and he began sexually assaulting her. On one occasion, according to the suit, "He grabbed her by the throat and began to choke her. Officer Ewell pushed Dee's panties to the side and began giving Dee oral sex … He pulled out his penis and started masturbating. Once he finished, he walked out of the officers' quarters bathroom. Dee got in the shower and cried."

Subsequent incidents were even more violent and disturbing.

"As a result of Officer Ewell's actions, Dee had a mental breakdown," reads the complaint. "She was severely depressed and suffered from loss of sleep and appetite. Dee began losing her hair and lost over 20 pounds." She was transferred to the prison's psychiatric unit, where she stayed until she was released in November 2014.
---
FOSTER YOUTH WILL DISCUSS POLICY ISSUES AND GIVE RECOMMENDATIONS IN A CHRONICLE OF SOCIAL CHANGE VIDEO SERIES
A new video series from the Chronicle of Social Change features current and former foster kids in their teens and 20s telling their personal stories and making policy recommendations to better serve young people in the child welfare system. In the first video (above), Erica Ontiveros and Samira Washington, two California Youth Connection advocates (and former foster kids) discuss mental health and the over-prescribing of psychotropic drugs to foster kids.
Check back at The Chronicle of Social Change for the next videos.