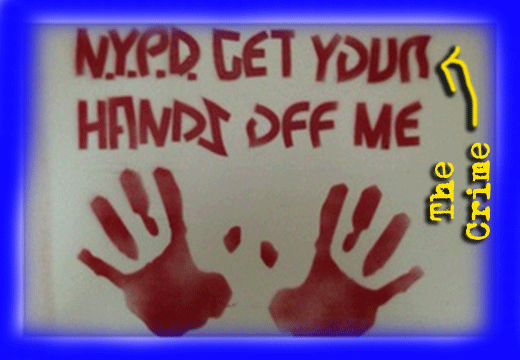 FORMER BOSTON PROSECUTOR GETS SELF ARRESTED TO LOOK INSIDE THE JUSTICE SYSTEM, DOESN'T LIKE WHAT HE SEES
Former Boston prosecutor Bobby Constantino decided to find out first hand what New York's criminal justice system looked like from the perspective of a lawbreaker, and if he—as an upscale-looking white guy—would be treated differently than someone who looked less affluent and/or was non-white.
The answers Constantino got are both interesting to read and disturbing.
Here are some clips from Constantino's story, written for the Atlantic.
Ten years ago, when I started my career as an assistant district attorney in the Roxbury neighborhood of Boston, I viewed the American criminal justice system as a vital institution that protected society from dangerous people. I once prosecuted a man for brutally attacking his wife with a flashlight, and another for sexually assaulting a waitress at a nightclub. I believed in the system for good reason.

But in between the important cases, I found myself spending most of my time prosecuting people of color for things we white kids did with impunity growing up in the suburbs. As our office handed down arrest records and probation terms for riding dirt bikes in the street, cutting through a neighbor's yard, hosting loud parties, fighting, or smoking weed – shenanigans that had rarely earned my own classmates anything more than raised eyebrows and scoldings – I often wondered if there was a side of the justice system that we never saw in the suburbs. Last year, I got myself arrested in New York City and found out.

On April 29, 2012, I put on a suit and tie and took the No. 3 subway line to the Junius Avenue stop in the Brooklyn neighborhood of Brownsville. At the time, the blocks around this stop were a well-known battleground in the stop-and-frisk wars: Police had stopped 14,000 residents 52,000 times in four years. I figured this frequency would increase my chances of getting to see the system in action, but I faced a significant hurdle: Though I've spent years living and working in neighborhoods like Brownsville, as a white professional, the police have never eyed me suspiciously or stopped me for routine questioning. I would have to do something creative to get their attention.

[LARGE CLIP]

I walked up to the east entrance of City Hall and tagged the words "N.Y.P.D. Get Your Hands Off Me" on a gatepost in red paint. The surveillance video shows me doing this, 20 feet from the police officer manning the gate. I moved closer, within 10 feet of him, and tagged it again. I could see him inside watching video monitors that corresponded to the different cameras.

As I moved the can back and forth, a police officer in an Interceptor go-cart saw me, slammed on his brakes, and pulled up to the curb behind me. I looked over my shoulder, made eye contact with him, and resumed. As I waited for him to jump out, grab me, or Tase me, he sped away and hung a left, leaving me standing there alone. I've watched the video a dozen times and it's still hard to believe.

I woke up the next morning and Fox News was reporting that unknown suspects had vandalized City Hall. I went back to the entrance and handed the guard my driver's license and a letter explaining what I'd done…

[BIG SNIP]

In the end I was found guilty of nine criminal charges. The prosecutor asked for 15 days of community service as punishment. My attorney requested time served. The judge—in an unusual move that showed how much the case bothered him—went over the prosecutor's head and ordered three years of probation, a $1000 fine, a $250 surcharge, a $50 surcharge, 30 days of community service, and a special condition allowing police and probation officers to enter and search my residence anytime without a warrant.

At my group probation orientation, the officer handed each of us a packet and explained that we are not allowed to travel, work, or visit outside New York City.

"Wait, what?" I blurted out. "This is true even for nonviolent misdemeanors?"

"Yes, for everyone. You have to get permission."

After the orientation, I went straight to my probation officer and requested permission to spend Christmas with my family in Massachusetts. I listened in disbelief as she denied my request—I'd worked with probation departments in several states, and I knew that regular family contact has been shown to reduce recidivism. My probation officer also refused to let me go home for Easter and birthdays……
---
SHERIFF'S DEPARTMENT SAYS IT MADE 80 BAD HIRES, WILL REFORM HIRING PRACTICES, BLAMES BAD CHOICES ON PEOPLE CONVENIENTLY RETIRED
In a letter to the LA County Board of Supervisors on Monday, Los Angeles County Sheriff Lee Baca explained to the board members the broad strokes of the hiring practices that resulted in a list of questionable hires three years ago when the department merged with LA County's Office of Public Safely—or OPS—and was asked to absorb what officers it could from that small county police force.
According to an LA Times investigation into the matter, out of 290 new hires, around 100 were inappropriate candidates for law enforcement. Some were droppingly inappropriate. like, for example, the woman who had a fight with her husband then, in a fit of pique, blasted away at the man with her service weapon as he frantically ran a zig-zag-pattern in order to dodge her bullets.
The supervisors were not at all thrilled with Baca's one-and-a-quarter-page letter, which did not answer many of the question that the board deemed pertinent—namely how in the world did this happen? The letter mostly blamed the hires on retired undersheriff Larry Waldie. This was not an explanation that the board members appeared to find satisfying, particularly Supervisor Antonovich who made a motion that Baca be required to report again to the board in two weeks.
In the meantime, LA Times reporters Robert Faturechi and Ben Poston talked to Assistant Sheriff Todd Rodgers about the matter and Rogers said that he and the sheriff admit that there had been 80 bad hires, but that reforms were being put into place to prevent such a thing from happening in the future.
Sheriff's Department spokesman Steve Whitmore reiterated to WitnessLA that former undersheriff Larry Waldie had been an extra layer in addition to the usual hiring protocols, and it was he who made the improper hiring selections.
"The sheriff takes full responsibility, and has decreed that we will do what is necessary to reform the system," said Whitmore. "But it was Undersheriff Waldie who was in charge of that project."
Former LASD commander Bob Olmsted, who is running against Baca in the 2014 sheriff's race, said that from what he knows of the situation, the problems with department hiring practices are "systemic," and not limited to merely those 80-100 problem hires from the OPS.
Olmsted also said he'd spoken to another retired undersheriff who told him that the sheriff would have had to sign off any and all people hired from the county police.
"All the paperwork absolutely would have gone straight to the sheriff," Olmsted said.
AND FOR ONE MORE TAKE ON THIS ISSUE:
In an LA Times editorial about the bad hires that ran on Tuesday morning before the board meeting, editorial board member Rob Greene writes that the hiring issues point to other problems in the department.
Here's a clip:
Sheriff Lee Baca had his hands full last week responding to the arrests of 18 of his current and former deputies amid a continuing investigation into abuse of inmates at Los Angeles County's jails, so let's hope he hasn't forgotten that he is due to report today on the previous week's scandal: the hiring of dozens of deputies with personnel records that showed lying, cheating, excessive force and irresponsible use of firearms.

The two matters aren't related in any formal sense; none of those arrested Dec. 9 was among the group that moved over to the Sheriff's Department in 2010 when the county's public safety police force was dissolved. But it doesn't take a leap of imagination to recognize a link between bad hiring practices and bad deputy conduct, especially if the sheriff's hiring of those 280 public safety officers three years ago followed standard policy….
---
LA COUNTY TO LOBBY FOR MORE REALIGNMENT MONEY FROM STATE & PROBATION CHIEF POWERS OUTLINES PROGRESS AND CHALLENGES 2 YEARS IN
The serendipitously-named Luke Money of the Santa Clarita Signal reports about LA County's determination to get a larger slice of California's realignment dollars. Here's a clip:
With state savings likely totaling more than $2 billion and county resources strained to provide adequate services for thousands of offenders, county supervisors voted Tuesday to ask the state to dole out more dough to fund the cost of the controversial state prison realignment program.

Members of the Los Angeles County Board of Supervisors decided during their meeting Tuesday to request more funding from the state to help supplement services that have been strained by an influx of inmates under the 2011 law, which shifted responsibility for some criminals from the state to counties.

"Realignment resulted in a 25 percent increase in the jail population over the first two years of the program," reads a board report. "The population count was 15,463 on Sept. 30, 2011, and 19,225 on Sept. 30, 2013."

The state will likely save in excess of $2 billion as a result of realignment, according to Los Angeles County Chief Executive Officer William T. Fujioka, while sending out less than $1 billion to California's 58 counties to help offset the cost of the prisoner shift.
AND… PROBATION CHIEF JERRY POWERS REPORTS ON THE UPS AND DOWNS OF REALIGNMENT IN LA COUNTY
On Tuesday, Probation Chief Jerry Powers presented an extensive two-year report on how realignment is going in LA County, which Powers said, gets 30 percent of the realignment prisoners. Among his points, Powers outlined some parts of the county's approaches to the realignment challenges that are beginning to succeed, such as the use of "flash incarceration," short jail terms of around 10 days, that are used for small infractions instead of parole revocation.
Allison Pari of KHTS AM Radio has more on Powers' lengthy and comprehensive report:
Chief Probation Officer Jerry Powers opened the report by explaining that L.A. County is currently the only county in the state that has created a year two report on the results of AB 109.

He and the other presenters also emphasized that some of the data from year two is not complete, because those offenders released during 2013 may not have completed their probation or treatment.

During the first two years, more than 18,000 prisoners were released into the county under the Post-Release Community Supervision program, but the active probation population peaked at 10,300, according to the Probation Department's full report, available here.

Powers said that of those 18,000 who have gone through the program so far, 1,900 have outstanding warrants, a similar ratio to other counties in the state.

He also said that flash incarcerations have significantly increased between years one and two–from more than 2,500 to more than 9,700–primarily because the Probation Department has become more comfortable with using this method of dealing with probation violators.

Flash incarcerations are seven to 10 day sentences given to AB 109 offenders for technical violations, such as failing to report to their probation officer.

Concerning recidivism, Powers said that the percentage of rearrests has been cut in half between years one and two– 43 percent rearrested vs. 21 percent rearrested…