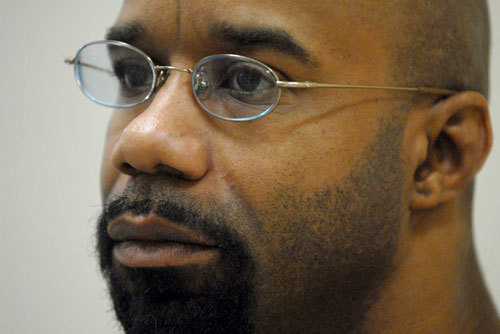 No saint, but where's the harm in a DNA test?
Anyone with a trace of commonsense and compassion would have supported William G. Osborne's request for a post-conviction DNA test.
That would leave out five empathy-void robes on the U.S. Supreme Court denied him. Ironically, so too the Obama administration, which filed papers opposing Osborne's request.
Osborne wanted the chance to conduct a more sophisticated DNA test on evidence than was available when he was convicted in a 1994 kidnap, rape and assault of a prostitute in Anchorage, Alaska. A three-judge panel from the Ninth Circuit Court of Appeals ruled in April 2008 that he should be able to test semen found in a condom and two hairs.
Heck, Osborne even offered to pay the $1,000 tab himself. But before you get all weepy about Osborne or jump down my throat for coming to the aid of a possibly guilty rapist, consider a few facts about the case and Osborne's troubled background. It's a tough case. If you were either Peter J. Neufeld or Colin Starger, his lawyers at the Innocence Project at New York's Benjamin N. Cardozo School of Law, you probably would have preferred a more sympathetic client. But due process and the Bill of Rights don't discriminate by zip code or storyline.

The assorted and sordid facts.
—It's not like Osborne is languishing in prison because he may have been wrongly convicted. He served 14 years and was paroled in 2007. Six months later, he was back in prison as part of a plea deal in a home invasion case. He and a group of masked men stood accused of raiding a home in search of drugs and money and pistol-whipping residents, bound in duct tape.
—Osborne's own lawyer in the 1994 case sold him out. She told an employee of the Alaska state crime lab that she thought her client was guilty. Here's the quote as it appears in the writeup by the three-member panel of the Ninth Circuit Court of Appeals. "Counsel disbelieved Osborne's statement that he did not commit the crime."
—Osborne gave the parole board a written confession of the kidnap/rape. The Ninth Circuit considered that seeming nail-in-the-coffin when it ruled in his favor. The panel wrote:
"Either the confessions will be proven accurate by test results, proving Osborne was in fact the passenger-rapist and his case will proceed no further, or the test results will exclude him as the source of the biological material, in which case serious questions will be raised about the validity of his confession as and whether, as Osborne now claims, he was motivated to confess falsely as the most expeditious means available to obtain release from prison.
–In a jailhouse interview with Anchorage Daily News reporter Lisa Demer, published in February, Osborne talked about what the case meant to him:
Osborne comes across as calm and articulate. He seems resigned to whatever happens. His head is shaved and he has a graying beard. Last year while in prison, he married a woman he knew from long ago. She has young twins and they all visit him in jail.

Asked why he wants the test, he said: "It's going to resolve this case for once and for all as to whether or not I'll be able to prove my innocence or my guilt."

What would the test show? Osborne leaned back to think about it. "Can't really answer that question," he finally said.

Osborne was born and raised in South Carolina, graduated high school there. He said he was accepted into The Citadel but it was too expensive, so he joined the Army.

He was just 20 when he was arrested, had his 21st birthday in jail a few days later.

In the years since he's been gone, his mother, grandmother, aunt and three first cousins all died. A daughter he fathered as a teenager now is a teen herself.

In June 2007, after serving 14 years of a 21-year sentence for rape, kidnapping and assault, he was paroled. Six months later, he was accused of being part of a group of masked men who stormed a home looking for drugs and money, who duct-taped and pistol-whipped hostages.

On Jan. 30, he agreed to a plea bargain that requires him to serve 10 years for the robbery and another six years still hanging over him on the old case.

"Even if I was to be found innocent, I can't get back the time I've already done. It's time lost," he said. "So on a certain level, I don't even care about the case anymore because it's just gotten to the point where it's basically something from my past."

But he recognizes the issue is bigger than he is. He wants to win, he said, "so that the next person doesn't have to go through this for the next 12 years."
Daily Journal 's Supreme Court reporter Lawrence Hurley explained in his story why the new president came down on the side of the right-leaning justices:
The Obama administration and a number of states, including California, favored reversal because a decision to affirm the 9th Circuit would likely have required the federal government and states to revisit their procedural rules, even if they already allowed inmates access to the evidence.

California Deputy Attorney General Michael Chamberlain described the high court ruling as a "well-reasoned decision" that recognizes how the states have already been active on the issue.

"In California, we have a very comprehensive and effective mechanism," he said.

Passed in 2000, California's law, which applies to anyone convicted of a felony, requires the state to maintain DNA evidence for the duration of an inmate's sentence and allows for retesting regardless of the plea. Indigent inmates can also get legal assistance to pursue such claims.
Peter Neufeld of the Innocence Project told the Daily Journal the ruling was "deeply flawed and disappointing." He said he would try to persuade the three states that don't allow at least some limited post-conviction access – Alaska, Massachusetts and Oklahoma – to pass laws similar to those in other states.