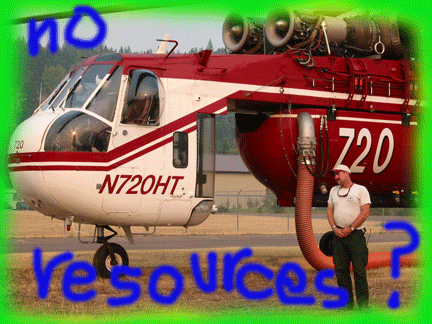 Now that many of the fires are contained, accusations and complaints are surfacing from Orange and San Diego counties that some of these disastrous fires of October were made worse by the fact that firefighters certain areas didn't have adequate air support.

The way it works is, each county has its own fire-fighting air fleet. Then when a true disaster strikes, the county or city draws from the state fleet and, in some cases, beyond.
For the record, LA County's fleet consists of three Sikorsky Firehawks, four Bell 412 helicopters, and another Bell Jet ranger.
This fire season, in addition to the copters it had in its own hanger, LA County Fire Department had access to a couple of Erickson Sky Cranes, a Super Scooper or two (leased from Quebec), and some other fixed-wing planes that swoop over and drop fire retardant. (The Daily News has a basic rundown of what was most recently being used.)
Over the past few days, these planes and 'copters were bounced around between LA area fires, "depending upon where there were structures threatened," LA County Fire spokes guy Sam Padilla told me.
And although there were homes and structures lost in LA County, as yet, there have been no big complaints that it was for lack of resources. The truth is, sometimes, in spite of everyone's best efforts, the fire does what it wants.
Yet, Orange county fire authority chief Chip Prather has been widely quoted as saying that with the arson-started Santiago Canyon fire in particular, a lack of air support in the fire's early stages made a crucial difference.
"If we had more air resources," he said, "we would have been able to control this fire," he said. "Instead we've been stuck in this initial attack mode on the ground where we hopscotch through neighborhoods as best we can trying to control things."
Similar complaints are surfacing around San Diego's destructive Harris fire.
So why didn't the OC and SD have what they needed and LA did?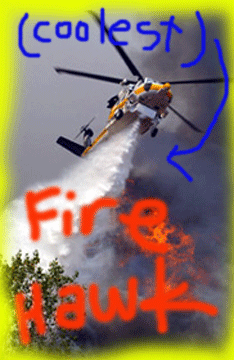 Out of curiosity, I called Orange County's fire authority and asked what kind of air fleet the OC had. Angela, a very cheerful and sleep-deprived OCFA spokesperson told me, "Two helicopters."

To make sure I hadn't heard wrong I asked again. Two, she repeated, and they definitely aren't Firehawks. "I wish!" she said.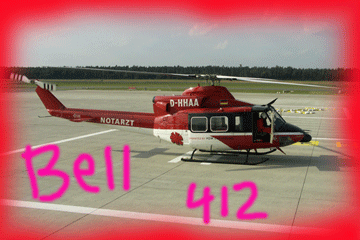 Asked why OCFA didn't get the additional resources they needed, Angela laughed dryly. "That's the big question," she said. "Let me know when you find out."
Even now, she added, the efforts to control the still-burning fires are plagued by a lack of the Right Stuff.
So what's the deal? Certainly the LA fires started sooner, so equipment came to us first. Plus we have a bigger fleet to begin with. But that doesn't really explain the situation.
Fire resources are controlled in layers. First city, the county, then state, then—if a fire is big or nasty enough to be "federalized"—by region. And with each successive layer, there's a formula for allocation.
In other words, determining what caused these resource short falls is a complicated business that will take time to sort correctly.

But for now we need to make sure we ask the right questions, and keep asking them.
POST SCRIPT: Here's the LA Times write-up on the equipment that the State of California didn't buy, since 2003, against the advice of its Blue Ribbon Fire Commission, all hand picked to make such recommendations.
I've heard from back door sources that the what the firefighters believed would have made all the difference in routing the 2003 SD fires before they got so tragically out of control—was early air support, specifically the super scoopers and the air cranes.