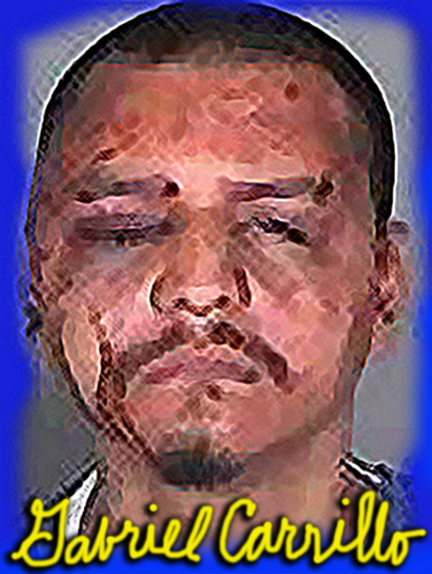 A MESSAGE OF DETERRENCE
On Monday morning, federal Judge George H. King sentenced former Los Angeles County Sheriff's sergeant, Eric Gonzalez, to eight years in a federal prison. The sentencing followed Gonzalez' conviction on June 24, 2015, of charges pertaining to the brutal beating of a handcuffed visitor to Men's Central Jail, along with a conspiracy to cover up the beating by falsifying official reports, thus causing the victim to be criminally charged as the aggressor.
After King pronounced the sentence, he remanded Gonzalez, 46, straight into federal custody, rather than giving him a few weeks or more to wrap up his affairs and surrender, as had been the case with some of the other department members convicted of wrongdoing by the feds in the past two years.
Judge King —who is, by the way, the Chief Judge of the United States District Court for the Central District of California-— made it clear that he wanted to send a message with the sentencing, stating grimly that Gonzalez "abused his authority and corrupted the very system he was sworn to uphold."
When law enforcement officers "think they are above the law," King said, "the entire rule of law is threatened."
The judge expressed hope that the stiff sentence would provide "general deterrence," because, he said, law enforcement must know that there are "very serious consequences for the type of gross misconduct" Gonzalez' actions represented.
"This conduct went beyond the pale" said Judge King.
---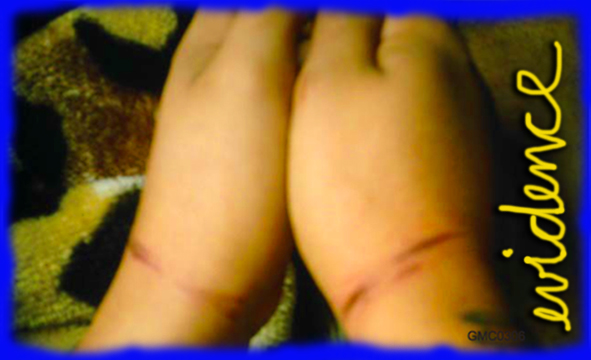 THE BEATING BACK STORY
For those unfamiliar with the case, the whole matter began on February 26, 2011, when Gabriel Carrillo and his girlfriend (now his wife) went to the Visiting Center for Men's Central Jail intending to visit Carrillo's recently arrested brother. Both Carrillo and his girlfriend carried their cell phones into the visitors' center, although phones are prohibited under jail rules. When the phones were discovered, Carrillo was handcuffed and brought into an employee break room, where prosecutors said he was subjected to a "savage beating" and sprayed with a burning agent similar to pepper spray. Paramedics later transferred Carrillo to the hospital, suffering from injuries to his face, ribs and wrists.
In December 2013, five LA County Sheriff's department members were indicted for the Carrillo beating and cover-up. This past June, Gonzalez was convicted on all counts along with former LASD Sussie Ayala and Fernando Luviano. Two other former LASD deputies—Pantamitr Zunggeemoge and Noel Womack—had taken plea deals earlier in the year and thus became witnesses for the prosecution.
During their testimony, both Womack and Deputy "Z"—as Zunggeemoge was called— unspooled harrowing descriptions of a cluster of large deputies kicking and slugging the far smaller Carrillo, who writhed, handcuffed, on the floor, trying to escape the blows, as Gonzalez looked on. "He was no threat to anyone," said Womack of Carrillo.
During his turn on the stand, "Z" described how, after the beating, he was given specific language by Gonzalez to insert into the necessary report. Z said that, with Gonzalez coaching him, he wrote of a violent, assaultive, escape-minded Carrillo, using a narrative that was entirely fiction, he said, but that succeeded in triggering felony charges against the handcuffed victim.
---
NOT A "ONE TIME THING"
During Monday's sentencing hearing, Carrillo asked to speak to Judge King. "This wasn't a one-time thing," he told King, "this was a one-time get caught."
Carrillo argued for the 10-year-plus sentence recommended by prosecutors, noting that the false charges that Gonzelez and company caused to be filed against him, could have resulted in a 14-year prison stretch.
In fact, Carrillo was a week before trial for the false allegations when his attorney, Ron Kaye, found the photos of Carrillo's injured wrists (shown above) that his girlfriend had taken and forgotten about, not realizing their importance. Kaye also found a neutral witness, a middle-aged woman who had been in the visitors center sitting near the so-called break room during Carrillo's beating, and was able to describe what she heard coming out of the room. "She was very important," Kaye told me.
Thus, instead of going to prison, Carrillo works in construction as a fork lift operator and is married to his former girlfriend, Grace Torres, with whom he has two children.
Judge King also discounted the argument of Gonzalez' defense attorney, Joseph Avrahamy, who argued that the battering of Carrillo, and the ensuing fabricated reports, represented an isolated incident. King said that the speed and ease with which the cover-up fell into place, suggested "a known course of conduct that has played out before."
Indeed, in the original indictment that preceded the two deputy plea deals, prosecutors laid out three additional incidents of alleged abuse against people who came to the jail to see friends or loved ones, including the beating of a jail visitor who was slammed around by deputies to the point that his arm was fractured, all reportedly because he asked to see a supervisor when his combat veteran brother repeatedly couldn't be located in the jail.
Each of the incidents allegedly involved some mix of the same cast of characters. And in at least two other cases, according to the indictment, deputies prepared "false and misleading reports in an attempt to show that…their uses of force were justified." Sergeant Gonzalez, the indictment alleged, "would assist deputies in preparing these reports and would approve these reports knowing they were false."
The original indictment also included an allegation by the feds that former Sergeant Gonzalez would "maintain, perpetuate and foster an atmosphere and environment" in the visiting area "that encouraged and tolerated abuses of the law, including the use of unjustified force…." among other abuses.
According to the indictment, Gonzalez "would reprimand deputy sheriffs he supervised for not using force on visitors to the MCJ if the visitors had supposedly 'disrespected' these deputy sheriffs through the visitors' words or conduct." He allegedly would "praise overly-aggressive behavior by deputy sheriffs and criticize" deputy behavior "that was not aggressive" and would "encourage deputy sheriffs under his command to make unlawful arrests, conduct unreasonable searches and seizures, and engage in excessive force," according to information the FBI and the prosecutors gathered.
---
NO APOLOGIES
At the sentencing, Gonzalez was not in the least contrite. Instead, he energetically defended his actions to the judge. As ABC7's Lisa Bartley and Miriam Hernandez wrote in their account of the sentencing:
"Gonzalez told the court that the jail's Visiting Center was controlled by gang members before he cleaned it up, changing it from 'a violent place… to Disneyland.'"
The now ex-Sergeant also said that he and his fellow jail deputies routinely dealt with some of the most violent criminals in Los Angeles County, and while they could have had "uses of force every day," they were "limited to a handful."
The government was not impressed.
"Today's lengthy prison sentence demonstrates that individuals who abuse their positions of trust as law enforcement officers will be held accountable," said United States Attorney Eileen M. Decker after Gonzalez sentence was handed down. "The former deputy sheriffs who participated in the scheme to violate the civil rights of a handcuffed man who was beaten without cause cast a stain on the entire Sheriff's Department, where virtually all of the deputies serve admirably."
Last month, a federal grand jury indicted a sixth deputy in relation to the incident at MCJ's Visiting Center. Former Deputy Byron Dredd pleaded not guilty on Friday to conspiracy to violate civil rights and two counts of making false reports, and he was ordered to stand trial on December 22.
The case against Gonzalez and the five others is one in a series of indictments, that have resulted in the convictions of 15 current or former members of the Los Angeles Sheriff's Department on federal charges. At least seven of those convictions will be reviewed by the Ninth Circuit Court of Appeals next year.
Still more indicted department members have yet to come to trial. The highest profile of those trials looming in the future is that of former undersheriff Paul Tanaka scheduled for March 2016.
Whether the feds' still ongoing investigations will produce any more indictments of LASD personnel in the months to come is anybody's guess. But rumors abound.
So, stay tuned.
---
VIDEO NOTE: The video above shows Carrillo being interviewed by then LASD Sergeant Eric Gonzalez, who had, a few hours before, supervised the Carrillo's beating and the cover-up. It was shown at trial and the jury watched it with rapt attention. ABC-7 News producer Lisa Bartley obtained the video, so we have her to thank for being able to show it to you. Here's ABC-7's excellent story on Gonzalez' sentencing, written by Bartley and reporter Miriam Hernandez