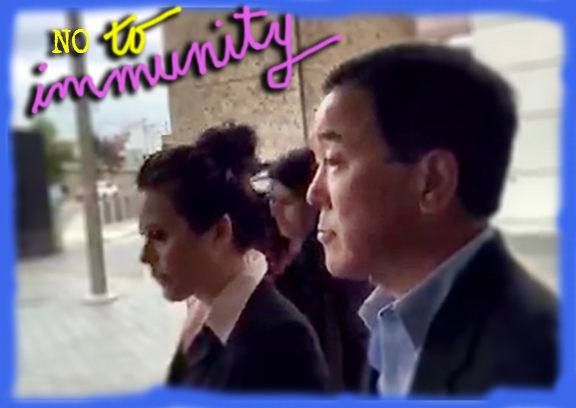 A new moment of drama in the run-up to the trial of former Los Angeles County undersheriff Paul Tanaka occurred on Monday when District Court Judge Percy Anderson told Tanaka's attorney that, no, he was not going to give former LA County Sheriff Lee Baca immunity from future prosecution should Baca be called to testify at Tanaka's trial.
Tanaka's attorney, H. Dean Steward, filed the request in mid-August, asking that the former sheriff be granted immunity because, "if he testifies truthfully, [Baca] will provide evidence that will contradict the government's evidence" and thus provide a basis for [Mr. Tanaka's} "acquittal of the charges."
The motion was almost certain to be a non-starter with Judge Anderson from the get go. But it was also understandable that that attorney Steward would roll the legal dice, no matter how slim the chance for success.
When Tanaka was originally indicted for obstruction of justice and conspiracy to obstruct justice back in May 2015, former LASD Captain William (Tom) Carey was indicted at the same time as a co-conspirator and also for perjury, having to do with his previous testimony in the trials of seven other former LASD members indicted with obstruction of justice for some of the same series of alleged actions. (The seven have since been convicted of the obstruction charges, and their convictions are on appeal with the Ninth Circuit Court of Appeals.)
At that time, Seward made confident statements to the press about his client's innocence and how Mr. Tanaka would prevail when it came time for trial—which certainly he still may.
However, in mid-summer, the odds of an acquittal for Tanaka suddenly rearranged themselves when Tom Carey took a plea deal in return for his cooperation in Tanaka's trial and any subsequent proceedings relating to department member misdeeds of which Carey had had knowledge, and which related to the original indictment concerning the hiding of federal informant Anthony Brown and other actions designed to thwart the FBI's investigation into chronic corruption and brutality in the Los Angeles County jail system.
Carey's plea, which was filed on August 13, 2015, sent Tanaka's defense scrambling for a witness to counter what Carey was likely to say on the stand.
Hence, presumably, the motion about immunity for Baca.
Carey and Tanaka took the stand in the previous obstruction of justice trials, and former Sheriff Baca was on the witness list for the defense at least twice, most notably in the two trials of former LASD Deputy James Sexton (who was tried twice before the feds could produce a guilty verdict). Yet Baca was never called in either of the trials because his then-attorney informed Sexton's legal team both times that Baca would take the fifth if put on the stand.
Baca hired a new attorney, Michael Zwieback, earlier this month. While Zwiback did not attend the Monday hearing, he confirmed to us that Baca would indeed be invoking his 5th Amendment rights this time around, if called as a witness.
---
COST/BENEFIT
At least one federal witness was reportedly given immunity that was limited to his testimony before a federal grand jury during hearings that likely contributed to Tanaka's and Carey's eventual indictment. But that witness had already been convicted of obstruction of justice, so the government's cost/benefit ratio in issuing limited immunity was presumably very different that it would be in the case of Baca, who at remains conspicuously un-indicted.
To put it another way, if federal prosecutors are able to convict the former undersheriff of the allegations arrayed against him, the notion that Baca's once powerful second in command is guilty of corruption charges that have already resulted in seven additional convictions and one plea bargain, it becomes less and less believable that Tanaka's former boss, the man who headed up the nation's largest sheriff's department for a decade and a half, is legally blame free.
Originally Mr. Tanaka's trial was scheduled to begin in early November of this year. But on Monday Judge Anderson agreed to delay proceedings until March 22, 2016, at the request of Mr. Tanaka's attorney.