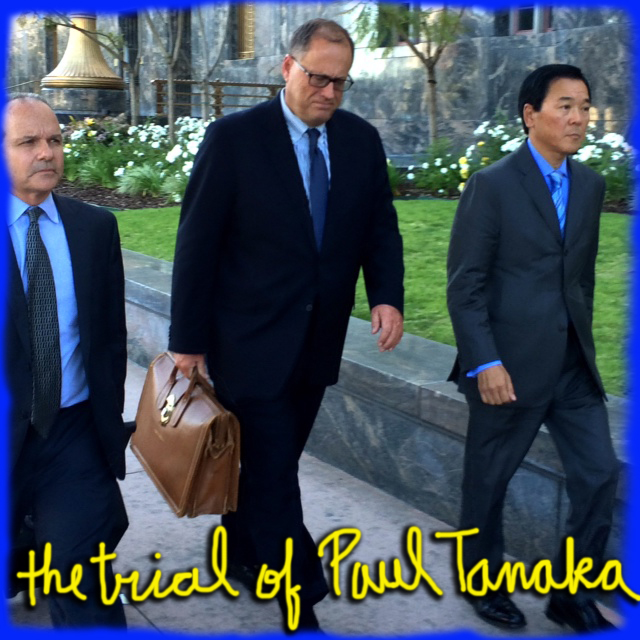 The trial of Paul Tanaka, the former second in command of the nation's largest sheriff's department, finished its second day of testimony on Tuesday.
Mr. Tanaka, who is charged with obstruction of justice and conspiracy to obstruct justice, reportedly once believed himself to be a sure thing to replace former sheriff Lee Baca as the department's leader, when Baca resigned.
In fact last Friday, during the first day of testimony, one of the witnesses—retired LASD commander Bob Olmsted—said as much to the jury in response to questions.
("I make all the decisions in on the department," Olmsted said Tanaka confided later. "I make all the promotions in the department. And I'm going to be the sheriff for the next 15 years [after Baca], so I need my people around me.)
The first witness up on Tuesday, was former LASD deputy Mickey Manzo, who is one of the seven former department members who were convicted of obstruction of justice nearly two years ago. Their convictions have since been appealed to the 9th Circuit Court of Appeals.
Manzo told the jury that now, post conviction, he's working as a receiving associate at Home Depot. Yet, he looked relaxed on the stand, although he did not want to be there, and had to be officially compelled by judicial order and promised limited immunity.
Much of the purpose of Manzo's testimony seemed to be to place Mr. Tanaka at crucial meetings, and to give some of the details of his alleged words, actions and influence in relationship to the series of events that have resulted in the charges against him.
Before his conviction forced to leave the department, Manzo was a member of Operation Safe Jails (OSJ) the gang investigative unit that worked inside the county's jail system.
Manzo told how, in mid-August 2011, he learned from another jail investigator that an inmate named Anthony Brown had been caught with a contraband cell phone. Yet, when the other investigator had the numbers on the phone traced, counter to conventional expectations, Brown had not been calling family or criminal confederates with his mobile device. Instead, he had been calling the civil rights unit of the Los Angeles office of the FBI.
Manzo said he immediately passed along this startling information to his boss, Lt. Greg Thompson (another of the seven who have already been convicted of obstruction) who then directed him to interview Brown early the next morning, along with Manzo's partner, Deputy Gerard Smith (also among the seven previously convicted), because he would need to brief Sheriff Baca, and then undersheriff Tanaka.
Manzo told the jury about how Thompson arranged for him and Smith to attend the meeting, which took place later that same afternoon, on August 19, 2011.
Manzo described Baca's demeanor at the meeting as "confused, as if he didn't know what was going on.
Prosecutor Brandon Fox asked about Tanaka's demeanor?
"He was visibly upset."
---
F— THE MOTHERF—–S!
Manzo and Smith were also permitted to attend the meeting called by Baca for the following day, August 20, 2011. The meeting was on a Saturday, and Baca showed up wearing a tracksuit. Heads of various departmental units were there, including Tom Carey, captain of the department's Internal Criminal Investigations Bureau or ICIB. (Carey was originally Tanaka's co-defendant, but he has now made a deal with the feds, in return for testimony.)
According to Manzo, the highlight of the meeting came when Thompson played excerpts from recordings of the Brown interview to those gathered, (excerpts that the jury heard on Tuesday aw well). When the recordings stopped paying, Manzo reported, Tanaka reacted to what he'd heard with fury.
"He stood up," Manzo told the jury, "and said 'Those motherfuckers! Who do they think they are?! Fuck them!
Them meaning the FBI, Manzo explained.
While the witness spoke, over at the defense table, Mr. Tanaka, who was dressed in a grey suit, a blue shirt, and a Wedgwood colored tie, wrote furiously in a lined notebook without looking up during most of Manzo's testimony.
Manzo said that Baca announced that Captain Carey would be heading up the investigation, and that everything that came out of the investigation would be run through Mr. Tanaka.
Baca and Tanaka then left the meeting, and a few minutes later, Tanaka came back alone.
According to Manzo, Tanaka said that he'd known the sheriff for a long time and he'd never seen him that upset, and that the investigation into the Brown matter was hugely important.
In a later email, Manzo's partner, Gerard Smith, would characterize Tanaka as saying the investigation into Brown, the cell phone, and Brown's connection to the FBI was "one of the most important investigations in the department's 160 year history."
---
SHUTTING OUT THE FBI
Tanaka also said, according to Manzo, that "nobody could interview Mr. Brown without Tanaka's approval."
But, as luck would have it, that's not how things worked out.
On August 21, Manzo, Smith plus ICIB lieutenant Steve Leavins (yet one more of the convicted seven) interviewed Anthony Brown again.
Two days after that, on August 23, according to Manzo's testimony and also later testimony by FBI special agent David Dahle, three FBI agents, including special agent Leah Marx, and Dahle, came to Men's Central Jail and checked in, using the routine that was usual for law enforcement who are coming to MCJ to interview inmates. Initially, all went as expected; no one stopped them and they spent time with Brown, asking him about the cell phone discovery, and reassuring him they would be back soon. Then, however, around an hour into their conversation, an LASD sergeant burst into the interview room and announced tersely that the interview was "over."
According to Manzo, Greg Thompson learned of the FBI's presence when the interview was already well in progress. Furious, Thompson made a call and demanded that the interview "be cancelled."
ICIB's Leavins wanted to know how this could have happened, said Manzo.
Later, Thompson reportedly told Manzo "he was going to go up to Mr. Tanaka's office and, to use is words, 'fall on the sword.'"
Manzo was present at the falling-on-sword meeting later that day.
"We got yelled at quite extensively," Manzo told the jury. "[Tanaka] said that we had really let him down, that this was a hugely important investigation and we let him down."
Then Tanaka again cranked up the intensity and decibel level, according to Manzo.
"Fuck the FBI!" he yelled.
Manzo read aloud a later email string between assistant sheriff Cecil Rhambo and Manzo's boss, Thompson, that had been exchanged, post Tanaka meeting. In one email Rhambo characterizesd the FBI being allowed to get to Brown as "the mother of all screw ups.' Still, Rhambo assured Thompson, "He still loves you, as do I." He being Tanaka.
In other emails, the jury heard that now "all FBI interviews would be subject to approval by Mr. Tanka.
On whose orders? asked Fox.
"He [Thompson] said 'this is what Mr. Tanaka wants."
Anothter exchange of emails Manzo read to the jury indicated that at first Thompson was going to send out "a custody-wide notice, effective immediately, about the requirement to require any FBI approaches to Brown to be approved by undersheriff Tanaka." But The former undersheriff rethought the idea of having his name on such an order.
In a subsequent email, Thompson said he would "remove all reference to [Tanaka]and all executives."
Instead the jail liaison was to be the official gate-keeper, as far as most were concerned.
Yet, at the August 23, fall-on-the-sword meeting, according to Manzo, Tanaka wanted "a one hundred percent guarantee that it [the FBI getting to Brown] wouldn't happen again."
Thus the idea was launched for rotating teams of guards—two guards to a team—to be stationed outside Brown's cell, round the clock.
Brandon Fox: Were there any discussions of Anthony Brown's safety at that meeting?
Manzo: No
---
WHO GAVE WHAT ORDERS?
Much of the rest of Manzo's testimony contained information on such topics as how Anthony Brown's guard detail was allegedly set up, how Brown's name was changed to obscure his whereabouts, and how he was made to vanish from the jail computer system.
On cross examination, attorney for the defense, Dean Steward made the point that, due to his new status as an informer, inmate Brown legitimately needed protection, that he could have been in danger from other inmates, and also from deputies on whom he had attempted to inform.
Steward also established that Baca spoke, by far, the most at what Steward christened the "track suit meeting," in reference to the former sheriff's get-up at the August 20, 2011 gathering, called after the discovery of Brown and the phone.
"Did he tell everyone to get to the bottom of what was happening…?"
Manzo agreed Baca did.
"And he talked about Anthony Brown being protected?"
Manzo again agreed.
(And although it was not counterclaimed again on Tuesday, it is still important to note that, in opening statements, defense attorney Jerome Haig stated unequivocally that Paul Tanaka never said "Fuck the FBI.")
---
SCOPE AND PROCESS
The rest of the day featured testimony by FBI Special Agent David Dahle and LASD Commander Judy Gerhardt.
Dahle spoke about the scope of the FBI's investigation into brutality and corruption inside the sheriff's department, and gave small glimpses into the process used, including the differences between overt and covert investigations, and how the grand jury process worked.
For instance, Dahle said that over 80 witnesses were subpoenaed to testify in front of a grand jury, and more than 80 did indeed testify.
Over a half million documents were subpoenaed during the investigation, said Dahle.
Also, with Dahle on the stand, the prosecution played excerpts from the multiple interviews by various department members—most of them now convicted of and sentenced for obstruction of justice—-and inmate and FBI informant Anthony Brown.
Across the various interviews, those doing the questioning seemed most interested in what Mr. Brown knew about the feds who were investigating their jails, how long they had been investigating, and what information he had given them in the course of his time as an informant. Browns questioners agreed to supply their subject with cheeseburgers, and cigarettes if he would cooperate.
Stay tuned for Part 4.