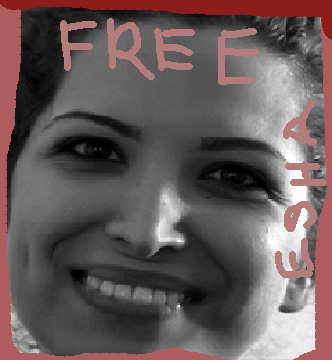 On Wednesday, October 15—just over a week ago—Esha Momeni was driving along the Moddaress highway in Teheran when she was pulled over by men who said they were undercover traffic police. The officers told her she had overtaken and passed another car, which was illegal, they said.
Esha is a 28-year-old graduate student at CSUN. She and her parents are Iranian Americans living in California, but Esha holds dual citizenship. Esha is getting her master's degree in communication and had been in Iran for two months to finish her thesis on the Iranian women's movement. She had been spending the day interviewing a group called the One Million Signatures Campaign, when the so-called traffic stop occurred.
The "officers" took her to her family's home where they seized her laptop and the videos of interviews she'd conducted with women activists. Ominously, they already had a search warrant with them. In other words, the stop was anything but the spontaneous occurrence it had first appeared to be.
Then Esha was taken to Iran's notorious Section 209 of Evin Prison where she has been held since, without being allowed access to friends or family.
This area of the Iranian prison system has an unusually menacing reputation. For instance, it is here where supposedly seditious writers and dissidents are usually taken. Some come out. Some do not. It was in Section 209 that Iranian-Canadian photojournalist Zahra Kazemi died in Iranian custody on July 11, 2003, after showing signs of being brutally raped and tortured.
Esha's friends and schoolmates wanted to spread the word of her imprisonment right away. But Iranian authorities told her family that, as long as they didn't go to the press, Esha would be released in a few days. Now a week as come and gone without her parents being allowed to see her, said Anayansi Prado, a filmmaker and friend told CSUN's school newspaper, The Daily Sundial
So friends and such organizations as Amnesty International have begun speaking out.
Esha's boyfriend, Hassan Hussein, has put up a website about Esha and her situation that he updates with any news plus statements from friends and professors.
The LA Times has a story in today's paper, which tells a little about Esha's background.
Here are some clips:
Momeni was born in California while her father was a civil engineering student at Cal State Los Angeles. Her family moved back to Iran when she was a child, Northridge officials said. A painter and musician, she earned an undergraduate degree in graphic design at Azad University of Tehran in 2002 and came to the Northridge campus two years ago.

Dave Blumenkrantz, a Northridge journalism professor who also serves on Momeni's thesis committee, recalled that he and other faculty members had asked her to consider dropping her trip to Iran in light of possible dangers even though her project is more related to art and photography involving women than to anything overtly political.

"Concerns were raised," Blumenkrantz said. "She said, 'Thanks for the advice, but this is something I really want to do.' She was not talking about it in a militant way, but her mind was made up.

"She's just brilliant and very talented," he said. "She is an original thinker."
Esha's friend and mentor, filmmaker, Anayansi Prado, said that the last time she talked to Esha, she believed her phone was being tapped.
According to Prado, Esha has not been charged with anything, but friends and family are extremely worried.
"I am very surprised by her arrest," said her professor, David Blumenkratz. "I am certain she was doing nothing wrong. I'm sure all my colleagues in the world would be surprised to hear that a young communication and Art student has been arrested for no apparent reason.
CSUN Campus President Jolene Koester said that the university is contacting U.S. officials for help in Esha's case.