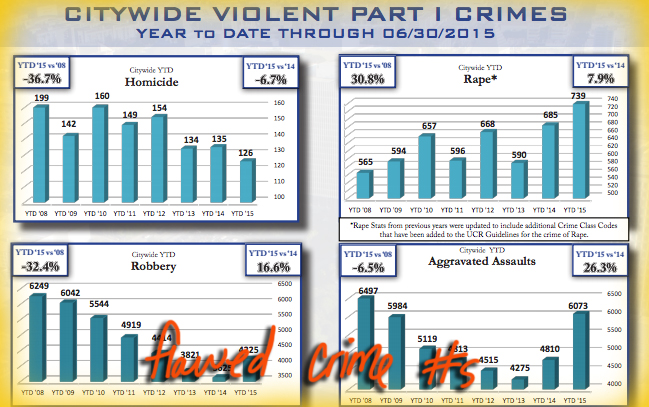 NEW INVESTIGATION FINDS LAPD MISREPORTED THOUSANDS OF SERIOUS ASSAULTS BETWEEN 2005-2012
Last year, an LA Times investigation revealed the LAPD misclassified hundreds of serious violent offenses as minor offenses in 2013. Last week, an audit found similar errors in the department's 2014 crime stats. The Times' Ben Poston, Joel Rubin, and Anthony Pesce took another look, and found that the misreporting could be traced back at least an additional eight years.
This new investigation found that between 2005-2012, the department mislabeled approximately 14,000 serious assaults as minor offenses, which resulted in inaccurate crime rates.
The misreporting made it appear as if violent crime rates were falling 7% faster, and serious assault rates were falling 16% faster than they actually were. (After taking the miscalculations into account, the analysis found that the city still experienced a decline in violent crime during those eight years.)
LAPD officials acknowledged that the crime data reporting errors could have a negative impact on public trust, and said the department was working to correct as much as possible.
On Thursday evening, WitnessLA's editor, Celeste Fremon, appeared on on KCRW's Which Way LA? with host Warren Olney to talk about the Times' story and the faulty crime stats.
Among the topics discussed was the matter of whether the problem existed prior to 2005, when the Times analysis stopped. Fremon said that WLA's sources close to the department told us they were not at all shocked by the Times' findings, and that the practice of creative classification was occurring well before 2005.
A New York Post story by Chris Perez, Shawn Cohen, and Rich Calder jumped to the conclusion that former LAPD Chief (and current NYPD commissioner) "cooked the books," misclassifying the crimes deliberately to make the city's crime statistics look better than they actually were.
But according to WLA's sources, it is more likely that the misreporting in the Bratton era was an artifact of pressure that some officials felt at the station level to meet the weekly and monthly crime reduction goals that were a part of the Bratton-instituted COMPSTAT system. As a consequence, our sources said, some station captains felt an incentive to get the desired results by whatever means available.
One source also suggested that property crimes could be another fertile area for future examination. In the case of property crimes, he said, there was often a subtle discouragement when it came to the reporting of certain lower-level property offenses like car break ins and theft. This "discouragement factor," he said, could affect overall crime numbers.
UC Berkeley criminologist Barry Krisberg also appeared on WWLA?, and made the point that it would be preferable for independent statisticians to analyze city and county crime data, rather than the various policing agencies involved, thus eliminating the temptation to manipulate the numbers that were reported by officers on the ground.
The Times' investigation also calls into question some of the recent reports of LA crime spikes. If serious assaults have been underreported for years, we should probably be healthily skeptical (and continue to ask questions about) rises and drops in crime, moving forward.
---
SF DA GEORGE GASCON: PROSECUTORS SHOULD EMBRACE RISK-ASSESSMENT AS A TOOL TO LOWER INCARCERATION RATES AND RACIAL DISPARITY IN JUSTICE SYSTEM
Writing for the MacArthur Foundation's Safety and Justice Challenge "Decision Points" blog series, San Francisco District Attorney George Gascón points to risk-assessment as a meaningful tool prosecutors can use to reduce prison and jail populations while also reducing racial disparity in the criminal justice system.
Gascón says prosecutors should trade tradition for a system of risk-based assessment (taking into consideration factors such as prior offenses, marital status, age, sex, education, and employment status) with regard to pre-trial detention and sentencing.
(We at WLA hope the same kind of enthusiasm for risk-assessment will find its way to LA.)
Here's how Gascón's essay opens:
Defining new models for success in a system that is so steeped in tradition takes courage, and it takes vision. As a prosecutor and chief law enforcement leader with more than 30 years of service, I believe it is incumbent upon prosecutors to identify new models of public safety that reduce both incarceration and unwarranted racial disparities. While these are challenging goals, a modern justice system that embraces data and evaluation can indeed make real progress.

Risk-based assessment tools provide us with an opportunity to refine how we do our work. Using historical data from our work—what cases we charged and how we resolved them—we can determine with much greater accuracy who is dangerous and needs confinement and who can safely be treated in the community. We can also identify where our decisions may have been influenced by inappropriate factors such as race or ethnicity.

Traditionally, prosecutors' use of science has been limited to forensics and expert witness testimony. Research-based decision making has not had a prevalent role in our work. Thankfully, advancements in risk-based assessment tools can improve decision making about pretrial release and appropriate sentencing options. Refusing to use our own data about our prior successes and failures, with the goals of making better decisions going forward, is irresponsible. Nearly every profession has been improved through data collection and analysis, and prosecution should be no different. Our profession has historically been cloaked in tradition, often to the detriment of improving outcomes. As the country grapples with the reality of mass incarceration, we must embrace tools that can help us safely reduce our prison and jail population, eliminate unwarranted racial disparities, and improve safety for victims and our community at large.
---
ON TOP OF STATE AND COUNTY INVESTIGATIONS TROUBLED LONG BEACH GROUP HOME, LA'S AUDITOR-CONTROLLER IS DIGGING THROUGH THE HOME'S FINANCES
The LA County Auditor-Controller's Office is looking into the finances of a scandal-plagued Long Beach group home run by Bayfront Youth and Family Services after a "risk assessment" of the county's group homes drew auditors' attention to Bayfront.
The group home, which is designated a Level 14 (the most restrictive level), is scheduled shut its doors at the end of October after a CA Department of Social Services investigation validated reports of foster kids running away, abuse from staff members, and more. LA County Probation also conducted an investigation, and in July, barred the group home from admitting any new kids.
No details about what the Auditor-Controller is looking for have been revealed. Bayfront's yearly operational budget is $6.7 million.
In 2014, Bayfront CEO Maryam Ribadu's salary was $192,000, more than twice as high as the next highest-paid employee, and more than double Ribadu's 2011 salary. And a 2011 audit of Bayfront spending found that the group home had not returned more than $36,000 in county funds that were supposed to pay for services that the home did not provide to the kids.
Foster care advocates continue to be concerned about a lack of group homes that provide a nurturing and safe environment to foster children.
Over the weekend, California Governor Jerry Brown signed a far-reaching bill to dump the current problematic group home model in favor of Short-Term Residential Treatment Centers, which will have to meet much higher standards of care than today's group homes.
ProPublica's Joaquin Sapien, who has been reporting on the ongoing troubles at Bayfront, has the story. Here's a clip:
Federal tax forms and state budget records show that Bayfront operates on a $6.7 million dollar annual budget drawn primarily from county contracts and state grants. Roughly two-thirds of the money is used to pay the home's more than 100 staff members; the rest, the records say, is spent mostly on repairs, maintenance, and food and clothing for the children.

[SNIP]

A number of audits have unearthed trouble at Los Angeles group homes and foster care centers in recent years. The Los Angeles Times has reported that Los Angeles County group home and foster care administrators have been caught spending taxpayer dollars on cigarettes, beer, perfume, fine china and other personal expenses. Between 2000 and 2010, auditors found that foster care operators had misspent more than $11 million dollars.

In the last year, the directors of two separate group homes have been charged with embezzlement by the Los Angeles County District Attorney. In September, a couple who ran a home called Little People's World, pleaded guilty to embezzling or misappropriating thousands of dollars. The former chief executive is set to spend six months in jail.

In April, the financial director and executive director of a group home called Moore's Cottage were charged with embezzling more than $100,000 from their nonprofit organization and filing false tax returns. The pair pled not guilty and they are set to begin pre-trial hearings in November.

In both cases, the Los Angeles Department of Children and Family Services had been alerted to evidence of misspending years before it took enforcement action and referred the cases to the district attorney's office for prosecution.