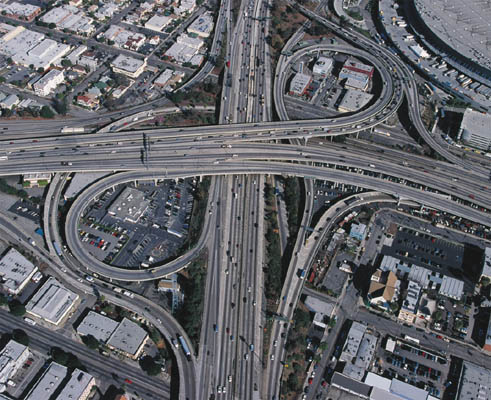 Ugly Secret: They never were free
If it were up to me, trucks and solo drivers would be banned from all L.A. freeways during rush hour. Carpools would not be two people; they would be a driver and at least two passengers. Buses would be free for all. Fares would be low for light-rail and subways. We would be happy to pay higher taxes because the 20,000 premature deaths blamed every year on air pollution would drop.
Believe it or not, we're headed there–slowly, and in very small steps. For the next couple weeks, the public will be weighing in on a congestion pricing program that will allow solo drivers to pay to drive in carpool lanes on stretches of the I-110 and I-10. Ladies and gentlemen, you can deal with it. The revolution has not begun.
Of course, foes abound. I suspect that L.A. Times' columnist Tim Rutten represents the thinking of many people as he tried to tear apart the plan this week. He was not particularly well-informed and chose either to ignore important elements that address low-income drivers, public transit, the environment and health benefits, or maybe he didn't read the entire plan. But fully weigh his views, particularly his demeaning example of a fictional mom working downtown who is rushing to care for her sick child at a Westside daycare. Here's his column.
Make sure you read this overwrought line about the poor mom:
A society that can rationalize the imposition of such pain doesn't need to worry over how to define equity; it needs to worry about its soul.
Note to Rutten: Rework the soul scold after doing some research on ultrafine particle pollution and learning how millions of microscopic specks that can fit on a nailhead find their way into lungs, hearts and brains of Los Angeles residents. These particles contribute to the respiratory ills that sicken and kill thousands every year. No society can allow this to continue.
Rutten's screed got the attention of the public affairs department at Metro. Score one for Marc Littman and Rick Jager. They posted a response to Rutten's shallow and misleading arguments on Metro's Web site today.
They shot down his arguments by addressing the full range of alternatives offered by the program:
This program provides the single mother with additional choices, some of which may be preferable to her. Through the $200 million in transit improvements along with the creation of the ExpressLanes, one new choice would be to take better and more reliable transit to avoid the highway traffic. Another choice based on the program would be to enter the toll lanes and save essential time. That choice could be made easier if she uses credits that she has built up by using transit, an element we're including in the program specifically for lower-income commuters.
Mr. Rutten seems to suggest single moms will have difficulty making decisions when facing traffic congestion. Single moms respond every day to changing circumstances and choices that are far more complex. Traffic doesn't have to be like the weather. We may not be able to transform it altogether, but we can have choices to make it better — for everyone. That's the point of this program.
Pick a side, any side, and show up at a public hearing, starting Saturday. Here's the schedule.