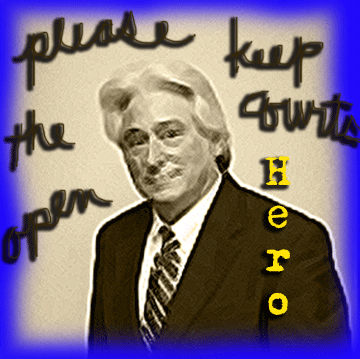 PLEASE DON'T CLOSE CHILD DEPENDENCY COURT. JUST DON'T DO IT!
On Wednesday there was a hearing in front of the 2nd Circuit Court of appeals that is to determine whether or not the order issued by Judge Robert Nash in January 2012 to finally open Los Angeles County's child dependency courts to the press under certain controlled circumstances was legal.
These are the courtrooms where foster care cases are heard, that have too long been secretive and disastrously short of sunlight.
The LA Times editorial board asks the 2nd Circuit to leave the situation as is. As does Christie Renick for the Chronicle of Social Change.
Here's a clip from what the Times had to say, with which we strongly agree:
Has openness perfected the Dependency Courts? No. But parents who felt their cases were being rushed through by overburdened lawyers and social workers have expressed relief to have outside eyes present; lawyers who complained of judges delaying cases have welcomed coverage that creates a disincentive to dawdle; judges say coverage has focused attention on questionable lawyering. Meanwhile, the tentative ruling cites no instance in which any child has been harmed by the presence of reporters.

This is an important work in progress; the appellate court should not end it. If it tries, the Legislature should pass a bill keeping the courts in Los Angeles open or, even better, extending the principle of Nash's order to the entire state.
We'll let you know when we learn more.
---
IS LEE BACA'S APPROVAL RATING DIVING? A CHALLENGER'S TAKES A POLL
Early Wednesday morning Los Angeles County Sheriff's candidate and Lee Baca challenger Bob Olmsted released a poll that showed that incumbent Baca's approval ratings could be in the midst of a bad slide.
The poll was a live telephone survey of 406 likely June 2014 voters in LA County conducted December 16th – 17th 2013. Olmsted's campaign paid for the survey.
Gene Maddaus of the LA Weekly got the fastest story up on the matter. Here's a clip:
Sheriff Lee Baca has had a rough couple of years, but it's gotten really bad in the last two weeks, ever since federal prosecutors brought corruption charges against 18 of his deputies.

Baca is up for re-election next year, and the unending scandals have taken a toll on his approval ratings. That's according to a new poll released today by one of Baca's opponents.

The survey shows that Baca's favorability rating has plunged in the last two years, and a majority of likely voters now disapprove of Baca's handling of his job. Not a good sign for the 71-year-old lawman.

[SNIP]

As with any internal poll, take it with a grain of salt.

With that, the results:

Baca (job approval)

Positive: 34%
Negative: 52%

Baca (favorability):

Favorable: 41%
Unfavorable: 33%

His favorability rating has declined sharply since the fall of 2011, according to another poll the Weekly obtained last month.

Baca (2011 favorability)
Favorable: 66%
Unfavorable: 23%

That's a 35-point drop in his net favorability rating in the last two years.
As Maddaus said, one should take insider polls with a dash of good sel de mer. Plus the sheriff has a big powerful political machine plus nearly two decades worth of popularity that one would be unwise to discount.
Yet, there is without a doubt blood in the water.
---
BACA FINALLY TALKS & CALLS HIS OPPONENTS "BITTER & A QUITTER",
After not meeting with the press for months, Sheriff Lee Baca has emerged from his bat cave to speak with reporters a number of times in the last week. On Wednesday he met with KCAL 9's Dave Lopez.
Be sure to watch the video, which includes a change of clothes on the part of the sheriff so that he could speak about the election legally—AKA out of uniform.
After talking about what he describes as his utter non-involvement with the FOS—Friends of the Sheriff—hiring program, he did his clothes change and chatted emphatically about his campaign.
Here' a bit of what he said:
"My job right now is to explain my side of the story," he said. "Leaders do not ever not have problems or controversy."

Baca's two opponents, Robert Olmsted and Paul Tanaka, are one-time assistant sheriffs who were once part of his inner circle. [Actually that isn't accurate, but whatever]

Without mentioning the men by name, he referred to both of them Thursday.

"My opponents – one is bitter and one is actually a quitter and bitter. And so here you've got another one who is bitter but should have been a quitter," he said.
Okay, I count three in that statement. One bitter, one a quitter, and "one who is bitter but should have been a quitter.'
Who's the third guy, sheriff? Just asking.
NOTE: ABC-7 has a story on the Friends of the Sheriff issue, that is worth checking out as well.
---
"CIRCLE IT!" SAN ANTONIO, TX, SCHOOL USES INNOVATIVE STRATEGY TO SUCCESSFULLY REDUCE SUSPENSIONS
The term "circling it" has become an important part of the vernacular at Ed White Middle School in San Antonio, Texas.
Jim Forsyth at WOAI Radio has the story. Here's a clip:
Marilyn Armour of the University of Texas School of Social Work calls it 'Restorative Discipline' and he says it has resulted in a staggering 84% decrease in suspensions at White, which previously had some of the highest discipline rates in the entire district.

"What's happening here is really an effort to change the whole climate," she told 1200 WOAI's Michael Board. "Not just change the kids' behavior."

She says Restorative Discipline is a student based way of convincing kids to behave properly. When a child acts out, rather than an immediate trip to the principal's office, in school suspension, or other traditional tactic, the students, counselors, teachers 'talk out' the issues in what are called 'restorative circles.'

"When kids begin to get skills beyond the fighting, it gives them options they haven't had before," Armour said.

She says many examples of sixth and seventh graders engaging in disruptive behavior is frequently borne of frustration, the students want to be heard, and they want to be considered to have a role in their discipline and the activities they engage in. She says this process allows the student to talk out their problems, with an eye toward reducing bullying, truancy, and disruptive behavior…
---
STUDY SAYS H.S. GRADUATION PREVENTS CRIME AND SAVES $$
A recent report draws a correlation between graduation rates and entry into the criminal justice system—and then does the math. Obviously one cannot draw a straight line of cause and effect, but the relationship is there, and the study is worth noting.
Isabelle Dills of the Napa Valley Register has the story. Here's a clip:
strong>Among all 50 states, California would save the most money — $2.4 billion in crime costs — if the male high school graduation rate increased by 5 percent, according to a recent report from the Alliance for Excellent Education.

The report, "Saving Futures, Saving Dollars: The Impact of Education on Crime Reduction and Earnings," examines research that links lower levels of education with higher rates of arrests and incarceration.

[SNIP]

There is an indirect correlation between educational attainment and arrest and incarceration rates, particularly among males, the report found. According to the most recent data from the U.S. Bureau of Justice, 56 percent of federal inmates, 67 percent of inmates in state prisons, and 69 percent of inmates in local jails did not complete high school. Additionally, the number of incarcerated individuals without a high school diploma is increasing over time.

"Dropping out of school does not automatically result in a life of crime, but high school dropouts are far more likely than high school graduates to be arrested or incarcerated," Wise said.

The report found that increasing the male graduation rate would decrease crime nationwide. According to the report, annual incidences of assault would decrease by nearly 60,000, larceny by more than 37,000, motor vehicle theft by more than 31,000 and burglaries by more than 17,000.

It would also prevent nearly 1,300 murders, more than 3,800 occurrences of rape and more than 1,500 robberies, according to the Alliance for Excellent Education.