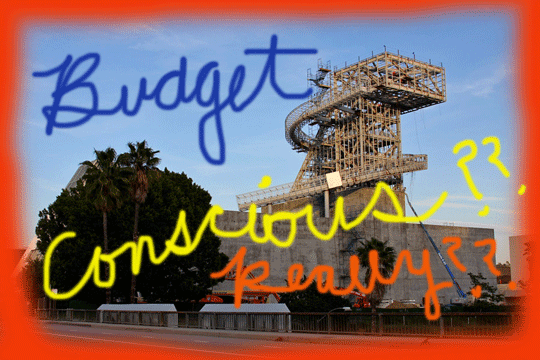 The Los Angeles Unified School District needs to cut $718 million out of its budget. This is why more than 4700 teachers have gotten pink slips.
But are there other places that could be cut instead?
This morning's LA Times has an article about the draft internal audit they managed to nab. The audit points to piles of money that may have been wasted by the district's facilities division. It is not a cheering read. At all.

For instance, there was $17 million that the audit says was spent unnecessarily on consultants who were, in many cases, (according to the audit) unqualified, and who did jobs that district employees could have done.
(The consultant issue generally is totally out of whack at the district, as any one with only the mildest of associations with the internal workings of LAUSD will be happy to rant on about, if you but give them a chance to do so.)

Here is how the article, written by Howard Blume, begins.

Consultants working for the Los Angeles Unified School District's school construction program cost taxpayers 70% more than if district employees had been used to do the same work, according to a draft internal audit obtained Thursday by The Times.

The audit also found that some consultants lacked required qualifications for their duties, and that those contractors have been improperly supervising and evaluating district employees as well as other consultants.

[SNIP]

* Using district employees, where possible, instead of consultants could have saved $77 million in the period from July 1, 2006, to June 30, 2007.

* Consultants lacking the required minimum qualifications were hired or promoted.

* Eighty-four percent of consultants had been employed at the district for more than two years and 16% more than five years.

* One consultant, who was supervised by an outside company he used to work for, billed the district at $189 an hour for full-time work, even though he spent only one week a month in Los Angeles.

* Consultants overstepped their proper roles, making decisions about the hiring and compensation of district employees. Some consultants also controlled the payments of district funds to other consultants working for the same firm. In some cases, they even signed time sheets for payments to their own firm

In this same vein, a few weeks ago NBC4 broadcast some of the fruits of its own investigation into instances of waste and possible kickbacks on a facilities division-sponsored elementary school library. The NBC4 folks have no smoking gun, exactly, but they turned up some troubling bullet holes—so to speak.

Over the years, and again recently, I have been hearing of still other cases of such waste and double dealings myself when it comes to district building projects, but they are mighty hard to prove.

Perhaps this is the sort of thing that some nice, smart group of investigative journalism students ought to be looking at a little more closely. Hint, hint.
********************************************************************************************************

PS: Yesterday's Daily News had it's own nicely grumpy editorial about Cortines and his teacher slashing proposal.