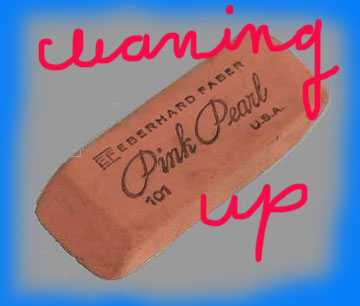 Even before the economic downturn, 60 percent of all employers surveyed on the topic said that they wouldn't hire someone with a criminal record. Now with a glut of educated and skilled people out of work, employers can afford to be even more selective. So those with even very minor criminal convictions are often completely out of luck.
There is one way to get rid of certain kinds convictions on one's record, however. It's called expungement.
Sandra Hernandez has a story in the Daily Journal about the expungement issue. She writes that joblessness and job insecurty—the worry about being laid off—has meant an increase in the number of people seeking expungements. But for lower income people looking there are few places to get the necessary legal help at a price they can afford,
My friend Elie Miller, a former alternate public defender who is now the staff attorney for Homeboy industries, is one of the few lawyers in LA who does expungement work at no cost—-and she is overloaded with people who need her help in navigating the legal system. (And her services are among those that are vanishing from Homeboy if they don't find the money they need.)
Elie features prominently in Hernandez' article, as you'll see below. Since the Daily Journal is hidden behind a paywall, Sandra has kindly allowed me to post the full article here at WLA.
It provides an interesting look at a problem that many otherwise hard-working Californians have to deal with—even more so as high unemployment rates continue.
PETITIONS FOR EXPUNGEMENT SOAR IN DOWN ECONOMY

By Sandra Hernandez
Daily Journal Staff Writer

LOS ANGELES – Dolly Robles has spent much of the last two years struggling to find work.

Her past, including convictions for misdemeanor assault in 2003 and felony burglary in 2004, has made her unemployable.

Desperate, Robles – a mother of three who grew up in Los Angeles' foster care system – went to court last year and asked a judge to expunge her criminal record.

"I realized that if I didn't do something different, they were going to take my kids and put them in the system," said Robles, 26, who lives in the San Bernardino County town of Upland. "I said 'Heck no, I don't want that for my little babies.'"

With the state unemployment rate hovering at 12.6 percent, Robles is among a growing number of Californians who are asking judges to dismiss past convictions.

The Los Angeles criminal court saw a 53 percent jump in such petitions filed in April, compared to the same period the previous year, according to court officials.

"I think employers in a tough job market can be more selective about who they hire so people are doing what they need to do," said Superior Court Judge Peter P. Espinoza, who presides over Los Angeles County's criminal courts.

In California, anyone who was convicted of a crime but served no prison time and has remained out of trouble can expunge his or her record for a $125 fee.

Attorneys said it's not just the unemployed who are asking for a second chance – but also those trying to hold on to jobs.

"I recently had a woman come see me who had worked for the city for 15 years and had a misdemeanor conviction for disturbing the peace," said Elie Miller, an attorney with Homeboy Industries, a Los Angeles-based nonprofit that is helping Robles clean up her record.

"This woman was terrified that as layoffs come up this would put her at greater risk of losing her job, but she didn't know what to do," Miller said.

The petitions could continue to grow: studies suggest one in 10 California residents has a criminal conviction.

The uptick, however, comes at a time when courts are becoming less and less equipped to handle them.

The Judicial Council last year ordered courts across the state to close an extra day a month to save money after its budget was trimmed back, cuts it passed along to county courts. The Los Angeles court laid off more than 300 employees in March, furloughed others, and began closing courtrooms, though only on the civil side so far.

"The staff layoffs threaten to impact the efficiency with which we get the [expungement] petitions into court, but more importantly, the speed with which we get the order certified and mailed out," said Espinoza. "I tell people that it will typically take 30 to 45 days from time I grant the order to the time they get a certified copy of the order."

Miller said San Bernardino court took nearly three months to complete one of Robles' petitions. That expungement finally came through late last month.

"I needed to get a job but I was nervous about applying because I'm afraid that if I apply before my conviction was dismissed, the employer wouldn't hire me," said Robles. "They say it doesn't matter, but it does."

Attorneys said the wait is often longest for those with the oldest convictions, whose records may be warehoused away from the courthouse.

"I've heard the clerks say there are delays in getting the records because they are short staffed," said Joshua Kim, an attorney with A New Way of Life, a Watts-based nonprofit sober living program for women that also provides legal help. The group handles an average of 35 expungement petitions a month.

Legal observers said getting help with expungements can be hard, especially for the poor.

"There have always been attorneys who would charge people a lot of money," said Saul Sarabia, a University of California, Los Angeles law professor who runs a legal clinic at A New Way of Life.

Sanabria said that until recently, only a handful of groups such as Homeboy Industries and Legal Aid Foundation of Los Angeles offered free legal help to those seeking to expunge their records.

"But I think you are now beginning to see a higher awareness that this is an available remedy and groups are trying to provide help."

However, Kim said he cautions clients that expungements are no panacea.

"There are companies like Home Depot or Lowe's [who] hire these big database companies to verify a potential employee's information."

Those firms often turn up even expunged convictions, he said, and employers act on the information.

"That is rampant," Sarabia said. "And it gets in the way of some folks who want to find work, but for whom the record is never truly expunged."