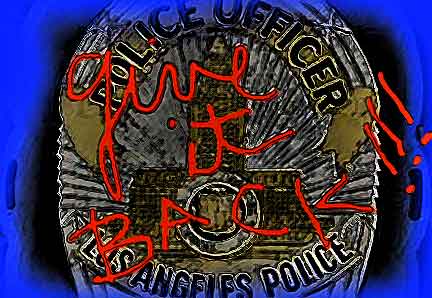 It has been over eight years since the Department of Justice forced talked the Los Angeles Police Department into submitting to a Federal Consent Decree—basically a plea bargain—as a way of avoiding a DOJ lawsuit being filed against the LAPD for "engaging in a pattern or practice of excessive force, false arrests and unreasonable searches and seizures."
(Not to be mean, but that was a suit they would have lost.)
On Monday, U.S. District Court Judge Gary Feess, who has been overseeing the Consent Decree, will decide whether the LAPD has made sufficient progress in reforming itself for the Consent Decree to be lifted.

I'll likely have more thoughts on this Monday. (Clue: The answer is: Yeah. the Decree should definitely be lifted—for among other reasons, Judge Feess really doesn't like our department. Like a foster parent who was helpful once-upon-a-time during a family crisis, but has now grown abusive, Judge Feess has long ago passed the point of being constructive in helping reform the LAPD. So he needs to give it back to us. Now.)
The Daily News, the LA Times and, naturally, LAPD Chief Bill Bratton, all say, for god's sake, yes, lift the damn thing.'
The ACLU says no.
A new Harvard study released last Friday says the department has made all kinds of progress (even though there's more to go).
As I said, I'm in favor of lifting the Decree, but not necessarily for the reasons the others are stating.
More on this from me later. (I'm up to my eyeballs reading student papers.) In the meantime, read the opining from those other folks and tell me what you think.