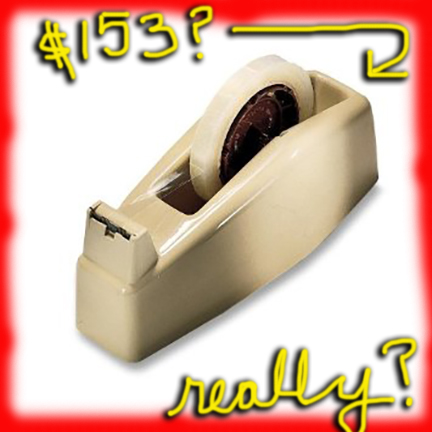 WitnessLA is still on a break, but there are a couple of local stories, in this case both of them from the LA Times, that we don't think you should miss, so we're very briefly coming out of our holiday cave to let you know.
---
AUDIT SHOWS PERPLEXING OVERSPENDING BY LA COUNTY'S DCFS—BUT NOT ON FOSTER CHILDREN IN ITS CARE
This is not the first time this year that LA County's Department of Children and Family Services has been criticized for sloppy fiscal management. For instance, last spring WitnessLA wrote about an Auditor-Controller's report, which indicated that, in a four month period, $571,000 worth of MTA passes and/or tokens were never given out by LA county social workers to the foster kids who urgently needed them.
Now Garrett Therolf from the LA Times reports on the results of a more recent audit showing a pattern of overspending on various kinds of office equipment that seems to defy any rational explanation.
Here's a clip from Therolf's story:
The Department of Children and Family Services, which Los Angeles County auditors have criticized for poor fiscal oversight, now is facing questions about its spending practices — specifically its office equipment purchases.

Among the items acquired in recent months: $374 headsets and a $153 automatic tape dispenser.

Philip Browning, head of the department, said that he has made equipment and technology upgrades a priority following years of neglect. Outfitting case workers with iPhones, dictation technology and ergonomically sound furniture makes them more efficient, he said.

"It's appropriate to keep employees safe and healthy," he said. "We spend a huge amount of money on workers' comp. We need to address that."

According to department records, the DCFS paid $348,000 in fiscal 2014 for supplies and equipment. That amount more than doubled, to $709,000, in fiscal 2015. And in the first four months of the current fiscal year, the department spent $700,000-plus on the equipment — more than the similarly sized probation department did the last two full years.

A review of invoices by The Times showed that the DCFS bought the wireless office headsets when a comparable, wired alternative was available for $20 — a potential savings of more than $350 each.

Officials said that employees were not required to choose the most cost-effective products to meet their ergonomic needs. And if workers say they need an item to prevent injuries, department policy dictates that they probably will get it, even if the same product has been provided to the same worker before.

No doctor's note is required, according to department policy.

The variety of products available is vast. One employee requested and received the $153 electric tape dispenser. Another, records show, asked for a $49 doze alert — a device that wakes up someone who has drifted off. Request approved.
There's more, so read the rest.
---
IF THE FEDS MANAGED TO FIND AND PROSECUTE INSTANCES OF DEPUTY BRUTALITY IN LA COUNTY'S JAILS, WHY DID THE DISTRICT ATTORNEY AND THE LASD REPEATEDLY FAIL TO DO SO?
On November 30 of this year, federal Judge George H. King sentenced former Los Angeles County Sheriff's deputies, Sussie Ayala, 30, and Fernando Luviano, 37, to six and seven years respectively in a federal prison.
The sentencing followed Ayala and Luviano's conviction on June 24, 2015, along with their supervisor, former LASD sergeant Eric Gonzalez, of charges pertaining to the brutal beating of a handcuffed visitor to Men's Central Jail, Gabriel Carrillo, along with a conspiracy to cover up the beating by falsifying official reports, thus causing Carrillo to be criminally charged as the aggressor, which could have resulted in a fourteen year prison sentence.
Yet, even after evidence suggested wrongdoing on the part of Carrillo's accusers surfaced as Carrillo's lawyer prepared his defense, neither sheriff's department investigators or the DA's office seemed to look past the accounts presented by the deputies involved.
Now most of those deputies are going to prison.
The LA Times' Joel Rubin reports on the issue in a story titled: Feds did what the L.A. prosecutors didn't do: bring deputies in jail visitor's beating to justice
Here's a clip:
But be sure to read the whole thing.
The Los Angeles County Sheriff's Department already was engulfed in a jail brutality scandal when a prosecutor in the district attorney's office examined the beating of Gabriel Carrillo.

During a visit to the county's main jail in February 2011, Carrillo had been left badly bloodied and bruised by a group of deputies, who broke his nose and pepper sprayed him in the face. The deputies claimed Carrillo had attacked them; Carrillo denied that and insisted he had been handcuffed during the beating.

The county prosecutor rejected Carrillo's account.

"There is no evidence to suggest that the deputies acted inappropriately," the prosecutor wrote in a 2012 internal memo that rejected filing charges against the deputies.

It took an investigation by federal officials to prove the district attorney's office wrong.

This year, prosecutors from the U.S. Attorney's Office secured criminal convictions against five of the deputies, including two who admitted in court that they participated in an assault on Carrillo while he was handcuffed. Three have been given prison terms; two more are expected to be sentenced next month.

District attorney's officials defend their office's handling of the case, saying their review was hamstrung because Carrillo would not speak with investigators about the beating.

But Carrillo and his attorney accuse the office of discounting evidence of wrongdoing that proved key to the federal prosecution.

Advocates for inmates rights say the case shows that the district attorney's office has not been aggressive enough at holding deputies accountable for abuses in county jails at a time when federal authorities and a blue-ribbon panel found evidence of persistent brutality.

"The D.A. is supposed to be a check on illegal behavior by law enforcement. In the jails, we have a very real example of its complete failure," said Peter Eliasberg, legal director of the American Civil Liberties Union of Southern California, the court-ordered monitor in the jails.

Although accusations of abuse of inmates have dogged the Sheriff's Department for years, prosecutions of deputies for excessive force in the jails have been rare.