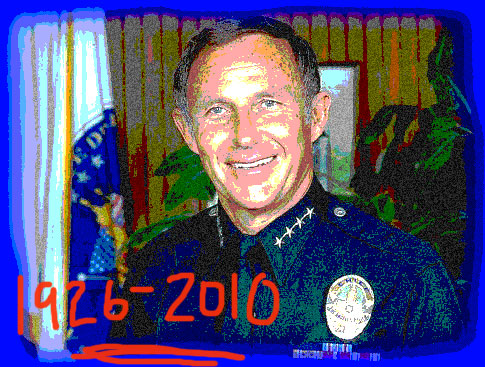 On Friday morning, when I posted about the death of former LAPD chief Daryl Gates, I made a point of erring on the side of the positive. It has, after all, been 18 years since he was forced to resign and the man did undeniably have accomplishments. However, after I read the guest post about Gates at LA Observed by former LA Times police writer, David Cay Johnston, a flood of Gates era memories began to surface, and I realized I had more to say.
Johnston is a respected and award-winning reporter and his piece on Daryl Gates is a must-read for those interested in LA history. It is also hair-raising.
It opens like this:
When Daryl Gates ran the LAPD from 1978 to 1992 he also ran a worldwide political spying operation. And he lavished time on it, sometimes several hours each day, including all the dossiers and reports he got on the lawful activities of L.A. leaders, elected and not, as well as political and religious groups he suspected were up to no good.

To those reading this who doubt I invite you to carefully read Gates's 1992 autobiography where he boasts about some of this.
The above is about the mildest thing in Johnston's essay. In the 4000 words that follow, he really gets down to business.
Reading what Johnston wrote triggered my own memories of the us-versus-them climate that Daryl Gates both created and tacitly sanctioned within the department.
My reporting in and around the Pico-Aliso housing projects of Boyle Heights brought me into regular contact with Gates-driven policing only during the last two years of of the man's reign (tenure is too tepid a word). Yet it was enough. Multiple times, I saw the aftermath of beatings delivered by LAPD officers when they caught adolescents who ran from them, or who were perceived to have given them lip. Mostly it was just cuts and bruises, but sometimes there was more to it. I remember in one case, with a kid named Guadalupe Lopez,—Scoobie" for short—in addition to the bruises, teeth were broken. Then he was let go with no arrest. Just the broken teeth.
In another case, with a kid named Fuji Estrada there was an arrest. However the injuries he sustained in the course of said collar (according to him, while he was handcuffed) appeared bad enough that the intake folks at Eastlake Juvenile Hall refused to admit Estrada until officers took him to the hospital so that doctors could check to see if his bruises and labored breathing indicated something medically ominous.
Not that the kid wasn't lawbreaking and wily, he was. Injuries notwithstanding, at the hospital while he was being readied for an X-ray, he managed to talk his way into an unescorted trip to the bathroom, from which he escaped the place altogether, out a window, I think it was, and disappeared barefoot down the street, hospital gown flapping in the wind. (His then probation officer, the legendary Mary Ridgway, and I discussed the escape with liberal dollops of black humor on more than one occasion.)
Eventually, the police rearrested Fuji Estrada and he was again injured in the course of the arrest. Records indicate that he was once more taken to the hospital. This time he did not escape.
In those days in the projects, teenage boys and young men were perpetually afraid of being driven by cops to "the factories"—the section of commercial buildings just north and west of Pico Gardens, that was deserted at night, thus a place where a lawbreaking kid—or a guy suspected of lawbreaking—could be "sorted out" without much danger of interruption.
To try to combat the beatings, neighborhood mothers began calling each other, phone tree style, the minute officers stopped any of the community's young men. The women would appear in apartment doorways, like magic, to silently watch what was happening—the message being, "Whatever they have done, or you think they have done, these are our children. You do not have the right to abuse them. If you do, we will know."
Sometimes complaints were filed. But I don't remember any of them going anywhere.
In January of 1991, around 175 projects mothers demanded to have a meeting about the abuse with some LAPD brass but, although the meeting was held, it changed nothing. Around this same time, the then head of Hollenbeck Division, Bob Medina, told an LA Times reporter, "These people understand only one thing, and that's force." It was an ethic that started at the top.
I realize all this will, to some, sound quite extreme— at best, apocryphal. It almost sounds unbelievable to me as I write it. The world of the Los Angeles Police Department is so different now. But, back in those days, a sense of entitled brutality on the part of a certain slice of the LAPD force, was simply part of the wallpaper for the poorest and most violence ridden of East and South LA's communities. To residents of those neighborhoods, the only thing that was unique about the Rodney King beating was the presence of a video camera.
Please understand, I don't for a moment suggest that all or even most officers engaged in this kind of behavior. But neither was it simply a few rotten apples. Even officers who have since left the force and, in a couple of cases, guys who were still on the force, have over the years told me cautious stories of how it was in those bad old days:
"It's better that I'm no longer a street cop," a grizzled Hollenbeck detective said out of the blue at the end of a long afternoon I'd spent with him in the summer of 2000, when I was reporting on a particular murder case. He was a dedicated, hardworking cop whom I quite liked, despite our obvious political and philosophical differences, and I asked him what he meant. He shrugged. "Truthfully, I liked it when we used to be able to beat people up. We can't do that any more." I stared at him slack-jawed. "Yeah, yeah, I know," he said seeing my expression. "You're a liberal. I'm not saying it's right. But I'm just being honest."
Beatings weren't the only thing that were permitted to happen under Gates. There were other, less straightforward forms of abuse:
For instance, in the early 1990s, I documented an instance in which officers drove young men whom they perceived as gang members into "enemy" territory, forced them out of the car and announced their outsider presence over the patrol car's loud-speaker system.
Actually, I documented two instances, but the second was engineered by the Housing police officers who then patrolled Pico-Aliso and had begun to ape their LAPD counterparts. In the incident with the housing cops, along with a couple of community mothers, I saw the two young men minutes after they managed to dodge pursuers and make it back to their home territory, both sheet-white and truly terrified. (By the way, I know both of them to this day. Both are working men and dads who live far away from the projects. Both still remember the fear of that afternoon.)
The LAPD instance involved four boys and was much more prolonged, with much taunting, much threatening, some alleged beating. In the end, this group of boys got out of the car, as ordered, but became so alarmed they begged to be let back in. Finally, the second of the two officers relented. Unlike the situation with the homeboys and the housing cops, the four had been taken into territory where there was such fresh and virulent enmity that they were assuredly in life threatening peril.
I heard about the incident after the fact, and spent a week interviewing neighbors who had witnessed various parts of the occurrence, parents of the boys and siblings who saw the bruises that night, and the boys themselves. As with the other case, the boys were not charged with anything. It was pure harassment. And it could have been deadly.
After the incident, two of the boys' mothers called the LAPD and filed written complaints. But, as was usual, nothing came of it.
Multiple times, I tried everything I could think of to get the officers involved to comment on the incident. Neither would talk to me. One officer—the lead in the situation— was killed in the line of duty about a year later. The other, the guy that let the boys back in the car, has since left the force and, despite the incident is, by most other accounts a decent man. I have always wondered what he would say about that night now.
I am not suggesting that Daryl Gates knew about such occurrences specifically. But I am saying he created a climate in which they were allowed to happen without any kind of consequence or sanction.
As I said before, Gate's had his good points. He loved the force, in his own autocratic way. He made the rank and file feel he had their backs—unlike, say, Bernard Parks, who drove officer morale into the abyss. Like Bill Parker before him, Gates had no tolerance for fiscal corruption. But his way of doing business promulgated what his once Assistant Chief David Dotson called expediency corruption—the do-whatever-you-got-to-do ethic that flourished on his watch, and continued for years after his departure. An organizational culture, once created, takes years and years to alter.
There are other stories to tell. But this is a long post already and it covers most of what I needed to say. Make of it what you will.
The LA Times' Jim Newton and my dear pal and expert LAPD watcher, Joe Domanick and the Times' Patt Morrison have their own takes on Daryl Gates in this past Sunday's newspaper. LA Observed's Kevin Roderick drew his own conclusions on the man on KCRW, Friday afternoon.