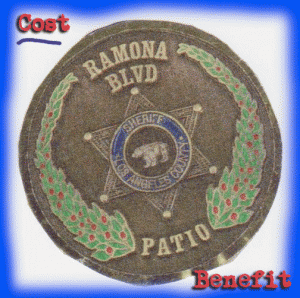 CLEARING UP THE CONFUSION ABOUT THE LASD DONATIONS & the PROMOTIONS LISTS
When we originally posted the data lists along with Matt Fleischer's Pay to Play story, they were posted in a form that was extremely hard to read. As a consequence, a number of people erroneously believed that they or someone whom they knew were listed as having donated to one of Paul Tanaka's campaigns—when in fact they had not done so.
In any case, as you'll note below, we've now found a program that allows for easy posting of the files as Excel spreadsheets, which makes them far easier to read and navigate.
Hopefully these will cear up any confusion.
In the first spreadsheet, you'll find the combined list of those who donated, and those who took tests to promote (designated as LtTEST or SgtTEST) and got "banded," and then when and if they got promoted. In many cases there is overlap (people who got promoted, also donated, and vice versa). But in other cases not. This first spread sheet lists everything.
Below that spreadsheet, there is a second that shows only those who donated, when and how much.
A third spreadsheet notes testing to promote, and dates of promotions—exclusive of whether people donated or not. (Here, again, the UCLA guys have listed dates of the tests and subsequent banding, in this case with the word TEST, for landing on the Intent to Promote list as INT, and then the date of promotion, if and when that occurred.)
Again, we apologize for any confusion those messier versions may have caused.
PS: We were originally not clear ourselves that our UCLA guys were so thorough with their spreadsheets that they also charted the test dates, along with the promotion dates, so we could see who took tests and did NOT get promoted, along with noting those who did. This was another cause for confusion. But if you look at the spread sheets with this fuller explanation in mind, I think everything will be clear. (However, if you find any anomalies, don't hesitate to let us know.)
---
The actual spread sheets are after the jump.
COMBINATION LIST SHOWING WHO DONATED AND WHO WAS PROMOTED (AND WHEN TESTS TO PROMOTE WERE TAKEN)
Now again, many, many of those who were promoted, never donated, which you'll see if you look to the three columns at the far right, where the donations are noted.
| | Names | Sgt | SgtTest | Lt | LtTest | IntCpt | IntCmmdr | IntChf | Transfer | by5.23.08 | by11.26.08 | by3.6.09 |
| --- | --- | --- | --- | --- | --- | --- | --- | --- | --- | --- | --- | --- |
| 1 | ABERCROMBY JOSEPH | NA | 6/17/09 | NA | NA | NA | NA | NA | 0 | 0 | 0 | 0 |
| 2 | ABRAM BERNICE | NA | NA | NA | NA | 3/6/09 | NA | NA | 0 | 800 | 500 | 0 |
| 3 | ADAMS MICHAEL | NA | 6/17/09 | NA | NA | NA | NA | NA | 0 | 0 | 0 | 0 |
| 4 | ADLER KELLY | NA | NA | NA | 1/10/11 | NA | NA | NA | 0 | 0 | 0 | 0 |
| 5 | AGUILAR XAVIER | NA | NA | NA | 1/20/09 | NA | NA | NA | 0 | 0 | 0 | 0 |
| 6 | AHSMUHS KEVIN | NA | 6/17/09 | NA | NA | NA | NA | NA | 1 | 0 | 0 | 0 |
| 7 | AIKIN SCOTT | 5/23/08 | NA | NA | NA | NA | NA | NA | 0 | 0 | 0 | 0 |
| 8 | AIMAQ SALIM | NA | 6/17/09 | NA | NA | NA | NA | NA | 0 | 0 | 0 | 0 |
| 9 | ALEXANDER ROBERT | NA | 6/17/09 | NA | NA | NA | NA | NA | 1 | 0 | 0 | 0 |
| 10 | ALEXANDER SANDRA | 2/2/10 | 6/17/09 | NA | NA | NA | NA | NA | 0 | 0 | 0 | 0 |
| 11 | ALOMA KRISTIN | NA | NA | NA | 1/10/11 | NA | NA | NA | 0 | 0 | 0 | 0 |
| 12 | ALOMA SERGIO | NA | NA | 5/13/12 | 1/10/11 | NA | NA | NA | 0 | 0 | 0 | 0 |
| 13 | ALVAREZ ANNA | 11/26/08 | NA | NA | NA | NA | NA | NA | 0 | 0 | 0 | 0 |
| 14 | ALVAREZ EDWIN | NA | NA | NA | 1/10/11 | NA | NA | NA | 0 | 0 | 0 | 0 |
| 15 | AMSTUTZ ROBERT | 6/25/10 | 6/17/09 | NA | NA | NA | NA | NA | 0 | 0 | 0 | 0 |
| 16 | ANDA LORRAINE | NA | 6/17/09 | NA | NA | NA | NA | NA | 0 | 0 | 0 | 0 |
| 17 | ANDA RONENE | NA | NA | NA | NA | NA | NA | NA | 0 | 0 | 0 | 0 |
| 18 | ANDERSON CLAY | NA | NA | NA | 1/20/09 | NA | NA | NA | 0 | 0 | 0 | 0 |
| 19 | ANDERSON EVELYN | NA | NA | NA | 1/20/09 | NA | NA | NA | 0 | 0 | 0 | 0 |
| 20 | ANDERSON JOHN | NA | NA | NA | 1/20/09 | NA | NA | NA | 0 | 0 | 0 | 0 |
| 21 | ANDRESON JOHN | NA | NA | 12/18/09 | NA | NA | NA | NA | 0 | 0 | 0 | 0 |
| 22 | ANDREWS JAMES | NA | 6/17/09 | NA | NA | NA | NA | NA | 0 | 0 | 0 | 0 |
| 23 | ANTUNA CHARLES | NA | NA | NA | NA | 12/3/10 | NA | NA | 0 | 100 | 100 | 0 |
| 24 | ANTUNA PHYLLIS | NA | 6/17/09 | NA | NA | NA | NA | NA | 0 | 1000 | 0 | 0 |
| 25 | ARBALLO CARMEN | 11/26/08 | NA | NA | NA | NA | NA | NA | 0 | 0 | 0 | 0 |
| 26 | AREVALO BLANCA | NA | 6/17/09 | NA | NA | NA | NA | NA | 0 | 0 | 0 | 0 |
| 27 | ARIAS ERIC | NA | 6/17/09 | NA | NA | NA | NA | NA | 1 | 0 | 0 | 0 |
| 28 | ARNALDO EDUARDO | NA | NA | 12/18/09 | NA | NA | NA | NA | 0 | 0 | 0 | 100 |
| 29 | ASHRAFNIA WALID | NA | NA | 5/13/12 | 1/10/11 | NA | NA | NA | 0 | 0 | 0 | 0 |
| 30 | ASMUS WARREN | NA | NA | NA | NA | NA | 12/3/10 | NA | 0 | 100 | 0 | 0 |
| 31 | AUNER DAVID | NA | NA | NA | 1/20/09 | NA | NA | NA | 1 | 200 | 200 | 0 |
| 32 | BARDON JOSHUA | NA | NA | NA | 1/10/11 | NA | NA | NA | 0 | 0 | 0 | 0 |
| 33 | BARLOW MICHAEL | NA | 6/17/09 | NA | NA | NA | NA | NA | 0 | 0 | 0 | 0 |
| 34 | BARNARD-MARTINEZ VANESSA | NA | 6/17/09 | NA | NA | NA | NA | NA | 0 | 0 | 0 | 0 |
| 35 | BARNES SHAWN | NA | 6/17/09 | NA | NA | NA | NA | NA | 0 | 0 | 0 | 0 |
| 36 | BARNES TODD | 5/23/08 | NA | NA | NA | NA | NA | NA | 0 | 0 | 0 | 0 |
| 37 | BARNHOORN DENNIS | NA | 6/17/09 | NA | NA | NA | NA | NA | 0 | 0 | 0 | 0 |
| 38 | BARRETT RICHARD | NA | 6/17/09 | NA | NA | NA | NA | NA | 0 | 0 | 0 | 0 |
| 39 | BARSH JENNIFER | NA | 6/17/09 | NA | NA | NA | NA | NA | 0 | 0 | 0 | 0 |
| 40 | BARTLETT PAUL | NA | 6/17/09 | NA | NA | NA | NA | NA | 0 | 0 | 0 | 0 |
| 41 | BASH ALAN | NA | 6/17/09 | NA | NA | NA | NA | NA | 0 | 0 | 0 | 0 |
| 42 | BASNETT REBECCA | 2/2/10 | 6/17/09 | NA | NA | NA | NA | NA | 0 | 0 | 0 | 0 |
| 43 | BASSO STEPHEN | NA | 6/17/09 | NA | NA | NA | NA | NA | 0 | 0 | 0 | 0 |
| 44 | BATES JASON | NA | 6/17/09 | NA | NA | NA | NA | NA | 0 | 0 | 0 | 0 |
| 45 | BAUER LEO | NA | NA | NA | 1/20/09 | NA | NA | NA | 0 | 0 | 0 | 0 |
| 46 | BAUSMITH FRANK | NA | 6/17/09 | NA | NA | NA | NA | NA | 0 | 0 | 0 | 0 |
| 47 | BAYES ROBERT | NA | 6/17/09 | NA | NA | NA | NA | NA | 0 | 0 | 0 | 0 |
| 48 | BECERRA SALVADOR | NA | NA | NA | 1/20/09 | NA | NA | NA | 0 | 0 | 0 | 0 |
| 49 | BECHARD GERALDINE | 2/2/10 | NA | NA | NA | NA | NA | NA | 0 | 0 | 0 | 0 |
| 50 | BECKER PAUL | NA | NA | NA | NA | NA | NA | NA | 0 | 0 | 0 | 0 |
| 51 | BEDOGNE ANDREW | NA | NA | NA | 1/20/09 | NA | NA | NA | 0 | 0 | 0 | 0 |
| 52 | BELL TERRENCE | NA | 6/17/09 | NA | NA | NA | NA | NA | 1 | 0 | 0 | 0 |
| 53 | BENEDICT JOHN | NA | NA | NA | NA | 3/21/12 | NA | NA | 0 | 0 | 0 | 0 |
| 54 | BENETT DAVID | NA | 6/17/09 | NA | NA | NA | NA | NA | 0 | 0 | 0 | 0 |
| 55 | BENNETT JEFFREY | 2/2/10 | NA | NA | NA | NA | NA | NA | 0 | 0 | 0 | 0 |
| 56 | BENNING ROBERT | NA | 6/17/09 | NA | NA | NA | NA | NA | 0 | 0 | 0 | 0 |
| 57 | BERGER CRAIG | 2/2/10 | NA | NA | NA | NA | NA | NA | 0 | 0 | 0 | 0 |
| 58 | BERGNER CHRISTOPHER | NA | NA | NA | 1/10/11 | NA | NA | NA | 0 | 0 | 100 | 0 |
| 59 | BERGNER RYAN | NA | 6/17/09 | NA | NA | NA | NA | NA | 0 | 0 | 0 | 0 |
| 60 | BERGO CHRISTOPHER | NA | 6/17/09 | NA | NA | NA | NA | NA | 0 | 0 | 0 | 0 |
| 61 | BERINGER DANIEL | NA | NA | NA | 1/20/09 | NA | NA | NA | 0 | 0 | 100 | 0 |
| 62 | BERNAL GEORGE | NA | 6/17/09 | NA | NA | NA | NA | NA | 0 | 0 | 0 | 0 |
| 63 | BERUMEN GEORGE | NA | NA | 12/18/09 | NA | NA | NA | NA | 0 | 100 | 0 | 0 |
| 64 | BETKEY DAVID | NA | NA | NA | NA | NA | NA | NA | 0 | 400 | 100 | 0 |
| 65 | BEVANS WILLIAM | 2/2/10 | NA | NA | NA | NA | NA | NA | 0 | 0 | 0 | 0 |
| 66 | BILLE ERNEST | NA | 6/17/09 | NA | NA | NA | NA | NA | 0 | 0 | 0 | 0 |
| 67 | BISAHA STEVEN | NA | 6/17/09 | NA | NA | NA | NA | NA | 0 | 0 | 0 | 0 |
| 68 | BISHOP BRIAN | 5/23/08 | NA | NA | NA | NA | NA | NA | 0 | 0 | 0 | 0 |
| 69 | BISHOP CORT | NA | 6/17/09 | NA | NA | NA | NA | NA | 0 | 0 | 0 | 0 |
| 70 | BLACKWELL LARRY | NA | NA | NA | 1/20/09 | NA | NA | NA | 0 | 0 | 0 | 150 |
| 71 | BLANCHARD ANTHONY | 5/23/08 | NA | NA | NA | NA | NA | NA | 0 | 0 | 0 | 0 |
| 72 | BLANCHFIELD-GADUT PATRICK | NA | 6/17/09 | NA | NA | NA | NA | NA | 0 | 0 | 0 | 0 |
| 73 | BLANKS ROBERT | NA | NA | 12/18/09 | 1/20/09 | NA | NA | NA | 0 | 0 | 0 | 0 |
| 74 | BLANSFIELD DIRK | NA | 6/17/09 | NA | NA | NA | NA | NA | 0 | 0 | 0 | 0 |
| 75 | BLUNT ROBERT | 2/2/10 | NA | NA | NA | NA | NA | NA | 0 | 0 | 0 | 0 |
| 76 | BOCK MARK | NA | NA | NA | 1/10/11 | NA | NA | NA | 0 | 0 | 0 | 0 |
| 77 | BOCK ROBERT | 2/2/10 | NA | NA | NA | NA | NA | NA | 0 | 0 | 0 | 0 |
| 78 | BODENSTEDT BRETT | NA | NA | NA | 1/20/09 | NA | NA | NA | 0 | 0 | 0 | 0 |
| 79 | BOJORQUEZ RICHARD | 2/2/10 | NA | NA | NA | NA | NA | NA | 0 | 0 | 0 | 0 |
| 80 | BOLDER VERGILIAN | NA | 6/17/09 | NA | NA | NA | NA | NA | 0 | 0 | 0 | 0 |
| 81 | BOLIN DARRELL | NA | NA | NA | NA | 3/21/12 | NA | NA | 0 | 0 | 0 | 0 |
| 82 | BONES JOHN | 6/25/10 | 6/17/09 | NA | NA | NA | NA | NA | 0 | 0 | 0 | 0 |
| 83 | BONSALL DANA | NA | 6/17/09 | NA | NA | NA | NA | NA | 0 | 0 | 0 | 0 |
| 84 | BOOG SEAN | NA | 6/17/09 | NA | NA | NA | NA | NA | 0 | 0 | 0 | 0 |
| 85 | BORNMAN MICHAEL | NA | NA | NA | NA | 3/21/12 | NA | NA | 0 | 0 | 0 | 0 |
| 86 | BOSKOVICH MARC | 2/2/10 | 6/17/09 | NA | NA | NA | NA | NA | 0 | 0 | 0 | 0 |
| 87 | BOSSIER MATTHEW | 5/23/08 | NA | NA | NA | NA | NA | NA | 0 | 0 | 0 | 0 |
| 88 | BOWMAN VICTOR | NA | 6/17/09 | NA | NA | NA | NA | NA | 0 | 0 | 0 | 0 |
| 89 | BRADEN JAMES | NA | 6/17/09 | NA | NA | NA | NA | NA | 0 | 0 | 0 | 0 |
| 90 | BRADLEY ANDREA | 6/25/10 | 6/17/09 | NA | NA | NA | NA | NA | 0 | 0 | 0 | 0 |
| 91 | BRANDON GLENN | NA | NA | NA | 1/20/09 | NA | NA | NA | 0 | 0 | 0 | 0 |
| 92 | BRAUBERGER WILLIAM | NA | 6/17/09 | NA | NA | NA | NA | NA | 0 | 0 | 0 | 0 |
| 93 | BRIGGS TIMOTHY | NA | 6/17/09 | NA | NA | NA | NA | NA | 0 | 0 | 0 | 0 |
| 94 | BRINK BURTON | 11/26/08 | NA | NA | NA | NA | NA | NA | 0 | 0 | 0 | 0 |
| 95 | BROAD JOHN | NA | 6/17/09 | NA | NA | NA | NA | NA | 0 | 0 | 0 | 0 |
| 96 | BROOKWELL PAMALA | NA | NA | NA | 1/20/09 | NA | NA | NA | 0 | 0 | 0 | 0 |
| 97 | BRUNER THOMAS | NA | 6/17/09 | NA | NA | NA | NA | NA | 0 | 0 | 0 | 0 |
| 98 | BUCHANAN DAVID | NA | 6/17/09 | NA | NA | NA | NA | NA | 0 | 0 | 0 | 0 |
| 99 | BUNCH BRENT | NA | 6/17/09 | NA | NA | NA | NA | NA | 0 | 0 | 0 | 0 |
| 100 | BURAKOWSKI SUSANNE | 2/2/10 | NA | NA | NA | NA | NA | NA | 0 | 0 | 0 | 0 |
| 101 | BURCHER JOHN | 2/2/10 | NA | 5/13/12 | 1/10/11 | NA | NA | NA | 0 | 0 | 0 | 0 |
| 102 | BURDICK DANIEL | NA | 6/17/09 | NA | NA | NA | NA | NA | 0 | 0 | 0 | 0 |
| 103 | BURGIN TERRY | NA | NA | NA | 1/10/11 | NA | NA | NA | 0 | 0 | 0 | 0 |
| 104 | BURGOYNE RICH | NA | 6/17/09 | NA | NA | NA | NA | NA | 0 | 0 | 0 | 0 |
| 105 | BURGOYNE RICHARD | 2/2/10 | NA | NA | NA | NA | NA | NA | 0 | 0 | 0 | 0 |
| 106 | BURRUSS MARC | NA | NA | NA | 1/20/09 | NA | NA | NA | 0 | 0 | 0 | 0 |
| 107 | BURSON MATTHEW | NA | NA | 12/18/09 | 1/20/09 | NA | NA | NA | 1 | 0 | 0 | 0 |
| 108 | BUSCH PHILLIP | NA | 6/17/09 | NA | NA | NA | NA | NA | 0 | 0 | 0 | 0 |
| 109 | BUSH JAMES | NA | 6/17/09 | NA | NA | NA | NA | NA | 0 | 0 | 0 | 0 |
| 110 | CACHEIRO PEDRO | NA | NA | NA | 1/20/09 | NA | NA | NA | 0 | 100 | 0 | 0 |
| 111 | CADMAN CHRISTOPHER | NA | 6/17/09 | NA | NA | NA | NA | NA | 0 | 0 | 0 | 0 |
| 112 | CAFFREY JOHN | 2/2/10 | NA | NA | NA | NA | NA | NA | 0 | 0 | 0 | 0 |
| 113 | CALDERON GILBERT | NA | 6/17/09 | NA | NA | NA | NA | NA | 0 | 0 | 0 | 0 |
| 114 | CALE JEFFREY | 5/23/08 | NA | NA | NA | NA | NA | NA | 0 | 100 | 0 | 0 |
| 115 | CALOCA JAIME | NA | 6/17/09 | NA | NA | NA | NA | NA | 1 | 0 | 0 | 0 |
| 116 | CANCHOLA ALEX | NA | NA | NA | 1/20/09 | NA | NA | NA | 0 | 0 | 0 | 0 |
| 117 | CANFIELD RICHARD | NA | 6/17/09 | NA | NA | NA | NA | NA | 1 | 0 | 0 | 0 |
| 118 | CANO ALOBERT | NA | 6/17/09 | NA | NA | NA | NA | NA | 0 | 0 | 0 | 0 |
| 119 | CANTLEY BRUCE | NA | NA | NA | 1/20/09 | NA | NA | NA | 0 | 0 | 0 | 0 |
| 120 | CARAISCO TED | NA | 6/17/09 | NA | NA | NA | NA | NA | 0 | 0 | 0 | 0 |
| 121 | CARANGI ROBERT | NA | 6/17/09 | NA | NA | NA | NA | NA | 1 | 0 | 0 | 0 |
| 122 | CARDENAS RAYMOND | 2/2/10 | 6/17/09 | NA | NA | NA | NA | NA | 0 | 0 | 0 | 0 |
| 123 | CARD KEVIN | NA | 6/17/09 | NA | NA | NA | NA | NA | 0 | 0 | 0 | 0 |
| 124 | CARON MARK | NA | 6/17/09 | NA | NA | NA | NA | NA | 0 | 0 | 0 | 0 |
| 125 | CARRION SEAN | NA | 6/17/09 | NA | NA | NA | NA | NA | 0 | 0 | 0 | 0 |
| 126 | CARRIZOSA SLADE | 5/23/08 | NA | NA | NA | NA | NA | NA | 0 | 0 | 0 | 0 |
| 127 | CARTER JOHN | NA | 6/17/09 | NA | NA | NA | NA | NA | 0 | 0 | 0 | 0 |
| 128 | CARTER KERRY | NA | NA | 12/18/09 | NA | NA | NA | NA | 0 | 0 | 200 | 0 |
| 129 | CASLIN BRENDAN | NA | 6/17/09 | NA | NA | NA | NA | NA | 0 | 0 | 0 | 0 |
| 130 | CASTANEDA MARIO | 6/25/10 | 6/17/09 | NA | NA | NA | NA | NA | 0 | 0 | 0 | 0 |
| 131 | CASTELLANO ALLEN | NA | NA | NA | 1/20/09 | NA | NA | NA | 0 | 0 | 0 | 0 |
| 132 | CASTILLO ARMANDO | NA | 6/17/09 | NA | NA | NA | NA | NA | 0 | 0 | 0 | 0 |
| 133 | CASTILLO MARICELA | NA | 6/17/09 | NA | NA | NA | NA | NA | 0 | 0 | 0 | 0 |
| 134 | CASTRO JOHN | NA | 6/17/09 | NA | NA | NA | NA | NA | 0 | 0 | 0 | 0 |
| 135 | CASTRO JUAN | 6/25/10 | NA | NA | NA | NA | NA | NA | 0 | 0 | 0 | 0 |
| 136 | CASTRO LEONARDO | NA | 6/17/09 | NA | NA | NA | NA | NA | 0 | 0 | 0 | 0 |
| 137 | CHADWICK GEOFFREY | NA | 6/17/09 | NA | NA | NA | NA | NA | 0 | 0 | 0 | 0 |
| 138 | CHANG FRANCOIS | NA | 6/17/09 | NA | NA | NA | NA | NA | 0 | 0 | 0 | 0 |
| 139 | CHAPMAN SCOTT | NA | 6/17/09 | NA | NA | NA | NA | NA | 0 | 0 | 0 | 0 |
| 140 | CHAVEZ ARTURO | NA | NA | NA | 1/20/09 | NA | NA | NA | 0 | 0 | 100 | 0 |
| 141 | CHAVEZ ERNEST | NA | NA | 12/18/09 | 1/20/09 | NA | NA | NA | 0 | 0 | 0 | 0 |
| 142 | CHAVEZ JORGE | 2/2/10 | 6/17/09 | NA | NA | NA | NA | NA | 0 | 0 | 0 | 0 |
| 143 | CHAVEZ PILAR | 11/26/08 | NA | NA | NA | NA | NA | NA | 0 | 0 | 0 | 0 |
| 144 | CHEATHAM ERIC | NA | 6/17/09 | NA | NA | NA | NA | NA | 0 | 0 | 0 | 0 |
| 145 | CHEMNITZER DANA | NA | NA | NA | 1/20/09 | NA | NA | NA | 0 | 0 | 0 | 0 |
| 146 | CHING JIM | 11/26/08 | NA | NA | NA | NA | NA | NA | 0 | 0 | 0 | 0 |
| 147 | CHISM ROBERT | NA | 6/17/09 | NA | NA | NA | NA | NA | 1 | 0 | 0 | 0 |
| 148 | CHIVAS ROBERT | 6/25/10 | NA | NA | NA | NA | NA | NA | 0 | 0 | 0 | 0 |
| 149 | CHOI VINCENT | 6/25/10 | 6/17/09 | NA | NA | NA | NA | NA | 0 | 0 | 0 | 0 |
| 150 | CHO MINA | 2/2/10 | 6/17/09 | NA | NA | NA | NA | NA | 0 | 0 | 0 | 0 |
| 151 | CHRISTENSEN CHARLES | NA | 6/17/09 | NA | NA | NA | NA | NA | 0 | 0 | 0 | 0 |
| 152 | CHRISTIAN PAMELA | 2/2/10 | NA | NA | NA | NA | NA | NA | 0 | 0 | 0 | 0 |
| 153 | CHRISTOPHER STEFAN | NA | NA | NA | 1/20/09 | NA | NA | NA | 0 | 0 | 0 | 0 |
| 154 | CHU ALAN | NA | 6/17/09 | NA | NA | NA | NA | NA | 0 | 0 | 0 | 0 |
| 155 | CHUCK DENNIS | 6/25/10 | 6/17/09 | NA | NA | NA | NA | NA | 0 | 0 | 0 | 0 |
| 156 | CLAYTON SHARON | 11/26/08 | NA | NA | NA | NA | NA | NA | 0 | 0 | 0 | 0 |
| 157 | CLAY VICTOR | NA | NA | NA | 1/20/09 | NA | NA | NA | 0 | 100 | 0 | 0 |
| 158 | CLIFT JAVIER | 2/2/10 | 6/17/09 | NA | NA | NA | NA | NA | 0 | 0 | 0 | 0 |
| 159 | CLINKUNBROOMER MICHAEL | 2/2/10 | NA | NA | NA | NA | NA | NA | 0 | 0 | 0 | 0 |
| 160 | COBOS ALBERT | NA | NA | NA | 1/20/09 | NA | NA | NA | 0 | 0 | 0 | 0 |
| 161 | CONLEY RICHARD | NA | 6/17/09 | NA | NA | NA | NA | NA | 0 | 0 | 0 | 0 |
| 162 | CONNER ZACHARY | 2/2/10 | 6/17/09 | NA | NA | NA | NA | NA | 0 | 0 | 0 | 0 |
| 163 | CONNOR MICHAEL | NA | NA | 12/18/09 | 1/20/09 | NA | NA | NA | 0 | 0 | 0 | 0 |
| 164 | CONTI RICHARD | 2/2/10 | 6/17/09 | NA | NA | NA | NA | NA | 0 | 0 | 0 | 0 |
| 165 | CONTRERAS JOHN | 2/2/10 | 6/17/09 | NA | NA | NA | NA | NA | 0 | 0 | 0 | 0 |
| 166 | CONTRERAS MARK | NA | 6/17/09 | NA | NA | NA | NA | NA | 0 | 0 | 0 | 0 |
| 167 | COOK JOHN | 2/2/10 | 6/17/09 | NA | NA | NA | NA | NA | 1 | 0 | 0 | 0 |
| 168 | COON DANNY | 6/25/10 | 6/17/09 | NA | NA | NA | NA | NA | 0 | 0 | 0 | 0 |
| 169 | COOPER GERALD | NA | NA | NA | NA | NA | 12/3/10 | NA | 0 | 0 | 0 | 0 |
| 170 | COOPER TIMOTHY | 11/26/08 | NA | NA | NA | NA | NA | NA | 0 | 200 | 0 | 0 |
| 171 | CORINA JOHN | NA | NA | NA | 1/20/09 | NA | NA | NA | 1 | 0 | 100 | 0 |
| 172 | CORRIGAN JAMES | 2/2/10 | 6/17/09 | NA | NA | NA | NA | NA | 0 | 0 | 0 | 0 |
| 173 | COSTLEIGH WILLIAM | NA | 6/17/09 | NA | NA | NA | NA | NA | 1 | 0 | 0 | 0 |
| 174 | COUSSA PATRICK | NA | 6/17/09 | NA | NA | NA | NA | NA | 0 | 0 | 0 | 0 |
| 175 | CROWTHER RICHARD | NA | 6/17/09 | NA | NA | NA | NA | NA | 0 | 0 | 0 | 0 |
| 176 | CRUZ ANDREW | NA | 6/17/09 | NA | NA | NA | NA | NA | 0 | 0 | 0 | 0 |
| 177 | CUEVAS MARIO | NA | 6/17/09 | NA | NA | NA | NA | NA | 0 | 0 | 0 | 0 |
| 178 | CURRAN JEFFREY | NA | 6/17/09 | NA | NA | NA | NA | NA | 0 | 0 | 0 | 0 |
| 179 | D'ABUSCO BARBARA | 2/2/10 | NA | NA | NA | NA | NA | NA | 0 | 0 | 0 | 0 |
| 180 | DAHRING ANDREW | NA | 6/17/09 | NA | NA | NA | NA | NA | 0 | 0 | 0 | 0 |
| 181 | DAILY RONALD | 5/23/08 | NA | NA | NA | NA | NA | NA | 0 | 0 | 200 | 0 |
| 182 | DAILY RUTHIE | NA | NA | NA | 1/20/09 | NA | NA | NA | 1 | 0 | 0 | 0 |
| 183 | DANCEL LYNDON | 6/25/10 | 6/17/09 | NA | NA | NA | NA | NA | 0 | 0 | 0 | 0 |
| 184 | DAVIS DAVID | NA | 6/17/09 | NA | NA | NA | NA | NA | 0 | 0 | 0 | 0 |
| 185 | DAVIS MICHAEL | 2/2/10 | NA | NA | 1/10/11 | NA | NA | NA | 0 | 0 | 0 | 0 |
| 186 | DAVIS NICOLE | 11/26/08 | NA | NA | NA | NA | NA | NA | 0 | 0 | 0 | 0 |
| 187 | DAVOREN JOHN | NA | 6/17/09 | NA | NA | NA | NA | NA | 1 | 0 | 100 | 0 |
| 188 | DEAN BRANDON | 2/2/10 | 6/17/09 | NA | NA | NA | NA | NA | 1 | 0 | 0 | 0 |
| 189 | DEAN ROBERT | 2/2/10 | 6/17/09 | NA | NA | NA | NA | NA | 0 | 0 | 0 | 0 |
| 190 | DE BELLA MARY | NA | 6/17/09 | NA | NA | NA | NA | NA | 0 | 0 | 0 | 0 |
| 191 | DE BONDT GERARD | NA | 6/17/09 | NA | NA | NA | NA | NA | 0 | 0 | 0 | 0 |
| 192 | DEEDRICK GEOFFREY | NA | NA | NA | 1/20/09 | NA | NA | NA | 0 | 0 | 0 | 0 |
| 193 | DEEDS TODD | 2/2/10 | NA | NA | 1/10/11 | NA | NA | NA | 0 | 0 | 0 | 0 |
| 194 | DE LA ROSA VERONICA | 6/25/10 | 6/17/09 | NA | NA | NA | NA | NA | 0 | 0 | 0 | 0 |
| 195 | DEL REAL MICHAEL | 2/2/10 | NA | NA | NA | NA | NA | NA | 0 | 0 | 0 | 0 |
| 196 | DEL VALLE AGUSTIN | NA | NA | NA | 1/20/09 | NA | NA | NA | 0 | 0 | 0 | 0 |
| 197 | DEMELLO JACK | NA | NA | 5/13/12 | 1/10/11 | NA | NA | NA | 0 | 0 | 200 | 0 |
| 198 | DEMELLO TRACY | NA | NA | 12/18/09 | NA | NA | NA | NA | 1 | 0 | 0 | 0 |
| 199 | DEMPSEY JOSEPH | NA | NA | NA | 1/20/09 | NA | NA | NA | 0 | 0 | 100 | 200 |
| 200 | DENKINGER BELA | 2/2/10 | NA | NA | NA | NA | NA | NA | 0 | 0 | 0 | 0 |
| 201 | DEVALLE AGUSTIN | NA | NA | NA | 1/10/11 | NA | NA | NA | 0 | 0 | 0 | 0 |
| 202 | DEVANE ANN | 2/2/10 | 6/17/09 | NA | NA | NA | NA | NA | 0 | 0 | 0 | 0 |
| 203 | DEYOUNG ROBIN | NA | 6/17/09 | NA | NA | NA | NA | NA | 0 | 0 | 0 | 0 |
| 204 | DIEZ JUSTIN | 2/2/10 | 6/17/09 | NA | NA | NA | NA | NA | 0 | 0 | 0 | 0 |
| 205 | DIGERLANDO ROGER | 5/23/08 | NA | NA | NA | NA | NA | NA | 0 | 0 | 0 | 0 |
| 206 | DIGIOVANNI ROBIN | NA | 6/17/09 | NA | NA | NA | NA | NA | 0 | 0 | 0 | 0 |
| 207 | DIPLOCK JASON | NA | 6/17/09 | NA | NA | NA | NA | NA | 0 | 0 | 0 | 0 |
| 208 | DITSCH CRAIG | NA | NA | NA | 1/20/09 | NA | NA | NA | 0 | 0 | 200 | 0 |
| 209 | DIVIAK DAREN | NA | NA | NA | 1/20/09 | NA | NA | NA | 1 | 0 | 0 | 0 |
| 210 | DO DAVID | NA | NA | 12/18/09 | NA | NA | NA | NA | 0 | 0 | 0 | 0 |
| 211 | DODD DIANE | NA | 6/17/09 | NA | NA | NA | NA | NA | 0 | 0 | 0 | 0 |
| 212 | DODSON JAMES | NA | 6/17/09 | NA | NA | NA | NA | NA | 0 | 0 | 0 | 0 |
| 213 | DODSON STEVEN | NA | 6/17/09 | NA | NA | NA | NA | NA | 0 | 0 | 0 | 0 |
| 214 | DOLLENS ALLEN | 5/23/08 | NA | NA | NA | NA | NA | NA | 0 | 0 | 0 | 0 |
| 215 | DOLLENS DAVID | NA | NA | NA | 1/20/09 | NA | NA | NA | 0 | 0 | 0 | 0 |
| 216 | DOMINGUEZ DENNIS | NA | 6/17/09 | NA | NA | NA | NA | NA | 0 | 0 | 0 | 0 |
| 217 | DOMINGUEZ GILBERT | NA | 6/17/09 | NA | NA | NA | NA | NA | 0 | 0 | 0 | 0 |
| 218 | DOMINGUEZ JOSEPH | 2/2/10 | 6/17/09 | NA | NA | NA | NA | NA | 0 | 0 | 0 | 0 |
| 219 | DOTY JOHN | NA | 6/17/09 | NA | NA | NA | NA | NA | 0 | 0 | 0 | 0 |
| 220 | DOUCET MICHAEL | NA | 6/17/09 | NA | NA | NA | NA | NA | 0 | 0 | 0 | 0 |
| 221 | DOWNEY STEVEN | NA | NA | 5/13/12 | NA | NA | NA | NA | 0 | 0 | 0 | 0 |
| 222 | DRAKE PAUL | NA | NA | NA | NA | 3/21/12 | NA | NA | 0 | 0 | 0 | 0 |
| 223 | DRUCKER HARRY | NA | NA | NA | 1/20/09 | NA | NA | NA | 0 | 0 | 0 | 0 |
| 224 | DUARTE DENNIS | 11/26/08 | NA | NA | NA | NA | NA | NA | 0 | 0 | 0 | 0 |
| 225 | DUBOIS DENNIS | 2/2/10 | 6/17/09 | NA | NA | NA | NA | NA | 0 | 0 | 0 | 0 |
| 226 | DUFFY VANCE | NA | NA | 7/18/08 | NA | NA | NA | NA | 0 | 0 | 100 | 200 |
| 227 | DULLA JOSEPH | NA | NA | NA | 1/20/09 | NA | NA | NA | 0 | 0 | 0 | 0 |
| 228 | DURAN LOUIS | NA | NA | NA | NA | 3/6/09 | NA | NA | 0 | 350 | 0 | 0 |
| 229 | DYER DANIEL | NA | NA | NA | 1/20/09 | NA | NA | NA | 0 | 0 | 100 | 0 |
| 230 | EDMONDS TRACEE | NA | NA | NA | NA | 3/6/09 | NA | NA | 0 | 0 | 0 | 0 |
| 231 | EDWARDS CHARLENE | NA | 6/17/09 | NA | NA | NA | NA | NA | 0 | 0 | 0 | 0 |
| 232 | EDWARDS TONYA | NA | NA | 12/18/09 | 1/20/09 | NA | NA | NA | 0 | 0 | 0 | 0 |
| 233 | EGUIA GINA | NA | 6/17/09 | NA | NA | NA | NA | NA | 1 | 0 | 0 | 0 |
| 234 | EHRHORN ERIC | NA | 6/17/09 | NA | NA | NA | NA | NA | 0 | 0 | 0 | 0 |
| 235 | ELASH MATTHEW | 2/2/10 | NA | NA | NA | NA | NA | NA | 0 | 0 | 0 | 0 |
| 236 | EMENEGER MICHELLE | 2/2/10 | NA | NA | NA | NA | NA | NA | 0 | 0 | 0 | 0 |
| 237 | EMERY GLENN | 2/2/10 | 6/17/09 | NA | NA | NA | NA | NA | 0 | 0 | 0 | 0 |
| 238 | ENCISO PEDRO | 6/25/10 | 6/17/09 | NA | NA | NA | NA | NA | 0 | 0 | 0 | 0 |
| 239 | ESCALANTE WILBERT | NA | 6/17/09 | NA | NA | NA | NA | NA | 0 | 0 | 0 | 0 |
| 240 | ESCAMILLA PATRICK | NA | 6/17/09 | NA | NA | NA | NA | NA | 1 | 0 | 0 | 0 |
| 241 | ESCAMILLAS ARTHUR | NA | NA | NA | 1/10/11 | NA | NA | NA | 0 | 0 | 0 | 0 |
| 242 | ESQUEDA JOSEPH | NA | 6/17/09 | NA | NA | NA | NA | NA | 0 | 0 | 0 | 0 |
| 243 | ESSON ROBERT | NA | NA | NA | NA | 8/4/10 | NA | NA | 0 | 0 | 0 | 0 |
| 244 | ESTEP ROSA | 6/25/10 | 6/17/09 | NA | NA | NA | NA | NA | 0 | 0 | 0 | 0 |
| 245 | EVANS DARYL | NA | NA | NA | NA | NA | 3/6/09 | NA | 0 | 500 | 0 | 0 |
| 246 | EVANS GREGORY | 2/2/10 | NA | NA | NA | NA | NA | NA | 0 | 0 | 0 | 0 |
| 247 | EWELL JACK | NA | NA | NA | 1/20/09 | NA | NA | NA | 1 | 100 | 100 | 0 |
| 248 | FARRELL JAMES | NA | NA | 5/13/12 | 1/10/11 | NA | NA | NA | 0 | 0 | 0 | 0 |
| 249 | FASCIO ANTONIO | NA | 6/17/09 | NA | NA | NA | NA | NA | 0 | 0 | 0 | 0 |
| 250 | FENDER JOSEPH | 2/2/10 | 6/17/09 | NA | NA | NA | NA | NA | 0 | 0 | 0 | 0 |
| 251 | FERNANDEZ ANNA | 2/2/10 | NA | NA | NA | NA | NA | NA | 1 | 0 | 0 | 0 |
| 252 | FIGUEROA ROBERTO | NA | 6/17/09 | NA | NA | NA | NA | NA | 0 | 0 | 0 | 0 |
| 253 | FITCH BRIAN | NA | NA | NA | 1/20/09 | NA | NA | NA | 0 | 0 | 0 | 0 |
| 254 | FITZPATRICK DONALD | NA | 6/17/09 | NA | NA | NA | NA | NA | 0 | 0 | 0 | 0 |
| 255 | FLINN DENNIS | 2/2/10 | NA | NA | NA | NA | NA | NA | 0 | 0 | 0 | 0 |
| 256 | FLORES DAVID | 2/2/10 | NA | NA | 1/20/09 | NA | NA | NA | 0 | 200 | 0 | 0 |
| 257 | FLORES MANUEL | NA | 6/17/09 | NA | NA | NA | NA | NA | 0 | 0 | 0 | 0 |
| 258 | FLOYD RICHARD | NA | 6/17/09 | NA | NA | NA | NA | NA | 0 | 0 | 0 | 0 |
| 259 | FOGARTY BRUCE | NA | NA | NA | NA | 3/6/09 | NA | NA | 0 | 0 | 0 | 0 |
| 260 | FORD JENNIFER | 11/26/08 | NA | NA | NA | NA | NA | NA | 0 | 0 | 0 | 0 |
| 261 | FORSTER JEFFERY | 2/2/10 | NA | NA | NA | NA | NA | NA | 0 | 0 | 0 | 0 |
| 262 | FOX ERIC | 2/2/10 | NA | NA | 1/20/09 | NA | NA | NA | 1 | 0 | 0 | 0 |
| 263 | FRAILICH KENNETH | 2/2/10 | NA | NA | NA | NA | NA | NA | 0 | 0 | 0 | 0 |
| 264 | FRANCK JAMES | 6/25/10 | 6/17/09 | NA | NA | NA | NA | NA | 0 | 0 | 0 | 0 |
| 265 | FRANK LOUIS | NA | 6/17/09 | NA | NA | NA | NA | NA | 0 | 0 | 0 | 0 |
| 266 | FREDENDALL JOHN | 2/2/10 | NA | NA | NA | NA | NA | NA | 1 | 0 | 0 | 0 |
| 267 | FUCHS HOWARD | 6/25/10 | 6/17/09 | NA | NA | NA | NA | NA | 0 | 0 | 0 | 0 |
| 268 | FUJINO MICHAEL | 2/2/10 | NA | NA | NA | NA | NA | NA | 0 | 0 | 0 | 0 |
| 269 | GAGE SCOTT | NA | NA | NA | 1/20/09 | NA | NA | NA | 0 | 0 | 250 | 0 |
| 270 | GALINDO MARTHA | 2/2/10 | NA | NA | NA | NA | NA | NA | 0 | 0 | 0 | 0 |
| 271 | GALLEGOS CLARENCE | NA | 6/17/09 | NA | NA | NA | NA | NA | 0 | 0 | 0 | 0 |
| 272 | GALLOBRUNO CAROLYN | NA | 6/17/09 | NA | NA | NA | NA | NA | 0 | 0 | 0 | 0 |
| 273 | GALVAN MICHAEL | 5/23/08 | NA | NA | NA | NA | NA | NA | 1 | 0 | 0 | 0 |
| 274 | GARCIA ALFONSO | 5/23/08 | NA | NA | NA | NA | NA | NA | 0 | 0 | 0 | 0 |
| 275 | GARCIA CHRISTOPHER | NA | 6/17/09 | NA | NA | NA | NA | NA | 0 | 0 | 0 | 0 |
| 276 | GARCIA JOSE | 5/23/08 | NA | NA | NA | NA | NA | NA | 1 | 0 | 0 | 0 |
| 277 | GARLAND JOSEPH | 11/26/08 | NA | NA | NA | NA | NA | NA | 0 | 0 | 0 | 0 |
| 278 | GARRIDO MINERVA | NA | 6/17/09 | NA | NA | NA | NA | NA | 0 | 0 | 0 | 0 |
| 279 | GARZA ENRIQUE | NA | NA | NA | 1/20/09 | NA | NA | NA | 0 | 0 | 0 | 100 |
| 280 | GARZA MANUEL | 2/2/10 | NA | NA | NA | NA | NA | NA | 0 | 0 | 0 | 0 |
| 281 | GAUTHIER MATTHEW | NA | 6/17/09 | NA | NA | NA | NA | NA | 0 | 0 | 0 | 0 |
| 282 | GEALTA DIANA | NA | NA | NA | 1/20/09 | NA | NA | NA | 0 | 0 | 0 | 0 |
| 283 | GEARY JULIE | 11/26/08 | NA | NA | NA | NA | NA | NA | 0 | 0 | 0 | 0 |
| 284 | GENEM MARTHA | 6/25/10 | 6/17/09 | NA | NA | NA | NA | NA | 0 | 0 | 0 | 0 |
| 285 | GENTNER CHRISTOPHER | NA | 6/17/09 | NA | NA | NA | NA | NA | 0 | 0 | 0 | 0 |
| 286 | GEOPFORTH DAVID | 5/23/08 | NA | NA | NA | NA | NA | NA | 0 | 0 | 0 | 0 |
| 287 | GESKE SEAN | 2/2/10 | 6/17/09 | NA | NA | NA | NA | NA | 0 | 0 | 0 | 0 |
| 288 | GIBBONS KEITH | 6/25/10 | 6/17/09 | NA | NA | NA | NA | NA | 0 | 0 | 0 | 0 |
| 289 | GIBSON BRENDA | 2/2/10 | NA | NA | NA | NA | NA | NA | 0 | 0 | 0 | 0 |
| 290 | GILBERT RONALD | NA | NA | NA | 1/20/09 | NA | NA | NA | 0 | 0 | 0 | 0 |
| 291 | GILINETS ALEX | NA | 6/17/09 | NA | NA | NA | NA | NA | 0 | 0 | 0 | 0 |
| 292 | GILLESPIE DANIEL | 5/23/08 | NA | NA | NA | NA | NA | NA | 0 | 0 | 0 | 0 |
| 293 | GILLIS ROBERT | NA | 6/17/09 | NA | NA | NA | NA | NA | 1 | 0 | 0 | 0 |
| 294 | GIPSON KEYSHANETTE | NA | 6/17/09 | NA | NA | NA | NA | NA | 0 | 0 | 0 | 0 |
| 295 | GIRGIS REMON | NA | 6/17/09 | NA | NA | NA | NA | NA | 1 | 0 | 0 | 0 |
| 296 | GIRMES KLAUS | 2/2/10 | NA | NA | NA | NA | NA | NA | 0 | 0 | 0 | 0 |
| 297 | GITTISARN NIELS | NA | 6/17/09 | NA | NA | NA | NA | NA | 0 | 0 | 0 | 0 |
| 298 | GLYNN JOHN | NA | 6/17/09 | NA | NA | NA | NA | NA | 0 | 0 | 0 | 0 |
| 299 | GODFREY EDWARD | NA | NA | 12/18/09 | NA | NA | NA | NA | 0 | 0 | 0 | 0 |
| 300 | GODINEZ MAX | 2/2/10 | 6/17/09 | NA | NA | NA | NA | NA | 0 | 0 | 0 | 0 |
| 301 | GOLTZ ROBERT | NA | 6/17/09 | NA | NA | NA | NA | NA | 0 | 0 | 0 | 0 |
| 302 | GOMEZ ALFREDO | NA | 6/17/09 | NA | NA | NA | NA | NA | 0 | 0 | 0 | 0 |
| 303 | GONZALES CYNTHIA | 11/26/08 | NA | NA | NA | NA | NA | NA | 0 | 0 | 0 | 0 |
| 304 | GONZALES JOE | NA | NA | NA | NA | 3/6/09 | NA | NA | 0 | 200 | 0 | 350 |
| 305 | GONZALEZ ANGELA | 2/2/10 | NA | NA | NA | NA | NA | NA | 1 | 0 | 0 | 100 |
| 306 | GONZALEZ ANSELMO | NA | 6/17/09 | NA | NA | NA | NA | NA | 0 | 200 | 0 | 100 |
| 307 | GONZALEZ CHRISTOPHER | NA | 6/17/09 | NA | NA | NA | NA | NA | 0 | 0 | 0 | 0 |
| 308 | GONZALEZ DAVID | 5/23/08 | NA | NA | NA | NA | NA | NA | 0 | 0 | 0 | 0 |
| 309 | GONZALEZ ERIC | 2/2/10 | 6/17/09 | NA | NA | NA | NA | NA | 0 | 0 | 0 | 0 |
| 310 | GONZALEZ LIZA | NA | NA | NA | 1/20/09 | NA | NA | NA | 0 | 0 | 0 | 0 |
| 311 | GONZELEZ ANSELMO | NA | NA | NA | NA | 3/6/09 | NA | NA | 0 | 0 | 0 | 0 |
| 312 | GOODEN JOSEPH | NA | NA | NA | NA | 12/3/10 | NA | NA | 0 | 100 | 0 | 0 |
| 313 | GOODWIN BRIAN | NA | 6/17/09 | NA | NA | NA | NA | NA | 0 | 0 | 0 | 0 |
| 314 | GRAHAM SCOTT | 5/23/08 | NA | NA | NA | NA | NA | NA | 1 | 0 | 0 | 0 |
| 315 | GRANT VINCENT | NA | 6/17/09 | NA | NA | NA | NA | NA | 0 | 0 | 0 | 0 |
| 316 | GRAY BRADLEY | NA | NA | NA | 1/20/09 | NA | NA | NA | 0 | 0 | 0 | 0 |
| 317 | GREEN ALTON | 2/2/10 | NA | NA | NA | NA | NA | NA | 0 | 0 | 0 | 0 |
| 318 | GREENWOOD GARY | NA | 6/17/09 | NA | NA | NA | NA | NA | 0 | 0 | 0 | 0 |
| 319 | GROSS MICHAEL | 11/26/08 | NA | NA | NA | NA | NA | NA | 0 | 0 | 100 | 0 |
| 320 | GROSS STEVEN | NA | NA | NA | 1/20/09 | NA | NA | NA | 0 | 0 | 0 | 0 |
| 321 | GRUBB JAMES | 2/2/10 | 6/17/09 | NA | NA | NA | NA | NA | 0 | 0 | 0 | 0 |
| 322 | GUILBAULT ROBERT | NA | NA | NA | NA | 3/21/12 | NA | NA | 0 | 0 | 0 | 0 |
| 323 | GULLEY DALE | NA | NA | NA | 1/10/11 | NA | NA | NA | 0 | 0 | 0 | 0 |
| 324 | GUTARIE MICHAEL | NA | 6/17/09 | NA | NA | NA | NA | NA | 0 | 0 | 0 | 0 |
| 325 | GUTHRIE GREGORY | 2/2/10 | 6/17/09 | NA | NA | NA | NA | NA | 0 | 0 | 0 | 0 |
| 326 | GUTIERREZ AARON | NA | 6/17/09 | NA | NA | NA | NA | NA | 1 | 0 | 0 | 0 |
| 327 | GUTIERREZ JOE | NA | NA | NA | NA | NA | NA | NA | 0 | 0 | 0 | 0 |
| 328 | GUTIERREZ NORA | 6/25/10 | 6/17/09 | NA | NA | NA | NA | NA | 0 | 0 | 0 | 0 |
| 329 | HACKETT ANTHONY | 5/23/08 | NA | NA | NA | NA | NA | NA | 0 | 0 | 0 | 0 |
| 330 | HACKETT CLIPPER | NA | 6/17/09 | NA | NA | NA | NA | NA | 0 | 0 | 0 | 0 |
| 331 | HAHNLEIN ROBERT | NA | NA | NA | 1/20/09 | NA | NA | NA | 0 | 0 | 0 | 0 |
| 332 | HALL MICHELLE | 2/2/10 | NA | NA | NA | NA | NA | NA | 0 | 0 | 0 | 0 |
| 333 | HAMILTON ERIC | NA | NA | NA | NA | NA | 3/6/09 | NA | 0 | 0 | 0 | 0 |
| 334 | HANAMAIKAI NIKKI | NA | 6/17/09 | NA | NA | NA | NA | NA | 0 | 0 | 0 | 0 |
| 335 | HANEY RANDY | 6/25/10 | 6/17/09 | NA | NA | NA | NA | NA | 0 | 0 | 0 | 0 |
| 336 | HANNA ROBIN | 2/2/10 | NA | NA | NA | NA | NA | NA | 0 | 0 | 0 | 0 |
| 337 | HANSEN PHILLIP | NA | NA | NA | NA | NA | NA | NA | 0 | 250 | 0 | 0 |
| 338 | HARDY PAUL | NA | NA | NA | 1/10/11 | NA | NA | NA | 0 | 0 | 0 | 0 |
| 339 | HARDY PAULINE | NA | NA | NA | 1/20/09 | NA | NA | NA | 0 | 0 | 0 | 0 |
| 340 | HARGRAVES JOHN | 2/2/10 | NA | NA | NA | NA | NA | NA | 0 | 0 | 0 | 0 |
| 341 | HARNEY MARTIN | 6/25/10 | 6/17/09 | NA | NA | NA | NA | NA | 0 | 0 | 0 | 0 |
| 342 | HARRIS ALLEN | NA | NA | NA | 1/20/09 | NA | NA | NA | 1 | 0 | 0 | 0 |
| 343 | HARRIS DARREN | NA | NA | NA | 1/20/09 | NA | NA | NA | 0 | 0 | 0 | 0 |
| 344 | HARRIS DUANE | NA | NA | NA | NA | 12/3/10 | NA | NA | 0 | 0 | 250 | 0 |
| 345 | HARRIS RANDALL | NA | NA | NA | 1/10/11 | NA | NA | NA | 0 | 0 | 0 | 0 |
| 346 | HARTSHORNE JOSEPH | NA | NA | NA | NA | NA | 12/3/10 | NA | 0 | 0 | 0 | 100 |
| 347 | HASNAS RANDY | 5/23/08 | NA | NA | NA | NA | NA | NA | 0 | 0 | 0 | 0 |
| 348 | HEALD JOHN | NA | 6/17/09 | NA | NA | NA | NA | NA | 0 | 0 | 0 | 0 |
| 349 | HEALEY ALAN | NA | 6/17/09 | NA | NA | NA | NA | NA | 0 | 0 | 0 | 0 |
| 350 | HENNING CHRISTOPHER | NA | 6/17/09 | NA | NA | NA | NA | NA | 0 | 0 | 0 | 0 |
| 351 | HERNANDEZ ARMANDO | 6/25/10 | 6/17/09 | NA | NA | NA | NA | NA | 0 | 0 | 0 | 0 |
| 352 | HERNANDEZ DELICIA | 2/2/10 | 6/17/09 | NA | NA | NA | NA | NA | 0 | 0 | 0 | 0 |
| 353 | HERNANDEZ EDUARDO | NA | NA | NA | 1/20/09 | NA | NA | NA | 1 | 100 | 100 | 0 |
| 354 | HERNANDEZ STEVE | NA | 6/17/09 | NA | NA | NA | NA | NA | 0 | 0 | 0 | 0 |
| 355 | HERRERA GABRIELA | 11/26/08 | NA | NA | NA | NA | NA | NA | 1 | 0 | 0 | 0 |
| 356 | HEWITT SHALONDA | 6/25/10 | 6/17/09 | NA | NA | NA | NA | NA | 0 | 0 | 0 | 0 |
| 357 | HILL BRIAN | 2/2/10 | NA | NA | NA | NA | NA | NA | 0 | 0 | 0 | 100 |
| 358 | HILL ROBERT | NA | 6/17/09 | NA | NA | NA | NA | NA | 1 | 0 | 0 | 0 |
| 359 | HILL THOMAS | 2/2/10 | NA | NA | NA | NA | NA | NA | 0 | 0 | 0 | 0 |
| 360 | HINCHMAN SHAWNEE | 11/26/08 | NA | NA | NA | NA | NA | NA | 0 | 0 | 0 | 0 |
| 361 | HISH PETER | NA | 6/17/09 | NA | NA | NA | NA | NA | 0 | 0 | 0 | 0 |
| 362 | HODGKINSON PAUL | NA | 6/17/09 | NA | NA | NA | NA | NA | 0 | 0 | 0 | 0 |
| 363 | HOFFMAN RICHARD | NA | 6/17/09 | NA | NA | NA | NA | NA | 1 | 0 | 100 | 0 |
| 364 | HOLLAND RAMON | NA | 6/17/09 | NA | NA | NA | NA | NA | 0 | 0 | 0 | 0 |
| 365 | HOLM JOHN | NA | 6/17/09 | NA | NA | NA | NA | NA | 0 | 0 | 0 | 0 |
| 366 | HO XE | 2/2/10 | 6/17/09 | NA | NA | NA | NA | NA | 0 | 0 | 0 | 0 |
| 367 | HUFFMAN KELLY | 11/26/08 | NA | NA | NA | NA | NA | NA | 0 | 0 | 0 | 0 |
| 368 | HUNT BRIAN | NA | 6/17/09 | NA | NA | NA | NA | NA | 0 | 0 | 0 | 0 |
| 369 | HUNTER JEFFERY | 2/2/10 | NA | NA | NA | NA | NA | NA | 0 | 0 | 0 | 0 |
| 370 | HUNTER JOHN | NA | NA | 5/13/12 | 1/10/11 | NA | NA | NA | 0 | 0 | 0 | 0 |
| 371 | HUTAK JODI | 6/25/10 | 6/17/09 | NA | NA | NA | NA | NA | 0 | 0 | 0 | 0 |
| 372 | HWANG RAYMOND | NA | 6/17/09 | NA | NA | NA | NA | NA | 0 | 0 | 0 | 0 |
| 373 | IBERRI JOSEPH | 5/23/08 | NA | NA | NA | NA | NA | NA | 0 | 0 | 0 | 0 |
| 374 | INEZ DANIEL | NA | 6/17/09 | NA | NA | NA | NA | NA | 0 | 0 | 0 | 0 |
| 375 | INFANTE DAVID | NA | NA | NA | 1/20/09 | NA | NA | NA | 0 | 0 | 0 | 0 |
| 376 | INGE MICHAEL | NA | NA | NA | 1/10/11 | NA | NA | NA | 0 | 0 | 0 | 0 |
| 377 | INGRESSO ROMEO | NA | 6/17/09 | NA | NA | NA | NA | NA | 1 | 0 | 0 | 0 |
| 378 | ITURRIAGA ALDO | 2/2/10 | NA | NA | NA | NA | NA | NA | 0 | 0 | 0 | 0 |
| 379 | IVASK JEFFREY | NA | NA | NA | 1/20/09 | NA | NA | NA | 0 | 0 | 0 | 0 |
| 380 | JACKSON PETER | NA | NA | NA | 1/20/09 | NA | NA | NA | 1 | 0 | 0 | 0 |
| 381 | JAEGER WILLIAM | 2/2/10 | NA | NA | NA | NA | NA | NA | 0 | 0 | 0 | 0 |
| 382 | JAIME ALFREDO | NA | 6/17/09 | NA | NA | NA | NA | NA | 0 | 0 | 0 | 0 |
| 383 | JAMES BRIAN | NA | 6/17/09 | NA | NA | NA | NA | NA | 0 | 0 | 0 | 0 |
| 384 | JASSO VIVIAN | 2/2/10 | NA | NA | NA | NA | NA | NA | 0 | 0 | 0 | 0 |
| 385 | JAUCH STEVE | 2/2/10 | NA | NA | 1/10/11 | NA | NA | NA | 0 | 0 | 0 | 0 |
| 386 | JENSEN JARROD | 2/2/10 | NA | NA | NA | NA | NA | NA | 0 | 0 | 0 | 0 |
| 387 | JIMENEZ TOMAS | NA | 6/17/09 | NA | NA | NA | NA | NA | 0 | 0 | 0 | 0 |
| 388 | JOHNSON BELINDA | NA | NA | NA | 1/20/09 | NA | NA | NA | 0 | 0 | 0 | 0 |
| 389 | JOHNSON BRAD | 2/2/10 | 6/17/09 | NA | NA | NA | NA | NA | 0 | 0 | 0 | 0 |
| 390 | JOHNSON CRAIG | NA | 6/17/09 | NA | NA | NA | NA | NA | 0 | 0 | 0 | 0 |
| 391 | JOHNSON DONNIE | NA | NA | NA | 1/20/09 | NA | NA | NA | 0 | 0 | 250 | 0 |
| 392 | JOHNSON ERIC | NA | 6/17/09 | NA | NA | NA | NA | NA | 0 | 0 | 0 | 0 |
| 393 | JOHNSON GREGORY | NA | NA | NA | NA | NA | 12/3/10 | NA | 0 | 0 | 0 | 0 |
| 394 | JOHNSON PAMELA | NA | 6/17/09 | NA | NA | NA | NA | NA | 0 | 0 | 0 | 0 |
| 395 | JOHNSON ROOSEVELT | NA | NA | NA | 1/20/09 | NA | NA | NA | 0 | 0 | 0 | 0 |
| 396 | JONES BRIAN | 2/2/10 | 6/17/09 | NA | NA | NA | NA | NA | 0 | 0 | 0 | 0 |
| 397 | JONES DAMON | NA | 6/17/09 | NA | NA | NA | NA | NA | 0 | 0 | 0 | 0 |
| 398 | JONES MITCHELL | NA | 6/17/09 | NA | NA | NA | NA | NA | 0 | 0 | 0 | 0 |
| 399 | JONES RAYMOND | NA | 6/17/09 | NA | NA | NA | NA | NA | 0 | 0 | 0 | 0 |
| 400 | JONES ROBERT | 6/25/10 | 6/17/09 | NA | NA | NA | NA | NA | 0 | 0 | 0 | 0 |
| 401 | JONES SHAWN | NA | NA | 5/13/12 | 1/10/11 | NA | NA | NA | 0 | 0 | 0 | 0 |
| 402 | JORDAN JACK | NA | NA | NA | NA | NA | 3/6/09 | NA | 1 | 600 | 200 | 0 |
| 403 | JORDAN JAMES | NA | 6/17/09 | NA | NA | NA | NA | NA | 0 | 0 | 0 | 0 |
| 404 | JORDAN PATRICK | NA | NA | NA | NA | NA | 8/4/10 | NA | 0 | 0 | 0 | 0 |
| 405 | JUDSON TRACY | NA | 6/17/09 | NA | NA | NA | NA | NA | 0 | 0 | 0 | 0 |
| 406 | KALASSAY SCOTT | NA | 6/17/09 | NA | NA | NA | NA | NA | 0 | 0 | 0 | 0 |
| 407 | KAMMER TODD | NA | 6/17/09 | NA | NA | NA | NA | NA | 0 | 0 | 0 | 0 |
| 408 | KELLEY TINA | NA | NA | NA | 1/20/09 | NA | NA | NA | 0 | 0 | 0 | 0 |
| 409 | KELLY GREGORY | 6/25/10 | 6/17/09 | NA | NA | NA | NA | NA | 0 | 0 | 0 | 0 |
| 410 | KENNEDY WILLIAM | NA | 6/17/09 | NA | NA | NA | NA | NA | 0 | 0 | 0 | 0 |
| 411 | KENNY STEVEN | NA | NA | 12/18/09 | 1/20/09 | NA | NA | NA | 0 | 0 | 0 | 0 |
| 412 | KEPLEY JOHN | NA | NA | NA | 1/20/09 | NA | NA | NA | 0 | 0 | 100 | 0 |
| 413 | KHASAEMPANTH CATRINA | 11/26/08 | NA | NA | NA | NA | NA | NA | 0 | 0 | 0 | 0 |
| 414 | KILLEEN ROBERT | NA | NA | 12/18/09 | 1/20/09 | NA | NA | NA | 0 | 0 | 0 | 0 |
| 415 | KIM ERICK | 2/2/10 | 6/17/09 | NA | NA | NA | NA | NA | 0 | 0 | 0 | 0 |
| 416 | KIM JOSEPH | NA | 6/17/09 | NA | NA | NA | NA | NA | 0 | 0 | 0 | 0 |
| 417 | KIMURA DOUGLAS | NA | 6/17/09 | NA | NA | NA | NA | NA | 1 | 0 | 0 | 100 |
| 418 | KINCAID JASON | NA | 6/17/09 | NA | NA | NA | NA | NA | 0 | 0 | 0 | 0 |
| 419 | KING MATTHEW | NA | 6/17/09 | NA | NA | NA | NA | NA | 0 | 0 | 0 | 0 |
| 420 | KIRTLEY COLLETTA | 2/2/10 | NA | NA | NA | NA | NA | NA | 0 | 0 | 0 | 0 |
| 421 | KLAUS JON | NA | 6/17/09 | NA | NA | NA | NA | NA | 0 | 0 | 0 | 0 |
| 422 | KNEER DENNIS | NA | NA | NA | 1/20/09 | NA | NA | NA | 0 | 0 | 0 | 0 |
| 423 | KNEUBUHLER ANDRE | NA | 6/17/09 | NA | NA | NA | NA | NA | 1 | 0 | 0 | 0 |
| 424 | KNOTT THEODORE | NA | 6/17/09 | NA | NA | NA | NA | NA | 1 | 0 | 0 | 0 |
| 425 | KONECNY MICHAEL | 5/23/08 | NA | NA | NA | NA | NA | NA | 0 | 0 | 0 | 0 |
| 426 | KOPPERUD RONALD | NA | 6/17/09 | NA | NA | NA | NA | NA | 0 | 0 | 0 | 0 |
| 427 | KOPPERUD SUSAN | NA | NA | NA | NA | NA | 3/6/09 | NA | 0 | 300 | 0 | 0 |
| 428 | KOVAC KRESIMIR | NA | 6/17/09 | NA | NA | NA | NA | NA | 0 | 0 | 0 | 0 |
| 429 | KROEGER KENT | NA | NA | NA | 1/10/11 | NA | NA | NA | 0 | 0 | 0 | 0 |
| 430 | KUEHL ERIC | NA | 6/17/09 | NA | NA | NA | NA | NA | 0 | 0 | 0 | 0 |
| 431 | KUNIHIRO ALLEN | NA | NA | NA | 1/20/09 | NA | NA | NA | 0 | 0 | 0 | 0 |
| 432 | KUYKENDALL KEVIN | NA | NA | NA | NA | 3/21/12 | NA | NA | 0 | 0 | 0 | 0 |
| 433 | LADJEVIC DAVID | 5/23/08 | NA | NA | NA | NA | NA | NA | 0 | 0 | 0 | 0 |
| 434 | LAFLIN RICHARD | NA | 6/17/09 | NA | NA | NA | NA | NA | 1 | 0 | 0 | 0 |
| 435 | LAING THOMAS | NA | NA | NA | NA | NA | NA | 12/18/09 | 0 | 200 | 200 | 250 |
| 436 | LANDERS STEVEN | 2/2/10 | NA | NA | NA | NA | NA | NA | 0 | 0 | 0 | 0 |
| 437 | LAPKIN FANNY | NA | 6/17/09 | NA | NA | NA | NA | NA | 0 | 0 | 0 | 0 |
| 438 | LARGENT KIMBERLEY | NA | 6/17/09 | NA | NA | NA | NA | NA | 0 | 0 | 0 | 0 |
| 439 | LARIOS JOSE | NA | 6/17/09 | NA | NA | NA | NA | NA | 0 | 0 | 0 | 0 |
| 440 | LASKO ERIC | NA | NA | 5/13/12 | 1/10/11 | NA | NA | NA | 0 | 0 | 0 | 0 |
| 441 | LASS DARREN | NA | 6/17/09 | NA | NA | NA | NA | NA | 0 | 0 | 0 | 0 |
| 442 | LAUWERS MARY | 6/25/10 | 6/17/09 | NA | NA | NA | NA | NA | 0 | 0 | 0 | 0 |
| 443 | LEAVINS STEPHEN | NA | NA | NA | 1/10/11 | NA | NA | NA | 0 | 100 | 0 | 0 |
| 444 | LEE STACY | NA | NA | NA | NA | NA | NA | NA | 0 | 0 | 0 | 0 |
| 445 | LENDMAN BRIAN | NA | NA | NA | 1/20/09 | NA | NA | NA | 0 | 0 | 0 | 0 |
| 446 | LENNIG MICHAEL | NA | 6/17/09 | NA | NA | NA | NA | NA | 0 | 0 | 0 | 0 |
| 447 | LEON ANTONIO | 5/23/08 | NA | NA | NA | NA | NA | NA | 0 | 0 | 0 | 0 |
| 448 | LEVENSON KERRY | NA | 6/17/09 | NA | NA | NA | NA | NA | 0 | 0 | 0 | 0 |
| 449 | LEVINSON RANDALL | 5/23/08 | NA | NA | NA | NA | NA | NA | 0 | 0 | 0 | 0 |
| 450 | LEWANDOWSKI VICTOR | NA | NA | NA | 1/10/11 | NA | NA | NA | 0 | 0 | 0 | 0 |
| 451 | LEWIS RICHARD | 6/25/10 | 6/17/09 | NA | NA | NA | NA | NA | 0 | 0 | 0 | 0 |
| 452 | LEYVA ALBERT | 2/2/10 | NA | NA | 1/20/09 | NA | NA | NA | 0 | 0 | 0 | 0 |
| 453 | LEYVA KENNETH | NA | 6/17/09 | NA | NA | NA | NA | NA | 0 | 0 | 0 | 0 |
| 454 | LEYVA RAYMOND | NA | NA | NA | NA | NA | 2/7/12 | NA | 0 | 0 | 0 | 0 |
| 455 | LIBERTONE PATRICK | NA | NA | NA | 1/20/09 | NA | NA | NA | 0 | 0 | 0 | 0 |
| 456 | LIEBERMAN KEITH | NA | NA | 5/13/12 | NA | NA | NA | NA | 0 | 0 | 0 | 0 |
| 457 | LIM LEWIS | NA | 6/17/09 | NA | NA | NA | NA | NA | 0 | 0 | 0 | 0 |
| 458 | LINDBLOM ERIC | NA | NA | NA | 1/10/11 | NA | NA | NA | 0 | 0 | 0 | 0 |
| 459 | LINDSAY JOHN | NA | 6/17/09 | NA | NA | NA | NA | NA | 0 | 0 | 0 | 0 |
| 460 | LIO CHRISTOPHER | 2/2/10 | 6/17/09 | NA | NA | NA | NA | NA | 0 | 0 | 0 | 0 |
| 461 | LIU ALAN | NA | 6/17/09 | NA | NA | NA | NA | NA | 0 | 0 | 0 | 0 |
| 462 | LLOYD KEVIN | NA | NA | NA | 1/20/09 | NA | NA | NA | 1 | 0 | 0 | 0 |
| 463 | LONG JAMES | 5/23/08 | NA | NA | NA | NA | NA | NA | 0 | 0 | 0 | 0 |
| 464 | LONG LAKISHA | 11/26/08 | NA | NA | NA | NA | NA | NA | 0 | 0 | 0 | 0 |
| 465 | LONG MARICELA | 11/26/08 | NA | NA | NA | NA | NA | NA | 0 | 0 | 100 | 0 |
| 466 | LONG STEVEN | 2/2/10 | NA | NA | NA | NA | NA | NA | 0 | 0 | 0 | 0 |
| 467 | LOONEY THOMAS | 2/2/10 | NA | NA | NA | NA | NA | NA | 1 | 0 | 0 | 0 |
| 468 | LOPATA JOHN | NA | 6/17/09 | NA | NA | NA | NA | NA | 0 | 0 | 0 | 0 |
| 469 | LOPEZ ANGELO | NA | 6/17/09 | NA | NA | NA | NA | NA | 0 | 0 | 0 | 0 |
| 470 | LOPEZ CARLOS | 2/2/10 | NA | NA | NA | NA | NA | NA | 1 | 100 | 0 | 0 |
| 471 | LOPEZ MARK | NA | 6/17/09 | NA | NA | NA | NA | NA | 0 | 0 | 0 | 0 |
| 472 | LOPEZ RANDY | NA | 6/17/09 | NA | NA | NA | NA | NA | 0 | 0 | 0 | 0 |
| 473 | LORENZI TINA | NA | 6/17/09 | NA | NA | NA | NA | NA | 0 | 0 | 0 | 0 |
| 474 | LOWE JULIE | NA | 6/17/09 | NA | NA | NA | NA | NA | 0 | 0 | 0 | 0 |
| 475 | LUCIO MARC | NA | NA | 5/13/12 | 1/10/11 | NA | NA | NA | 1 | 100 | 0 | 0 |
| 476 | LUMPKIN CARL | NA | 6/17/09 | NA | NA | NA | NA | NA | 0 | 0 | 0 | 0 |
| 477 | LUTZ RICHARD | NA | 6/17/09 | NA | NA | NA | NA | NA | 0 | 0 | 0 | 0 |
| 478 | LYNCH ANDREW | 2/2/10 | 6/17/09 | NA | NA | NA | NA | NA | 0 | 0 | 0 | 0 |
| 479 | LYNCH WILLIAM | NA | 6/17/09 | NA | NA | NA | NA | NA | 0 | 0 | 0 | 0 |
| 480 | MACHANIC MARK | 2/2/10 | 6/17/09 | NA | NA | NA | NA | NA | 0 | 0 | 0 | 0 |
| 481 | MACHNICK GRADY | 2/2/10 | NA | NA | 1/20/09 | NA | NA | NA | 0 | 0 | 0 | 0 |
| 482 | MACIEL NORMA | 11/26/08 | NA | NA | NA | NA | NA | NA | 0 | 0 | 0 | 0 |
| 483 | MACKENZIE EDWARD | NA | 6/17/09 | NA | NA | NA | NA | NA | 0 | 0 | 0 | 0 |
| 484 | MACK JOHN | NA | NA | NA | 1/20/09 | NA | NA | NA | 0 | 0 | 0 | 0 |
| 485 | MACLEAN ROBERT | NA | 6/17/09 | NA | NA | NA | NA | NA | 0 | 0 | 0 | 0 |
| 486 | MAGANA JOHN | NA | 6/17/09 | NA | NA | NA | NA | NA | 0 | 0 | 0 | 0 |
| 487 | MAGNONE FRANK | NA | NA | NA | 1/20/09 | NA | NA | NA | 0 | 0 | 0 | 0 |
| 488 | MAHOOD GREGORY | NA | 6/17/09 | NA | NA | NA | NA | NA | 0 | 0 | 0 | 0 |
| 489 | MALDONADO ALBERT | NA | NA | NA | 1/10/11 | NA | NA | NA | 0 | 0 | 0 | 0 |
| 490 | MANCILLA SERGIO | NA | NA | 12/18/09 | 1/20/09 | NA | NA | NA | 0 | 0 | 100 | 0 |
| 491 | MANN BRIAN | 6/25/10 | 6/17/09 | NA | NA | NA | NA | NA | 0 | 0 | 0 | 0 |
| 492 | MANNIS KARYN | NA | NA | NA | NA | NA | 12/3/10 | NA | 0 | 0 | 0 | 0 |
| 493 | MARASCOLA RICHARD | NA | NA | 5/13/12 | 1/10/11 | NA | NA | NA | 0 | 0 | 0 | 0 |
| 494 | MARBACH MARK | 2/2/10 | 6/17/09 | NA | NA | NA | NA | NA | 0 | 0 | 0 | 0 |
| 495 | MARCHELLO RONALD | NA | 6/17/09 | NA | NA | NA | NA | NA | 0 | 0 | 0 | 0 |
| 496 | MARDER MARCY | 11/26/08 | NA | NA | NA | NA | NA | NA | 0 | 0 | 0 | 0 |
| 497 | MARELLA PAUL | NA | 6/17/09 | NA | NA | NA | NA | NA | 1 | 0 | 0 | 0 |
| 498 | MARELLA STEVEN | NA | NA | 5/13/12 | NA | NA | NA | NA | 0 | 0 | 0 | 100 |
| 499 | MARINO MICHAEL | NA | 6/17/09 | NA | NA | NA | NA | NA | 0 | 0 | 0 | 0 |
| 500 | MARQUEZ GILBERT | 6/25/10 | 6/17/09 | NA | NA | NA | NA | NA | 0 | 0 | 0 | 0 |
| 501 | MARRON SCOTT | NA | 6/17/09 | NA | NA | NA | NA | NA | 0 | 0 | 0 | 0 |
| 502 | MARTIN DANIEL | 5/23/08 | NA | NA | NA | NA | NA | NA | 0 | 0 | 0 | 0 |
| 503 | MARTINEZ DANIEL | 6/25/10 | 6/17/09 | NA | NA | NA | NA | NA | 0 | 0 | 0 | 0 |
| 504 | MARTINEZ JUAN | NA | 6/17/09 | NA | NA | NA | NA | NA | 0 | 0 | 0 | 0 |
| 505 | MARTINEZ RICHARD | 5/23/08 | NA | NA | NA | NA | NA | NA | 0 | 200 | 0 | 0 |
| 506 | MARTIN JEFFREY | NA | 6/17/09 | NA | NA | NA | NA | NA | 0 | 0 | 0 | 0 |
| 507 | MARTINS SHEILA | 2/2/10 | NA | NA | NA | NA | NA | NA | 0 | 0 | 0 | 0 |
| 508 | MARTIN THOMAS | NA | NA | NA | NA | NA | 12/18/09 | NA | 0 | 0 | 0 | 0 |
| 509 | MASHIKO KENJI | 2/2/10 | 6/17/09 | NA | NA | NA | NA | NA | 0 | 0 | 0 | 0 |
| 510 | MASSON ERNESTO | 2/2/10 | 6/17/09 | NA | NA | NA | NA | NA | 1 | 0 | 0 | 0 |
| 511 | MATHERS PATRICK | NA | NA | NA | 1/20/09 | NA | NA | NA | 0 | 0 | 0 | 200 |
| 512 | MATTHEWS KELLY | NA | NA | NA | 1/20/09 | NA | NA | NA | 0 | 0 | 0 | 0 |
| 513 | MATTHEWS SCOTT | 6/25/10 | 6/17/09 | NA | NA | NA | NA | NA | 0 | 0 | 0 | 0 |
| 514 | MATTISON WILLIAM | 5/23/08 | NA | NA | NA | NA | NA | NA | 0 | 0 | 0 | 0 |
| 515 | MATUSIK ANNMARIE | 11/26/08 | NA | NA | NA | NA | NA | NA | 0 | 0 | 0 | 0 |
| 516 | MAXEY JAMES | NA | 6/17/09 | NA | NA | NA | NA | NA | 0 | 0 | 0 | 0 |
| 517 | MAYBURY ROBERT | 6/25/10 | 6/17/09 | NA | NA | NA | NA | NA | 0 | 0 | 0 | 0 |
| 518 | MAYHEW CHRISTIAN | 2/2/10 | NA | 5/13/12 | 1/10/11 | NA | NA | NA | 0 | 0 | 0 | 0 |
| 519 | MAY VIVIAN | 11/26/08 | NA | NA | NA | NA | NA | NA | 0 | 0 | 0 | 0 |
| 520 | MC BRIDE LOY | NA | NA | 5/13/12 | 1/10/11 | NA | NA | NA | 0 | 0 | 0 | 0 |
| 521 | MCBRIDE LOY | 2/2/10 | NA | NA | NA | NA | NA | NA | 0 | 0 | 0 | 0 |
| 522 | MCDANIEL CHARLES | 11/26/08 | NA | NA | NA | NA | NA | NA | 0 | 0 | 0 | 0 |
| 523 | MCDONALD EDWARD | NA | 6/17/09 | NA | NA | NA | NA | NA | 0 | 0 | 0 | 0 |
| 524 | MCGAULEY NANCY | NA | NA | NA | 1/20/09 | NA | NA | NA | 0 | 0 | 0 | 0 |
| 525 | MCKNIGHT GREGORY | 6/25/10 | 6/17/09 | NA | NA | NA | NA | NA | 0 | 0 | 0 | 0 |
| 526 | MCMINN DONALD | NA | 6/17/09 | NA | NA | NA | NA | NA | 0 | 0 | 0 | 0 |
| 527 | MCNALLY DERRICK | NA | 6/17/09 | NA | NA | NA | NA | NA | 0 | 0 | 0 | 0 |
| 528 | MCNEAL THOMAS | NA | NA | 12/18/09 | NA | NA | NA | NA | 0 | 0 | 0 | 0 |
| 529 | MCPHERSON DAN | NA | 6/17/09 | NA | NA | NA | NA | NA | 0 | 0 | 0 | 0 |
| 530 | MEDRANO ROBERTO | 2/2/10 | 6/17/09 | NA | NA | NA | NA | NA | 0 | 0 | 0 | 0 |
| 531 | MEEDER BRIAN | NA | NA | NA | 1/20/09 | NA | NA | NA | 1 | 0 | 100 | 0 |
| 532 | MELIKIDSE MICHAEL | 6/25/10 | 6/17/09 | NA | NA | NA | NA | NA | 0 | 0 | 0 | 0 |
| 533 | MENDOZA JOSE | NA | NA | 5/13/12 | 1/10/11 | NA | NA | NA | 1 | 0 | 0 | 0 |
| 534 | MENDOZA MICHAEL | 2/2/10 | 6/17/09 | NA | NA | NA | NA | NA | 0 | 0 | 0 | 0 |
| 535 | MERCADO MARTIN | 6/25/10 | 6/17/09 | NA | NA | NA | NA | NA | 0 | 0 | 0 | 0 |
| 536 | MEREDITH REGINALD | NA | 6/17/09 | NA | NA | NA | NA | NA | 0 | 0 | 0 | 0 |
| 537 | METCALF MICHAEL | 5/23/08 | NA | NA | NA | NA | NA | NA | 0 | 0 | 0 | 0 |
| 538 | MEYER ANDREW | NA | NA | NA | 1/10/11 | NA | NA | NA | 0 | 0 | 0 | 100 |
| 539 | MEZZANO CHRISTIAN | NA | 6/17/09 | NA | NA | NA | NA | NA | 1 | 0 | 0 | 0 |
| 540 | MILEKSI MICHAEL | NA | 6/17/09 | NA | NA | NA | NA | NA | 0 | 0 | 0 | 0 |
| 541 | MILES GRADY | 2/2/10 | 6/17/09 | NA | NA | NA | NA | NA | 0 | 0 | 0 | 0 |
| 542 | MILEY DWIGHT | 11/26/08 | NA | NA | NA | NA | NA | NA | 1 | 0 | 0 | 0 |
| 543 | MILLER ALEXANDER | NA | 6/17/09 | NA | NA | NA | NA | NA | 0 | 0 | 0 | 0 |
| 544 | MIRANDA CRYSTAL | NA | NA | NA | NA | 3/21/12 | NA | NA | 0 | 100 | 500 | 0 |
| 545 | MIRANDA OMAR | NA | 6/17/09 | NA | NA | NA | NA | NA | 0 | 0 | 0 | 0 |
| 546 | MIRANDA RONALD | 2/2/10 | 6/17/09 | NA | NA | NA | NA | NA | 0 | 0 | 0 | 0 |
| 547 | MITRY NABEEL | 5/23/08 | NA | NA | NA | NA | NA | NA | 0 | 0 | 0 | 0 |
| 548 | MODICA MICHAEL | 5/23/08 | NA | NA | NA | NA | NA | NA | 0 | 0 | 0 | 0 |
| 549 | MOHRHOFF DOUGLAS | NA | NA | 5/13/12 | 1/10/11 | NA | NA | NA | 0 | 0 | 0 | 0 |
| 550 | MOLNER BRADD | 5/23/08 | NA | NA | 1/10/11 | NA | NA | NA | 0 | 0 | 0 | 250 |
| 551 | MONTEZ FRANK | NA | NA | NA | 1/20/09 | NA | NA | NA | 1 | 100 | 100 | 0 |
| 552 | MONTOYA GERADETTE | NA | 6/17/09 | NA | NA | NA | NA | NA | 0 | 0 | 0 | 0 |
| 553 | MOORE KIMBERLY | 2/2/10 | NA | NA | NA | NA | NA | NA | 0 | 0 | 0 | 0 |
| 554 | MOORE RODNEY | 2/2/10 | 6/17/09 | NA | NA | NA | NA | NA | 0 | 0 | 0 | 0 |
| 555 | MORALES GUILLERMO | 5/23/08 | NA | NA | NA | NA | NA | NA | 0 | 0 | 0 | 0 |
| 556 | MORENO BRIAN | NA | 6/17/09 | NA | NA | NA | NA | NA | 0 | 0 | 0 | 0 |
| 557 | MORENO KIMBERLY | 11/26/08 | NA | NA | NA | NA | NA | NA | 0 | 0 | 0 | 0 |
| 558 | MORENO SHAWN | NA | 6/17/09 | NA | NA | NA | NA | NA | 0 | 0 | 0 | 0 |
| 559 | MORGAN GARY | NA | NA | NA | 1/20/09 | NA | NA | NA | 1 | 0 | 0 | 0 |
| 560 | MORGAN STACY | NA | 6/17/09 | NA | NA | NA | NA | NA | 0 | 0 | 0 | 0 |
| 561 | MORIEN JOSEPH | 6/25/10 | 6/17/09 | NA | NA | NA | NA | NA | 0 | 0 | 0 | 0 |
| 562 | MORRIS WILLIAM | NA | NA | NA | 1/20/09 | NA | NA | NA | 0 | 0 | 0 | 0 |
| 563 | MOSES DONALD | NA | 6/17/09 | NA | NA | NA | NA | NA | 0 | 0 | 0 | 0 |
| 564 | MOSQUERA HUGO | NA | 6/17/09 | NA | NA | NA | NA | NA | 0 | 0 | 0 | 0 |
| 565 | MOSS JAY | 2/2/10 | 6/17/09 | NA | NA | NA | NA | NA | 0 | 0 | 0 | 0 |
| 566 | MOULTRIE VINCENT | 2/2/10 | NA | NA | NA | NA | NA | NA | 0 | 0 | 0 | 0 |
| 567 | MOYLAN CHARLES | 5/23/08 | NA | NA | NA | NA | NA | NA | 0 | 0 | 0 | 0 |
| 568 | MUNOZ RICHARD | NA | 6/17/09 | NA | NA | NA | NA | NA | 1 | 0 | 0 | 0 |
| 569 | MURAKAMI DOUGLAS | 11/26/08 | NA | NA | NA | NA | NA | NA | 0 | 0 | 0 | 100 |
| 570 | MURILLO SERGIO | 5/23/08 | NA | NA | 1/10/11 | NA | NA | NA | 0 | 0 | 0 | 0 |
| 571 | MURPHY MILTON | NA | NA | 5/13/12 | 1/10/11 | NA | NA | NA | 0 | 0 | 100 | 0 |
| 572 | NAGELMANN DANIEL | 5/23/08 | NA | NA | NA | NA | NA | NA | 0 | 0 | 0 | 0 |
| 573 | NATHAN DANIEL | 2/2/10 | NA | NA | 1/10/11 | NA | NA | NA | 0 | 0 | 0 | 0 |
| 574 | NAVARRETE RONALD | 2/2/10 | 6/17/09 | NA | NA | NA | NA | NA | 0 | 0 | 0 | 0 |
| 575 | NEEL BRIAN | 5/23/08 | NA | NA | NA | NA | NA | NA | 0 | 0 | 0 | 0 |
| 576 | NELSON BRIAN | NA | 6/17/09 | NA | NA | NA | NA | NA | 0 | 0 | 0 | 0 |
| 577 | NELSON RUTH | NA | NA | NA | NA | 3/6/09 | NA | NA | 1 | 0 | 0 | 0 |
| 578 | NICASSIO JOSEPH | NA | NA | NA | 1/10/11 | NA | NA | NA | 0 | 0 | 0 | 100 |
| 579 | NIKOLOF BORIS | 2/2/10 | NA | NA | NA | NA | NA | NA | 0 | 0 | 0 | 0 |
| 580 | NOBLES MARIA | 11/26/08 | NA | NA | NA | NA | NA | NA | 0 | 0 | 0 | 0 |
| 581 | NORMAN ALISE | 11/26/08 | NA | NA | NA | NA | NA | NA | 0 | 0 | 0 | 0 |
| 582 | NORRIS CHARLES | 2/2/10 | NA | NA | NA | NA | NA | NA | 1 | 0 | 0 | 0 |
| 583 | NORRIS ROBERT | NA | NA | 12/18/09 | 1/20/09 | NA | NA | NA | 0 | 600 | 0 | 0 |
| 584 | NSHANIAN ARMAN | NA | 6/17/09 | NA | NA | NA | NA | NA | 0 | 0 | 0 | 0 |
| 585 | NUNEZ JOE | NA | NA | NA | NA | NA | NA | NA | 0 | 100 | 0 | 0 |
| 586 | NUNEZ LUIS | NA | NA | NA | 1/20/09 | NA | NA | NA | 1 | 0 | 0 | 0 |
| 587 | OAKLEY CHRISTOPHER | NA | 6/17/09 | NA | NA | NA | NA | NA | 0 | 0 | 0 | 0 |
| 588 | OCTAVE BLANCHE | NA | 6/17/09 | NA | NA | NA | NA | NA | 0 | 0 | 0 | 0 |
| 589 | OCTAVE CARMICHAEL | NA | NA | NA | 1/10/11 | NA | NA | NA | 0 | 0 | 0 | 0 |
| 590 | OHNEMUS MATTHEW | 5/23/08 | NA | NA | NA | NA | NA | NA | 0 | 0 | 0 | 0 |
| 591 | OLIVIER JULIEN | 6/25/10 | 6/17/09 | NA | NA | NA | NA | NA | 0 | 0 | 0 | 0 |
| 592 | ORNELAS RALPH | NA | NA | NA | NA | 3/6/09 | NA | NA | 0 | 0 | 0 | 200 |
| 593 | ORPE COLIN | NA | 6/17/09 | NA | NA | NA | NA | NA | 0 | 0 | 0 | 0 |
| 594 | ORTIZ ALBERT | NA | NA | 12/18/09 | 1/20/09 | NA | NA | NA | 0 | 0 | 100 | 0 |
| 595 | PALMER TRACY | NA | NA | NA | 1/20/09 | NA | NA | NA | 0 | 0 | 0 | 0 |
| 596 | PANIS PAULINE | 11/26/08 | NA | NA | NA | NA | NA | NA | 0 | 0 | 0 | 0 |
| 597 | PANZONE VICKIE | 2/2/10 | NA | NA | NA | NA | NA | NA | 0 | 0 | 0 | 0 |
| 598 | PARGA CARLOS | NA | 6/17/09 | NA | NA | NA | NA | NA | 0 | 0 | 0 | 0 |
| 599 | PARKER DAVID | 2/2/10 | NA | NA | NA | NA | NA | NA | 0 | 0 | 0 | 0 |
| 600 | PARKER MICHAEL | NA | NA | NA | NA | 3/6/09 | NA | NA | 0 | 0 | 0 | 0 |
| 601 | PARKS FRANK | NA | 6/17/09 | NA | NA | NA | NA | NA | 1 | 0 | 0 | 0 |
| 602 | PARRA ERIC | NA | NA | NA | NA | NA | 3/6/09 | NA | 0 | 600 | 0 | 200 |
| 603 | PARTIDA PABLO | NA | 6/17/09 | NA | NA | NA | NA | NA | 0 | 100 | 0 | 0 |
| 604 | PATRICK MARK | 5/23/08 | NA | NA | NA | NA | NA | NA | 0 | 0 | 0 | 0 |
| 605 | PATTERSON DAVID | NA | 6/17/09 | NA | NA | NA | NA | NA | 0 | 0 | 0 | 0 |
| 606 | PAYNE ROBERT | NA | 6/17/09 | NA | NA | NA | NA | NA | 0 | 0 | 0 | 0 |
| 607 | PEDROZA RICARDO | 6/25/10 | 6/17/09 | NA | NA | NA | NA | NA | 0 | 0 | 0 | 0 |
| 608 | PENALOZA-BRACKPOOL ANA | NA | NA | NA | 1/20/09 | NA | NA | NA | 0 | 0 | 0 | 0 |
| 609 | PEREZ ARTHUR | NA | 6/17/09 | NA | NA | NA | NA | NA | 0 | 0 | 0 | 0 |
| 610 | PEREZ CHRIS | NA | NA | NA | 1/10/11 | NA | NA | NA | 0 | 0 | 0 | 0 |
| 611 | PEREZ DANIEL | NA | 6/17/09 | NA | NA | NA | NA | NA | 0 | 0 | 0 | 0 |
| 612 | PEREZ HOLLY | NA | NA | NA | NA | 12/3/10 | NA | NA | 0 | 0 | 0 | 0 |
| 613 | PERRY JEFFREY | NA | NA | NA | 1/20/09 | NA | NA | NA | 0 | 200 | 0 | 0 |
| 614 | PETERSON JAMES | NA | 6/17/09 | NA | NA | NA | NA | NA | 0 | 0 | 0 | 0 |
| 615 | PETROCELLI DAVID | NA | 6/17/09 | NA | NA | NA | NA | NA | 0 | 0 | 0 | 0 |
| 616 | PETROCELLI SANDRA | 11/26/08 | NA | NA | NA | NA | NA | NA | 0 | 0 | 0 | 0 |
| 617 | PETZ WILLIAM | NA | NA | NA | 1/20/09 | NA | NA | NA | 0 | 0 | 0 | 0 |
| 618 | PFEIFFER RICHARD | NA | 6/17/09 | NA | NA | NA | NA | NA | 0 | 0 | 0 | 0 |
| 619 | PFREHM PAUL | 2/2/10 | NA | NA | 1/10/11 | NA | NA | NA | 0 | 0 | 0 | 0 |
| 620 | PHELTON WILLIAM | NA | 6/17/09 | NA | NA | NA | NA | NA | 0 | 0 | 0 | 0 |
| 621 | PICKETT WILLIAM | NA | 6/17/09 | NA | NA | NA | NA | NA | 0 | 0 | 0 | 0 |
| 622 | PIETRANTONI PAUL | NA | NA | NA | NA | NA | 2/7/12 | NA | 0 | 200 | 0 | 1000 |
| 623 | PLAZOLA ALBERT | NA | 6/17/09 | NA | NA | NA | NA | NA | 0 | 0 | 0 | 0 |
| 624 | POFF ALVIN | NA | 6/17/09 | NA | NA | NA | NA | NA | 0 | 0 | 0 | 0 |
| 625 | POLITANO MICHAEL | NA | 6/17/09 | NA | NA | NA | NA | NA | 0 | 0 | 0 | 0 |
| 626 | PONCE DE LEON MICHAEL | 6/25/10 | 6/17/09 | NA | NA | NA | NA | NA | 0 | 0 | 0 | 0 |
| 627 | PONDER SCOTT | 5/23/08 | NA | NA | NA | NA | NA | NA | 0 | 0 | 0 | 0 |
| 628 | PORLIER CLAY | NA | NA | NA | NA | 3/21/12 | NA | NA | 0 | 0 | 0 | 0 |
| 629 | POROWSKI KELLY | NA | NA | NA | 1/10/11 | NA | NA | NA | 0 | 0 | 0 | 0 |
| 630 | PRICE JEFFERY | NA | NA | 12/18/09 | NA | NA | NA | NA | 0 | 0 | 0 | 0 |
| 631 | PRICE JEFFREY | NA | NA | NA | 1/20/09 | NA | NA | NA | 0 | 0 | 0 | 0 |
| 632 | PRINCE DONALD | 5/23/08 | NA | NA | NA | NA | NA | NA | 0 | 0 | 0 | 0 |
| 633 | QUESADA MARLON | NA | 6/17/09 | NA | NA | NA | NA | NA | 0 | 0 | 0 | 0 |
| 634 | RACOWSCHI CIRO | 2/2/10 | NA | NA | NA | NA | NA | NA | 0 | 0 | 0 | 0 |
| 635 | RADOVIC PETER | NA | 6/17/09 | NA | NA | NA | NA | NA | 0 | 0 | 0 | 0 |
| 636 | RAFFAELLI MARK | NA | 6/17/09 | NA | NA | NA | NA | NA | 0 | 0 | 0 | 0 |
| 637 | RAFTER MICHAEL | 2/2/10 | 6/17/09 | NA | NA | NA | NA | NA | 0 | 0 | 0 | 0 |
| 638 | RAMAGE LARRY | 2/2/10 | NA | NA | NA | NA | NA | NA | 0 | 0 | 0 | 0 |
| 639 | RAMIREZ ALEJANDRO | NA | 6/17/09 | NA | NA | NA | NA | NA | 0 | 0 | 0 | 0 |
| 640 | RAMIREZ ERNESTO | 11/26/08 | NA | NA | NA | NA | NA | NA | 0 | 0 | 0 | 0 |
| 641 | RAMOS ANGEL | NA | 6/17/09 | NA | NA | NA | NA | NA | 0 | 0 | 0 | 0 |
| 642 | RAMOS JOSE | 6/25/10 | 6/17/09 | NA | NA | NA | NA | NA | 0 | 0 | 0 | 0 |
| 643 | RAMOS RUDOLPH | NA | 6/17/09 | NA | NA | NA | NA | NA | 0 | 0 | 0 | 0 |
| 644 | RASMUSSEN DONALD | NA | NA | NA | 1/20/09 | NA | NA | NA | 0 | 0 | 0 | 0 |
| 645 | RASMUSSEN KEVIN | 2/2/10 | NA | NA | NA | NA | NA | NA | 0 | 0 | 0 | 0 |
| 646 | RATTO JOHN | NA | NA | NA | 1/20/09 | NA | NA | NA | 0 | 0 | 0 | 0 |
| 647 | RAULSTON EDWARD | NA | NA | 12/18/09 | NA | NA | NA | NA | 0 | 0 | 0 | 0 |
| 648 | RAY JON | 6/25/10 | 6/17/09 | NA | NA | NA | NA | NA | 0 | 0 | 0 | 0 |
| 649 | RECCHIA DOMENICK | 5/23/08 | NA | NA | NA | NA | NA | NA | 0 | 100 | 0 | 0 |
| 650 | REDDING MICHAEL | 2/2/10 | 6/17/09 | NA | NA | NA | NA | NA | 0 | 0 | 0 | 0 |
| 651 | REDDY MICHAEL | NA | 6/17/09 | NA | NA | NA | NA | NA | 0 | 0 | 0 | 0 |
| 652 | REID THOMAS | NA | NA | 5/13/12 | NA | NA | NA | NA | 0 | 0 | 0 | 0 |
| 653 | REYES MARK | 5/23/08 | NA | NA | NA | NA | NA | NA | 0 | 0 | 0 | 0 |
| 654 | REYNOLDS DONALD | 5/23/08 | NA | NA | NA | NA | NA | NA | 0 | 0 | 0 | 0 |
| 655 | REYNOSO ADRIAN | NA | 6/17/09 | NA | NA | NA | NA | NA | 0 | 0 | 0 | 0 |
| 656 | RHODES TAB | NA | NA | 5/13/12 | NA | NA | NA | NA | 0 | 0 | 0 | 0 |
| 657 | RILEY BRYAN | NA | 6/17/09 | NA | NA | NA | NA | NA | 0 | 0 | 0 | 0 |
| 658 | RINCON PATRICK | NA | 6/17/09 | NA | NA | NA | NA | NA | 0 | 0 | 0 | 0 |
| 659 | RIOS JOSE | NA | NA | NA | 1/10/11 | NA | NA | NA | 1 | 0 | 0 | 0 |
| 660 | RITENOUR JAMES | NA | NA | NA | NA | 3/6/09 | NA | NA | 0 | 200 | 100 | 0 |
| 661 | RIVERA ANTHONY | NA | NA | 5/13/12 | NA | NA | NA | NA | 1 | 0 | 0 | 0 |
| 662 | RIVERO EDWARDO | NA | NA | NA | NA | 3/21/12 | NA | NA | 0 | 0 | 0 | 0 |
| 663 | ROAM CHRISTINE | NA | 6/17/09 | NA | NA | NA | NA | NA | 0 | 0 | 0 | 0 |
| 664 | ROBERTS CRAIG | NA | 6/17/09 | NA | NA | NA | NA | NA | 0 | 0 | 0 | 0 |
| 665 | ROBERTS RICHARD | NA | 6/17/09 | NA | NA | NA | NA | NA | 0 | 0 | 0 | 0 |
| 666 | ROBLEY SHANE | NA | NA | 12/18/09 | NA | NA | NA | NA | 0 | 0 | 0 | 0 |
| 667 | RODRIGUEZ ANTHONY | 2/2/10 | NA | NA | NA | NA | NA | NA | 0 | 0 | 0 | 0 |
| 668 | RODRIGUEZ JAY | NA | 6/17/09 | NA | NA | NA | NA | NA | 0 | 0 | 0 | 0 |
| 669 | RODRIGUEZ MICHAEL | NA | NA | NA | NA | 12/18/09 | NA | NA | 1 | 0 | 0 | 200 |
| 670 | ROGERS TODD | NA | NA | NA | NA | NA | 3/6/09 | NA | 0 | 0 | 0 | 0 |
| 671 | ROMASH CHRISTOPHER | 2/2/10 | 6/17/09 | NA | NA | NA | NA | NA | 0 | 0 | 0 | 0 |
| 672 | ROSS DANIEL | NA | NA | NA | 1/10/11 | NA | NA | NA | 0 | 0 | 0 | 0 |
| 673 | ROSSI JOHN | 2/2/10 | NA | NA | NA | NA | NA | NA | 1 | 0 | 0 | 0 |
| 674 | ROSSITER RONALD | NA | 6/17/09 | NA | NA | NA | NA | NA | 0 | 0 | 0 | 0 |
| 675 | ROSSON MICHAEL | NA | NA | 7/18/08 | NA | NA | NA | NA | 1 | 0 | 100 | 0 |
| 676 | ROTHANS MICHAEL | NA | NA | NA | NA | NA | 12/18/09 | NA | 0 | 0 | 0 | 0 |
| 677 | ROTHE FRANK | 2/2/10 | NA | NA | NA | NA | NA | NA | 0 | 0 | 0 | 0 |
| 678 | ROYAL JAMES | NA | NA | NA | 1/20/09 | NA | NA | NA | 0 | 0 | 0 | 0 |
| 679 | ROYSTER ROBBIE | NA | 6/17/09 | NA | NA | NA | NA | NA | 0 | 0 | 0 | 0 |
| 680 | RUBIO DONALD | 2/2/10 | NA | NA | NA | NA | NA | NA | 0 | 0 | 0 | 0 |
| 681 | RUDA SHAWN | 2/2/10 | NA | NA | NA | NA | NA | NA | 0 | 0 | 0 | 0 |
| 682 | RUDE ERIC | NA | 6/17/09 | NA | NA | NA | NA | NA | 0 | 0 | 0 | 0 |
| 683 | RUE-LAS RANDALL | NA | 6/17/09 | NA | NA | NA | NA | NA | 0 | 0 | 0 | 0 |
| 684 | RUIS ANDY | NA | 6/17/09 | NA | NA | NA | NA | NA | 0 | 0 | 0 | 0 |
| 685 | RUIZ ANDY | 2/2/10 | NA | NA | NA | NA | NA | NA | 0 | 0 | 0 | 0 |
| 686 | RUIZ MARGARET | NA | NA | NA | NA | NA | NA | NA | 0 | 0 | 0 | 0 |
| 687 | RUSH DAVID | NA | NA | NA | 1/10/11 | NA | NA | NA | 0 | 0 | 0 | 0 |
| 688 | RUSH JOHN | NA | NA | NA | 1/10/11 | NA | NA | NA | 0 | 0 | 0 | 0 |
| 689 | RUSH ROBERT | 2/2/10 | NA | NA | 1/10/11 | NA | NA | NA | 0 | 0 | 0 | 0 |
| 690 | RUST MICHAEL | NA | 6/17/09 | NA | NA | NA | NA | NA | 0 | 0 | 0 | 0 |
| 691 | RYAN JEROME | NA | NA | NA | 1/20/09 | NA | NA | NA | 0 | 0 | 0 | 0 |
| 692 | SAGARDIA JOHN | 2/2/10 | 6/17/09 | NA | NA | NA | NA | NA | 0 | 0 | 0 | 0 |
| 693 | SALAZAR DENNIS | NA | 6/17/09 | NA | NA | NA | NA | NA | 0 | 0 | 0 | 0 |
| 694 | SALCIDO JULIO | NA | NA | 12/18/09 | 1/20/09 | NA | NA | NA | 0 | 0 | 0 | 0 |
| 695 | SALGADO JOSE | NA | 6/17/09 | NA | NA | NA | NA | NA | 0 | 0 | 0 | 0 |
| 696 | SANCHEZ CLAUDINE | NA | NA | 12/18/09 | 1/20/09 | NA | NA | NA | 0 | 0 | 0 | 0 |
| 697 | SANCHEZ RUDY | NA | 6/17/09 | NA | NA | NA | NA | NA | 0 | 0 | 0 | 0 |
| 698 | SANDERS MARGARET | 2/2/10 | 6/17/09 | NA | NA | NA | NA | NA | 0 | 0 | 0 | 0 |
| 699 | SANDOR JANET | 6/25/10 | 6/17/09 | NA | NA | NA | NA | NA | 0 | 0 | 0 | 0 |
| 700 | SANDOVAL RAQUEL | NA | 6/17/09 | NA | NA | NA | NA | NA | 0 | 0 | 0 | 0 |
| 701 | SANZONE PETER | NA | 6/17/09 | NA | NA | NA | NA | NA | 0 | 0 | 0 | 0 |
| 702 | SAUCEDO JESUS | NA | 6/17/09 | NA | NA | NA | NA | NA | 1 | 0 | 0 | 0 |
| 703 | SAUTER CHAD | 2/2/10 | 6/17/09 | NA | NA | NA | NA | NA | 0 | 0 | 0 | 0 |
| 704 | SCHALLERT JAMES | NA | NA | NA | 1/20/09 | NA | NA | NA | 0 | 0 | 0 | 0 |
| 705 | SCHAUBERGER ALBERT | 2/2/10 | 6/17/09 | NA | NA | NA | NA | NA | 0 | 0 | 0 | 0 |
| 706 | SCHLECHT KEVIN | 6/25/10 | 6/17/09 | NA | NA | NA | NA | NA | 0 | 0 | 0 | 0 |
| 707 | SCHUERGER PAUL | 6/25/10 | 6/17/09 | NA | NA | NA | NA | NA | 0 | 0 | 0 | 0 |
| 708 | SEACORD SHANE | NA | 6/17/09 | NA | NA | NA | NA | NA | 1 | 0 | 0 | 0 |
| 709 | SELLERS MICHAEL | NA | 6/17/09 | NA | NA | NA | NA | NA | 0 | 0 | 0 | 0 |
| 710 | SERRANO ANDREW | NA | 6/17/09 | NA | NA | NA | NA | NA | 0 | 0 | 0 | 0 |
| 711 | SHAFFER RODD | NA | 6/17/09 | NA | NA | NA | NA | NA | 0 | 0 | 0 | 0 |
| 712 | SHALEV YOAV | NA | 6/17/09 | NA | NA | NA | NA | NA | 0 | 0 | 0 | 0 |
| 713 | SHAPIRO BARRY | NA | NA | NA | 1/20/09 | NA | NA | NA | 0 | 0 | 0 | 0 |
| 714 | SHAPIRO MICHAEL | NA | 6/17/09 | NA | NA | NA | NA | NA | 0 | 0 | 0 | 0 |
| 715 | SHARP JOANNE | NA | NA | NA | NA | 12/3/10 | NA | NA | 0 | 0 | 0 | 0 |
| 716 | SHAW KEITH | NA | 6/17/09 | NA | NA | NA | NA | NA | 0 | 0 | 0 | 0 |
| 717 | SHAW SHAWN | 6/25/10 | 6/17/09 | NA | NA | NA | NA | NA | 0 | 0 | 0 | 0 |
| 718 | SHEAR RICHARD | 2/2/10 | NA | NA | 1/10/11 | NA | NA | NA | 0 | 0 | 0 | 0 |
| 719 | SHELTON KIMBERLEY | NA | 6/17/09 | NA | NA | NA | NA | NA | 0 | 0 | 0 | 0 |
| 720 | SHELTON KIMBERLY | 2/2/10 | NA | NA | NA | NA | NA | NA | 0 | 0 | 0 | 0 |
| 721 | SHERROD SIDRA | 2/2/10 | 6/17/09 | NA | NA | NA | NA | NA | 0 | 0 | 0 | 0 |
| 722 | SHIGO PAUL | NA | 6/17/09 | NA | NA | NA | NA | NA | 0 | 0 | 0 | 0 |
| 723 | SHOEMAKER DAVID | NA | 6/17/09 | NA | NA | NA | NA | NA | 0 | 0 | 0 | 0 |
| 724 | SHROUT STEPHANIE | 2/2/10 | 6/17/09 | NA | NA | NA | NA | NA | 0 | 0 | 0 | 0 |
| 725 | SHUPE PETER | 2/2/10 | NA | NA | NA | NA | NA | NA | 0 | 0 | 0 | 0 |
| 726 | SIERRA MARCUS | NA | 6/17/09 | NA | NA | NA | NA | NA | 0 | 0 | 0 | 0 |
| 727 | SIGNATER CODY | NA | 6/17/09 | NA | NA | NA | NA | NA | 0 | 0 | 0 | 0 |
| 728 | SILVERMAN CORY | NA | 6/17/09 | NA | NA | NA | NA | NA | 0 | 0 | 0 | 0 |
| 729 | SIMPKINS MURRAY | 2/2/10 | 6/17/09 | NA | NA | NA | NA | NA | 1 | 0 | 0 | 0 |
| 730 | SIRKEL BRYAN | NA | 6/17/09 | NA | NA | NA | NA | NA | 0 | 0 | 0 | 0 |
| 731 | SKEEN JASON | NA | NA | NA | 1/10/11 | NA | NA | NA | 0 | 0 | 0 | 0 |
| 732 | SKIKAS JOHN | NA | 6/17/09 | NA | NA | NA | NA | NA | 0 | 0 | 0 | 0 |
| 733 | SMELTZER CHAD | 5/23/08 | NA | NA | NA | NA | NA | NA | 0 | 0 | 0 | 0 |
| 734 | SMITH DAVID | NA | NA | NA | NA | 3/6/09 | NA | NA | 1 | 0 | 250 | 200 |
| 735 | SMITH DEMARKUS | 5/23/08 | NA | NA | NA | NA | NA | NA | 0 | 0 | 0 | 0 |
| 736 | SMITH ROBERT | NA | NA | 12/18/09 | 1/20/09 | NA | NA | NA | 0 | 0 | 0 | 0 |
| 737 | SMITSON ERIC | 2/2/10 | NA | NA | 1/10/11 | NA | NA | NA | 0 | 0 | 0 | 0 |
| 738 | SNOW MISTY | 11/26/08 | NA | NA | NA | NA | NA | NA | 0 | 0 | 0 | 0 |
| 739 | SOEHNEL SAMMY | 2/2/10 | 6/17/09 | NA | NA | NA | NA | NA | 0 | 0 | 0 | 0 |
| 740 | SOLANO PHILLIP | NA | 6/17/09 | NA | NA | NA | NA | NA | 0 | 0 | 0 | 0 |
| 741 | SOLIS VICTOR | NA | 6/17/09 | NA | NA | NA | NA | NA | 0 | 0 | 0 | 0 |
| 742 | SOMOANO IGNACIO | NA | NA | 5/13/12 | NA | NA | NA | NA | 0 | 0 | 100 | 0 |
| 743 | SOSA LAURA | 2/2/10 | 6/17/09 | NA | NA | NA | NA | NA | 0 | 0 | 0 | 0 |
| 744 | SOTO JOAQUIN | 2/2/10 | NA | NA | NA | NA | NA | NA | 0 | 0 | 0 | 0 |
| 745 | SOTO MARCO | 5/23/08 | NA | NA | NA | NA | NA | NA | 0 | 0 | 0 | 0 |
| 746 | SOTO ROBERT | NA | 6/17/09 | NA | NA | NA | NA | NA | 0 | 0 | 0 | 0 |
| 747 | SPENCER ARTURO | NA | 6/17/09 | NA | NA | NA | NA | NA | 0 | 0 | 0 | 0 |
| 748 | SPENCER THOMAS | NA | NA | NA | NA | NA | NA | 12/18/09 | 0 | 100 | 200 | 0 |
| 749 | SPINA MICHAEL | NA | 6/17/09 | NA | NA | NA | NA | NA | 0 | 0 | 0 | 0 |
| 750 | SPRENGEL DAVID | 5/23/08 | NA | NA | NA | NA | NA | NA | 0 | 0 | 0 | 0 |
| 751 | SQUIRE MATTHEW | 2/2/10 | NA | NA | 1/10/11 | NA | NA | NA | 0 | 0 | 0 | 0 |
| 752 | STAHL JOSHUA | 5/23/08 | NA | 5/13/12 | 1/10/11 | NA | NA | NA | 0 | 0 | 0 | 0 |
| 753 | STANGELAND DENNIS | 2/2/10 | 6/17/09 | NA | NA | NA | NA | NA | 0 | 0 | 0 | 0 |
| 754 | STANLEY JOHN | NA | NA | NA | 1/10/11 | NA | NA | NA | 0 | 0 | 0 | 0 |
| 755 | STEDMAN JOHN | NA | NA | NA | NA | 3/21/12 | NA | NA | 1 | 0 | 0 | 0 |
| 756 | STEPHEN JOSEPH | NA | NA | NA | NA | 12/18/09 | NA | NA | 0 | 450 | 250 | 150 |
| 757 | STEPHENSON DENISE | NA | NA | NA | 1/10/11 | NA | NA | NA | 0 | 0 | 0 | 0 |
| 758 | STEWART TRACY | NA | NA | NA | 1/10/11 | NA | NA | NA | 0 | 0 | 0 | 0 |
| 759 | STONE MARK | 2/2/10 | 6/17/09 | NA | NA | NA | NA | NA | 0 | 0 | 0 | 0 |
| 760 | STONICH MARK | 2/2/10 | 6/17/09 | NA | NA | NA | NA | NA | 0 | 0 | 0 | 0 |
| 761 | STOVER RANDAL | NA | NA | NA | NA | 12/3/10 | NA | NA | 0 | 0 | 0 | 0 |
| 762 | STRANGE STEVEN | NA | NA | NA | 1/20/09 | NA | NA | NA | 0 | 0 | 100 | 0 |
| 763 | STRICKLAND MICHAEL | NA | NA | NA | 1/10/11 | NA | NA | NA | 0 | 0 | 0 | 0 |
| 764 | STRINGER LAMONT | NA | 6/17/09 | NA | NA | NA | NA | NA | 0 | 0 | 0 | 0 |
| 765 | STROBLE STEVEN | NA | 6/17/09 | NA | NA | NA | NA | NA | 0 | 0 | 0 | 0 |
| 766 | STRONG ERIC | NA | NA | NA | 1/10/11 | NA | NA | NA | 0 | 0 | 0 | 0 |
| 767 | STUVER MICHAEL | NA | 6/17/09 | NA | NA | NA | NA | NA | 0 | 0 | 0 | 0 |
| 768 | SUBLER DONALD | NA | 6/17/09 | NA | NA | NA | NA | NA | 0 | 0 | 0 | 0 |
| 769 | SUM DAVID | NA | 6/17/09 | NA | NA | NA | NA | NA | 0 | 0 | 0 | 0 |
| 770 | SUMMERS SHAWN | NA | 6/17/09 | NA | NA | NA | NA | NA | 0 | 0 | 0 | 0 |
| 771 | SUTHERLAND MARK | 2/2/10 | 6/17/09 | NA | NA | NA | NA | NA | 0 | 0 | 0 | 0 |
| 772 | SUZUKI STEVE | 2/2/10 | NA | NA | NA | NA | NA | NA | 0 | 300 | 0 | 0 |
| 773 | SYLVIES STEVEN | NA | NA | 5/13/12 | 1/10/11 | NA | NA | NA | 0 | 0 | 0 | 0 |
| 774 | TACHIAS ORLANDO | NA | NA | 12/18/09 | 1/20/09 | NA | NA | NA | 0 | 0 | 0 | 0 |
| 775 | TALLER LES | 5/23/08 | NA | NA | 1/10/11 | NA | NA | NA | 0 | 0 | 0 | 0 |
| 776 | TARDY APRIL | NA | NA | NA | 1/10/11 | NA | NA | NA | 0 | 0 | 0 | 0 |
| 777 | TATE KEITH | NA | 6/17/09 | NA | NA | NA | NA | NA | 0 | 0 | 0 | 0 |
| 778 | TAYLOR KEITH | 11/26/08 | NA | NA | NA | NA | NA | NA | 0 | 0 | 0 | 0 |
| 779 | TAYLOR REX | NA | 6/17/09 | NA | NA | NA | NA | NA | 0 | 0 | 0 | 0 |
| 780 | TAYLOR TODD | NA | 6/17/09 | NA | NA | NA | NA | NA | 0 | 0 | 0 | 0 |
| 781 | TELLES MICHAEL | 2/2/10 | NA | NA | NA | NA | NA | NA | 0 | 0 | 0 | 0 |
| 782 | TENNEY STEVEN | NA | NA | NA | 1/20/09 | NA | NA | NA | 0 | 0 | 0 | 0 |
| 783 | THAI JOSHUA | NA | NA | NA | 1/20/09 | NA | NA | NA | 0 | 300 | 0 | 100 |
| 784 | THATCHER MICHAEL | NA | NA | 12/18/09 | 1/20/09 | NA | NA | NA | 0 | 0 | 0 | 0 |
| 785 | THOMAS ARTHUR | NA | 6/17/09 | NA | NA | NA | NA | NA | 0 | 0 | 0 | 0 |
| 786 | THOMAS MICHAEL | NA | NA | NA | 1/20/09 | NA | NA | NA | 0 | 0 | 0 | 0 |
| 787 | THOMPSON ARTHUR | NA | 6/17/09 | NA | NA | NA | NA | NA | 0 | 0 | 0 | 0 |
| 788 | THOMPSON DAVID | NA | NA | NA | 1/20/09 | NA | NA | NA | 0 | 0 | 0 | 0 |
| 789 | THOMPSON DERRICK | NA | 6/17/09 | NA | NA | NA | NA | NA | 0 | 0 | 0 | 0 |
| 790 | THOMPSON DONNA | NA | NA | 12/18/09 | 1/20/09 | NA | NA | NA | 0 | 0 | 0 | 0 |
| 791 | THOMPSON GREGORY | NA | NA | NA | 1/20/09 | NA | NA | NA | 0 | 0 | 0 | 0 |
| 792 | THOMPSON PATRICIA | NA | 6/17/09 | NA | NA | NA | NA | NA | 0 | 0 | 0 | 0 |
| 793 | THRALL JOHANN | NA | NA | NA | 1/20/09 | NA | NA | NA | 1 | 0 | 0 | 0 |
| 794 | TOBIN DANIEL | 5/23/08 | NA | NA | NA | NA | NA | NA | 0 | 0 | 0 | 0 |
| 795 | TOLY STEVEN | NA | 6/17/09 | NA | NA | NA | NA | NA | 0 | 0 | 0 | 0 |
| 796 | TOMBOL DEBORAH | 11/26/08 | NA | NA | NA | NA | NA | NA | 0 | 0 | 0 | 0 |
| 797 | TORRES LARRY | 2/2/10 | 6/17/09 | NA | NA | NA | NA | NA | 0 | 0 | 0 | 0 |
| 798 | TOUSEY STEVEN | NA | 6/17/09 | NA | NA | NA | NA | NA | 0 | 0 | 0 | 0 |
| 799 | TREINEN MICHAEL | NA | 6/17/09 | NA | NA | NA | NA | NA | 0 | 0 | 0 | 0 |
| 800 | TREJO JANE | 2/2/10 | NA | NA | NA | NA | NA | NA | 0 | 0 | 0 | 0 |
| 801 | TREVILLYAN JEFFREY | NA | 6/17/09 | NA | NA | NA | NA | NA | 0 | 0 | 0 | 0 |
| 802 | TRIMARCHI JOSEPH | 5/23/08 | NA | NA | NA | NA | NA | NA | 0 | 100 | 0 | 0 |
| 803 | TRUJILLO VICTOR | NA | NA | NA | NA | 12/3/10 | NA | NA | 0 | 0 | 0 | 0 |
| 804 | TUINSTRA RANDOLPH | 2/2/10 | NA | NA | NA | NA | NA | NA | 0 | 0 | 0 | 0 |
| 805 | TURRILL KEVIN | 5/23/08 | NA | NA | NA | NA | NA | NA | 0 | 0 | 0 | 0 |
| 806 | TWEEDY RANDY | NA | 6/17/09 | NA | NA | NA | NA | NA | 0 | 0 | 0 | 0 |
| 807 | UNLAND KEVIN | NA | 6/17/09 | NA | NA | NA | NA | NA | 0 | 0 | 0 | 0 |
| 808 | URIBE JOSE | NA | 6/17/09 | NA | NA | NA | NA | NA | 0 | 0 | 0 | 0 |
| 809 | VALDEZ JORGE | 2/2/10 | 6/17/09 | NA | NA | NA | NA | NA | 1 | 0 | 0 | 0 |
| 810 | VALENCIA JAVIER | 11/26/08 | NA | NA | NA | NA | NA | NA | 0 | 0 | 0 | 0 |
| 811 | VALENCIA JOSEPH | 11/26/08 | NA | NA | NA | NA | NA | NA | 1 | 0 | 0 | 0 |
| 812 | VALLOZZI LEANDRO | 2/2/10 | 6/17/09 | NA | NA | NA | NA | NA | 0 | 0 | 0 | 0 |
| 813 | VANDAMME DJOKO | 5/23/08 | NA | NA | NA | NA | NA | NA | 0 | 0 | 0 | 0 |
| 814 | VANDER HORCK MATTHEW | NA | NA | NA | 1/10/11 | NA | NA | NA | 0 | 0 | 0 | 0 |
| 815 | VANDERHORCK MATTHEW | NA | NA | NA | 1/20/09 | NA | NA | NA | 0 | 0 | 0 | 0 |
| 816 | VANDERLEEK TIMOTHY | 2/2/10 | 6/17/09 | NA | NA | NA | NA | NA | 0 | 0 | 0 | 0 |
| 817 | VARGAS ANGELICA | 11/26/08 | NA | NA | NA | NA | NA | NA | 0 | 0 | 0 | 0 |
| 818 | VARGAS RICHARD | NA | 6/17/09 | NA | NA | NA | NA | NA | 0 | 0 | 0 | 0 |
| 819 | VAZIRI ALEX | NA | 6/17/09 | NA | NA | NA | NA | NA | 0 | 0 | 0 | 0 |
| 820 | VEGA DAVID | NA | NA | 12/18/09 | 1/20/09 | NA | NA | NA | 0 | 0 | 0 | 0 |
| 821 | VELEK WILLIAM | NA | 6/17/09 | NA | NA | NA | NA | NA | 0 | 0 | 0 | 0 |
| 822 | VENSEL JOHN | NA | 6/17/09 | NA | NA | NA | NA | NA | 0 | 0 | 0 | 0 |
| 823 | VERA LIZA | 11/26/08 | NA | NA | NA | NA | NA | NA | 0 | 0 | 0 | 0 |
| 824 | VERDUZCO BENJAMIN | NA | 6/17/09 | NA | NA | NA | NA | NA | 0 | 0 | 0 | 0 |
| 825 | VIGIL LOUIS | 2/2/10 | 6/17/09 | NA | NA | NA | NA | NA | 0 | 0 | 0 | 0 |
| 826 | VILLAFRANCO CARLOS | NA | 6/17/09 | NA | NA | NA | NA | NA | 1 | 0 | 0 | 0 |
| 827 | VILLANUEVA ALEJANDRO | NA | NA | NA | 1/10/11 | NA | NA | NA | 0 | 0 | 0 | 0 |
| 828 | VILLANUEVA ALEXANDRO | NA | NA | NA | 1/20/09 | NA | NA | NA | 0 | 0 | 0 | 0 |
| 829 | VIRAMONTES JORGE | NA | 6/17/09 | NA | NA | NA | NA | NA | 0 | 0 | 0 | 0 |
| 830 | VIZCARRA DANIEL | NA | 6/17/09 | NA | NA | NA | NA | NA | 0 | 0 | 0 | 0 |
| 831 | WAGNER MARGARET | NA | NA | NA | NA | NA | NA | NA | 0 | 0 | 0 | 0 |
| 832 | WALDIE LARRY | NA | 6/17/09 | NA | NA | NA | NA | NA | 0 | 300 | 0 | 0 |
| 833 | WALDMAN MICHAEL | NA | NA | NA | 1/10/11 | NA | NA | NA | 0 | 0 | 0 | 0 |
| 834 | WALDO BRUCE | 2/2/10 | 6/17/09 | NA | NA | NA | NA | NA | 0 | 0 | 100 | 0 |
| 835 | WALKER COREY | NA | 6/17/09 | NA | NA | NA | NA | NA | 0 | 0 | 0 | 0 |
| 836 | WALKER CRAIG | 5/23/08 | NA | NA | NA | NA | NA | NA | 0 | 0 | 0 | 0 |
| 837 | WALKER DIANE | NA | NA | NA | NA | 3/6/09 | NA | NA | 0 | 0 | 0 | 200 |
| 838 | WALKER KEVIN | NA | NA | NA | 1/10/11 | NA | NA | NA | 0 | 0 | 0 | 0 |
| 839 | WALKER RUDOLPH | 2/2/10 | NA | NA | NA | NA | NA | NA | 0 | 0 | 0 | 0 |
| 840 | WALK KEVIN | 2/2/10 | NA | NA | NA | NA | NA | NA | 0 | 0 | 0 | 0 |
| 841 | WALLACE ROGER | 2/2/10 | NA | NA | NA | NA | NA | NA | 0 | 0 | 0 | 0 |
| 842 | WALL KEITH | 2/2/10 | NA | NA | NA | NA | NA | NA | 0 | 0 | 0 | 0 |
| 843 | WALSH GLENN | 6/25/10 | 6/17/09 | NA | NA | NA | NA | NA | 0 | 0 | 0 | 0 |
| 844 | WALTER JUSTIN | NA | 6/17/09 | NA | NA | NA | NA | NA | 1 | 0 | 0 | 0 |
| 845 | WALTER LISA | 2/2/10 | 6/17/09 | NA | NA | NA | NA | NA | 0 | 0 | 0 | 0 |
| 846 | WALTON ANGELA | NA | NA | NA | 1/10/11 | NA | NA | NA | 0 | 0 | 0 | 0 |
| 847 | WARD BYRON | 6/25/10 | 6/17/09 | NA | NA | NA | NA | NA | 0 | 0 | 0 | 0 |
| 848 | WARD DAVID | 2/2/10 | NA | NA | NA | NA | NA | NA | 0 | 0 | 0 | 0 |
| 849 | WARD RAYNARD | 6/25/10 | 6/17/09 | NA | NA | NA | NA | NA | 0 | 0 | 0 | 0 |
| 850 | WARGO JOHN | NA | 6/17/09 | NA | NA | NA | NA | NA | 0 | 0 | 0 | 0 |
| 851 | WATERMAN WAYNE | NA | 6/17/09 | NA | NA | NA | NA | NA | 0 | 0 | 0 | 0 |
| 852 | WATTERS CHADNEY | NA | 6/17/09 | NA | NA | NA | NA | NA | 1 | 0 | 0 | 0 |
| 853 | WAUGH CARRIE | 6/25/10 | NA | NA | NA | NA | NA | NA | 0 | 0 | 0 | 0 |
| 854 | WEBER TODD | NA | NA | NA | 1/10/11 | NA | NA | NA | 0 | 0 | 0 | 0 |
| 855 | WELLS EDWARD | NA | NA | NA | 1/10/11 | NA | NA | NA | 0 | 0 | 0 | 0 |
| 856 | WESTALL TIM | NA | NA | 5/13/12 | 1/10/11 | NA | NA | NA | 0 | 0 | 0 | 0 |
| 857 | WESTIN RICHARD | NA | NA | NA | 1/20/09 | NA | NA | NA | 1 | 0 | 0 | 0 |
| 858 | WHEATCROFT ROBERT | 5/23/08 | NA | NA | NA | NA | NA | NA | 0 | 0 | 0 | 0 |
| 859 | WHITE DANIEL | NA | 6/17/09 | NA | NA | NA | NA | NA | 0 | 0 | 0 | 150 |
| 860 | WHITE MICHAEL | 2/2/10 | NA | NA | 1/10/11 | NA | NA | NA | 0 | 0 | 0 | 0 |
| 861 | WHITE RICHARD | 5/23/08 | NA | NA | NA | NA | NA | NA | 1 | 0 | 0 | 0 |
| 862 | WIARD ROBERT | NA | NA | NA | 1/10/11 | NA | NA | NA | 0 | 0 | 0 | 0 |
| 863 | WICKER WILLIAM | NA | NA | NA | 1/10/11 | NA | NA | NA | 0 | 0 | 0 | 0 |
| 864 | WILKENING MARK | 2/2/10 | 6/17/09 | NA | NA | NA | NA | NA | 0 | 0 | 0 | 0 |
| 865 | WILLIAMS JABARI | NA | 6/17/09 | NA | NA | NA | NA | NA | 0 | 0 | 0 | 0 |
| 866 | WILLIAMS JEFFREY | NA | 6/17/09 | NA | NA | NA | NA | NA | 0 | 0 | 0 | 0 |
| 867 | WILLIAMS JOSEPH | 11/26/08 | NA | NA | NA | NA | NA | NA | 1 | 0 | 0 | 0 |
| 868 | WILLIAMS LAMARK | NA | 6/17/09 | NA | NA | NA | NA | NA | 0 | 0 | 0 | 0 |
| 869 | WILLIAMS ROBERT | NA | 6/17/09 | NA | NA | NA | NA | NA | 0 | 0 | 0 | 0 |
| 870 | WILLIAMS RONALD | NA | NA | NA | 1/20/09 | NA | NA | NA | 0 | 0 | 0 | 0 |
| 871 | WILLIAMS STEVEN | NA | 6/17/09 | NA | NA | NA | NA | NA | 0 | 0 | 0 | 0 |
| 872 | WILLIS ANTHONY | NA | 6/17/09 | NA | NA | NA | NA | NA | 0 | 0 | 0 | 0 |
| 873 | WILLOUGHBY MICHAEL | 2/2/10 | NA | NA | 1/20/09 | NA | NA | NA | 0 | 0 | 0 | 0 |
| 874 | WILSON VIENNA | NA | NA | 12/18/09 | 1/20/09 | NA | NA | NA | 0 | 0 | 0 | 0 |
| 875 | WINSLOW EDWARD | 2/2/10 | NA | NA | 1/20/09 | NA | NA | NA | 0 | 0 | 0 | 0 |
| 876 | WINTER MICHAEL | NA | 6/17/09 | NA | NA | NA | NA | NA | 0 | 0 | 0 | 0 |
| 877 | WOLAK JASON | NA | NA | NA | 1/10/11 | NA | NA | NA | 0 | 300 | 0 | 0 |
| 878 | WOLAK JOHN | NA | NA | NA | 1/10/11 | NA | NA | NA | 0 | 300 | 0 | 0 |
| 879 | WOLANSKI DANIEL | NA | 6/17/09 | NA | NA | NA | NA | NA | 0 | 0 | 0 | 0 |
| 880 | WOLFE MICHAEL | 6/25/10 | 6/17/09 | NA | NA | NA | NA | NA | 0 | 0 | 0 | 0 |
| 881 | WOLLENZIER ANNADENNISE | NA | 6/17/09 | NA | NA | NA | NA | NA | 0 | 0 | 0 | 0 |
| 882 | WOLLUM JOSIE | NA | NA | NA | 1/20/09 | NA | NA | NA | 0 | 0 | 0 | 0 |
| 883 | WOODRUFF KASEY | NA | 6/17/09 | NA | NA | NA | NA | NA | 1 | 0 | 0 | 0 |
| 884 | WOOLUM JOSIE | NA | NA | 12/18/09 | NA | NA | NA | NA | 0 | 0 | 0 | 0 |
| 885 | WYATT STEVEN | NA | 6/17/09 | NA | NA | NA | NA | NA | 0 | 0 | 0 | 0 |
| 886 | WYCHE BOBBY | 2/2/10 | NA | NA | 1/20/09 | NA | NA | NA | 1 | 0 | 200 | 0 |
| 887 | YANAGI BRIAN | 2/2/10 | NA | NA | 1/10/11 | NA | NA | NA | 0 | 0 | 100 | 0 |
| 888 | YATES CLIFFORD | NA | NA | NA | 1/20/09 | NA | NA | NA | 0 | 0 | 0 | 0 |
| 889 | YBARRA JUAN | 5/23/08 | NA | NA | NA | NA | NA | NA | 0 | 0 | 0 | 0 |
| 890 | YELVERTON MARSHALL | NA | 6/17/09 | NA | NA | NA | NA | NA | 0 | 0 | 0 | 0 |
| 891 | YOCUM MICHAEL | 2/2/10 | 6/17/09 | NA | NA | NA | NA | NA | 0 | 0 | 0 | 0 |
| 892 | YOELL BRUCE | 6/25/10 | 6/17/09 | NA | NA | NA | NA | NA | 0 | 0 | 0 | 0 |
| 893 | YOUNG LARRY | 2/2/10 | NA | NA | NA | NA | NA | NA | 0 | 0 | 0 | 0 |
| 894 | ZABORNIAK KEVIN | NA | 6/17/09 | NA | NA | NA | NA | NA | 0 | 0 | 0 | 0 |
| 895 | ZAVALA VICTOR | 2/2/10 | NA | NA | NA | NA | NA | NA | 0 | 0 | 0 | 0 |
| 896 | ZOLKOWSKI WENDY | 2/2/10 | NA | NA | NA | NA | NA | NA | 1 | 0 | 0 | 0 |
| 897 | ZOLLO WILLIAM | NA | 6/17/09 | NA | NA | NA | NA | NA | 0 | 0 | 0 | 0 |
| 898 | ZONVER NICOLE | 6/25/10 | 6/17/09 | NA | NA | NA | NA | NA | 0 | 0 | 0 | 0 |
| 899 | ZUNIGA THOMAS | NA | NA | NA | NA | 3/6/09 | NA | NA | 0 | 0 | 0 | 300 |
| 900 | ABDEEN MUAWIYA | NA | NA | NA | NA | NA | NA | NA | 1 | 0 | 0 | 0 |
| 901 | ABDULLA DANNY | NA | NA | NA | NA | NA | NA | NA | 1 | 0 | 0 | 0 |
| 902 | ABRAHAM TAMAR | NA | NA | NA | NA | NA | NA | NA | 1 | 0 | 0 | 0 |
| 903 | ACEBEDO JOSEPH | NA | NA | NA | NA | NA | NA | NA | 1 | 0 | 0 | 0 |
| 904 | ACEBEDO KEVIN | NA | NA | NA | NA | NA | NA | NA | 1 | 0 | 0 | 0 |
| 905 | ACEVEDO BRENDA | NA | NA | NA | NA | NA | NA | NA | 1 | 0 | 0 | 0 |
| 906 | ACTON JEFFREY | NA | NA | NA | NA | NA | NA | NA | 1 | 0 | 0 | 0 |
| 907 | AGUILAR LIZETTE | NA | NA | NA | NA | NA | NA | NA | 1 | 0 | 0 | 0 |
| 908 | AGUILERA LOUIE | NA | NA | NA | NA | NA | NA | NA | 1 | 0 | 0 | 0 |
| 909 | AGUIRRE EDUARDO | NA | NA | NA | NA | NA | NA | NA | 1 | 0 | 0 | 0 |
| 910 | AHMAD KAMAL | NA | NA | NA | NA | NA | NA | NA | 1 | 0 | 0 | 0 |
| 911 | AIRHART DARREL | NA | NA | NA | NA | NA | NA | NA | 1 | 0 | 0 | 0 |
| 912 | ALBANO ERIK | NA | NA | NA | NA | NA | NA | NA | 1 | 0 | 0 | 0 |
| 913 | ALEMAN DANIEL | NA | NA | NA | NA | NA | NA | NA | 1 | 0 | 0 | 0 |
| 914 | ALEXANDER TAMARA | NA | NA | NA | NA | NA | NA | NA | 1 | 0 | 0 | 0 |
| 915 | ALLEN VICTOR | NA | NA | NA | NA | NA | NA | NA | 1 | 0 | 0 | 0 |
| 916 | ALMANZA CARRIE | NA | NA | NA | NA | NA | NA | NA | 1 | 0 | 0 | 0 |
| 917 | ALVA LUIS | NA | NA | NA | NA | NA | NA | NA | 1 | 0 | 0 | 0 |
| 918 | ALVARADO FRANK | NA | NA | NA | NA | NA | NA | NA | 1 | 0 | 0 | 0 |
| 919 | AMANN JAMES | NA | NA | NA | NA | NA | NA | NA | 1 | 0 | 0 | 0 |
| 920 | AMENDOLA RICHARD | NA | NA | NA | NA | NA | NA | NA | 1 | 0 | 0 | 0 |
| 921 | ANDERSON GILBERT | NA | NA | NA | NA | NA | NA | NA | 1 | 0 | 0 | 0 |
| 922 | ANDERSON TODD | NA | NA | NA | NA | NA | NA | NA | 1 | 0 | 100 | 0 |
| 923 | ANGER SCOTT | NA | NA | NA | NA | NA | NA | NA | 1 | 0 | 0 | 0 |
| 924 | ANG OLYMPIA | NA | NA | NA | NA | NA | NA | NA | 1 | 0 | 0 | 0 |
| 925 | ANTHONY FRANCES | NA | NA | NA | NA | NA | NA | NA | 1 | 0 | 0 | 0 |
| 926 | ARCE ERNIE | NA | NA | NA | NA | NA | NA | NA | 1 | 0 | 0 | 0 |
| 927 | AREVALO ALBERTO | NA | NA | NA | NA | NA | NA | NA | 1 | 0 | 0 | 0 |
| 928 | AREVALO ARMANDO | NA | NA | NA | NA | NA | NA | NA | 1 | 0 | 0 | 0 |
| 929 | ARMALIN RODRICK | NA | NA | NA | NA | NA | NA | NA | 1 | 0 | 200 | 0 |
| 930 | ARMSTRONG PENELOPE | NA | NA | NA | NA | NA | NA | NA | 1 | 0 | 0 | 0 |
| 931 | AULT ALICIA | NA | NA | NA | NA | NA | NA | NA | 1 | 0 | 0 | 0 |
| 932 | AVILA CARLOS | NA | NA | NA | NA | NA | NA | NA | 1 | 0 | 0 | 0 |
| 933 | BABAY RIFKA | NA | NA | NA | NA | NA | NA | NA | 1 | 0 | 0 | 0 |
| 934 | BACLAWSKI JOSEPH | NA | NA | NA | NA | NA | NA | NA | 1 | 0 | 0 | 0 |
| 935 | BAHADARIAN RAFFI | NA | NA | NA | NA | NA | NA | NA | 1 | 0 | 0 | 0 |
| 936 | BAILEY JONATHAN | NA | NA | NA | NA | NA | NA | NA | 1 | 0 | 0 | 0 |
| 937 | BAILEY MARK | NA | NA | NA | NA | NA | NA | NA | 1 | 0 | 0 | 0 |
| 938 | BALDERRAMA MIGUEL | NA | NA | NA | NA | NA | NA | NA | 1 | 0 | 0 | 0 |
| 939 | BALJET THEODOR | NA | NA | NA | NA | NA | NA | NA | 1 | 0 | 0 | 0 |
| 940 | BARAJAS ADOLFO | NA | NA | NA | NA | NA | NA | NA | 1 | 0 | 0 | 0 |
| 941 | BARRACLOUGH KASON | NA | NA | NA | NA | NA | NA | NA | 1 | 0 | 0 | 0 |
| 942 | BARRAGAN EDWIN | NA | NA | NA | NA | NA | NA | NA | 1 | 0 | 0 | 0 |
| 943 | BARRAGAN OSCAR | NA | NA | NA | NA | NA | NA | NA | 1 | 0 | 0 | 0 |
| 944 | BARRON MARGARITA | NA | NA | NA | NA | NA | NA | NA | 1 | 0 | 0 | 0 |
| 945 | BARTH PHILIP | NA | NA | NA | NA | NA | NA | NA | 1 | 0 | 0 | 0 |
| 946 | BASSE BLAKE | NA | NA | NA | NA | NA | NA | NA | 1 | 0 | 0 | 0 |
| 947 | BATANERO DANIEL | NA | NA | NA | NA | NA | NA | NA | 1 | 0 | 0 | 0 |
| 948 | BATE JENNIFER | NA | NA | NA | NA | NA | NA | NA | 1 | 0 | 0 | 0 |
| 949 | BATTEE DION | NA | NA | NA | NA | NA | NA | NA | 1 | 0 | 0 | 0 |
| 950 | BAUDINO ANTHONY | NA | NA | NA | NA | NA | NA | NA | 1 | 0 | 0 | 0 |
| 951 | BAZYOUROS JASON | NA | NA | NA | NA | NA | NA | NA | 1 | 0 | 0 | 0 |
| 952 | BEARSE PATRICK | NA | NA | NA | NA | NA | NA | NA | 1 | 0 | 0 | 0 |
| 953 | BEGGS KEVIN | NA | NA | NA | NA | NA | NA | NA | 1 | 0 | 0 | 0 |
| 954 | BELVILLE LEVI | NA | NA | NA | NA | NA | NA | NA | 1 | 0 | 0 | 0 |
| 955 | BERCINI RAYMOND | NA | NA | NA | NA | NA | NA | NA | 1 | 0 | 0 | 0 |
| 956 | BERRY TYRONE | NA | NA | NA | NA | NA | NA | NA | 1 | 0 | 0 | 0 |
| 957 | BLY DAVID | NA | NA | NA | NA | NA | NA | NA | 1 | 0 | 0 | 0 |
| 958 | BODEN JONATHAN | NA | NA | NA | NA | NA | NA | NA | 1 | 0 | 0 | 0 |
| 959 | BONILLA JUAN | NA | NA | NA | NA | NA | NA | NA | 1 | 0 | 0 | 0 |
| 960 | BOSWELL RUTHIE | NA | NA | NA | NA | NA | NA | NA | 1 | 0 | 0 | 0 |
| 961 | BOTTOMLEY IMELDA | NA | NA | NA | NA | NA | NA | NA | 1 | 0 | 0 | 0 |
| 962 | BOTTS LAURENCE | NA | NA | NA | NA | NA | NA | NA | 1 | 0 | 0 | 0 |
| 963 | BOWEN-JUDGE NOELLE | NA | NA | NA | NA | NA | NA | NA | 1 | 0 | 0 | 0 |
| 964 | BOYKIN RICHARD | NA | NA | NA | NA | NA | NA | NA | 1 | 0 | 0 | 0 |
| 965 | BRACKEN SONJA | NA | NA | NA | NA | NA | NA | NA | 1 | 0 | 0 | 0 |
| 966 | BRAKEBRUSH DAVID | NA | NA | NA | NA | NA | NA | NA | 1 | 0 | 0 | 0 |
| 967 | BRAKEBUSH DAVID | NA | NA | NA | NA | NA | NA | NA | 1 | 0 | 0 | 0 |
| 968 | BRANDENBURG LARRY | NA | NA | NA | NA | NA | NA | NA | 1 | 0 | 0 | 0 |
| 969 | BRENNAN TIMOTHY | NA | NA | NA | NA | NA | NA | NA | 1 | 0 | 0 | 0 |
| 970 | BRORNSTEIN IRA | NA | NA | NA | NA | NA | NA | NA | 1 | 0 | 0 | 0 |
| 971 | BROSSOIT SYLVIA | NA | NA | NA | NA | NA | NA | NA | 1 | 0 | 0 | 0 |
| 972 | BROTHERS JESSICA | NA | NA | NA | NA | NA | NA | NA | 1 | 0 | 0 | 0 |
| 973 | BROWN CURTIS | NA | NA | NA | NA | NA | NA | NA | 1 | 0 | 0 | 0 |
| 974 | BROWN EDDIE | NA | NA | NA | NA | NA | NA | NA | 1 | 0 | 0 | 0 |
| 975 | BROWN KENNETH | NA | NA | NA | NA | NA | NA | NA | 1 | 0 | 0 | 0 |
| 976 | BUENO-CORTEZ JOSE | NA | NA | NA | NA | NA | NA | NA | 1 | 0 | 0 | 0 |
| 977 | BUMCROT MICHAEL | NA | NA | NA | NA | NA | NA | NA | 1 | 0 | 0 | 0 |
| 978 | BUMGARDENER DEREK | NA | NA | NA | NA | NA | NA | NA | 1 | 0 | 0 | 0 |
| 979 | BUMGARDNER DEREK | NA | NA | NA | NA | NA | NA | NA | 1 | 0 | 0 | 0 |
| 980 | BUNNELL DICK | NA | NA | NA | NA | NA | NA | NA | 1 | 200 | 0 | 0 |
| 981 | BURKE SEAN | NA | NA | NA | NA | NA | NA | NA | 1 | 100 | 0 | 0 |
| 982 | CAIN TIMOTHY | NA | NA | NA | NA | NA | NA | NA | 1 | 0 | 0 | 0 |
| 983 | CALDERARO CHARLES | NA | NA | NA | NA | NA | NA | NA | 1 | 0 | 0 | 0 |
| 984 | CALDERON OSCAR | NA | NA | NA | NA | NA | NA | NA | 1 | 0 | 0 | 0 |
| 985 | CALE CAROLYN | NA | NA | NA | NA | NA | NA | NA | 1 | 0 | 0 | 0 |
| 986 | CAMARILLO DEAN | NA | NA | NA | NA | NA | NA | NA | 1 | 0 | 0 | 0 |
| 987 | CAMPBELL KAYLEE | NA | NA | NA | NA | NA | NA | NA | 1 | 0 | 0 | 0 |
| 988 | CAMPOS MARCELO | NA | NA | NA | NA | NA | NA | NA | 1 | 0 | 0 | 0 |
| 989 | CAOUETTE MICHAEL | NA | NA | NA | NA | NA | NA | NA | 1 | 0 | 0 | 0 |
| 990 | CARBAJAL JOSE | NA | NA | NA | NA | NA | NA | NA | 1 | 0 | 0 | 0 |
| 991 | CARDOZA RICK | NA | NA | NA | NA | NA | NA | NA | 1 | 0 | 0 | 0 |
| 992 | CARNS CHRISTINE | NA | NA | NA | NA | NA | NA | NA | 1 | 0 | 0 | 0 |
| 993 | CARPENTER CHRISTOPHER | NA | NA | NA | NA | NA | NA | NA | 1 | 0 | 0 | 0 |
| 994 | CARPINI WAYNE | NA | NA | NA | NA | NA | NA | NA | 1 | 0 | 0 | 0 |
| 995 | CARRERA NATALLY | NA | NA | NA | NA | NA | NA | NA | 1 | 0 | 0 | 0 |
| 996 | CARRILLO ALBERTO | NA | NA | NA | NA | NA | NA | NA | 1 | 0 | 0 | 0 |
| 997 | CARRILLO GUSTAVO | NA | NA | NA | NA | NA | NA | NA | 1 | 0 | 0 | 0 |
| 998 | CARRIZOSA SALDE | NA | NA | NA | NA | NA | NA | NA | 1 | 0 | 0 | 0 |
| 999 | CARTER THOMAS | NA | NA | NA | NA | NA | NA | NA | 1 | 0 | 0 | 0 |
| 1000 | CARTMILL RICHARD | NA | NA | NA | NA | NA | NA | NA | 1 | 0 | 0 | 0 |
| 1001 | CARVER DAVID | NA | NA | NA | NA | NA | NA | NA | 1 | 0 | 0 | 0 |
| 1002 | CASILLAS REFUGIO | NA | NA | NA | NA | NA | NA | NA | 1 | 0 | 0 | 0 |
| 1003 | CASTRO DELFINA | NA | NA | NA | NA | NA | NA | NA | 1 | 0 | 0 | 0 |
| 1004 | CATER JOHN | NA | NA | NA | NA | NA | NA | NA | 1 | 0 | 0 | 0 |
| 1005 | CERVANTES DAVID | NA | NA | NA | NA | NA | NA | NA | 1 | 0 | 0 | 0 |
| 1006 | CHADWICK GEOFFRY | NA | NA | NA | NA | NA | NA | NA | 1 | 0 | 0 | 0 |
| 1007 | CHALMERS BRYCE | NA | NA | NA | NA | NA | NA | NA | 1 | 0 | 0 | 0 |
| 1008 | CHARLES JAMES | NA | NA | NA | NA | NA | NA | NA | 1 | 0 | 0 | 0 |
| 1009 | CHAU VERONICA | NA | NA | NA | NA | NA | NA | NA | 1 | 0 | 0 | 0 |
| 1010 | CHAVARIN LETICIA | NA | NA | NA | NA | NA | NA | NA | 1 | 0 | 0 | 0 |
| 1011 | CHAVARRIA EDGAR | NA | NA | NA | NA | NA | NA | NA | 1 | 0 | 0 | 0 |
| 1012 | CHAVEZ DANIEL | NA | NA | NA | NA | NA | NA | NA | 1 | 0 | 0 | 0 |
| 1013 | CHEEK DONNA | NA | NA | NA | NA | NA | NA | NA | 1 | 0 | 0 | 0 |
| 1014 | CHESHIER CASEY | NA | NA | NA | NA | NA | NA | NA | 1 | 0 | 0 | 0 |
| 1015 | CHEVALIER IRMA | NA | NA | NA | NA | NA | NA | NA | 1 | 0 | 0 | 0 |
| 1016 | CHINARIAN ERIC | NA | NA | NA | NA | NA | NA | NA | 1 | 0 | 0 | 0 |
| 1017 | CHRISTIANSEN JENNY | NA | NA | NA | NA | NA | NA | NA | 1 | 100 | 0 | 0 |
| 1018 | CLARK KENNETH | NA | NA | NA | NA | NA | NA | NA | 1 | 0 | 0 | 0 |
| 1019 | CLAY YOLANDA | NA | NA | NA | NA | NA | NA | NA | 1 | 0 | 0 | 0 |
| 1020 | CLEMENTE RITA | NA | NA | NA | NA | NA | NA | NA | 1 | 0 | 0 | 0 |
| 1021 | COATES JEFFREY | NA | NA | NA | NA | NA | NA | NA | 1 | 950 | 200 | 0 |
| 1022 | COBERT MICHAEL | NA | NA | NA | NA | NA | NA | NA | 1 | 0 | 0 | 0 |
| 1023 | COCHRAN JEFFREY | NA | NA | NA | NA | NA | NA | NA | 1 | 0 | 0 | 0 |
| 1024 | COFIELD MICHAEL | NA | NA | NA | NA | NA | NA | NA | 1 | 0 | 0 | 0 |
| 1025 | COLEMAN DAVID | NA | NA | NA | NA | NA | NA | NA | 1 | 0 | 0 | 0 |
| 1026 | COLLINS KENNETH | NA | NA | NA | NA | NA | NA | NA | 1 | 0 | 0 | 0 |
| 1027 | CONLEY CHRISTOPHER | NA | NA | NA | NA | NA | NA | NA | 1 | 0 | 0 | 0 |
| 1028 | COOPER HOWARD | NA | NA | NA | NA | NA | NA | NA | 1 | 200 | 0 | 0 |
| 1029 | CORRALES JOSHUA | NA | NA | NA | NA | NA | NA | NA | 1 | 0 | 0 | 0 |
| 1030 | CORTINAS DAVID | NA | NA | NA | NA | NA | NA | NA | 1 | 0 | 0 | 0 |
| 1031 | COSTLEIGH MICHAEL | NA | NA | NA | NA | NA | NA | NA | 1 | 0 | 0 | 0 |
| 1032 | COTTER WILLIAM | NA | NA | NA | NA | NA | NA | NA | 1 | 200 | 0 | 0 |
| 1033 | CRANE ELWOOD | NA | NA | NA | NA | NA | NA | NA | 1 | 0 | 0 | 0 |
| 1034 | CREAMER GEORGE | NA | NA | NA | NA | NA | NA | NA | 1 | 0 | 0 | 0 |
| 1035 | CRETA MARIAN | NA | NA | NA | NA | NA | NA | NA | 1 | 0 | 0 | 0 |
| 1036 | CRIPE MARK | NA | NA | NA | NA | NA | NA | NA | 1 | 0 | 0 | 0 |
| 1037 | CRONIN ANDREW | NA | NA | NA | NA | NA | NA | NA | 1 | 0 | 0 | 0 |
| 1038 | CROSBY DAWN | NA | NA | NA | NA | NA | NA | NA | 1 | 0 | 0 | 0 |
| 1039 | CROSBY HERIBERTO | NA | NA | NA | NA | NA | NA | NA | 1 | 0 | 0 | 0 |
| 1040 | CROUGH MICHAEL | NA | NA | NA | NA | NA | NA | NA | 1 | 0 | 0 | 0 |
| 1041 | CULLINS DONDRA | NA | NA | NA | NA | NA | NA | NA | 1 | 0 | 0 | 0 |
| 1042 | CURRADO MICAH | NA | NA | NA | NA | NA | NA | NA | 1 | 0 | 0 | 0 |
| 1043 | DAVIS GREGORY | NA | NA | NA | NA | NA | NA | NA | 1 | 0 | 0 | 0 |
| 1044 | DAVIS MIKE | NA | NA | NA | NA | NA | NA | NA | 1 | 0 | 0 | 0 |
| 1045 | DEARMAS ERNESTO | NA | NA | NA | NA | NA | NA | NA | 1 | 0 | 0 | 0 |
| 1046 | DELANEY MELANIE | NA | NA | NA | NA | NA | NA | NA | 1 | 0 | 0 | 0 |
| 1047 | DELIA ANTHONY | NA | NA | NA | NA | NA | NA | NA | 1 | 0 | 0 | 0 |
| 1048 | DENA MARIA | NA | NA | NA | NA | NA | NA | NA | 1 | 0 | 0 | 0 |
| 1049 | DENDEKKER SAMUEL | NA | NA | NA | NA | NA | NA | NA | 1 | 0 | 0 | 0 |
| 1050 | DENISON TRENT | NA | NA | NA | NA | NA | NA | NA | 1 | 0 | 0 | 0 |
| 1051 | DENNIS JOHN | NA | NA | NA | NA | NA | NA | NA | 1 | 0 | 0 | 0 |
| 1052 | DESMARTEAU MARK | NA | NA | NA | NA | NA | NA | NA | 1 | 0 | 0 | 0 |
| 1053 | DIAZ FELIPE | NA | NA | NA | NA | NA | NA | NA | 1 | 0 | 0 | 0 |
| 1054 | DIEGUEZ SARAH | NA | NA | NA | NA | NA | NA | NA | 1 | 0 | 0 | 0 |
| 1055 | DIGBY MICHAEL | NA | NA | NA | NA | NA | NA | NA | 1 | 0 | 0 | 0 |
| 1056 | DILIBERTI RICHARD | NA | NA | NA | NA | NA | NA | NA | 1 | 0 | 0 | 0 |
| 1057 | DIOT DAVID | NA | NA | NA | NA | NA | NA | NA | 1 | 0 | 0 | 0 |
| 1058 | DOEVE PAUL | NA | NA | NA | NA | NA | NA | NA | 1 | 0 | 0 | 0 |
| 1059 | DOLSON DAVID | NA | NA | NA | NA | NA | NA | NA | 1 | 0 | 250 | 0 |
| 1060 | DOUCETTE STEPHEN | NA | NA | NA | NA | NA | NA | NA | 1 | 0 | 0 | 0 |
| 1061 | DOYLE JUDSON | NA | NA | NA | NA | NA | NA | NA | 1 | 0 | 0 | 0 |
| 1062 | DUNCAN DANA | NA | NA | NA | NA | NA | NA | NA | 1 | 0 | 0 | 0 |
| 1063 | DUNCAN JOHN | NA | NA | NA | NA | NA | NA | NA | 1 | 0 | 0 | 0 |
| 1064 | DUONG TOAN | NA | NA | NA | NA | NA | NA | NA | 1 | 0 | 0 | 0 |
| 1065 | DURAN JOSE | NA | NA | NA | NA | NA | NA | NA | 1 | 0 | 0 | 0 |
| 1066 | DURAZO VIRGINIA | NA | NA | NA | NA | NA | NA | NA | 1 | 0 | 0 | 0 |
| 1067 | DURHAM GAIL | NA | NA | NA | NA | NA | NA | NA | 1 | 0 | 0 | 0 |
| 1068 | DUVAL RONALD | NA | NA | NA | NA | NA | NA | NA | 1 | 0 | 0 | 0 |
| 1069 | EDWARDS DARELL | NA | NA | NA | NA | NA | NA | NA | 1 | 0 | 0 | 0 |
| 1070 | EKSTROM CARL | NA | NA | NA | NA | NA | NA | NA | 1 | 0 | 0 | 0 |
| 1071 | ELLISON DANA | NA | NA | NA | NA | NA | NA | NA | 1 | 0 | 0 | 0 |
| 1072 | ENGLEN BRIAN | NA | NA | NA | NA | NA | NA | NA | 1 | 0 | 0 | 0 |
| 1073 | ESPELETA FRANCIS | NA | NA | NA | NA | NA | NA | NA | 1 | 0 | 0 | 0 |
| 1074 | ESPERICUETA STEVEN | NA | NA | NA | NA | NA | NA | NA | 1 | 0 | 0 | 0 |
| 1075 | ESPINO JOSE | NA | NA | NA | NA | NA | NA | NA | 1 | 0 | 0 | 0 |
| 1076 | EVANS-BUCKLEY LINDA | NA | NA | NA | NA | NA | NA | NA | 1 | 0 | 0 | 0 |
| 1077 | EVERETT GREG | NA | NA | NA | NA | NA | NA | NA | 1 | 0 | 0 | 0 |
| 1078 | EWELL HELEN | NA | NA | NA | NA | NA | NA | NA | 1 | 100 | 200 | 0 |
| 1079 | EWING TROY | NA | NA | NA | NA | NA | NA | NA | 1 | 0 | 100 | 0 |
| 1080 | FALICON DALE | NA | NA | NA | NA | NA | NA | NA | 1 | 0 | 0 | 0 |
| 1081 | FARHAT JAMES | NA | NA | NA | NA | NA | NA | NA | 1 | 0 | 0 | 0 |
| 1082 | FARIAS IVANIA | NA | NA | NA | NA | NA | NA | NA | 1 | 0 | 0 | 0 |
| 1083 | FARRELL DANIEL | NA | NA | NA | NA | NA | NA | NA | 1 | 0 | 0 | 0 |
| 1084 | FELIX KENNETH | NA | NA | NA | NA | NA | NA | NA | 1 | 0 | 0 | 0 |
| 1085 | FELMER ROBERT | NA | NA | NA | NA | NA | NA | NA | 1 | 0 | 0 | 0 |
| 1086 | FERGUSON ANGUS | NA | NA | NA | NA | NA | NA | NA | 1 | 0 | 100 | 0 |
| 1087 | FERGUSON THOMAS | NA | NA | NA | NA | NA | NA | NA | 1 | 0 | 0 | 0 |
| 1088 | FERNANDEZ CHRISTOPHER | NA | NA | NA | NA | NA | NA | NA | 1 | 0 | 0 | 0 |
| 1089 | FERRELL ROBERT | NA | NA | NA | NA | NA | NA | NA | 1 | 0 | 0 | 0 |
| 1090 | FERRONE TIMOTHY | NA | NA | NA | NA | NA | NA | NA | 1 | 0 | 0 | 0 |
| 1091 | FIGUEROA ROBERT | NA | NA | NA | NA | NA | NA | NA | 1 | 0 | 0 | 0 |
| 1092 | FINES EUGENE | NA | NA | NA | NA | NA | NA | NA | 1 | 0 | 0 | 0 |
| 1093 | FLORES CARLOS | NA | NA | NA | NA | NA | NA | NA | 1 | 0 | 0 | 0 |
| 1094 | FLORES JOEL | NA | NA | NA | NA | NA | NA | NA | 1 | 0 | 0 | 0 |
| 1095 | FLORES MARK | NA | NA | NA | NA | NA | NA | NA | 1 | 0 | 0 | 0 |
| 1096 | FOISNER LEO | NA | NA | NA | NA | NA | NA | NA | 1 | 200 | 0 | 0 |
| 1097 | FORLANO TONY | NA | NA | NA | NA | NA | NA | NA | 1 | 0 | 0 | 0 |
| 1098 | FOSS ROMAN | NA | NA | NA | NA | NA | NA | NA | 1 | 0 | 0 | 0 |
| 1099 | FOURNIER PAUL | NA | NA | NA | NA | NA | NA | NA | 1 | 0 | 0 | 0 |
| 1100 | FRANCISCO HOLLY | NA | NA | NA | NA | NA | NA | NA | 1 | 0 | 0 | 200 |
| 1101 | FRANCOIS ERVIN | NA | NA | NA | NA | NA | NA | NA | 1 | 0 | 0 | 0 |
| 1102 | FREDERICKS STEFANIE | NA | NA | NA | NA | NA | NA | NA | 1 | 0 | 0 | 0 |
| 1103 | FRIEDEMANN MARCUS | NA | NA | NA | NA | NA | NA | NA | 1 | 0 | 0 | 0 |
| 1104 | FRIEDLAND CHARLES | NA | NA | NA | NA | NA | NA | NA | 1 | 0 | 0 | 0 |
| 1105 | FULLER DAVID | NA | NA | NA | NA | NA | NA | NA | 1 | 0 | 0 | 0 |
| 1106 | FULOP ROBERT | NA | NA | NA | NA | NA | NA | NA | 1 | 0 | 0 | 0 |
| 1107 | GAINES EUGENE | NA | NA | NA | NA | NA | NA | NA | 1 | 0 | 0 | 0 |
| 1108 | GALLAGHER KATHLEEN | NA | NA | NA | NA | NA | NA | NA | 1 | 0 | 0 | 0 |
| 1109 | GALLAGHER LIAM | NA | NA | NA | NA | NA | NA | NA | 1 | 0 | 0 | 0 |
| 1110 | GALVAN ALFREDO | NA | NA | NA | NA | NA | NA | NA | 1 | 0 | 0 | 0 |
| 1111 | GALVEZ GONZALO | NA | NA | NA | NA | NA | NA | NA | 1 | 0 | 0 | 0 |
| 1112 | GANARIAL JOHN | NA | NA | NA | NA | NA | NA | NA | 1 | 0 | 0 | 0 |
| 1113 | GARCIA ALFREDO | NA | NA | NA | NA | NA | NA | NA | 1 | 0 | 0 | 0 |
| 1114 | GARCIA JOE | NA | NA | NA | NA | NA | NA | NA | 1 | 0 | 0 | 0 |
| 1115 | GARCIA RICHARD | NA | NA | NA | NA | NA | NA | NA | 1 | 0 | 0 | 0 |
| 1116 | GARCIA ROBERTO | NA | NA | NA | NA | NA | NA | NA | 1 | 0 | 0 | 0 |
| 1117 | GARNICA EDMUND | NA | NA | NA | NA | NA | NA | NA | 1 | 0 | 0 | 0 |
| 1118 | GARRIDO JOSEPH | NA | NA | NA | NA | NA | NA | NA | 1 | 0 | 0 | 100 |
| 1119 | GAUNT DARYL | NA | NA | NA | NA | NA | NA | NA | 1 | 0 | 0 | 0 |
| 1120 | GEISBAUER ANTHONY | NA | NA | NA | NA | NA | NA | NA | 1 | 0 | 0 | 0 |
| 1121 | GIANDOMENICO THOMAS | NA | NA | NA | NA | NA | NA | NA | 1 | 0 | 0 | 0 |
| 1122 | GILLIES DOUGLAS | NA | NA | NA | NA | NA | NA | NA | 1 | 0 | 0 | 0 |
| 1123 | GODINEZ ENRIQUE | NA | NA | NA | NA | NA | NA | NA | 1 | 0 | 0 | 0 |
| 1124 | GOLDEN PATRICK | NA | NA | NA | NA | NA | NA | NA | 1 | 0 | 100 | 0 |
| 1125 | GOMEZ ALEXANDER | NA | NA | NA | NA | NA | NA | NA | 1 | 0 | 0 | 0 |
| 1126 | GOMEZ ERIC | NA | NA | NA | NA | NA | NA | NA | 1 | 0 | 0 | 0 |
| 1127 | GOMEZ JULIUS | NA | NA | NA | NA | NA | NA | NA | 1 | 0 | 0 | 0 |
| 1128 | GOMEZ ROSALINA | NA | NA | NA | NA | NA | NA | NA | 1 | 0 | 0 | 0 |
| 1129 | GOMEZ TED | NA | NA | NA | NA | NA | NA | NA | 1 | 0 | 0 | 0 |
| 1130 | GONZALES ALEJANDRO | NA | NA | NA | NA | NA | NA | NA | 1 | 0 | 0 | 0 |
| 1131 | GONZALES JAMES | NA | NA | NA | NA | NA | NA | NA | 1 | 0 | 0 | 0 |
| 1132 | GONZALES MICHAEL | NA | NA | NA | NA | NA | NA | NA | 1 | 0 | 0 | 0 |
| 1133 | GONZALES NINA | NA | NA | NA | NA | NA | NA | NA | 1 | 0 | 0 | 0 |
| 1134 | GONZALES TRACI | NA | NA | NA | NA | NA | NA | NA | 1 | 0 | 0 | 0 |
| 1135 | GONZALEZ DANIEL | NA | NA | NA | NA | NA | NA | NA | 1 | 0 | 0 | 0 |
| 1136 | GRAVES GABRIELLE | NA | NA | NA | NA | NA | NA | NA | 1 | 0 | 0 | 0 |
| 1137 | GRAY ROBERT | NA | NA | NA | NA | NA | NA | NA | 1 | 0 | 0 | 0 |
| 1138 | GREDERICKS STEPFANIE | NA | NA | NA | NA | NA | NA | NA | 1 | 0 | 0 | 0 |
| 1139 | GREGG LAWRENCE | NA | NA | NA | NA | NA | NA | NA | 1 | 0 | 0 | 0 |
| 1140 | GRIFFY MICHAEL | NA | NA | NA | NA | NA | NA | NA | 1 | 0 | 0 | 0 |
| 1141 | GRISBACH JOHN | NA | NA | NA | NA | NA | NA | NA | 1 | 0 | 0 | 0 |
| 1142 | GROENOW GERHALDT | NA | NA | NA | NA | NA | NA | NA | 1 | 0 | 0 | 0 |
| 1143 | GROTE DINAH | NA | NA | NA | NA | NA | NA | NA | 1 | 0 | 0 | 0 |
| 1144 | GRUENER ANTHONY | NA | NA | NA | NA | NA | NA | NA | 1 | 0 | 0 | 0 |
| 1145 | GUARINO JOSEPH | NA | NA | NA | NA | NA | NA | NA | 1 | 0 | 0 | 0 |
| 1146 | GUILLEN ANTONIO | NA | NA | NA | NA | NA | NA | NA | 1 | 0 | 0 | 0 |
| 1147 | GULLEY SHREE | NA | NA | NA | NA | NA | NA | NA | 1 | 0 | 0 | 0 |
| 1148 | GUNNER DAVID | NA | NA | NA | NA | NA | NA | NA | 1 | 0 | 0 | 0 |
| 1149 | GUTIERREZ CARLOS | NA | NA | NA | NA | NA | NA | NA | 1 | 0 | 0 | 0 |
| 1150 | GUTIERREZ HERIBERTO | NA | NA | NA | NA | NA | NA | NA | 1 | 0 | 0 | 0 |
| 1151 | GUTIERREZ LAURA | NA | NA | NA | NA | NA | NA | NA | 1 | 0 | 0 | 0 |
| 1152 | GUTIERREZ RODNEY | NA | NA | NA | NA | NA | NA | NA | 1 | 0 | 0 | 0 |
| 1153 | GUZMAN PHILIP | NA | NA | NA | NA | NA | NA | NA | 1 | 0 | 0 | 0 |
| 1154 | HA CONG | NA | NA | NA | NA | NA | NA | NA | 1 | 0 | 0 | 0 |
| 1155 | HAIRE MATTHEW | NA | NA | NA | NA | NA | NA | NA | 1 | 0 | 0 | 0 |
| 1156 | HALE ELDON | NA | NA | NA | NA | NA | NA | NA | 1 | 0 | 0 | 0 |
| 1157 | HALL BARRY | NA | NA | NA | NA | NA | NA | NA | 1 | 0 | 0 | 0 |
| 1158 | HALTHON DION | NA | NA | NA | NA | NA | NA | NA | 1 | 0 | 0 | 0 |
| 1159 | HALTON DION | NA | NA | NA | NA | NA | NA | NA | 1 | 0 | 0 | 0 |
| 1160 | HAMIL JEFFREY | NA | NA | NA | NA | NA | NA | NA | 1 | 0 | 0 | 0 |
| 1161 | HARRIS DIANE | NA | NA | NA | NA | NA | NA | NA | 1 | 0 | 0 | 0 |
| 1162 | HARRIS JOSHUA | NA | NA | NA | NA | NA | NA | NA | 1 | 0 | 0 | 0 |
| 1163 | HARRIS ROBERT | NA | NA | NA | NA | NA | NA | NA | 1 | 0 | 0 | 0 |
| 1164 | HARRIS TERRY | NA | NA | NA | NA | NA | NA | NA | 1 | 0 | 0 | 0 |
| 1165 | HARRIS TOMMY | NA | NA | NA | NA | NA | NA | NA | 1 | 0 | 0 | 0 |
| 1166 | HARTMAN CHERYL | NA | NA | NA | NA | NA | NA | NA | 1 | 0 | 0 | 0 |
| 1167 | HAWKSLEY BRIAN | NA | NA | NA | NA | NA | NA | NA | 1 | 0 | 0 | 0 |
| 1168 | HAYES LEONARD | NA | NA | NA | NA | NA | NA | NA | 1 | 0 | 0 | 0 |
| 1169 | HAYES PATRICK | NA | NA | NA | NA | NA | NA | NA | 1 | 0 | 0 | 0 |
| 1170 | HAYNES LAURA | NA | NA | NA | NA | NA | NA | NA | 1 | 0 | 0 | 0 |
| 1171 | HECHT PETER | NA | NA | NA | NA | NA | NA | NA | 1 | 0 | 0 | 0 |
| 1172 | HEGEDUS JASON | NA | NA | NA | NA | NA | NA | NA | 1 | 0 | 0 | 0 |
| 1173 | HEINS ROBERT | NA | NA | NA | NA | NA | NA | NA | 1 | 0 | 0 | 0 |
| 1174 | HERMANN JOHN | NA | NA | NA | NA | NA | NA | NA | 1 | 0 | 0 | 0 |
| 1175 | HERNANDEZ CARLOS | NA | NA | NA | NA | NA | NA | NA | 1 | 0 | 0 | 0 |
| 1176 | HERNANDEZ LILY | NA | NA | NA | NA | NA | NA | NA | 1 | 0 | 0 | 0 |
| 1177 | HERNANDEZ LUIS | NA | NA | NA | NA | NA | NA | NA | 1 | 0 | 0 | 0 |
| 1178 | HERNANDEZ MARCELLA | NA | NA | NA | NA | NA | NA | NA | 1 | 0 | 0 | 0 |
| 1179 | HERNANDEZ MICHAEL | NA | NA | NA | NA | NA | NA | NA | 1 | 0 | 0 | 0 |
| 1180 | HERNANDEZ RALPH | NA | NA | NA | NA | NA | NA | NA | 1 | 0 | 100 | 0 |
| 1181 | HERNANDEZ RICKEY | NA | NA | NA | NA | NA | NA | NA | 1 | 0 | 0 | 0 |
| 1182 | HERNANDEZ ROBERTO | NA | NA | NA | NA | NA | NA | NA | 1 | 0 | 0 | 0 |
| 1183 | HILGENDORF KEVIN | NA | NA | NA | NA | NA | NA | NA | 1 | 0 | 100 | 0 |
| 1184 | HILL FREDERICK | NA | NA | NA | NA | NA | NA | NA | 1 | 0 | 0 | 0 |
| 1185 | HILL SCOTT | NA | NA | NA | NA | NA | NA | NA | 1 | 0 | 0 | 0 |
| 1186 | HOLSON WAYNE | NA | NA | NA | NA | NA | NA | NA | 1 | 0 | 0 | 0 |
| 1187 | HOUSE BRANDT | NA | NA | NA | NA | NA | NA | NA | 1 | 0 | 0 | 0 |
| 1188 | HOWELL JASON | NA | NA | NA | NA | NA | NA | NA | 1 | 0 | 0 | 0 |
| 1189 | HUFF RODNEY | NA | NA | NA | NA | NA | NA | NA | 1 | 0 | 0 | 0 |
| 1190 | HUTCHINSON BETTINA | NA | NA | NA | NA | NA | NA | NA | 1 | 0 | 0 | 0 |
| 1191 | IBARRA RAUL | NA | NA | NA | NA | NA | NA | NA | 1 | 0 | 0 | 0 |
| 1192 | ISSA HANNA | NA | NA | NA | NA | NA | NA | NA | 1 | 0 | 0 | 0 |
| 1193 | JACOB AARON | NA | NA | NA | NA | NA | NA | NA | 1 | 0 | 0 | 0 |
| 1194 | JANNEN RICHARD | NA | NA | NA | NA | NA | NA | NA | 1 | 0 | 0 | 0 |
| 1195 | JARA LILIANA | NA | NA | NA | NA | NA | NA | NA | 1 | 0 | 0 | 0 |
| 1196 | JENSEN CURTIS | NA | NA | NA | NA | NA | NA | NA | 1 | 0 | 0 | 0 |
| 1197 | JERNIGAN PAUL | NA | NA | NA | NA | NA | NA | NA | 1 | 0 | 0 | 0 |
| 1198 | JIMENEZ MICHAEL | NA | NA | NA | NA | NA | NA | NA | 1 | 0 | 0 | 0 |
| 1199 | JIMENEZ SANDRA | NA | NA | NA | NA | NA | NA | NA | 1 | 0 | 0 | 0 |
| 1200 | JOHNSON CECIL | NA | NA | NA | NA | NA | NA | NA | 1 | 0 | 0 | 0 |
| 1201 | JOHNSON SHARON | NA | NA | NA | NA | NA | NA | NA | 1 | 0 | 0 | 0 |
| 1202 | JOHNSON TELLY | NA | NA | NA | NA | NA | NA | NA | 1 | 0 | 0 | 0 |
| 1203 | JOHNSTON SCOTT | NA | NA | NA | NA | NA | NA | NA | 1 | 0 | 0 | 0 |
| 1204 | JONES CLIFFORD | NA | NA | NA | NA | NA | NA | NA | 1 | 0 | 0 | 0 |
| 1205 | JONES DEXTER | NA | NA | NA | NA | NA | NA | NA | 1 | 0 | 0 | 0 |
| 1206 | JONES MICHAEL | NA | NA | NA | NA | NA | NA | NA | 1 | 0 | 0 | 0 |
| 1207 | JUARADO GILBERT | NA | NA | NA | NA | NA | NA | NA | 1 | 0 | 0 | 0 |
| 1208 | JUBINAL DANIEL | NA | NA | NA | NA | NA | NA | NA | 1 | 0 | 0 | 0 |
| 1209 | KAPLAN GREG | NA | NA | NA | NA | NA | NA | NA | 1 | 0 | 0 | 0 |
| 1210 | KATZ JAKE | NA | NA | NA | NA | NA | NA | NA | 1 | 0 | 0 | 0 |
| 1211 | KEELING CHRISTOPHER | NA | NA | NA | NA | NA | NA | NA | 1 | 0 | 0 | 0 |
| 1212 | KELLEHER MICHAEL | NA | NA | NA | NA | NA | NA | NA | 1 | 0 | 0 | 0 |
| 1213 | KENNEY ROBERT | NA | NA | NA | NA | NA | NA | NA | 1 | 0 | 0 | 0 |
| 1214 | KENT MICHAEL | NA | NA | NA | NA | NA | NA | NA | 1 | 0 | 0 | 0 |
| 1215 | KERFOOT THOMAS | NA | NA | NA | NA | NA | NA | NA | 1 | 0 | 0 | 0 |
| 1216 | KIM PATRICK | NA | NA | NA | NA | NA | NA | NA | 1 | 0 | 0 | 0 |
| 1217 | KIM STEVEN | NA | NA | NA | NA | NA | NA | NA | 1 | 0 | 0 | 0 |
| 1218 | KISER JULIA | NA | NA | NA | NA | NA | NA | NA | 1 | 0 | 0 | 0 |
| 1219 | KUBLY ROD | NA | NA | NA | NA | NA | NA | NA | 1 | 200 | 0 | 0 |
| 1220 | KURINIJ MICHAEL | NA | NA | NA | NA | NA | NA | NA | 1 | 0 | 0 | 0 |
| 1221 | KUSAYANAGI CHRIS | NA | NA | NA | NA | NA | NA | NA | 1 | 0 | 0 | 0 |
| 1222 | KWON JIMMY | NA | NA | NA | NA | NA | NA | NA | 1 | 0 | 0 | 0 |
| 1223 | LABBE TY | NA | NA | NA | NA | NA | NA | NA | 1 | 0 | 0 | 100 |
| 1224 | LAFARGA MICHELLE | NA | NA | NA | NA | NA | NA | NA | 1 | 0 | 0 | 0 |
| 1225 | LANDRETH MATTHEW | NA | NA | NA | NA | NA | NA | NA | 1 | 0 | 0 | 0 |
| 1226 | LANKFORD STEVEN | NA | NA | NA | NA | NA | NA | NA | 1 | 0 | 0 | 0 |
| 1227 | LANSKA JASON | NA | NA | NA | NA | NA | NA | NA | 1 | 0 | 0 | 0 |
| 1228 | LAREN SHANNON | NA | NA | NA | NA | NA | NA | NA | 1 | 0 | 0 | 0 |
| 1229 | LAURIE JOHN | NA | NA | NA | NA | NA | NA | NA | 1 | 0 | 0 | 0 |
| 1230 | LAVIN PETER | NA | NA | NA | NA | NA | NA | NA | 1 | 0 | 0 | 0 |
| 1231 | LAWRENCE ROBERT | NA | NA | NA | NA | NA | NA | NA | 1 | 0 | 250 | 0 |
| 1232 | LEAL FRANK | NA | NA | NA | NA | NA | NA | NA | 1 | 0 | 0 | 0 |
| 1233 | LEBEAU GARY | NA | NA | NA | NA | NA | NA | NA | 1 | 0 | 200 | 0 |
| 1234 | LECRIVAIN JOHN | NA | NA | NA | NA | NA | NA | NA | 1 | 0 | 0 | 0 |
| 1235 | LECRIVAIN LAURA | NA | NA | NA | NA | NA | NA | NA | 1 | 0 | 0 | 100 |
| 1236 | LEE CHOONG | NA | NA | NA | NA | NA | NA | NA | 1 | 0 | 0 | 0 |
| 1237 | LEE ERIC | NA | NA | NA | NA | NA | NA | NA | 1 | 0 | 0 | 100 |
| 1238 | LEE MIKE | NA | NA | NA | NA | NA | NA | NA | 1 | 0 | 0 | 0 |
| 1239 | LEE WANDA | NA | NA | NA | NA | NA | NA | NA | 1 | 0 | 0 | 0 |
| 1240 | LEONARD ANTHONY | NA | NA | NA | NA | NA | NA | NA | 1 | 0 | 0 | 0 |
| 1241 | LEON DANIEL | NA | NA | NA | NA | NA | NA | NA | 1 | 0 | 0 | 0 |
| 1242 | LESLIE JEFFREY | NA | NA | NA | NA | NA | NA | NA | 1 | 0 | 0 | 0 |
| 1243 | LEUNG VIVIAN | NA | NA | NA | NA | NA | NA | NA | 1 | 0 | 0 | 0 |
| 1244 | LEWIN HARRY | NA | NA | NA | NA | NA | NA | NA | 1 | 0 | 0 | 0 |
| 1245 | LEWIS LARRY | NA | NA | NA | NA | NA | NA | NA | 1 | 0 | 0 | 0 |
| 1246 | LIBERATOR WAYNE | NA | NA | NA | NA | NA | NA | NA | 1 | 0 | 0 | 0 |
| 1247 | LIBE RYAN | NA | NA | NA | NA | NA | NA | NA | 1 | 0 | 0 | 0 |
| 1248 | LILLIENFELD MARK | NA | NA | NA | NA | NA | NA | NA | 1 | 0 | 0 | 0 |
| 1249 | LINCOLN LARRY | NA | NA | NA | NA | NA | NA | NA | 1 | 0 | 0 | 0 |
| 1250 | LOMAN MITCHELL | NA | NA | NA | NA | NA | NA | NA | 1 | 0 | 0 | 0 |
| 1251 | LOMBARDO PAUL | NA | NA | NA | NA | NA | NA | NA | 1 | 0 | 0 | 100 |
| 1252 | LONDON JAY | NA | NA | NA | NA | NA | NA | NA | 1 | 0 | 0 | 0 |
| 1253 | LONGAN STEPHEN | NA | NA | NA | NA | NA | NA | NA | 1 | 0 | 100 | 0 |
| 1254 | LONGSHORE RICHARD | NA | NA | NA | NA | NA | NA | NA | 1 | 0 | 0 | 0 |
| 1255 | LOPEZ ANTHONY | NA | NA | NA | NA | NA | NA | NA | 1 | 0 | 0 | 0 |
| 1256 | LOPEZ BERNIE | NA | NA | NA | NA | NA | NA | NA | 1 | 0 | 0 | 0 |
| 1257 | LOPEZ RICHARD | NA | NA | NA | NA | NA | NA | NA | 1 | 0 | 0 | 0 |
| 1258 | LORD DONALD | NA | NA | NA | NA | NA | NA | NA | 1 | 0 | 0 | 0 |
| 1259 | LOUGHRIDGE RODNEY | NA | NA | NA | NA | NA | NA | NA | 1 | 0 | 0 | 0 |
| 1260 | LOWE KEVIN | NA | NA | NA | NA | NA | NA | NA | 1 | 0 | 0 | 0 |
| 1261 | LUCERO JESSE | NA | NA | NA | NA | NA | NA | NA | 1 | 0 | 0 | 0 |
| 1262 | LUCIO GERARDO | NA | NA | NA | NA | NA | NA | NA | 1 | 0 | 0 | 0 |
| 1263 | LUGO RAYMOND | NA | NA | NA | NA | NA | NA | NA | 1 | 0 | 0 | 0 |
| 1264 | LUSK SCOTT | NA | NA | NA | NA | NA | NA | NA | 1 | 0 | 0 | 0 |
| 1265 | MACDONALD JOHN | NA | NA | NA | NA | NA | NA | NA | 1 | 0 | 0 | 0 |
| 1266 | MAESE THOMAS | NA | NA | NA | NA | NA | NA | NA | 1 | 0 | 0 | 0 |
| 1267 | MAGADAN RAUL | NA | NA | NA | NA | NA | NA | NA | 1 | 0 | 0 | 0 |
| 1268 | MAGOS GERARDO | NA | NA | NA | NA | NA | NA | NA | 1 | 0 | 0 | 0 |
| 1269 | MAH CALVIN | NA | NA | NA | NA | NA | NA | NA | 1 | 0 | 0 | 0 |
| 1270 | MALONEY SHANE | NA | NA | NA | NA | NA | NA | NA | 1 | 0 | 0 | 0 |
| 1271 | MANCIA ALEX | NA | NA | NA | NA | NA | NA | NA | 1 | 0 | 0 | 0 |
| 1272 | MANDUJANO STEPHANIE | NA | NA | NA | NA | NA | NA | NA | 1 | 0 | 0 | 0 |
| 1273 | MARELLA PETER | NA | NA | NA | NA | NA | NA | NA | 1 | 0 | 0 | 0 |
| 1274 | MARKS CHRIS | NA | NA | NA | NA | NA | NA | NA | 1 | 0 | 0 | 0 |
| 1275 | MARQUEZ DAMIAN | NA | NA | NA | NA | NA | NA | NA | 1 | 0 | 0 | 0 |
| 1276 | MARSH WILLIAM | NA | NA | NA | NA | NA | NA | NA | 1 | 0 | 0 | 0 |
| 1277 | MARTINDALE ROBERT | NA | NA | NA | NA | NA | NA | NA | 1 | 0 | 0 | 0 |
| 1278 | MARTINEZ ANTOINETTE | NA | NA | NA | NA | NA | NA | NA | 1 | 0 | 0 | 0 |
| 1279 | MARTINEZ ARMANDO | NA | NA | NA | NA | NA | NA | NA | 1 | 0 | 0 | 0 |
| 1280 | MARTINEZ JULIO | NA | NA | NA | NA | NA | NA | NA | 1 | 100 | 0 | 0 |
| 1281 | MARTINEZ PHILLIP | NA | NA | NA | NA | NA | NA | NA | 1 | 0 | 0 | 0 |
| 1282 | MAYBERRY THOMAS | NA | NA | NA | NA | NA | NA | NA | 1 | 0 | 0 | 0 |
| 1283 | MAZZEI JUSTIN | NA | NA | NA | NA | NA | NA | NA | 1 | 0 | 0 | 0 |
| 1284 | MCCARTHY SHAUN | NA | NA | NA | NA | NA | NA | NA | 1 | 0 | 0 | 0 |
| 1285 | MCDONAGH ERIC | NA | NA | NA | NA | NA | NA | NA | 1 | 0 | 0 | 0 |
| 1286 | MCDOWELL ROBIN | NA | NA | NA | NA | NA | NA | NA | 1 | 0 | 0 | 0 |
| 1287 | MCELDERRY DAN | NA | NA | NA | NA | NA | NA | NA | 1 | 0 | 0 | 0 |
| 1288 | MCGAUGHEY ROBERT | NA | NA | NA | NA | NA | NA | NA | 1 | 0 | 0 | 0 |
| 1289 | MCGRATTAN ROBERT | NA | NA | NA | NA | NA | NA | NA | 1 | 0 | 0 | 0 |
| 1290 | MCWAID KEN | NA | NA | NA | NA | NA | NA | NA | 1 | 0 | 0 | 0 |
| 1291 | MEDRANO STACY | NA | NA | NA | NA | NA | NA | NA | 1 | 0 | 0 | 0 |
| 1292 | MELGOZA JESSE | NA | NA | NA | NA | NA | NA | NA | 1 | 0 | 0 | 0 |
| 1293 | MERINO PAUL | NA | NA | NA | NA | NA | NA | NA | 1 | 0 | 0 | 0 |
| 1294 | MESSERSCHMIDT CURT | NA | NA | NA | NA | NA | NA | NA | 1 | 0 | 0 | 0 |
| 1295 | MEYER GLADYS | NA | NA | NA | NA | NA | NA | NA | 1 | 0 | 0 | 0 |
| 1296 | MICHELSON TAMMY | NA | NA | NA | NA | NA | NA | NA | 1 | 0 | 0 | 0 |
| 1297 | MILEY TIMOTHY | NA | NA | NA | NA | NA | NA | NA | 1 | 0 | 0 | 0 |
| 1298 | MIRANDA CECILIA | NA | NA | NA | NA | NA | NA | NA | 1 | 0 | 0 | 0 |
| 1299 | MIRANDA CHARLES | NA | NA | NA | NA | NA | NA | NA | 1 | 0 | 0 | 0 |
| 1300 | MISSEL DENNIS | NA | NA | NA | NA | NA | NA | NA | 1 | 0 | 0 | 0 |
| 1301 | MOELLER MICHAELA | NA | NA | NA | NA | NA | NA | NA | 1 | 0 | 0 | 0 |
| 1302 | MOHR BRIAN | NA | NA | NA | NA | NA | NA | NA | 1 | 0 | 0 | 0 |
| 1303 | MOLINA LUIS | NA | NA | NA | NA | NA | NA | NA | 1 | 0 | 0 | 0 |
| 1304 | MONDRY PAUL | NA | NA | NA | NA | NA | NA | NA | 1 | 0 | 0 | 0 |
| 1305 | MONTENEGRO JERRY | NA | NA | NA | NA | NA | NA | NA | 1 | 0 | 0 | 0 |
| 1306 | MONTENEGRO JOHN | NA | NA | NA | NA | NA | NA | NA | 1 | 0 | 0 | 0 |
| 1307 | MOORE JEFFREY | NA | NA | NA | NA | NA | NA | NA | 1 | 0 | 0 | 0 |
| 1308 | MOORE SALLY | NA | NA | NA | NA | NA | NA | NA | 1 | 0 | 0 | 0 |
| 1309 | MORALES JOSEPH | NA | NA | NA | NA | NA | NA | NA | 1 | 0 | 0 | 0 |
| 1310 | MORENO STEPHEN | NA | NA | NA | NA | NA | NA | NA | 1 | 0 | 0 | 0 |
| 1311 | MOREY PATRICK | NA | NA | NA | NA | NA | NA | NA | 1 | 0 | 0 | 0 |
| 1312 | MORRIS DANIEL | NA | NA | NA | NA | NA | NA | NA | 1 | 0 | 0 | 0 |
| 1313 | MORSE FREDERICK | NA | NA | NA | NA | NA | NA | NA | 1 | 0 | 0 | 0 |
| 1314 | MORSI SHERIF | NA | NA | NA | NA | NA | NA | NA | 1 | 0 | 0 | 0 |
| 1315 | MOSS JAMES | NA | NA | NA | NA | NA | NA | NA | 1 | 200 | 0 | 0 |
| 1316 | MULDER TIMOTHY | NA | NA | NA | NA | NA | NA | NA | 1 | 0 | 0 | 0 |
| 1317 | MULLER BRIAN | NA | NA | NA | NA | NA | NA | NA | 1 | 0 | 0 | 0 |
| 1318 | MUNOZ RICARDO | NA | NA | NA | NA | NA | NA | NA | 1 | 0 | 0 | 0 |
| 1319 | MUNSON JANICE | NA | NA | NA | NA | NA | NA | NA | 1 | 0 | 0 | 0 |
| 1320 | MURRAY WILLIAM | NA | NA | NA | NA | NA | NA | NA | 1 | 0 | 0 | 0 |
| 1321 | MUSE LINDA | NA | NA | NA | NA | NA | NA | NA | 1 | 0 | 0 | 0 |
| 1322 | MUSHARBASH WADIE | NA | NA | NA | NA | NA | NA | NA | 1 | 0 | 0 | 0 |
| 1323 | MYERS FELICIA | NA | NA | NA | NA | NA | NA | NA | 1 | 0 | 0 | 0 |
| 1324 | NAVARRETTE ADAM | NA | NA | NA | NA | NA | NA | NA | 1 | 0 | 0 | 100 |
| 1325 | NAVARRO GABRIELA | NA | NA | NA | NA | NA | NA | NA | 1 | 0 | 0 | 0 |
| 1326 | NAVARRO RICHARD | NA | NA | NA | NA | NA | NA | NA | 1 | 0 | 0 | 0 |
| 1327 | NAVA SANDRA | NA | NA | NA | NA | NA | NA | NA | 1 | 0 | 0 | 0 |
| 1328 | NORDSKOG EDWARD | NA | NA | NA | NA | NA | NA | NA | 1 | 0 | 0 | 0 |
| 1329 | NUNEZ JOSEPH | NA | NA | NA | NA | NA | NA | NA | 1 | 0 | 0 | 0 |
| 1330 | O'BRIEN JOHN | NA | NA | NA | NA | NA | NA | NA | 1 | 0 | 0 | 0 |
| 1331 | OCHOA JOE | NA | NA | NA | NA | NA | NA | NA | 1 | 0 | 0 | 0 |
| 1332 | O'DONNELL SHAWN | NA | NA | NA | NA | NA | NA | NA | 1 | 0 | 0 | 0 |
| 1333 | O'DONOGHUE SEAN | NA | NA | NA | NA | NA | NA | NA | 1 | 0 | 0 | 0 |
| 1334 | OGUREK NORMA | NA | NA | NA | NA | NA | NA | NA | 1 | 0 | 0 | 0 |
| 1335 | OKADA GEAN | NA | NA | NA | NA | NA | NA | NA | 1 | 0 | 0 | 0 |
| 1336 | OLIVE KEVIN | NA | NA | NA | NA | NA | NA | NA | 1 | 0 | 0 | 0 |
| 1337 | O'NEAL RICHARD | NA | NA | NA | NA | NA | NA | NA | 1 | 0 | 0 | 0 |
| 1338 | ONG MICHAEL | NA | NA | NA | NA | NA | NA | NA | 1 | 0 | 0 | 0 |
| 1339 | O'QUINN TIMOTHY | NA | NA | NA | NA | NA | NA | NA | 1 | 0 | 0 | 0 |
| 1340 | ORDINARIO LARRY | NA | NA | NA | NA | NA | NA | NA | 1 | 0 | 0 | 0 |
| 1341 | ORELLANA ARMANDO | NA | NA | NA | NA | NA | NA | NA | 1 | 0 | 0 | 0 |
| 1342 | ORTEGA MATTHEW | NA | NA | NA | NA | NA | NA | NA | 1 | 0 | 0 | 0 |
| 1343 | OSTEEN THOMAS | NA | NA | NA | NA | NA | NA | NA | 1 | 0 | 0 | 0 |
| 1344 | O'SULLIVAN DAVID | NA | NA | NA | NA | NA | NA | NA | 1 | 0 | 0 | 0 |
| 1345 | OWEN TANIA | NA | NA | NA | NA | NA | NA | NA | 1 | 0 | 0 | 0 |
| 1346 | PAEZ ANTHONY | NA | NA | NA | NA | NA | NA | NA | 1 | 0 | 0 | 0 |
| 1347 | PALOMINO JOSEPH | NA | NA | NA | NA | NA | NA | NA | 1 | 0 | 0 | 0 |
| 1348 | PARKER ANTHONY | NA | NA | NA | NA | NA | NA | NA | 1 | 0 | 0 | 0 |
| 1349 | PARKER BRENDA | NA | NA | NA | NA | NA | NA | NA | 1 | 0 | 0 | 0 |
| 1350 | PARKER RICHARD | NA | NA | NA | NA | NA | NA | NA | 1 | 0 | 0 | 0 |
| 1351 | PASCUAL ROMEO | NA | NA | NA | NA | NA | NA | NA | 1 | 0 | 0 | 0 |
| 1352 | PATTERSON GERARD | NA | NA | NA | NA | NA | NA | NA | 1 | 0 | 0 | 0 |
| 1353 | PAULSEN STEVEN | NA | NA | NA | NA | NA | NA | NA | 1 | 0 | 0 | 0 |
| 1354 | PEARCY KEVIN | NA | NA | NA | NA | NA | NA | NA | 1 | 0 | 0 | 0 |
| 1355 | PEDERSON JENNIFER | NA | NA | NA | NA | NA | NA | NA | 1 | 0 | 0 | 0 |
| 1356 | PEREZ EDMUNDO | NA | NA | NA | NA | NA | NA | NA | 1 | 0 | 0 | 0 |
| 1357 | PEREZ MARK | NA | NA | NA | NA | NA | NA | NA | 1 | 0 | 0 | 0 |
| 1358 | PEREZ RONNIE | NA | NA | NA | NA | NA | NA | NA | 1 | 0 | 0 | 0 |
| 1359 | PERRY KENNETH | NA | NA | NA | NA | NA | NA | NA | 1 | 0 | 0 | 0 |
| 1360 | PEYTON DOMENICK | NA | NA | NA | NA | NA | NA | NA | 1 | 0 | 0 | 0 |
| 1361 | PHILLIPPI JASON | NA | NA | NA | NA | NA | NA | NA | 1 | 0 | 0 | 0 |
| 1362 | PHILLIPS MARCUS | NA | NA | NA | NA | NA | NA | NA | 1 | 0 | 0 | 0 |
| 1363 | PHILLIPS TIMOTHY | NA | NA | NA | NA | NA | NA | NA | 1 | 0 | 0 | 0 |
| 1364 | PILACE STEVEN | NA | NA | NA | NA | NA | NA | NA | 1 | 0 | 0 | 0 |
| 1365 | PLENT GERARD | NA | NA | NA | NA | NA | NA | NA | 1 | 0 | 0 | 0 |
| 1366 | POHL JEFFREY | NA | NA | NA | NA | NA | NA | NA | 1 | 0 | 0 | 0 |
| 1367 | POINDEXTER ROBERT | NA | NA | NA | NA | NA | NA | NA | 1 | 0 | 0 | 0 |
| 1368 | POKORNY MICHAEL | NA | NA | NA | NA | NA | NA | NA | 1 | 0 | 0 | 0 |
| 1369 | PONSFORD JAMES | NA | NA | NA | NA | NA | NA | NA | 1 | 0 | 0 | 0 |
| 1370 | POPE JACQUELINE | NA | NA | NA | NA | NA | NA | NA | 1 | 0 | 0 | 0 |
| 1371 | PRADO NANCY | NA | NA | NA | NA | NA | NA | NA | 1 | 0 | 0 | 0 |
| 1372 | PRATT STEVEN | NA | NA | NA | NA | NA | NA | NA | 1 | 0 | 0 | 0 |
| 1373 | QUICHOCHO FRANK | NA | NA | NA | NA | NA | NA | NA | 1 | 0 | 0 | 0 |
| 1374 | RAMIREZ HENRY | NA | NA | NA | NA | NA | NA | NA | 1 | 0 | 0 | 0 |
| 1375 | RAMIREZ JACK | NA | NA | NA | NA | NA | NA | NA | 1 | 0 | 0 | 0 |
| 1376 | RAMIREZ TANYA | NA | NA | NA | NA | NA | NA | NA | 1 | 0 | 0 | 0 |
| 1377 | RANGEL DELIA | NA | NA | NA | NA | NA | NA | NA | 1 | 0 | 0 | 0 |
| 1378 | RANIAG KRISTOFFER | NA | NA | NA | NA | NA | NA | NA | 1 | 0 | 0 | 0 |
| 1379 | RAYMOND LYLE | NA | NA | NA | NA | NA | NA | NA | 1 | 0 | 0 | 0 |
| 1380 | READ JACQUELINE | NA | NA | NA | NA | NA | NA | NA | 1 | 0 | 0 | 0 |
| 1381 | RECTOR RICKEY | NA | NA | NA | NA | NA | NA | NA | 1 | 0 | 0 | 0 |
| 1382 | REED STUART | NA | NA | NA | NA | NA | NA | NA | 1 | 0 | 0 | 0 |
| 1383 | REEDY SPENCER | NA | NA | NA | NA | NA | NA | NA | 1 | 0 | 0 | 0 |
| 1384 | REGALADO DANNY | NA | NA | NA | NA | NA | NA | NA | 1 | 0 | 0 | 0 |
| 1385 | REINFORD BRADLEY | NA | NA | NA | NA | NA | NA | NA | 1 | 0 | 0 | 0 |
| 1386 | RETZLAFF DAWN | NA | NA | NA | NA | NA | NA | NA | 1 | 0 | 0 | 0 |
| 1387 | REWALD JAMES | NA | NA | NA | NA | NA | NA | NA | 1 | 0 | 0 | 0 |
| 1388 | REYES SERGIO | NA | NA | NA | NA | NA | NA | NA | 1 | 0 | 0 | 0 |
| 1389 | REYNAGA HUGO | NA | NA | NA | NA | NA | NA | NA | 1 | 0 | 0 | 0 |
| 1390 | REYNOLDS FREDERICK | NA | NA | NA | NA | NA | NA | NA | 1 | 0 | 0 | 0 |
| 1391 | RICHARDSON BRIAN | NA | NA | NA | NA | NA | NA | NA | 1 | 0 | 0 | 0 |
| 1392 | RIFKIN ROBERT | NA | NA | NA | NA | NA | NA | NA | 1 | 0 | 0 | 0 |
| 1393 | RIVER TRACY | NA | NA | NA | NA | NA | NA | NA | 1 | 0 | 0 | 0 |
| 1394 | ROACH DAVID | NA | NA | NA | NA | NA | NA | NA | 1 | 0 | 0 | 0 |
| 1395 | ROBERTS JASON | NA | NA | NA | NA | NA | NA | NA | 1 | 0 | 0 | 0 |
| 1396 | ROBERT WILLIAM | NA | NA | NA | NA | NA | NA | NA | 1 | 0 | 0 | 0 |
| 1397 | ROBINSON MITCHELL | NA | NA | NA | NA | NA | NA | NA | 1 | 0 | 0 | 0 |
| 1398 | ROBINSON WILLIE | NA | NA | NA | NA | NA | NA | NA | 1 | 0 | 0 | 0 |
| 1399 | ROBLES MARGARITO | NA | NA | NA | NA | NA | NA | NA | 1 | 0 | 0 | 100 |
| 1400 | RODRIGUEZ DAVID | NA | NA | NA | NA | NA | NA | NA | 1 | 0 | 0 | 0 |
| 1401 | RODRIGUEZ IRMA | NA | NA | NA | NA | NA | NA | NA | 1 | 0 | 0 | 0 |
| 1402 | RODRIGUEZ JESUS | NA | NA | NA | NA | NA | NA | NA | 1 | 0 | 0 | 0 |
| 1403 | RODRIGUEZ JUAN | NA | NA | NA | NA | NA | NA | NA | 1 | 0 | 0 | 0 |
| 1404 | RODRIGUEZ LORENA | NA | NA | NA | NA | NA | NA | NA | 1 | 0 | 0 | 0 |
| 1405 | RODRIGUEZ MARTIN | NA | NA | NA | NA | NA | NA | NA | 1 | 0 | 0 | 0 |
| 1406 | RODRIGUEZ QUILMES | NA | NA | NA | NA | NA | NA | NA | 1 | 0 | 0 | 0 |
| 1407 | ROJAS MARTIN | NA | NA | NA | NA | NA | NA | NA | 1 | 0 | 0 | 0 |
| 1408 | ROLLER KENNETH | NA | NA | NA | NA | NA | NA | NA | 1 | 0 | 0 | 0 |
| 1409 | ROMASH CHRISTOPHE | NA | NA | NA | NA | NA | NA | NA | 1 | 0 | 0 | 0 |
| 1410 | ROMERO JOSE | NA | NA | NA | NA | NA | NA | NA | 1 | 0 | 0 | 0 |
| 1411 | ROSALES LIZET | NA | NA | NA | NA | NA | NA | NA | 1 | 0 | 0 | 0 |
| 1412 | ROSE JOHN | NA | NA | NA | NA | NA | NA | NA | 1 | 0 | 0 | 0 |
| 1413 | ROTH GRANT | NA | NA | NA | NA | NA | NA | NA | 1 | 0 | 0 | 0 |
| 1414 | RUBINO STEPHAN | NA | NA | NA | NA | NA | NA | NA | 1 | 0 | 0 | 0 |
| 1415 | RUBLE ERIK | NA | NA | NA | NA | NA | NA | NA | 1 | 0 | 0 | 0 |
| 1416 | RUFFIN VERONICA | NA | NA | NA | NA | NA | NA | NA | 1 | 0 | 0 | 0 |
| 1417 | RUFINO RAFAEL | NA | NA | NA | NA | NA | NA | NA | 1 | 0 | 0 | 0 |
| 1418 | RUIZ MARIA (TERI) | NA | NA | NA | NA | NA | NA | NA | 1 | 0 | 0 | 0 |
| 1419 | RUST STEPHEN | NA | NA | NA | NA | NA | NA | NA | 1 | 0 | 0 | 0 |
| 1420 | SABATINI DEREK | NA | NA | NA | NA | NA | NA | NA | 1 | 0 | 0 | 0 |
| 1421 | SAKABU GEORGE | NA | NA | NA | NA | NA | NA | NA | 1 | 200 | 0 | 0 |
| 1422 | SALCEDO DENNIS | NA | NA | NA | NA | NA | NA | NA | 1 | 0 | 0 | 0 |
| 1423 | SALERNO FRANK | NA | NA | NA | NA | NA | NA | NA | 1 | 0 | 0 | 0 |
| 1424 | SALINAS ALEJANDRO | NA | NA | NA | NA | NA | NA | NA | 1 | 0 | 0 | 0 |
| 1425 | SANCHEZ PATRICIA | NA | NA | NA | NA | NA | NA | NA | 1 | 0 | 0 | 0 |
| 1426 | SANCHEZ RICHARD | NA | NA | NA | NA | NA | NA | NA | 1 | 0 | 0 | 0 |
| 1427 | SARTI FERNANDO | NA | NA | NA | NA | NA | NA | NA | 1 | 0 | 0 | 0 |
| 1428 | SAUCEDO HENRY | NA | NA | NA | NA | NA | NA | NA | 1 | 0 | 0 | 200 |
| 1429 | SCHADT CHAD | NA | NA | NA | NA | NA | NA | NA | 1 | 0 | 0 | 0 |
| 1430 | SCHLEGEL RICHARD | NA | NA | NA | NA | NA | NA | NA | 1 | 101 | 0 | 0 |
| 1431 | SCHOONMAKER BRIAN | NA | NA | NA | NA | NA | NA | NA | 1 | 0 | 0 | 0 |
| 1432 | SCHULTZ MARCELLA | NA | NA | NA | NA | NA | NA | NA | 1 | 0 | 0 | 0 |
| 1433 | SCIACCA STEVEN | NA | NA | NA | NA | NA | NA | NA | 1 | 0 | 0 | 0 |
| 1434 | SCOTT DELORES | NA | NA | NA | NA | NA | NA | NA | 1 | 0 | 0 | 0 |
| 1435 | SEIBEL MARK | NA | NA | NA | NA | NA | NA | NA | 1 | 0 | 0 | 0 |
| 1436 | SELANDER CYNTHIA | NA | NA | NA | NA | NA | NA | NA | 1 | 0 | 0 | 0 |
| 1437 | SESSMAN CHAD | NA | NA | NA | NA | NA | NA | NA | 1 | 0 | 0 | 0 |
| 1438 | SHEKLOW SHAI | NA | NA | NA | NA | NA | NA | NA | 1 | 0 | 0 | 0 |
| 1439 | SHIPE JONAS | NA | NA | NA | NA | NA | NA | NA | 1 | 0 | 100 | 0 |
| 1440 | SHOCKLEY BERNARD | NA | NA | NA | NA | NA | NA | NA | 1 | 0 | 0 | 0 |
| 1441 | SHONKA KAREN | NA | NA | NA | NA | NA | NA | NA | 1 | 0 | 0 | 0 |
| 1442 | SHPARD JENNIFER | NA | NA | NA | NA | NA | NA | NA | 1 | 0 | 0 | 0 |
| 1443 | SICA GARY | NA | NA | NA | NA | NA | NA | NA | 1 | 0 | 0 | 0 |
| 1444 | SILL DEREK | NA | NA | NA | NA | NA | NA | NA | 1 | 100 | 0 | 0 |
| 1445 | SILL DREK | NA | NA | NA | NA | NA | NA | NA | 1 | 0 | 0 | 0 |
| 1446 | SIROONIAN JEFFREY | NA | NA | NA | NA | NA | NA | NA | 1 | 0 | 0 | 0 |
| 1447 | SKRNICH STEVEN | NA | NA | NA | NA | NA | NA | NA | 1 | 0 | 0 | 0 |
| 1448 | SLOAN GARY | NA | NA | NA | NA | NA | NA | NA | 1 | 0 | 0 | 0 |
| 1449 | SMELSER CHRISTOPHER | NA | NA | NA | NA | NA | NA | NA | 1 | 0 | 0 | 0 |
| 1450 | SMELTZER CHADNEY | NA | NA | NA | NA | NA | NA | NA | 1 | 0 | 0 | 0 |
| 1451 | SMITH ELIZABETH | NA | NA | NA | NA | NA | NA | NA | 1 | 0 | 0 | 0 |
| 1452 | SNEED MONICA | NA | NA | NA | NA | NA | NA | NA | 1 | 0 | 0 | 0 |
| 1453 | SOFFA JOSEPH | NA | NA | NA | NA | NA | NA | NA | 1 | 0 | 0 | 0 |
| 1454 | SOLIS WALTER | NA | NA | NA | NA | NA | NA | NA | 1 | 0 | 0 | 0 |
| 1455 | SOLIZ ESTEBAN | NA | NA | NA | NA | NA | NA | NA | 1 | 0 | 0 | 0 |
| 1456 | SONG BILL | NA | NA | NA | NA | NA | NA | NA | 1 | 100 | 0 | 0 |
| 1457 | SOUTHALL REGINALD | NA | NA | NA | NA | NA | NA | NA | 1 | 0 | 0 | 0 |
| 1458 | SPATOLA ANTHONY | NA | NA | NA | NA | NA | NA | NA | 1 | 0 | 0 | 0 |
| 1459 | SPENCER GARY | NA | NA | NA | NA | NA | NA | NA | 1 | 0 | 0 | 0 |
| 1460 | SPIEGLE THOMAS | NA | NA | NA | NA | NA | NA | NA | 1 | 0 | 0 | 0 |
| 1461 | SPRINGER ROBERT | NA | NA | NA | NA | NA | NA | NA | 1 | 0 | 0 | 0 |
| 1462 | SPURRIER RANDY | NA | NA | NA | NA | NA | NA | NA | 1 | 0 | 0 | 0 |
| 1463 | STADE IAN | NA | NA | NA | NA | NA | NA | NA | 1 | 0 | 0 | 0 |
| 1464 | STANFIELD TRACY | NA | NA | NA | NA | NA | NA | NA | 1 | 0 | 0 | 0 |
| 1465 | STARZ CURT | NA | NA | NA | NA | NA | NA | NA | 1 | 0 | 0 | 0 |
| 1466 | STELLA BRICE | NA | NA | NA | NA | NA | NA | NA | 1 | 0 | 0 | 0 |
| 1467 | STOGDEN ALFONSO | NA | NA | NA | NA | NA | NA | NA | 1 | 0 | 0 | 0 |
| 1468 | STOLL ADAM | NA | NA | NA | NA | NA | NA | NA | 1 | 0 | 0 | 0 |
| 1469 | SULLY JAMES | NA | NA | NA | NA | NA | NA | NA | 1 | 0 | 0 | 0 |
| 1470 | SUMNER JOSEPH | NA | NA | NA | NA | NA | NA | NA | 1 | 0 | 0 | 0 |
| 1471 | SUNAGAWA MARK | NA | NA | NA | NA | NA | NA | NA | 1 | 0 | 0 | 0 |
| 1472 | SUTTON WESLEY | NA | NA | NA | NA | NA | NA | NA | 1 | 0 | 0 | 0 |
| 1473 | SWANSON LAWRENCE | NA | NA | NA | NA | NA | NA | NA | 1 | 0 | 0 | 0 |
| 1474 | SWEETLAND KEVIN | NA | NA | NA | NA | NA | NA | NA | 1 | 0 | 0 | 0 |
| 1475 | SYKES CURTIS | NA | NA | NA | NA | NA | NA | NA | 1 | 0 | 0 | 0 |
| 1476 | SZARKOWSKI BRADFORD | NA | NA | NA | NA | NA | NA | NA | 1 | 0 | 0 | 0 |
| 1477 | TAKASHIMA GENE | NA | NA | NA | NA | NA | NA | NA | 1 | 0 | 0 | 0 |
| 1478 | TAPIA PATRICK | NA | NA | NA | NA | NA | NA | NA | 1 | 0 | 0 | 0 |
| 1479 | TAYLOR ROBERT | NA | NA | NA | NA | NA | NA | NA | 1 | 0 | 0 | 0 |
| 1480 | TELLEZ JOSEPH | NA | NA | NA | NA | NA | NA | NA | 1 | 0 | 0 | 0 |
| 1481 | TESDAHL JEFFREY | NA | NA | NA | NA | NA | NA | NA | 1 | 0 | 0 | 0 |
| 1482 | THOMPSON MICHAEL | NA | NA | NA | NA | NA | NA | NA | 1 | 0 | 0 | 0 |
| 1483 | THURMAN ROBERT | NA | NA | NA | NA | NA | NA | NA | 1 | 0 | 0 | 0 |
| 1484 | TINOCO MARKO | NA | NA | NA | NA | NA | NA | NA | 1 | 0 | 0 | 0 |
| 1485 | TOMLIN RICHARD | NA | NA | NA | NA | NA | NA | NA | 1 | 0 | 0 | 0 |
| 1486 | TOONE ANDREW | NA | NA | NA | NA | NA | NA | NA | 1 | 0 | 0 | 0 |
| 1487 | TORRES ADAN | NA | NA | NA | NA | NA | NA | NA | 1 | 0 | 0 | 0 |
| 1488 | TORRES EDMUNDO | NA | NA | NA | NA | NA | NA | NA | 1 | 0 | 0 | 0 |
| 1489 | TORRES RICHARD | NA | NA | NA | NA | NA | NA | NA | 1 | 0 | 0 | 0 |
| 1490 | TRABBIE FRANK | NA | NA | NA | NA | NA | NA | NA | 1 | 0 | 0 | 0 |
| 1491 | TREJO LUIS | NA | NA | NA | NA | NA | NA | NA | 1 | 0 | 0 | 0 |
| 1492 | TUBBS ROBERT | NA | NA | NA | NA | NA | NA | NA | 1 | 100 | 0 | 100 |
| 1493 | TUPPER ROBERT | NA | NA | NA | NA | NA | NA | NA | 1 | 0 | 0 | 0 |
| 1494 | TURNER ASHLEY | NA | NA | NA | NA | NA | NA | NA | 1 | 0 | 0 | 0 |
| 1495 | TURPIN WILLIAM | NA | NA | NA | NA | NA | NA | NA | 1 | 0 | 0 | 0 |
| 1496 | TWEDT GARRICK | NA | NA | NA | NA | NA | NA | NA | 1 | 0 | 0 | 0 |
| 1497 | URRUTIA JESUS | NA | NA | NA | NA | NA | NA | NA | 1 | 0 | 0 | 0 |
| 1498 | URRUTIA LARRY | NA | NA | NA | NA | NA | NA | NA | 1 | 0 | 0 | 0 |
| 1499 | URSINI VINCENT | NA | NA | NA | NA | NA | NA | NA | 1 | 0 | 0 | 0 |
| 1500 | VALENCIA CYNTHIA | NA | NA | NA | NA | NA | NA | NA | 1 | 0 | 0 | 0 |
| 1501 | VALENTO MICHAEL | NA | NA | NA | NA | NA | NA | NA | 1 | 0 | 0 | 0 |
| 1502 | VALENTO RYAN | NA | NA | NA | NA | NA | NA | NA | 1 | 0 | 0 | 0 |
| 1503 | VARELA ANDREA | NA | NA | NA | NA | NA | NA | NA | 1 | 0 | 0 | 0 |
| 1504 | VARGAS STEVEN | NA | NA | NA | NA | NA | NA | NA | 1 | 0 | 0 | 0 |
| 1505 | VASQUEZ DAVID | NA | NA | NA | NA | NA | NA | NA | 1 | 0 | 0 | 0 |
| 1506 | VASQUEZ VINCE | NA | NA | NA | NA | NA | NA | NA | 1 | 0 | 0 | 0 |
| 1507 | VAUGHAN STEPHEN | NA | NA | NA | NA | NA | NA | NA | 1 | 0 | 0 | 0 |
| 1508 | VAUGHN REBECCA | NA | NA | NA | NA | NA | NA | NA | 1 | 0 | 0 | 0 |
| 1509 | VELASQUEZ HECTOR | NA | NA | NA | NA | NA | NA | NA | 1 | 0 | 0 | 0 |
| 1510 | VELASQUEZ SALVADOR | NA | NA | NA | NA | NA | NA | NA | 1 | 0 | 0 | 0 |
| 1511 | VELASZQUEZ ENRIQUE | NA | NA | NA | NA | NA | NA | NA | 1 | 0 | 0 | 0 |
| 1512 | VELOZ OSCAR | NA | NA | NA | NA | NA | NA | NA | 1 | 0 | 0 | 0 |
| 1513 | VERA ELIEZER | NA | NA | NA | NA | NA | NA | NA | 1 | 0 | 100 | 0 |
| 1514 | VILANDER DANA | NA | NA | NA | NA | NA | NA | NA | 1 | 0 | 0 | 0 |
| 1515 | VILLA ANNETTE | NA | NA | NA | NA | NA | NA | NA | 1 | 0 | 0 | 0 |
| 1516 | VILLA MARTIN | NA | NA | NA | NA | NA | NA | NA | 1 | 0 | 0 | 0 |
| 1517 | VO JOHNNY | NA | NA | NA | NA | NA | NA | NA | 1 | 0 | 0 | 0 |
| 1518 | VOZA JOHN | NA | NA | NA | NA | NA | NA | NA | 1 | 0 | 0 | 0 |
| 1519 | VU ANDY | NA | NA | NA | NA | NA | NA | NA | 1 | 0 | 0 | 0 |
| 1520 | WADE DANIEL | NA | NA | NA | NA | NA | NA | NA | 1 | 0 | 0 | 0 |
| 1521 | WAINIE BYRON | NA | NA | NA | NA | NA | NA | NA | 1 | 100 | 0 | 0 |
| 1522 | WAINSCOTT TIMOTHY | NA | NA | NA | NA | NA | NA | NA | 1 | 0 | 0 | 0 |
| 1523 | WALKER RAY | NA | NA | NA | NA | NA | NA | NA | 1 | 100 | 0 | 0 |
| 1524 | WALLS DONALD | NA | NA | NA | NA | NA | NA | NA | 1 | 0 | 0 | 0 |
| 1525 | WASHINGTON GARY | NA | NA | NA | NA | NA | NA | NA | 1 | 0 | 0 | 0 |
| 1526 | WASHINGTON KELLEY | NA | NA | NA | NA | NA | NA | NA | 1 | 0 | 0 | 0 |
| 1527 | WASHINGTON MARVIN | NA | NA | NA | NA | NA | NA | NA | 1 | 0 | 250 | 200 |
| 1528 | WEDEL MARK | NA | NA | NA | NA | NA | NA | NA | 1 | 0 | 0 | 0 |
| 1529 | WELLE DANIEL | NA | NA | NA | NA | NA | NA | NA | 1 | 0 | 0 | 0 |
| 1530 | WELLS JOYCE | NA | NA | NA | NA | NA | NA | NA | 1 | 0 | 0 | 0 |
| 1531 | WENGERT SCOTT | NA | NA | NA | NA | NA | NA | NA | 1 | 0 | 0 | 0 |
| 1532 | WESTPHAL ROBERT | NA | NA | NA | NA | NA | NA | NA | 1 | 0 | 0 | 0 |
| 1533 | WHEELER JAMES | NA | NA | NA | NA | NA | NA | NA | 1 | 0 | 0 | 0 |
| 1534 | WHITE DEREK | NA | NA | NA | NA | NA | NA | NA | 1 | 0 | 0 | 0 |
| 1535 | WHITE FREDERIC | NA | NA | NA | NA | NA | NA | NA | 1 | 0 | 0 | 0 |
| 1536 | WHITMAN NORMA | NA | NA | NA | NA | NA | NA | NA | 1 | 0 | 0 | 0 |
| 1537 | WILBER MICHAEL | NA | NA | NA | NA | NA | NA | NA | 1 | 0 | 0 | 0 |
| 1538 | WILLIAMS MICHAEL | NA | NA | NA | NA | NA | NA | NA | 1 | 0 | 0 | 0 |
| 1539 | WILSON RUSSELL | NA | NA | NA | NA | NA | NA | NA | 1 | 0 | 0 | 0 |
| 1540 | WILSON VERA | NA | NA | NA | NA | NA | NA | NA | 1 | 0 | 0 | 0 |
| 1541 | WOODARD THEODORE | NA | NA | NA | NA | NA | NA | NA | 1 | 0 | 0 | 0 |
| 1542 | WULTERIN LANCE | NA | NA | NA | NA | NA | NA | NA | 1 | 0 | 0 | 0 |
| 1543 | WYMAN DONALD | NA | NA | NA | NA | NA | NA | NA | 1 | 0 | 0 | 0 |
| 1544 | YATEEM JOHN | NA | NA | NA | NA | NA | NA | NA | 1 | 0 | 0 | 0 |
| 1545 | YI JUONG | NA | NA | NA | NA | NA | NA | NA | 1 | 0 | 0 | 0 |
| 1546 | YOSHINO DEREK | NA | NA | NA | NA | NA | NA | NA | 1 | 0 | 0 | 0 |
| 1547 | YOST MICHAEL | NA | NA | NA | NA | NA | NA | NA | 1 | 0 | 0 | 0 |
| 1548 | YOUNG CHRISTOPHER | NA | NA | NA | NA | NA | NA | NA | 1 | 0 | 0 | 0 |
| 1549 | YOUNG MICHAEL | NA | NA | NA | NA | NA | NA | NA | 1 | 0 | 0 | 0 |
| 1550 | YOUNG SHAWN | NA | NA | NA | NA | NA | NA | NA | 1 | 0 | 0 | 0 |
| 1551 | YU THOMAS | NA | NA | NA | NA | NA | NA | NA | 1 | 0 | 0 | 0 |
| 1552 | ZAGURSKI GEORGE | NA | NA | NA | NA | NA | NA | NA | 1 | 0 | 0 | 0 |
| 1553 | ZUMER DANIEL | NA | NA | NA | NA | NA | NA | NA | 1 | 0 | 0 | 0 |
| 1554 | ZUMWALT BOYD | NA | NA | NA | NA | NA | NA | NA | 1 | 0 | 0 | 0 |
| 1555 | AGUILAR VALERIE | NA | NA | NA | NA | NA | NA | NA | NA | 300 | 0 | 0 |
| 1556 | AHN GREG | NA | NA | NA | NA | NA | NA | NA | NA | 450 | 0 | 0 |
| 1557 | ALERICH MICHAEL | NA | NA | NA | NA | NA | NA | NA | NA | 100 | 0 | 0 |
| 1558 | ALLEN DUANE | NA | NA | NA | NA | NA | NA | NA | NA | 0 | 200 | 0 |
| 1559 | AMICO PETER | NA | NA | NA | NA | NA | NA | NA | NA | 200 | 0 | 0 |
| 1560 | ANDERSON CRAIG | NA | NA | NA | NA | NA | NA | NA | NA | 600 | 0 | 0 |
| 1561 | ARANDA MICHAEL | NA | NA | NA | NA | NA | NA | NA | NA | 500 | 0 | 0 |
| 1562 | ARRIAGA MICHAEL | NA | NA | NA | NA | NA | NA | NA | NA | 0 | 100 | 0 |
| 1563 | BADALI JOSEPH | NA | NA | NA | NA | NA | NA | NA | NA | 100 | 0 | 0 |
| 1564 | BAKER MARILYN | NA | NA | NA | NA | NA | NA | NA | NA | 300 | 0 | 0 |
| 1565 | BAKEWELL DANNY | NA | NA | NA | NA | NA | NA | NA | NA | 0 | 0 | 250 |
| 1566 | BALDERRAMA LINDA | NA | NA | NA | NA | NA | NA | NA | NA | 100 | 0 | 0 |
| 1567 | BARTLETT WILLIAM | NA | NA | NA | NA | NA | NA | NA | NA | 200 | 0 | 0 |
| 1568 | BATES DAPHINE | NA | NA | NA | NA | NA | NA | NA | NA | 100 | 100 | 0 |
| 1569 | BECKER LINDA | NA | NA | NA | NA | NA | NA | NA | NA | 100 | 0 | 0 |
| 1570 | BENGTSON WILLIAM | NA | NA | NA | NA | NA | NA | NA | NA | 500 | 0 | 0 |
| 1571 | BERNADETTE ROBERTS-TAYLOR | NA | NA | NA | NA | NA | NA | NA | NA | 100 | 0 | 0 |
| 1572 | BERNER ARLENE | NA | NA | NA | NA | NA | NA | NA | NA | 200 | 0 | 0 |
| 1573 | BERRY TY | NA | NA | NA | NA | NA | NA | NA | NA | 0 | 0 | 100 |
| 1574 | BILOWIT WAYNE | NA | NA | NA | NA | NA | NA | NA | NA | 100 | 0 | 0 |
| 1575 | BISSMAN SUSAN | NA | NA | NA | NA | NA | NA | NA | NA | 100 | 0 | 0 |
| 1576 | BLACKWELL GARY | NA | NA | NA | NA | NA | NA | NA | NA | 0 | 200 | 0 |
| 1577 | BLOW ROOSEVELT | NA | NA | NA | NA | NA | NA | NA | NA | 400 | 0 | 0 |
| 1578 | BOTTOMLEY RONALD | NA | NA | NA | NA | NA | NA | NA | NA | 100 | 0 | 0 |
| 1579 | BRACKPOOL ANA | NA | NA | NA | NA | NA | NA | NA | NA | 0 | 150 | 0 |
| 1580 | BRACKPOOL CHRIS | NA | NA | NA | NA | NA | NA | NA | NA | 0 | 150 | 0 |
| 1581 | BRADY MATTHEW | NA | NA | NA | NA | NA | NA | NA | NA | 300 | 100 | 0 |
| 1582 | BRAZILE KENNETH | NA | NA | NA | NA | NA | NA | NA | NA | 700 | 0 | 0 |
| 1583 | BURT THOMAS | NA | NA | NA | NA | NA | NA | NA | NA | 100 | 0 | 0 |
| 1584 | BURT TOM | NA | NA | NA | NA | NA | NA | NA | NA | 100 | 0 | 0 |
| 1585 | CAMPBELL ANTHONY | NA | NA | NA | NA | NA | NA | NA | NA | 400 | 0 | 0 |
| 1586 | CARDELLA PAUL | NA | NA | NA | NA | NA | NA | NA | NA | 100 | 0 | 0 |
| 1587 | CAREY WILLIAM | NA | NA | NA | NA | NA | NA | NA | NA | 0 | 100 | 0 |
| 1588 | CARR KATHRYN | NA | NA | NA | NA | NA | NA | NA | NA | 100 | 0 | 0 |
| 1589 | CARRILLO GILBERT | NA | NA | NA | NA | NA | NA | NA | NA | 300 | 0 | 0 |
| 1590 | CARROLL SONIA | NA | NA | NA | NA | NA | NA | NA | NA | 100 | 0 | 0 |
| 1591 | CASTRO LYNDA | NA | NA | NA | NA | NA | NA | NA | NA | 700 | 0 | 0 |
| 1592 | CASTRO RICHARD | NA | NA | NA | NA | NA | NA | NA | NA | 100 | 0 | 0 |
| 1593 | CAUSEY ROBERTO | NA | NA | NA | NA | NA | NA | NA | NA | 200 | 0 | 0 |
| 1594 | CAVANAUGH MARV | NA | NA | NA | NA | NA | NA | NA | NA | 350 | 0 | 0 |
| 1595 | CHASE BRUCE | NA | NA | NA | NA | NA | NA | NA | NA | 300 | 0 | 0 |
| 1596 | CHAVEZ JOSEPH | NA | NA | NA | NA | NA | NA | NA | NA | 200 | 0 | 0 |
| 1597 | CHEW SCOTT | NA | NA | NA | NA | NA | NA | NA | NA | 100 | 0 | 0 |
| 1598 | CHOI ROLAND | NA | NA | NA | NA | NA | NA | NA | NA | 200 | 100 | 0 |
| 1599 | CHRISTOPHER YVETTE | NA | NA | NA | NA | NA | NA | NA | NA | 0 | 0 | 100 |
| 1600 | CLAUS MICHAEL | NA | NA | NA | NA | NA | NA | NA | NA | 0 | 250 | 0 |
| 1601 | CONNER ROBERT | NA | NA | NA | NA | NA | NA | NA | NA | 0 | 0 | 100 |
| 1602 | CONNOLLY MICHAEL | NA | NA | NA | NA | NA | NA | NA | NA | 100 | 0 | 0 |
| 1603 | CONTE DENNIS | NA | NA | NA | NA | NA | NA | NA | NA | 100 | 0 | 0 |
| 1604 | COPPLIN DONNA | NA | NA | NA | NA | NA | NA | NA | NA | 0 | 0 | 250 |
| 1605 | CORNELL TIM | NA | NA | NA | NA | NA | NA | NA | NA | 200 | 0 | 0 |
| 1606 | COTWRIGHT RICARDO | NA | NA | NA | NA | NA | NA | NA | NA | 100 | 0 | 0 |
| 1607 | CRINER KRISTY | NA | NA | NA | NA | NA | NA | NA | NA | 0 | 100 | 0 |
| 1608 | CRUZ DANIEL | NA | NA | NA | NA | NA | NA | NA | NA | 0 | 100 | 100 |
| 1609 | CUEVAS JOHN | NA | NA | NA | NA | NA | NA | NA | NA | 0 | 0 | 100 |
| 1610 | CUPA GEORGE | NA | NA | NA | NA | NA | NA | NA | NA | 100 | 0 | 0 |
| 1611 | DAVOREN PATRICK | NA | NA | NA | NA | NA | NA | NA | NA | 100 | 100 | 0 |
| 1612 | DE RUYTER JAMES | NA | NA | NA | NA | NA | NA | NA | NA | 0 | 100 | 0 |
| 1613 | DEL MESE LAWRENCE | NA | NA | NA | NA | NA | NA | NA | NA | 0 | 0 | 100 |
| 1614 | DEL MESSE LAWRENCE | NA | NA | NA | NA | NA | NA | NA | NA | 100 | 0 | 0 |
| 1615 | DELVALLE AGUSTIN | NA | NA | NA | NA | NA | NA | NA | NA | 0 | 100 | 0 |
| 1616 | DENDO MATHEW | NA | NA | NA | NA | NA | NA | NA | NA | 1500 | 100 | 0 |
| 1617 | DENNEY PAUL | NA | NA | NA | NA | NA | NA | NA | NA | 500 | 0 | 0 |
| 1618 | DENNY PAUL | NA | NA | NA | NA | NA | NA | NA | NA | 100 | 0 | 0 |
| 1619 | DOEVE ROBERT | NA | NA | NA | NA | NA | NA | NA | NA | 0 | 0 | 200 |
| 1620 | ENFIELD JEFFREY | NA | NA | NA | NA | NA | NA | NA | NA | 0 | 100 | 0 |
| 1621 | ESTRADA RICHARD | NA | NA | NA | NA | NA | NA | NA | NA | 100 | 0 | 0 |
| 1622 | FABREGA JUAN | NA | NA | NA | NA | NA | NA | NA | NA | 0 | 0 | 100 |
| 1623 | FEDELE DANIEL | NA | NA | NA | NA | NA | NA | NA | NA | 200 | 250 | 0 |
| 1624 | FENDER DAVID | NA | NA | NA | NA | NA | NA | NA | NA | 600 | 0 | 0 |
| 1625 | FENNELL JOSEPH | NA | NA | NA | NA | NA | NA | NA | NA | 100 | 250 | 250 |
| 1626 | FETTEROLL DOUGLAS | NA | NA | NA | NA | NA | NA | NA | NA | 0 | 250 | 0 |
| 1627 | FIGUEROA YOLANDA | NA | NA | NA | NA | NA | NA | NA | NA | 0 | 100 | 0 |
| 1628 | FINKELSTEIN DANIEL | NA | NA | NA | NA | NA | NA | NA | NA | 100 | 0 | 0 |
| 1629 | FLORES SERGIO | NA | NA | NA | NA | NA | NA | NA | NA | 100 | 0 | 0 |
| 1630 | FLYNT HAROLD | NA | NA | NA | NA | NA | NA | NA | NA | 100 | 0 | 0 |
| 1631 | FORD MICHAEL | NA | NA | NA | NA | NA | NA | NA | NA | 200 | 0 | 0 |
| 1632 | FRANKLIN JOHN | NA | NA | NA | NA | NA | NA | NA | NA | 500 | 0 | 0 |
| 1633 | FURMANSKI DAVID | NA | NA | NA | NA | NA | NA | NA | NA | 100 | 0 | 0 |
| 1634 | GALLEGOS JENNY | NA | NA | NA | NA | NA | NA | NA | NA | 200 | 0 | 0 |
| 1635 | GALLEGOS JOE | NA | NA | NA | NA | NA | NA | NA | NA | 0 | 0 | 100 |
| 1636 | GARCIA ALLAN | NA | NA | NA | NA | NA | NA | NA | NA | 100 | 0 | 0 |
| 1637 | GARRETT TERESA | NA | NA | NA | NA | NA | NA | NA | NA | 0 | 0 | 100 |
| 1638 | GATES JIM | NA | NA | NA | NA | NA | NA | NA | NA | 100 | 0 | 0 |
| 1639 | GAUTT REGINALD | NA | NA | NA | NA | NA | NA | NA | NA | 100 | 0 | 0 |
| 1640 | GIBSON JASON | NA | NA | NA | NA | NA | NA | NA | NA | 0 | 0 | 100 |
| 1641 | GOLDMAN BUDDY | NA | NA | NA | NA | NA | NA | NA | NA | 100 | 0 | 1000 |
| 1642 | GOMEZ LAURA | NA | NA | NA | NA | NA | NA | NA | NA | 500 | 0 | 0 |
| 1643 | GOMEZ PATRICK | NA | NA | NA | NA | NA | NA | NA | NA | 100 | 0 | 0 |
| 1644 | GORAN KEVIN | NA | NA | NA | NA | NA | NA | NA | NA | 700 | 0 | 250 |
| 1645 | GRACIA RUBEN | NA | NA | NA | NA | NA | NA | NA | NA | 100 | 0 | 0 |
| 1646 | GRUBB THOMAS | NA | NA | NA | NA | NA | NA | NA | NA | 0 | 100 | 0 |
| 1647 | GUTIERREZ STEVEN | NA | NA | NA | NA | NA | NA | NA | NA | 100 | 0 | 0 |
| 1648 | GUYOVICH CHRISTY | NA | NA | NA | NA | NA | NA | NA | NA | 300 | 300 | 0 |
| 1649 | HANEY DAVID | NA | NA | NA | NA | NA | NA | NA | NA | 100 | 0 | 0 |
| 1650 | HANSON JOHN | NA | NA | NA | NA | NA | NA | NA | NA | 0 | 100 | 0 |
| 1651 | HARDING MICHAEL | NA | NA | NA | NA | NA | NA | NA | NA | 100 | 0 | 0 |
| 1652 | HARRIS JAMES | NA | NA | NA | NA | NA | NA | NA | NA | 600 | 0 | 0 |
| 1653 | HASELRIG LAJUANA | NA | NA | NA | NA | NA | NA | NA | NA | 0 | 0 | 200 |
| 1654 | HAST DARRYL | NA | NA | NA | NA | NA | NA | NA | NA | 100 | 0 | 0 |
| 1655 | HEBERT KEVIN | NA | NA | NA | NA | NA | NA | NA | NA | 0 | 100 | 0 |
| 1656 | HECHT MARY DIANE | NA | NA | NA | NA | NA | NA | NA | NA | 100 | 0 | 0 |
| 1657 | HELLMOLD JAMES | NA | NA | NA | NA | NA | NA | NA | NA | 450 | 100 | 0 |
| 1658 | HELLMOLD JIM | NA | NA | NA | NA | NA | NA | NA | NA | 205 | 0 | 0 |
| 1659 | HENDERSON MICHAEL | NA | NA | NA | NA | NA | NA | NA | NA | 100 | 0 | 0 |
| 1660 | HERBERT KEVIN | NA | NA | NA | NA | NA | NA | NA | NA | 100 | 0 | 0 |
| 1661 | HEREK MICHAEL | NA | NA | NA | NA | NA | NA | NA | NA | 100 | 0 | 0 |
| 1662 | HERNANEZ EDUARDO | NA | NA | NA | NA | NA | NA | NA | NA | 100 | 0 | 0 |
| 1663 | HERRERA ARTHUR | NA | NA | NA | NA | NA | NA | NA | NA | 100 | 0 | 0 |
| 1664 | HONINGS GARY | NA | NA | NA | NA | NA | NA | NA | NA | 0 | 0 | 200 |
| 1665 | HOWARD DOROTHY | NA | NA | NA | NA | NA | NA | NA | NA | 0 | 0 | 150 |
| 1666 | IBELLE ROBBY | NA | NA | NA | NA | NA | NA | NA | NA | 100 | 0 | 0 |
| 1667 | IIDA JERRY | NA | NA | NA | NA | NA | NA | NA | NA | 100 | 100 | 0 |
| 1668 | ILDA JERRY | NA | NA | NA | NA | NA | NA | NA | NA | 100 | 0 | 0 |
| 1669 | JOHNSON KENNETH | NA | NA | NA | NA | NA | NA | NA | NA | 100 | 0 | 0 |
| 1670 | JOHNSON STEPHEN | NA | NA | NA | NA | NA | NA | NA | NA | 500 | 0 | 0 |
| 1671 | JONES SAMMY | NA | NA | NA | NA | NA | NA | NA | NA | 200 | 0 | 0 |
| 1672 | JONSEN ROBERT | NA | NA | NA | NA | NA | NA | NA | NA | 200 | 0 | 0 |
| 1673 | JUDGE TERENCE | NA | NA | NA | NA | NA | NA | NA | NA | 250 | 0 | 0 |
| 1674 | JUDGE TERRENCE | NA | NA | NA | NA | NA | NA | NA | NA | 100 | 0 | 0 |
| 1675 | KENYON MICHAEL | NA | NA | NA | NA | NA | NA | NA | NA | 100 | 0 | 0 |
| 1676 | KIM STEVE | NA | NA | NA | NA | NA | NA | NA | NA | 100 | 0 | 0 |
| 1677 | KING MARC | NA | NA | NA | NA | NA | NA | NA | NA | 300 | 100 | 0 |
| 1678 | KIRBY DEBORENE | NA | NA | NA | NA | NA | NA | NA | NA | 0 | 0 | 100 |
| 1679 | LA BERGE JACQUES | NA | NA | NA | NA | NA | NA | NA | NA | 200 | 0 | 0 |
| 1680 | LADENHEIM MERRILL | NA | NA | NA | NA | NA | NA | NA | NA | 0 | 200 | 0 |
| 1681 | LAM RAYMOND | NA | NA | NA | NA | NA | NA | NA | NA | 0 | 0 | 200 |
| 1682 | LEUNG EDDIE | NA | NA | NA | NA | NA | NA | NA | NA | 0 | 100 | 0 |
| 1683 | LONG DAVID | NA | NA | NA | NA | NA | NA | NA | NA | 100 | 0 | 0 |
| 1684 | LOPEZ JAMES | NA | NA | NA | NA | NA | NA | NA | NA | 600 | 0 | 0 |
| 1685 | LOPEZ ROBERT | NA | NA | NA | NA | NA | NA | NA | NA | 100 | 0 | 0 |
| 1686 | LOPEZ VICTOR | NA | NA | NA | NA | NA | NA | NA | NA | 100 | 0 | 0 |
| 1687 | LUCERO JESSE JOSEPH | NA | NA | NA | NA | NA | NA | NA | NA | 100 | 0 | 0 |
| 1688 | LUCIA ANTHONY | NA | NA | NA | NA | NA | NA | NA | NA | 0 | 200 | 0 |
| 1689 | LY THANH | NA | NA | NA | NA | NA | NA | NA | NA | 500 | 0 | 0 |
| 1690 | MACNAIR DAVID | NA | NA | NA | NA | NA | NA | NA | NA | 100 | 0 | 0 |
| 1691 | MAHER CALVIN | NA | NA | NA | NA | NA | NA | NA | NA | 0 | 250 | 0 |
| 1692 | MAHER MICHAEL | NA | NA | NA | NA | NA | NA | NA | NA | 0 | 200 | 0 |
| 1693 | MAIER RICHARD | NA | NA | NA | NA | NA | NA | NA | NA | 100 | 0 | 0 |
| 1694 | MANDOYAN CAREN | NA | NA | NA | NA | NA | NA | NA | NA | 0 | 0 | 100 |
| 1695 | MARADIAGA RICHARD | NA | NA | NA | NA | NA | NA | NA | NA | 100 | 0 | 0 |
| 1696 | MARTIN RALPH | NA | NA | NA | NA | NA | NA | NA | NA | 200 | 0 | 0 |
| 1697 | MARTIN WILLIAM | NA | NA | NA | NA | NA | NA | NA | NA | 200 | 0 | 0 |
| 1698 | MARTINEZ MICHAEL | NA | NA | NA | NA | NA | NA | NA | NA | 100 | 0 | 0 |
| 1699 | MATSUMOTO MICKEY | NA | NA | NA | NA | NA | NA | NA | NA | 100 | 100 | 0 |
| 1700 | MAULDIN LOYACE | NA | NA | NA | NA | NA | NA | NA | NA | 100 | 0 | 0 |
| 1701 | MAXWELL PATRICK | NA | NA | NA | NA | NA | NA | NA | NA | 1000 | 0 | 250 |
| 1702 | MAYER JOHN | NA | NA | NA | NA | NA | NA | NA | NA | 100 | 0 | 0 |
| 1703 | MCDANIEL CYNTHIA | NA | NA | NA | NA | NA | NA | NA | NA | 0 | 200 | 0 |
| 1704 | MCDERMOTT MICHAEL | NA | NA | NA | NA | NA | NA | NA | NA | 200 | 0 | 0 |
| 1705 | MCLEAN STEVE | NA | NA | NA | NA | NA | NA | NA | NA | 200 | 0 | 0 |
| 1706 | MCSWEENEY WILLIAM | NA | NA | NA | NA | NA | NA | NA | NA | 250 | 0 | 250 |
| 1707 | MCWAID KENNETH | NA | NA | NA | NA | NA | NA | NA | NA | 200 | 0 | 200 |
| 1708 | MEZA JORGE | NA | NA | NA | NA | NA | NA | NA | NA | 100 | 0 | 0 |
| 1709 | MILLER STEVEN | NA | NA | NA | NA | NA | NA | NA | NA | 100 | 0 | 0 |
| 1710 | MILLER WILLIE JEWEL | NA | NA | NA | NA | NA | NA | NA | NA | 300 | 0 | 0 |
| 1711 | MILLIMAN TIMOTHY | NA | NA | NA | NA | NA | NA | NA | NA | 300 | 100 | 0 |
| 1712 | MINUTELLO PATTI | NA | NA | NA | NA | NA | NA | NA | NA | 500 | 0 | 0 |
| 1713 | MOORE VICTOR | NA | NA | NA | NA | NA | NA | NA | NA | 0 | 100 | 0 |
| 1714 | MORENO ABEL | NA | NA | NA | NA | NA | NA | NA | NA | 200 | 0 | 0 |
| 1715 | MOSSMAN STEVE | NA | NA | NA | NA | NA | NA | NA | NA | 0 | 200 | 0 |
| 1716 | NAGAOKA MICHAEL | NA | NA | NA | NA | NA | NA | NA | NA | 100 | 0 | 0 |
| 1717 | NAVARRO GABRIEL | NA | NA | NA | NA | NA | NA | NA | NA | 100 | 0 | 0 |
| 1718 | NEE CHRISTOPHER | NA | NA | NA | NA | NA | NA | NA | NA | 1650 | 100 | 0 |
| 1719 | NEWMAN CHERYL | NA | NA | NA | NA | NA | NA | NA | NA | 100 | 0 | 0 |
| 1720 | NORTON LEO | NA | NA | NA | NA | NA | NA | NA | NA | 100 | 0 | 0 |
| 1721 | O'SHEA MICHAEL | NA | NA | NA | NA | NA | NA | NA | NA | 100 | 0 | 0 |
| 1722 | ODENTHAL ERIC | NA | NA | NA | NA | NA | NA | NA | NA | 100 | 0 | 100 |
| 1723 | OGLESBY DENISE | NA | NA | NA | NA | NA | NA | NA | NA | 100 | 0 | 0 |
| 1724 | ORTIZ MICHAEL | NA | NA | NA | NA | NA | NA | NA | NA | 200 | 0 | 0 |
| 1725 | PALOMINO JOE | NA | NA | NA | NA | NA | NA | NA | NA | 0 | 100 | 0 |
| 1726 | PEACOCK ROBERT | NA | NA | NA | NA | NA | NA | NA | NA | 0 | 100 | 0 |
| 1727 | PEAVY RAYMOND | NA | NA | NA | NA | NA | NA | NA | NA | 500 | 0 | 0 |
| 1728 | PERKINS TIM | NA | NA | NA | NA | NA | NA | NA | NA | 100 | 0 | 0 |
| 1729 | PLETT NORINE | NA | NA | NA | NA | NA | NA | NA | NA | 100 | 0 | 0 |
| 1730 | POLLACK BRUCE | NA | NA | NA | NA | NA | NA | NA | NA | 600 | 0 | 0 |
| 1731 | POPE MARK | NA | NA | NA | NA | NA | NA | NA | NA | 0 | 0 | 100 |
| 1732 | PREWETT BRUCE | NA | NA | NA | NA | NA | NA | NA | NA | 100 | 0 | 100 |
| 1733 | PROPSTER STEVEN | NA | NA | NA | NA | NA | NA | NA | NA | 100 | 0 | 0 |
| 1734 | RADELEFF JOHN | NA | NA | NA | NA | NA | NA | NA | NA | 100 | 0 | 0 |
| 1735 | RAIMO DANIEL | NA | NA | NA | NA | NA | NA | NA | NA | 100 | 0 | 0 |
| 1736 | RAMPONE CYNTHIA | NA | NA | NA | NA | NA | NA | NA | NA | 100 | 0 | 0 |
| 1737 | RANDALL DAVID | NA | NA | NA | NA | NA | NA | NA | NA | 0 | 250 | 0 |
| 1738 | RECTOR RICK | NA | NA | NA | NA | NA | NA | NA | NA | 200 | 0 | 0 |
| 1739 | REINHARDT TERI | NA | NA | NA | NA | NA | NA | NA | NA | 0 | 0 | 100 |
| 1740 | REYES HENRY | NA | NA | NA | NA | NA | NA | NA | NA | 100 | 0 | 0 |
| 1741 | RHAMBO CECIL | NA | NA | NA | NA | NA | NA | NA | NA | 800 | 250 | 250 |
| 1742 | RIOS JIMMY | NA | NA | NA | NA | NA | NA | NA | NA | 100 | 0 | 0 |
| 1743 | RIVAS LEONARD | NA | NA | NA | NA | NA | NA | NA | NA | 0 | 0 | 200 |
| 1744 | RIVAS SILVERIO | NA | NA | NA | NA | NA | NA | NA | NA | 100 | 0 | 0 |
| 1745 | ROBERTS BERNADETTE | NA | NA | NA | NA | NA | NA | NA | NA | 200 | 0 | 0 |
| 1746 | ROBERTS-TAYLOR BERNADETTE | NA | NA | NA | NA | NA | NA | NA | NA | 500 | 0 | 0 |
| 1747 | ROCHA RAYMONN | NA | NA | NA | NA | NA | NA | NA | NA | 200 | 0 | 0 |
| 1748 | RODRIGUEZ MATTHEW | NA | NA | NA | NA | NA | NA | NA | NA | 250 | 0 | 0 |
| 1749 | ROSARIO VALENTINE | NA | NA | NA | NA | NA | NA | NA | NA | 0 | 0 | 100 |
| 1750 | ROTH LINDA | NA | NA | NA | NA | NA | NA | NA | NA | 100 | 0 | 0 |
| 1751 | RUEFF JOHN | NA | NA | NA | NA | NA | NA | NA | NA | 100 | 0 | 0 |
| 1752 | RYAN WILLIAM | NA | NA | NA | NA | NA | NA | NA | NA | 300 | 0 | 0 |
| 1753 | RYKEN DALE | NA | NA | NA | NA | NA | NA | NA | NA | 100 | 0 | 0 |
| 1754 | SCAUZILLO PAUL | NA | NA | NA | NA | NA | NA | NA | NA | 250 | 0 | 0 |
| 1755 | SCHREINER JASON | NA | NA | NA | NA | NA | NA | NA | NA | 100 | 0 | 100 |
| 1756 | SCROGGIN JEFFREY | NA | NA | NA | NA | NA | NA | NA | NA | 100 | 100 | 0 |
| 1757 | SENO BENNETT | NA | NA | NA | NA | NA | NA | NA | NA | 0 | 0 | 400 |
| 1758 | SHAW RICHARD | NA | NA | NA | NA | NA | NA | NA | NA | 600 | 0 | 0 |
| 1759 | SHIELDS EARL | NA | NA | NA | NA | NA | NA | NA | NA | 400 | 300 | 0 |
| 1760 | SIARA THADDEUS | NA | NA | NA | NA | NA | NA | NA | NA | 150 | 0 | 0 |
| 1761 | SIRKEL THOMAS | NA | NA | NA | NA | NA | NA | NA | NA | 200 | 0 | 0 |
| 1762 | SMITH MICHAEL | NA | NA | NA | NA | NA | NA | NA | NA | 350 | 0 | 0 |
| 1763 | SNEED DANNY | NA | NA | NA | NA | NA | NA | NA | NA | 100 | 0 | 0 |
| 1764 | SPENCER TOM | NA | NA | NA | NA | NA | NA | NA | NA | 805.39 | 0 | 0 |
| 1765 | STEINWAND BRIAN | NA | NA | NA | NA | NA | NA | NA | NA | 0 | 400 | 0 |
| 1766 | STONICH WILLIAM | NA | NA | NA | NA | NA | NA | NA | NA | 100 | 0 | 0 |
| 1767 | SUTTON WES | NA | NA | NA | NA | NA | NA | NA | NA | 0 | 200 | 0 |
| 1768 | SUZUKI DIANE | NA | NA | NA | NA | NA | NA | NA | NA | 100 | 0 | 0 |
| 1769 | TATREAU JIM | NA | NA | NA | NA | NA | NA | NA | NA | 300 | 0 | 0 |
| 1770 | THOMPSON ANDREW | NA | NA | NA | NA | NA | NA | NA | NA | 500 | 0 | 0 |
| 1771 | THOMPSON GREG | NA | NA | NA | NA | NA | NA | NA | NA | 200 | 0 | 0 |
| 1772 | TOKAR WRIGHT PAULA | NA | NA | NA | NA | NA | NA | NA | NA | 0 | 250 | 0 |
| 1773 | TOKUDA SEIKO | NA | NA | NA | NA | NA | NA | NA | NA | 100 | 0 | 0 |
| 1774 | TRUJILLO MYKEL | NA | NA | NA | NA | NA | NA | NA | NA | 100 | 0 | 0 |
| 1775 | TRULL LESTER | NA | NA | NA | NA | NA | NA | NA | NA | 100 | 0 | 0 |
| 1776 | TSUBAKI MITCHELL | NA | NA | NA | NA | NA | NA | NA | NA | 100 | 0 | 0 |
| 1777 | TUBBS BOB | NA | NA | NA | NA | NA | NA | NA | NA | 100 | 0 | 0 |
| 1778 | VALENCIA JULIE | NA | NA | NA | NA | NA | NA | NA | NA | 100 | 0 | 0 |
| 1779 | VAN HARRY | NA | NA | NA | NA | NA | NA | NA | NA | 500 | 0 | 0 |
| 1780 | VEGA EVELYN | NA | NA | NA | NA | NA | NA | NA | NA | 0 | 0 | 200 |
| 1781 | VELASQUEZ STEVEN | NA | NA | NA | NA | NA | NA | NA | NA | 200 | 0 | 0 |
| 1782 | VICTORY OCEAL | NA | NA | NA | NA | NA | NA | NA | NA | 0 | 0 | 100 |
| 1783 | VOYER KATHERINE | NA | NA | NA | NA | NA | NA | NA | NA | 100 | 0 | 0 |
| 1784 | WAGNER MARGARITA | NA | NA | NA | NA | NA | NA | NA | NA | 150 | 0 | 0 |
| 1785 | WAGNER RODNEY | NA | NA | NA | NA | NA | NA | NA | NA | 100 | 0 | 0 |
| 1786 | WAIDNER DANIEL | NA | NA | NA | NA | NA | NA | NA | NA | 100 | 0 | 0 |
| 1787 | WALKER MARK | NA | NA | NA | NA | NA | NA | NA | NA | 100 | 0 | 0 |
| 1788 | WALTERS DAVID | NA | NA | NA | NA | NA | NA | NA | NA | 200 | 300 | 0 |
| 1789 | WARD ANTHONY | NA | NA | NA | NA | NA | NA | NA | NA | 100 | 250 | 0 |
| 1790 | WATERS DAVID | NA | NA | NA | NA | NA | NA | NA | NA | 100 | 0 | 500 |
| 1791 | WATSON ANGELA | NA | NA | NA | NA | NA | NA | NA | NA | 0 | 300 | 0 |
| 1792 | WEBB RALPH | NA | NA | NA | NA | NA | NA | NA | NA | 200 | 0 | 0 |
| 1793 | WERNER DENNIS | NA | NA | NA | NA | NA | NA | NA | NA | 300 | 0 | 0 |
| 1794 | WHEAT ROBERT | NA | NA | NA | NA | NA | NA | NA | NA | 0 | 200 | 0 |
| 1795 | WHITE MICHAEL ANTHONY | NA | NA | NA | NA | NA | NA | NA | NA | 0 | 0 | 200 |
| 1796 | WILLIAMS MARLON | NA | NA | NA | NA | NA | NA | NA | NA | 0 | 0 | 100 |
| 1797 | WILLIAMS RONNIE | NA | NA | NA | NA | NA | NA | NA | NA | 500 | 0 | 0 |
| 1798 | WOLAK JAMES | NA | NA | NA | NA | NA | NA | NA | NA | 200 | 0 | 0 |
| 1799 | WONG KERWIN | NA | NA | NA | NA | NA | NA | NA | NA | 100 | 0 | 0 |
| 1800 | YATES CLIFF | NA | NA | NA | NA | NA | NA | NA | NA | 0 | 250 | 0 |
| 1801 | YIM ALEXANDER | NA | NA | NA | NA | NA | NA | NA | NA | 500 | 0 | 500 |
| 1802 | YOKOYAMA HIROSHI | NA | NA | NA | NA | NA | NA | NA | NA | 1000 | 100 | 0 |
---
DONATIONS BY DATE (1998 to 2008 – scroll all the way to the right to see latest dates.)
| | unique(campaign[, 1]) | 7/28/98 | 7/29/98 | 8/13/98 | 10/28/98 | 11/12/98 | 12/11/98 | 12/26/98 | 1/18/99 | 2/3/99 | 2/20/99 | 2/25/99 | 6/12/02 | 6/18/02 | 6/19/02 | 6/26/02 | 7/1/02 | 7/18/02 | 9/5/02 | 1/8/03 | 2/16/03 | 2/27/03 | 1/12/05 | 2/8/05 | 2/12/05 | 2/17/05 | 3/5/05 | 4/4/07 | 1/20/04 | 3/3/04 | 4/30/04 | 4/28/04 | 5/6/04 | 5/7/04 | 5/17/04 | 5/20/04 | 5/26/04 | 6/1/04 | 6/10/04 | 6/22/04 | 6/25/04 | 6/30/04 | 9/25/04 | 10/7/04 | 10/28/04 | 11/23/04 | 11/26/04 | 1/6/09 | 1/10/09 | 1/17/09 | 1/18/09 | 1/31/09 | 2/4/09 | 2/10/09 | 2/11/09 | 12/10/08 | 12/18/08 | 12/17/08 | 12/21/08 | 12/30/08 |
| --- | --- | --- | --- | --- | --- | --- | --- | --- | --- | --- | --- | --- | --- | --- | --- | --- | --- | --- | --- | --- | --- | --- | --- | --- | --- | --- | --- | --- | --- | --- | --- | --- | --- | --- | --- | --- | --- | --- | --- | --- | --- | --- | --- | --- | --- | --- | --- | --- | --- | --- | --- | --- | --- | --- | --- | --- | --- | --- | --- | --- |
| 1 | RHAMBO CECIL | 100 | 0 | 0 | 0 | 0 | 0 | 0 | 0 | 0 | 0 | 0 | 0 | 0 | 0 | 100 | 0 | 0 | 0 | 0 | 0 | 0 | 0 | 0 | 0 | 0 | 0 | 0 | 0 | 500 | 0 | 0 | 0 | 0 | 0 | 0 | 100 | 0 | 0 | 0 | 0 | 0 | 0 | 0 | 0 | 0 | 0 | 0 | 250 | 0 | 0 | 0 | 0 | 0 | 0 | 250 | 0 | 0 | 0 | 0 |
| 2 | CASTRO RICHARD | 100 | 0 | 0 | 0 | 0 | 0 | 0 | 0 | 0 | 0 | 0 | 0 | 0 | 0 | 0 | 0 | 0 | 0 | 0 | 0 | 0 | 0 | 0 | 0 | 0 | 0 | 0 | 0 | 0 | 0 | 0 | 0 | 0 | 0 | 0 | 0 | 0 | 0 | 0 | 0 | 0 | 0 | 0 | 0 | 0 | 0 | 0 | 0 | 0 | 0 | 0 | 0 | 0 | 0 | 0 | 0 | 0 | 0 | 0 |
| 3 | BRAZILE KENNETH | 0 | 200 | 0 | 0 | 0 | 0 | 0 | 0 | 0 | 0 | 0 | 0 | 0 | 0 | 0 | 0 | 0 | 0 | 0 | 200 | 0 | 0 | 0 | 0 | 0 | 0 | 0 | 0 | 0 | 0 | 0 | 300 | 0 | 0 | 0 | 0 | 0 | 0 | 0 | 0 | 0 | 0 | 0 | 0 | 0 | 0 | 0 | 0 | 0 | 0 | 0 | 0 | 0 | 0 | 0 | 0 | 0 | 0 | 0 |
| 4 | HERRERA ARTHUR | 0 | 0 | 100 | 0 | 0 | 0 | 0 | 0 | 0 | 0 | 0 | 0 | 0 | 0 | 0 | 0 | 0 | 0 | 0 | 0 | 0 | 0 | 0 | 0 | 0 | 0 | 0 | 0 | 0 | 0 | 0 | 0 | 0 | 0 | 0 | 0 | 0 | 0 | 0 | 0 | 0 | 0 | 0 | 0 | 0 | 0 | 0 | 0 | 0 | 0 | 0 | 0 | 0 | 0 | 0 | 0 | 0 | 0 | 0 |
| 5 | DENDO MATHEW | 0 | 0 | 0 | 500 | 0 | 0 | 0 | 0 | 0 | 0 | 0 | 500 | 0 | 0 | 0 | 0 | 0 | 0 | 0 | 0 | 0 | 0 | 0 | 0 | 0 | 0 | 0 | 0 | 500 | 0 | 0 | 0 | 0 | 0 | 0 | 0 | 0 | 0 | 0 | 0 | 0 | 0 | 0 | 0 | 0 | 0 | 0 | 0 | 0 | 0 | 0 | 0 | 0 | 0 | 0 | 100 | 0 | 0 | 0 |
| 6 | AHN GREG | 0 | 0 | 0 | 0 | 250 | 0 | 0 | 0 | 0 | 0 | 0 | 0 | 0 | 0 | 100 | 0 | 0 | 0 | 0 | 0 | 0 | 0 | 0 | 0 | 0 | 0 | 0 | 0 | 0 | 0 | 0 | 0 | 0 | 0 | 0 | 100 | 0 | 0 | 0 | 0 | 0 | 0 | 0 | 0 | 0 | 0 | 0 | 0 | 0 | 0 | 0 | 0 | 0 | 0 | 0 | 0 | 0 | 0 | 0 |
| 7 | BRADY MATTHEW | 0 | 0 | 0 | 0 | 100 | 0 | 0 | 0 | 0 | 0 | 0 | 0 | 0 | 0 | 100 | 0 | 0 | 0 | 0 | 0 | 0 | 0 | 0 | 0 | 0 | 0 | 0 | 0 | 0 | 0 | 0 | 0 | 0 | 0 | 0 | 100 | 0 | 0 | 0 | 0 | 0 | 0 | 0 | 0 | 0 | 0 | 0 | 0 | 0 | 0 | 0 | 0 | 0 | 0 | 0 | 100 | 0 | 0 | 0 |
| 8 | CHASE BRUCE | 0 | 0 | 0 | 0 | 100 | 0 | 0 | 0 | 0 | 0 | 0 | 0 | 0 | 0 | 100 | 0 | 0 | 0 | 0 | 0 | 0 | 0 | 0 | 0 | 0 | 0 | 0 | 0 | 0 | 0 | 0 | 0 | 0 | 0 | 0 | 100 | 0 | 0 | 0 | 0 | 0 | 0 | 0 | 0 | 0 | 0 | 0 | 0 | 0 | 0 | 0 | 0 | 0 | 0 | 0 | 0 | 0 | 0 | 0 |
| 9 | CHOI ROLAND | 0 | 0 | 0 | 0 | 100 | 0 | 0 | 0 | 0 | 0 | 0 | 0 | 0 | 0 | 100 | 0 | 0 | 0 | 0 | 0 | 0 | 0 | 0 | 0 | 0 | 0 | 0 | 0 | 0 | 0 | 0 | 0 | 0 | 0 | 0 | 0 | 0 | 0 | 0 | 0 | 0 | 0 | 0 | 0 | 0 | 0 | 0 | 0 | 0 | 0 | 0 | 0 | 0 | 0 | 0 | 100 | 0 | 0 | 0 |
| 10 | GOMEZ PATRICK | 0 | 0 | 0 | 0 | 100 | 0 | 0 | 0 | 0 | 0 | 0 | 0 | 0 | 0 | 0 | 0 | 0 | 0 | 0 | 0 | 0 | 0 | 0 | 0 | 0 | 0 | 0 | 0 | 0 | 0 | 0 | 0 | 0 | 0 | 0 | 0 | 0 | 0 | 0 | 0 | 0 | 0 | 0 | 0 | 0 | 0 | 0 | 0 | 0 | 0 | 0 | 0 | 0 | 0 | 0 | 0 | 0 | 0 | 0 |
| 11 | KING MARC | 0 | 0 | 0 | 0 | 100 | 0 | 0 | 0 | 0 | 0 | 0 | 0 | 0 | 0 | 200 | 0 | 0 | 0 | 0 | 0 | 0 | 0 | 0 | 0 | 0 | 0 | 0 | 0 | 0 | 0 | 0 | 0 | 0 | 0 | 0 | 0 | 0 | 0 | 0 | 0 | 0 | 0 | 0 | 0 | 0 | 0 | 0 | 0 | 0 | 0 | 0 | 0 | 0 | 0 | 0 | 100 | 0 | 0 | 0 |
| 12 | MARTINEZ MICHAEL | 0 | 0 | 0 | 0 | 100 | 0 | 0 | 0 | 0 | 0 | 0 | 0 | 0 | 0 | 0 | 0 | 0 | 0 | 0 | 0 | 0 | 0 | 0 | 0 | 0 | 0 | 0 | 0 | 0 | 0 | 0 | 0 | 0 | 0 | 0 | 0 | 0 | 0 | 0 | 0 | 0 | 0 | 0 | 0 | 0 | 0 | 0 | 0 | 0 | 0 | 0 | 0 | 0 | 0 | 0 | 0 | 0 | 0 | 0 |
| 13 | SAKABU GEORGE | 0 | 0 | 0 | 0 | 100 | 0 | 0 | 0 | 0 | 0 | 0 | 0 | 0 | 0 | 100 | 0 | 0 | 0 | 0 | 0 | 0 | 0 | 0 | 0 | 0 | 0 | 0 | 0 | 0 | 0 | 0 | 0 | 0 | 0 | 0 | 0 | 0 | 0 | 0 | 0 | 0 | 0 | 0 | 0 | 0 | 0 | 0 | 0 | 0 | 0 | 0 | 0 | 0 | 0 | 0 | 0 | 0 | 0 | 0 |
| 14 | PERRY JEFFREY | 0 | 0 | 0 | 0 | 100 | 0 | 0 | 0 | 0 | 0 | 0 | 0 | 0 | 0 | 100 | 0 | 0 | 0 | 0 | 0 | 0 | 0 | 0 | 0 | 0 | 0 | 0 | 0 | 0 | 0 | 0 | 0 | 0 | 0 | 0 | 0 | 0 | 0 | 0 | 0 | 0 | 0 | 0 | 0 | 0 | 0 | 0 | 0 | 0 | 0 | 0 | 0 | 0 | 0 | 0 | 0 | 0 | 0 | 0 |
| 15 | RYKEN DALE | 0 | 0 | 0 | 0 | 100 | 0 | 0 | 0 | 0 | 0 | 0 | 0 | 0 | 0 | 0 | 0 | 0 | 0 | 0 | 0 | 0 | 0 | 0 | 0 | 0 | 0 | 0 | 0 | 0 | 0 | 0 | 0 | 0 | 0 | 0 | 0 | 0 | 0 | 0 | 0 | 0 | 0 | 0 | 0 | 0 | 0 | 0 | 0 | 0 | 0 | 0 | 0 | 0 | 0 | 0 | 0 | 0 | 0 | 0 |
| 16 | WALDIE LARRY | 0 | 0 | 0 | 0 | 0 | 100 | 0 | 0 | 0 | 0 | 0 | 0 | 0 | 0 | 100 | 0 | 100 | 0 | 0 | 0 | 0 | 0 | 0 | 0 | 0 | 0 | 0 | 0 | 0 | 0 | 0 | 0 | 0 | 0 | 0 | 0 | 0 | 0 | 0 | 0 | 0 | 0 | 0 | 0 | 0 | 0 | 0 | 0 | 0 | 0 | 0 | 0 | 0 | 0 | 0 | 0 | 0 | 0 | 0 |
| 17 | BERNER ARLENE | 0 | 0 | 0 | 0 | 0 | 0 | 200 | 0 | 0 | 0 | 0 | 0 | 0 | 0 | 0 | 0 | 0 | 0 | 0 | 0 | 0 | 0 | 0 | 0 | 0 | 0 | 0 | 0 | 0 | 0 | 0 | 0 | 0 | 0 | 0 | 0 | 0 | 0 | 0 | 0 | 0 | 0 | 0 | 0 | 0 | 0 | 0 | 0 | 0 | 0 | 0 | 0 | 0 | 0 | 0 | 0 | 0 | 0 | 0 |
| 18 | NEE CHRISTOPHER | 0 | 0 | 0 | 0 | 0 | 0 | 0 | 250 | 0 | 0 | 0 | 0 | 0 | 0 | 500 | 0 | 0 | 0 | 0 | 0 | 0 | 0 | 0 | 0 | 0 | 0 | 0 | 0 | 0 | 0 | 0 | 0 | 0 | 0 | 0 | 0 | 0 | 0 | 0 | 900 | 0 | 0 | 0 | 0 | 0 | 0 | 0 | 0 | 0 | 0 | 0 | 0 | 0 | 0 | 0 | 100 | 0 | 0 | 0 |
| 19 | BALDERRAMA LINDA | 0 | 0 | 0 | 0 | 0 | 0 | 0 | 0 | 100 | 0 | 0 | 0 | 0 | 0 | 0 | 0 | 0 | 0 | 0 | 0 | 0 | 0 | 0 | 0 | 0 | 0 | 0 | 0 | 0 | 0 | 0 | 0 | 0 | 0 | 0 | 0 | 0 | 0 | 0 | 0 | 0 | 0 | 0 | 0 | 0 | 0 | 0 | 0 | 0 | 0 | 0 | 0 | 0 | 0 | 0 | 0 | 0 | 0 | 0 |
| 20 | GOMEZ LAURA | 0 | 0 | 0 | 0 | 0 | 0 | 0 | 0 | 500 | 0 | 0 | 0 | 0 | 0 | 0 | 0 | 0 | 0 | 0 | 0 | 0 | 0 | 0 | 0 | 0 | 0 | 0 | 0 | 0 | 0 | 0 | 0 | 0 | 0 | 0 | 0 | 0 | 0 | 0 | 0 | 0 | 0 | 0 | 0 | 0 | 0 | 0 | 0 | 0 | 0 | 0 | 0 | 0 | 0 | 0 | 0 | 0 | 0 | 0 |
| 21 | IIDA JERRY | 0 | 0 | 0 | 0 | 0 | 0 | 0 | 0 | 0 | 100 | 0 | 0 | 0 | 0 | 0 | 0 | 0 | 0 | 0 | 0 | 0 | 0 | 0 | 0 | 0 | 0 | 0 | 0 | 0 | 0 | 0 | 0 | 0 | 0 | 0 | 0 | 0 | 0 | 0 | 0 | 0 | 0 | 0 | 0 | 0 | 0 | 0 | 0 | 0 | 0 | 0 | 0 | 0 | 0 | 0 | 100 | 0 | 0 | 0 |
| 22 | STONICH WILLIAM | 0 | 0 | 0 | 0 | 0 | 0 | 0 | 0 | 0 | 0 | 100 | 0 | 0 | 0 | 0 | 0 | 0 | 0 | 0 | 0 | 0 | 0 | 0 | 0 | 0 | 0 | 0 | 0 | 0 | 0 | 0 | 0 | 0 | 0 | 0 | 0 | 0 | 0 | 0 | 0 | 0 | 0 | 0 | 0 | 0 | 0 | 0 | 0 | 0 | 0 | 0 | 0 | 0 | 0 | 0 | 0 | 0 | 0 | 0 |
| 23 | COOPER TIMOTHY | 0 | 0 | 0 | 0 | 0 | 0 | 0 | 0 | 0 | 0 | 0 | 100 | 0 | 0 | 0 | 0 | 0 | 0 | 0 | 0 | 0 | 0 | 0 | 0 | 0 | 0 | 0 | 0 | 0 | 0 | 0 | 0 | 0 | 0 | 0 | 100 | 0 | 0 | 0 | 0 | 0 | 0 | 0 | 0 | 0 | 0 | 0 | 0 | 0 | 0 | 0 | 0 | 0 | 0 | 0 | 0 | 0 | 0 | 0 |
| 24 | COOPER HOWARD | 0 | 0 | 0 | 0 | 0 | 0 | 0 | 0 | 0 | 0 | 0 | 100 | 0 | 0 | 0 | 0 | 0 | 0 | 0 | 0 | 0 | 0 | 0 | 0 | 0 | 0 | 0 | 0 | 0 | 0 | 0 | 0 | 0 | 0 | 0 | 100 | 0 | 0 | 0 | 0 | 0 | 0 | 0 | 0 | 0 | 0 | 0 | 0 | 0 | 0 | 0 | 0 | 0 | 0 | 0 | 0 | 0 | 0 | 0 |
| 25 | HERNANDEZ EDUARDO | 0 | 0 | 0 | 0 | 0 | 0 | 0 | 0 | 0 | 0 | 0 | 100 | 0 | 0 | 0 | 0 | 0 | 0 | 0 | 0 | 0 | 0 | 0 | 0 | 0 | 0 | 0 | 0 | 0 | 0 | 0 | 0 | 0 | 0 | 0 | 0 | 0 | 0 | 0 | 0 | 0 | 0 | 0 | 0 | 0 | 0 | 0 | 0 | 0 | 0 | 0 | 0 | 0 | 0 | 100 | 0 | 0 | 0 | 0 |
| 26 | RECCHIA DOMENICK | 0 | 0 | 0 | 0 | 0 | 0 | 0 | 0 | 0 | 0 | 0 | 0 | 100 | 0 | 0 | 0 | 0 | 0 | 0 | 0 | 0 | 0 | 0 | 0 | 0 | 0 | 0 | 0 | 0 | 0 | 0 | 0 | 0 | 0 | 0 | 0 | 0 | 0 | 0 | 0 | 0 | 0 | 0 | 0 | 0 | 0 | 0 | 0 | 0 | 0 | 0 | 0 | 0 | 0 | 0 | 0 | 0 | 0 | 0 |
| 27 | AGUILAR VALERIE | 0 | 0 | 0 | 0 | 0 | 0 | 0 | 0 | 0 | 0 | 0 | 0 | 0 | 200 | 0 | 0 | 0 | 0 | 0 | 0 | 0 | 0 | 0 | 0 | 0 | 0 | 0 | 0 | 0 | 0 | 0 | 0 | 0 | 0 | 0 | 0 | 100 | 0 | 0 | 0 | 0 | 0 | 0 | 0 | 0 | 0 | 0 | 0 | 0 | 0 | 0 | 0 | 0 | 0 | 0 | 0 | 0 | 0 | 0 |
| 28 | TUBBS ROBERT | 0 | 0 | 0 | 0 | 0 | 0 | 0 | 0 | 0 | 0 | 0 | 0 | 0 | 0 | 100 | 0 | 0 | 0 | 0 | 0 | 0 | 0 | 0 | 0 | 0 | 0 | 0 | 0 | 0 | 0 | 0 | 0 | 0 | 0 | 0 | 0 | 0 | 0 | 0 | 0 | 0 | 0 | 0 | 0 | 0 | 0 | 0 | 100 | 0 | 0 | 0 | 0 | 0 | 0 | 0 | 0 | 0 | 0 | 0 |
| 29 | WALKER RAY | 0 | 0 | 0 | 0 | 0 | 0 | 0 | 0 | 0 | 0 | 0 | 0 | 0 | 0 | 100 | 0 | 0 | 0 | 0 | 0 | 0 | 0 | 0 | 0 | 0 | 0 | 0 | 0 | 0 | 0 | 0 | 0 | 0 | 0 | 0 | 0 | 0 | 0 | 0 | 0 | 0 | 0 | 0 | 0 | 0 | 0 | 0 | 0 | 0 | 0 | 0 | 0 | 0 | 0 | 0 | 0 | 0 | 0 | 0 |
| 30 | MAIER RICHARD | 0 | 0 | 0 | 0 | 0 | 0 | 0 | 0 | 0 | 0 | 0 | 0 | 0 | 0 | 100 | 0 | 0 | 0 | 0 | 0 | 0 | 0 | 0 | 0 | 0 | 0 | 0 | 0 | 0 | 0 | 0 | 0 | 0 | 0 | 0 | 0 | 0 | 0 | 0 | 0 | 0 | 0 | 0 | 0 | 0 | 0 | 0 | 0 | 0 | 0 | 0 | 0 | 0 | 0 | 0 | 0 | 0 | 0 | 0 |
| 31 | RADELEFF JOHN | 0 | 0 | 0 | 0 | 0 | 0 | 0 | 0 | 0 | 0 | 0 | 0 | 0 | 0 | 100 | 0 | 0 | 0 | 0 | 0 | 0 | 0 | 0 | 0 | 0 | 0 | 0 | 0 | 0 | 0 | 0 | 0 | 0 | 0 | 0 | 0 | 0 | 0 | 0 | 0 | 0 | 0 | 0 | 0 | 0 | 0 | 0 | 0 | 0 | 0 | 0 | 0 | 0 | 0 | 0 | 0 | 0 | 0 | 0 |
| 32 | COTTER WILLIAM | 0 | 0 | 0 | 0 | 0 | 0 | 0 | 0 | 0 | 0 | 0 | 0 | 0 | 0 | 100 | 0 | 0 | 0 | 0 | 0 | 0 | 0 | 0 | 0 | 0 | 0 | 0 | 0 | 0 | 0 | 0 | 0 | 0 | 0 | 0 | 100 | 0 | 0 | 0 | 0 | 0 | 0 | 0 | 0 | 0 | 0 | 0 | 0 | 0 | 0 | 0 | 0 | 0 | 0 | 0 | 0 | 0 | 0 | 0 |
| 33 | KENYON MICHAEL | 0 | 0 | 0 | 0 | 0 | 0 | 0 | 0 | 0 | 0 | 0 | 0 | 0 | 0 | 100 | 0 | 0 | 0 | 0 | 0 | 0 | 0 | 0 | 0 | 0 | 0 | 0 | 0 | 0 | 0 | 0 | 0 | 0 | 0 | 0 | 0 | 0 | 0 | 0 | 0 | 0 | 0 | 0 | 0 | 0 | 0 | 0 | 0 | 0 | 0 | 0 | 0 | 0 | 0 | 0 | 0 | 0 | 0 | 0 |
| 34 | BLOW ROOSEVELT | 0 | 0 | 0 | 0 | 0 | 0 | 0 | 0 | 0 | 0 | 0 | 0 | 0 | 0 | 100 | 0 | 0 | 0 | 0 | 0 | 0 | 0 | 0 | 0 | 0 | 0 | 0 | 0 | 0 | 0 | 300 | 0 | 0 | 0 | 0 | 0 | 0 | 0 | 0 | 0 | 0 | 0 | 0 | 0 | 0 | 0 | 0 | 0 | 0 | 0 | 0 | 0 | 0 | 0 | 0 | 0 | 0 | 0 | 0 |
| 35 | SIRKEL THOMAS | 0 | 0 | 0 | 0 | 0 | 0 | 0 | 0 | 0 | 0 | 0 | 0 | 0 | 0 | 100 | 0 | 0 | 0 | 0 | 0 | 0 | 0 | 0 | 0 | 0 | 0 | 0 | 0 | 0 | 0 | 0 | 0 | 0 | 0 | 0 | 100 | 0 | 0 | 0 | 0 | 0 | 0 | 0 | 0 | 0 | 0 | 0 | 0 | 0 | 0 | 0 | 0 | 0 | 0 | 0 | 0 | 0 | 0 | 0 |
| 36 | JUDGE TERRENCE | 0 | 0 | 0 | 0 | 0 | 0 | 0 | 0 | 0 | 0 | 0 | 0 | 0 | 0 | 100 | 0 | 0 | 0 | 0 | 0 | 0 | 0 | 0 | 0 | 0 | 0 | 0 | 0 | 0 | 0 | 0 | 0 | 0 | 0 | 0 | 0 | 0 | 0 | 0 | 0 | 0 | 0 | 0 | 0 | 0 | 0 | 0 | 0 | 0 | 0 | 0 | 0 | 0 | 0 | 0 | 0 | 0 | 0 | 0 |
| 37 | KOPPERUD SUSAN | 0 | 0 | 0 | 0 | 0 | 0 | 0 | 0 | 0 | 0 | 0 | 0 | 0 | 0 | 100 | 0 | 0 | 0 | 0 | 0 | 0 | 0 | 0 | 0 | 0 | 0 | 0 | 0 | 200 | 0 | 0 | 0 | 0 | 0 | 0 | 0 | 0 | 0 | 0 | 0 | 0 | 0 | 0 | 0 | 0 | 0 | 0 | 0 | 0 | 0 | 0 | 0 | 0 | 0 | 0 | 0 | 0 | 0 | 0 |
| 38 | STEPHEN JOSEPH | 0 | 0 | 0 | 0 | 0 | 0 | 0 | 0 | 0 | 0 | 0 | 0 | 0 | 0 | 100 | 0 | 0 | 0 | 0 | 0 | 0 | 0 | 0 | 0 | 0 | 0 | 0 | 0 | 250 | 0 | 0 | 0 | 0 | 0 | 0 | 0 | 0 | 0 | 0 | 0 | 100 | 0 | 0 | 0 | 0 | 0 | 150 | 0 | 0 | 0 | 0 | 0 | 0 | 0 | 0 | 250 | 0 | 0 | 0 |
| 39 | FENDER DAVID | 0 | 0 | 0 | 0 | 0 | 0 | 0 | 0 | 0 | 0 | 0 | 0 | 0 | 0 | 100 | 0 | 0 | 0 | 0 | 0 | 0 | 0 | 0 | 0 | 0 | 0 | 0 | 0 | 500 | 0 | 0 | 0 | 0 | 0 | 0 | 0 | 0 | 0 | 0 | 0 | 0 | 0 | 0 | 0 | 0 | 0 | 0 | 0 | 0 | 0 | 0 | 0 | 0 | 0 | 0 | 0 | 0 | 0 | 0 |
| 40 | SMITH MICHAEL | 0 | 0 | 0 | 0 | 0 | 0 | 0 | 0 | 0 | 0 | 0 | 0 | 0 | 0 | 100 | 0 | 0 | 0 | 0 | 0 | 0 | 0 | 0 | 0 | 0 | 0 | 0 | 0 | 250 | 0 | 0 | 0 | 0 | 0 | 0 | 0 | 0 | 0 | 0 | 0 | 0 | 0 | 0 | 0 | 0 | 0 | 0 | 0 | 0 | 0 | 0 | 0 | 0 | 0 | 0 | 0 | 0 | 0 | 0 |
| 41 | EWELL HELEN | 0 | 0 | 0 | 0 | 0 | 0 | 0 | 0 | 0 | 0 | 0 | 0 | 0 | 0 | 100 | 0 | 0 | 0 | 0 | 0 | 0 | 0 | 0 | 0 | 0 | 0 | 0 | 0 | 0 | 0 | 0 | 0 | 0 | 0 | 0 | 0 | 0 | 0 | 0 | 0 | 0 | 0 | 0 | 0 | 0 | 0 | 0 | 0 | 0 | 0 | 0 | 0 | 0 | 0 | 0 | 200 | 0 | 0 | 0 |
| 42 | CARROLL SONIA | 0 | 0 | 0 | 0 | 0 | 0 | 0 | 0 | 0 | 0 | 0 | 0 | 0 | 0 | 100 | 0 | 0 | 0 | 0 | 0 | 0 | 0 | 0 | 0 | 0 | 0 | 0 | 0 | 0 | 0 | 0 | 0 | 0 | 0 | 0 | 0 | 0 | 0 | 0 | 0 | 0 | 0 | 0 | 0 | 0 | 0 | 0 | 0 | 0 | 0 | 0 | 0 | 0 | 0 | 0 | 0 | 0 | 0 | 0 |
| 43 | PROPSTER STEVEN | 0 | 0 | 0 | 0 | 0 | 0 | 0 | 0 | 0 | 0 | 0 | 0 | 0 | 0 | 100 | 0 | 0 | 0 | 0 | 0 | 0 | 0 | 0 | 0 | 0 | 0 | 0 | 0 | 0 | 0 | 0 | 0 | 0 | 0 | 0 | 0 | 0 | 0 | 0 | 0 | 0 | 0 | 0 | 0 | 0 | 0 | 0 | 0 | 0 | 0 | 0 | 0 | 0 | 0 | 0 | 0 | 0 | 0 | 0 |
| 44 | THOMPSON GREG | 0 | 0 | 0 | 0 | 0 | 0 | 0 | 0 | 0 | 0 | 0 | 0 | 0 | 0 | 100 | 0 | 0 | 0 | 0 | 0 | 0 | 0 | 0 | 0 | 0 | 0 | 0 | 0 | 0 | 0 | 0 | 0 | 0 | 0 | 0 | 100 | 0 | 0 | 0 | 0 | 0 | 0 | 0 | 0 | 0 | 0 | 0 | 0 | 0 | 0 | 0 | 0 | 0 | 0 | 0 | 0 | 0 | 0 | 0 |
| 45 | BURT THOMAS | 0 | 0 | 0 | 0 | 0 | 0 | 0 | 0 | 0 | 0 | 0 | 0 | 0 | 0 | 100 | 0 | 0 | 0 | 0 | 0 | 0 | 0 | 0 | 0 | 0 | 0 | 0 | 0 | 0 | 0 | 0 | 0 | 0 | 0 | 0 | 0 | 0 | 0 | 0 | 0 | 0 | 0 | 0 | 0 | 0 | 0 | 0 | 0 | 0 | 0 | 0 | 0 | 0 | 0 | 0 | 0 | 0 | 0 | 0 |
| 46 | NORRIS ROBERT | 0 | 0 | 0 | 0 | 0 | 0 | 0 | 0 | 0 | 0 | 0 | 0 | 0 | 0 | 600 | 0 | 0 | 0 | 0 | 0 | 0 | 0 | 0 | 0 | 0 | 0 | 0 | 0 | 0 | 0 | 0 | 0 | 0 | 0 | 0 | 0 | 0 | 0 | 0 | 0 | 0 | 0 | 0 | 0 | 0 | 0 | 0 | 0 | 0 | 0 | 0 | 0 | 0 | 0 | 0 | 0 | 0 | 0 | 0 |
| 47 | GONZALEZ ANSELMO | 0 | 0 | 0 | 0 | 0 | 0 | 0 | 0 | 0 | 0 | 0 | 0 | 0 | 0 | 200 | 0 | 0 | 0 | 0 | 0 | 0 | 0 | 0 | 0 | 0 | 0 | 0 | 0 | 0 | 0 | 0 | 0 | 0 | 0 | 0 | 0 | 0 | 0 | 0 | 0 | 0 | 0 | 0 | 0 | 0 | 0 | 0 | 0 | 0 | 0 | 100 | 0 | 0 | 0 | 0 | 0 | 0 | 0 | 0 |
| 48 | ORTIZ MICHAEL | 0 | 0 | 0 | 0 | 0 | 0 | 0 | 0 | 0 | 0 | 0 | 0 | 0 | 0 | 200 | 0 | 0 | 0 | 0 | 0 | 0 | 0 | 0 | 0 | 0 | 0 | 0 | 0 | 0 | 0 | 0 | 0 | 0 | 0 | 0 | 0 | 0 | 0 | 0 | 0 | 0 | 0 | 0 | 0 | 0 | 0 | 0 | 0 | 0 | 0 | 0 | 0 | 0 | 0 | 0 | 0 | 0 | 0 | 0 |
| 49 | FOISNER LEO | 0 | 0 | 0 | 0 | 0 | 0 | 0 | 0 | 0 | 0 | 0 | 0 | 0 | 0 | 100 | 0 | 0 | 0 | 0 | 0 | 0 | 0 | 0 | 0 | 0 | 0 | 0 | 0 | 0 | 0 | 0 | 0 | 0 | 0 | 0 | 100 | 0 | 0 | 0 | 0 | 0 | 0 | 0 | 0 | 0 | 0 | 0 | 0 | 0 | 0 | 0 | 0 | 0 | 0 | 0 | 0 | 0 | 0 | 0 |
| 50 | DEL MESSE LAWRENCE | 0 | 0 | 0 | 0 | 0 | 0 | 0 | 0 | 0 | 0 | 0 | 0 | 0 | 0 | 100 | 0 | 0 | 0 | 0 | 0 | 0 | 0 | 0 | 0 | 0 | 0 | 0 | 0 | 0 | 0 | 0 | 0 | 0 | 0 | 0 | 0 | 0 | 0 | 0 | 0 | 0 | 0 | 0 | 0 | 0 | 0 | 0 | 0 | 0 | 0 | 0 | 0 | 0 | 0 | 0 | 0 | 0 | 0 | 0 |
| 51 | NORTON LEO | 0 | 0 | 0 | 0 | 0 | 0 | 0 | 0 | 0 | 0 | 0 | 0 | 0 | 0 | 100 | 0 | 0 | 0 | 0 | 0 | 0 | 0 | 0 | 0 | 0 | 0 | 0 | 0 | 0 | 0 | 0 | 0 | 0 | 0 | 0 | 0 | 0 | 0 | 0 | 0 | 0 | 0 | 0 | 0 | 0 | 0 | 0 | 0 | 0 | 0 | 0 | 0 | 0 | 0 | 0 | 0 | 0 | 0 | 0 |
| 52 | LA BERGE JACQUES | 0 | 0 | 0 | 0 | 0 | 0 | 0 | 0 | 0 | 0 | 0 | 0 | 0 | 0 | 100 | 0 | 0 | 0 | 0 | 0 | 0 | 0 | 0 | 0 | 0 | 0 | 0 | 0 | 0 | 0 | 0 | 0 | 0 | 0 | 0 | 0 | 0 | 0 | 0 | 0 | 100 | 0 | 0 | 0 | 0 | 0 | 0 | 0 | 0 | 0 | 0 | 0 | 0 | 0 | 0 | 0 | 0 | 0 | 0 |
| 53 | BERUMEN GEORGE | 0 | 0 | 0 | 0 | 0 | 0 | 0 | 0 | 0 | 0 | 0 | 0 | 0 | 0 | 100 | 0 | 0 | 0 | 0 | 0 | 0 | 0 | 0 | 0 | 0 | 0 | 0 | 0 | 0 | 0 | 0 | 0 | 0 | 0 | 0 | 0 | 0 | 0 | 0 | 0 | 0 | 0 | 0 | 0 | 0 | 0 | 0 | 0 | 0 | 0 | 0 | 0 | 0 | 0 | 0 | 0 | 0 | 0 | 0 |
| 54 | NAGAOKA MICHAEL | 0 | 0 | 0 | 0 | 0 | 0 | 0 | 0 | 0 | 0 | 0 | 0 | 0 | 0 | 100 | 0 | 0 | 0 | 0 | 0 | 0 | 0 | 0 | 0 | 0 | 0 | 0 | 0 | 0 | 0 | 0 | 0 | 0 | 0 | 0 | 0 | 0 | 0 | 0 | 0 | 0 | 0 | 0 | 0 | 0 | 0 | 0 | 0 | 0 | 0 | 0 | 0 | 0 | 0 | 0 | 0 | 0 | 0 | 0 |
| 55 | DENNY PAUL | 0 | 0 | 0 | 0 | 0 | 0 | 0 | 0 | 0 | 0 | 0 | 0 | 0 | 0 | 100 | 0 | 0 | 0 | 0 | 0 | 0 | 0 | 0 | 0 | 0 | 0 | 0 | 0 | 0 | 0 | 0 | 0 | 0 | 0 | 0 | 0 | 0 | 0 | 0 | 0 | 0 | 0 | 0 | 0 | 0 | 0 | 0 | 0 | 0 | 0 | 0 | 0 | 0 | 0 | 0 | 0 | 0 | 0 | 0 |
| 56 | ILDA JERRY | 0 | 0 | 0 | 0 | 0 | 0 | 0 | 0 | 0 | 0 | 0 | 0 | 0 | 0 | 100 | 0 | 0 | 0 | 0 | 0 | 0 | 0 | 0 | 0 | 0 | 0 | 0 | 0 | 0 | 0 | 0 | 0 | 0 | 0 | 0 | 0 | 0 | 0 | 0 | 0 | 0 | 0 | 0 | 0 | 0 | 0 | 0 | 0 | 0 | 0 | 0 | 0 | 0 | 0 | 0 | 0 | 0 | 0 | 0 |
| 57 | HEREK MICHAEL | 0 | 0 | 0 | 0 | 0 | 0 | 0 | 0 | 0 | 0 | 0 | 0 | 0 | 0 | 100 | 0 | 0 | 0 | 0 | 0 | 0 | 0 | 0 | 0 | 0 | 0 | 0 | 0 | 0 | 0 | 0 | 0 | 0 | 0 | 0 | 0 | 0 | 0 | 0 | 0 | 0 | 0 | 0 | 0 | 0 | 0 | 0 | 0 | 0 | 0 | 0 | 0 | 0 | 0 | 0 | 0 | 0 | 0 | 0 |
| 58 | TRUJILLO MYKEL | 0 | 0 | 0 | 0 | 0 | 0 | 0 | 0 | 0 | 0 | 0 | 0 | 0 | 0 | 100 | 0 | 0 | 0 | 0 | 0 | 0 | 0 | 0 | 0 | 0 | 0 | 0 | 0 | 0 | 0 | 0 | 0 | 0 | 0 | 0 | 0 | 0 | 0 | 0 | 0 | 0 | 0 | 0 | 0 | 0 | 0 | 0 | 0 | 0 | 0 | 0 | 0 | 0 | 0 | 0 | 0 | 0 | 0 | 0 |
| 59 | HELLMOLD JAMES | 0 | 0 | 0 | 0 | 0 | 0 | 0 | 0 | 0 | 0 | 0 | 0 | 0 | 0 | 200 | 0 | 0 | 0 | 0 | 0 | 0 | 0 | 0 | 0 | 0 | 0 | 250 | 0 | 0 | 0 | 0 | 0 | 0 | 0 | 0 | 0 | 0 | 0 | 0 | 0 | 0 | 0 | 0 | 0 | 0 | 0 | 0 | 0 | 0 | 0 | 0 | 0 | 0 | 0 | 0 | 100 | 0 | 0 | 0 |
| 60 | WATERS DAVID | 0 | 0 | 0 | 0 | 0 | 0 | 0 | 0 | 0 | 0 | 0 | 0 | 0 | 0 | 100 | 0 | 0 | 0 | 0 | 0 | 0 | 0 | 0 | 0 | 0 | 0 | 0 | 0 | 0 | 0 | 0 | 0 | 0 | 0 | 0 | 0 | 0 | 0 | 0 | 0 | 0 | 0 | 0 | 0 | 0 | 0 | 0 | 500 | 0 | 0 | 0 | 0 | 0 | 0 | 0 | 0 | 0 | 0 | 0 |
| 61 | WAGNER RODNEY | 0 | 0 | 0 | 0 | 0 | 0 | 0 | 0 | 0 | 0 | 0 | 0 | 0 | 0 | 100 | 0 | 0 | 0 | 0 | 0 | 0 | 0 | 0 | 0 | 0 | 0 | 0 | 0 | 0 | 0 | 0 | 0 | 0 | 0 | 0 | 0 | 0 | 0 | 0 | 0 | 0 | 0 | 0 | 0 | 0 | 0 | 0 | 0 | 0 | 0 | 0 | 0 | 0 | 0 | 0 | 0 | 0 | 0 | 0 |
| 62 | AUNER DAVID | 0 | 0 | 0 | 0 | 0 | 0 | 0 | 0 | 0 | 0 | 0 | 0 | 0 | 0 | 100 | 0 | 0 | 0 | 0 | 0 | 0 | 0 | 0 | 0 | 0 | 0 | 0 | 0 | 0 | 0 | 0 | 0 | 0 | 0 | 0 | 100 | 0 | 0 | 0 | 0 | 0 | 0 | 0 | 0 | 0 | 0 | 0 | 0 | 0 | 0 | 0 | 0 | 0 | 0 | 200 | 0 | 0 | 0 | 0 |
| 63 | ROTH LINDA | 0 | 0 | 0 | 0 | 0 | 0 | 0 | 0 | 0 | 0 | 0 | 0 | 0 | 0 | 100 | 0 | 0 | 0 | 0 | 0 | 0 | 0 | 0 | 0 | 0 | 0 | 0 | 0 | 0 | 0 | 0 | 0 | 0 | 0 | 0 | 0 | 0 | 0 | 0 | 0 | 0 | 0 | 0 | 0 | 0 | 0 | 0 | 0 | 0 | 0 | 0 | 0 | 0 | 0 | 0 | 0 | 0 | 0 | 0 |
| 64 | CARRILLO GILBERT | 0 | 0 | 0 | 0 | 0 | 0 | 0 | 0 | 0 | 0 | 0 | 0 | 0 | 0 | 100 | 0 | 0 | 0 | 0 | 0 | 0 | 0 | 0 | 0 | 0 | 0 | 0 | 0 | 0 | 0 | 0 | 0 | 0 | 0 | 0 | 100 | 0 | 0 | 0 | 0 | 0 | 100 | 0 | 0 | 0 | 0 | 0 | 0 | 0 | 0 | 0 | 0 | 0 | 0 | 0 | 0 | 0 | 0 | 0 |
| 65 | FINKELSTEIN DANIEL | 0 | 0 | 0 | 0 | 0 | 0 | 0 | 0 | 0 | 0 | 0 | 0 | 0 | 0 | 100 | 0 | 0 | 0 | 0 | 0 | 0 | 0 | 0 | 0 | 0 | 0 | 0 | 0 | 0 | 0 | 0 | 0 | 0 | 0 | 0 | 0 | 0 | 0 | 0 | 0 | 0 | 0 | 0 | 0 | 0 | 0 | 0 | 0 | 0 | 0 | 0 | 0 | 0 | 0 | 0 | 0 | 0 | 0 | 0 |
| 66 | CHRISTIANSEN JENNY | 0 | 0 | 0 | 0 | 0 | 0 | 0 | 0 | 0 | 0 | 0 | 0 | 0 | 0 | 100 | 0 | 0 | 0 | 0 | 0 | 0 | 0 | 0 | 0 | 0 | 0 | 0 | 0 | 0 | 0 | 0 | 0 | 0 | 0 | 0 | 0 | 0 | 0 | 0 | 0 | 0 | 0 | 0 | 0 | 0 | 0 | 0 | 0 | 0 | 0 | 0 | 0 | 0 | 0 | 0 | 0 | 0 | 0 | 0 |
| 67 | JORDAN JACK | 0 | 0 | 0 | 0 | 0 | 0 | 0 | 0 | 0 | 0 | 0 | 0 | 0 | 0 | 100 | 0 | 0 | 0 | 0 | 0 | 0 | 0 | 0 | 0 | 0 | 0 | 0 | 0 | 500 | 0 | 0 | 0 | 0 | 0 | 0 | 0 | 0 | 0 | 0 | 0 | 0 | 0 | 0 | 0 | 0 | 0 | 0 | 0 | 0 | 0 | 0 | 0 | 0 | 0 | 0 | 200 | 0 | 0 | 0 |
| 68 | POLLACK BRUCE | 0 | 0 | 0 | 0 | 0 | 0 | 0 | 0 | 0 | 0 | 0 | 0 | 0 | 0 | 100 | 0 | 0 | 0 | 0 | 0 | 0 | 0 | 0 | 0 | 0 | 0 | 0 | 0 | 500 | 0 | 0 | 0 | 0 | 0 | 0 | 0 | 0 | 0 | 0 | 0 | 0 | 0 | 0 | 0 | 0 | 0 | 0 | 0 | 0 | 0 | 0 | 0 | 0 | 0 | 0 | 0 | 0 | 0 | 0 |
| 69 | JONSEN ROBERT | 0 | 0 | 0 | 0 | 0 | 0 | 0 | 0 | 0 | 0 | 0 | 0 | 0 | 0 | 100 | 0 | 0 | 0 | 0 | 0 | 0 | 0 | 0 | 0 | 0 | 0 | 0 | 0 | 0 | 0 | 0 | 0 | 0 | 0 | 0 | 100 | 0 | 0 | 0 | 0 | 0 | 0 | 0 | 0 | 0 | 0 | 0 | 0 | 0 | 0 | 0 | 0 | 0 | 0 | 0 | 0 | 0 | 0 | 0 |
| 70 | GUYOVICH CHRISTY | 0 | 0 | 0 | 0 | 0 | 0 | 0 | 0 | 0 | 0 | 0 | 0 | 0 | 0 | 100 | 0 | 0 | 0 | 0 | 0 | 0 | 0 | 0 | 0 | 0 | 0 | 0 | 0 | 0 | 0 | 0 | 0 | 0 | 0 | 0 | 200 | 0 | 0 | 0 | 0 | 0 | 0 | 0 | 0 | 0 | 0 | 0 | 0 | 0 | 0 | 0 | 0 | 0 | 0 | 300 | 0 | 0 | 0 | 0 |
| 71 | SHAW RICHARD | 0 | 0 | 0 | 0 | 0 | 0 | 0 | 0 | 0 | 0 | 0 | 0 | 0 | 0 | 100 | 0 | 0 | 0 | 0 | 0 | 0 | 0 | 0 | 0 | 0 | 0 | 0 | 0 | 500 | 0 | 0 | 0 | 0 | 0 | 0 | 0 | 0 | 0 | 0 | 0 | 0 | 0 | 0 | 0 | 0 | 0 | 0 | 0 | 0 | 0 | 0 | 0 | 0 | 0 | 0 | 0 | 0 | 0 | 0 |
| 72 | WEBB RALPH | 0 | 0 | 0 | 0 | 0 | 0 | 0 | 0 | 0 | 0 | 0 | 0 | 0 | 0 | 100 | 0 | 0 | 0 | 0 | 0 | 0 | 0 | 0 | 0 | 0 | 0 | 0 | 0 | 0 | 0 | 0 | 0 | 0 | 0 | 0 | 100 | 0 | 0 | 0 | 0 | 0 | 0 | 0 | 0 | 0 | 0 | 0 | 0 | 0 | 0 | 0 | 0 | 0 | 0 | 0 | 0 | 0 | 0 | 0 |
| 73 | COATES JEFFREY | 0 | 0 | 0 | 0 | 0 | 0 | 0 | 0 | 0 | 0 | 0 | 0 | 0 | 0 | 350 | 0 | 0 | 0 | 0 | 0 | 0 | 0 | 0 | 0 | 0 | 0 | 0 | 0 | 0 | 0 | 0 | 0 | 0 | 0 | 0 | 600 | 0 | 0 | 0 | 0 | 0 | 0 | 0 | 0 | 0 | 0 | 0 | 0 | 0 | 0 | 0 | 0 | 0 | 0 | 0 | 0 | 0 | 0 | 200 |
| 74 | WAIDNER DANIEL | 0 | 0 | 0 | 0 | 0 | 0 | 0 | 0 | 0 | 0 | 0 | 0 | 0 | 0 | 100 | 0 | 0 | 0 | 0 | 0 | 0 | 0 | 0 | 0 | 0 | 0 | 0 | 0 | 0 | 0 | 0 | 0 | 0 | 0 | 0 | 0 | 0 | 0 | 0 | 0 | 0 | 0 | 0 | 0 | 0 | 0 | 0 | 0 | 0 | 0 | 0 | 0 | 0 | 0 | 0 | 0 | 0 | 0 | 0 |
| 75 | BISSMAN SUSAN | 0 | 0 | 0 | 0 | 0 | 0 | 0 | 0 | 0 | 0 | 0 | 0 | 0 | 0 | 100 | 0 | 0 | 0 | 0 | 0 | 0 | 0 | 0 | 0 | 0 | 0 | 0 | 0 | 0 | 0 | 0 | 0 | 0 | 0 | 0 | 0 | 0 | 0 | 0 | 0 | 0 | 0 | 0 | 0 | 0 | 0 | 0 | 0 | 0 | 0 | 0 | 0 | 0 | 0 | 0 | 0 | 0 | 0 | 0 |
| 76 | SHIELDS EARL | 0 | 0 | 0 | 0 | 0 | 0 | 0 | 0 | 0 | 0 | 0 | 0 | 0 | 0 | 100 | 0 | 0 | 0 | 0 | 0 | 0 | 0 | 0 | 0 | 0 | 0 | 0 | 0 | 300 | 0 | 0 | 0 | 0 | 0 | 0 | 0 | 0 | 0 | 0 | 0 | 0 | 0 | 0 | 0 | 0 | 0 | 0 | 0 | 0 | 0 | 0 | 0 | 0 | 0 | 300 | 0 | 0 | 0 | 0 |
| 77 | JOHNSON KENNETH | 0 | 0 | 0 | 0 | 0 | 0 | 0 | 0 | 0 | 0 | 0 | 0 | 0 | 0 | 100 | 0 | 0 | 0 | 0 | 0 | 0 | 0 | 0 | 0 | 0 | 0 | 0 | 0 | 0 | 0 | 0 | 0 | 0 | 0 | 0 | 0 | 0 | 0 | 0 | 0 | 0 | 0 | 0 | 0 | 0 | 0 | 0 | 0 | 0 | 0 | 0 | 0 | 0 | 0 | 0 | 0 | 0 | 0 | 0 |
| 78 | CLAY VICTOR | 0 | 0 | 0 | 0 | 0 | 0 | 0 | 0 | 0 | 0 | 0 | 0 | 0 | 0 | 100 | 0 | 0 | 0 | 0 | 0 | 0 | 0 | 0 | 0 | 0 | 0 | 0 | 0 | 0 | 0 | 0 | 0 | 0 | 0 | 0 | 0 | 0 | 0 | 0 | 0 | 0 | 0 | 0 | 0 | 0 | 0 | 0 | 0 | 0 | 0 | 0 | 0 | 0 | 0 | 0 | 0 | 0 | 0 | 0 |
| 79 | MARTIN WILLIAM | 0 | 0 | 0 | 0 | 0 | 0 | 0 | 0 | 0 | 0 | 0 | 0 | 0 | 0 | 100 | 0 | 0 | 0 | 0 | 0 | 0 | 0 | 0 | 0 | 0 | 0 | 0 | 0 | 100 | 0 | 0 | 0 | 0 | 0 | 0 | 0 | 0 | 0 | 0 | 0 | 0 | 0 | 0 | 0 | 0 | 0 | 0 | 0 | 0 | 0 | 0 | 0 | 0 | 0 | 0 | 0 | 0 | 0 | 0 |
| 80 | COTWRIGHT RICARDO | 0 | 0 | 0 | 0 | 0 | 0 | 0 | 0 | 0 | 0 | 0 | 0 | 0 | 0 | 100 | 0 | 0 | 0 | 0 | 0 | 0 | 0 | 0 | 0 | 0 | 0 | 0 | 0 | 0 | 0 | 0 | 0 | 0 | 0 | 0 | 0 | 0 | 0 | 0 | 0 | 0 | 0 | 0 | 0 | 0 | 0 | 0 | 0 | 0 | 0 | 0 | 0 | 0 | 0 | 0 | 0 | 0 | 0 | 0 |
| 81 | MACNAIR DAVID | 0 | 0 | 0 | 0 | 0 | 0 | 0 | 0 | 0 | 0 | 0 | 0 | 0 | 0 | 100 | 0 | 0 | 0 | 0 | 0 | 0 | 0 | 0 | 0 | 0 | 0 | 0 | 0 | 0 | 0 | 0 | 0 | 0 | 0 | 0 | 0 | 0 | 0 | 0 | 0 | 0 | 0 | 0 | 0 | 0 | 0 | 0 | 0 | 0 | 0 | 0 | 0 | 0 | 0 | 0 | 0 | 0 | 0 | 0 |
| 82 | ANDERSON CRAIG | 0 | 0 | 0 | 0 | 0 | 0 | 0 | 0 | 0 | 0 | 0 | 0 | 0 | 0 | 500 | 0 | 0 | 0 | 0 | 0 | 0 | 0 | 0 | 0 | 0 | 0 | 0 | 0 | 0 | 0 | 0 | 0 | 0 | 0 | 0 | 100 | 0 | 0 | 0 | 0 | 0 | 0 | 0 | 0 | 0 | 0 | 0 | 0 | 0 | 0 | 0 | 0 | 0 | 0 | 0 | 0 | 0 | 0 | 0 |
| 83 | RECTOR RICK | 0 | 0 | 0 | 0 | 0 | 0 | 0 | 0 | 0 | 0 | 0 | 0 | 0 | 0 | 100 | 0 | 0 | 0 | 0 | 0 | 0 | 0 | 0 | 0 | 0 | 0 | 0 | 0 | 0 | 0 | 0 | 0 | 0 | 0 | 0 | 100 | 0 | 0 | 0 | 0 | 0 | 0 | 0 | 0 | 0 | 0 | 0 | 0 | 0 | 0 | 0 | 0 | 0 | 0 | 0 | 0 | 0 | 0 | 0 |
| 84 | MATSUMOTO MICKEY | 0 | 0 | 0 | 0 | 0 | 0 | 0 | 0 | 0 | 0 | 0 | 0 | 0 | 0 | 100 | 0 | 0 | 0 | 0 | 0 | 0 | 0 | 0 | 0 | 0 | 0 | 0 | 0 | 0 | 0 | 0 | 0 | 0 | 0 | 0 | 0 | 0 | 0 | 0 | 0 | 0 | 0 | 0 | 0 | 0 | 0 | 0 | 0 | 0 | 0 | 0 | 0 | 0 | 0 | 0 | 100 | 0 | 0 | 0 |
| 85 | RITENOUR JAMES | 0 | 0 | 0 | 0 | 0 | 0 | 0 | 0 | 0 | 0 | 0 | 0 | 0 | 0 | 100 | 0 | 0 | 0 | 0 | 0 | 0 | 0 | 0 | 0 | 0 | 0 | 0 | 0 | 100 | 0 | 0 | 0 | 0 | 0 | 0 | 0 | 0 | 0 | 0 | 0 | 0 | 0 | 0 | 0 | 0 | 0 | 0 | 0 | 0 | 0 | 0 | 0 | 0 | 0 | 0 | 100 | 0 | 0 | 0 |
| 86 | RAMPONE CYNTHIA | 0 | 0 | 0 | 0 | 0 | 0 | 0 | 0 | 0 | 0 | 0 | 0 | 0 | 0 | 100 | 0 | 0 | 0 | 0 | 0 | 0 | 0 | 0 | 0 | 0 | 0 | 0 | 0 | 0 | 0 | 0 | 0 | 0 | 0 | 0 | 0 | 0 | 0 | 0 | 0 | 0 | 0 | 0 | 0 | 0 | 0 | 0 | 0 | 0 | 0 | 0 | 0 | 0 | 0 | 0 | 0 | 0 | 0 | 0 |
| 87 | SCHLEGEL RICHARD | 0 | 0 | 0 | 0 | 0 | 0 | 0 | 0 | 0 | 0 | 0 | 0 | 0 | 0 | 101 | 0 | 0 | 0 | 0 | 0 | 0 | 0 | 0 | 0 | 0 | 0 | 0 | 0 | 0 | 0 | 0 | 0 | 0 | 0 | 0 | 0 | 0 | 0 | 0 | 0 | 0 | 0 | 0 | 0 | 0 | 0 | 0 | 0 | 0 | 0 | 0 | 0 | 0 | 0 | 0 | 0 | 0 | 0 | 0 |
| 88 | MOSS JAMES | 0 | 0 | 0 | 0 | 0 | 0 | 0 | 0 | 0 | 0 | 0 | 0 | 0 | 0 | 200 | 0 | 0 | 0 | 0 | 0 | 0 | 0 | 0 | 0 | 0 | 0 | 0 | 0 | 0 | 0 | 0 | 0 | 0 | 0 | 0 | 0 | 0 | 0 | 0 | 0 | 0 | 0 | 0 | 0 | 0 | 0 | 0 | 0 | 0 | 0 | 0 | 0 | 0 | 0 | 0 | 0 | 0 | 0 | 0 |
| 89 | KUBLY ROD | 0 | 0 | 0 | 0 | 0 | 0 | 0 | 0 | 0 | 0 | 0 | 0 | 0 | 0 | 100 | 0 | 0 | 0 | 0 | 0 | 0 | 0 | 0 | 0 | 0 | 0 | 0 | 0 | 0 | 0 | 0 | 0 | 0 | 0 | 0 | 100 | 0 | 0 | 0 | 0 | 0 | 0 | 0 | 0 | 0 | 0 | 0 | 0 | 0 | 0 | 0 | 0 | 0 | 0 | 0 | 0 | 0 | 0 | 0 |
| 90 | THAI JOSHUA | 0 | 0 | 0 | 0 | 0 | 0 | 0 | 0 | 0 | 0 | 0 | 0 | 0 | 0 | 100 | 0 | 0 | 100 | 0 | 0 | 0 | 0 | 0 | 0 | 0 | 0 | 0 | 0 | 0 | 0 | 0 | 0 | 0 | 0 | 0 | 0 | 0 | 0 | 0 | 0 | 0 | 100 | 0 | 0 | 0 | 0 | 100 | 0 | 0 | 0 | 0 | 0 | 0 | 0 | 0 | 0 | 0 | 0 | 0 |
| 91 | MILLIMAN TIMOTHY | 0 | 0 | 0 | 0 | 0 | 0 | 0 | 0 | 0 | 0 | 0 | 0 | 0 | 0 | 100 | 0 | 0 | 0 | 0 | 0 | 0 | 0 | 0 | 0 | 0 | 0 | 0 | 0 | 0 | 0 | 0 | 0 | 0 | 0 | 0 | 200 | 0 | 0 | 0 | 0 | 0 | 0 | 0 | 0 | 0 | 0 | 0 | 0 | 0 | 0 | 0 | 0 | 0 | 0 | 0 | 100 | 0 | 0 | 0 |
| 92 | RAIMO DANIEL | 0 | 0 | 0 | 0 | 0 | 0 | 0 | 0 | 0 | 0 | 0 | 0 | 0 | 0 | 100 | 0 | 0 | 0 | 0 | 0 | 0 | 0 | 0 | 0 | 0 | 0 | 0 | 0 | 0 | 0 | 0 | 0 | 0 | 0 | 0 | 0 | 0 | 0 | 0 | 0 | 0 | 0 | 0 | 0 | 0 | 0 | 0 | 0 | 0 | 0 | 0 | 0 | 0 | 0 | 0 | 0 | 0 | 0 | 0 |
| 93 | FEDELE DANIEL | 0 | 0 | 0 | 0 | 0 | 0 | 0 | 0 | 0 | 0 | 0 | 0 | 0 | 0 | 100 | 0 | 0 | 0 | 0 | 0 | 0 | 0 | 0 | 0 | 0 | 0 | 0 | 0 | 0 | 0 | 0 | 0 | 0 | 0 | 0 | 100 | 0 | 0 | 0 | 0 | 0 | 0 | 0 | 0 | 0 | 0 | 0 | 0 | 0 | 0 | 0 | 0 | 0 | 0 | 0 | 250 | 0 | 0 | 0 |
| 94 | PREWETT BRUCE | 0 | 0 | 0 | 0 | 0 | 0 | 0 | 0 | 0 | 0 | 0 | 0 | 0 | 0 | 100 | 0 | 0 | 0 | 0 | 0 | 0 | 0 | 0 | 0 | 0 | 0 | 0 | 0 | 0 | 0 | 0 | 0 | 0 | 0 | 0 | 0 | 0 | 0 | 0 | 0 | 0 | 0 | 0 | 0 | 0 | 0 | 0 | 0 | 100 | 0 | 0 | 0 | 0 | 0 | 0 | 0 | 0 | 0 | 0 |
| 95 | CUPA GEORGE | 0 | 0 | 0 | 0 | 0 | 0 | 0 | 0 | 0 | 0 | 0 | 0 | 0 | 0 | 100 | 0 | 0 | 0 | 0 | 0 | 0 | 0 | 0 | 0 | 0 | 0 | 0 | 0 | 0 | 0 | 0 | 0 | 0 | 0 | 0 | 0 | 0 | 0 | 0 | 0 | 0 | 0 | 0 | 0 | 0 | 0 | 0 | 0 | 0 | 0 | 0 | 0 | 0 | 0 | 0 | 0 | 0 | 0 | 0 |
| 96 | ODENTHAL ERIC | 0 | 0 | 0 | 0 | 0 | 0 | 0 | 0 | 0 | 0 | 0 | 0 | 0 | 0 | 100 | 0 | 0 | 0 | 0 | 0 | 0 | 0 | 0 | 0 | 0 | 0 | 0 | 0 | 0 | 0 | 0 | 0 | 0 | 0 | 0 | 0 | 0 | 0 | 0 | 0 | 0 | 0 | 0 | 0 | 0 | 0 | 0 | 100 | 0 | 0 | 0 | 0 | 0 | 0 | 0 | 0 | 0 | 0 | 0 |
| 97 | MONTEZ FRANK | 0 | 0 | 0 | 0 | 0 | 0 | 0 | 0 | 0 | 0 | 0 | 0 | 0 | 0 | 100 | 0 | 0 | 0 | 0 | 0 | 0 | 0 | 0 | 0 | 0 | 0 | 0 | 0 | 0 | 0 | 0 | 0 | 0 | 0 | 0 | 0 | 0 | 0 | 0 | 0 | 0 | 0 | 0 | 0 | 0 | 0 | 0 | 0 | 0 | 0 | 0 | 0 | 0 | 0 | 100 | 0 | 0 | 0 | 0 |
| 98 | MCWAID KENNETH | 0 | 0 | 0 | 0 | 0 | 0 | 0 | 0 | 0 | 0 | 0 | 0 | 0 | 0 | 100 | 0 | 0 | 0 | 0 | 0 | 0 | 0 | 0 | 0 | 0 | 0 | 0 | 0 | 0 | 0 | 0 | 0 | 0 | 0 | 0 | 100 | 0 | 0 | 0 | 0 | 0 | 0 | 0 | 0 | 0 | 0 | 0 | 200 | 0 | 0 | 0 | 0 | 0 | 0 | 0 | 0 | 0 | 0 | 0 |
| 99 | TATREAU JIM | 0 | 0 | 0 | 0 | 0 | 0 | 0 | 0 | 0 | 0 | 0 | 0 | 0 | 0 | 300 | 0 | 0 | 0 | 0 | 0 | 0 | 0 | 0 | 0 | 0 | 0 | 0 | 0 | 0 | 0 | 0 | 0 | 0 | 0 | 0 | 0 | 0 | 0 | 0 | 0 | 0 | 0 | 0 | 0 | 0 | 0 | 0 | 0 | 0 | 0 | 0 | 0 | 0 | 0 | 0 | 0 | 0 | 0 | 0 |
| 100 | HAST DARRYL | 0 | 0 | 0 | 0 | 0 | 0 | 0 | 0 | 0 | 0 | 0 | 0 | 0 | 0 | 100 | 0 | 0 | 0 | 0 | 0 | 0 | 0 | 0 | 0 | 0 | 0 | 0 | 0 | 0 | 0 | 0 | 0 | 0 | 0 | 0 | 0 | 0 | 0 | 0 | 0 | 0 | 0 | 0 | 0 | 0 | 0 | 0 | 0 | 0 | 0 | 0 | 0 | 0 | 0 | 0 | 0 | 0 | 0 | 0 |
| 101 | GORAN KEVIN | 0 | 0 | 0 | 0 | 0 | 0 | 0 | 0 | 0 | 0 | 0 | 0 | 0 | 0 | 200 | 0 | 0 | 0 | 0 | 0 | 0 | 0 | 0 | 0 | 0 | 0 | 0 | 0 | 500 | 0 | 0 | 0 | 0 | 0 | 0 | 0 | 0 | 0 | 0 | 0 | 0 | 0 | 0 | 0 | 0 | 0 | 0 | 250 | 0 | 0 | 0 | 0 | 0 | 0 | 0 | 0 | 0 | 0 | 0 |
| 102 | JONES SAMMY | 0 | 0 | 0 | 0 | 0 | 0 | 0 | 0 | 0 | 0 | 0 | 0 | 0 | 0 | 100 | 0 | 0 | 0 | 0 | 0 | 0 | 0 | 0 | 0 | 0 | 0 | 0 | 0 | 0 | 0 | 0 | 0 | 0 | 0 | 0 | 100 | 0 | 0 | 0 | 0 | 0 | 0 | 0 | 0 | 0 | 0 | 0 | 0 | 0 | 0 | 0 | 0 | 0 | 0 | 0 | 0 | 0 | 0 | 0 |
| 103 | WOLAK JAMES | 0 | 0 | 0 | 0 | 0 | 0 | 0 | 0 | 0 | 0 | 0 | 0 | 0 | 0 | 200 | 0 | 0 | 0 | 0 | 0 | 0 | 0 | 0 | 0 | 0 | 0 | 0 | 0 | 0 | 0 | 0 | 0 | 0 | 0 | 0 | 0 | 0 | 0 | 0 | 0 | 0 | 0 | 0 | 0 | 0 | 0 | 0 | 0 | 0 | 0 | 0 | 0 | 0 | 0 | 0 | 0 | 0 | 0 | 0 |
| 104 | WOLAK JOHN | 0 | 0 | 0 | 0 | 0 | 0 | 0 | 0 | 0 | 0 | 0 | 0 | 0 | 0 | 200 | 0 | 0 | 0 | 0 | 0 | 0 | 0 | 0 | 0 | 0 | 0 | 0 | 0 | 0 | 0 | 0 | 0 | 0 | 0 | 0 | 100 | 0 | 0 | 0 | 0 | 0 | 0 | 0 | 0 | 0 | 0 | 0 | 0 | 0 | 0 | 0 | 0 | 0 | 0 | 0 | 0 | 0 | 0 | 0 |
| 105 | WARD ANTHONY | 0 | 0 | 0 | 0 | 0 | 0 | 0 | 0 | 0 | 0 | 0 | 0 | 0 | 0 | 100 | 0 | 0 | 0 | 0 | 0 | 0 | 0 | 0 | 0 | 0 | 0 | 0 | 0 | 0 | 0 | 0 | 0 | 0 | 0 | 0 | 0 | 0 | 0 | 0 | 0 | 0 | 0 | 0 | 0 | 0 | 0 | 0 | 0 | 0 | 0 | 0 | 0 | 0 | 0 | 0 | 250 | 0 | 0 | 0 |
| 106 | MAULDIN LOYACE | 0 | 0 | 0 | 0 | 0 | 0 | 0 | 0 | 0 | 0 | 0 | 0 | 0 | 0 | 100 | 0 | 0 | 0 | 0 | 0 | 0 | 0 | 0 | 0 | 0 | 0 | 0 | 0 | 0 | 0 | 0 | 0 | 0 | 0 | 0 | 0 | 0 | 0 | 0 | 0 | 0 | 0 | 0 | 0 | 0 | 0 | 0 | 0 | 0 | 0 | 0 | 0 | 0 | 0 | 0 | 0 | 0 | 0 | 0 |
| 107 | PARRA ERIC | 0 | 0 | 0 | 0 | 0 | 0 | 0 | 0 | 0 | 0 | 0 | 0 | 0 | 0 | 100 | 0 | 0 | 0 | 0 | 0 | 0 | 0 | 0 | 0 | 0 | 0 | 0 | 0 | 500 | 0 | 0 | 0 | 0 | 0 | 0 | 0 | 0 | 0 | 0 | 0 | 0 | 0 | 0 | 0 | 0 | 0 | 200 | 0 | 0 | 0 | 0 | 0 | 0 | 0 | 0 | 0 | 0 | 0 | 0 |
| 108 | LOPEZ JAMES | 0 | 0 | 0 | 0 | 0 | 0 | 0 | 0 | 0 | 0 | 0 | 0 | 0 | 0 | 100 | 0 | 0 | 0 | 0 | 0 | 0 | 0 | 0 | 0 | 0 | 0 | 0 | 0 | 500 | 0 | 0 | 0 | 0 | 0 | 0 | 0 | 0 | 0 | 0 | 0 | 0 | 0 | 0 | 0 | 0 | 0 | 0 | 0 | 0 | 0 | 0 | 0 | 0 | 0 | 0 | 0 | 0 | 0 | 0 |
| 109 | CORNELL TIM | 0 | 0 | 0 | 0 | 0 | 0 | 0 | 0 | 0 | 0 | 0 | 0 | 0 | 0 | 100 | 0 | 0 | 0 | 0 | 0 | 0 | 0 | 0 | 0 | 0 | 0 | 0 | 0 | 0 | 0 | 0 | 0 | 0 | 0 | 0 | 0 | 0 | 0 | 0 | 0 | 100 | 0 | 0 | 0 | 0 | 0 | 0 | 0 | 0 | 0 | 0 | 0 | 0 | 0 | 0 | 0 | 0 | 0 | 0 |
| 110 | SPENCER THOMAS | 0 | 0 | 0 | 0 | 0 | 0 | 0 | 0 | 0 | 0 | 0 | 0 | 0 | 0 | 100 | 0 | 0 | 0 | 0 | 0 | 0 | 0 | 0 | 0 | 0 | 0 | 0 | 0 | 0 | 0 | 0 | 0 | 0 | 0 | 0 | 0 | 0 | 0 | 0 | 0 | 0 | 0 | 0 | 0 | 0 | 0 | 0 | 0 | 0 | 0 | 0 | 0 | 0 | 0 | 0 | 200 | 0 | 0 | 0 |
| 111 | WOLAK JASON | 0 | 0 | 0 | 0 | 0 | 0 | 0 | 0 | 0 | 0 | 0 | 0 | 0 | 0 | 200 | 0 | 0 | 0 | 0 | 0 | 0 | 0 | 0 | 0 | 0 | 0 | 0 | 0 | 0 | 0 | 0 | 0 | 0 | 0 | 0 | 100 | 0 | 0 | 0 | 0 | 0 | 0 | 0 | 0 | 0 | 0 | 0 | 0 | 0 | 0 | 0 | 0 | 0 | 0 | 0 | 0 | 0 | 0 | 0 |
| 112 | VELASQUEZ STEVEN | 0 | 0 | 0 | 0 | 0 | 0 | 0 | 0 | 0 | 0 | 0 | 0 | 0 | 0 | 200 | 0 | 0 | 0 | 0 | 0 | 0 | 0 | 0 | 0 | 0 | 0 | 0 | 0 | 0 | 0 | 0 | 0 | 0 | 0 | 0 | 0 | 0 | 0 | 0 | 0 | 0 | 0 | 0 | 0 | 0 | 0 | 0 | 0 | 0 | 0 | 0 | 0 | 0 | 0 | 0 | 0 | 0 | 0 | 0 |
| 113 | ABRAM BERNICE | 0 | 0 | 0 | 0 | 0 | 0 | 0 | 0 | 0 | 0 | 0 | 0 | 0 | 0 | 600 | 0 | 0 | 0 | 0 | 0 | 0 | 0 | 0 | 0 | 0 | 0 | 0 | 0 | 0 | 0 | 0 | 0 | 0 | 0 | 0 | 0 | 0 | 0 | 0 | 0 | 200 | 0 | 0 | 0 | 0 | 0 | 0 | 0 | 0 | 0 | 0 | 0 | 0 | 0 | 0 | 500 | 0 | 0 | 0 |
| 114 | ROBERTS BERNADETTE | 0 | 0 | 0 | 0 | 0 | 0 | 0 | 0 | 0 | 0 | 0 | 0 | 0 | 0 | 200 | 0 | 0 | 0 | 0 | 0 | 0 | 0 | 0 | 0 | 0 | 0 | 0 | 0 | 0 | 0 | 0 | 0 | 0 | 0 | 0 | 0 | 0 | 0 | 0 | 0 | 0 | 0 | 0 | 0 | 0 | 0 | 0 | 0 | 0 | 0 | 0 | 0 | 0 | 0 | 0 | 0 | 0 | 0 | 0 |
| 115 | PLETT NORINE | 0 | 0 | 0 | 0 | 0 | 0 | 0 | 0 | 0 | 0 | 0 | 0 | 0 | 0 | 0 | 100 | 0 | 0 | 0 | 0 | 0 | 0 | 0 | 0 | 0 | 0 | 0 | 0 | 0 | 0 | 0 | 0 | 0 | 0 | 0 | 0 | 0 | 0 | 0 | 0 | 0 | 0 | 0 | 0 | 0 | 0 | 0 | 0 | 0 | 0 | 0 | 0 | 0 | 0 | 0 | 0 | 0 | 0 | 0 |
| 116 | TRIMARCHI JOSEPH | 0 | 0 | 0 | 0 | 0 | 0 | 0 | 0 | 0 | 0 | 0 | 0 | 0 | 0 | 0 | 100 | 0 | 0 | 0 | 0 | 0 | 0 | 0 | 0 | 0 | 0 | 0 | 0 | 0 | 0 | 0 | 0 | 0 | 0 | 0 | 0 | 0 | 0 | 0 | 0 | 0 | 0 | 0 | 0 | 0 | 0 | 0 | 0 | 0 | 0 | 0 | 0 | 0 | 0 | 0 | 0 | 0 | 0 | 0 |
| 117 | CAMPBELL ANTHONY | 0 | 0 | 0 | 0 | 0 | 0 | 0 | 0 | 0 | 0 | 0 | 0 | 0 | 0 | 0 | 0 | 0 | 0 | 400 | 0 | 0 | 0 | 0 | 0 | 0 | 0 | 0 | 0 | 0 | 0 | 0 | 0 | 0 | 0 | 0 | 0 | 0 | 0 | 0 | 0 | 0 | 0 | 0 | 0 | 0 | 0 | 0 | 0 | 0 | 0 | 0 | 0 | 0 | 0 | 0 | 0 | 0 | 0 | 0 |
| 118 | MAXWELL PATRICK | 0 | 0 | 0 | 0 | 0 | 0 | 0 | 0 | 0 | 0 | 0 | 0 | 0 | 0 | 0 | 0 | 0 | 0 | 0 | 0 | 500 | 0 | 0 | 0 | 0 | 0 | 0 | 0 | 500 | 0 | 0 | 0 | 0 | 0 | 0 | 0 | 0 | 0 | 0 | 0 | 0 | 0 | 0 | 0 | 0 | 0 | 250 | 0 | 0 | 0 | 0 | 0 | 0 | 0 | 0 | 0 | 0 | 0 | 0 |
| 119 | HENDERSON MICHAEL | 0 | 0 | 0 | 0 | 0 | 0 | 0 | 0 | 0 | 0 | 0 | 0 | 0 | 0 | 0 | 0 | 0 | 0 | 0 | 0 | 0 | 100 | 0 | 0 | 0 | 0 | 0 | 0 | 0 | 0 | 0 | 0 | 0 | 0 | 0 | 0 | 0 | 0 | 0 | 0 | 0 | 0 | 0 | 0 | 0 | 0 | 0 | 0 | 0 | 0 | 0 | 0 | 0 | 0 | 0 | 0 | 0 | 0 | 0 |
| 120 | GOLDMAN BUDDY | 0 | 0 | 0 | 0 | 0 | 0 | 0 | 0 | 0 | 0 | 0 | 0 | 0 | 0 | 0 | 0 | 0 | 0 | 0 | 0 | 0 | 0 | 100 | 0 | 0 | 0 | 0 | 0 | 0 | 0 | 0 | 0 | 0 | 0 | 0 | 0 | 0 | 0 | 0 | 0 | 0 | 0 | 0 | 0 | 0 | 0 | 0 | 0 | 0 | 0 | 0 | 0 | 1000 | 0 | 0 | 0 | 0 | 0 | 0 |
| 121 | ROCHA RAYMONN | 0 | 0 | 0 | 0 | 0 | 0 | 0 | 0 | 0 | 0 | 0 | 0 | 0 | 0 | 0 | 0 | 0 | 0 | 0 | 0 | 0 | 0 | 0 | 100 | 0 | 0 | 0 | 0 | 0 | 0 | 0 | 0 | 0 | 0 | 0 | 0 | 0 | 0 | 0 | 0 | 0 | 100 | 0 | 0 | 0 | 0 | 0 | 0 | 0 | 0 | 0 | 0 | 0 | 0 | 0 | 0 | 0 | 0 | 0 |
| 122 | DURAN LOUIS | 0 | 0 | 0 | 0 | 0 | 0 | 0 | 0 | 0 | 0 | 0 | 0 | 0 | 0 | 0 | 0 | 0 | 0 | 0 | 0 | 0 | 0 | 0 | 0 | 350 | 0 | 0 | 0 | 0 | 0 | 0 | 0 | 0 | 0 | 0 | 0 | 0 | 0 | 0 | 0 | 0 | 0 | 0 | 0 | 0 | 0 | 0 | 0 | 0 | 0 | 0 | 0 | 0 | 0 | 0 | 0 | 0 | 0 | 0 |
| 123 | BETKEY DAVID | 0 | 0 | 0 | 0 | 0 | 0 | 0 | 0 | 0 | 0 | 0 | 0 | 0 | 0 | 0 | 0 | 0 | 0 | 0 | 0 | 0 | 0 | 0 | 0 | 0 | 200 | 0 | 0 | 0 | 0 | 200 | 0 | 0 | 0 | 0 | 0 | 0 | 0 | 0 | 0 | 0 | 0 | 0 | 0 | 0 | 0 | 0 | 0 | 0 | 0 | 0 | 0 | 0 | 0 | 0 | 100 | 0 | 0 | 0 |
| 124 | FRANKLIN JOHN | 0 | 0 | 0 | 0 | 0 | 0 | 0 | 0 | 0 | 0 | 0 | 0 | 0 | 0 | 0 | 0 | 0 | 0 | 0 | 0 | 0 | 0 | 0 | 0 | 0 | 0 | 0 | 200 | 0 | 0 | 0 | 0 | 0 | 300 | 0 | 0 | 0 | 0 | 0 | 0 | 0 | 0 | 0 | 0 | 0 | 0 | 0 | 0 | 0 | 0 | 0 | 0 | 0 | 0 | 0 | 0 | 0 | 0 | 0 |
| 125 | BENGTSON WILLIAM | 0 | 0 | 0 | 0 | 0 | 0 | 0 | 0 | 0 | 0 | 0 | 0 | 0 | 0 | 0 | 0 | 0 | 0 | 0 | 0 | 0 | 0 | 0 | 0 | 0 | 0 | 0 | 0 | 500 | 0 | 0 | 0 | 0 | 0 | 0 | 0 | 0 | 0 | 0 | 0 | 0 | 0 | 0 | 0 | 0 | 0 | 0 | 0 | 0 | 0 | 0 | 0 | 0 | 0 | 0 | 0 | 0 | 0 | 0 |
| 126 | ROBERTS-TAYLOR BERNADETTE | 0 | 0 | 0 | 0 | 0 | 0 | 0 | 0 | 0 | 0 | 0 | 0 | 0 | 0 | 0 | 0 | 0 | 0 | 0 | 0 | 0 | 0 | 0 | 0 | 0 | 0 | 0 | 0 | 500 | 0 | 0 | 0 | 0 | 0 | 0 | 0 | 0 | 0 | 0 | 0 | 0 | 0 | 0 | 0 | 0 | 0 | 0 | 0 | 0 | 0 | 0 | 0 | 0 | 0 | 0 | 0 | 0 | 0 | 0 |
| 127 | DENNEY PAUL | 0 | 0 | 0 | 0 | 0 | 0 | 0 | 0 | 0 | 0 | 0 | 0 | 0 | 0 | 0 | 0 | 0 | 0 | 0 | 0 | 0 | 0 | 0 | 0 | 0 | 0 | 0 | 0 | 500 | 0 | 0 | 0 | 0 | 0 | 0 | 0 | 0 | 0 | 0 | 0 | 0 | 0 | 0 | 0 | 0 | 0 | 0 | 0 | 0 | 0 | 0 | 0 | 0 | 0 | 0 | 0 | 0 | 0 | 0 |
| 128 | PEAVY RAYMOND | 0 | 0 | 0 | 0 | 0 | 0 | 0 | 0 | 0 | 0 | 0 | 0 | 0 | 0 | 0 | 0 | 0 | 0 | 0 | 0 | 0 | 0 | 0 | 0 | 0 | 0 | 0 | 0 | 500 | 0 | 0 | 0 | 0 | 0 | 0 | 0 | 0 | 0 | 0 | 0 | 0 | 0 | 0 | 0 | 0 | 0 | 0 | 0 | 0 | 0 | 0 | 0 | 0 | 0 | 0 | 0 | 0 | 0 | 0 |
| 129 | WILLIAMS RONNIE | 0 | 0 | 0 | 0 | 0 | 0 | 0 | 0 | 0 | 0 | 0 | 0 | 0 | 0 | 0 | 0 | 0 | 0 | 0 | 0 | 0 | 0 | 0 | 0 | 0 | 0 | 0 | 0 | 500 | 0 | 0 | 0 | 0 | 0 | 0 | 0 | 0 | 0 | 0 | 0 | 0 | 0 | 0 | 0 | 0 | 0 | 0 | 0 | 0 | 0 | 0 | 0 | 0 | 0 | 0 | 0 | 0 | 0 | 0 |
| 130 | YIM ALEXANDER | 0 | 0 | 0 | 0 | 0 | 0 | 0 | 0 | 0 | 0 | 0 | 0 | 0 | 0 | 0 | 0 | 0 | 0 | 0 | 0 | 0 | 0 | 0 | 0 | 0 | 0 | 0 | 0 | 500 | 0 | 0 | 0 | 0 | 0 | 0 | 0 | 0 | 0 | 0 | 0 | 0 | 0 | 0 | 0 | 0 | 0 | 0 | 0 | 0 | 0 | 0 | 0 | 0 | 500 | 0 | 0 | 0 | 0 | 0 |
| 131 | CASTRO LYNDA | 0 | 0 | 0 | 0 | 0 | 0 | 0 | 0 | 0 | 0 | 0 | 0 | 0 | 0 | 0 | 0 | 0 | 0 | 0 | 0 | 0 | 0 | 0 | 0 | 0 | 0 | 0 | 0 | 500 | 0 | 0 | 0 | 0 | 0 | 0 | 0 | 0 | 0 | 0 | 0 | 0 | 0 | 0 | 200 | 0 | 0 | 0 | 0 | 0 | 0 | 0 | 0 | 0 | 0 | 0 | 0 | 0 | 0 | 0 |
| 132 | JOHNSON STEPHEN | 0 | 0 | 0 | 0 | 0 | 0 | 0 | 0 | 0 | 0 | 0 | 0 | 0 | 0 | 0 | 0 | 0 | 0 | 0 | 0 | 0 | 0 | 0 | 0 | 0 | 0 | 0 | 0 | 500 | 0 | 0 | 0 | 0 | 0 | 0 | 0 | 0 | 0 | 0 | 0 | 0 | 0 | 0 | 0 | 0 | 0 | 0 | 0 | 0 | 0 | 0 | 0 | 0 | 0 | 0 | 0 | 0 | 0 | 0 |
| 133 | HARRIS JAMES | 0 | 0 | 0 | 0 | 0 | 0 | 0 | 0 | 0 | 0 | 0 | 0 | 0 | 0 | 0 | 0 | 0 | 0 | 0 | 0 | 0 | 0 | 0 | 0 | 0 | 0 | 0 | 0 | 500 | 0 | 0 | 0 | 0 | 0 | 0 | 100 | 0 | 0 | 0 | 0 | 0 | 0 | 0 | 0 | 0 | 0 | 0 | 0 | 0 | 0 | 0 | 0 | 0 | 0 | 0 | 0 | 0 | 0 | 0 |
| 134 | CAVANAUGH MARV | 0 | 0 | 0 | 0 | 0 | 0 | 0 | 0 | 0 | 0 | 0 | 0 | 0 | 0 | 0 | 0 | 0 | 0 | 0 | 0 | 0 | 0 | 0 | 0 | 0 | 0 | 0 | 0 | 350 | 0 | 0 | 0 | 0 | 0 | 0 | 0 | 0 | 0 | 0 | 0 | 0 | 0 | 0 | 0 | 0 | 0 | 0 | 0 | 0 | 0 | 0 | 0 | 0 | 0 | 0 | 0 | 0 | 0 | 0 |
| 135 | RYAN WILLIAM | 0 | 0 | 0 | 0 | 0 | 0 | 0 | 0 | 0 | 0 | 0 | 0 | 0 | 0 | 0 | 0 | 0 | 0 | 0 | 0 | 0 | 0 | 0 | 0 | 0 | 0 | 0 | 0 | 300 | 0 | 0 | 0 | 0 | 0 | 0 | 0 | 0 | 0 | 0 | 0 | 0 | 0 | 0 | 0 | 0 | 0 | 0 | 0 | 0 | 0 | 0 | 0 | 0 | 0 | 0 | 0 | 0 | 0 | 0 |
| 136 | JUDGE TERENCE | 0 | 0 | 0 | 0 | 0 | 0 | 0 | 0 | 0 | 0 | 0 | 0 | 0 | 0 | 0 | 0 | 0 | 0 | 0 | 0 | 0 | 0 | 0 | 0 | 0 | 0 | 0 | 0 | 250 | 0 | 0 | 0 | 0 | 0 | 0 | 0 | 0 | 0 | 0 | 0 | 0 | 0 | 0 | 0 | 0 | 0 | 0 | 0 | 0 | 0 | 0 | 0 | 0 | 0 | 0 | 0 | 0 | 0 | 0 |
| 137 | HANSEN PHILLIP | 0 | 0 | 0 | 0 | 0 | 0 | 0 | 0 | 0 | 0 | 0 | 0 | 0 | 0 | 0 | 0 | 0 | 0 | 0 | 0 | 0 | 0 | 0 | 0 | 0 | 0 | 0 | 0 | 250 | 0 | 0 | 0 | 0 | 0 | 0 | 0 | 0 | 0 | 0 | 0 | 0 | 0 | 0 | 0 | 0 | 0 | 0 | 0 | 0 | 0 | 0 | 0 | 0 | 0 | 0 | 0 | 0 | 0 | 0 |
| 138 | VAN HARRY | 0 | 0 | 0 | 0 | 0 | 0 | 0 | 0 | 0 | 0 | 0 | 0 | 0 | 0 | 0 | 0 | 0 | 0 | 0 | 0 | 0 | 0 | 0 | 0 | 0 | 0 | 0 | 0 | 200 | 0 | 0 | 0 | 0 | 0 | 0 | 300 | 0 | 0 | 0 | 0 | 0 | 0 | 0 | 0 | 0 | 0 | 0 | 0 | 0 | 0 | 0 | 0 | 0 | 0 | 0 | 0 | 0 | 0 | 0 |
| 139 | SIARA THADDEUS | 0 | 0 | 0 | 0 | 0 | 0 | 0 | 0 | 0 | 0 | 0 | 0 | 0 | 0 | 0 | 0 | 0 | 0 | 0 | 0 | 0 | 0 | 0 | 0 | 0 | 0 | 0 | 0 | 150 | 0 | 0 | 0 | 0 | 0 | 0 | 0 | 0 | 0 | 0 | 0 | 0 | 0 | 0 | 0 | 0 | 0 | 0 | 0 | 0 | 0 | 0 | 0 | 0 | 0 | 0 | 0 | 0 | 0 | 0 |
| 140 | WAGNER MARGARITA | 0 | 0 | 0 | 0 | 0 | 0 | 0 | 0 | 0 | 0 | 0 | 0 | 0 | 0 | 0 | 0 | 0 | 0 | 0 | 0 | 0 | 0 | 0 | 0 | 0 | 0 | 0 | 0 | 150 | 0 | 0 | 0 | 0 | 0 | 0 | 0 | 0 | 0 | 0 | 0 | 0 | 0 | 0 | 0 | 0 | 0 | 0 | 0 | 0 | 0 | 0 | 0 | 0 | 0 | 0 | 0 | 0 | 0 | 0 |
| 141 | LAING THOMAS | 0 | 0 | 0 | 0 | 0 | 0 | 0 | 0 | 0 | 0 | 0 | 0 | 0 | 0 | 0 | 0 | 0 | 0 | 0 | 0 | 0 | 0 | 0 | 0 | 0 | 0 | 0 | 0 | 0 | 200 | 0 | 0 | 0 | 0 | 0 | 0 | 0 | 0 | 0 | 0 | 0 | 0 | 0 | 0 | 0 | 0 | 0 | 0 | 0 | 0 | 0 | 0 | 0 | 250 | 0 | 0 | 0 | 200 | 0 |
| 142 | MARTIN RALPH | 0 | 0 | 0 | 0 | 0 | 0 | 0 | 0 | 0 | 0 | 0 | 0 | 0 | 0 | 0 | 0 | 0 | 0 | 0 | 0 | 0 | 0 | 0 | 0 | 0 | 0 | 0 | 0 | 0 | 200 | 0 | 0 | 0 | 0 | 0 | 0 | 0 | 0 | 0 | 0 | 0 | 0 | 0 | 0 | 0 | 0 | 0 | 0 | 0 | 0 | 0 | 0 | 0 | 0 | 0 | 0 | 0 | 0 | 0 |
| 143 | MCDERMOTT MICHAEL | 0 | 0 | 0 | 0 | 0 | 0 | 0 | 0 | 0 | 0 | 0 | 0 | 0 | 0 | 0 | 0 | 0 | 0 | 0 | 0 | 0 | 0 | 0 | 0 | 0 | 0 | 0 | 0 | 0 | 200 | 0 | 0 | 0 | 0 | 0 | 0 | 0 | 0 | 0 | 0 | 0 | 0 | 0 | 0 | 0 | 0 | 0 | 0 | 0 | 0 | 0 | 0 | 0 | 0 | 0 | 0 | 0 | 0 | 0 |
| 144 | AMICO PETER | 0 | 0 | 0 | 0 | 0 | 0 | 0 | 0 | 0 | 0 | 0 | 0 | 0 | 0 | 0 | 0 | 0 | 0 | 0 | 0 | 0 | 0 | 0 | 0 | 0 | 0 | 0 | 0 | 0 | 0 | 200 | 0 | 0 | 0 | 0 | 0 | 0 | 0 | 0 | 0 | 0 | 0 | 0 | 0 | 0 | 0 | 0 | 0 | 0 | 0 | 0 | 0 | 0 | 0 | 0 | 0 | 0 | 0 | 0 |
| 145 | CONTE DENNIS | 0 | 0 | 0 | 0 | 0 | 0 | 0 | 0 | 0 | 0 | 0 | 0 | 0 | 0 | 0 | 0 | 0 | 0 | 0 | 0 | 0 | 0 | 0 | 0 | 0 | 0 | 0 | 0 | 0 | 0 | 100 | 0 | 0 | 0 | 0 | 0 | 0 | 0 | 0 | 0 | 0 | 0 | 0 | 0 | 0 | 0 | 0 | 0 | 0 | 0 | 0 | 0 | 0 | 0 | 0 | 0 | 0 | 0 | 0 |
| 146 | FORD MICHAEL | 0 | 0 | 0 | 0 | 0 | 0 | 0 | 0 | 0 | 0 | 0 | 0 | 0 | 0 | 0 | 0 | 0 | 0 | 0 | 0 | 0 | 0 | 0 | 0 | 0 | 0 | 0 | 0 | 0 | 0 | 200 | 0 | 0 | 0 | 0 | 0 | 0 | 0 | 0 | 0 | 0 | 0 | 0 | 0 | 0 | 0 | 0 | 0 | 0 | 0 | 0 | 0 | 0 | 0 | 0 | 0 | 0 | 0 | 0 |
| 147 | ASMUS WARREN | 0 | 0 | 0 | 0 | 0 | 0 | 0 | 0 | 0 | 0 | 0 | 0 | 0 | 0 | 0 | 0 | 0 | 0 | 0 | 0 | 0 | 0 | 0 | 0 | 0 | 0 | 0 | 0 | 0 | 0 | 100 | 0 | 0 | 0 | 0 | 0 | 0 | 0 | 0 | 0 | 0 | 0 | 0 | 0 | 0 | 0 | 0 | 0 | 0 | 0 | 0 | 0 | 0 | 0 | 0 | 0 | 0 | 0 | 0 |
| 148 | MARTINEZ RICHARD | 0 | 0 | 0 | 0 | 0 | 0 | 0 | 0 | 0 | 0 | 0 | 0 | 0 | 0 | 0 | 0 | 0 | 0 | 0 | 0 | 0 | 0 | 0 | 0 | 0 | 0 | 0 | 0 | 0 | 0 | 200 | 0 | 0 | 0 | 0 | 0 | 0 | 0 | 0 | 0 | 0 | 0 | 0 | 0 | 0 | 0 | 0 | 0 | 0 | 0 | 0 | 0 | 0 | 0 | 0 | 0 | 0 | 0 | 0 |
| 149 | BAKER MARILYN | 0 | 0 | 0 | 0 | 0 | 0 | 0 | 0 | 0 | 0 | 0 | 0 | 0 | 0 | 0 | 0 | 0 | 0 | 0 | 0 | 0 | 0 | 0 | 0 | 0 | 0 | 0 | 0 | 0 | 0 | 300 | 0 | 0 | 0 | 0 | 0 | 0 | 0 | 0 | 0 | 0 | 0 | 0 | 0 | 0 | 0 | 0 | 0 | 0 | 0 | 0 | 0 | 0 | 0 | 0 | 0 | 0 | 0 | 0 |
| 150 | WERNER DENNIS | 0 | 0 | 0 | 0 | 0 | 0 | 0 | 0 | 0 | 0 | 0 | 0 | 0 | 0 | 0 | 0 | 0 | 0 | 0 | 0 | 0 | 0 | 0 | 0 | 0 | 0 | 0 | 0 | 0 | 0 | 300 | 0 | 0 | 0 | 0 | 0 | 0 | 0 | 0 | 0 | 0 | 0 | 0 | 0 | 0 | 0 | 0 | 0 | 0 | 0 | 0 | 0 | 0 | 0 | 0 | 0 | 0 | 0 | 0 |
| 151 | MILLER WILLIE JEWEL | 0 | 0 | 0 | 0 | 0 | 0 | 0 | 0 | 0 | 0 | 0 | 0 | 0 | 0 | 0 | 0 | 0 | 0 | 0 | 0 | 0 | 0 | 0 | 0 | 0 | 0 | 0 | 0 | 0 | 0 | 300 | 0 | 0 | 0 | 0 | 0 | 0 | 0 | 0 | 0 | 0 | 0 | 0 | 0 | 0 | 0 | 0 | 0 | 0 | 0 | 0 | 0 | 0 | 0 | 0 | 0 | 0 | 0 | 0 |
| 152 | MCSWEENEY WILLIAM | 0 | 0 | 0 | 0 | 0 | 0 | 0 | 0 | 0 | 0 | 0 | 0 | 0 | 0 | 0 | 0 | 0 | 0 | 0 | 0 | 0 | 0 | 0 | 0 | 0 | 0 | 0 | 0 | 0 | 0 | 250 | 0 | 0 | 0 | 0 | 0 | 0 | 0 | 0 | 0 | 0 | 0 | 0 | 0 | 0 | 0 | 0 | 0 | 0 | 0 | 0 | 0 | 250 | 0 | 0 | 0 | 0 | 0 | 0 |
| 153 | MINUTELLO PATTI | 0 | 0 | 0 | 0 | 0 | 0 | 0 | 0 | 0 | 0 | 0 | 0 | 0 | 0 | 0 | 0 | 0 | 0 | 0 | 0 | 0 | 0 | 0 | 0 | 0 | 0 | 0 | 0 | 0 | 0 | 500 | 0 | 0 | 0 | 0 | 0 | 0 | 0 | 0 | 0 | 0 | 0 | 0 | 0 | 0 | 0 | 0 | 0 | 0 | 0 | 0 | 0 | 0 | 0 | 0 | 0 | 0 | 0 | 0 |
| 154 | ARANDA MICHAEL | 0 | 0 | 0 | 0 | 0 | 0 | 0 | 0 | 0 | 0 | 0 | 0 | 0 | 0 | 0 | 0 | 0 | 0 | 0 | 0 | 0 | 0 | 0 | 0 | 0 | 0 | 0 | 0 | 0 | 0 | 500 | 0 | 0 | 0 | 0 | 0 | 0 | 0 | 0 | 0 | 0 | 0 | 0 | 0 | 0 | 0 | 0 | 0 | 0 | 0 | 0 | 0 | 0 | 0 | 0 | 0 | 0 | 0 | 0 |
| 155 | LY THANH | 0 | 0 | 0 | 0 | 0 | 0 | 0 | 0 | 0 | 0 | 0 | 0 | 0 | 0 | 0 | 0 | 0 | 0 | 0 | 0 | 0 | 0 | 0 | 0 | 0 | 0 | 0 | 0 | 0 | 0 | 0 | 0 | 500 | 0 | 0 | 0 | 0 | 0 | 0 | 0 | 0 | 0 | 0 | 0 | 0 | 0 | 0 | 0 | 0 | 0 | 0 | 0 | 0 | 0 | 0 | 0 | 0 | 0 | 0 |
| 156 | SCAUZILLO PAUL | 0 | 0 | 0 | 0 | 0 | 0 | 0 | 0 | 0 | 0 | 0 | 0 | 0 | 0 | 0 | 0 | 0 | 0 | 0 | 0 | 0 | 0 | 0 | 0 | 0 | 0 | 0 | 0 | 0 | 0 | 0 | 0 | 0 | 0 | 250 | 0 | 0 | 0 | 0 | 0 | 0 | 0 | 0 | 0 | 0 | 0 | 0 | 0 | 0 | 0 | 0 | 0 | 0 | 0 | 0 | 0 | 0 | 0 | 0 |
| 157 | HANEY DAVID | 0 | 0 | 0 | 0 | 0 | 0 | 0 | 0 | 0 | 0 | 0 | 0 | 0 | 0 | 0 | 0 | 0 | 0 | 0 | 0 | 0 | 0 | 0 | 0 | 0 | 0 | 0 | 0 | 0 | 0 | 0 | 0 | 0 | 0 | 0 | 100 | 0 | 0 | 0 | 0 | 0 | 0 | 0 | 0 | 0 | 0 | 0 | 0 | 0 | 0 | 0 | 0 | 0 | 0 | 0 | 0 | 0 | 0 | 0 |
| 158 | GONZALES JOE | 0 | 0 | 0 | 0 | 0 | 0 | 0 | 0 | 0 | 0 | 0 | 0 | 0 | 0 | 0 | 0 | 0 | 0 | 0 | 0 | 0 | 0 | 0 | 0 | 0 | 0 | 0 | 0 | 0 | 0 | 0 | 0 | 0 | 0 | 0 | 200 | 0 | 0 | 0 | 0 | 0 | 0 | 0 | 0 | 0 | 0 | 0 | 350 | 0 | 0 | 0 | 0 | 0 | 0 | 0 | 0 | 0 | 0 | 0 |
| 159 | CALE JEFFREY | 0 | 0 | 0 | 0 | 0 | 0 | 0 | 0 | 0 | 0 | 0 | 0 | 0 | 0 | 0 | 0 | 0 | 0 | 0 | 0 | 0 | 0 | 0 | 0 | 0 | 0 | 0 | 0 | 0 | 0 | 0 | 0 | 0 | 0 | 0 | 100 | 0 | 0 | 0 | 0 | 0 | 0 | 0 | 0 | 0 | 0 | 0 | 0 | 0 | 0 | 0 | 0 | 0 | 0 | 0 | 0 | 0 | 0 | 0 |
| 160 | LEAVINS STEPHEN | 0 | 0 | 0 | 0 | 0 | 0 | 0 | 0 | 0 | 0 | 0 | 0 | 0 | 0 | 0 | 0 | 0 | 0 | 0 | 0 | 0 | 0 | 0 | 0 | 0 | 0 | 0 | 0 | 0 | 0 | 0 | 0 | 0 | 0 | 0 | 100 | 0 | 0 | 0 | 0 | 0 | 0 | 0 | 0 | 0 | 0 | 0 | 0 | 0 | 0 | 0 | 0 | 0 | 0 | 0 | 0 | 0 | 0 | 0 |
| 161 | O'SHEA MICHAEL | 0 | 0 | 0 | 0 | 0 | 0 | 0 | 0 | 0 | 0 | 0 | 0 | 0 | 0 | 0 | 0 | 0 | 0 | 0 | 0 | 0 | 0 | 0 | 0 | 0 | 0 | 0 | 0 | 0 | 0 | 0 | 0 | 0 | 0 | 0 | 100 | 0 | 0 | 0 | 0 | 0 | 0 | 0 | 0 | 0 | 0 | 0 | 0 | 0 | 0 | 0 | 0 | 0 | 0 | 0 | 0 | 0 | 0 | 0 |
| 162 | BURKE SEAN | 0 | 0 | 0 | 0 | 0 | 0 | 0 | 0 | 0 | 0 | 0 | 0 | 0 | 0 | 0 | 0 | 0 | 0 | 0 | 0 | 0 | 0 | 0 | 0 | 0 | 0 | 0 | 0 | 0 | 0 | 0 | 0 | 0 | 0 | 0 | 100 | 0 | 0 | 0 | 0 | 0 | 0 | 0 | 0 | 0 | 0 | 0 | 0 | 0 | 0 | 0 | 0 | 0 | 0 | 0 | 0 | 0 | 0 | 0 |
| 163 | BERNADETTE ROBERTS-TAYLOR | 0 | 0 | 0 | 0 | 0 | 0 | 0 | 0 | 0 | 0 | 0 | 0 | 0 | 0 | 0 | 0 | 0 | 0 | 0 | 0 | 0 | 0 | 0 | 0 | 0 | 0 | 0 | 0 | 0 | 0 | 0 | 0 | 0 | 0 | 0 | 100 | 0 | 0 | 0 | 0 | 0 | 0 | 0 | 0 | 0 | 0 | 0 | 0 | 0 | 0 | 0 | 0 | 0 | 0 | 0 | 0 | 0 | 0 | 0 |
| 164 | HERBERT KEVIN | 0 | 0 | 0 | 0 | 0 | 0 | 0 | 0 | 0 | 0 | 0 | 0 | 0 | 0 | 0 | 0 | 0 | 0 | 0 | 0 | 0 | 0 | 0 | 0 | 0 | 0 | 0 | 0 | 0 | 0 | 0 | 0 | 0 | 0 | 0 | 100 | 0 | 0 | 0 | 0 | 0 | 0 | 0 | 0 | 0 | 0 | 0 | 0 | 0 | 0 | 0 | 0 | 0 | 0 | 0 | 0 | 0 | 0 | 0 |
| 165 | IBELLE ROBBY | 0 | 0 | 0 | 0 | 0 | 0 | 0 | 0 | 0 | 0 | 0 | 0 | 0 | 0 | 0 | 0 | 0 | 0 | 0 | 0 | 0 | 0 | 0 | 0 | 0 | 0 | 0 | 0 | 0 | 0 | 0 | 0 | 0 | 0 | 0 | 100 | 0 | 0 | 0 | 0 | 0 | 0 | 0 | 0 | 0 | 0 | 0 | 0 | 0 | 0 | 0 | 0 | 0 | 0 | 0 | 0 | 0 | 0 | 0 |
| 166 | BECKER LINDA | 0 | 0 | 0 | 0 | 0 | 0 | 0 | 0 | 0 | 0 | 0 | 0 | 0 | 0 | 0 | 0 | 0 | 0 | 0 | 0 | 0 | 0 | 0 | 0 | 0 | 0 | 0 | 0 | 0 | 0 | 0 | 0 | 0 | 0 | 0 | 100 | 0 | 0 | 0 | 0 | 0 | 0 | 0 | 0 | 0 | 0 | 0 | 0 | 0 | 0 | 0 | 0 | 0 | 0 | 0 | 0 | 0 | 0 | 0 |
| 167 | HERNANEZ EDUARDO | 0 | 0 | 0 | 0 | 0 | 0 | 0 | 0 | 0 | 0 | 0 | 0 | 0 | 0 | 0 | 0 | 0 | 0 | 0 | 0 | 0 | 0 | 0 | 0 | 0 | 0 | 0 | 0 | 0 | 0 | 0 | 0 | 0 | 0 | 0 | 100 | 0 | 0 | 0 | 0 | 0 | 0 | 0 | 0 | 0 | 0 | 0 | 0 | 0 | 0 | 0 | 0 | 0 | 0 | 0 | 0 | 0 | 0 | 0 |
| 168 | BADALI JOSEPH | 0 | 0 | 0 | 0 | 0 | 0 | 0 | 0 | 0 | 0 | 0 | 0 | 0 | 0 | 0 | 0 | 0 | 0 | 0 | 0 | 0 | 0 | 0 | 0 | 0 | 0 | 0 | 0 | 0 | 0 | 0 | 0 | 0 | 0 | 0 | 100 | 0 | 0 | 0 | 0 | 0 | 0 | 0 | 0 | 0 | 0 | 0 | 0 | 0 | 0 | 0 | 0 | 0 | 0 | 0 | 0 | 0 | 0 | 0 |
| 169 | ALERICH MICHAEL | 0 | 0 | 0 | 0 | 0 | 0 | 0 | 0 | 0 | 0 | 0 | 0 | 0 | 0 | 0 | 0 | 0 | 0 | 0 | 0 | 0 | 0 | 0 | 0 | 0 | 0 | 0 | 0 | 0 | 0 | 0 | 0 | 0 | 0 | 0 | 100 | 0 | 0 | 0 | 0 | 0 | 0 | 0 | 0 | 0 | 0 | 0 | 0 | 0 | 0 | 0 | 0 | 0 | 0 | 0 | 0 | 0 | 0 | 0 |
| 170 | DAVOREN PATRICK | 0 | 0 | 0 | 0 | 0 | 0 | 0 | 0 | 0 | 0 | 0 | 0 | 0 | 0 | 0 | 0 | 0 | 0 | 0 | 0 | 0 | 0 | 0 | 0 | 0 | 0 | 0 | 0 | 0 | 0 | 0 | 0 | 0 | 0 | 0 | 100 | 0 | 0 | 0 | 0 | 0 | 0 | 0 | 0 | 0 | 0 | 0 | 0 | 0 | 0 | 0 | 0 | 0 | 0 | 0 | 100 | 0 | 0 | 0 |
| 171 | SONG BILL | 0 | 0 | 0 | 0 | 0 | 0 | 0 | 0 | 0 | 0 | 0 | 0 | 0 | 0 | 0 | 0 | 0 | 0 | 0 | 0 | 0 | 0 | 0 | 0 | 0 | 0 | 0 | 0 | 0 | 0 | 0 | 0 | 0 | 0 | 0 | 100 | 0 | 0 | 0 | 0 | 0 | 0 | 0 | 0 | 0 | 0 | 0 | 0 | 0 | 0 | 0 | 0 | 0 | 0 | 0 | 0 | 0 | 0 | 0 |
| 172 | EWELL JACK | 0 | 0 | 0 | 0 | 0 | 0 | 0 | 0 | 0 | 0 | 0 | 0 | 0 | 0 | 0 | 0 | 0 | 0 | 0 | 0 | 0 | 0 | 0 | 0 | 0 | 0 | 0 | 0 | 0 | 0 | 0 | 0 | 0 | 0 | 0 | 100 | 0 | 0 | 0 | 0 | 0 | 0 | 0 | 0 | 0 | 0 | 0 | 0 | 0 | 0 | 0 | 0 | 0 | 0 | 0 | 0 | 0 | 0 | 100 |
| 173 | CONNOLLY MICHAEL | 0 | 0 | 0 | 0 | 0 | 0 | 0 | 0 | 0 | 0 | 0 | 0 | 0 | 0 | 0 | 0 | 0 | 0 | 0 | 0 | 0 | 0 | 0 | 0 | 0 | 0 | 0 | 0 | 0 | 0 | 0 | 0 | 0 | 0 | 0 | 100 | 0 | 0 | 0 | 0 | 0 | 0 | 0 | 0 | 0 | 0 | 0 | 0 | 0 | 0 | 0 | 0 | 0 | 0 | 0 | 0 | 0 | 0 | 0 |
| 174 | TUBBS BOB | 0 | 0 | 0 | 0 | 0 | 0 | 0 | 0 | 0 | 0 | 0 | 0 | 0 | 0 | 0 | 0 | 0 | 0 | 0 | 0 | 0 | 0 | 0 | 0 | 0 | 0 | 0 | 0 | 0 | 0 | 0 | 0 | 0 | 0 | 0 | 100 | 0 | 0 | 0 | 0 | 0 | 0 | 0 | 0 | 0 | 0 | 0 | 0 | 0 | 0 | 0 | 0 | 0 | 0 | 0 | 0 | 0 | 0 | 0 |
| 175 | ANTUNA CHARLES | 0 | 0 | 0 | 0 | 0 | 0 | 0 | 0 | 0 | 0 | 0 | 0 | 0 | 0 | 0 | 0 | 0 | 0 | 0 | 0 | 0 | 0 | 0 | 0 | 0 | 0 | 0 | 0 | 0 | 0 | 0 | 0 | 0 | 0 | 0 | 100 | 0 | 0 | 0 | 0 | 0 | 0 | 0 | 0 | 0 | 0 | 0 | 0 | 0 | 0 | 0 | 0 | 0 | 0 | 0 | 100 | 0 | 0 | 0 |
| 176 | CARDELLA PAUL | 0 | 0 | 0 | 0 | 0 | 0 | 0 | 0 | 0 | 0 | 0 | 0 | 0 | 0 | 0 | 0 | 0 | 0 | 0 | 0 | 0 | 0 | 0 | 0 | 0 | 0 | 0 | 0 | 0 | 0 | 0 | 0 | 0 | 0 | 0 | 100 | 0 | 0 | 0 | 0 | 0 | 0 | 0 | 0 | 0 | 0 | 0 | 0 | 0 | 0 | 0 | 0 | 0 | 0 | 0 | 0 | 0 | 0 | 0 |
| 177 | SUZUKI DIANE | 0 | 0 | 0 | 0 | 0 | 0 | 0 | 0 | 0 | 0 | 0 | 0 | 0 | 0 | 0 | 0 | 0 | 0 | 0 | 0 | 0 | 0 | 0 | 0 | 0 | 0 | 0 | 0 | 0 | 0 | 0 | 0 | 0 | 0 | 0 | 100 | 0 | 0 | 0 | 0 | 0 | 0 | 0 | 0 | 0 | 0 | 0 | 0 | 0 | 0 | 0 | 0 | 0 | 0 | 0 | 0 | 0 | 0 | 0 |
| 178 | LOPEZ VICTOR | 0 | 0 | 0 | 0 | 0 | 0 | 0 | 0 | 0 | 0 | 0 | 0 | 0 | 0 | 0 | 0 | 0 | 0 | 0 | 0 | 0 | 0 | 0 | 0 | 0 | 0 | 0 | 0 | 0 | 0 | 0 | 0 | 0 | 0 | 0 | 100 | 0 | 0 | 0 | 0 | 0 | 0 | 0 | 0 | 0 | 0 | 0 | 0 | 0 | 0 | 0 | 0 | 0 | 0 | 0 | 0 | 0 | 0 | 0 |
| 179 | SCROGGIN JEFFREY | 0 | 0 | 0 | 0 | 0 | 0 | 0 | 0 | 0 | 0 | 0 | 0 | 0 | 0 | 0 | 0 | 0 | 0 | 0 | 0 | 0 | 0 | 0 | 0 | 0 | 0 | 0 | 0 | 0 | 0 | 0 | 0 | 0 | 0 | 0 | 100 | 0 | 0 | 0 | 0 | 0 | 0 | 0 | 0 | 0 | 0 | 0 | 0 | 0 | 0 | 0 | 0 | 0 | 0 | 0 | 100 | 0 | 0 | 0 |
| 180 | WONG KERWIN | 0 | 0 | 0 | 0 | 0 | 0 | 0 | 0 | 0 | 0 | 0 | 0 | 0 | 0 | 0 | 0 | 0 | 0 | 0 | 0 | 0 | 0 | 0 | 0 | 0 | 0 | 0 | 0 | 0 | 0 | 0 | 0 | 0 | 0 | 0 | 100 | 0 | 0 | 0 | 0 | 0 | 0 | 0 | 0 | 0 | 0 | 0 | 0 | 0 | 0 | 0 | 0 | 0 | 0 | 0 | 0 | 0 | 0 | 0 |
| 181 | CARR KATHRYN | 0 | 0 | 0 | 0 | 0 | 0 | 0 | 0 | 0 | 0 | 0 | 0 | 0 | 0 | 0 | 0 | 0 | 0 | 0 | 0 | 0 | 0 | 0 | 0 | 0 | 0 | 0 | 0 | 0 | 0 | 0 | 0 | 0 | 0 | 0 | 100 | 0 | 0 | 0 | 0 | 0 | 0 | 0 | 0 | 0 | 0 | 0 | 0 | 0 | 0 | 0 | 0 | 0 | 0 | 0 | 0 | 0 | 0 | 0 |
| 182 | BURT TOM | 0 | 0 | 0 | 0 | 0 | 0 | 0 | 0 | 0 | 0 | 0 | 0 | 0 | 0 | 0 | 0 | 0 | 0 | 0 | 0 | 0 | 0 | 0 | 0 | 0 | 0 | 0 | 0 | 0 | 0 | 0 | 0 | 0 | 0 | 0 | 100 | 0 | 0 | 0 | 0 | 0 | 0 | 0 | 0 | 0 | 0 | 0 | 0 | 0 | 0 | 0 | 0 | 0 | 0 | 0 | 0 | 0 | 0 | 0 |
| 183 | GOODEN JOSEPH | 0 | 0 | 0 | 0 | 0 | 0 | 0 | 0 | 0 | 0 | 0 | 0 | 0 | 0 | 0 | 0 | 0 | 0 | 0 | 0 | 0 | 0 | 0 | 0 | 0 | 0 | 0 | 0 | 0 | 0 | 0 | 0 | 0 | 0 | 0 | 100 | 0 | 0 | 0 | 0 | 0 | 0 | 0 | 0 | 0 | 0 | 0 | 0 | 0 | 0 | 0 | 0 | 0 | 0 | 0 | 0 | 0 | 0 | 0 |
| 184 | NEWMAN CHERYL | 0 | 0 | 0 | 0 | 0 | 0 | 0 | 0 | 0 | 0 | 0 | 0 | 0 | 0 | 0 | 0 | 0 | 0 | 0 | 0 | 0 | 0 | 0 | 0 | 0 | 0 | 0 | 0 | 0 | 0 | 0 | 0 | 0 | 0 | 0 | 100 | 0 | 0 | 0 | 0 | 0 | 0 | 0 | 0 | 0 | 0 | 0 | 0 | 0 | 0 | 0 | 0 | 0 | 0 | 0 | 0 | 0 | 0 | 0 |
| 185 | CHEW SCOTT | 0 | 0 | 0 | 0 | 0 | 0 | 0 | 0 | 0 | 0 | 0 | 0 | 0 | 0 | 0 | 0 | 0 | 0 | 0 | 0 | 0 | 0 | 0 | 0 | 0 | 0 | 0 | 0 | 0 | 0 | 0 | 0 | 0 | 0 | 0 | 100 | 0 | 0 | 0 | 0 | 0 | 0 | 0 | 0 | 0 | 0 | 0 | 0 | 0 | 0 | 0 | 0 | 0 | 0 | 0 | 0 | 0 | 0 | 0 |
| 186 | PERKINS TIM | 0 | 0 | 0 | 0 | 0 | 0 | 0 | 0 | 0 | 0 | 0 | 0 | 0 | 0 | 0 | 0 | 0 | 0 | 0 | 0 | 0 | 0 | 0 | 0 | 0 | 0 | 0 | 0 | 0 | 0 | 0 | 0 | 0 | 0 | 0 | 100 | 0 | 0 | 0 | 0 | 0 | 0 | 0 | 0 | 0 | 0 | 0 | 0 | 0 | 0 | 0 | 0 | 0 | 0 | 0 | 0 | 0 | 0 | 0 |
| 187 | REYES HENRY | 0 | 0 | 0 | 0 | 0 | 0 | 0 | 0 | 0 | 0 | 0 | 0 | 0 | 0 | 0 | 0 | 0 | 0 | 0 | 0 | 0 | 0 | 0 | 0 | 0 | 0 | 0 | 0 | 0 | 0 | 0 | 0 | 0 | 0 | 0 | 100 | 0 | 0 | 0 | 0 | 0 | 0 | 0 | 0 | 0 | 0 | 0 | 0 | 0 | 0 | 0 | 0 | 0 | 0 | 0 | 0 | 0 | 0 | 0 |
| 188 | WALKER MARK | 0 | 0 | 0 | 0 | 0 | 0 | 0 | 0 | 0 | 0 | 0 | 0 | 0 | 0 | 0 | 0 | 0 | 0 | 0 | 0 | 0 | 0 | 0 | 0 | 0 | 0 | 0 | 0 | 0 | 0 | 0 | 0 | 0 | 0 | 0 | 100 | 0 | 0 | 0 | 0 | 0 | 0 | 0 | 0 | 0 | 0 | 0 | 0 | 0 | 0 | 0 | 0 | 0 | 0 | 0 | 0 | 0 | 0 | 0 |
| 189 | HECHT MARY DIANE | 0 | 0 | 0 | 0 | 0 | 0 | 0 | 0 | 0 | 0 | 0 | 0 | 0 | 0 | 0 | 0 | 0 | 0 | 0 | 0 | 0 | 0 | 0 | 0 | 0 | 0 | 0 | 0 | 0 | 0 | 0 | 0 | 0 | 0 | 0 | 100 | 0 | 0 | 0 | 0 | 0 | 0 | 0 | 0 | 0 | 0 | 0 | 0 | 0 | 0 | 0 | 0 | 0 | 0 | 0 | 0 | 0 | 0 | 0 |
| 190 | GALLEGOS JENNY | 0 | 0 | 0 | 0 | 0 | 0 | 0 | 0 | 0 | 0 | 0 | 0 | 0 | 0 | 0 | 0 | 0 | 0 | 0 | 0 | 0 | 0 | 0 | 0 | 0 | 0 | 0 | 0 | 0 | 0 | 0 | 0 | 0 | 0 | 0 | 200 | 0 | 0 | 0 | 0 | 0 | 0 | 0 | 0 | 0 | 0 | 0 | 0 | 0 | 0 | 0 | 0 | 0 | 0 | 0 | 0 | 0 | 0 | 0 |
| 191 | BUNNELL DICK | 0 | 0 | 0 | 0 | 0 | 0 | 0 | 0 | 0 | 0 | 0 | 0 | 0 | 0 | 0 | 0 | 0 | 0 | 0 | 0 | 0 | 0 | 0 | 0 | 0 | 0 | 0 | 0 | 0 | 0 | 0 | 0 | 0 | 0 | 0 | 200 | 0 | 0 | 0 | 0 | 0 | 0 | 0 | 0 | 0 | 0 | 0 | 0 | 0 | 0 | 0 | 0 | 0 | 0 | 0 | 0 | 0 | 0 | 0 |
| 192 | HELLMOLD JIM | 0 | 0 | 0 | 0 | 0 | 0 | 0 | 0 | 0 | 0 | 0 | 0 | 0 | 0 | 0 | 0 | 0 | 0 | 0 | 0 | 0 | 0 | 0 | 0 | 0 | 0 | 0 | 0 | 0 | 0 | 0 | 0 | 0 | 0 | 0 | 205 | 0 | 0 | 0 | 0 | 0 | 0 | 0 | 0 | 0 | 0 | 0 | 0 | 0 | 0 | 0 | 0 | 0 | 0 | 0 | 0 | 0 | 0 | 0 |
| 193 | BARTLETT WILLIAM | 0 | 0 | 0 | 0 | 0 | 0 | 0 | 0 | 0 | 0 | 0 | 0 | 0 | 0 | 0 | 0 | 0 | 0 | 0 | 0 | 0 | 0 | 0 | 0 | 0 | 0 | 0 | 0 | 0 | 0 | 0 | 0 | 0 | 0 | 0 | 200 | 0 | 0 | 0 | 0 | 0 | 0 | 0 | 0 | 0 | 0 | 0 | 0 | 0 | 0 | 0 | 0 | 0 | 0 | 0 | 0 | 0 | 0 | 0 |
| 194 | CHAVEZ JOSEPH | 0 | 0 | 0 | 0 | 0 | 0 | 0 | 0 | 0 | 0 | 0 | 0 | 0 | 0 | 0 | 0 | 0 | 0 | 0 | 0 | 0 | 0 | 0 | 0 | 0 | 0 | 0 | 0 | 0 | 0 | 0 | 0 | 0 | 0 | 0 | 200 | 0 | 0 | 0 | 0 | 0 | 0 | 0 | 0 | 0 | 0 | 0 | 0 | 0 | 0 | 0 | 0 | 0 | 0 | 0 | 0 | 0 | 0 | 0 |
| 195 | PIETRANTONI PAUL | 0 | 0 | 0 | 0 | 0 | 0 | 0 | 0 | 0 | 0 | 0 | 0 | 0 | 0 | 0 | 0 | 0 | 0 | 0 | 0 | 0 | 0 | 0 | 0 | 0 | 0 | 0 | 0 | 0 | 0 | 0 | 0 | 0 | 0 | 0 | 200 | 0 | 0 | 0 | 0 | 0 | 0 | 0 | 0 | 0 | 0 | 0 | 0 | 0 | 0 | 0 | 1000 | 0 | 0 | 0 | 0 | 0 | 0 | 0 |
| 196 | FLORES DAVID | 0 | 0 | 0 | 0 | 0 | 0 | 0 | 0 | 0 | 0 | 0 | 0 | 0 | 0 | 0 | 0 | 0 | 0 | 0 | 0 | 0 | 0 | 0 | 0 | 0 | 0 | 0 | 0 | 0 | 0 | 0 | 0 | 0 | 0 | 0 | 200 | 0 | 0 | 0 | 0 | 0 | 0 | 0 | 0 | 0 | 0 | 0 | 0 | 0 | 0 | 0 | 0 | 0 | 0 | 0 | 0 | 0 | 0 | 0 |
| 197 | WALTERS DAVID | 0 | 0 | 0 | 0 | 0 | 0 | 0 | 0 | 0 | 0 | 0 | 0 | 0 | 0 | 0 | 0 | 0 | 0 | 0 | 0 | 0 | 0 | 0 | 0 | 0 | 0 | 0 | 0 | 0 | 0 | 0 | 0 | 0 | 0 | 0 | 200 | 0 | 0 | 0 | 0 | 0 | 0 | 0 | 0 | 0 | 0 | 0 | 0 | 0 | 0 | 0 | 0 | 0 | 0 | 300 | 0 | 0 | 0 | 0 |
| 198 | SUZUKI STEVE | 0 | 0 | 0 | 0 | 0 | 0 | 0 | 0 | 0 | 0 | 0 | 0 | 0 | 0 | 0 | 0 | 0 | 0 | 0 | 0 | 0 | 0 | 0 | 0 | 0 | 0 | 0 | 0 | 0 | 0 | 0 | 0 | 0 | 0 | 0 | 300 | 0 | 0 | 0 | 0 | 0 | 0 | 0 | 0 | 0 | 0 | 0 | 0 | 0 | 0 | 0 | 0 | 0 | 0 | 0 | 0 | 0 | 0 | 0 |
| 199 | THOMPSON ANDREW | 0 | 0 | 0 | 0 | 0 | 0 | 0 | 0 | 0 | 0 | 0 | 0 | 0 | 0 | 0 | 0 | 0 | 0 | 0 | 0 | 0 | 0 | 0 | 0 | 0 | 0 | 0 | 0 | 0 | 0 | 0 | 0 | 0 | 0 | 0 | 500 | 0 | 0 | 0 | 0 | 0 | 0 | 0 | 0 | 0 | 0 | 0 | 0 | 0 | 0 | 0 | 0 | 0 | 0 | 0 | 0 | 0 | 0 | 0 |
| 200 | YOKOYAMA HIROSHI | 0 | 0 | 0 | 0 | 0 | 0 | 0 | 0 | 0 | 0 | 0 | 0 | 0 | 0 | 0 | 0 | 0 | 0 | 0 | 0 | 0 | 0 | 0 | 0 | 0 | 0 | 0 | 0 | 0 | 0 | 0 | 0 | 0 | 0 | 0 | 1000 | 0 | 0 | 0 | 0 | 0 | 0 | 0 | 0 | 0 | 0 | 0 | 0 | 0 | 0 | 0 | 0 | 0 | 0 | 0 | 100 | 0 | 0 | 0 |
| 201 | MAYER JOHN | 0 | 0 | 0 | 0 | 0 | 0 | 0 | 0 | 0 | 0 | 0 | 0 | 0 | 0 | 0 | 0 | 0 | 0 | 0 | 0 | 0 | 0 | 0 | 0 | 0 | 0 | 0 | 0 | 0 | 0 | 0 | 0 | 0 | 0 | 0 | 0 | 100 | 0 | 0 | 0 | 0 | 0 | 0 | 0 | 0 | 0 | 0 | 0 | 0 | 0 | 0 | 0 | 0 | 0 | 0 | 0 | 0 | 0 | 0 |
| 202 | HARDING MICHAEL | 0 | 0 | 0 | 0 | 0 | 0 | 0 | 0 | 0 | 0 | 0 | 0 | 0 | 0 | 0 | 0 | 0 | 0 | 0 | 0 | 0 | 0 | 0 | 0 | 0 | 0 | 0 | 0 | 0 | 0 | 0 | 0 | 0 | 0 | 0 | 0 | 100 | 0 | 0 | 0 | 0 | 0 | 0 | 0 | 0 | 0 | 0 | 0 | 0 | 0 | 0 | 0 | 0 | 0 | 0 | 0 | 0 | 0 | 0 |
| 203 | FENNELL JOSEPH | 0 | 0 | 0 | 0 | 0 | 0 | 0 | 0 | 0 | 0 | 0 | 0 | 0 | 0 | 0 | 0 | 0 | 0 | 0 | 0 | 0 | 0 | 0 | 0 | 0 | 0 | 0 | 0 | 0 | 0 | 0 | 0 | 0 | 0 | 0 | 0 | 0 | 100 | 0 | 0 | 0 | 0 | 0 | 0 | 0 | 0 | 250 | 0 | 0 | 0 | 0 | 0 | 0 | 0 | 0 | 250 | 0 | 0 | 0 |
| 204 | BOTTOMLEY RONALD | 0 | 0 | 0 | 0 | 0 | 0 | 0 | 0 | 0 | 0 | 0 | 0 | 0 | 0 | 0 | 0 | 0 | 0 | 0 | 0 | 0 | 0 | 0 | 0 | 0 | 0 | 0 | 0 | 0 | 0 | 0 | 0 | 0 | 0 | 0 | 0 | 0 | 100 | 0 | 0 | 0 | 0 | 0 | 0 | 0 | 0 | 0 | 0 | 0 | 0 | 0 | 0 | 0 | 0 | 0 | 0 | 0 | 0 | 0 |
| 205 | TOKUDA SEIKO | 0 | 0 | 0 | 0 | 0 | 0 | 0 | 0 | 0 | 0 | 0 | 0 | 0 | 0 | 0 | 0 | 0 | 0 | 0 | 0 | 0 | 0 | 0 | 0 | 0 | 0 | 0 | 0 | 0 | 0 | 0 | 0 | 0 | 0 | 0 | 0 | 0 | 0 | 100 | 0 | 0 | 0 | 0 | 0 | 0 | 0 | 0 | 0 | 0 | 0 | 0 | 0 | 0 | 0 | 0 | 0 | 0 | 0 | 0 |
| 206 | MILLER STEVEN | 0 | 0 | 0 | 0 | 0 | 0 | 0 | 0 | 0 | 0 | 0 | 0 | 0 | 0 | 0 | 0 | 0 | 0 | 0 | 0 | 0 | 0 | 0 | 0 | 0 | 0 | 0 | 0 | 0 | 0 | 0 | 0 | 0 | 0 | 0 | 0 | 0 | 0 | 0 | 0 | 100 | 0 | 0 | 0 | 0 | 0 | 0 | 0 | 0 | 0 | 0 | 0 | 0 | 0 | 0 | 0 | 0 | 0 | 0 |
| 207 | SNEED DANNY | 0 | 0 | 0 | 0 | 0 | 0 | 0 | 0 | 0 | 0 | 0 | 0 | 0 | 0 | 0 | 0 | 0 | 0 | 0 | 0 | 0 | 0 | 0 | 0 | 0 | 0 | 0 | 0 | 0 | 0 | 0 | 0 | 0 | 0 | 0 | 0 | 0 | 0 | 0 | 0 | 100 | 0 | 0 | 0 | 0 | 0 | 0 | 0 | 0 | 0 | 0 | 0 | 0 | 0 | 0 | 0 | 0 | 0 | 0 |
| 208 | BATES DAPHINE | 0 | 0 | 0 | 0 | 0 | 0 | 0 | 0 | 0 | 0 | 0 | 0 | 0 | 0 | 0 | 0 | 0 | 0 | 0 | 0 | 0 | 0 | 0 | 0 | 0 | 0 | 0 | 0 | 0 | 0 | 0 | 0 | 0 | 0 | 0 | 0 | 0 | 0 | 0 | 0 | 100 | 0 | 0 | 0 | 0 | 0 | 0 | 0 | 0 | 0 | 0 | 0 | 0 | 0 | 0 | 100 | 0 | 0 | 0 |
| 209 | SPENCER TOM | 0 | 0 | 0 | 0 | 0 | 0 | 0 | 0 | 0 | 0 | 0 | 0 | 0 | 0 | 0 | 0 | 0 | 0 | 0 | 0 | 0 | 0 | 0 | 0 | 0 | 0 | 0 | 0 | 805.39 | 0 | 0 | 0 | 0 | 0 | 0 | 0 | 0 | 0 | 0 | 0 | 0 | 0 | 0 | 0 | 0 | 0 | 0 | 0 | 0 | 0 | 0 | 0 | 0 | 0 | 0 | 0 | 0 | 0 | 0 |
| 210 | EVANS DARYL | 0 | 0 | 0 | 0 | 0 | 0 | 0 | 0 | 0 | 0 | 0 | 0 | 0 | 0 | 0 | 0 | 0 | 0 | 0 | 0 | 0 | 0 | 0 | 0 | 0 | 0 | 0 | 0 | 500 | 0 | 0 | 0 | 0 | 0 | 0 | 0 | 0 | 0 | 0 | 0 | 0 | 0 | 0 | 0 | 0 | 0 | 0 | 0 | 0 | 0 | 0 | 0 | 0 | 0 | 0 | 0 | 0 | 0 | 0 |
| 211 | FLYNT HAROLD | 0 | 0 | 0 | 0 | 0 | 0 | 0 | 0 | 0 | 0 | 0 | 0 | 0 | 0 | 0 | 0 | 0 | 0 | 0 | 0 | 0 | 0 | 0 | 0 | 0 | 0 | 0 | 0 | 0 | 0 | 0 | 0 | 0 | 0 | 0 | 0 | 0 | 0 | 0 | 0 | 0 | 100 | 0 | 0 | 0 | 0 | 0 | 0 | 0 | 0 | 0 | 0 | 0 | 0 | 0 | 0 | 0 | 0 | 0 |
| 212 | MARTINEZ JULIO | 0 | 0 | 0 | 0 | 0 | 0 | 0 | 0 | 0 | 0 | 0 | 0 | 0 | 0 | 0 | 0 | 0 | 0 | 0 | 0 | 0 | 0 | 0 | 0 | 0 | 0 | 0 | 0 | 0 | 0 | 0 | 0 | 0 | 0 | 0 | 0 | 0 | 0 | 0 | 0 | 0 | 100 | 0 | 0 | 0 | 0 | 0 | 0 | 0 | 0 | 0 | 0 | 0 | 0 | 0 | 0 | 0 | 0 | 0 |
| 213 | SILL DEREK | 0 | 0 | 0 | 0 | 0 | 0 | 0 | 0 | 0 | 0 | 0 | 0 | 0 | 0 | 0 | 0 | 0 | 0 | 0 | 0 | 0 | 0 | 0 | 0 | 0 | 0 | 0 | 0 | 0 | 0 | 0 | 0 | 0 | 0 | 0 | 0 | 0 | 0 | 0 | 0 | 0 | 100 | 0 | 0 | 0 | 0 | 0 | 0 | 0 | 0 | 0 | 0 | 0 | 0 | 0 | 0 | 0 | 0 | 0 |
| 214 | MARADIAGA RICHARD | 0 | 0 | 0 | 0 | 0 | 0 | 0 | 0 | 0 | 0 | 0 | 0 | 0 | 0 | 0 | 0 | 0 | 0 | 0 | 0 | 0 | 0 | 0 | 0 | 0 | 0 | 0 | 0 | 0 | 0 | 0 | 0 | 0 | 0 | 0 | 0 | 0 | 0 | 0 | 0 | 0 | 100 | 0 | 0 | 0 | 0 | 0 | 0 | 0 | 0 | 0 | 0 | 0 | 0 | 0 | 0 | 0 | 0 | 0 |
| 215 | CACHEIRO PEDRO | 0 | 0 | 0 | 0 | 0 | 0 | 0 | 0 | 0 | 0 | 0 | 0 | 0 | 0 | 0 | 0 | 0 | 0 | 0 | 0 | 0 | 0 | 0 | 0 | 0 | 0 | 0 | 0 | 0 | 0 | 0 | 0 | 0 | 0 | 0 | 0 | 0 | 0 | 0 | 0 | 0 | 100 | 0 | 0 | 0 | 0 | 0 | 0 | 0 | 0 | 0 | 0 | 0 | 0 | 0 | 0 | 0 | 0 | 0 |
| 216 | LOPEZ CARLOS | 0 | 0 | 0 | 0 | 0 | 0 | 0 | 0 | 0 | 0 | 0 | 0 | 0 | 0 | 0 | 0 | 0 | 0 | 0 | 0 | 0 | 0 | 0 | 0 | 0 | 0 | 0 | 0 | 0 | 0 | 0 | 0 | 0 | 0 | 0 | 0 | 0 | 0 | 0 | 0 | 0 | 100 | 0 | 0 | 0 | 0 | 0 | 0 | 0 | 0 | 0 | 0 | 0 | 0 | 0 | 0 | 0 | 0 | 0 |
| 217 | LUCIO MARC | 0 | 0 | 0 | 0 | 0 | 0 | 0 | 0 | 0 | 0 | 0 | 0 | 0 | 0 | 0 | 0 | 0 | 0 | 0 | 0 | 0 | 0 | 0 | 0 | 0 | 0 | 0 | 0 | 0 | 0 | 0 | 0 | 0 | 0 | 0 | 0 | 0 | 0 | 0 | 0 | 0 | 100 | 0 | 0 | 0 | 0 | 0 | 0 | 0 | 0 | 0 | 0 | 0 | 0 | 0 | 0 | 0 | 0 | 0 |
| 218 | MIRANDA CRYSTAL | 0 | 0 | 0 | 0 | 0 | 0 | 0 | 0 | 0 | 0 | 0 | 0 | 0 | 0 | 0 | 0 | 0 | 0 | 0 | 0 | 0 | 0 | 0 | 0 | 0 | 0 | 0 | 0 | 0 | 0 | 0 | 0 | 0 | 0 | 0 | 0 | 0 | 0 | 0 | 0 | 0 | 100 | 0 | 0 | 0 | 0 | 0 | 0 | 0 | 0 | 0 | 0 | 0 | 0 | 500 | 0 | 0 | 0 | 0 |
| 219 | FURMANSKI DAVID | 0 | 0 | 0 | 0 | 0 | 0 | 0 | 0 | 0 | 0 | 0 | 0 | 0 | 0 | 0 | 0 | 0 | 0 | 0 | 0 | 0 | 0 | 0 | 0 | 0 | 0 | 0 | 0 | 0 | 0 | 0 | 0 | 0 | 0 | 0 | 0 | 0 | 0 | 0 | 0 | 0 | 100 | 0 | 0 | 0 | 0 | 0 | 0 | 0 | 0 | 0 | 0 | 0 | 0 | 0 | 0 | 0 | 0 | 0 |
| 220 | KIM STEVE | 0 | 0 | 0 | 0 | 0 | 0 | 0 | 0 | 0 | 0 | 0 | 0 | 0 | 0 | 0 | 0 | 0 | 0 | 0 | 0 | 0 | 0 | 0 | 0 | 0 | 0 | 0 | 0 | 0 | 0 | 0 | 0 | 0 | 0 | 0 | 0 | 0 | 0 | 0 | 0 | 0 | 100 | 0 | 0 | 0 | 0 | 0 | 0 | 0 | 0 | 0 | 0 | 0 | 0 | 0 | 0 | 0 | 0 | 0 |
| 221 | GRACIA RUBEN | 0 | 0 | 0 | 0 | 0 | 0 | 0 | 0 | 0 | 0 | 0 | 0 | 0 | 0 | 0 | 0 | 0 | 0 | 0 | 0 | 0 | 0 | 0 | 0 | 0 | 0 | 0 | 0 | 0 | 0 | 0 | 0 | 0 | 0 | 0 | 0 | 0 | 0 | 0 | 0 | 0 | 100 | 0 | 0 | 0 | 0 | 0 | 0 | 0 | 0 | 0 | 0 | 0 | 0 | 0 | 0 | 0 | 0 | 0 |
| 222 | GARCIA ALLAN | 0 | 0 | 0 | 0 | 0 | 0 | 0 | 0 | 0 | 0 | 0 | 0 | 0 | 0 | 0 | 0 | 0 | 0 | 0 | 0 | 0 | 0 | 0 | 0 | 0 | 0 | 0 | 0 | 0 | 0 | 0 | 0 | 0 | 0 | 0 | 0 | 0 | 0 | 0 | 0 | 0 | 100 | 0 | 0 | 0 | 0 | 0 | 0 | 0 | 0 | 0 | 0 | 0 | 0 | 0 | 0 | 0 | 0 | 0 |
| 223 | WAINIE BYRON | 0 | 0 | 0 | 0 | 0 | 0 | 0 | 0 | 0 | 0 | 0 | 0 | 0 | 0 | 0 | 0 | 0 | 0 | 0 | 0 | 0 | 0 | 0 | 0 | 0 | 0 | 0 | 0 | 0 | 0 | 0 | 0 | 0 | 0 | 0 | 0 | 0 | 0 | 0 | 0 | 0 | 100 | 0 | 0 | 0 | 0 | 0 | 0 | 0 | 0 | 0 | 0 | 0 | 0 | 0 | 0 | 0 | 0 | 0 |
| 224 | VALENCIA JULIE | 0 | 0 | 0 | 0 | 0 | 0 | 0 | 0 | 0 | 0 | 0 | 0 | 0 | 0 | 0 | 0 | 0 | 0 | 0 | 0 | 0 | 0 | 0 | 0 | 0 | 0 | 0 | 0 | 0 | 0 | 0 | 0 | 0 | 0 | 0 | 0 | 0 | 0 | 0 | 0 | 0 | 100 | 0 | 0 | 0 | 0 | 0 | 0 | 0 | 0 | 0 | 0 | 0 | 0 | 0 | 0 | 0 | 0 | 0 |
| 225 | LUCERO JESSE JOSEPH | 0 | 0 | 0 | 0 | 0 | 0 | 0 | 0 | 0 | 0 | 0 | 0 | 0 | 0 | 0 | 0 | 0 | 0 | 0 | 0 | 0 | 0 | 0 | 0 | 0 | 0 | 0 | 0 | 0 | 0 | 0 | 0 | 0 | 0 | 0 | 0 | 0 | 0 | 0 | 0 | 0 | 100 | 0 | 0 | 0 | 0 | 0 | 0 | 0 | 0 | 0 | 0 | 0 | 0 | 0 | 0 | 0 | 0 | 0 |
| 226 | GATES JIM | 0 | 0 | 0 | 0 | 0 | 0 | 0 | 0 | 0 | 0 | 0 | 0 | 0 | 0 | 0 | 0 | 0 | 0 | 0 | 0 | 0 | 0 | 0 | 0 | 0 | 0 | 0 | 0 | 0 | 0 | 0 | 0 | 0 | 0 | 0 | 0 | 0 | 0 | 0 | 0 | 0 | 100 | 0 | 0 | 0 | 0 | 0 | 0 | 0 | 0 | 0 | 0 | 0 | 0 | 0 | 0 | 0 | 0 | 0 |
| 227 | GUTIERREZ STEVEN | 0 | 0 | 0 | 0 | 0 | 0 | 0 | 0 | 0 | 0 | 0 | 0 | 0 | 0 | 0 | 0 | 0 | 0 | 0 | 0 | 0 | 0 | 0 | 0 | 0 | 0 | 0 | 0 | 0 | 0 | 0 | 0 | 0 | 0 | 0 | 0 | 0 | 0 | 0 | 0 | 0 | 100 | 0 | 0 | 0 | 0 | 0 | 0 | 0 | 0 | 0 | 0 | 0 | 0 | 0 | 0 | 0 | 0 | 0 |
| 228 | ESTRADA RICHARD | 0 | 0 | 0 | 0 | 0 | 0 | 0 | 0 | 0 | 0 | 0 | 0 | 0 | 0 | 0 | 0 | 0 | 0 | 0 | 0 | 0 | 0 | 0 | 0 | 0 | 0 | 0 | 0 | 0 | 0 | 0 | 0 | 0 | 0 | 0 | 0 | 0 | 0 | 0 | 0 | 0 | 100 | 0 | 0 | 0 | 0 | 0 | 0 | 0 | 0 | 0 | 0 | 0 | 0 | 0 | 0 | 0 | 0 | 0 |
| 229 | TRULL LESTER | 0 | 0 | 0 | 0 | 0 | 0 | 0 | 0 | 0 | 0 | 0 | 0 | 0 | 0 | 0 | 0 | 0 | 0 | 0 | 0 | 0 | 0 | 0 | 0 | 0 | 0 | 0 | 0 | 0 | 0 | 0 | 0 | 0 | 0 | 0 | 0 | 0 | 0 | 0 | 0 | 0 | 100 | 0 | 0 | 0 | 0 | 0 | 0 | 0 | 0 | 0 | 0 | 0 | 0 | 0 | 0 | 0 | 0 | 0 |
| 230 | RIOS JIMMY | 0 | 0 | 0 | 0 | 0 | 0 | 0 | 0 | 0 | 0 | 0 | 0 | 0 | 0 | 0 | 0 | 0 | 0 | 0 | 0 | 0 | 0 | 0 | 0 | 0 | 0 | 0 | 0 | 0 | 0 | 0 | 0 | 0 | 0 | 0 | 0 | 0 | 0 | 0 | 0 | 0 | 100 | 0 | 0 | 0 | 0 | 0 | 0 | 0 | 0 | 0 | 0 | 0 | 0 | 0 | 0 | 0 | 0 | 0 |
| 231 | GAUTT REGINALD | 0 | 0 | 0 | 0 | 0 | 0 | 0 | 0 | 0 | 0 | 0 | 0 | 0 | 0 | 0 | 0 | 0 | 0 | 0 | 0 | 0 | 0 | 0 | 0 | 0 | 0 | 0 | 0 | 0 | 0 | 0 | 0 | 0 | 0 | 0 | 0 | 0 | 0 | 0 | 0 | 0 | 100 | 0 | 0 | 0 | 0 | 0 | 0 | 0 | 0 | 0 | 0 | 0 | 0 | 0 | 0 | 0 | 0 | 0 |
| 232 | RUEFF JOHN | 0 | 0 | 0 | 0 | 0 | 0 | 0 | 0 | 0 | 0 | 0 | 0 | 0 | 0 | 0 | 0 | 0 | 0 | 0 | 0 | 0 | 0 | 0 | 0 | 0 | 0 | 0 | 0 | 0 | 0 | 0 | 0 | 0 | 0 | 0 | 0 | 0 | 0 | 0 | 0 | 0 | 100 | 0 | 0 | 0 | 0 | 0 | 0 | 0 | 0 | 0 | 0 | 0 | 0 | 0 | 0 | 0 | 0 | 0 |
| 233 | OGLESBY DENISE | 0 | 0 | 0 | 0 | 0 | 0 | 0 | 0 | 0 | 0 | 0 | 0 | 0 | 0 | 0 | 0 | 0 | 0 | 0 | 0 | 0 | 0 | 0 | 0 | 0 | 0 | 0 | 0 | 0 | 0 | 0 | 0 | 0 | 0 | 0 | 0 | 0 | 0 | 0 | 0 | 0 | 100 | 0 | 0 | 0 | 0 | 0 | 0 | 0 | 0 | 0 | 0 | 0 | 0 | 0 | 0 | 0 | 0 | 0 |
| 234 | VOYER KATHERINE | 0 | 0 | 0 | 0 | 0 | 0 | 0 | 0 | 0 | 0 | 0 | 0 | 0 | 0 | 0 | 0 | 0 | 0 | 0 | 0 | 0 | 0 | 0 | 0 | 0 | 0 | 0 | 0 | 0 | 0 | 0 | 0 | 0 | 0 | 0 | 0 | 0 | 0 | 0 | 0 | 0 | 100 | 0 | 0 | 0 | 0 | 0 | 0 | 0 | 0 | 0 | 0 | 0 | 0 | 0 | 0 | 0 | 0 | 0 |
| 235 | LOPEZ ROBERT | 0 | 0 | 0 | 0 | 0 | 0 | 0 | 0 | 0 | 0 | 0 | 0 | 0 | 0 | 0 | 0 | 0 | 0 | 0 | 0 | 0 | 0 | 0 | 0 | 0 | 0 | 0 | 0 | 0 | 0 | 0 | 0 | 0 | 0 | 0 | 0 | 0 | 0 | 0 | 0 | 0 | 100 | 0 | 0 | 0 | 0 | 0 | 0 | 0 | 0 | 0 | 0 | 0 | 0 | 0 | 0 | 0 | 0 | 0 |
| 236 | SCHREINER JASON | 0 | 0 | 0 | 0 | 0 | 0 | 0 | 0 | 0 | 0 | 0 | 0 | 0 | 0 | 0 | 0 | 0 | 0 | 0 | 0 | 0 | 0 | 0 | 0 | 0 | 0 | 0 | 0 | 0 | 0 | 0 | 0 | 0 | 0 | 0 | 0 | 0 | 0 | 0 | 0 | 0 | 100 | 0 | 0 | 0 | 0 | 0 | 100 | 0 | 0 | 0 | 0 | 0 | 0 | 0 | 0 | 0 | 0 | 0 |
| 237 | NUNEZ JOE | 0 | 0 | 0 | 0 | 0 | 0 | 0 | 0 | 0 | 0 | 0 | 0 | 0 | 0 | 0 | 0 | 0 | 0 | 0 | 0 | 0 | 0 | 0 | 0 | 0 | 0 | 0 | 0 | 0 | 0 | 0 | 0 | 0 | 0 | 0 | 0 | 0 | 0 | 0 | 0 | 0 | 100 | 0 | 0 | 0 | 0 | 0 | 0 | 0 | 0 | 0 | 0 | 0 | 0 | 0 | 0 | 0 | 0 | 0 |
| 238 | FLORES SERGIO | 0 | 0 | 0 | 0 | 0 | 0 | 0 | 0 | 0 | 0 | 0 | 0 | 0 | 0 | 0 | 0 | 0 | 0 | 0 | 0 | 0 | 0 | 0 | 0 | 0 | 0 | 0 | 0 | 0 | 0 | 0 | 0 | 0 | 0 | 0 | 0 | 0 | 0 | 0 | 0 | 0 | 100 | 0 | 0 | 0 | 0 | 0 | 0 | 0 | 0 | 0 | 0 | 0 | 0 | 0 | 0 | 0 | 0 | 0 |
| 239 | RIVAS SILVERIO | 0 | 0 | 0 | 0 | 0 | 0 | 0 | 0 | 0 | 0 | 0 | 0 | 0 | 0 | 0 | 0 | 0 | 0 | 0 | 0 | 0 | 0 | 0 | 0 | 0 | 0 | 0 | 0 | 0 | 0 | 0 | 0 | 0 | 0 | 0 | 0 | 0 | 0 | 0 | 0 | 0 | 100 | 0 | 0 | 0 | 0 | 0 | 0 | 0 | 0 | 0 | 0 | 0 | 0 | 0 | 0 | 0 | 0 | 0 |
| 240 | NAVARRO GABRIEL | 0 | 0 | 0 | 0 | 0 | 0 | 0 | 0 | 0 | 0 | 0 | 0 | 0 | 0 | 0 | 0 | 0 | 0 | 0 | 0 | 0 | 0 | 0 | 0 | 0 | 0 | 0 | 0 | 0 | 0 | 0 | 0 | 0 | 0 | 0 | 0 | 0 | 0 | 0 | 0 | 0 | 100 | 0 | 0 | 0 | 0 | 0 | 0 | 0 | 0 | 0 | 0 | 0 | 0 | 0 | 0 | 0 | 0 | 0 |
| 241 | MEZA JORGE | 0 | 0 | 0 | 0 | 0 | 0 | 0 | 0 | 0 | 0 | 0 | 0 | 0 | 0 | 0 | 0 | 0 | 0 | 0 | 0 | 0 | 0 | 0 | 0 | 0 | 0 | 0 | 0 | 0 | 0 | 0 | 0 | 0 | 0 | 0 | 0 | 0 | 0 | 0 | 0 | 0 | 100 | 0 | 0 | 0 | 0 | 0 | 0 | 0 | 0 | 0 | 0 | 0 | 0 | 0 | 0 | 0 | 0 | 0 |
| 242 | CAUSEY ROBERTO | 0 | 0 | 0 | 0 | 0 | 0 | 0 | 0 | 0 | 0 | 0 | 0 | 0 | 0 | 0 | 0 | 0 | 0 | 0 | 0 | 0 | 0 | 0 | 0 | 0 | 0 | 0 | 0 | 0 | 0 | 0 | 0 | 0 | 0 | 0 | 0 | 0 | 0 | 0 | 0 | 0 | 200 | 0 | 0 | 0 | 0 | 0 | 0 | 0 | 0 | 0 | 0 | 0 | 0 | 0 | 0 | 0 | 0 | 0 |
| 243 | RODRIGUEZ MATTHEW | 0 | 0 | 0 | 0 | 0 | 0 | 0 | 0 | 0 | 0 | 0 | 0 | 0 | 0 | 0 | 0 | 0 | 0 | 0 | 0 | 0 | 0 | 0 | 0 | 0 | 0 | 0 | 0 | 0 | 0 | 0 | 0 | 0 | 0 | 0 | 0 | 0 | 0 | 0 | 0 | 0 | 250 | 0 | 0 | 0 | 0 | 0 | 0 | 0 | 0 | 0 | 0 | 0 | 0 | 0 | 0 | 0 | 0 | 0 |
| 244 | ANTUNA PHYLLIS | 0 | 0 | 0 | 0 | 0 | 0 | 0 | 0 | 0 | 0 | 0 | 0 | 0 | 0 | 0 | 0 | 0 | 0 | 0 | 0 | 0 | 0 | 0 | 0 | 0 | 0 | 0 | 0 | 0 | 0 | 0 | 0 | 0 | 0 | 0 | 0 | 0 | 0 | 0 | 0 | 0 | 0 | 1000 | 0 | 0 | 0 | 0 | 0 | 0 | 0 | 0 | 0 | 0 | 0 | 0 | 0 | 0 | 0 | 0 |
| 245 | LONG DAVID | 0 | 0 | 0 | 0 | 0 | 0 | 0 | 0 | 0 | 0 | 0 | 0 | 0 | 0 | 0 | 0 | 0 | 0 | 0 | 0 | 0 | 0 | 0 | 0 | 0 | 0 | 0 | 0 | 0 | 0 | 0 | 0 | 0 | 0 | 0 | 0 | 0 | 0 | 0 | 0 | 0 | 0 | 0 | 100 | 0 | 0 | 0 | 0 | 0 | 0 | 0 | 0 | 0 | 0 | 0 | 0 | 0 | 0 | 0 |
| 246 | BILOWIT WAYNE | 0 | 0 | 0 | 0 | 0 | 0 | 0 | 0 | 0 | 0 | 0 | 0 | 0 | 0 | 0 | 0 | 0 | 0 | 0 | 0 | 0 | 0 | 0 | 0 | 0 | 0 | 0 | 0 | 0 | 0 | 0 | 0 | 0 | 0 | 0 | 0 | 0 | 0 | 0 | 0 | 0 | 0 | 0 | 100 | 0 | 0 | 0 | 0 | 0 | 0 | 0 | 0 | 0 | 0 | 0 | 0 | 0 | 0 | 0 |
| 247 | TSUBAKI MITCHELL | 0 | 0 | 0 | 0 | 0 | 0 | 0 | 0 | 0 | 0 | 0 | 0 | 0 | 0 | 0 | 0 | 0 | 0 | 0 | 0 | 0 | 0 | 0 | 0 | 0 | 0 | 0 | 0 | 0 | 0 | 0 | 0 | 0 | 0 | 0 | 0 | 0 | 0 | 0 | 0 | 0 | 0 | 0 | 0 | 100 | 0 | 0 | 0 | 0 | 0 | 0 | 0 | 0 | 0 | 0 | 0 | 0 | 0 | 0 |
| 248 | PARTIDA PABLO | 0 | 0 | 0 | 0 | 0 | 0 | 0 | 0 | 0 | 0 | 0 | 0 | 0 | 0 | 0 | 0 | 0 | 0 | 0 | 0 | 0 | 0 | 0 | 0 | 0 | 0 | 0 | 0 | 0 | 0 | 0 | 0 | 0 | 0 | 0 | 0 | 0 | 0 | 0 | 0 | 0 | 0 | 0 | 0 | 0 | 100 | 0 | 0 | 0 | 0 | 0 | 0 | 0 | 0 | 0 | 0 | 0 | 0 | 0 |
| 249 | MORENO ABEL | 0 | 0 | 0 | 0 | 0 | 0 | 0 | 0 | 0 | 0 | 0 | 0 | 0 | 0 | 0 | 0 | 0 | 0 | 0 | 0 | 0 | 0 | 0 | 0 | 0 | 0 | 0 | 0 | 0 | 0 | 0 | 0 | 0 | 0 | 0 | 0 | 0 | 0 | 0 | 0 | 0 | 200 | 0 | 0 | 0 | 0 | 0 | 0 | 0 | 0 | 0 | 0 | 0 | 0 | 0 | 0 | 0 | 0 | 0 |
| 250 | MCLEAN STEVE | 0 | 0 | 0 | 0 | 0 | 0 | 0 | 0 | 0 | 0 | 0 | 0 | 0 | 0 | 0 | 0 | 0 | 0 | 0 | 0 | 0 | 0 | 0 | 0 | 0 | 0 | 0 | 0 | 0 | 0 | 0 | 0 | 0 | 0 | 0 | 0 | 0 | 0 | 0 | 0 | 0 | 200 | 0 | 0 | 0 | 0 | 0 | 0 | 0 | 0 | 0 | 0 | 0 | 0 | 0 | 0 | 0 | 0 | 0 |
| 251 | KIRBY DEBORENE | 0 | 0 | 0 | 0 | 0 | 0 | 0 | 0 | 0 | 0 | 0 | 0 | 0 | 0 | 0 | 0 | 0 | 0 | 0 | 0 | 0 | 0 | 0 | 0 | 0 | 0 | 0 | 0 | 0 | 0 | 0 | 0 | 0 | 0 | 0 | 0 | 0 | 0 | 0 | 0 | 0 | 0 | 0 | 0 | 0 | 0 | 100 | 0 | 0 | 0 | 0 | 0 | 0 | 0 | 0 | 0 | 0 | 0 | 0 |
| 252 | HILL BRIAN | 0 | 0 | 0 | 0 | 0 | 0 | 0 | 0 | 0 | 0 | 0 | 0 | 0 | 0 | 0 | 0 | 0 | 0 | 0 | 0 | 0 | 0 | 0 | 0 | 0 | 0 | 0 | 0 | 0 | 0 | 0 | 0 | 0 | 0 | 0 | 0 | 0 | 0 | 0 | 0 | 0 | 0 | 0 | 0 | 0 | 0 | 100 | 0 | 0 | 0 | 0 | 0 | 0 | 0 | 0 | 0 | 0 | 0 | 0 |
| 253 | CHRISTOPHER YVETTE | 0 | 0 | 0 | 0 | 0 | 0 | 0 | 0 | 0 | 0 | 0 | 0 | 0 | 0 | 0 | 0 | 0 | 0 | 0 | 0 | 0 | 0 | 0 | 0 | 0 | 0 | 0 | 0 | 0 | 0 | 0 | 0 | 0 | 0 | 0 | 0 | 0 | 0 | 0 | 0 | 0 | 0 | 0 | 0 | 0 | 0 | 100 | 0 | 0 | 0 | 0 | 0 | 0 | 0 | 0 | 0 | 0 | 0 | 0 |
| 254 | ZUNIGA THOMAS | 0 | 0 | 0 | 0 | 0 | 0 | 0 | 0 | 0 | 0 | 0 | 0 | 0 | 0 | 0 | 0 | 0 | 0 | 0 | 0 | 0 | 0 | 0 | 0 | 0 | 0 | 0 | 0 | 0 | 0 | 0 | 0 | 0 | 0 | 0 | 0 | 0 | 0 | 0 | 0 | 0 | 0 | 0 | 0 | 0 | 0 | 300 | 0 | 0 | 0 | 0 | 0 | 0 | 0 | 0 | 0 | 0 | 0 | 0 |
| 255 | POPE MARK | 0 | 0 | 0 | 0 | 0 | 0 | 0 | 0 | 0 | 0 | 0 | 0 | 0 | 0 | 0 | 0 | 0 | 0 | 0 | 0 | 0 | 0 | 0 | 0 | 0 | 0 | 0 | 0 | 0 | 0 | 0 | 0 | 0 | 0 | 0 | 0 | 0 | 0 | 0 | 0 | 0 | 0 | 0 | 0 | 0 | 0 | 100 | 0 | 0 | 0 | 0 | 0 | 0 | 0 | 0 | 0 | 0 | 0 | 0 |
| 256 | GIBSON JASON | 0 | 0 | 0 | 0 | 0 | 0 | 0 | 0 | 0 | 0 | 0 | 0 | 0 | 0 | 0 | 0 | 0 | 0 | 0 | 0 | 0 | 0 | 0 | 0 | 0 | 0 | 0 | 0 | 0 | 0 | 0 | 0 | 0 | 0 | 0 | 0 | 0 | 0 | 0 | 0 | 0 | 0 | 0 | 0 | 0 | 0 | 100 | 0 | 0 | 0 | 0 | 0 | 0 | 0 | 0 | 0 | 0 | 0 | 0 |
| 257 | CRUZ DANIEL | 0 | 0 | 0 | 0 | 0 | 0 | 0 | 0 | 0 | 0 | 0 | 0 | 0 | 0 | 0 | 0 | 0 | 0 | 0 | 0 | 0 | 0 | 0 | 0 | 0 | 0 | 0 | 0 | 0 | 0 | 0 | 0 | 0 | 0 | 0 | 0 | 0 | 0 | 0 | 0 | 0 | 0 | 0 | 0 | 0 | 0 | 100 | 0 | 0 | 0 | 0 | 0 | 0 | 0 | 0 | 100 | 0 | 0 | 0 |
| 258 | RIVAS LEONARD | 0 | 0 | 0 | 0 | 0 | 0 | 0 | 0 | 0 | 0 | 0 | 0 | 0 | 0 | 0 | 0 | 0 | 0 | 0 | 0 | 0 | 0 | 0 | 0 | 0 | 0 | 0 | 0 | 0 | 0 | 0 | 0 | 0 | 0 | 0 | 0 | 0 | 0 | 0 | 0 | 0 | 0 | 0 | 0 | 0 | 0 | 200 | 0 | 0 | 0 | 0 | 0 | 0 | 0 | 0 | 0 | 0 | 0 | 0 |
| 259 | FABREGA JUAN | 0 | 0 | 0 | 0 | 0 | 0 | 0 | 0 | 0 | 0 | 0 | 0 | 0 | 0 | 0 | 0 | 0 | 0 | 0 | 0 | 0 | 0 | 0 | 0 | 0 | 0 | 0 | 0 | 0 | 0 | 0 | 0 | 0 | 0 | 0 | 0 | 0 | 0 | 0 | 0 | 0 | 0 | 0 | 0 | 0 | 0 | 100 | 0 | 0 | 0 | 0 | 0 | 0 | 0 | 0 | 0 | 0 | 0 | 0 |
| 260 | ARNALDO EDUARDO | 0 | 0 | 0 | 0 | 0 | 0 | 0 | 0 | 0 | 0 | 0 | 0 | 0 | 0 | 0 | 0 | 0 | 0 | 0 | 0 | 0 | 0 | 0 | 0 | 0 | 0 | 0 | 0 | 0 | 0 | 0 | 0 | 0 | 0 | 0 | 0 | 0 | 0 | 0 | 0 | 0 | 0 | 0 | 0 | 0 | 0 | 100 | 0 | 0 | 0 | 0 | 0 | 0 | 0 | 0 | 0 | 0 | 0 | 0 |
| 261 | HARTSHORNE JOSEPH | 0 | 0 | 0 | 0 | 0 | 0 | 0 | 0 | 0 | 0 | 0 | 0 | 0 | 0 | 0 | 0 | 0 | 0 | 0 | 0 | 0 | 0 | 0 | 0 | 0 | 0 | 0 | 0 | 0 | 0 | 0 | 0 | 0 | 0 | 0 | 0 | 0 | 0 | 0 | 0 | 0 | 0 | 0 | 0 | 0 | 0 | 100 | 0 | 0 | 0 | 0 | 0 | 0 | 0 | 0 | 0 | 0 | 0 | 0 |
| 262 | GALLEGOS JOE | 0 | 0 | 0 | 0 | 0 | 0 | 0 | 0 | 0 | 0 | 0 | 0 | 0 | 0 | 0 | 0 | 0 | 0 | 0 | 0 | 0 | 0 | 0 | 0 | 0 | 0 | 0 | 0 | 0 | 0 | 0 | 0 | 0 | 0 | 0 | 0 | 0 | 0 | 0 | 0 | 0 | 0 | 0 | 0 | 0 | 0 | 100 | 0 | 0 | 0 | 0 | 0 | 0 | 0 | 0 | 0 | 0 | 0 | 0 |
| 263 | WILLIAMS MARLON | 0 | 0 | 0 | 0 | 0 | 0 | 0 | 0 | 0 | 0 | 0 | 0 | 0 | 0 | 0 | 0 | 0 | 0 | 0 | 0 | 0 | 0 | 0 | 0 | 0 | 0 | 0 | 0 | 0 | 0 | 0 | 0 | 0 | 0 | 0 | 0 | 0 | 0 | 0 | 0 | 0 | 0 | 0 | 0 | 0 | 0 | 100 | 0 | 0 | 0 | 0 | 0 | 0 | 0 | 0 | 0 | 0 | 0 | 0 |
| 264 | GARZA ENRIQUE | 0 | 0 | 0 | 0 | 0 | 0 | 0 | 0 | 0 | 0 | 0 | 0 | 0 | 0 | 0 | 0 | 0 | 0 | 0 | 0 | 0 | 0 | 0 | 0 | 0 | 0 | 0 | 0 | 0 | 0 | 0 | 0 | 0 | 0 | 0 | 0 | 0 | 0 | 0 | 0 | 0 | 0 | 0 | 0 | 0 | 0 | 100 | 0 | 0 | 0 | 0 | 0 | 0 | 0 | 0 | 0 | 0 | 0 | 0 |
| 265 | HOWARD DOROTHY | 0 | 0 | 0 | 0 | 0 | 0 | 0 | 0 | 0 | 0 | 0 | 0 | 0 | 0 | 0 | 0 | 0 | 0 | 0 | 0 | 0 | 0 | 0 | 0 | 0 | 0 | 0 | 0 | 0 | 0 | 0 | 0 | 0 | 0 | 0 | 0 | 0 | 0 | 0 | 0 | 0 | 0 | 0 | 0 | 0 | 0 | 150 | 0 | 0 | 0 | 0 | 0 | 0 | 0 | 0 | 0 | 0 | 0 | 0 |
| 266 | LECRIVAIN LAURA | 0 | 0 | 0 | 0 | 0 | 0 | 0 | 0 | 0 | 0 | 0 | 0 | 0 | 0 | 0 | 0 | 0 | 0 | 0 | 0 | 0 | 0 | 0 | 0 | 0 | 0 | 0 | 0 | 0 | 0 | 0 | 0 | 0 | 0 | 0 | 0 | 0 | 0 | 0 | 0 | 0 | 0 | 0 | 0 | 0 | 0 | 100 | 0 | 0 | 0 | 0 | 0 | 0 | 0 | 0 | 0 | 0 | 0 | 0 |
| 267 | LABBE TY | 0 | 0 | 0 | 0 | 0 | 0 | 0 | 0 | 0 | 0 | 0 | 0 | 0 | 0 | 0 | 0 | 0 | 0 | 0 | 0 | 0 | 0 | 0 | 0 | 0 | 0 | 0 | 0 | 0 | 0 | 0 | 0 | 0 | 0 | 0 | 0 | 0 | 0 | 0 | 0 | 0 | 0 | 0 | 0 | 0 | 0 | 100 | 0 | 0 | 0 | 0 | 0 | 0 | 0 | 0 | 0 | 0 | 0 | 0 |
| 268 | LAM RAYMOND | 0 | 0 | 0 | 0 | 0 | 0 | 0 | 0 | 0 | 0 | 0 | 0 | 0 | 0 | 0 | 0 | 0 | 0 | 0 | 0 | 0 | 0 | 0 | 0 | 0 | 0 | 0 | 0 | 0 | 0 | 0 | 0 | 0 | 0 | 0 | 0 | 0 | 0 | 0 | 0 | 0 | 0 | 0 | 0 | 0 | 0 | 200 | 0 | 0 | 0 | 0 | 0 | 0 | 0 | 0 | 0 | 0 | 0 | 0 |
| 269 | SAUCEDO HENRY | 0 | 0 | 0 | 0 | 0 | 0 | 0 | 0 | 0 | 0 | 0 | 0 | 0 | 0 | 0 | 0 | 0 | 0 | 0 | 0 | 0 | 0 | 0 | 0 | 0 | 0 | 0 | 0 | 0 | 0 | 0 | 0 | 0 | 0 | 0 | 0 | 0 | 0 | 0 | 0 | 0 | 0 | 0 | 0 | 0 | 0 | 200 | 0 | 0 | 0 | 0 | 0 | 0 | 0 | 0 | 0 | 0 | 0 | 0 |
| 270 | WHITE DANIEL | 0 | 0 | 0 | 0 | 0 | 0 | 0 | 0 | 0 | 0 | 0 | 0 | 0 | 0 | 0 | 0 | 0 | 0 | 0 | 0 | 0 | 0 | 0 | 0 | 0 | 0 | 0 | 0 | 0 | 0 | 0 | 0 | 0 | 0 | 0 | 0 | 0 | 0 | 0 | 0 | 0 | 0 | 0 | 0 | 0 | 0 | 150 | 0 | 0 | 0 | 0 | 0 | 0 | 0 | 0 | 0 | 0 | 0 | 0 |
| 271 | RODRIGUEZ MICHAEL | 0 | 0 | 0 | 0 | 0 | 0 | 0 | 0 | 0 | 0 | 0 | 0 | 0 | 0 | 0 | 0 | 0 | 0 | 0 | 0 | 0 | 0 | 0 | 0 | 0 | 0 | 0 | 0 | 0 | 0 | 0 | 0 | 0 | 0 | 0 | 0 | 0 | 0 | 0 | 0 | 0 | 0 | 0 | 0 | 0 | 0 | 200 | 0 | 0 | 0 | 0 | 0 | 0 | 0 | 0 | 0 | 0 | 0 | 0 |
| 272 | WASHINGTON MARVIN | 0 | 0 | 0 | 0 | 0 | 0 | 0 | 0 | 0 | 0 | 0 | 0 | 0 | 0 | 0 | 0 | 0 | 0 | 0 | 0 | 0 | 0 | 0 | 0 | 0 | 0 | 0 | 0 | 0 | 0 | 0 | 0 | 0 | 0 | 0 | 0 | 0 | 0 | 0 | 0 | 0 | 0 | 0 | 0 | 0 | 0 | 200 | 0 | 0 | 0 | 0 | 0 | 0 | 0 | 0 | 0 | 0 | 0 | 250 |
| 273 | CONNER ROBERT | 0 | 0 | 0 | 0 | 0 | 0 | 0 | 0 | 0 | 0 | 0 | 0 | 0 | 0 | 0 | 0 | 0 | 0 | 0 | 0 | 0 | 0 | 0 | 0 | 0 | 0 | 0 | 0 | 0 | 0 | 0 | 0 | 0 | 0 | 0 | 0 | 0 | 0 | 0 | 0 | 0 | 0 | 0 | 0 | 0 | 0 | 100 | 0 | 0 | 0 | 0 | 0 | 0 | 0 | 0 | 0 | 0 | 0 | 0 |
| 274 | SENO BENNETT | 0 | 0 | 0 | 0 | 0 | 0 | 0 | 0 | 0 | 0 | 0 | 0 | 0 | 0 | 0 | 0 | 0 | 0 | 0 | 0 | 0 | 0 | 0 | 0 | 0 | 0 | 0 | 0 | 0 | 0 | 0 | 0 | 0 | 0 | 0 | 0 | 0 | 0 | 0 | 0 | 0 | 0 | 0 | 0 | 0 | 0 | 400 | 0 | 0 | 0 | 0 | 0 | 0 | 0 | 0 | 0 | 0 | 0 | 0 |
| 275 | BAKEWELL DANNY | 0 | 0 | 0 | 0 | 0 | 0 | 0 | 0 | 0 | 0 | 0 | 0 | 0 | 0 | 0 | 0 | 0 | 0 | 0 | 0 | 0 | 0 | 0 | 0 | 0 | 0 | 0 | 0 | 0 | 0 | 0 | 0 | 0 | 0 | 0 | 0 | 0 | 0 | 0 | 0 | 0 | 0 | 0 | 0 | 0 | 0 | 250 | 0 | 0 | 0 | 0 | 0 | 0 | 0 | 0 | 0 | 0 | 0 | 0 |
| 276 | ROBLES MARGARITO | 0 | 0 | 0 | 0 | 0 | 0 | 0 | 0 | 0 | 0 | 0 | 0 | 0 | 0 | 0 | 0 | 0 | 0 | 0 | 0 | 0 | 0 | 0 | 0 | 0 | 0 | 0 | 0 | 0 | 0 | 0 | 0 | 0 | 0 | 0 | 0 | 0 | 0 | 0 | 0 | 0 | 0 | 0 | 0 | 0 | 0 | 100 | 0 | 0 | 0 | 0 | 0 | 0 | 0 | 0 | 0 | 0 | 0 | 0 |
| 277 | ORNELAS RALPH | 0 | 0 | 0 | 0 | 0 | 0 | 0 | 0 | 0 | 0 | 0 | 0 | 0 | 0 | 0 | 0 | 0 | 0 | 0 | 0 | 0 | 0 | 0 | 0 | 0 | 0 | 0 | 0 | 0 | 0 | 0 | 0 | 0 | 0 | 0 | 0 | 0 | 0 | 0 | 0 | 0 | 0 | 0 | 0 | 0 | 0 | 200 | 0 | 0 | 0 | 0 | 0 | 0 | 0 | 0 | 0 | 0 | 0 | 0 |
| 278 | KIMURA DOUGLAS | 0 | 0 | 0 | 0 | 0 | 0 | 0 | 0 | 0 | 0 | 0 | 0 | 0 | 0 | 0 | 0 | 0 | 0 | 0 | 0 | 0 | 0 | 0 | 0 | 0 | 0 | 0 | 0 | 0 | 0 | 0 | 0 | 0 | 0 | 0 | 0 | 0 | 0 | 0 | 0 | 0 | 0 | 0 | 0 | 0 | 0 | 100 | 0 | 0 | 0 | 0 | 0 | 0 | 0 | 0 | 0 | 0 | 0 | 0 |
| 279 | DOEVE ROBERT | 0 | 0 | 0 | 0 | 0 | 0 | 0 | 0 | 0 | 0 | 0 | 0 | 0 | 0 | 0 | 0 | 0 | 0 | 0 | 0 | 0 | 0 | 0 | 0 | 0 | 0 | 0 | 0 | 0 | 0 | 0 | 0 | 0 | 0 | 0 | 0 | 0 | 0 | 0 | 0 | 0 | 0 | 0 | 0 | 0 | 0 | 200 | 0 | 0 | 0 | 0 | 0 | 0 | 0 | 0 | 0 | 0 | 0 | 0 |
| 280 | REINHARDT TERI | 0 | 0 | 0 | 0 | 0 | 0 | 0 | 0 | 0 | 0 | 0 | 0 | 0 | 0 | 0 | 0 | 0 | 0 | 0 | 0 | 0 | 0 | 0 | 0 | 0 | 0 | 0 | 0 | 0 | 0 | 0 | 0 | 0 | 0 | 0 | 0 | 0 | 0 | 0 | 0 | 0 | 0 | 0 | 0 | 0 | 0 | 100 | 0 | 0 | 0 | 0 | 0 | 0 | 0 | 0 | 0 | 0 | 0 | 0 |
| 281 | VEGA EVELYN | 0 | 0 | 0 | 0 | 0 | 0 | 0 | 0 | 0 | 0 | 0 | 0 | 0 | 0 | 0 | 0 | 0 | 0 | 0 | 0 | 0 | 0 | 0 | 0 | 0 | 0 | 0 | 0 | 0 | 0 | 0 | 0 | 0 | 0 | 0 | 0 | 0 | 0 | 0 | 0 | 0 | 0 | 0 | 0 | 0 | 0 | 200 | 0 | 0 | 0 | 0 | 0 | 0 | 0 | 0 | 0 | 0 | 0 | 0 |
| 282 | MURAKAMI DOUGLAS | 0 | 0 | 0 | 0 | 0 | 0 | 0 | 0 | 0 | 0 | 0 | 0 | 0 | 0 | 0 | 0 | 0 | 0 | 0 | 0 | 0 | 0 | 0 | 0 | 0 | 0 | 0 | 0 | 0 | 0 | 0 | 0 | 0 | 0 | 0 | 0 | 0 | 0 | 0 | 0 | 0 | 0 | 0 | 0 | 0 | 0 | 100 | 0 | 0 | 0 | 0 | 0 | 0 | 0 | 0 | 0 | 0 | 0 | 0 |
| 283 | VICTORY OCEAL | 0 | 0 | 0 | 0 | 0 | 0 | 0 | 0 | 0 | 0 | 0 | 0 | 0 | 0 | 0 | 0 | 0 | 0 | 0 | 0 | 0 | 0 | 0 | 0 | 0 | 0 | 0 | 0 | 0 | 0 | 0 | 0 | 0 | 0 | 0 | 0 | 0 | 0 | 0 | 0 | 0 | 0 | 0 | 0 | 0 | 0 | 100 | 0 | 0 | 0 | 0 | 0 | 0 | 0 | 0 | 0 | 0 | 0 | 0 |
| 284 | WALKER DIANE | 0 | 0 | 0 | 0 | 0 | 0 | 0 | 0 | 0 | 0 | 0 | 0 | 0 | 0 | 0 | 0 | 0 | 0 | 0 | 0 | 0 | 0 | 0 | 0 | 0 | 0 | 0 | 0 | 0 | 0 | 0 | 0 | 0 | 0 | 0 | 0 | 0 | 0 | 0 | 0 | 0 | 0 | 0 | 0 | 0 | 0 | 200 | 0 | 0 | 0 | 0 | 0 | 0 | 0 | 0 | 0 | 0 | 0 | 0 |
| 285 | DEL MESE LAWRENCE | 0 | 0 | 0 | 0 | 0 | 0 | 0 | 0 | 0 | 0 | 0 | 0 | 0 | 0 | 0 | 0 | 0 | 0 | 0 | 0 | 0 | 0 | 0 | 0 | 0 | 0 | 0 | 0 | 0 | 0 | 0 | 0 | 0 | 0 | 0 | 0 | 0 | 0 | 0 | 0 | 0 | 0 | 0 | 0 | 0 | 0 | 0 | 100 | 0 | 0 | 0 | 0 | 0 | 0 | 0 | 0 | 0 | 0 | 0 |
| 286 | GONZALEZ ANGELA | 0 | 0 | 0 | 0 | 0 | 0 | 0 | 0 | 0 | 0 | 0 | 0 | 0 | 0 | 0 | 0 | 0 | 0 | 0 | 0 | 0 | 0 | 0 | 0 | 0 | 0 | 0 | 0 | 0 | 0 | 0 | 0 | 0 | 0 | 0 | 0 | 0 | 0 | 0 | 0 | 0 | 0 | 0 | 0 | 0 | 0 | 0 | 100 | 0 | 0 | 0 | 0 | 0 | 0 | 0 | 0 | 0 | 0 | 0 |
| 287 | MANDOYAN CAREN | 0 | 0 | 0 | 0 | 0 | 0 | 0 | 0 | 0 | 0 | 0 | 0 | 0 | 0 | 0 | 0 | 0 | 0 | 0 | 0 | 0 | 0 | 0 | 0 | 0 | 0 | 0 | 0 | 0 | 0 | 0 | 0 | 0 | 0 | 0 | 0 | 0 | 0 | 0 | 0 | 0 | 0 | 0 | 0 | 0 | 0 | 0 | 100 | 0 | 0 | 0 | 0 | 0 | 0 | 0 | 0 | 0 | 0 | 0 |
| 288 | MOLNER BRADD | 0 | 0 | 0 | 0 | 0 | 0 | 0 | 0 | 0 | 0 | 0 | 0 | 0 | 0 | 0 | 0 | 0 | 0 | 0 | 0 | 0 | 0 | 0 | 0 | 0 | 0 | 0 | 0 | 0 | 0 | 0 | 0 | 0 | 0 | 0 | 0 | 0 | 0 | 0 | 0 | 0 | 0 | 0 | 0 | 0 | 0 | 0 | 250 | 0 | 0 | 0 | 0 | 0 | 0 | 0 | 0 | 0 | 0 | 0 |
| 289 | WHITE MICHAEL ANTHONY | 0 | 0 | 0 | 0 | 0 | 0 | 0 | 0 | 0 | 0 | 0 | 0 | 0 | 0 | 0 | 0 | 0 | 0 | 0 | 0 | 0 | 0 | 0 | 0 | 0 | 0 | 0 | 0 | 0 | 0 | 0 | 0 | 0 | 0 | 0 | 0 | 0 | 0 | 0 | 0 | 0 | 0 | 0 | 0 | 0 | 0 | 0 | 200 | 0 | 0 | 0 | 0 | 0 | 0 | 0 | 0 | 0 | 0 | 0 |
| 290 | BLACKWELL LARRY | 0 | 0 | 0 | 0 | 0 | 0 | 0 | 0 | 0 | 0 | 0 | 0 | 0 | 0 | 0 | 0 | 0 | 0 | 0 | 0 | 0 | 0 | 0 | 0 | 0 | 0 | 0 | 0 | 0 | 0 | 0 | 0 | 0 | 0 | 0 | 0 | 0 | 0 | 0 | 0 | 0 | 0 | 0 | 0 | 0 | 0 | 0 | 150 | 0 | 0 | 0 | 0 | 0 | 0 | 0 | 0 | 0 | 0 | 0 |
| 291 | COPPLIN DONNA | 0 | 0 | 0 | 0 | 0 | 0 | 0 | 0 | 0 | 0 | 0 | 0 | 0 | 0 | 0 | 0 | 0 | 0 | 0 | 0 | 0 | 0 | 0 | 0 | 0 | 0 | 0 | 0 | 0 | 0 | 0 | 0 | 0 | 0 | 0 | 0 | 0 | 0 | 0 | 0 | 0 | 0 | 0 | 0 | 0 | 0 | 0 | 250 | 0 | 0 | 0 | 0 | 0 | 0 | 0 | 0 | 0 | 0 | 0 |
| 292 | CUEVAS JOHN | 0 | 0 | 0 | 0 | 0 | 0 | 0 | 0 | 0 | 0 | 0 | 0 | 0 | 0 | 0 | 0 | 0 | 0 | 0 | 0 | 0 | 0 | 0 | 0 | 0 | 0 | 0 | 0 | 0 | 0 | 0 | 0 | 0 | 0 | 0 | 0 | 0 | 0 | 0 | 0 | 0 | 0 | 0 | 0 | 0 | 0 | 0 | 100 | 0 | 0 | 0 | 0 | 0 | 0 | 0 | 0 | 0 | 0 | 0 |
| 293 | MARELLA STEVEN | 0 | 0 | 0 | 0 | 0 | 0 | 0 | 0 | 0 | 0 | 0 | 0 | 0 | 0 | 0 | 0 | 0 | 0 | 0 | 0 | 0 | 0 | 0 | 0 | 0 | 0 | 0 | 0 | 0 | 0 | 0 | 0 | 0 | 0 | 0 | 0 | 0 | 0 | 0 | 0 | 0 | 0 | 0 | 0 | 0 | 0 | 0 | 100 | 0 | 0 | 0 | 0 | 0 | 0 | 0 | 0 | 0 | 0 | 0 |
| 294 | ROSARIO VALENTINE | 0 | 0 | 0 | 0 | 0 | 0 | 0 | 0 | 0 | 0 | 0 | 0 | 0 | 0 | 0 | 0 | 0 | 0 | 0 | 0 | 0 | 0 | 0 | 0 | 0 | 0 | 0 | 0 | 0 | 0 | 0 | 0 | 0 | 0 | 0 | 0 | 0 | 0 | 0 | 0 | 0 | 0 | 0 | 0 | 0 | 0 | 0 | 100 | 0 | 0 | 0 | 0 | 0 | 0 | 0 | 0 | 0 | 0 | 0 |
| 295 | LEE ERIC | 0 | 0 | 0 | 0 | 0 | 0 | 0 | 0 | 0 | 0 | 0 | 0 | 0 | 0 | 0 | 0 | 0 | 0 | 0 | 0 | 0 | 0 | 0 | 0 | 0 | 0 | 0 | 0 | 0 | 0 | 0 | 0 | 0 | 0 | 0 | 0 | 0 | 0 | 0 | 0 | 0 | 0 | 0 | 0 | 0 | 0 | 0 | 100 | 0 | 0 | 0 | 0 | 0 | 0 | 0 | 0 | 0 | 0 | 0 |
| 296 | GARRETT TERESA | 0 | 0 | 0 | 0 | 0 | 0 | 0 | 0 | 0 | 0 | 0 | 0 | 0 | 0 | 0 | 0 | 0 | 0 | 0 | 0 | 0 | 0 | 0 | 0 | 0 | 0 | 0 | 0 | 0 | 0 | 0 | 0 | 0 | 0 | 0 | 0 | 0 | 0 | 0 | 0 | 0 | 0 | 0 | 0 | 0 | 0 | 0 | 100 | 0 | 0 | 0 | 0 | 0 | 0 | 0 | 0 | 0 | 0 | 0 |
| 297 | MEYER ANDREW | 0 | 0 | 0 | 0 | 0 | 0 | 0 | 0 | 0 | 0 | 0 | 0 | 0 | 0 | 0 | 0 | 0 | 0 | 0 | 0 | 0 | 0 | 0 | 0 | 0 | 0 | 0 | 0 | 0 | 0 | 0 | 0 | 0 | 0 | 0 | 0 | 0 | 0 | 0 | 0 | 0 | 0 | 0 | 0 | 0 | 0 | 0 | 100 | 0 | 0 | 0 | 0 | 0 | 0 | 0 | 0 | 0 | 0 | 0 |
| 298 | NAVARRETTE ADAM | 0 | 0 | 0 | 0 | 0 | 0 | 0 | 0 | 0 | 0 | 0 | 0 | 0 | 0 | 0 | 0 | 0 | 0 | 0 | 0 | 0 | 0 | 0 | 0 | 0 | 0 | 0 | 0 | 0 | 0 | 0 | 0 | 0 | 0 | 0 | 0 | 0 | 0 | 0 | 0 | 0 | 0 | 0 | 0 | 0 | 0 | 0 | 0 | 0 | 100 | 0 | 0 | 0 | 0 | 0 | 0 | 0 | 0 | 0 |
| 299 | NICASSIO JOSEPH | 0 | 0 | 0 | 0 | 0 | 0 | 0 | 0 | 0 | 0 | 0 | 0 | 0 | 0 | 0 | 0 | 0 | 0 | 0 | 0 | 0 | 0 | 0 | 0 | 0 | 0 | 0 | 0 | 0 | 0 | 0 | 0 | 0 | 0 | 0 | 0 | 0 | 0 | 0 | 0 | 0 | 0 | 0 | 0 | 0 | 0 | 0 | 0 | 0 | 100 | 0 | 0 | 0 | 0 | 0 | 0 | 0 | 0 | 0 |
| 300 | GARRIDO JOSEPH | 0 | 0 | 0 | 0 | 0 | 0 | 0 | 0 | 0 | 0 | 0 | 0 | 0 | 0 | 0 | 0 | 0 | 0 | 0 | 0 | 0 | 0 | 0 | 0 | 0 | 0 | 0 | 0 | 0 | 0 | 0 | 0 | 0 | 0 | 0 | 0 | 0 | 0 | 0 | 0 | 0 | 0 | 0 | 0 | 0 | 0 | 0 | 0 | 0 | 100 | 0 | 0 | 0 | 0 | 0 | 0 | 0 | 0 | 0 |
| 301 | BERRY TY | 0 | 0 | 0 | 0 | 0 | 0 | 0 | 0 | 0 | 0 | 0 | 0 | 0 | 0 | 0 | 0 | 0 | 0 | 0 | 0 | 0 | 0 | 0 | 0 | 0 | 0 | 0 | 0 | 0 | 0 | 0 | 0 | 0 | 0 | 0 | 0 | 0 | 0 | 0 | 0 | 0 | 0 | 0 | 0 | 0 | 0 | 0 | 0 | 0 | 100 | 0 | 0 | 0 | 0 | 0 | 0 | 0 | 0 | 0 |
| 302 | LOMBARDO PAUL | 0 | 0 | 0 | 0 | 0 | 0 | 0 | 0 | 0 | 0 | 0 | 0 | 0 | 0 | 0 | 0 | 0 | 0 | 0 | 0 | 0 | 0 | 0 | 0 | 0 | 0 | 0 | 0 | 0 | 0 | 0 | 0 | 0 | 0 | 0 | 0 | 0 | 0 | 0 | 0 | 0 | 0 | 0 | 0 | 0 | 0 | 0 | 0 | 0 | 100 | 0 | 0 | 0 | 0 | 0 | 0 | 0 | 0 | 0 |
| 303 | HONINGS GARY | 0 | 0 | 0 | 0 | 0 | 0 | 0 | 0 | 0 | 0 | 0 | 0 | 0 | 0 | 0 | 0 | 0 | 0 | 0 | 0 | 0 | 0 | 0 | 0 | 0 | 0 | 0 | 0 | 0 | 0 | 0 | 0 | 0 | 0 | 0 | 0 | 0 | 0 | 0 | 0 | 0 | 0 | 0 | 0 | 0 | 0 | 0 | 0 | 0 | 0 | 0 | 0 | 200 | 0 | 0 | 0 | 0 | 0 | 0 |
| 304 | HASELRIG LAJUANA | 0 | 0 | 0 | 0 | 0 | 0 | 0 | 0 | 0 | 0 | 0 | 0 | 0 | 0 | 0 | 0 | 0 | 0 | 0 | 0 | 0 | 0 | 0 | 0 | 0 | 0 | 0 | 0 | 0 | 0 | 0 | 0 | 0 | 0 | 0 | 0 | 0 | 0 | 0 | 0 | 0 | 0 | 0 | 0 | 0 | 0 | 0 | 0 | 0 | 0 | 0 | 0 | 200 | 0 | 0 | 0 | 0 | 0 | 0 |
| 305 | DEMPSEY JOSEPH | 0 | 0 | 0 | 0 | 0 | 0 | 0 | 0 | 0 | 0 | 0 | 0 | 0 | 0 | 0 | 0 | 0 | 0 | 0 | 0 | 0 | 0 | 0 | 0 | 0 | 0 | 0 | 0 | 0 | 0 | 0 | 0 | 0 | 0 | 0 | 0 | 0 | 0 | 0 | 0 | 0 | 0 | 0 | 0 | 0 | 0 | 0 | 0 | 0 | 0 | 0 | 0 | 200 | 0 | 100 | 0 | 0 | 0 | 0 |
| 306 | SMITH DAVID | 0 | 0 | 0 | 0 | 0 | 0 | 0 | 0 | 0 | 0 | 0 | 0 | 0 | 0 | 0 | 0 | 0 | 0 | 0 | 0 | 0 | 0 | 0 | 0 | 0 | 0 | 0 | 0 | 0 | 0 | 0 | 0 | 0 | 0 | 0 | 0 | 0 | 0 | 0 | 0 | 0 | 0 | 0 | 0 | 0 | 0 | 0 | 0 | 0 | 0 | 0 | 0 | 200 | 0 | 250 | 0 | 0 | 0 | 0 |
| 307 | DUFFY VANCE | 0 | 0 | 0 | 0 | 0 | 0 | 0 | 0 | 0 | 0 | 0 | 0 | 0 | 0 | 0 | 0 | 0 | 0 | 0 | 0 | 0 | 0 | 0 | 0 | 0 | 0 | 0 | 0 | 0 | 0 | 0 | 0 | 0 | 0 | 0 | 0 | 0 | 0 | 0 | 0 | 0 | 0 | 0 | 0 | 0 | 0 | 0 | 0 | 0 | 0 | 0 | 0 | 200 | 0 | 0 | 100 | 0 | 0 | 0 |
| 308 | FRANCISCO HOLLY | 0 | 0 | 0 | 0 | 0 | 0 | 0 | 0 | 0 | 0 | 0 | 0 | 0 | 0 | 0 | 0 | 0 | 0 | 0 | 0 | 0 | 0 | 0 | 0 | 0 | 0 | 0 | 0 | 0 | 0 | 0 | 0 | 0 | 0 | 0 | 0 | 0 | 0 | 0 | 0 | 0 | 0 | 0 | 0 | 0 | 0 | 0 | 0 | 0 | 0 | 0 | 0 | 200 | 0 | 0 | 0 | 0 | 0 | 0 |
| 309 | MATHERS PATRICK | 0 | 0 | 0 | 0 | 0 | 0 | 0 | 0 | 0 | 0 | 0 | 0 | 0 | 0 | 0 | 0 | 0 | 0 | 0 | 0 | 0 | 0 | 0 | 0 | 0 | 0 | 0 | 0 | 0 | 0 | 0 | 0 | 0 | 0 | 0 | 0 | 0 | 0 | 0 | 0 | 0 | 0 | 0 | 0 | 0 | 0 | 0 | 0 | 0 | 0 | 0 | 0 | 200 | 0 | 0 | 0 | 0 | 0 | 0 |
| 310 | ANDERSON TODD | 0 | 0 | 0 | 0 | 0 | 0 | 0 | 0 | 0 | 0 | 0 | 0 | 0 | 0 | 0 | 0 | 0 | 0 | 0 | 0 | 0 | 0 | 0 | 0 | 0 | 0 | 0 | 0 | 0 | 0 | 0 | 0 | 0 | 0 | 0 | 0 | 0 | 0 | 0 | 0 | 0 | 0 | 0 | 0 | 0 | 0 | 0 | 0 | 0 | 0 | 0 | 0 | 0 | 0 | 100 | 0 | 0 | 0 | 0 |
| 311 | ARRIAGA MICHAEL | 0 | 0 | 0 | 0 | 0 | 0 | 0 | 0 | 0 | 0 | 0 | 0 | 0 | 0 | 0 | 0 | 0 | 0 | 0 | 0 | 0 | 0 | 0 | 0 | 0 | 0 | 0 | 0 | 0 | 0 | 0 | 0 | 0 | 0 | 0 | 0 | 0 | 0 | 0 | 0 | 0 | 0 | 0 | 0 | 0 | 0 | 0 | 0 | 0 | 0 | 0 | 0 | 0 | 0 | 100 | 0 | 0 | 0 | 0 |
| 312 | BERGNER CHRISTOPHER | 0 | 0 | 0 | 0 | 0 | 0 | 0 | 0 | 0 | 0 | 0 | 0 | 0 | 0 | 0 | 0 | 0 | 0 | 0 | 0 | 0 | 0 | 0 | 0 | 0 | 0 | 0 | 0 | 0 | 0 | 0 | 0 | 0 | 0 | 0 | 0 | 0 | 0 | 0 | 0 | 0 | 0 | 0 | 0 | 0 | 0 | 0 | 0 | 0 | 0 | 0 | 0 | 0 | 0 | 100 | 0 | 0 | 0 | 0 |
| 313 | BERINGER DANIEL | 0 | 0 | 0 | 0 | 0 | 0 | 0 | 0 | 0 | 0 | 0 | 0 | 0 | 0 | 0 | 0 | 0 | 0 | 0 | 0 | 0 | 0 | 0 | 0 | 0 | 0 | 0 | 0 | 0 | 0 | 0 | 0 | 0 | 0 | 0 | 0 | 0 | 0 | 0 | 0 | 0 | 0 | 0 | 0 | 0 | 0 | 0 | 0 | 0 | 0 | 0 | 0 | 0 | 0 | 100 | 0 | 0 | 0 | 0 |
| 314 | DAILY RONALD | 0 | 0 | 0 | 0 | 0 | 0 | 0 | 0 | 0 | 0 | 0 | 0 | 0 | 0 | 0 | 0 | 0 | 0 | 0 | 0 | 0 | 0 | 0 | 0 | 0 | 0 | 0 | 0 | 0 | 0 | 0 | 0 | 0 | 0 | 0 | 0 | 0 | 0 | 0 | 0 | 0 | 0 | 0 | 0 | 0 | 0 | 0 | 0 | 0 | 0 | 0 | 0 | 0 | 0 | 200 | 0 | 0 | 0 | 0 |
| 315 | DELVALLE AGUSTIN | 0 | 0 | 0 | 0 | 0 | 0 | 0 | 0 | 0 | 0 | 0 | 0 | 0 | 0 | 0 | 0 | 0 | 0 | 0 | 0 | 0 | 0 | 0 | 0 | 0 | 0 | 0 | 0 | 0 | 0 | 0 | 0 | 0 | 0 | 0 | 0 | 0 | 0 | 0 | 0 | 0 | 0 | 0 | 0 | 0 | 0 | 0 | 0 | 0 | 0 | 0 | 0 | 0 | 0 | 100 | 0 | 0 | 0 | 0 |
| 316 | GROSS MICHAEL | 0 | 0 | 0 | 0 | 0 | 0 | 0 | 0 | 0 | 0 | 0 | 0 | 0 | 0 | 0 | 0 | 0 | 0 | 0 | 0 | 0 | 0 | 0 | 0 | 0 | 0 | 0 | 0 | 0 | 0 | 0 | 0 | 0 | 0 | 0 | 0 | 0 | 0 | 0 | 0 | 0 | 0 | 0 | 0 | 0 | 0 | 0 | 0 | 0 | 0 | 0 | 0 | 0 | 0 | 100 | 0 | 0 | 0 | 0 |
| 317 | HANSON JOHN | 0 | 0 | 0 | 0 | 0 | 0 | 0 | 0 | 0 | 0 | 0 | 0 | 0 | 0 | 0 | 0 | 0 | 0 | 0 | 0 | 0 | 0 | 0 | 0 | 0 | 0 | 0 | 0 | 0 | 0 | 0 | 0 | 0 | 0 | 0 | 0 | 0 | 0 | 0 | 0 | 0 | 0 | 0 | 0 | 0 | 0 | 0 | 0 | 0 | 0 | 0 | 0 | 0 | 0 | 100 | 0 | 0 | 0 | 0 |
| 318 | HERNANDEZ RALPH | 0 | 0 | 0 | 0 | 0 | 0 | 0 | 0 | 0 | 0 | 0 | 0 | 0 | 0 | 0 | 0 | 0 | 0 | 0 | 0 | 0 | 0 | 0 | 0 | 0 | 0 | 0 | 0 | 0 | 0 | 0 | 0 | 0 | 0 | 0 | 0 | 0 | 0 | 0 | 0 | 0 | 0 | 0 | 0 | 0 | 0 | 0 | 0 | 0 | 0 | 0 | 0 | 0 | 0 | 100 | 0 | 0 | 0 | 0 |
| 319 | HOFFMAN RICHARD | 0 | 0 | 0 | 0 | 0 | 0 | 0 | 0 | 0 | 0 | 0 | 0 | 0 | 0 | 0 | 0 | 0 | 0 | 0 | 0 | 0 | 0 | 0 | 0 | 0 | 0 | 0 | 0 | 0 | 0 | 0 | 0 | 0 | 0 | 0 | 0 | 0 | 0 | 0 | 0 | 0 | 0 | 0 | 0 | 0 | 0 | 0 | 0 | 0 | 0 | 0 | 0 | 0 | 0 | 100 | 0 | 0 | 0 | 0 |
| 320 | KEPLEY JOHN | 0 | 0 | 0 | 0 | 0 | 0 | 0 | 0 | 0 | 0 | 0 | 0 | 0 | 0 | 0 | 0 | 0 | 0 | 0 | 0 | 0 | 0 | 0 | 0 | 0 | 0 | 0 | 0 | 0 | 0 | 0 | 0 | 0 | 0 | 0 | 0 | 0 | 0 | 0 | 0 | 0 | 0 | 0 | 0 | 0 | 0 | 0 | 0 | 0 | 0 | 0 | 0 | 0 | 0 | 100 | 0 | 0 | 0 | 0 |
| 321 | LADENHEIM MERRILL | 0 | 0 | 0 | 0 | 0 | 0 | 0 | 0 | 0 | 0 | 0 | 0 | 0 | 0 | 0 | 0 | 0 | 0 | 0 | 0 | 0 | 0 | 0 | 0 | 0 | 0 | 0 | 0 | 0 | 0 | 0 | 0 | 0 | 0 | 0 | 0 | 0 | 0 | 0 | 0 | 0 | 0 | 0 | 0 | 0 | 0 | 0 | 0 | 0 | 0 | 0 | 0 | 0 | 0 | 200 | 0 | 0 | 0 | 0 |
| 322 | LEBEAU GARY | 0 | 0 | 0 | 0 | 0 | 0 | 0 | 0 | 0 | 0 | 0 | 0 | 0 | 0 | 0 | 0 | 0 | 0 | 0 | 0 | 0 | 0 | 0 | 0 | 0 | 0 | 0 | 0 | 0 | 0 | 0 | 0 | 0 | 0 | 0 | 0 | 0 | 0 | 0 | 0 | 0 | 0 | 0 | 0 | 0 | 0 | 0 | 0 | 0 | 0 | 0 | 0 | 0 | 0 | 200 | 0 | 0 | 0 | 0 |
| 323 | MAHER MICHAEL | 0 | 0 | 0 | 0 | 0 | 0 | 0 | 0 | 0 | 0 | 0 | 0 | 0 | 0 | 0 | 0 | 0 | 0 | 0 | 0 | 0 | 0 | 0 | 0 | 0 | 0 | 0 | 0 | 0 | 0 | 0 | 0 | 0 | 0 | 0 | 0 | 0 | 0 | 0 | 0 | 0 | 0 | 0 | 0 | 0 | 0 | 0 | 0 | 0 | 0 | 0 | 0 | 0 | 0 | 200 | 0 | 0 | 0 | 0 |
| 324 | MANCILLA SERGIO | 0 | 0 | 0 | 0 | 0 | 0 | 0 | 0 | 0 | 0 | 0 | 0 | 0 | 0 | 0 | 0 | 0 | 0 | 0 | 0 | 0 | 0 | 0 | 0 | 0 | 0 | 0 | 0 | 0 | 0 | 0 | 0 | 0 | 0 | 0 | 0 | 0 | 0 | 0 | 0 | 0 | 0 | 0 | 0 | 0 | 0 | 0 | 0 | 0 | 0 | 0 | 0 | 0 | 0 | 100 | 0 | 0 | 0 | 0 |
| 325 | MEEDER BRIAN | 0 | 0 | 0 | 0 | 0 | 0 | 0 | 0 | 0 | 0 | 0 | 0 | 0 | 0 | 0 | 0 | 0 | 0 | 0 | 0 | 0 | 0 | 0 | 0 | 0 | 0 | 0 | 0 | 0 | 0 | 0 | 0 | 0 | 0 | 0 | 0 | 0 | 0 | 0 | 0 | 0 | 0 | 0 | 0 | 0 | 0 | 0 | 0 | 0 | 0 | 0 | 0 | 0 | 0 | 100 | 0 | 0 | 0 | 0 |
| 326 | WALDO BRUCE | 0 | 0 | 0 | 0 | 0 | 0 | 0 | 0 | 0 | 0 | 0 | 0 | 0 | 0 | 0 | 0 | 0 | 0 | 0 | 0 | 0 | 0 | 0 | 0 | 0 | 0 | 0 | 0 | 0 | 0 | 0 | 0 | 0 | 0 | 0 | 0 | 0 | 0 | 0 | 0 | 0 | 0 | 0 | 0 | 0 | 0 | 0 | 0 | 0 | 0 | 0 | 0 | 0 | 0 | 100 | 0 | 0 | 0 | 0 |
| 327 | WHEAT ROBERT | 0 | 0 | 0 | 0 | 0 | 0 | 0 | 0 | 0 | 0 | 0 | 0 | 0 | 0 | 0 | 0 | 0 | 0 | 0 | 0 | 0 | 0 | 0 | 0 | 0 | 0 | 0 | 0 | 0 | 0 | 0 | 0 | 0 | 0 | 0 | 0 | 0 | 0 | 0 | 0 | 0 | 0 | 0 | 0 | 0 | 0 | 0 | 0 | 0 | 0 | 0 | 0 | 0 | 0 | 200 | 0 | 0 | 0 | 0 |
| 328 | SUTTON WES | 0 | 0 | 0 | 0 | 0 | 0 | 0 | 0 | 0 | 0 | 0 | 0 | 0 | 0 | 0 | 0 | 0 | 0 | 0 | 0 | 0 | 0 | 0 | 0 | 0 | 0 | 0 | 0 | 0 | 0 | 0 | 0 | 0 | 0 | 0 | 0 | 0 | 0 | 0 | 0 | 0 | 0 | 0 | 0 | 0 | 0 | 0 | 0 | 0 | 0 | 0 | 0 | 0 | 0 | 200 | 0 | 0 | 0 | 0 |
| 329 | LUCIA ANTHONY | 0 | 0 | 0 | 0 | 0 | 0 | 0 | 0 | 0 | 0 | 0 | 0 | 0 | 0 | 0 | 0 | 0 | 0 | 0 | 0 | 0 | 0 | 0 | 0 | 0 | 0 | 0 | 0 | 0 | 0 | 0 | 0 | 0 | 0 | 0 | 0 | 0 | 0 | 0 | 0 | 0 | 0 | 0 | 0 | 0 | 0 | 0 | 0 | 0 | 0 | 0 | 0 | 0 | 0 | 200 | 0 | 0 | 0 | 0 |
| 330 | HARRIS DUANE | 0 | 0 | 0 | 0 | 0 | 0 | 0 | 0 | 0 | 0 | 0 | 0 | 0 | 0 | 0 | 0 | 0 | 0 | 0 | 0 | 0 | 0 | 0 | 0 | 0 | 0 | 0 | 0 | 0 | 0 | 0 | 0 | 0 | 0 | 0 | 0 | 0 | 0 | 0 | 0 | 0 | 0 | 0 | 0 | 0 | 0 | 0 | 0 | 0 | 0 | 0 | 0 | 0 | 0 | 250 | 0 | 0 | 0 | 0 |
| 331 | STEINWAND BRIAN | 0 | 0 | 0 | 0 | 0 | 0 | 0 | 0 | 0 | 0 | 0 | 0 | 0 | 0 | 0 | 0 | 0 | 0 | 0 | 0 | 0 | 0 | 0 | 0 | 0 | 0 | 0 | 0 | 0 | 0 | 0 | 0 | 0 | 0 | 0 | 0 | 0 | 0 | 0 | 0 | 0 | 0 | 0 | 0 | 0 | 0 | 0 | 0 | 0 | 0 | 0 | 0 | 0 | 0 | 400 | 0 | 0 | 0 | 0 |
| 332 | DOLSON DAVID | 0 | 0 | 0 | 0 | 0 | 0 | 0 | 0 | 0 | 0 | 0 | 0 | 0 | 0 | 0 | 0 | 0 | 0 | 0 | 0 | 0 | 0 | 0 | 0 | 0 | 0 | 0 | 0 | 0 | 0 | 0 | 0 | 0 | 0 | 0 | 0 | 0 | 0 | 0 | 0 | 0 | 0 | 0 | 0 | 0 | 0 | 0 | 0 | 0 | 0 | 0 | 0 | 0 | 0 | 250 | 0 | 0 | 0 | 0 |
| 333 | BRACKPOOL CHRIS | 0 | 0 | 0 | 0 | 0 | 0 | 0 | 0 | 0 | 0 | 0 | 0 | 0 | 0 | 0 | 0 | 0 | 0 | 0 | 0 | 0 | 0 | 0 | 0 | 0 | 0 | 0 | 0 | 0 | 0 | 0 | 0 | 0 | 0 | 0 | 0 | 0 | 0 | 0 | 0 | 0 | 0 | 0 | 0 | 0 | 0 | 0 | 0 | 0 | 0 | 0 | 0 | 0 | 0 | 150 | 0 | 0 | 0 | 0 |
| 334 | BRACKPOOL ANA | 0 | 0 | 0 | 0 | 0 | 0 | 0 | 0 | 0 | 0 | 0 | 0 | 0 | 0 | 0 | 0 | 0 | 0 | 0 | 0 | 0 | 0 | 0 | 0 | 0 | 0 | 0 | 0 | 0 | 0 | 0 | 0 | 0 | 0 | 0 | 0 | 0 | 0 | 0 | 0 | 0 | 0 | 0 | 0 | 0 | 0 | 0 | 0 | 0 | 0 | 0 | 0 | 0 | 0 | 150 | 0 | 0 | 0 | 0 |
| 335 | DITSCH CRAIG | 0 | 0 | 0 | 0 | 0 | 0 | 0 | 0 | 0 | 0 | 0 | 0 | 0 | 0 | 0 | 0 | 0 | 0 | 0 | 0 | 0 | 0 | 0 | 0 | 0 | 0 | 0 | 0 | 0 | 0 | 0 | 0 | 0 | 0 | 0 | 0 | 0 | 0 | 0 | 0 | 0 | 0 | 0 | 0 | 0 | 0 | 0 | 0 | 0 | 0 | 0 | 0 | 0 | 0 | 200 | 0 | 0 | 0 | 0 |
| 336 | SHIPE JONAS | 0 | 0 | 0 | 0 | 0 | 0 | 0 | 0 | 0 | 0 | 0 | 0 | 0 | 0 | 0 | 0 | 0 | 0 | 0 | 0 | 0 | 0 | 0 | 0 | 0 | 0 | 0 | 0 | 0 | 0 | 0 | 0 | 0 | 0 | 0 | 0 | 0 | 0 | 0 | 0 | 0 | 0 | 0 | 0 | 0 | 0 | 0 | 0 | 0 | 0 | 0 | 0 | 0 | 0 | 100 | 0 | 0 | 0 | 0 |
| 337 | FERGUSON ANGUS | 0 | 0 | 0 | 0 | 0 | 0 | 0 | 0 | 0 | 0 | 0 | 0 | 0 | 0 | 0 | 0 | 0 | 0 | 0 | 0 | 0 | 0 | 0 | 0 | 0 | 0 | 0 | 0 | 0 | 0 | 0 | 0 | 0 | 0 | 0 | 0 | 0 | 0 | 0 | 0 | 0 | 0 | 0 | 0 | 0 | 0 | 0 | 0 | 0 | 0 | 0 | 0 | 0 | 0 | 100 | 0 | 0 | 0 | 0 |
| 338 | CORINA JOHN | 0 | 0 | 0 | 0 | 0 | 0 | 0 | 0 | 0 | 0 | 0 | 0 | 0 | 0 | 0 | 0 | 0 | 0 | 0 | 0 | 0 | 0 | 0 | 0 | 0 | 0 | 0 | 0 | 0 | 0 | 0 | 0 | 0 | 0 | 0 | 0 | 0 | 0 | 0 | 0 | 0 | 0 | 0 | 0 | 0 | 0 | 0 | 0 | 0 | 0 | 0 | 0 | 0 | 0 | 100 | 0 | 0 | 0 | 0 |
| 339 | PEACOCK ROBERT | 0 | 0 | 0 | 0 | 0 | 0 | 0 | 0 | 0 | 0 | 0 | 0 | 0 | 0 | 0 | 0 | 0 | 0 | 0 | 0 | 0 | 0 | 0 | 0 | 0 | 0 | 0 | 0 | 0 | 0 | 0 | 0 | 0 | 0 | 0 | 0 | 0 | 0 | 0 | 0 | 0 | 0 | 0 | 0 | 0 | 0 | 0 | 0 | 0 | 0 | 0 | 0 | 0 | 0 | 100 | 0 | 0 | 0 | 0 |
| 340 | RANDALL DAVID | 0 | 0 | 0 | 0 | 0 | 0 | 0 | 0 | 0 | 0 | 0 | 0 | 0 | 0 | 0 | 0 | 0 | 0 | 0 | 0 | 0 | 0 | 0 | 0 | 0 | 0 | 0 | 0 | 0 | 0 | 0 | 0 | 0 | 0 | 0 | 0 | 0 | 0 | 0 | 0 | 0 | 0 | 0 | 0 | 0 | 0 | 0 | 0 | 0 | 0 | 0 | 0 | 0 | 0 | 0 | 250 | 0 | 0 | 0 |
| 341 | TOKAR WRIGHT PAULA | 0 | 0 | 0 | 0 | 0 | 0 | 0 | 0 | 0 | 0 | 0 | 0 | 0 | 0 | 0 | 0 | 0 | 0 | 0 | 0 | 0 | 0 | 0 | 0 | 0 | 0 | 0 | 0 | 0 | 0 | 0 | 0 | 0 | 0 | 0 | 0 | 0 | 0 | 0 | 0 | 0 | 0 | 0 | 0 | 0 | 0 | 0 | 0 | 0 | 0 | 0 | 0 | 0 | 0 | 0 | 250 | 0 | 0 | 0 |
| 342 | CLAUS MICHAEL | 0 | 0 | 0 | 0 | 0 | 0 | 0 | 0 | 0 | 0 | 0 | 0 | 0 | 0 | 0 | 0 | 0 | 0 | 0 | 0 | 0 | 0 | 0 | 0 | 0 | 0 | 0 | 0 | 0 | 0 | 0 | 0 | 0 | 0 | 0 | 0 | 0 | 0 | 0 | 0 | 0 | 0 | 0 | 0 | 0 | 0 | 0 | 0 | 0 | 0 | 0 | 0 | 0 | 0 | 0 | 250 | 0 | 0 | 0 |
| 343 | LAWRENCE ROBERT | 0 | 0 | 0 | 0 | 0 | 0 | 0 | 0 | 0 | 0 | 0 | 0 | 0 | 0 | 0 | 0 | 0 | 0 | 0 | 0 | 0 | 0 | 0 | 0 | 0 | 0 | 0 | 0 | 0 | 0 | 0 | 0 | 0 | 0 | 0 | 0 | 0 | 0 | 0 | 0 | 0 | 0 | 0 | 0 | 0 | 0 | 0 | 0 | 0 | 0 | 0 | 0 | 0 | 0 | 0 | 250 | 0 | 0 | 0 |
| 344 | YATES CLIFF | 0 | 0 | 0 | 0 | 0 | 0 | 0 | 0 | 0 | 0 | 0 | 0 | 0 | 0 | 0 | 0 | 0 | 0 | 0 | 0 | 0 | 0 | 0 | 0 | 0 | 0 | 0 | 0 | 0 | 0 | 0 | 0 | 0 | 0 | 0 | 0 | 0 | 0 | 0 | 0 | 0 | 0 | 0 | 0 | 0 | 0 | 0 | 0 | 0 | 0 | 0 | 0 | 0 | 0 | 0 | 250 | 0 | 0 | 0 |
| 345 | FETTEROLL DOUGLAS | 0 | 0 | 0 | 0 | 0 | 0 | 0 | 0 | 0 | 0 | 0 | 0 | 0 | 0 | 0 | 0 | 0 | 0 | 0 | 0 | 0 | 0 | 0 | 0 | 0 | 0 | 0 | 0 | 0 | 0 | 0 | 0 | 0 | 0 | 0 | 0 | 0 | 0 | 0 | 0 | 0 | 0 | 0 | 0 | 0 | 0 | 0 | 0 | 0 | 0 | 0 | 0 | 0 | 0 | 0 | 250 | 0 | 0 | 0 |
| 346 | ENFIELD JEFFREY | 0 | 0 | 0 | 0 | 0 | 0 | 0 | 0 | 0 | 0 | 0 | 0 | 0 | 0 | 0 | 0 | 0 | 0 | 0 | 0 | 0 | 0 | 0 | 0 | 0 | 0 | 0 | 0 | 0 | 0 | 0 | 0 | 0 | 0 | 0 | 0 | 0 | 0 | 0 | 0 | 0 | 0 | 0 | 0 | 0 | 0 | 0 | 0 | 0 | 0 | 0 | 0 | 0 | 0 | 0 | 100 | 0 | 0 | 0 |
| 347 | ALLEN DUANE | 0 | 0 | 0 | 0 | 0 | 0 | 0 | 0 | 0 | 0 | 0 | 0 | 0 | 0 | 0 | 0 | 0 | 0 | 0 | 0 | 0 | 0 | 0 | 0 | 0 | 0 | 0 | 0 | 0 | 0 | 0 | 0 | 0 | 0 | 0 | 0 | 0 | 0 | 0 | 0 | 0 | 0 | 0 | 0 | 0 | 0 | 0 | 0 | 0 | 0 | 0 | 0 | 0 | 0 | 0 | 200 | 0 | 0 | 0 |
| 348 | DYER DANIEL | 0 | 0 | 0 | 0 | 0 | 0 | 0 | 0 | 0 | 0 | 0 | 0 | 0 | 0 | 0 | 0 | 0 | 0 | 0 | 0 | 0 | 0 | 0 | 0 | 0 | 0 | 0 | 0 | 0 | 0 | 0 | 0 | 0 | 0 | 0 | 0 | 0 | 0 | 0 | 0 | 0 | 0 | 0 | 0 | 0 | 0 | 0 | 0 | 0 | 0 | 0 | 0 | 0 | 0 | 0 | 100 | 0 | 0 | 0 |
| 349 | STRANGE STEVEN | 0 | 0 | 0 | 0 | 0 | 0 | 0 | 0 | 0 | 0 | 0 | 0 | 0 | 0 | 0 | 0 | 0 | 0 | 0 | 0 | 0 | 0 | 0 | 0 | 0 | 0 | 0 | 0 | 0 | 0 | 0 | 0 | 0 | 0 | 0 | 0 | 0 | 0 | 0 | 0 | 0 | 0 | 0 | 0 | 0 | 0 | 0 | 0 | 0 | 0 | 0 | 0 | 0 | 0 | 0 | 100 | 0 | 0 | 0 |
| 350 | LONG MARICELA | 0 | 0 | 0 | 0 | 0 | 0 | 0 | 0 | 0 | 0 | 0 | 0 | 0 | 0 | 0 | 0 | 0 | 0 | 0 | 0 | 0 | 0 | 0 | 0 | 0 | 0 | 0 | 0 | 0 | 0 | 0 | 0 | 0 | 0 | 0 | 0 | 0 | 0 | 0 | 0 | 0 | 0 | 0 | 0 | 0 | 0 | 0 | 0 | 0 | 0 | 0 | 0 | 0 | 0 | 0 | 100 | 0 | 0 | 0 |
| 351 | CHAVEZ ARTURO | 0 | 0 | 0 | 0 | 0 | 0 | 0 | 0 | 0 | 0 | 0 | 0 | 0 | 0 | 0 | 0 | 0 | 0 | 0 | 0 | 0 | 0 | 0 | 0 | 0 | 0 | 0 | 0 | 0 | 0 | 0 | 0 | 0 | 0 | 0 | 0 | 0 | 0 | 0 | 0 | 0 | 0 | 0 | 0 | 0 | 0 | 0 | 0 | 0 | 0 | 0 | 0 | 0 | 0 | 0 | 100 | 0 | 0 | 0 |
| 352 | SOMOANO IGNACIO | 0 | 0 | 0 | 0 | 0 | 0 | 0 | 0 | 0 | 0 | 0 | 0 | 0 | 0 | 0 | 0 | 0 | 0 | 0 | 0 | 0 | 0 | 0 | 0 | 0 | 0 | 0 | 0 | 0 | 0 | 0 | 0 | 0 | 0 | 0 | 0 | 0 | 0 | 0 | 0 | 0 | 0 | 0 | 0 | 0 | 0 | 0 | 0 | 0 | 0 | 0 | 0 | 0 | 0 | 0 | 100 | 0 | 0 | 0 |
| 353 | CRINER KRISTY | 0 | 0 | 0 | 0 | 0 | 0 | 0 | 0 | 0 | 0 | 0 | 0 | 0 | 0 | 0 | 0 | 0 | 0 | 0 | 0 | 0 | 0 | 0 | 0 | 0 | 0 | 0 | 0 | 0 | 0 | 0 | 0 | 0 | 0 | 0 | 0 | 0 | 0 | 0 | 0 | 0 | 0 | 0 | 0 | 0 | 0 | 0 | 0 | 0 | 0 | 0 | 0 | 0 | 0 | 0 | 100 | 0 | 0 | 0 |
| 354 | MCDANIEL CYNTHIA | 0 | 0 | 0 | 0 | 0 | 0 | 0 | 0 | 0 | 0 | 0 | 0 | 0 | 0 | 0 | 0 | 0 | 0 | 0 | 0 | 0 | 0 | 0 | 0 | 0 | 0 | 0 | 0 | 0 | 0 | 0 | 0 | 0 | 0 | 0 | 0 | 0 | 0 | 0 | 0 | 0 | 0 | 0 | 0 | 0 | 0 | 0 | 0 | 0 | 0 | 0 | 0 | 0 | 0 | 0 | 200 | 0 | 0 | 0 |
| 355 | CARTER KERRY | 0 | 0 | 0 | 0 | 0 | 0 | 0 | 0 | 0 | 0 | 0 | 0 | 0 | 0 | 0 | 0 | 0 | 0 | 0 | 0 | 0 | 0 | 0 | 0 | 0 | 0 | 0 | 0 | 0 | 0 | 0 | 0 | 0 | 0 | 0 | 0 | 0 | 0 | 0 | 0 | 0 | 0 | 0 | 0 | 0 | 0 | 0 | 0 | 0 | 0 | 0 | 0 | 0 | 0 | 0 | 200 | 0 | 0 | 0 |
| 356 | WYCHE BOBBY | 0 | 0 | 0 | 0 | 0 | 0 | 0 | 0 | 0 | 0 | 0 | 0 | 0 | 0 | 0 | 0 | 0 | 0 | 0 | 0 | 0 | 0 | 0 | 0 | 0 | 0 | 0 | 0 | 0 | 0 | 0 | 0 | 0 | 0 | 0 | 0 | 0 | 0 | 0 | 0 | 0 | 0 | 0 | 0 | 0 | 0 | 0 | 0 | 0 | 0 | 0 | 0 | 0 | 0 | 0 | 200 | 0 | 0 | 0 |
| 357 | BLACKWELL GARY | 0 | 0 | 0 | 0 | 0 | 0 | 0 | 0 | 0 | 0 | 0 | 0 | 0 | 0 | 0 | 0 | 0 | 0 | 0 | 0 | 0 | 0 | 0 | 0 | 0 | 0 | 0 | 0 | 0 | 0 | 0 | 0 | 0 | 0 | 0 | 0 | 0 | 0 | 0 | 0 | 0 | 0 | 0 | 0 | 0 | 0 | 0 | 0 | 0 | 0 | 0 | 0 | 0 | 0 | 0 | 200 | 0 | 0 | 0 |
| 358 | WATSON ANGELA | 0 | 0 | 0 | 0 | 0 | 0 | 0 | 0 | 0 | 0 | 0 | 0 | 0 | 0 | 0 | 0 | 0 | 0 | 0 | 0 | 0 | 0 | 0 | 0 | 0 | 0 | 0 | 0 | 0 | 0 | 0 | 0 | 0 | 0 | 0 | 0 | 0 | 0 | 0 | 0 | 0 | 0 | 0 | 0 | 0 | 0 | 0 | 0 | 0 | 0 | 0 | 0 | 0 | 0 | 0 | 300 | 0 | 0 | 0 |
| 359 | CAREY WILLIAM | 0 | 0 | 0 | 0 | 0 | 0 | 0 | 0 | 0 | 0 | 0 | 0 | 0 | 0 | 0 | 0 | 0 | 0 | 0 | 0 | 0 | 0 | 0 | 0 | 0 | 0 | 0 | 0 | 0 | 0 | 0 | 0 | 0 | 0 | 0 | 0 | 0 | 0 | 0 | 0 | 0 | 0 | 0 | 0 | 0 | 0 | 0 | 0 | 0 | 0 | 0 | 0 | 0 | 0 | 0 | 100 | 0 | 0 | 0 |
| 360 | EWING TROY | 0 | 0 | 0 | 0 | 0 | 0 | 0 | 0 | 0 | 0 | 0 | 0 | 0 | 0 | 0 | 0 | 0 | 0 | 0 | 0 | 0 | 0 | 0 | 0 | 0 | 0 | 0 | 0 | 0 | 0 | 0 | 0 | 0 | 0 | 0 | 0 | 0 | 0 | 0 | 0 | 0 | 0 | 0 | 0 | 0 | 0 | 0 | 0 | 0 | 0 | 0 | 0 | 0 | 0 | 0 | 100 | 0 | 0 | 0 |
| 361 | FIGUEROA YOLANDA | 0 | 0 | 0 | 0 | 0 | 0 | 0 | 0 | 0 | 0 | 0 | 0 | 0 | 0 | 0 | 0 | 0 | 0 | 0 | 0 | 0 | 0 | 0 | 0 | 0 | 0 | 0 | 0 | 0 | 0 | 0 | 0 | 0 | 0 | 0 | 0 | 0 | 0 | 0 | 0 | 0 | 0 | 0 | 0 | 0 | 0 | 0 | 0 | 0 | 0 | 0 | 0 | 0 | 0 | 0 | 100 | 0 | 0 | 0 |
| 362 | ROSSON MICHAEL | 0 | 0 | 0 | 0 | 0 | 0 | 0 | 0 | 0 | 0 | 0 | 0 | 0 | 0 | 0 | 0 | 0 | 0 | 0 | 0 | 0 | 0 | 0 | 0 | 0 | 0 | 0 | 0 | 0 | 0 | 0 | 0 | 0 | 0 | 0 | 0 | 0 | 0 | 0 | 0 | 0 | 0 | 0 | 0 | 0 | 0 | 0 | 0 | 0 | 0 | 0 | 0 | 0 | 0 | 0 | 100 | 0 | 0 | 0 |
| 363 | MAHER CALVIN | 0 | 0 | 0 | 0 | 0 | 0 | 0 | 0 | 0 | 0 | 0 | 0 | 0 | 0 | 0 | 0 | 0 | 0 | 0 | 0 | 0 | 0 | 0 | 0 | 0 | 0 | 0 | 0 | 0 | 0 | 0 | 0 | 0 | 0 | 0 | 0 | 0 | 0 | 0 | 0 | 0 | 0 | 0 | 0 | 0 | 0 | 0 | 0 | 0 | 0 | 0 | 0 | 0 | 0 | 0 | 250 | 0 | 0 | 0 |
| 364 | JOHNSON DONNIE | 0 | 0 | 0 | 0 | 0 | 0 | 0 | 0 | 0 | 0 | 0 | 0 | 0 | 0 | 0 | 0 | 0 | 0 | 0 | 0 | 0 | 0 | 0 | 0 | 0 | 0 | 0 | 0 | 0 | 0 | 0 | 0 | 0 | 0 | 0 | 0 | 0 | 0 | 0 | 0 | 0 | 0 | 0 | 0 | 0 | 0 | 0 | 0 | 0 | 0 | 0 | 0 | 0 | 0 | 0 | 250 | 0 | 0 | 0 |
| 365 | GAGE SCOTT | 0 | 0 | 0 | 0 | 0 | 0 | 0 | 0 | 0 | 0 | 0 | 0 | 0 | 0 | 0 | 0 | 0 | 0 | 0 | 0 | 0 | 0 | 0 | 0 | 0 | 0 | 0 | 0 | 0 | 0 | 0 | 0 | 0 | 0 | 0 | 0 | 0 | 0 | 0 | 0 | 0 | 0 | 0 | 0 | 0 | 0 | 0 | 0 | 0 | 0 | 0 | 0 | 0 | 0 | 0 | 250 | 0 | 0 | 0 |
| 366 | ARMALIN RODRICK | 0 | 0 | 0 | 0 | 0 | 0 | 0 | 0 | 0 | 0 | 0 | 0 | 0 | 0 | 0 | 0 | 0 | 0 | 0 | 0 | 0 | 0 | 0 | 0 | 0 | 0 | 0 | 0 | 0 | 0 | 0 | 0 | 0 | 0 | 0 | 0 | 0 | 0 | 0 | 0 | 0 | 0 | 0 | 0 | 0 | 0 | 0 | 0 | 0 | 0 | 0 | 0 | 0 | 0 | 0 | 200 | 0 | 0 | 0 |
| 367 | GRUBB THOMAS | 0 | 0 | 0 | 0 | 0 | 0 | 0 | 0 | 0 | 0 | 0 | 0 | 0 | 0 | 0 | 0 | 0 | 0 | 0 | 0 | 0 | 0 | 0 | 0 | 0 | 0 | 0 | 0 | 0 | 0 | 0 | 0 | 0 | 0 | 0 | 0 | 0 | 0 | 0 | 0 | 0 | 0 | 0 | 0 | 0 | 0 | 0 | 0 | 0 | 0 | 0 | 0 | 0 | 0 | 0 | 100 | 0 | 0 | 0 |
| 368 | VERA ELIEZER | 0 | 0 | 0 | 0 | 0 | 0 | 0 | 0 | 0 | 0 | 0 | 0 | 0 | 0 | 0 | 0 | 0 | 0 | 0 | 0 | 0 | 0 | 0 | 0 | 0 | 0 | 0 | 0 | 0 | 0 | 0 | 0 | 0 | 0 | 0 | 0 | 0 | 0 | 0 | 0 | 0 | 0 | 0 | 0 | 0 | 0 | 0 | 0 | 0 | 0 | 0 | 0 | 0 | 0 | 0 | 100 | 0 | 0 | 0 |
| 369 | YANAGI BRIAN | 0 | 0 | 0 | 0 | 0 | 0 | 0 | 0 | 0 | 0 | 0 | 0 | 0 | 0 | 0 | 0 | 0 | 0 | 0 | 0 | 0 | 0 | 0 | 0 | 0 | 0 | 0 | 0 | 0 | 0 | 0 | 0 | 0 | 0 | 0 | 0 | 0 | 0 | 0 | 0 | 0 | 0 | 0 | 0 | 0 | 0 | 0 | 0 | 0 | 0 | 0 | 0 | 0 | 0 | 0 | 100 | 0 | 0 | 0 |
| 370 | ORTIZ ALBERT | 0 | 0 | 0 | 0 | 0 | 0 | 0 | 0 | 0 | 0 | 0 | 0 | 0 | 0 | 0 | 0 | 0 | 0 | 0 | 0 | 0 | 0 | 0 | 0 | 0 | 0 | 0 | 0 | 0 | 0 | 0 | 0 | 0 | 0 | 0 | 0 | 0 | 0 | 0 | 0 | 0 | 0 | 0 | 0 | 0 | 0 | 0 | 0 | 0 | 0 | 0 | 0 | 0 | 0 | 0 | 100 | 0 | 0 | 0 |
| 371 | MURPHY MILTON | 0 | 0 | 0 | 0 | 0 | 0 | 0 | 0 | 0 | 0 | 0 | 0 | 0 | 0 | 0 | 0 | 0 | 0 | 0 | 0 | 0 | 0 | 0 | 0 | 0 | 0 | 0 | 0 | 0 | 0 | 0 | 0 | 0 | 0 | 0 | 0 | 0 | 0 | 0 | 0 | 0 | 0 | 0 | 0 | 0 | 0 | 0 | 0 | 0 | 0 | 0 | 0 | 0 | 0 | 0 | 100 | 0 | 0 | 0 |
| 372 | MOSSMAN STEVE | 0 | 0 | 0 | 0 | 0 | 0 | 0 | 0 | 0 | 0 | 0 | 0 | 0 | 0 | 0 | 0 | 0 | 0 | 0 | 0 | 0 | 0 | 0 | 0 | 0 | 0 | 0 | 0 | 0 | 0 | 0 | 0 | 0 | 0 | 0 | 0 | 0 | 0 | 0 | 0 | 0 | 0 | 0 | 0 | 0 | 0 | 0 | 0 | 0 | 0 | 0 | 0 | 0 | 0 | 0 | 200 | 0 | 0 | 0 |
| 373 | HEBERT KEVIN | 0 | 0 | 0 | 0 | 0 | 0 | 0 | 0 | 0 | 0 | 0 | 0 | 0 | 0 | 0 | 0 | 0 | 0 | 0 | 0 | 0 | 0 | 0 | 0 | 0 | 0 | 0 | 0 | 0 | 0 | 0 | 0 | 0 | 0 | 0 | 0 | 0 | 0 | 0 | 0 | 0 | 0 | 0 | 0 | 0 | 0 | 0 | 0 | 0 | 0 | 0 | 0 | 0 | 0 | 0 | 100 | 0 | 0 | 0 |
| 374 | LEUNG EDDIE | 0 | 0 | 0 | 0 | 0 | 0 | 0 | 0 | 0 | 0 | 0 | 0 | 0 | 0 | 0 | 0 | 0 | 0 | 0 | 0 | 0 | 0 | 0 | 0 | 0 | 0 | 0 | 0 | 0 | 0 | 0 | 0 | 0 | 0 | 0 | 0 | 0 | 0 | 0 | 0 | 0 | 0 | 0 | 0 | 0 | 0 | 0 | 0 | 0 | 0 | 0 | 0 | 0 | 0 | 0 | 100 | 0 | 0 | 0 |
| 375 | MOORE VICTOR | 0 | 0 | 0 | 0 | 0 | 0 | 0 | 0 | 0 | 0 | 0 | 0 | 0 | 0 | 0 | 0 | 0 | 0 | 0 | 0 | 0 | 0 | 0 | 0 | 0 | 0 | 0 | 0 | 0 | 0 | 0 | 0 | 0 | 0 | 0 | 0 | 0 | 0 | 0 | 0 | 0 | 0 | 0 | 0 | 0 | 0 | 0 | 0 | 0 | 0 | 0 | 0 | 0 | 0 | 0 | 0 | 100 | 0 | 0 |
| 376 | DE RUYTER JAMES | 0 | 0 | 0 | 0 | 0 | 0 | 0 | 0 | 0 | 0 | 0 | 0 | 0 | 0 | 0 | 0 | 0 | 0 | 0 | 0 | 0 | 0 | 0 | 0 | 0 | 0 | 0 | 0 | 0 | 0 | 0 | 0 | 0 | 0 | 0 | 0 | 0 | 0 | 0 | 0 | 0 | 0 | 0 | 0 | 0 | 0 | 0 | 0 | 0 | 0 | 0 | 0 | 0 | 0 | 0 | 0 | 100 | 0 | 0 |
| 377 | GOLDEN PATRICK | 0 | 0 | 0 | 0 | 0 | 0 | 0 | 0 | 0 | 0 | 0 | 0 | 0 | 0 | 0 | 0 | 0 | 0 | 0 | 0 | 0 | 0 | 0 | 0 | 0 | 0 | 0 | 0 | 0 | 0 | 0 | 0 | 0 | 0 | 0 | 0 | 0 | 0 | 0 | 0 | 0 | 0 | 0 | 0 | 0 | 0 | 0 | 0 | 0 | 0 | 0 | 0 | 0 | 0 | 0 | 0 | 0 | 0 | 100 |
| 378 | LONGAN STEPHEN | 0 | 0 | 0 | 0 | 0 | 0 | 0 | 0 | 0 | 0 | 0 | 0 | 0 | 0 | 0 | 0 | 0 | 0 | 0 | 0 | 0 | 0 | 0 | 0 | 0 | 0 | 0 | 0 | 0 | 0 | 0 | 0 | 0 | 0 | 0 | 0 | 0 | 0 | 0 | 0 | 0 | 0 | 0 | 0 | 0 | 0 | 0 | 0 | 0 | 0 | 0 | 0 | 0 | 0 | 0 | 0 | 0 | 0 | 100 |
| 379 | PALOMINO JOE | 0 | 0 | 0 | 0 | 0 | 0 | 0 | 0 | 0 | 0 | 0 | 0 | 0 | 0 | 0 | 0 | 0 | 0 | 0 | 0 | 0 | 0 | 0 | 0 | 0 | 0 | 0 | 0 | 0 | 0 | 0 | 0 | 0 | 0 | 0 | 0 | 0 | 0 | 0 | 0 | 0 | 0 | 0 | 0 | 0 | 0 | 0 | 0 | 0 | 0 | 0 | 0 | 0 | 0 | 0 | 0 | 0 | 0 | 100 |
| 380 | HILGENDORF KEVIN | 0 | 0 | 0 | 0 | 0 | 0 | 0 | 0 | 0 | 0 | 0 | 0 | 0 | 0 | 0 | 0 | 0 | 0 | 0 | 0 | 0 | 0 | 0 | 0 | 0 | 0 | 0 | 0 | 0 | 0 | 0 | 0 | 0 | 0 | 0 | 0 | 0 | 0 | 0 | 0 | 0 | 0 | 0 | 0 | 0 | 0 | 0 | 0 | 0 | 0 | 0 | 0 | 0 | 0 | 0 | 0 | 0 | 0 | 100 |
| 381 | DAVOREN JOHN | 0 | 0 | 0 | 0 | 0 | 0 | 0 | 0 | 0 | 0 | 0 | 0 | 0 | 0 | 0 | 0 | 0 | 0 | 0 | 0 | 0 | 0 | 0 | 0 | 0 | 0 | 0 | 0 | 0 | 0 | 0 | 0 | 0 | 0 | 0 | 0 | 0 | 0 | 0 | 0 | 0 | 0 | 0 | 0 | 0 | 0 | 0 | 0 | 0 | 0 | 0 | 0 | 0 | 0 | 0 | 0 | 0 | 0 | 100 |
| 382 | DEMELLO JACK | 0 | 0 | 0 | 0 | 0 | 0 | 0 | 0 | 0 | 0 | 0 | 0 | 0 | 0 | 0 | 0 | 0 | 0 | 0 | 0 | 0 | 0 | 0 | 0 | 0 | 0 | 0 | 0 | 0 | 0 | 0 | 0 | 0 | 0 | 0 | 0 | 0 | 0 | 0 | 0 | 0 | 0 | 0 | 0 | 0 | 0 | 0 | 0 | 0 | 0 | 0 | 0 | 0 | 0 | 0 | 0 | 0 | 0 | 200 |
---
OKAY, AND NOW HERE'S THE PROMOTIONS AND TRANSFERS ONLY LIST (WHICH INCLUDES DATES OF TESTING TO PROMOTE)
| | proNames | Last.Name | First.Name | Data.of.Promotion.Transfer | Rank.Attained.Transfer |
| --- | --- | --- | --- | --- | --- |
| 1 | ABERCROMBY JOSEPH | Abercromby | Joseph | 6/17/09 | SgtTest |
| 2 | ABRAM BERNICE | Abram | Bernice | 3/6/09 | IntCpt |
| 3 | ADAMS MICHAEL | Adams | Michael | 6/17/09 | SgtTest |
| 4 | ADLER KELLY | Adler | Kelly | 1/10/11 | LtTest |
| 5 | AGUILAR XAVIER | Aguilar | Xavier | 1/20/09 | LtTest |
| 6 | AHSMUHS KEVIN | Ahsmuhs | Kevin | 6/17/09 | SgtTest |
| 7 | AIKIN SCOTT | Aikin | Scott | 5/23/08 | Sgt |
| 8 | AIMAQ SALIM | Aimaq | Salim | 6/17/09 | SgtTest |
| 9 | ALEXANDER SANDRA | Alexander | Sandra | 6/17/09 | SgtTest |
| 10 | ALEXANDER ROBERT | Alexander | Robert | 6/17/09 | SgtTest |
| 11 | ALEXANDER SANDRA | Alexander | Sandra | 2/2/10 | Sgt |
| 12 | ALOMA SERGIO | Aloma | Sergio | 5/13/12 | Lt |
| 13 | ALOMA KRISTIN | Aloma | Kristin | 1/10/11 | LtTest |
| 14 | ALOMA SERGIO | Aloma | Sergio | 1/10/11 | LtTest |
| 15 | ALVAREZ ANNA | Alvarez | Anna | 11/26/08 | Sgt |
| 16 | ALVAREZ EDWIN | Alvarez | Edwin | 1/10/11 | LtTest |
| 17 | AMSTUTZ ROBERT | Amstutz | Robert | 6/17/09 | SgtTest |
| 18 | AMSTUTZ ROBERT | Amstutz | Robert | 6/25/10 | Sgt |
| 19 | ANDA LORRAINE | Anda | Lorraine | 6/17/09 | SgtTest |
| 20 | ANDA RONENE | Anda | Ronene | 6/5/12 | Cmmdr |
| 21 | ANDERSON CLAY | Anderson | Clay | 1/20/09 | LtTest |
| 22 | ANDERSON EVELYN | Anderson | Evelyn | 1/20/09 | LtTest |
| 23 | ANDERSON JOHN | Anderson | John | 1/20/09 | LtTest |
| 24 | ANDRESON JOHN | Andreson | John | 12/18/09 | Lt |
| 25 | ANDREWS JAMES | Andrews | James | 6/17/09 | SgtTest |
| 26 | ANTUNA PHYLLIS | Antuna | Phyllis | 6/17/09 | SgtTest |
| 27 | ANTUNA CHARLES | Antuna | Charles | 12/3/10 | IntCpt |
| 28 | ARBALLO CARMEN | Arballo | Carmen | 11/26/08 | Sgt |
| 29 | AREVALO BLANCA | Arevalo | Blanca | 6/17/09 | SgtTest |
| 30 | ARIAS ERIC | Arias | Eric | 6/17/09 | SgtTest |
| 31 | ARNALDO EDUARDO | Arnaldo | Eduardo | 12/18/09 | Lt |
| 32 | ASHRAFNIA WALID | Ashrafnia | Walid | 5/13/12 | Lt |
| 33 | ASHRAFNIA WALID | Ashrafnia | Walid | 1/10/11 | LtTest |
| 34 | ASMUS WARREN | Asmus | Warren | 12/3/10 | IntCmmdr |
| 35 | ASMUS WARREN | Asmus | Warren | 3/6/11 | Cmmdr |
| 36 | AUNER DAVID | Auner | David | 1/20/09 | LtTest |
| 37 | BARDON JOSHUA | Bardon | Joshua | 1/10/11 | LtTest |
| 38 | BARLOW MICHAEL | Barlow | Michael | 6/17/09 | SgtTest |
| 39 | BARNARD-MARTINEZ VANESSA | Barnard-Martinez | Vanessa | 6/17/09 | SgtTest |
| 40 | BARNES TODD | Barnes | Todd | 5/23/08 | Sgt |
| 41 | BARNES SHAWN | Barnes | Shawn | 6/17/09 | SgtTest |
| 42 | BARNHOORN DENNIS | Barnhoorn | Dennis | 6/17/09 | SgtTest |
| 43 | BARRETT RICHARD | Barrett | Richard | 6/17/09 | SgtTest |
| 44 | BARSH JENNIFER | Barsh | Jennifer | 6/17/09 | SgtTest |
| 45 | BARTLETT PAUL | Bartlett | Paul | 6/17/09 | SgtTest |
| 46 | BASH ALAN | Bash | Alan | 6/17/09 | SgtTest |
| 47 | BASNETT REBECCA | Basnett | Rebecca | 6/17/09 | SgtTest |
| 48 | BASNETT REBECCA | Basnett | Rebecca | 2/2/10 | Sgt |
| 49 | BASSO STEPHEN | Basso | Stephen | 6/17/09 | SgtTest |
| 50 | BATES JASON | Bates | Jason | 6/17/09 | SgtTest |
| 51 | BAUER LEO | Bauer | Leo | 1/20/09 | LtTest |
| 52 | BAUSMITH FRANK | Bausmith | Frank | 6/17/09 | SgtTest |
| 53 | BAYES ROBERT | Bayes | Robert | 6/17/09 | SgtTest |
| 54 | BECERRA SALVADOR | Becerra | Salvador | 1/20/09 | LtTest |
| 55 | BECHARD GERALDINE | Bechard | Geraldine | 2/2/10 | Sgt |
| 56 | BECKER PAUL | Becker | Paul | 1/12/10 | Cpt |
| 57 | BEDOGNE ANDREW | Bedogne | Andrew | 1/20/09 | LtTest |
| 58 | BELL TERRENCE | Bell | Terrence | 6/17/09 | SgtTest |
| 59 | BENEDICT JOHN | Benedict | John | 3/21/12 | IntCpt |
| 60 | BENETT DAVID | Benett | David | 6/17/09 | SgtTest |
| 61 | BENNETT JEFFREY | Bennett | Jeffrey | 2/2/10 | Sgt |
| 62 | BENNING ROBERT | Benning | Robert | 6/17/09 | SgtTest |
| 63 | BERGER CRAIG | Berger | Craig | 2/2/10 | Sgt |
| 64 | BERGNER RYAN | Bergner | Ryan | 6/17/09 | SgtTest |
| 65 | BERGNER CHRISTOPHER | Bergner | Christopher | 1/10/11 | LtTest |
| 66 | BERGO CHRISTOPHER | Bergo | Christopher | 6/17/09 | SgtTest |
| 67 | BERINGER DANIEL | Beringer | Daniel | 1/20/09 | LtTest |
| 68 | BERNAL GEORGE | Bernal | George | 6/17/09 | SgtTest |
| 69 | BERUMEN GEORGE | Berumen | George | 12/18/09 | Lt |
| 70 | BETKEY DAVID | Betkey | David | 9/3/08 | Chf |
| 71 | BEVANS WILLIAM | Bevans | William | 2/2/10 | Sgt |
| 72 | BILLE ERNEST | Bille | Ernest | 6/17/09 | SgtTest |
| 73 | BISAHA STEVEN | Bisaha | Steven | 6/17/09 | SgtTest |
| 74 | BISHOP BRIAN | Bishop | Brian | 5/23/08 | Sgt |
| 75 | BISHOP CORT | Bishop | Cort | 6/17/09 | SgtTest |
| 76 | BLACKWELL LARRY | Blackwell | Larry | 1/20/09 | LtTest |
| 77 | BLANCHARD ANTHONY | Blanchard | Anthony | 5/23/08 | Sgt |
| 78 | BLANCHFIELD-GADUT PATRICK | Blanchfield-Gadut | Patrick | 6/17/09 | SgtTest |
| 79 | BLANKS ROBERT | Blanks | Robert | 1/20/09 | LtTest |
| 80 | BLANKS ROBERT | Blanks | Robert | 12/18/09 | Lt |
| 81 | BLANSFIELD DIRK | Blansfield | Dirk | 6/17/09 | SgtTest |
| 82 | BLUNT ROBERT | Blunt | Robert | 2/2/10 | Sgt |
| 83 | BOCK ROBERT | Bock | Robert | 2/2/10 | Sgt |
| 84 | BOCK MARK | Bock | Mark | 1/10/11 | LtTest |
| 85 | BODENSTEDT BRETT | Bodenstedt | Brett | 1/20/09 | LtTest |
| 86 | BOJORQUEZ RICHARD | Bojorquez | Richard | 2/2/10 | Sgt |
| 87 | BOLDER VERGILIAN | Bolder | Vergilian | 6/17/09 | SgtTest |
| 88 | BOLIN DARRELL | Bolin | Darrell | 3/21/12 | IntCpt |
| 89 | BONES JOHN | Bones | John | 6/17/09 | SgtTest |
| 90 | BONES JOHN | Bones | John | 6/25/10 | Sgt |
| 91 | BONSALL DANA | Bonsall | Dana | 6/17/09 | SgtTest |
| 92 | BOOG SEAN | Boog | Sean | 6/17/09 | SgtTest |
| 93 | BORNMAN MICHAEL | Bornman | Michael | 3/21/12 | IntCpt |
| 94 | BOSKOVICH MARC | Boskovich | Marc | 6/17/09 | SgtTest |
| 95 | BOSKOVICH MARC | Boskovich | Marc | 2/2/10 | Sgt |
| 96 | BOSSIER MATTHEW | Bossier | Matthew | 5/23/08 | Sgt |
| 97 | BOWMAN VICTOR | Bowman | Victor | 6/17/09 | SgtTest |
| 98 | BRADEN JAMES | Braden | James | 6/17/09 | SgtTest |
| 99 | BRADLEY ANDREA | Bradley | Andrea | 6/17/09 | SgtTest |
| 100 | BRADLEY ANDREA | Bradley | Andrea | 6/25/10 | Sgt |
| 101 | BRANDON GLENN | Brandon | Glenn | 1/20/09 | LtTest |
| 102 | BRAUBERGER WILLIAM | Brauberger | William | 6/17/09 | SgtTest |
| 103 | BRIGGS TIMOTHY | Briggs | Timothy | 6/17/09 | SgtTest |
| 104 | BRINK BURTON | Brink | Burton | 11/26/08 | Sgt |
| 105 | BROAD JOHN | Broad | John | 6/17/09 | SgtTest |
| 106 | BROOKWELL PAMALA | Brookwell | Pamala | 1/20/09 | LtTest |
| 107 | BRUNER THOMAS | Bruner | Thomas | 6/17/09 | SgtTest |
| 108 | BUCHANAN DAVID | Buchanan | David | 6/17/09 | SgtTest |
| 109 | BUNCH BRENT | Bunch | Brent | 6/17/09 | SgtTest |
| 110 | BURAKOWSKI SUSANNE | Burakowski | Susanne | 2/2/10 | Sgt |
| 111 | BURCHER JOHN | Burcher | John | 2/2/10 | Sgt |
| 112 | BURCHER JOHN | Burcher | John | 5/13/12 | Lt |
| 113 | BURCHER JOHN | Burcher | John | 1/10/11 | LtTest |
| 114 | BURDICK DANIEL | Burdick | Daniel | 6/17/09 | SgtTest |
| 115 | BURGIN TERRY | Burgin | Terry | 1/10/11 | LtTest |
| 116 | BURGOYNE RICH | Burgoyne | Rich | 6/17/09 | SgtTest |
| 117 | BURGOYNE RICHARD | Burgoyne | Richard | 2/2/10 | Sgt |
| 118 | BURRUSS MARC | Burruss | Marc | 1/20/09 | LtTest |
| 119 | BURSON MATTHEW | Burson | Matthew | 1/20/09 | LtTest |
| 120 | BURSON MATTHEW | Burson | Matthew | 12/18/09 | Lt |
| 121 | BUSCH PHILLIP | Busch | Phillip | 6/17/09 | SgtTest |
| 122 | BUSH JAMES | Bush | James | 6/17/09 | SgtTest |
| 123 | CACHEIRO PEDRO | Cacheiro | Pedro | 1/20/09 | LtTest |
| 124 | CADMAN CHRISTOPHER | Cadman | Christopher | 6/17/09 | SgtTest |
| 125 | CAFFREY JOHN | Caffrey | John | 2/2/10 | Sgt |
| 126 | CALDERON GILBERT | Calderon | Gilbert | 6/17/09 | SgtTest |
| 127 | CALE JEFFREY | Cale | Jeffrey | 5/23/08 | Sgt |
| 128 | CALOCA JAIME | Caloca | Jaime | 6/17/09 | SgtTest |
| 129 | CANCHOLA ALEX | Canchola | Alex | 1/20/09 | LtTest |
| 130 | CANFIELD RICHARD | Canfield | Richard | 6/17/09 | SgtTest |
| 131 | CANO ALOBERT | Cano | Alobert | 6/17/09 | SgtTest |
| 132 | CANTLEY BRUCE | Cantley | Bruce | 1/20/09 | LtTest |
| 133 | CARAISCO TED | Caraisco | Ted | 6/17/09 | SgtTest |
| 134 | CARANGI ROBERT | Carangi | Robert | 6/17/09 | SgtTest |
| 135 | CARD KEVIN | Card | Kevin | 6/17/09 | SgtTest |
| 136 | CARDENAS RAYMOND | Cardenas | Raymond | 6/17/09 | SgtTest |
| 137 | CARDENAS RAYMOND | Cardenas | Raymond | 2/2/10 | Sgt |
| 138 | CARON MARK | Caron | Mark | 6/17/09 | SgtTest |
| 139 | CARRION SEAN | Carrion | Sean | 6/17/09 | SgtTest |
| 140 | CARRIZOSA SLADE | Carrizosa | Slade | 5/23/08 | Sgt |
| 141 | CARTER JOHN | Carter | John | 6/17/09 | SgtTest |
| 142 | CARTER KERRY | Carter | Kerry | 12/18/09 | Lt |
| 143 | CASLIN BRENDAN | Caslin | Brendan | 6/17/09 | SgtTest |
| 144 | CASTANEDA MARIO | Castaneda | Mario | 6/17/09 | SgtTest |
| 145 | CASTANEDA MARIO | Castaneda | Mario | 6/25/10 | Sgt |
| 146 | CASTELLANO ALLEN | Castellano | Allen | 1/20/09 | LtTest |
| 147 | CASTILLO ARMANDO | Castillo | Armando | 6/17/09 | SgtTest |
| 148 | CASTILLO MARICELA | Castillo | Maricela | 6/17/09 | SgtTest |
| 149 | CASTRO LEONARDO | Castro | Leonardo | 6/17/09 | SgtTest |
| 150 | CASTRO JOHN | Castro | John | 6/17/09 | SgtTest |
| 151 | CASTRO JUAN | Castro | Juan | 6/25/10 | Sgt |
| 152 | CHADWICK GEOFFREY | Chadwick | Geoffrey | 6/17/09 | SgtTest |
| 153 | CHANG FRANCOIS | Chang | Francois | 6/17/09 | SgtTest |
| 154 | CHAPMAN SCOTT | Chapman | Scott | 6/17/09 | SgtTest |
| 155 | CHAVEZ PILAR | Chavez | Pilar | 11/26/08 | Sgt |
| 156 | CHAVEZ ARTURO | Chavez | Arturo | 1/20/09 | LtTest |
| 157 | CHAVEZ ERNEST | Chavez | Ernest | 1/20/09 | LtTest |
| 158 | CHAVEZ JORGE | Chavez | Jorge | 6/17/09 | SgtTest |
| 159 | CHAVEZ ERNEST | Chavez | Ernest | 12/18/09 | Lt |
| 160 | CHAVEZ JORGE | Chavez | Jorge | 2/2/10 | Sgt |
| 161 | CHEATHAM ERIC | Cheatham | Eric | 6/17/09 | SgtTest |
| 162 | CHEMNITZER DANA | Chemnitzer | Dana | 1/20/09 | LtTest |
| 163 | CHING JIM | Ching | Jim | 11/26/08 | Sgt |
| 164 | CHISM ROBERT | Chism | Robert | 6/17/09 | SgtTest |
| 165 | CHIVAS ROBERT | Chivas | Robert | 6/25/10 | Sgt |
| 166 | CHO MINA | Cho | Mina | 6/17/09 | SgtTest |
| 167 | CHO MINA | Cho | Mina | 2/2/10 | Sgt |
| 168 | CHOI VINCENT | Choi | Vincent | 6/17/09 | SgtTest |
| 169 | CHOI VINCENT | Choi | Vincent | 6/25/10 | Sgt |
| 170 | CHRISTENSEN CHARLES | Christensen | Charles | 6/17/09 | SgtTest |
| 171 | CHRISTIAN PAMELA | Christian | Pamela | 2/2/10 | Sgt |
| 172 | CHRISTOPHER STEFAN | Christopher | Stefan | 1/20/09 | LtTest |
| 173 | CHU ALAN | Chu | Alan | 6/17/09 | SgtTest |
| 174 | CHUCK DENNIS | Chuck | Dennis | 6/17/09 | SgtTest |
| 175 | CHUCK DENNIS | Chuck | Dennis | 6/25/10 | Sgt |
| 176 | CLAY VICTOR | Clay | Victor | 1/20/09 | LtTest |
| 177 | CLAYTON SHARON | Clayton | Sharon | 11/26/08 | Sgt |
| 178 | CLIFT JAVIER | Clift | Javier | 6/17/09 | SgtTest |
| 179 | CLIFT JAVIER | Clift | Javier | 2/2/10 | Sgt |
| 180 | CLINKUNBROOMER MICHAEL | Clinkunbroomer | Michael | 2/2/10 | Sgt |
| 181 | COBOS ALBERT | Cobos | Albert | 1/20/09 | LtTest |
| 182 | CONLEY RICHARD | Conley | Richard | 6/17/09 | SgtTest |
| 183 | CONNER ZACHARY | Conner | Zachary | 6/17/09 | SgtTest |
| 184 | CONNER ZACHARY | Conner | Zachary | 2/2/10 | Sgt |
| 185 | CONNOR MICHAEL | Connor | Michael | 1/20/09 | LtTest |
| 186 | CONNOR MICHAEL | Connor | Michael | 12/18/09 | Lt |
| 187 | CONTI RICHARD | Conti | Richard | 6/17/09 | SgtTest |
| 188 | CONTI RICHARD | Conti | Richard | 2/2/10 | Sgt |
| 189 | CONTRERAS MARK | Contreras | Mark | 6/17/09 | SgtTest |
| 190 | CONTRERAS JOHN | Contreras | John | 6/17/09 | SgtTest |
| 191 | CONTRERAS JOHN | Contreras | John | 2/2/10 | Sgt |
| 192 | COOK JOHN | Cook | John | 6/17/09 | SgtTest |
| 193 | COOK JOHN | Cook | John | 2/2/10 | Sgt |
| 194 | COON DANNY | Coon | Danny | 6/17/09 | SgtTest |
| 195 | COON DANNY | Coon | Danny | 6/25/10 | Sgt |
| 196 | COOPER TIMOTHY | Cooper | Timothy | 11/26/08 | Sgt |
| 197 | COOPER GERALD | Cooper | Gerald | 12/3/10 | IntCmmdr |
| 198 | CORINA JOHN | Corina | John | 1/20/09 | LtTest |
| 199 | CORRIGAN JAMES | Corrigan | James | 6/17/09 | SgtTest |
| 200 | CORRIGAN JAMES | Corrigan | James | 2/2/10 | Sgt |
| 201 | COSTLEIGH WILLIAM | Costleigh | William | 6/17/09 | SgtTest |
| 202 | COUSSA PATRICK | Coussa | Patrick | 6/17/09 | SgtTest |
| 203 | CROWTHER RICHARD | Crowther | Richard | 6/17/09 | SgtTest |
| 204 | CRUZ ANDREW | Cruz | Andrew | 6/17/09 | SgtTest |
| 205 | CUEVAS MARIO | Cuevas | Mario | 6/17/09 | SgtTest |
| 206 | CURRAN JEFFREY | Curran | Jeffrey | 6/17/09 | SgtTest |
| 207 | D'ABUSCO BARBARA | D'Abusco | Barbara | 2/2/10 | Sgt |
| 208 | DAHRING ANDREW | Dahring | Andrew | 6/17/09 | SgtTest |
| 209 | DAILY RONALD | Daily | Ronald | 5/23/08 | Sgt |
| 210 | DAILY RUTHIE | Daily | Ruthie | 1/20/09 | LtTest |
| 211 | DANCEL LYNDON | Dancel | Lyndon | 6/17/09 | SgtTest |
| 212 | DANCEL LYNDON | Dancel | Lyndon | 6/25/10 | Sgt |
| 213 | DAVIS NICOLE | Davis | Nicole | 11/26/08 | Sgt |
| 214 | DAVIS MICHAEL | Davis | Michael | 1/20/09 | LtTest |
| 215 | DAVIS DAVID | Davis | David | 6/17/09 | SgtTest |
| 216 | DAVIS MICHAEL | Davis | Michael | 2/2/10 | Sgt |
| 217 | DAVIS MICHAEL | Davis | Michael | 1/10/11 | LtTest |
| 218 | DAVOREN JOHN | Davoren | John | 6/17/09 | SgtTest |
| 219 | DE BELLA MARY | De Bella | Mary | 6/17/09 | SgtTest |
| 220 | DE BONDT GERARD | De Bondt | Gerard | 6/17/09 | SgtTest |
| 221 | DE LA ROSA VERONICA | De la Rosa | Veronica | 6/17/09 | SgtTest |
| 222 | DE LA ROSA VERONICA | De la Rosa | Veronica | 6/25/10 | Sgt |
| 223 | DEAN BRANDON | Dean | Brandon | 6/17/09 | SgtTest |
| 224 | DEAN ROBERT | Dean | Robert | 6/17/09 | SgtTest |
| 225 | DEAN BRANDON | Dean | Brandon | 2/2/10 | Sgt |
| 226 | DEAN ROBERT | Dean | Robert | 2/2/10 | Sgt |
| 227 | DEEDRICK GEOFFREY | Deedrick | Geoffrey | 1/20/09 | LtTest |
| 228 | DEEDS TODD | Deeds | Todd | 2/2/10 | Sgt |
| 229 | DEEDS TODD | Deeds | Todd | 1/10/11 | LtTest |
| 230 | DEL REAL MICHAEL | Del Real | Michael | 2/2/10 | Sgt |
| 231 | DEL VALLE AGUSTIN | Del Valle | Agustin | 1/20/09 | LtTest |
| 232 | DEMELLO TRACY | Demello | Tracy | 12/18/09 | Lt |
| 233 | DEMELLO JACK | Demello | Jack | 5/13/12 | Lt |
| 234 | DEMELLO JACK | Demello | Jack | 1/10/11 | LtTest |
| 235 | DEMPSEY JOSEPH | Dempsey | Joseph | 1/20/09 | LtTest |
| 236 | DENKINGER BELA | Denkinger | Bela | 2/2/10 | Sgt |
| 237 | DEVALLE AGUSTIN | Devalle | Agustin | 1/10/11 | LtTest |
| 238 | DEVANE ANN | Devane | Ann | 6/17/09 | SgtTest |
| 239 | DEVANE ANN | Devane | Ann | 2/2/10 | Sgt |
| 240 | DEYOUNG ROBIN | DeYoung | Robin | 6/17/09 | SgtTest |
| 241 | DIEZ JUSTIN | Diez | Justin | 6/17/09 | SgtTest |
| 242 | DIEZ JUSTIN | Diez | Justin | 2/2/10 | Sgt |
| 243 | DIGERLANDO ROGER | Digerlando | Roger | 5/23/08 | Sgt |
| 244 | DIGIOVANNI ROBIN | Digiovanni | Robin | 6/17/09 | SgtTest |
| 245 | DIPLOCK JASON | Diplock | Jason | 6/17/09 | SgtTest |
| 246 | DITSCH CRAIG | Ditsch | Craig | 1/20/09 | LtTest |
| 247 | DIVIAK DAREN | Diviak | Daren | 1/20/09 | LtTest |
| 248 | DO DAVID | Do | David | 12/18/09 | Lt |
| 249 | DODD DIANE | Dodd | Diane | 6/17/09 | SgtTest |
| 250 | DODSON STEVEN | Dodson | Steven | 6/17/09 | SgtTest |
| 251 | DODSON JAMES | Dodson | James | 6/17/09 | SgtTest |
| 252 | DOLLENS ALLEN | Dollens | Allen | 5/23/08 | Sgt |
| 253 | DOLLENS DAVID | Dollens | David | 1/20/09 | LtTest |
| 254 | DOMINGUEZ DENNIS | Dominguez | Dennis | 6/17/09 | SgtTest |
| 255 | DOMINGUEZ GILBERT | Dominguez | Gilbert | 6/17/09 | SgtTest |
| 256 | DOMINGUEZ JOSEPH | Dominguez | Joseph | 6/17/09 | SgtTest |
| 257 | DOMINGUEZ JOSEPH | Dominguez | Joseph | 2/2/10 | Sgt |
| 258 | DOTY JOHN | Doty | John | 6/17/09 | SgtTest |
| 259 | DOUCET MICHAEL | Doucet | Michael | 6/17/09 | SgtTest |
| 260 | DOWNEY STEVEN | Downey | Steven | 5/13/12 | Lt |
| 261 | DRAKE PAUL | Drake | Paul | 3/21/12 | IntCpt |
| 262 | DRUCKER HARRY | Drucker | Harry | 1/20/09 | LtTest |
| 263 | DUARTE DENNIS | Duarte | Dennis | 11/26/08 | Sgt |
| 264 | DUARTE DENNIS | Duarte | Dennis | 2/2/10 | Sgt |
| 265 | DUBOIS DENNIS | Dubois | Dennis | 6/17/09 | SgtTest |
| 266 | DUBOIS DENNIS | Dubois | Dennis | 2/2/10 | Sgt |
| 267 | DUFFY VANCE | Duffy | Vance | 7/18/08 | Lt |
| 268 | DULLA JOSEPH | Dulla | Joseph | 1/20/09 | LtTest |
| 269 | DURAN LOUIS | Duran | Louis | 3/6/09 | IntCpt |
| 270 | DYER DANIEL | Dyer | Daniel | 1/20/09 | LtTest |
| 271 | EDMONDS TRACEE | Edmonds | Tracee | 3/6/09 | IntCpt |
| 272 | EDWARDS TONYA | Edwards | Tonya | 1/20/09 | LtTest |
| 273 | EDWARDS CHARLENE | Edwards | Charlene | 6/17/09 | SgtTest |
| 274 | EDWARDS TONYA | Edwards | Tonya | 12/18/09 | Lt |
| 275 | EGUIA GINA | Eguia | Gina | 6/17/09 | SgtTest |
| 276 | EHRHORN ERIC | Ehrhorn | Eric | 6/17/09 | SgtTest |
| 277 | ELASH MATTHEW | Elash | Matthew | 2/2/10 | Sgt |
| 278 | EMENEGER MICHELLE | Emeneger | Michelle | 2/2/10 | Sgt |
| 279 | EMERY GLENN | Emery | Glenn | 6/17/09 | SgtTest |
| 280 | EMERY GLENN | Emery | Glenn | 2/2/10 | Sgt |
| 281 | ENCISO PEDRO | Enciso | Pedro | 6/17/09 | SgtTest |
| 282 | ENCISO PEDRO | Enciso | Pedro | 6/25/10 | Sgt |
| 283 | ESCALANTE WILBERT | Escalante | Wilbert | 6/17/09 | SgtTest |
| 284 | ESCAMILLA PATRICK | Escamilla | Patrick | 6/17/09 | SgtTest |
| 285 | ESCAMILLAS ARTHUR | Escamillas | Arthur | 1/10/11 | LtTest |
| 286 | ESQUEDA JOSEPH | Esqueda | Joseph | 6/17/09 | SgtTest |
| 287 | ESSON ROBERT | Esson | Robert | 8/4/10 | IntCpt |
| 288 | ESTEP ROSA | Estep | Rosa | 6/17/09 | SgtTest |
| 289 | ESTEP ROSA | Estep | Rosa | 6/25/10 | Sgt |
| 290 | EVANS GREGORY | Evans | Gregory | 2/2/10 | Sgt |
| 291 | EVANS DARYL | Evans | Daryl | 3/6/09 | IntCmmdr |
| 292 | EWELL JACK | Ewell | Jack | 1/20/09 | LtTest |
| 293 | FARRELL JAMES | Farrell | James | 5/13/12 | Lt |
| 294 | FARRELL JAMES | Farrell | James | 1/10/11 | LtTest |
| 295 | FASCIO ANTONIO | Fascio | Antonio | 6/17/09 | SgtTest |
| 296 | FENDER JOSEPH | Fender | Joseph | 6/17/09 | SgtTest |
| 297 | FENDER JOSEPH | Fender | Joseph | 2/2/10 | Sgt |
| 298 | FERNANDEZ ANNA | Fernandez | Anna | 2/2/10 | Sgt |
| 299 | FIGUEROA ROBERTO | Figueroa | Roberto | 6/17/09 | SgtTest |
| 300 | FITCH BRIAN | Fitch | Brian | 1/20/09 | LtTest |
| 301 | FITZPATRICK DONALD | Fitzpatrick | Donald | 6/17/09 | SgtTest |
| 302 | FLINN DENNIS | Flinn | Dennis | 2/2/10 | Sgt |
| 303 | FLORES DAVID | Flores | David | 1/20/09 | LtTest |
| 304 | FLORES MANUEL | Flores | Manuel | 6/17/09 | SgtTest |
| 305 | FLORES DAVID | Flores | David | 2/2/10 | Sgt |
| 306 | FLOYD RICHARD | Floyd | Richard | 6/17/09 | SgtTest |
| 307 | FOGARTY BRUCE | Fogarty | Bruce | 3/6/09 | IntCpt |
| 308 | FORD JENNIFER | Ford | Jennifer | 11/26/08 | Sgt |
| 309 | FORD JENNIFER | Ford | Jennifer | 2/2/10 | Sgt |
| 310 | FORSTER JEFFERY | Forster | Jeffery | 2/2/10 | Sgt |
| 311 | FOX ERIC | Fox | Eric | 1/20/09 | LtTest |
| 312 | FOX ERIC | Fox | Eric | 2/2/10 | Sgt |
| 313 | FRAILICH KENNETH | Frailich | Kenneth | 2/2/10 | Sgt |
| 314 | FRANCK JAMES | Franck | James | 6/17/09 | SgtTest |
| 315 | FRANCK JAMES | Franck | James | 6/25/10 | Sgt |
| 316 | FRANK LOUIS | Frank | Louis | 6/17/09 | SgtTest |
| 317 | FREDENDALL JOHN | Fredendall | John | 2/2/10 | Sgt |
| 318 | FUCHS HOWARD | Fuchs | Howard | 6/17/09 | SgtTest |
| 319 | FUCHS HOWARD | Fuchs | Howard | 6/25/10 | Sgt |
| 320 | FUJINO MICHAEL | Fujino | Michael | 2/2/10 | Sgt |
| 321 | GAGE SCOTT | Gage | Scott | 1/20/09 | LtTest |
| 322 | GALINDO MARTHA | Galindo | Martha | 2/2/10 | Sgt |
| 323 | GALLEGOS CLARENCE | Gallegos | Clarence | 6/17/09 | SgtTest |
| 324 | GALLOBRUNO CAROLYN | Gallobruno | Carolyn | 6/17/09 | SgtTest |
| 325 | GALVAN MICHAEL | Galvan | Michael | 5/23/08 | Sgt |
| 326 | GALVAN MICHAEL | Galvan | Michael | 2/2/10 | Sgt |
| 327 | GARCIA ALFONSO | Garcia | Alfonso | 5/23/08 | Sgt |
| 328 | GARCIA JOSE | Garcia | Jose | 5/23/08 | Sgt |
| 329 | GARCIA CHRISTOPHER | Garcia | Christopher | 6/17/09 | SgtTest |
| 330 | GARLAND JOSEPH | Garland | Joseph | 11/26/08 | Sgt |
| 331 | GARLAND JOSEPH | Garland | Joseph | 2/2/10 | Sgt |
| 332 | GARRIDO MINERVA | Garrido | Minerva | 6/17/09 | SgtTest |
| 333 | GARZA ENRIQUE | Garza | Enrique | 1/20/09 | LtTest |
| 334 | GARZA MANUEL | Garza | Manuel | 2/2/10 | Sgt |
| 335 | GAUTHIER MATTHEW | Gauthier | Matthew | 6/17/09 | SgtTest |
| 336 | GEALTA DIANA | Gealta | Diana | 1/20/09 | LtTest |
| 337 | GEARY JULIE | Geary | Julie | 11/26/08 | Sgt |
| 338 | GENEM MARTHA | Genem | Martha | 6/17/09 | SgtTest |
| 339 | GENEM MARTHA | Genem | Martha | 6/25/10 | Sgt |
| 340 | GENTNER CHRISTOPHER | Gentner | Christopher | 6/17/09 | SgtTest |
| 341 | GEOPFORTH DAVID | Geopforth | David | 5/23/08 | Sgt |
| 342 | GESKE SEAN | Geske | Sean | 6/17/09 | SgtTest |
| 343 | GESKE SEAN | Geske | Sean | 2/2/10 | Sgt |
| 344 | GIBBONS KEITH | Gibbons | Keith | 6/17/09 | SgtTest |
| 345 | GIBBONS KEITH | Gibbons | Keith | 6/25/10 | Sgt |
| 346 | GIBSON BRENDA | Gibson | Brenda | 2/2/10 | Sgt |
| 347 | GILBERT RONALD | Gilbert | Ronald | 1/20/09 | LtTest |
| 348 | GILINETS ALEX | Gilinets | Alex | 6/17/09 | SgtTest |
| 349 | GILLESPIE DANIEL | Gillespie | Daniel | 5/23/08 | Sgt |
| 350 | GILLIS ROBERT | Gillis | Robert | 6/17/09 | SgtTest |
| 351 | GIPSON KEYSHANETTE | Gipson | Keyshanette | 6/17/09 | SgtTest |
| 352 | GIRGIS REMON | Girgis | Remon | 6/17/09 | SgtTest |
| 353 | GIRMES KLAUS | Girmes | Klaus | 2/2/10 | Sgt |
| 354 | GITTISARN NIELS | Gittisarn | Niels | 6/17/09 | SgtTest |
| 355 | GLYNN JOHN | Glynn | John | 6/17/09 | SgtTest |
| 356 | GODFREY EDWARD | Godfrey | Edward | 12/18/09 | Lt |
| 357 | GODINEZ MAX | Godinez | Max | 6/17/09 | SgtTest |
| 358 | GODINEZ MAX | Godinez | Max | 2/2/10 | Sgt |
| 359 | GOLTZ ROBERT | Goltz | Robert | 6/17/09 | SgtTest |
| 360 | GOMEZ ALFREDO | Gomez | Alfredo | 6/17/09 | SgtTest |
| 361 | GONZALES CYNTHIA | Gonzales | Cynthia | 11/26/08 | Sgt |
| 362 | GONZALES JOE | Gonzales | Joe | 3/6/09 | IntCpt |
| 363 | GONZALEZ DAVID | Gonzalez | David | 5/23/08 | Sgt |
| 364 | GONZALEZ LIZA | Gonzalez | Liza | 1/20/09 | LtTest |
| 365 | GONZALEZ ERIC | Gonzalez | Eric | 6/17/09 | SgtTest |
| 366 | GONZALEZ CHRISTOPHER | Gonzalez | Christopher | 6/17/09 | SgtTest |
| 367 | GONZALEZ ANSELMO | Gonzalez | Anselmo | 6/17/09 | SgtTest |
| 368 | GONZALEZ ERIC | Gonzalez | Eric | 2/2/10 | Sgt |
| 369 | GONZALEZ ANGELA | Gonzalez | Angela | 2/2/10 | Sgt |
| 370 | GONZELEZ ANSELMO | Gonzelez | Anselmo | 3/6/09 | IntCpt |
| 371 | GOODEN JOSEPH | Gooden | Joseph | 12/3/10 | IntCpt |
| 372 | GOODEN JOSEPH | Gooden | Joseph | 3/6/11 | Cpt |
| 373 | GOODWIN BRIAN | Goodwin | Brian | 6/17/09 | SgtTest |
| 374 | GRAHAM SCOTT | Graham | Scott | 5/23/08 | Sgt |
| 375 | GRANT VINCENT | Grant | Vincent | 6/17/09 | SgtTest |
| 376 | GRAY BRADLEY | Gray | Bradley | 1/20/09 | LtTest |
| 377 | GREEN ALTON | Green | Alton | 2/2/10 | Sgt |
| 378 | GREENWOOD GARY | Greenwood | Gary | 6/17/09 | SgtTest |
| 379 | GROSS MICHAEL | Gross | Michael | 11/26/08 | Sgt |
| 380 | GROSS STEVEN | Gross | Steven | 1/20/09 | LtTest |
| 381 | GRUBB JAMES | Grubb | James | 6/17/09 | SgtTest |
| 382 | GRUBB JAMES | Grubb | James | 2/2/10 | Sgt |
| 383 | GUILBAULT ROBERT | Guilbault | Robert | 3/21/12 | IntCpt |
| 384 | GULLEY DALE | Gulley | Dale | 1/10/11 | LtTest |
| 385 | GUTARIE MICHAEL | Gutarie | Michael | 6/17/09 | SgtTest |
| 386 | GUTHRIE GREGORY | Guthrie | Gregory | 6/17/09 | SgtTest |
| 387 | GUTHRIE GREGORY | Guthrie | Gregory | 2/2/10 | Sgt |
| 388 | GUTIERREZ JOE | Gutierrez | Joe | 9/3/08 | Cmmdr |
| 389 | GUTIERREZ AARON | Gutierrez | Aaron | 6/17/09 | SgtTest |
| 390 | GUTIERREZ NORA | Gutierrez | Nora | 6/17/09 | SgtTest |
| 391 | GUTIERREZ NORA | Gutierrez | Nora | 6/25/10 | Sgt |
| 392 | HACKETT ANTHONY | Hackett | Anthony | 5/23/08 | Sgt |
| 393 | HACKETT CLIPPER | Hackett | Clipper | 6/17/09 | SgtTest |
| 394 | HACKETT ANTHONY | Hackett | Anthony | 2/2/10 | Sgt |
| 395 | HAHNLEIN ROBERT | Hahnlein | Robert | 1/20/09 | LtTest |
| 396 | HALL MICHELLE | Hall | Michelle | 2/2/10 | Sgt |
| 397 | HAMILTON ERIC | Hamilton | Eric | 3/6/09 | IntCmmdr |
| 398 | HAMILTON ERIC | Hamilton | Eric | 3/6/11 | Cmmdr |
| 399 | HANAMAIKAI NIKKI | Hanamaikai | Nikki | 6/17/09 | SgtTest |
| 400 | HANEY RANDY | Haney | Randy | 6/17/09 | SgtTest |
| 401 | HANEY RANDY | Haney | Randy | 6/25/10 | Sgt |
| 402 | HANNA ROBIN | Hanna | Robin | 2/2/10 | Sgt |
| 403 | HANSEN PHILLIP | Hansen | Phillip | 1/12/10 | Cpt |
| 404 | HARDY PAULINE | Hardy | Pauline | 1/20/09 | LtTest |
| 405 | HARDY PAUL | Hardy | Paul | 1/10/11 | LtTest |
| 406 | HARGRAVES JOHN | Hargraves | John | 2/2/10 | Sgt |
| 407 | HARNEY MARTIN | Harney | Martin | 6/17/09 | SgtTest |
| 408 | HARNEY MARTIN | Harney | Martin | 6/25/10 | Sgt |
| 409 | HARRIS ALLEN | Harris | Allen | 1/20/09 | LtTest |
| 410 | HARRIS DARREN | Harris | Darren | 1/20/09 | LtTest |
| 411 | HARRIS DUANE | Harris | Duane | 12/3/10 | IntCpt |
| 412 | HARRIS DUANE | Harris | Duane | 3/6/11 | Cpt |
| 413 | HARRIS RANDALL | Harris | Randall | 1/10/11 | LtTest |
| 414 | HARTSHORNE JOSEPH | Hartshorne | Joseph | 12/3/10 | IntCmmdr |
| 415 | HASNAS RANDY | Hasnas | Randy | 5/23/08 | Sgt |
| 416 | HEALD JOHN | Heald | John | 6/17/09 | SgtTest |
| 417 | HEALEY ALAN | Healey | Alan | 6/17/09 | SgtTest |
| 418 | HENNING CHRISTOPHER | Henning | Christopher | 6/17/09 | SgtTest |
| 419 | HERNANDEZ EDUARDO | Hernandez | Eduardo | 1/20/09 | LtTest |
| 420 | HERNANDEZ ARMANDO | Hernandez | Armando | 6/17/09 | SgtTest |
| 421 | HERNANDEZ STEVE | Hernandez | Steve | 6/17/09 | SgtTest |
| 422 | HERNANDEZ DELICIA | Hernandez | Delicia | 6/17/09 | SgtTest |
| 423 | HERNANDEZ DELICIA | Hernandez | Delicia | 2/2/10 | Sgt |
| 424 | HERNANDEZ ARMANDO | Hernandez | Armando | 6/25/10 | Sgt |
| 425 | HERRERA GABRIELA | Herrera | Gabriela | 11/26/08 | Sgt |
| 426 | HERRERA GABRIELA | Herrera | Gabriela | 2/2/10 | Sgt |
| 427 | HEWITT SHALONDA | Hewitt | Shalonda | 6/17/09 | SgtTest |
| 428 | HEWITT SHALONDA | Hewitt | Shalonda | 6/25/10 | Sgt |
| 429 | HILL ROBERT | Hill | Robert | 6/17/09 | SgtTest |
| 430 | HILL BRIAN | Hill | Brian | 2/2/10 | Sgt |
| 431 | HILL THOMAS | Hill | Thomas | 2/2/10 | Sgt |
| 432 | HINCHMAN SHAWNEE | Hinchman | Shawnee | 11/26/08 | Sgt |
| 433 | HISH PETER | Hish | Peter | 6/17/09 | SgtTest |
| 434 | HO XE | Ho | Xe | 6/17/09 | SgtTest |
| 435 | HO XE | Ho | Xe | 2/2/10 | Sgt |
| 436 | HODGKINSON PAUL | Hodgkinson | Paul | 6/17/09 | SgtTest |
| 437 | HOFFMAN RICHARD | Hoffman | Richard | 6/17/09 | SgtTest |
| 438 | HOLLAND RAMON | Holland | Ramon | 6/17/09 | SgtTest |
| 439 | HOLM JOHN | Holm | John | 6/17/09 | SgtTest |
| 440 | HUFFMAN KELLY | Huffman | Kelly | 11/26/08 | Sgt |
| 441 | HUFFMAN KELLY | Huffman | Kelly | 2/2/10 | Sgt |
| 442 | HUNT BRIAN | Hunt | Brian | 6/17/09 | SgtTest |
| 443 | HUNTER JEFFERY | Hunter | Jeffery | 2/2/10 | Sgt |
| 444 | HUNTER JOHN | Hunter | John | 5/13/12 | Lt |
| 445 | HUNTER JOHN | Hunter | John | 1/10/11 | LtTest |
| 446 | HUTAK JODI | Hutak | Jodi | 6/17/09 | SgtTest |
| 447 | HUTAK JODI | Hutak | Jodi | 6/25/10 | Sgt |
| 448 | HWANG RAYMOND | Hwang | Raymond | 6/17/09 | SgtTest |
| 449 | IBERRI JOSEPH | Iberri | Joseph | 5/23/08 | Sgt |
| 450 | INEZ DANIEL | Inez | Daniel | 6/17/09 | SgtTest |
| 451 | INFANTE DAVID | Infante | David | 1/20/09 | LtTest |
| 452 | INGE MICHAEL | Inge | Michael | 1/10/11 | LtTest |
| 453 | INGRESSO ROMEO | Ingresso | Romeo | 6/17/09 | SgtTest |
| 454 | ITURRIAGA ALDO | Iturriaga | Aldo | 2/2/10 | Sgt |
| 455 | IVASK JEFFREY | Ivask | Jeffrey | 1/20/09 | LtTest |
| 456 | JACKSON PETER | Jackson | Peter | 1/20/09 | LtTest |
| 457 | JAEGER WILLIAM | Jaeger | William | 2/2/10 | Sgt |
| 458 | JAIME ALFREDO | Jaime | Alfredo | 6/17/09 | SgtTest |
| 459 | JAMES BRIAN | James | Brian | 6/17/09 | SgtTest |
| 460 | JASSO VIVIAN | Jasso | Vivian | 2/2/10 | Sgt |
| 461 | JAUCH STEVE | Jauch | Steve | 2/2/10 | Sgt |
| 462 | JAUCH STEVE | Jauch | Steve | 1/10/11 | LtTest |
| 463 | JENSEN JARROD | Jensen | Jarrod | 2/2/10 | Sgt |
| 464 | JIMENEZ TOMAS | Jimenez | Tomas | 6/17/09 | SgtTest |
| 465 | JOHNSON DONNIE | Johnson | Donnie | 1/20/09 | LtTest |
| 466 | JOHNSON ROOSEVELT | Johnson | Roosevelt | 1/20/09 | LtTest |
| 467 | JOHNSON BELINDA | Johnson | Belinda | 1/20/09 | LtTest |
| 468 | JOHNSON BRAD | Johnson | Brad | 6/17/09 | SgtTest |
| 469 | JOHNSON ERIC | Johnson | Eric | 6/17/09 | SgtTest |
| 470 | JOHNSON PAMELA | Johnson | Pamela | 6/17/09 | SgtTest |
| 471 | JOHNSON CRAIG | Johnson | Craig | 6/17/09 | SgtTest |
| 472 | JOHNSON BRAD | Johnson | Brad | 2/2/10 | Sgt |
| 473 | JOHNSON GREGORY | Johnson | Gregory | 12/3/10 | IntCmmdr |
| 474 | JOHNSON GREGORY | Johnson | Gregory | 3/6/11 | Cmmdr |
| 475 | JONES DAMON | Jones | Damon | 6/17/09 | SgtTest |
| 476 | JONES BRIAN | Jones | Brian | 6/17/09 | SgtTest |
| 477 | JONES MITCHELL | Jones | Mitchell | 6/17/09 | SgtTest |
| 478 | JONES ROBERT | Jones | Robert | 6/17/09 | SgtTest |
| 479 | JONES RAYMOND | Jones | Raymond | 6/17/09 | SgtTest |
| 480 | JONES ROBERT | Jones | Robert | 6/17/09 | SgtTest |
| 481 | JONES BRIAN | Jones | Brian | 2/2/10 | Sgt |
| 482 | JONES ROBERT | Jones | Robert | 6/25/10 | Sgt |
| 483 | JONES SHAWN | Jones | Shawn | 5/13/12 | Lt |
| 484 | JONES SHAWN | Jones | Shawn | 1/10/11 | LtTest |
| 485 | JORDAN JAMES | Jordan | James | 6/17/09 | SgtTest |
| 486 | JORDAN PATRICK | Jordan | Patrick | 8/4/10 | IntCmmdr |
| 487 | JORDAN JACK | Jordan | Jack | 3/6/09 | IntCmmdr |
| 488 | JUDSON TRACY | Judson | Tracy | 6/17/09 | SgtTest |
| 489 | KALASSAY SCOTT | Kalassay | Scott | 6/17/09 | SgtTest |
| 490 | KAMMER TODD | Kammer | Todd | 6/17/09 | SgtTest |
| 491 | KELLEY TINA | Kelley | Tina | 1/20/09 | LtTest |
| 492 | KELLY GREGORY | Kelly | Gregory | 6/17/09 | SgtTest |
| 493 | KELLY GREGORY | Kelly | Gregory | 6/25/10 | Sgt |
| 494 | KENNEDY WILLIAM | Kennedy | William | 6/17/09 | SgtTest |
| 495 | KENNY STEVEN | Kenny | Steven | 1/20/09 | LtTest |
| 496 | KENNY STEVEN | Kenny | Steven | 12/18/09 | Lt |
| 497 | KEPLEY JOHN | Kepley | John | 1/20/09 | LtTest |
| 498 | KHASAEMPANTH CATRINA | Khasaempanth | Catrina | 11/26/08 | Sgt |
| 499 | KILLEEN ROBERT | Killeen | Robert | 1/20/09 | LtTest |
| 500 | KILLEEN ROBERT | Killeen | Robert | 12/18/09 | Lt |
| 501 | KIM ERICK | Kim | Erick | 6/17/09 | SgtTest |
| 502 | KIM JOSEPH | Kim | Joseph | 6/17/09 | SgtTest |
| 503 | KIM ERICK | Kim | Erick | 2/2/10 | Sgt |
| 504 | KIMURA DOUGLAS | Kimura | Douglas | 6/17/09 | SgtTest |
| 505 | KINCAID JASON | Kincaid | Jason | 6/17/09 | SgtTest |
| 506 | KING MATTHEW | King | Matthew | 6/17/09 | SgtTest |
| 507 | KIRTLEY COLLETTA | Kirtley | Colletta | 2/2/10 | Sgt |
| 508 | KLAUS JON | Klaus | Jon | 6/17/09 | SgtTest |
| 509 | KNEER DENNIS | Kneer | Dennis | 1/20/09 | LtTest |
| 510 | KNEUBUHLER ANDRE | Kneubuhler | Andre | 6/17/09 | SgtTest |
| 511 | KNOTT THEODORE | Knott | Theodore | 6/17/09 | SgtTest |
| 512 | KONECNY MICHAEL | Konecny | Michael | 5/23/08 | Sgt |
| 513 | KOPPERUD RONALD | Kopperud | Ronald | 6/17/09 | SgtTest |
| 514 | KOPPERUD SUSAN | Kopperud | Susan | 3/6/09 | IntCmmdr |
| 515 | KOVAC KRESIMIR | Kovac | Kresimir | 6/17/09 | SgtTest |
| 516 | KROEGER KENT | Kroeger | Kent | 1/20/09 | LtTest |
| 517 | KROEGER KENT | Kroeger | Kent | 1/10/11 | LtTest |
| 518 | KUEHL ERIC | Kuehl | Eric | 6/17/09 | SgtTest |
| 519 | KUNIHIRO ALLEN | Kunihiro | Allen | 1/20/09 | LtTest |
| 520 | KUYKENDALL KEVIN | Kuykendall | Kevin | 3/21/12 | IntCpt |
| 521 | LADJEVIC DAVID | Ladjevic | David | 5/23/08 | Sgt |
| 522 | LAFLIN RICHARD | Laflin | Richard | 6/17/09 | SgtTest |
| 523 | LAING THOMAS | Laing | Thomas | 12/18/09 | IntChf |
| 524 | LANDERS STEVEN | Landers | Steven | 2/2/10 | Sgt |
| 525 | LAPKIN FANNY | Lapkin | Fanny | 6/17/09 | SgtTest |
| 526 | LARGENT KIMBERLEY | Largent | Kimberley | 6/17/09 | SgtTest |
| 527 | LARIOS JOSE | Larios | Jose | 6/17/09 | SgtTest |
| 528 | LASKO ERIC | Lasko | Eric | 5/13/12 | Lt |
| 529 | LASKO ERIC | Lasko | Eric | 1/10/11 | LtTest |
| 530 | LASS DARREN | Lass | Darren | 6/17/09 | SgtTest |
| 531 | LAUWERS MARY | Lauwers | Mary | 6/17/09 | SgtTest |
| 532 | LAUWERS MARY | Lauwers | Mary | 6/25/10 | Sgt |
| 533 | LEAVINS STEPHEN | Leavins | Stephen | 1/10/11 | LtTest |
| 534 | LEE STACY | Lee | Stacy | 6/5/12 | Cpt |
| 535 | LENDMAN BRIAN | Lendman | Brian | 1/20/09 | LtTest |
| 536 | LENNIG MICHAEL | Lennig | Michael | 6/17/09 | SgtTest |
| 537 | LEON ANTONIO | Leon | Antonio | 5/23/08 | Sgt |
| 538 | LEVENSON KERRY | Levenson | Kerry | 6/17/09 | SgtTest |
| 539 | LEVINSON RANDALL | Levinson | Randall | 5/23/08 | Sgt |
| 540 | LEWANDOWSKI VICTOR | Lewandowski | Victor | 1/10/11 | LtTest |
| 541 | LEWIS RICHARD | Lewis | Richard | 6/17/09 | SgtTest |
| 542 | LEWIS RICHARD | Lewis | Richard | 6/25/10 | Sgt |
| 543 | LEYVA ALBERT | Leyva | Albert | 1/20/09 | LtTest |
| 544 | LEYVA KENNETH | Leyva | Kenneth | 6/17/09 | SgtTest |
| 545 | LEYVA ALBERT | Leyva | Albert | 2/2/10 | Sgt |
| 546 | LEYVA RAYMOND | Leyva | Raymond | 2/7/12 | IntCmmdr |
| 547 | LIBERTONE PATRICK | Libertone | Patrick | 1/20/09 | LtTest |
| 548 | LIEBERMAN KEITH | Lieberman | Keith | 5/13/12 | Lt |
| 549 | LIM LEWIS | Lim | Lewis | 6/17/09 | SgtTest |
| 550 | LINDBLOM ERIC | Lindblom | Eric | 1/10/11 | LtTest |
| 551 | LINDSAY JOHN | Lindsay | John | 6/17/09 | SgtTest |
| 552 | LIO CHRISTOPHER | Lio | Christopher | 6/17/09 | SgtTest |
| 553 | LIO CHRISTOPHER | Lio | Christopher | 2/2/10 | Sgt |
| 554 | LIU ALAN | Liu | Alan | 6/17/09 | SgtTest |
| 555 | LLOYD KEVIN | Lloyd | Kevin | 1/20/09 | LtTest |
| 556 | LONG JAMES | Long | James | 5/23/08 | Sgt |
| 557 | LONG LAKISHA | Long | Lakisha | 11/26/08 | Sgt |
| 558 | LONG MARICELA | Long | Maricela | 11/26/08 | Sgt |
| 559 | LONG STEVEN | Long | Steven | 2/2/10 | Sgt |
| 560 | LOONEY THOMAS | Looney | Thomas | 2/2/10 | Sgt |
| 561 | LOPATA JOHN | Lopata | John | 6/17/09 | SgtTest |
| 562 | LOPEZ ANGELO | Lopez | Angelo | 6/17/09 | SgtTest |
| 563 | LOPEZ MARK | Lopez | Mark | 6/17/09 | SgtTest |
| 564 | LOPEZ RANDY | Lopez | Randy | 6/17/09 | SgtTest |
| 565 | LOPEZ CARLOS | Lopez | Carlos | 2/2/10 | Sgt |
| 566 | LORENZI TINA | Lorenzi | Tina | 6/17/09 | SgtTest |
| 567 | LOWE JULIE | Lowe | Julie | 6/17/09 | SgtTest |
| 568 | LUCIO MARC | Lucio | Marc | 5/13/12 | Lt |
| 569 | LUCIO MARC | Lucio | Marc | 1/10/11 | LtTest |
| 570 | LUMPKIN CARL | Lumpkin | Carl | 6/17/09 | SgtTest |
| 571 | LUTZ RICHARD | Lutz | Richard | 6/17/09 | SgtTest |
| 572 | LYNCH ANDREW | Lynch | Andrew | 6/17/09 | SgtTest |
| 573 | LYNCH WILLIAM | Lynch | William | 6/17/09 | SgtTest |
| 574 | LYNCH ANDREW | Lynch | Andrew | 2/2/10 | Sgt |
| 575 | MACHANIC MARK | Machanic | Mark | 6/17/09 | SgtTest |
| 576 | MACHANIC MARK | Machanic | Mark | 2/2/10 | Sgt |
| 577 | MACHNICK GRADY | Machnick | Grady | 1/20/09 | LtTest |
| 578 | MACHNICK GRADY | Machnick | Grady | 2/2/10 | Sgt |
| 579 | MACIEL NORMA | Maciel | Norma | 11/26/08 | Sgt |
| 580 | MACK JOHN | Mack | John | 1/20/09 | LtTest |
| 581 | MACKENZIE EDWARD | Mackenzie | Edward | 6/17/09 | SgtTest |
| 582 | MACLEAN ROBERT | Maclean | Robert | 6/17/09 | SgtTest |
| 583 | MAGANA JOHN | Magana | John | 6/17/09 | SgtTest |
| 584 | MAGNONE FRANK | Magnone | Frank | 1/20/09 | LtTest |
| 585 | MAHOOD GREGORY | Mahood | Gregory | 6/17/09 | SgtTest |
| 586 | MALDONADO ALBERT | Maldonado | Albert | 1/10/11 | LtTest |
| 587 | MANCILLA SERGIO | Mancilla | Sergio | 1/20/09 | LtTest |
| 588 | MANCILLA SERGIO | Mancilla | Sergio | 12/18/09 | Lt |
| 589 | MANN BRIAN | Mann | Brian | 6/17/09 | SgtTest |
| 590 | MANN BRIAN | Mann | Brian | 6/25/10 | Sgt |
| 591 | MANNIS KARYN | Mannis | Karyn | 12/3/10 | IntCmmdr |
| 592 | MARASCOLA RICHARD | Marascola | Richard | 5/13/12 | Lt |
| 593 | MARASCOLA RICHARD | Marascola | Richard | 1/10/11 | LtTest |
| 594 | MARBACH MARK | Marbach | Mark | 6/17/09 | SgtTest |
| 595 | MARBACH MARK | Marbach | Mark | 2/2/10 | Sgt |
| 596 | MARCHELLO RONALD | Marchello | Ronald | 6/17/09 | SgtTest |
| 597 | MARDER MARCY | Marder | Marcy | 11/26/08 | Sgt |
| 598 | MARELLA PAUL | Marella | Paul | 6/17/09 | SgtTest |
| 599 | MARELLA STEVEN | Marella | Steven | 5/13/12 | Lt |
| 600 | MARINO MICHAEL | Marino | Michael | 6/17/09 | SgtTest |
| 601 | MARQUEZ GILBERT | Marquez | Gilbert | 6/17/09 | SgtTest |
| 602 | MARQUEZ GILBERT | Marquez | Gilbert | 6/25/10 | Sgt |
| 603 | MARRON SCOTT | Marron | Scott | 6/17/09 | SgtTest |
| 604 | MARTIN DANIEL | Martin | Daniel | 5/23/08 | Sgt |
| 605 | MARTIN JEFFREY | Martin | Jeffrey | 6/17/09 | SgtTest |
| 606 | MARTIN THOMAS | Martin | Thomas | 12/18/09 | IntCmmdr |
| 607 | MARTINEZ RICHARD | Martinez | Richard | 5/23/08 | Sgt |
| 608 | MARTINEZ JUAN | Martinez | Juan | 6/17/09 | SgtTest |
| 609 | MARTINEZ DANIEL | Martinez | Daniel | 6/17/09 | SgtTest |
| 610 | MARTINEZ DANIEL | Martinez | Daniel | 6/25/10 | Sgt |
| 611 | MARTINS SHEILA | Martins | Sheila | 2/2/10 | Sgt |
| 612 | MASHIKO KENJI | Mashiko | Kenji | 6/17/09 | SgtTest |
| 613 | MASHIKO KENJI | Mashiko | Kenji | 2/2/10 | Sgt |
| 614 | MASSON ERNESTO | Masson | Ernesto | 6/17/09 | SgtTest |
| 615 | MASSON ERNESTO | Masson | Ernesto | 2/2/10 | Sgt |
| 616 | MATHERS PATRICK | Mathers | Patrick | 1/20/09 | LtTest |
| 617 | MATTHEWS KELLY | Matthews | Kelly | 1/20/09 | LtTest |
| 618 | MATTHEWS SCOTT | Matthews | Scott | 6/17/09 | SgtTest |
| 619 | MATTHEWS SCOTT | Matthews | Scott | 6/25/10 | Sgt |
| 620 | MATTISON WILLIAM | Mattison | William | 5/23/08 | Sgt |
| 621 | MATUSIK ANNMARIE | Matusik | Annmarie | 11/26/08 | Sgt |
| 622 | MATUSIK ANNMARIE | Matusik | Annmarie | 2/2/10 | Sgt |
| 623 | MAXEY JAMES | Maxey | James | 6/17/09 | SgtTest |
| 624 | MAY VIVIAN | May | Vivian | 11/26/08 | Sgt |
| 625 | MAY VIVIAN | May | Vivian | 2/2/10 | Sgt |
| 626 | MAYBURY ROBERT | Maybury | Robert | 6/17/09 | SgtTest |
| 627 | MAYBURY ROBERT | Maybury | Robert | 6/25/10 | Sgt |
| 628 | MAYHEW CHRISTIAN | Mayhew | Christian | 2/2/10 | Sgt |
| 629 | MAYHEW CHRISTIAN | Mayhew | Christian | 5/13/12 | Lt |
| 630 | MAYHEW CHRISTIAN | Mayhew | Christian | 1/10/11 | LtTest |
| 631 | MC BRIDE LOY | Mc Bride | Loy | 5/13/12 | Lt |
| 632 | MC BRIDE LOY | Mc Bride | Loy | 1/10/11 | LtTest |
| 633 | MCBRIDE LOY | Mcbride | Loy | 2/2/10 | Sgt |
| 634 | MCDANIEL CHARLES | McDaniel | Charles | 11/26/08 | Sgt |
| 635 | MCDONALD EDWARD | Mcdonald | Edward | 6/17/09 | SgtTest |
| 636 | MCGAULEY NANCY | McGauley | Nancy | 1/20/09 | LtTest |
| 637 | MCKNIGHT GREGORY | Mcknight | Gregory | 6/17/09 | SgtTest |
| 638 | MCKNIGHT GREGORY | Mcknight | Gregory | 6/25/10 | Sgt |
| 639 | MCMINN DONALD | Mcminn | Donald | 6/17/09 | SgtTest |
| 640 | MCNALLY DERRICK | Mcnally | Derrick | 6/17/09 | SgtTest |
| 641 | MCNEAL THOMAS | Mcneal | Thomas | 12/18/09 | Lt |
| 642 | MCPHERSON DAN | Mcpherson | Dan | 6/17/09 | SgtTest |
| 643 | MEDRANO ROBERTO | Medrano | Roberto | 6/17/09 | SgtTest |
| 644 | MEDRANO ROBERTO | Medrano | Roberto | 2/2/10 | Sgt |
| 645 | MEEDER BRIAN | Meeder | Brian | 1/20/09 | LtTest |
| 646 | MELIKIDSE MICHAEL | Melikidse | Michael | 6/17/09 | SgtTest |
| 647 | MELIKIDSE MICHAEL | Melikidse | Michael | 6/25/10 | Sgt |
| 648 | MENDOZA MICHAEL | Mendoza | Michael | 6/17/09 | SgtTest |
| 649 | MENDOZA MICHAEL | Mendoza | Michael | 2/2/10 | Sgt |
| 650 | MENDOZA JOSE | Mendoza | Jose | 5/13/12 | Lt |
| 651 | MENDOZA JOSE | Mendoza | Jose | 1/10/11 | LtTest |
| 652 | MERCADO MARTIN | Mercado | Martin | 6/17/09 | SgtTest |
| 653 | MERCADO MARTIN | Mercado | Martin | 6/25/10 | Sgt |
| 654 | MEREDITH REGINALD | Meredith | Reginald | 6/17/09 | SgtTest |
| 655 | METCALF MICHAEL | Metcalf | Michael | 5/23/08 | Sgt |
| 656 | MEYER ANDREW | Meyer | Andrew | 1/10/11 | LtTest |
| 657 | MEZZANO CHRISTIAN | Mezzano | Christian | 6/17/09 | SgtTest |
| 658 | MILEKSI MICHAEL | Mileksi | Michael | 6/17/09 | SgtTest |
| 659 | MILES GRADY | Miles | Grady | 6/17/09 | SgtTest |
| 660 | MILES GRADY | Miles | Grady | 2/2/10 | Sgt |
| 661 | MILEY DWIGHT | Miley | Dwight | 11/26/08 | Sgt |
| 662 | MILLER ALEXANDER | Miller | Alexander | 6/17/09 | SgtTest |
| 663 | MIRANDA RONALD | Miranda | Ronald | 6/17/09 | SgtTest |
| 664 | MIRANDA OMAR | Miranda | Omar | 6/17/09 | SgtTest |
| 665 | MIRANDA RONALD | Miranda | Ronald | 2/2/10 | Sgt |
| 666 | MIRANDA CRYSTAL | Miranda | Crystal | 3/21/12 | IntCpt |
| 667 | MITRY NABEEL | Mitry | Nabeel | 5/23/08 | Sgt |
| 668 | MODICA MICHAEL | Modica | Michael | 5/23/08 | Sgt |
| 669 | MOHRHOFF DOUGLAS | Mohrhoff | Douglas | 5/13/12 | Lt |
| 670 | MOHRHOFF DOUGLAS | Mohrhoff | Douglas | 1/10/11 | LtTest |
| 671 | MOLNER BRADD | Molner | Bradd | 5/23/08 | Sgt |
| 672 | MOLNER BRADD | Molner | Bradd | 1/10/11 | LtTest |
| 673 | MONTEZ FRANK | Montez | Frank | 1/20/09 | LtTest |
| 674 | MONTOYA GERADETTE | Montoya | Geradette | 6/17/09 | SgtTest |
| 675 | MOORE RODNEY | Moore | Rodney | 6/17/09 | SgtTest |
| 676 | MOORE RODNEY | Moore | Rodney | 2/2/10 | Sgt |
| 677 | MOORE KIMBERLY | Moore | Kimberly | 2/2/10 | Sgt |
| 678 | MORALES GUILLERMO | Morales | Guillermo | 5/23/08 | Sgt |
| 679 | MORALES GUILLERMO | Morales | Guillermo | 2/2/10 | Sgt |
| 680 | MORENO KIMBERLY | Moreno | Kimberly | 11/26/08 | Sgt |
| 681 | MORENO SHAWN | Moreno | Shawn | 6/17/09 | SgtTest |
| 682 | MORENO BRIAN | Moreno | Brian | 6/17/09 | SgtTest |
| 683 | MORGAN GARY | Morgan | Gary | 1/20/09 | LtTest |
| 684 | MORGAN STACY | Morgan | Stacy | 6/17/09 | SgtTest |
| 685 | MORIEN JOSEPH | Morien | Joseph | 6/17/09 | SgtTest |
| 686 | MORIEN JOSEPH | Morien | Joseph | 6/25/10 | Sgt |
| 687 | MORRIS WILLIAM | Morris | William | 1/20/09 | LtTest |
| 688 | MOSES DONALD | Moses | Donald | 6/17/09 | SgtTest |
| 689 | MOSQUERA HUGO | Mosquera | Hugo | 6/17/09 | SgtTest |
| 690 | MOSS JAY | Moss | Jay | 6/17/09 | SgtTest |
| 691 | MOSS JAY | Moss | Jay | 2/2/10 | Sgt |
| 692 | MOULTRIE VINCENT | Moultrie | Vincent | 2/2/10 | Sgt |
| 693 | MOYLAN CHARLES | Moylan | Charles | 5/23/08 | Sgt |
| 694 | MUNOZ RICHARD | Munoz | Richard | 6/17/09 | SgtTest |
| 695 | MURAKAMI DOUGLAS | Murakami | Douglas | 11/26/08 | Sgt |
| 696 | MURILLO SERGIO | Murillo | Sergio | 5/23/08 | Sgt |
| 697 | MURILLO SERGIO | Murillo | Sergio | 1/10/11 | LtTest |
| 698 | MURPHY MILTON | Murphy | Milton | 5/13/12 | Lt |
| 699 | MURPHY MILTON | Murphy | Milton | 1/10/11 | LtTest |
| 700 | NAGELMANN DANIEL | Nagelmann | Daniel | 5/23/08 | Sgt |
| 701 | NATHAN DANIEL | Nathan | Daniel | 2/2/10 | Sgt |
| 702 | NATHAN DANIEL | Nathan | Daniel | 1/10/11 | LtTest |
| 703 | NAVARRETE RONALD | Navarrete | Ronald | 6/17/09 | SgtTest |
| 704 | NAVARRETE RONALD | Navarrete | Ronald | 2/2/10 | Sgt |
| 705 | NEEL BRIAN | Neel | Brian | 5/23/08 | Sgt |
| 706 | NELSON BRIAN | Nelson | Brian | 6/17/09 | SgtTest |
| 707 | NELSON RUTH | Nelson | Ruth | 3/6/09 | IntCpt |
| 708 | NICASSIO JOSEPH | Nicassio | Joseph | 1/10/11 | LtTest |
| 709 | NIKOLOF BORIS | Nikolof | Boris | 2/2/10 | Sgt |
| 710 | NOBLES MARIA | Nobles | Maria | 11/26/08 | Sgt |
| 711 | NORMAN ALISE | Norman | Alise | 11/26/08 | Sgt |
| 712 | NORRIS ROBERT | Norris | Robert | 1/20/09 | LtTest |
| 713 | NORRIS ROBERT | Norris | Robert | 12/18/09 | Lt |
| 714 | NORRIS CHARLES | Norris | Charles | 2/2/10 | Sgt |
| 715 | NSHANIAN ARMAN | Nshanian | Arman | 6/17/09 | SgtTest |
| 716 | NUNEZ LUIS | Nunez | Luis | 1/20/09 | LtTest |
| 717 | NUNEZ JOE | Nunez | Joe | 6/5/12 | Cpt |
| 718 | OAKLEY CHRISTOPHER | Oakley | Christopher | 6/17/09 | SgtTest |
| 719 | OCTAVE BLANCHE | Octave | Blanche | 6/17/09 | SgtTest |
| 720 | OCTAVE CARMICHAEL | Octave | Carmichael | 1/10/11 | LtTest |
| 721 | OHNEMUS MATTHEW | Ohnemus | Matthew | 5/23/08 | Sgt |
| 722 | OHNEMUS MATTHEW | Ohnemus | Matthew | 2/2/10 | Sgt |
| 723 | OLIVIER JULIEN | Olivier | Julien | 6/17/09 | SgtTest |
| 724 | OLIVIER JULIEN | Olivier | Julien | 6/25/10 | Sgt |
| 725 | ORNELAS RALPH | Ornelas | Ralph | 3/6/09 | IntCpt |
| 726 | ORPE COLIN | Orpe | Colin | 6/17/09 | SgtTest |
| 727 | ORTIZ ALBERT | Ortiz | Albert | 1/20/09 | LtTest |
| 728 | ORTIZ ALBERT | Ortiz | Albert | 12/18/09 | Lt |
| 729 | PALMER TRACY | Palmer | Tracy | 1/20/09 | LtTest |
| 730 | PANIS PAULINE | Panis | Pauline | 11/26/08 | Sgt |
| 731 | PANZONE VICKIE | Panzone | Vickie | 2/2/10 | Sgt |
| 732 | PARGA CARLOS | Parga | Carlos | 6/17/09 | SgtTest |
| 733 | PARKER DAVID | Parker | David | 2/2/10 | Sgt |
| 734 | PARKER MICHAEL | Parker | Michael | 3/6/09 | IntCpt |
| 735 | PARKS FRANK | Parks | Frank | 6/17/09 | SgtTest |
| 736 | PARRA ERIC | Parra | Eric | 1/12/10 | Cmmdr |
| 737 | PARRA ERIC | Parra | Eric | 3/6/09 | IntCmmdr |
| 738 | PARTIDA PABLO | Partida | Pablo | 6/17/09 | SgtTest |
| 739 | PATRICK MARK | Patrick | Mark | 5/23/08 | Sgt |
| 740 | PATTERSON DAVID | Patterson | David | 6/17/09 | SgtTest |
| 741 | PAYNE ROBERT | Payne | Robert | 6/17/09 | SgtTest |
| 742 | PEDROZA RICARDO | Pedroza | Ricardo | 6/17/09 | SgtTest |
| 743 | PEDROZA RICARDO | Pedroza | Ricardo | 6/25/10 | Sgt |
| 744 | PENALOZA-BRACKPOOL ANA | Penaloza-Brackpool | Ana | 1/20/09 | LtTest |
| 745 | PEREZ CHRIS | Perez | Chris | 1/20/09 | LtTest |
| 746 | PEREZ ARTHUR | Perez | Arthur | 6/17/09 | SgtTest |
| 747 | PEREZ DANIEL | Perez | Daniel | 6/17/09 | SgtTest |
| 748 | PEREZ HOLLY | Perez | Holly | 12/3/10 | IntCpt |
| 749 | PEREZ HOLLY | Perez | Holly | 3/6/11 | Cpt |
| 750 | PEREZ CHRIS | Perez | Chris | 1/10/11 | LtTest |
| 751 | PERRY JEFFREY | Perry | Jeffrey | 1/20/09 | LtTest |
| 752 | PETERSON JAMES | Peterson | James | 6/17/09 | SgtTest |
| 753 | PETROCELLI SANDRA | Petrocelli | Sandra | 11/26/08 | Sgt |
| 754 | PETROCELLI DAVID | Petrocelli | David | 6/17/09 | SgtTest |
| 755 | PETROCELLI SANDRA | Petrocelli | Sandra | 2/2/10 | Sgt |
| 756 | PETZ WILLIAM | Petz | William | 1/20/09 | LtTest |
| 757 | PFEIFFER RICHARD | Pfeiffer | Richard | 6/17/09 | SgtTest |
| 758 | PFREHM PAUL | Pfrehm | Paul | 2/2/10 | Sgt |
| 759 | PFREHM PAUL | Pfrehm | Paul | 1/10/11 | LtTest |
| 760 | PHELTON WILLIAM | Phelton | William | 6/17/09 | SgtTest |
| 761 | PICKETT WILLIAM | Pickett | William | 6/17/09 | SgtTest |
| 762 | PIETRANTONI PAUL | Pietrantoni | Paul | 2/7/12 | IntCmmdr |
| 763 | PLAZOLA ALBERT | Plazola | Albert | 6/17/09 | SgtTest |
| 764 | POFF ALVIN | Poff | Alvin | 6/17/09 | SgtTest |
| 765 | POLITANO MICHAEL | Politano | Michael | 6/17/09 | SgtTest |
| 766 | PONCE DE LEON MICHAEL | Ponce de Leon | Michael | 6/17/09 | SgtTest |
| 767 | PONCE DE LEON MICHAEL | Ponce de Leon | Michael | 6/25/10 | Sgt |
| 768 | PONDER SCOTT | Ponder | Scott | 5/23/08 | Sgt |
| 769 | PORLIER CLAY | Porlier | Clay | 3/21/12 | IntCpt |
| 770 | POROWSKI KELLY | Porowski | Kelly | 1/10/11 | LtTest |
| 771 | PRICE JEFFREY | Price | Jeffrey | 1/20/09 | LtTest |
| 772 | PRICE JEFFERY | Price | Jeffery | 12/18/09 | Lt |
| 773 | PRINCE DONALD | Prince | Donald | 5/23/08 | Sgt |
| 774 | QUESADA MARLON | Quesada | Marlon | 6/17/09 | SgtTest |
| 775 | RACOWSCHI CIRO | Racowschi | Ciro | 2/2/10 | Sgt |
| 776 | RADOVIC PETER | Radovic | Peter | 6/17/09 | SgtTest |
| 777 | RAFFAELLI MARK | Raffaelli | Mark | 6/17/09 | SgtTest |
| 778 | RAFTER MICHAEL | Rafter | Michael | 6/17/09 | SgtTest |
| 779 | RAFTER MICHAEL | Rafter | Michael | 2/2/10 | Sgt |
| 780 | RAMAGE LARRY | Ramage | Larry | 2/2/10 | Sgt |
| 781 | RAMIREZ ERNESTO | Ramirez | Ernesto | 11/26/08 | Sgt |
| 782 | RAMIREZ ALEJANDRO | Ramirez | Alejandro | 6/17/09 | SgtTest |
| 783 | RAMIREZ ERNESTO | Ramirez | Ernesto | 2/2/10 | Sgt |
| 784 | RAMOS RUDOLPH | Ramos | Rudolph | 6/17/09 | SgtTest |
| 785 | RAMOS JOSE | Ramos | Jose | 6/17/09 | SgtTest |
| 786 | RAMOS ANGEL | Ramos | Angel | 6/17/09 | SgtTest |
| 787 | RAMOS JOSE | Ramos | Jose | 6/25/10 | Sgt |
| 788 | RASMUSSEN DONALD | Rasmussen | Donald | 1/20/09 | LtTest |
| 789 | RASMUSSEN KEVIN | Rasmussen | Kevin | 2/2/10 | Sgt |
| 790 | RATTO JOHN | Ratto | John | 1/20/09 | LtTest |
| 791 | RAULSTON EDWARD | Raulston | Edward | 12/18/09 | Lt |
| 792 | RAY JON | Ray | Jon | 6/17/09 | SgtTest |
| 793 | RAY JON | Ray | Jon | 6/25/10 | Sgt |
| 794 | RECCHIA DOMENICK | Recchia | Domenick | 5/23/08 | Sgt |
| 795 | REDDING MICHAEL | Redding | Michael | 6/17/09 | SgtTest |
| 796 | REDDING MICHAEL | Redding | Michael | 2/2/10 | Sgt |
| 797 | REDDY MICHAEL | Reddy | Michael | 6/17/09 | SgtTest |
| 798 | REID THOMAS | Reid | Thomas | 5/13/12 | Lt |
| 799 | REYES MARK | Reyes | Mark | 5/23/08 | Sgt |
| 800 | REYNOLDS DONALD | Reynolds | Donald | 5/23/08 | Sgt |
| 801 | REYNOSO ADRIAN | Reynoso | Adrian | 6/17/09 | SgtTest |
| 802 | RHODES TAB | Rhodes | Tab | 5/13/12 | Lt |
| 803 | RILEY BRYAN | Riley | Bryan | 6/17/09 | SgtTest |
| 804 | RINCON PATRICK | Rincon | Patrick | 6/17/09 | SgtTest |
| 805 | RIOS JOSE | Rios | Jose | 1/20/09 | LtTest |
| 806 | RIOS JOSE | Rios | Jose | 1/10/11 | LtTest |
| 807 | RITENOUR JAMES | Ritenour | James | 3/6/09 | IntCpt |
| 808 | RIVERA ANTHONY | Rivera | Anthony | 5/13/12 | Lt |
| 809 | RIVERO EDWARDO | Rivero | Edwardo | 3/21/12 | IntCpt |
| 810 | ROAM CHRISTINE | Roam | Christine | 6/17/09 | SgtTest |
| 811 | ROBERTS RICHARD | Roberts | Richard | 6/17/09 | SgtTest |
| 812 | ROBERTS CRAIG | Roberts | Craig | 6/17/09 | SgtTest |
| 813 | ROBLEY SHANE | Robley | Shane | 12/18/09 | Lt |
| 814 | RODRIGUEZ JAY | Rodriguez | Jay | 6/17/09 | SgtTest |
| 815 | RODRIGUEZ MICHAEL | Rodriguez | Michael | 12/18/09 | IntCpt |
| 816 | RODRIGUEZ ANTHONY | Rodriguez | Anthony | 2/2/10 | Sgt |
| 817 | ROGERS TODD | Rogers | Todd | 3/6/09 | IntCmmdr |
| 818 | ROMASH CHRISTOPHER | Romash | Christopher | 6/17/09 | SgtTest |
| 819 | ROMASH CHRISTOPHER | Romash | Christopher | 2/2/10 | Sgt |
| 820 | ROSS DANIEL | Ross | Daniel | 1/10/11 | LtTest |
| 821 | ROSSI JOHN | Rossi | John | 2/2/10 | Sgt |
| 822 | ROSSITER RONALD | Rossiter | Ronald | 6/17/09 | SgtTest |
| 823 | ROSSON MICHAEL | Rosson | Michael | 7/18/08 | Lt |
| 824 | ROTHANS MICHAEL | Rothans | Michael | 12/18/09 | IntCmmdr |
| 825 | ROTHE FRANK | Rothe | Frank | 2/2/10 | Sgt |
| 826 | ROYAL JAMES | Royal | James | 1/20/09 | LtTest |
| 827 | ROYSTER ROBBIE | Royster | Robbie | 6/17/09 | SgtTest |
| 828 | RUBIO DONALD | Rubio | Donald | 2/2/10 | Sgt |
| 829 | RUDA SHAWN | Ruda | Shawn | 2/2/10 | Sgt |
| 830 | RUDE ERIC | Rude | Eric | 6/17/09 | SgtTest |
| 831 | RUE-LAS RANDALL | Rue-las | Randall | 6/17/09 | SgtTest |
| 832 | RUIS ANDY | Ruis | Andy | 6/17/09 | SgtTest |
| 833 | RUIZ ANDY | Ruiz | Andy | 2/2/10 | Sgt |
| 834 | RUIZ MARGARET | Ruiz | Margaret | 3/6/11 | Cmmdr |
| 835 | RUSH ROBERT | Rush | Robert | 2/2/10 | Sgt |
| 836 | RUSH DAVID | Rush | David | 1/10/11 | LtTest |
| 837 | RUSH JOHN | Rush | John | 1/10/11 | LtTest |
| 838 | RUSH ROBERT | Rush | Robert | 1/10/11 | LtTest |
| 839 | RUST MICHAEL | Rust | Michael | 6/17/09 | SgtTest |
| 840 | RYAN JEROME | Ryan | Jerome | 1/20/09 | LtTest |
| 841 | SAGARDIA JOHN | Sagardia | John | 6/17/09 | SgtTest |
| 842 | SAGARDIA JOHN | Sagardia | John | 2/2/10 | Sgt |
| 843 | SALAZAR DENNIS | Salazar | Dennis | 6/17/09 | SgtTest |
| 844 | SALCIDO JULIO | Salcido | Julio | 1/20/09 | LtTest |
| 845 | SALCIDO JULIO | Salcido | Julio | 12/18/09 | Lt |
| 846 | SALGADO JOSE | Salgado | Jose | 6/17/09 | SgtTest |
| 847 | SANCHEZ CLAUDINE | Sanchez | Claudine | 1/20/09 | LtTest |
| 848 | SANCHEZ RUDY | Sanchez | Rudy | 6/17/09 | SgtTest |
| 849 | SANCHEZ CLAUDINE | Sanchez | Claudine | 12/18/09 | Lt |
| 850 | SANDERS MARGARET | Sanders | Margaret | 6/17/09 | SgtTest |
| 851 | SANDERS MARGARET | Sanders | Margaret | 2/2/10 | Sgt |
| 852 | SANDOR JANET | Sandor | Janet | 6/17/09 | SgtTest |
| 853 | SANDOR JANET | Sandor | Janet | 6/25/10 | Sgt |
| 854 | SANDOVAL RAQUEL | Sandoval | Raquel | 6/17/09 | SgtTest |
| 855 | SANZONE PETER | Sanzone | Peter | 6/17/09 | SgtTest |
| 856 | SAUCEDO JESUS | Saucedo | Jesus | 6/17/09 | SgtTest |
| 857 | SAUTER CHAD | Sauter | Chad | 6/17/09 | SgtTest |
| 858 | SAUTER CHAD | Sauter | Chad | 2/2/10 | Sgt |
| 859 | SCHALLERT JAMES | Schallert | James | 1/20/09 | LtTest |
| 860 | SCHAUBERGER ALBERT | Schauberger | Albert | 6/17/09 | SgtTest |
| 861 | SCHAUBERGER ALBERT | Schauberger | Albert | 2/2/10 | Sgt |
| 862 | SCHLECHT KEVIN | Schlecht | Kevin | 6/17/09 | SgtTest |
| 863 | SCHLECHT KEVIN | Schlecht | Kevin | 6/25/10 | Sgt |
| 864 | SCHUERGER PAUL | Schuerger | Paul | 6/17/09 | SgtTest |
| 865 | SCHUERGER PAUL | Schuerger | Paul | 6/25/10 | Sgt |
| 866 | SEACORD SHANE | Seacord | Shane | 6/17/09 | SgtTest |
| 867 | SELLERS MICHAEL | Sellers | Michael | 6/17/09 | SgtTest |
| 868 | SERRANO ANDREW | Serrano | Andrew | 6/17/09 | SgtTest |
| 869 | SHAFFER RODD | shaffer | Rodd | 6/17/09 | SgtTest |
| 870 | SHALEV YOAV | Shalev | Yoav | 6/17/09 | SgtTest |
| 871 | SHAPIRO BARRY | Shapiro | Barry | 1/20/09 | LtTest |
| 872 | SHAPIRO MICHAEL | Shapiro | Michael | 6/17/09 | SgtTest |
| 873 | SHARP JOANNE | Sharp | Joanne | 12/3/10 | IntCpt |
| 874 | SHAW KEITH | Shaw | Keith | 6/17/09 | SgtTest |
| 875 | SHAW SHAWN | Shaw | Shawn | 6/17/09 | SgtTest |
| 876 | SHAW SHAWN | Shaw | Shawn | 6/25/10 | Sgt |
| 877 | SHEAR RICHARD | Shear | Richard | 1/20/09 | LtTest |
| 878 | SHEAR RICHARD | Shear | Richard | 2/2/10 | Sgt |
| 879 | SHEAR RICHARD | Shear | Richard | 1/10/11 | LtTest |
| 880 | SHELTON KIMBERLEY | Shelton | Kimberley | 6/17/09 | SgtTest |
| 881 | SHELTON KIMBERLY | Shelton | Kimberly | 2/2/10 | Sgt |
| 882 | SHERROD SIDRA | Sherrod | Sidra | 6/17/09 | SgtTest |
| 883 | SHERROD SIDRA | Sherrod | Sidra | 2/2/10 | Sgt |
| 884 | SHIGO PAUL | Shigo | Paul | 6/17/09 | SgtTest |
| 885 | SHOEMAKER DAVID | Shoemaker | David | 6/17/09 | SgtTest |
| 886 | SHROUT STEPHANIE | Shrout | Stephanie | 6/17/09 | SgtTest |
| 887 | SHROUT STEPHANIE | Shrout | Stephanie | 2/2/10 | Sgt |
| 888 | SHUPE PETER | Shupe | Peter | 2/2/10 | Sgt |
| 889 | SIERRA MARCUS | Sierra | Marcus | 6/17/09 | SgtTest |
| 890 | SIGNATER CODY | Signater | Cody | 6/17/09 | SgtTest |
| 891 | SILVERMAN CORY | Silverman | Cory | 6/17/09 | SgtTest |
| 892 | SIMPKINS MURRAY | Simpkins | Murray | 6/17/09 | SgtTest |
| 893 | SIMPKINS MURRAY | Simpkins | Murray | 2/2/10 | Sgt |
| 894 | SIRKEL BRYAN | Sirkel | Bryan | 6/17/09 | SgtTest |
| 895 | SKEEN JASON | Skeen | Jason | 1/20/09 | LtTest |
| 896 | SKEEN JASON | Skeen | Jason | 1/10/11 | LtTest |
| 897 | SKIKAS JOHN | Skikas | John | 6/17/09 | SgtTest |
| 898 | SMELTZER CHAD | Smeltzer | Chad | 5/23/08 | Sgt |
| 899 | SMELTZER CHAD | Smeltzer | Chad | 2/2/10 | Sgt |
| 900 | SMITH DEMARKUS | Smith | Demarkus | 5/23/08 | Sgt |
| 901 | SMITH ROBERT | Smith | Robert | 1/20/09 | LtTest |
| 902 | SMITH ROBERT | Smith | Robert | 12/18/09 | Lt |
| 903 | SMITH DAVID | Smith | David | 3/6/09 | IntCpt |
| 904 | SMITSON ERIC | Smitson | Eric | 2/2/10 | Sgt |
| 905 | SMITSON ERIC | Smitson | Eric | 1/10/11 | LtTest |
| 906 | SNOW MISTY | Snow | Misty | 11/26/08 | Sgt |
| 907 | SOEHNEL SAMMY | Soehnel | Sammy | 6/17/09 | SgtTest |
| 908 | SOEHNEL SAMMY | Soehnel | Sammy | 2/2/10 | Sgt |
| 909 | SOLANO PHILLIP | Solano | Phillip | 6/17/09 | SgtTest |
| 910 | SOLIS VICTOR | Solis | Victor | 6/17/09 | SgtTest |
| 911 | SOMOANO IGNACIO | Somoano | Ignacio | 5/13/12 | Lt |
| 912 | SOSA LAURA | Sosa | Laura | 6/17/09 | SgtTest |
| 913 | SOSA LAURA | Sosa | Laura | 2/2/10 | Sgt |
| 914 | SOTO MARCO | Soto | Marco | 5/23/08 | Sgt |
| 915 | SOTO ROBERT | Soto | Robert | 6/17/09 | SgtTest |
| 916 | SOTO JOAQUIN | Soto | Joaquin | 2/2/10 | Sgt |
| 917 | SOTO MARCO | Soto | Marco | 2/2/10 | Sgt |
| 918 | SPENCER ARTURO | Spencer | Arturo | 6/17/09 | SgtTest |
| 919 | SPENCER THOMAS | Spencer | Thomas | 12/18/09 | IntChf |
| 920 | SPINA MICHAEL | Spina | Michael | 6/17/09 | SgtTest |
| 921 | SPRENGEL DAVID | Sprengel | David | 5/23/08 | Sgt |
| 922 | SQUIRE MATTHEW | Squire | Matthew | 1/20/09 | LtTest |
| 923 | SQUIRE MATTHEW | Squire | Matthew | 2/2/10 | Sgt |
| 924 | SQUIRE MATTHEW | Squire | Matthew | 1/10/11 | LtTest |
| 925 | STAHL JOSHUA | Stahl | Joshua | 5/23/08 | Sgt |
| 926 | STAHL JOSHUA | Stahl | Joshua | 5/13/12 | Lt |
| 927 | STAHL JOSHUA | Stahl | Joshua | 1/10/11 | LtTest |
| 928 | STANGELAND DENNIS | Stangeland | Dennis | 6/17/09 | SgtTest |
| 929 | STANGELAND DENNIS | Stangeland | Dennis | 2/2/10 | Sgt |
| 930 | STANLEY JOHN | Stanley | John | 1/10/11 | LtTest |
| 931 | STEDMAN JOHN | Stedman | John | 3/21/12 | IntCpt |
| 932 | STEPHEN JOSEPH | Stephen | Joseph | 12/18/09 | IntCpt |
| 933 | STEPHENSON DENISE | Stephenson | Denise | 1/10/11 | LtTest |
| 934 | STEWART TRACY | Stewart | Tracy | 1/10/11 | LtTest |
| 935 | STONE MARK | Stone | Mark | 6/17/09 | SgtTest |
| 936 | STONE MARK | Stone | Mark | 2/2/10 | Sgt |
| 937 | STONICH MARK | Stonich | Mark | 6/17/09 | SgtTest |
| 938 | STONICH MARK | Stonich | Mark | 2/2/10 | Sgt |
| 939 | STOVER RANDAL | Stover | Randal | 12/3/10 | IntCpt |
| 940 | STRANGE STEVEN | Strange | Steven | 1/20/09 | LtTest |
| 941 | STRICKLAND MICHAEL | Strickland | Michael | 1/10/11 | LtTest |
| 942 | STRINGER LAMONT | Stringer | Lamont | 6/17/09 | SgtTest |
| 943 | STROBLE STEVEN | Stroble | Steven | 6/17/09 | SgtTest |
| 944 | STRONG ERIC | Strong | Eric | 1/10/11 | LtTest |
| 945 | STUVER MICHAEL | Stuver | Michael | 6/17/09 | SgtTest |
| 946 | SUBLER DONALD | Subler | Donald | 6/17/09 | SgtTest |
| 947 | SUM DAVID | Sum | David | 6/17/09 | SgtTest |
| 948 | SUMMERS SHAWN | Summers | Shawn | 6/17/09 | SgtTest |
| 949 | SUTHERLAND MARK | Sutherland | Mark | 6/17/09 | SgtTest |
| 950 | SUTHERLAND MARK | Sutherland | Mark | 2/2/10 | Sgt |
| 951 | SUZUKI STEVE | Suzuki | Steve | 2/2/10 | Sgt |
| 952 | SYLVIES STEVEN | Sylvies | Steven | 5/13/12 | Lt |
| 953 | SYLVIES STEVEN | Sylvies | Steven | 1/10/11 | LtTest |
| 954 | TACHIAS ORLANDO | Tachias | Orlando | 1/20/09 | LtTest |
| 955 | TACHIAS ORLANDO | Tachias | Orlando | 12/18/09 | Lt |
| 956 | TALLER LES | Taller | Les | 5/23/08 | Sgt |
| 957 | TALLER LES | Taller | Les | 2/2/10 | Sgt |
| 958 | TALLER LES | Taller | Les | 1/10/11 | LtTest |
| 959 | TARDY APRIL | Tardy | April | 1/10/11 | LtTest |
| 960 | TATE KEITH | Tate | Keith | 6/17/09 | SgtTest |
| 961 | TAYLOR KEITH | Taylor | Keith | 11/26/08 | Sgt |
| 962 | TAYLOR TODD | Taylor | Todd | 6/17/09 | SgtTest |
| 963 | TAYLOR REX | Taylor | Rex | 6/17/09 | SgtTest |
| 964 | TELLES MICHAEL | Telles | Michael | 2/2/10 | Sgt |
| 965 | TENNEY STEVEN | Tenney | Steven | 1/20/09 | LtTest |
| 966 | THAI JOSHUA | Thai | Joshua | 1/20/09 | LtTest |
| 967 | THATCHER MICHAEL | Thatcher | Michael | 1/20/09 | LtTest |
| 968 | THATCHER MICHAEL | Thatcher | Michael | 12/18/09 | Lt |
| 969 | THOMAS MICHAEL | Thomas | Michael | 1/20/09 | LtTest |
| 970 | THOMAS ARTHUR | Thomas | Arthur | 6/17/09 | SgtTest |
| 971 | THOMPSON DAVID | Thompson | David | 1/20/09 | LtTest |
| 972 | THOMPSON DONNA | Thompson | Donna | 1/20/09 | LtTest |
| 973 | THOMPSON GREGORY | Thompson | Gregory | 1/20/09 | LtTest |
| 974 | THOMPSON ARTHUR | Thompson | Arthur | 6/17/09 | SgtTest |
| 975 | THOMPSON PATRICIA | Thompson | Patricia | 6/17/09 | SgtTest |
| 976 | THOMPSON DERRICK | Thompson | Derrick | 6/17/09 | SgtTest |
| 977 | THOMPSON DONNA | Thompson | Donna | 12/18/09 | Lt |
| 978 | THRALL JOHANN | Thrall | Johann | 1/20/09 | LtTest |
| 979 | TOBIN DANIEL | Tobin | Daniel | 5/23/08 | Sgt |
| 980 | TOLY STEVEN | Toly | Steven | 6/17/09 | SgtTest |
| 981 | TOMBOL DEBORAH | Tombol | Deborah | 11/26/08 | Sgt |
| 982 | TORRES LARRY | Torres | Larry | 6/17/09 | SgtTest |
| 983 | TORRES LARRY | Torres | Larry | 2/2/10 | Sgt |
| 984 | TOUSEY STEVEN | Tousey | Steven | 6/17/09 | SgtTest |
| 985 | TREINEN MICHAEL | Treinen | Michael | 6/17/09 | SgtTest |
| 986 | TREJO JANE | Trejo | Jane | 2/2/10 | Sgt |
| 987 | TREVILLYAN JEFFREY | Trevillyan | Jeffrey | 6/17/09 | SgtTest |
| 988 | TRIMARCHI JOSEPH | Trimarchi | Joseph | 5/23/08 | Sgt |
| 989 | TRUJILLO VICTOR | Trujillo | Victor | 12/3/10 | IntCpt |
| 990 | TUINSTRA RANDOLPH | Tuinstra | Randolph | 2/2/10 | Sgt |
| 991 | TURRILL KEVIN | Turrill | Kevin | 5/23/08 | Sgt |
| 992 | TWEEDY RANDY | Tweedy | Randy | 6/17/09 | SgtTest |
| 993 | UNLAND KEVIN | Unland | Kevin | 6/17/09 | SgtTest |
| 994 | URIBE JOSE | Uribe | Jose | 6/17/09 | SgtTest |
| 995 | VALDEZ JORGE | Valdez | Jorge | 6/17/09 | SgtTest |
| 996 | VALDEZ JORGE | Valdez | Jorge | 2/2/10 | Sgt |
| 997 | VALENCIA JAVIER | Valencia | Javier | 11/26/08 | Sgt |
| 998 | VALENCIA JOSEPH | Valencia | Joseph | 11/26/08 | Sgt |
| 999 | VALENCIA JOSEPH | Valencia | Joseph | 2/2/10 | Sgt |
| 1000 | VALLOZZI LEANDRO | Vallozzi | Leandro | 6/17/09 | SgtTest |
| 1001 | VALLOZZI LEANDRO | Vallozzi | Leandro | 2/2/10 | Sgt |
| 1002 | VANDAMME DJOKO | Vandamme | Djoko | 5/23/08 | Sgt |
| 1003 | VANDER HORCK MATTHEW | Vander Horck | Matthew | 1/10/11 | LtTest |
| 1004 | VANDERHORCK MATTHEW | Vanderhorck | Matthew | 1/20/09 | LtTest |
| 1005 | VANDERLEEK TIMOTHY | Vanderleek | Timothy | 6/17/09 | SgtTest |
| 1006 | VANDERLEEK TIMOTHY | Vanderleek | Timothy | 2/2/10 | Sgt |
| 1007 | VARGAS ANGELICA | Vargas | Angelica | 11/26/08 | Sgt |
| 1008 | VARGAS RICHARD | Vargas | Richard | 6/17/09 | SgtTest |
| 1009 | VAZIRI ALEX | Vaziri | Alex | 6/17/09 | SgtTest |
| 1010 | VEGA DAVID | Vega | David | 1/20/09 | LtTest |
| 1011 | VEGA DAVID | Vega | David | 12/18/09 | Lt |
| 1012 | VELEK WILLIAM | Velek | William | 6/17/09 | SgtTest |
| 1013 | VENSEL JOHN | Vensel | John | 6/17/09 | SgtTest |
| 1014 | VERA LIZA | Vera | Liza | 11/26/08 | Sgt |
| 1015 | VERDUZCO BENJAMIN | Verduzco | Benjamin | 6/17/09 | SgtTest |
| 1016 | VIGIL LOUIS | Vigil | Louis | 6/17/09 | SgtTest |
| 1017 | VIGIL LOUIS | Vigil | Louis | 2/2/10 | Sgt |
| 1018 | VILLAFRANCO CARLOS | Villafranco | Carlos | 6/17/09 | SgtTest |
| 1019 | VILLANUEVA ALEXANDRO | Villanueva | Alexandro | 1/20/09 | LtTest |
| 1020 | VILLANUEVA ALEJANDRO | Villanueva | Alejandro | 1/10/11 | LtTest |
| 1021 | VIRAMONTES JORGE | Viramontes | Jorge | 6/17/09 | SgtTest |
| 1022 | VIZCARRA DANIEL | Vizcarra | Daniel | 6/17/09 | SgtTest |
| 1023 | WAGNER MARGARET | Wagner | Margaret | 9/3/08 | Cmmdr |
| 1024 | WALDIE LARRY | Waldie | Larry | 6/17/09 | SgtTest |
| 1025 | WALDMAN MICHAEL | Waldman | Michael | 1/20/09 | LtTest |
| 1026 | WALDMAN MICHAEL | Waldman | Michael | 1/10/11 | LtTest |
| 1027 | WALDO BRUCE | Waldo | Bruce | 6/17/09 | SgtTest |
| 1028 | WALDO BRUCE | Waldo | Bruce | 2/2/10 | Sgt |
| 1029 | WALK KEVIN | Walk | Kevin | 2/2/10 | Sgt |
| 1030 | WALKER CRAIG | Walker | Craig | 5/23/08 | Sgt |
| 1031 | WALKER COREY | Walker | Corey | 6/17/09 | SgtTest |
| 1032 | WALKER RUDOLPH | Walker | Rudolph | 2/2/10 | Sgt |
| 1033 | WALKER DIANE | Walker | Diane | 3/6/09 | IntCpt |
| 1034 | WALKER KEVIN | Walker | Kevin | 1/10/11 | LtTest |
| 1035 | WALL KEITH | Wall | Keith | 2/2/10 | Sgt |
| 1036 | WALLACE ROGER | Wallace | Roger | 2/2/10 | Sgt |
| 1037 | WALSH GLENN | Walsh | Glenn | 6/17/09 | SgtTest |
| 1038 | WALSH GLENN | Walsh | Glenn | 6/25/10 | Sgt |
| 1039 | WALTER LISA | Walter | Lisa | 6/17/09 | SgtTest |
| 1040 | WALTER JUSTIN | Walter | Justin | 6/17/09 | SgtTest |
| 1041 | WALTER LISA | Walter | Lisa | 2/2/10 | Sgt |
| 1042 | WALTON ANGELA | Walton | Angela | 1/10/11 | LtTest |
| 1043 | WARD BYRON | Ward | Byron | 6/17/09 | SgtTest |
| 1044 | WARD RAYNARD | Ward | Raynard | 6/17/09 | SgtTest |
| 1045 | WARD DAVID | Ward | David | 2/2/10 | Sgt |
| 1046 | WARD BYRON | Ward | Byron | 6/25/10 | Sgt |
| 1047 | WARD RAYNARD | Ward | Raynard | 6/25/10 | Sgt |
| 1048 | WARGO JOHN | Wargo | John | 6/17/09 | SgtTest |
| 1049 | WATERMAN WAYNE | Waterman | Wayne | 6/17/09 | SgtTest |
| 1050 | WATTERS CHADNEY | Watters | Chadney | 6/17/09 | SgtTest |
| 1051 | WAUGH CARRIE | Waugh | Carrie | 6/25/10 | Sgt |
| 1052 | WEBER TODD | Weber | Todd | 1/10/11 | LtTest |
| 1053 | WELLS EDWARD | Wells | Edward | 1/20/09 | LtTest |
| 1054 | WELLS EDWARD | Wells | Edward | 1/10/11 | LtTest |
| 1055 | WESTALL TIM | Westall | Tim | 5/13/12 | Lt |
| 1056 | WESTALL TIM | Westall | Tim | 1/10/11 | LtTest |
| 1057 | WESTIN RICHARD | Westin | Richard | 1/20/09 | LtTest |
| 1058 | WHEATCROFT ROBERT | Wheatcroft | Robert | 5/23/08 | Sgt |
| 1059 | WHITE RICHARD | White | Richard | 5/23/08 | Sgt |
| 1060 | WHITE DANIEL | White | Daniel | 6/17/09 | SgtTest |
| 1061 | WHITE MICHAEL | White | Michael | 2/2/10 | Sgt |
| 1062 | WHITE RICHARD | White | Richard | 2/2/10 | Sgt |
| 1063 | WHITE MICHAEL | White | Michael | 1/10/11 | LtTest |
| 1064 | WIARD ROBERT | Wiard | Robert | 1/10/11 | LtTest |
| 1065 | WICKER WILLIAM | Wicker | William | 1/10/11 | LtTest |
| 1066 | WILKENING MARK | Wilkening | Mark | 6/17/09 | SgtTest |
| 1067 | WILKENING MARK | Wilkening | Mark | 2/2/10 | Sgt |
| 1068 | WILLIAMS JOSEPH | Williams | Joseph | 11/26/08 | Sgt |
| 1069 | WILLIAMS RONALD | Williams | Ronald | 1/20/09 | LtTest |
| 1070 | WILLIAMS LAMARK | Williams | Lamark | 6/17/09 | SgtTest |
| 1071 | WILLIAMS STEVEN | Williams | Steven | 6/17/09 | SgtTest |
| 1072 | WILLIAMS JABARI | Williams | Jabari | 6/17/09 | SgtTest |
| 1073 | WILLIAMS JEFFREY | Williams | Jeffrey | 6/17/09 | SgtTest |
| 1074 | WILLIAMS ROBERT | Williams | Robert | 6/17/09 | SgtTest |
| 1075 | WILLIAMS JOSEPH | Williams | Joseph | 2/2/10 | Sgt |
| 1076 | WILLIS ANTHONY | Willis | Anthony | 6/17/09 | SgtTest |
| 1077 | WILLOUGHBY MICHAEL | Willoughby | Michael | 1/20/09 | LtTest |
| 1078 | WILLOUGHBY MICHAEL | Willoughby | Michael | 2/2/10 | Sgt |
| 1079 | WILSON VIENNA | Wilson | Vienna | 1/20/09 | LtTest |
| 1080 | WILSON VIENNA | Wilson | Vienna | 12/18/09 | Lt |
| 1081 | WINSLOW EDWARD | Winslow | Edward | 1/20/09 | LtTest |
| 1082 | WINSLOW EDWARD | Winslow | Edward | 2/2/10 | Sgt |
| 1083 | WINTER MICHAEL | Winter | Michael | 6/17/09 | SgtTest |
| 1084 | WOLAK JASON | Wolak | Jason | 1/20/09 | LtTest |
| 1085 | WOLAK JOHN | Wolak | John | 1/20/09 | LtTest |
| 1086 | WOLAK JASON | Wolak | Jason | 1/10/11 | LtTest |
| 1087 | WOLAK JOHN | Wolak | John | 1/10/11 | LtTest |
| 1088 | WOLANSKI DANIEL | Wolanski | Daniel | 6/17/09 | SgtTest |
| 1089 | WOLFE MICHAEL | Wolfe | Michael | 6/17/09 | SgtTest |
| 1090 | WOLFE MICHAEL | Wolfe | Michael | 6/25/10 | Sgt |
| 1091 | WOLLENZIER ANNADENNISE | Wollenzier | Annadennise | 6/17/09 | SgtTest |
| 1092 | WOLLUM JOSIE | Wollum | Josie | 1/20/09 | LtTest |
| 1093 | WOODRUFF KASEY | Woodruff | Kasey | 6/17/09 | SgtTest |
| 1094 | WOOLUM JOSIE | Woolum | Josie | 12/18/09 | Lt |
| 1095 | WYATT STEVEN | Wyatt | Steven | 6/17/09 | SgtTest |
| 1096 | WYCHE BOBBY | Wyche | Bobby | 1/20/09 | LtTest |
| 1097 | WYCHE BOBBY | Wyche | Bobby | 2/2/10 | Sgt |
| 1098 | YANAGI BRIAN | Yanagi | Brian | 2/2/10 | Sgt |
| 1099 | YANAGI BRIAN | Yanagi | Brian | 1/10/11 | LtTest |
| 1100 | YATES CLIFFORD | Yates | Clifford | 1/20/09 | LtTest |
| 1101 | YBARRA JUAN | Ybarra | Juan | 5/23/08 | Sgt |
| 1102 | YELVERTON MARSHALL | Yelverton | Marshall | 6/17/09 | SgtTest |
| 1103 | YOCUM MICHAEL | Yocum | Michael | 6/17/09 | SgtTest |
| 1104 | YOCUM MICHAEL | Yocum | Michael | 2/2/10 | Sgt |
| 1105 | YOELL BRUCE | Yoell | Bruce | 6/17/09 | SgtTest |
| 1106 | YOELL BRUCE | Yoell | Bruce | 6/25/10 | Sgt |
| 1107 | YOUNG LARRY | Young | Larry | 2/2/10 | Sgt |
| 1108 | ZABORNIAK KEVIN | Zaborniak | Kevin | 6/17/09 | SgtTest |
| 1109 | ZAVALA VICTOR | Zavala | Victor | 2/2/10 | Sgt |
| 1110 | ZOLKOWSKI WENDY | Zolkowski | Wendy | 2/2/10 | Sgt |
| 1111 | ZOLLO WILLIAM | Zollo | William | 6/17/09 | SgtTest |
| 1112 | ZONVER NICOLE | Zonver | Nicole | 6/17/09 | SgtTest |
| 1113 | ZONVER NICOLE | Zonver | Nicole | 6/25/10 | Sgt |
| 1114 | ZUNIGA THOMAS | Zuniga | Thomas | 3/6/09 | IntCpt |