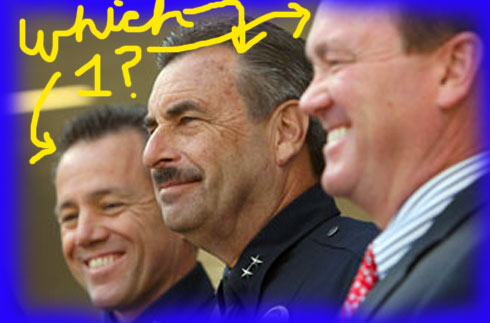 The official announcement is scheduled for Tuesday morning at 11 a.m. at Getty House. The news media will start setting up at 4:30 a.m., and start broadcasting around 8 or 8:30.
I was made dizzy contemplating the various rumors that swirled about last night. None were conclusive, but the one thing they suggested was this: whatever we thought we knew about who was or was not a sure thing….it was all very possibly dead wrong.
MEANWHILE, ONE MORE QUICK LOOK AT THE THREE CANDIDATES (in alphabetical order)

---
Deputy Chief Charlie Beck is the quintessential cops-cop. His father was a deputy chief. His daughter is a police officer. His son is in the academy headed toward graduation. If you asked Central Casting for a guy who really looked like he ought to be Chief of Police, they'd send you Charlie Beck.
Right now, Chief Beck is the commanding officer of the department's Detective bureau.
At 56, Beck is the oldest of the three finalists, but he competes in motocross events and is, in all seriousness, the current Police and Fire Motocross national champion.
Beck has worked assignments across the spectrum: gang units, undercover narcotics, Internal Affairs. His star began to rise most precipitously in 2006, when Bratton promoted him to Deputy Chief and gave him command of South Bureau where he gained a strong reputation for working successfully with the hard core gang intervention agencies that many previous commanders in the department had long shunned.
When Bratton brought Beck to Parker Center to take over the Detective bureau, Beck became problem-solver-in-chief, taking on the faulty fingerprint analysis debacle that was a department embarrassment, and then the rape kit backlog mess after that. Of the three finalists, he has been the one openly talked about as Bratton's choice to succeed him.
Charlie Beck is extremely personable, a straight shooter, and no-nonsense tough when need be. He knows how to stand his ground without blinking. And yet he never, ever reeks of ego.
The rank and file like and respect Beck a lot. But so does civil rights lawyer Connie Rice plus those in some of the city's most problematic communities. He will go to bat for LAPD officers, yet has a deep understanding of the need for still more change in the Us versus Them, Thin Blue Line mentality that characterized the department, pre-Bratton, and believes he could lead that change.
---
Assistant Chief Jim McDonnell, 50, is the big picture guy of the three. He teaches at UCLA's school of public policy where he talks to his students about the nature of cultural and community change. McDonnell has the ability to visualize systems as a whole and then to figure out what it might take to transform them. His 100-page plan for reorganizing the department was one of the roadmaps that Bill Bratton used when he took over the chief's job in 2002.
Boston Irish by birth, when McDonnell joined the department, he opted early for assignments that would lead him into management. As First Assistant Chief, he is guy to whom Bratton handed the keys when he was out of town.
He moves easily among the city's elected officials and community leaders, yet his name was most often mentioned when asked rank and file cops to name their 1st choice for C.O.P. In addition to being chief of staff, Chief McDonnell oversees the department's Use of Force Review Board, where he has gained a reputation for being firm but scrupulously fair-minded.
Of all the finalists, McDonnell talks with the most intuitive understanding of the challenges faced by residents in the city's low-income, violence haunted communities—including those young men who join gangs.
He is a committed advocate of community policing, and has ideas how to better accomplish it, in spite of the LAPD's less than ideal officer-to-resident ratio.
McDonnell is a recipient of the LAPD's Medal of Valor, the department's highest honor for bravery.
Last Tuesday, when a student in my class asked him what personal principle most guided him, Jim McDonnell thought for a moment, then returned his gaze to hers, his face unclouded by doubt, "The Golden Rule," he said.
---
Deputy Chief Mike Moore, 49, is the commanding officer for the very large Valley Bureau of the LAPD where the entire region seems to have embraced him as their favorite son.
Although all three candidates have great credentials when it comes to working cooperatively with community groups to achieve gang violence reduction, Mike Moore had the prescience to come to that party the earliest.
When he was a commander in the Valley Bureau working under then-Deputy Chief Ron Bergmann, Bergmann pioneered programs that paired local gang intervention organizations with LAPD programs, and Moore was the in-the-field guy who implemented the programs and became their public face.
After leaving the SF Valley for a year stint as Deputy Chief of the department's West bureau, Moore was transferred back to run the Valley bureau after Chief Bergmann retired, where he continued and expanded community partnerships. That strategy, along with an early devotion to computer-driven crime mapping, plus the intense attention to detail that characterizes his management style, is credited by many for the Valley's sharp downturn in violent crime, which dropped a startling 28 percent in 2008.
Moore is a hands on guy who does not lead from afar, but enjoys being at the center of the action in the field.
Like McDonnell, Moore was given the department's Medal of Valor. He understands the best and worst that officers have to face—as he himself had to shoot a suspect on two occasions, one of those times fatally.
A year ago, during the Sylmar fire that decimated the Oakridge Mobile Home Park, Mike Moore quite literally rescued a woman from a burning building.
---
Bottom line: All three men have considerable, and very different, strengths (which number more than I can list here). None among them is perfect. (Who is?) All are extremely well qualified to run the LAPD.
And very, very soon one of them will be named to be our new Chief of Police.
Photo by David McNew/Getty Images