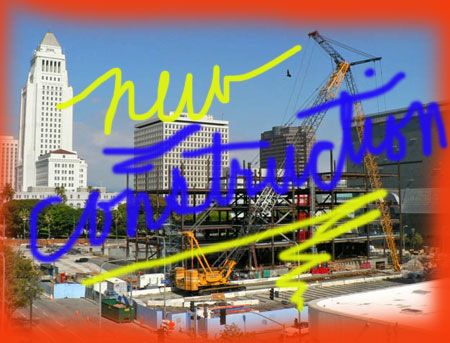 I've been madly editing and grading around a zillion pages of student papers (and will be doing so through next Friday), thus I'm a bit slow in posting the list of command staff that new Chief of Police Charlie Beck announced yesterday after noon.
The complete text of Beck's announcement is at the end of the post. But Joel Rubin's article in Tuesday's LA Times gets to a lot of the issues that have the city's police watchers talking.
Here are some clips [Bracketed italics are mine]:
Less than a week after taking over the Los Angeles Police Department, Chief Charlie Beck announced a shake-up in the department's command staff, including the demotion of two of the LAPD's highest-ranking officials and promotion of several others.

Beck, who was confirmed as chief by the City Council last Tuesday, promoted Deputy Chief Michel Moore to become one of the LAPD's three assistant chiefs and assigned him to a newly created post in charge of Special Services…. [NOTE: THERE USED TO BE TWO Assistant Chiefs under Bratton.]

In his new post, Moore will oversee an array of specialized operations that, until now, have been run separately, including the agency's Counter-Terrorism and Criminal Intelligence Bureau, the elite Metropolitan Division and the Detective Bureau.


To make room for Moore, Assistant Chief Jim McDonnell, who for several years has been the second-highest-ranking person in the department, dropped one rank to deputy chief and will take on a new position as chief of detectives.

[This is a significant series of moves. For example, the new arrangement makes Moore the boss of McDonnell, among other people, which is a little weird. McDonnell has been a very highly regarded Assistant Chief of some sort or another for seven years. Now he goes a rung down to become a Deputy Chief of Detectives. But instead of reporting directly to the Chief of Police as Beck did when Bratton put him in the same position, he reports to Mike Moore, the guy who's been Deputy Chief in the Valley, and the other member of the threesome who were all vying for the department's top job. it's fine, I guess, but weird.

On the other hand, although I've not confirmed this with McDonnell, I've heard that he wanted a position in which he was commanding troops, in other words, something more on-the-ground rather than simply managerial, as that kind of post was the element that his already full CV has somewhat lacked. There are only a few possible jobs that would have allowed him this kind of troop command—one of them the Chief oF Detectives position. But nearly all those jobs required a drop down a rank to Deputy Chief.

Yes, I know this sounds like angels….pins…dancing. Or an irritatingly insider drama with more characters than a Russian novel. But, as with the formation of a presidential cabinet—albeit on a far smaller scale—in forming the LAPD command staff, it is exactly this kind of minutiae that could eventually matter.

In any case, out of Bratton's original 10th floor configuration, Assistant Chief Earl Paysinger is about the only one left in place, as well he should have been. But the new arrangement significantly carves away at his power, which is likely not accidental. ]

In the most dramatic move, Beck demoted Assistant Chief Sharon Papa, who has run the Support Services Bureau, down two levels to the rank of commander….
Papa was replaced with Deputy Chief Sandy Jo MacArthur, who is well-liked, was a Bratton favorite, and one of the people whom, all those betting on Beck's inner circle command staff, had listed as a sure thing.
But Papa was very, very well-liked too, so….
Anyway, there's more here.
And there will be more still to come.
---
ONE MORE NOTE: With rare exceptions, Bill Bratton surrounded himself with the strongest people available, not necessarily the ones who were his closest friends.
But of course Bratton was an outsider, thus he did not come to the department with close friendships.
In constrast, Charlie Beck has spent a lifetime at the LAPD and has, naturally, forged strong personal ties.
How those personal ties affect his ongoing and crucial shaping of the department's command staff is something that many in the city are watching, and will continue to watch, with a great deal of interest.
---
Okay, here's the actual Beck memo:

INTRADEPARTMENTAL CORRESPONDENCE

November 23, 2009
1.1

TO: All Department Personnel

FROM: Chief of Police

SUBJECT: DEPARTMENT REORGANIZATION

I have taken the first step in reorganizing the Department to increase efficiency and improve effectiveness. The neworganization includes six Direct Reports and the renaming of two Offices. Ihave made several selections at the Senior Staff Officer level to complete my leadership team. While some of these modifications may be subject to budgetary review and approval, it is anticipated that the following changes will take effect as of Deployment Period 1, 2010 (January 3, 2010).

Office of Operations

Assistant Chief Earl Paysinger, Director, Office of Operations

Deputy Chief Sergio Diaz, Commanding Officer, Operations -Central Bureau

Deputy Chief Pat Gannon, Commanding Officer, Operations – South Bureau

Deputy Chief Debbie McCarthy, Commanding Officer, Operations – West Bureau

Deputy Chief Kirk Albanese, Commanding Officer, Operations – Valley Bureau

Office of Special Services

? Assistant Chief Michel Moore, Director, Office of Special
Services

Deputy Chief Mike Downing, Commanding Officer, Counter Terrorism
and Criminal Intelligence Bureau

Deputy Chief Jim McDonnell, Chief of Detectives

Deputy Chief Rich Roupoli, Commanding Officer, Special
Operations Bureau

Office of Administrative Services

? Assistant Chief Sandy Jo MacArthur, Director, Office of
Administrative Services

Deputy Chief Terry Hara, Commanding Officer, Personnel and
Training Bureau

Police Administrator III Rhonda Sims Lewis, Commanding Officer, Support Services Bureau

Police Administrator III Maggie Goodrich, Commanding Officer,
Information and Technology Bureau

Chief Information Officer Tim Riley, Commanding Officer,
Communications and Records Bureau

In addition to the Assistant Chiefs, the following willbe Direct Reports to the Chief of Police

Deputy Chief Mark Perez, Commanding Officer Professional
Standards Bureau

Police Administrator III Gerald Chaleff, Special Assistant

Commander Rick Jacobs, Chief of Staff

If you have any questions please contact my Chief of Staff, Commander Rick Jacobs at
(213) 486-0150.