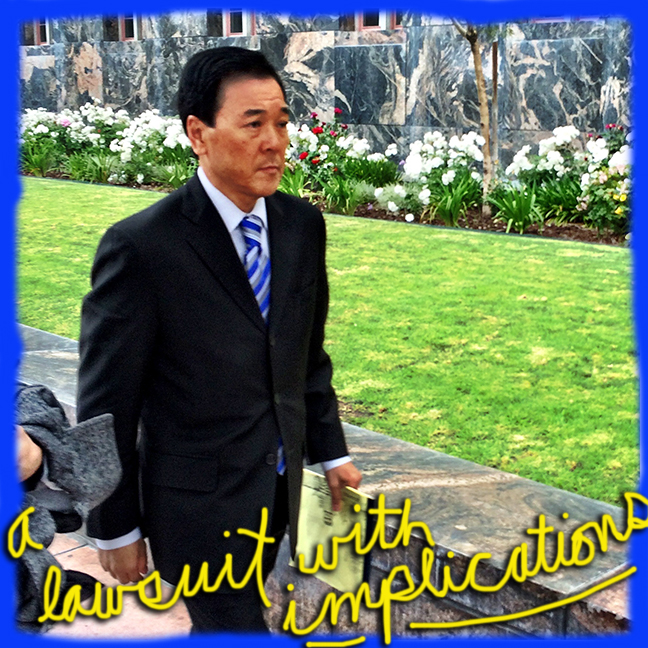 NO SETTLEMENT, GOING TO COURT
In early 2015, former Los Angeles County Sheriff's deputy Ban Nguyen filed a civil lawsuit alleging that he was retaliated against when he refused to falsify paperwork for certain unsuitable job candidates favored by department higher ups, particularly those candidates supported by former undersheriff Paul Tanaka.
The retaliation got worse, Nguyen alleges in his lawsuit, when he was asked to raise money for Tanaka's campaign to become sheriff, and he refused, explaining that he didn't favor Mr. Tanaka for that post.
(If you remember, Tanaka was in the running from mid-2013 through November 2014 for the job that Sheriff Jim McDonnell holds today.)
After being what he describes as forced into retirement, Nguyen is suing the former undersheriff, and the Los Angeles County Sheriff's Department for alleged violations of his civil rights along with violations of the state labor code and more. Nguyen also names in his lawsuit two LASD captains, and two department sergeants. (Kevin Hebert and Judy Gerhardt, are the captains named, although both have since been promoted to commander.)
According to court documents filed late last week, the defendants attempted with reams of paperwork to get a summary judgement without going to trial. But it appears that the case is going to trial anyway.**
"For Ban it isn't about the money," sources close to the case told us. At this point, say the sources, Nguyen wants to "expose the corruption" he alleges, in open court.
Indeed, given some of the witness already deposed, the trial, which is expected to begin in mid October, will be well worth watching.
---
PRESSURE, POOR POLYGRAPHS, AND PAINTING THE PAPERWORK WHITE
Ban Nguyen, 51, has an interesting background. He was born in what was then Saigon, and emigrated with his family to the United States in 1974, when he was approximately nine-years-old, and the writing was on the wall about where the war in Vietnam was headed. (Saigon fell—or was liberated, depending upon your political perspective—on April 30, 1975.) In 1985, eleven years after his arrival, Nguyen became a U.S. citizen.
Nguyen joined the LA County Sheriff's department in 1996, when he was in his early 30s. For the first ten years of his career as a deputy, according to court documents, things went well. Nguyen, who has a BS in Biology and and MA in Public Administration, did not try to promote past the rank of deputy. He comes from a high achieving family and reportedly had—and still has—other business interests of his own, and thus additional sources of income. As a consequence, he had no real desire to advance up the promotion ladder. He simply liked the work of being an LASD deputy.
After working in various other parts of the department, Nguyen was transferred in 2008 to the personnel division's "Pre-Employment Unit," where for four years he recruited deputy candidates and oversaw and reviewed parts of their application process, a job he liked and at which he seemed to excel.
In 2012, however, according to Nguyen's court filings, he was transferred to personnel's "Administrative/Reserve" team, where a healthy portion of his duty was to handle the job applications of "sensitive" deputy or reserve candidates, meaning those who, for one reason or another, were important to someone or other on the LASD's command staff, most often, allegedly, the then-undersheriff, Paul Tanaka.
Applicants for deputy sheriff training (DST)—as opposed to applicants for "non-sworn" positions—are required to complete an 11-page application that includes questions on work history, education, family, references, along with questions designed to reveal any potential problem areas such as drug use, arrests and the like. After that, an investigator checks out references and does other probing. The candidate must also make it past such hurdles as a psych evaluation, and a polygraph test.
Once he began working on personnel's Administration/Reserve team, according to Nguyen, he became aware that there was a practice of not only giving the "sensitive" candidates a leg up, but also the team was expected to whitewash the applications of favored candidates when necessary.
For instance, in one alleged situation, a candidate whose father was a friend of the former undersheriff failed the required polygraph test six separate times, specifically around questions relating to drug use and some other problematic issues. When Nguyen declined to recommend that the candidate be accepted for deputy training anyway, the applicant's case was allegedly yanked from Nguyen and given to another, presumably more agreeable investigator, at which time the polygraph-challenged candidate magically passed the poly the seventh time around.
In other cases, according to court filings, Nguyen and colleagues were given a negative background report on a pet candidate, and told to rewrite the report, in effect 'sanitizing" it, until it was shiny and clean enough to get the applicant through the gate.
Sometimes the alleged sanitization involved finding a more compliant psychologist to redo the psych evaluation, if "there were negative psychological or psychiatric issues" that had previously prevented the candidate from passing. Or, as with the earlier alleged example, Nguyen and his colleagues would be ordered to redo polygraphs, modifying or leaving out questions that produced problems.
When Nguyen refused to whitewash an application, reportedly stating to his immediate boss, Sergeant Ismael Chavez, that the practice of shoehorning "unqualified" candidates onto the force was both wrong and a potentially dangerous strategy, Chavez allegedly "berated and screamed" at him, according to court documents.
Nguyen states that he went over Chavez's head to request to the appropriate lieutenant that the matter be investigated, but the lieutenant allegedly declined to look into the matter.
---
PERSONNEL AND POLITICS
The 2012 job transfer also coincided, according to Nguyen, with the discovery by the captain of personnel division at the time, Kevin Hebert, now a department commander, that Nguyen had experience and expertise with political fundraising. For instance, in 2010, he had reportedly been helpful in helping Sandra Hutchens get elected to the position of Orange County Sheriff-Coroner. (Hutchens, who was originally with the LA Sheriff's Department, before moving to Orange County, served first as the interim sheriff after former sheriff Mike Corona resigned in the face of federal indictments.)
One day at work in mid-November 2012, according to Nguyen, his boss, Sgt. Chavez took him to see then-captain Hebert, who Chavez said wanted to talk to Nguyen. Hebert then allegedly asked Nguyen what his experience was with raising money, and how one went about raising big bucks for a political campaign, or words to that effect. Nguyen states that he told of his involvement in previous political campaigns, and explained, in general, how one goes about raising $100,000 in political funds.
A few days later, according to Nguyen, he was again brought to meet with Hebert during the work day, at which time Hebert asked if he'd like to raise money for Paul Tanaka, who was planning to run for sheriff. Would he be on the team? Hebert allegedly asked.
Nguyen says he declined multiple requests.
(For the record, Hebert has stated in a deposition that he never met with Nguyen, much less pressured him to become involved in Tanaka's campaign.)
Near the end of 2013, according to the lawsuit, Nguyen told then Sheriff Lee Baca about the demand to "lie about or conceal damaging background information concerning Tanaka connected applicants," and the retaliation that occurred when he would't comply, or support Tanaka's political campaign. Rather than helping matters, Nguyen alleges that, after he went to Baca the retaliation—which had begun after his various failures to cooperate with what he believed was wrongdoing—got worse. Hebert was no longer captain of personnel, but his successor, then-captiain Judy Gerhardt, allegedly told Nguyen "he was not allowed to go beyond the chain of command again with his complaint."
Interestingly, when Nguyen went to meet with then Sheriff Baca, which he did more than once, a retired LASD commander who had been Nguyen's mentor in earlier years, came with him to help bolster his case. The retired commander was Robert Lindsey, a man with his own personal story about refusing what he believed were illegal (or at the very least corrupt) orders coming from Paul Tanaka.
According to the signed declaration Lindsey made for this case, when Lindsey was still with the department, Chief Tanaka told him to make it possible for certain chosen favorites to advance up the ranks by giving these favored few the answers to the lieutenants' exam. Additionally, according to Lindsey, Tanaka asked him to give certain applicants-for-promotion credit for non-right test answers that Tanaka allegedly claimed were "close enough." Lindsey alleges that when he declined to facilitate Tanaka's orders to…well….cheat, Tanaka told him that he would "live to regret it," and that his career was over, and then allegedly triggered an internal affairs investigation against Lindsey.
(Lindsey also alleges that, years later, Tanaka took out his still existing fury on Lindsey's LASD deputy son by ginning up a criminal case against Robert Lindsey Jr. But that's another upcoming civil lawsuit for another day.)
Nguyen describes an increasingly hostile work environment, then a transfer to an "entry level position" in what was known as the Civilian Investigative Unit. When he tried to transfer to what he believed was a more appropriate job, he was moved to a desk job under then-Captain Gerhardt, which he alleges involved "no real duties." At the same time, he was told that an anonymous complaint had been filed against him, and that he was being "investigated," although according to Nguyen he was never told anything about the investigation, or whether it was criminal or administrative in nature.
Nguyen states that, around this point, his health and state of mind began to suffer.
In September 2014, he was put on sick leave. In November 2015, Nguyen retired. In between he filed his lawsuit, now slated to go to court in October.
---
THE UNDERLYING ISSUES
In court, the defendants will of course tell a very different story—or more accurately multiple different stories—than that which plaintiff Nguyen and his attorney, Richard A. Love, have told through court documents.
Yet, whichever side ultimately prevails in this lawsuit, many of the issues underlying Nguyen's civil complaint call out loudly for better examination.
For years there have been credible reports of certain people in the LASD's personnel division being asked to shave the dice, so to speak, for either unsuitable job applicants, or candidates for promotion who didn't manage to make the grade on their own.
Perhaps this lawsuit will trigger a long overdue closer look at those stories of corruption.
---
**NOTE: We originally wrote that there was talk of a settlement of the case, which Ban Nguyen declined. Whether true or not, the most recent court documents pertain to a "Summary Judgement," which is basically a kind of appeal from the defendants to dismiss the case.