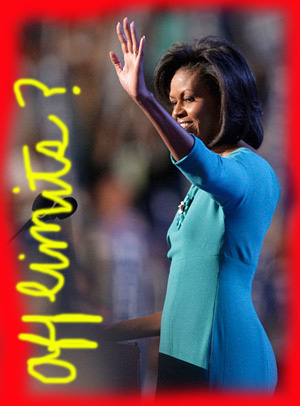 Alright. Let's begin at the beginning. The whole kerfuffle started on Tuesday when my pal Erin Aubry Kaplan caused something of a stir with the cover story she wrote for Salon. The article, you see, was about Michelle Obama's…um….well… her butt.
Here are some clips:
"…..There is a certain freedom in the moment — as in, we are all now free from wondering when or if we'll ever get a black president. Congratulations to all of us for being around to settle the question.

But what really thrills me, what really feels liberating in a very personal way, is the official new prominence of Michelle Obama. Barack's better half not only has stature but is statuesque. She has coruscating intelligence, beauty, style and — drumroll, please — a butt. (Yes, you read that right: I'm going to talk about the first lady's butt.)

[BIG SNIP]

Lord knows, it's time the butt got some respect. Ever since slavery, it's been both vilified and fetishized as the most singular of all black female features, more unsettling than dark skin and full lips, the thing that marked black women as uncouth and not quite ready for civilization (of course, it also made them mighty attractive to white men, which further stoked fears of miscegenation that lay at the heart of legal and social segregation). In modern times, the butt has demarcated class and stature among black society itself. Emphasizing it or not separates dignified black women from ho's, party girls from professionals, hip-hop from serious. (Black women are not the only ones with protruding behinds, by the way, but they're certainly considered its source. How many gluteally endowed nonblack women have been derided for having a black ass? Well, Hillary, for one.)

But Michelle is bringing those two falsely divided minds together in a single presentation — finally, unity for the real world!
The rest is a happy and appreciative hallelujah written with a lovely sense of exuberance and humor. It is also an intelligent essay on issues of body image, race and women, all done with a light touch. Erin is and always has been a good writer. And this kind of political-meets-the-highly-personal is where she particularly excels.
At least that's what I thought when I read it.
To say that not all Salon's readers had such an upbeat reaction would be to understate the matter considerably.
Many in the crowd were quite aghast.
"This article was stupid, vapid, and demeaning and not even funny, nor ironic in any sense of the word," wrote an outraged reader in what turned out to be one of the tamest of the comments.
But the angry response to Erin's boo-tay bantering did not limit itself to Salon.

For instance, Mary Katharine Ham at the Weekly Standard primly tisk-tisked.
"There was a time when a female writer would have relished a female public figure's words being examined instead of her anatomy, but now that we have left behind that provincial trope…"
Kevin Williamson at the National Review spoke witheringly from his no-doubt very lofty perch. "Talk about a race to the bottom," he sniffed.
Meanwhile, things got so heated back at Salon itself that editor, Joan Walsh, who had assigned the piece, felt compelled to step into the fray
…To whoever said I'm to blame, thank you too," she wrote in the comment thread, " because I totally am. I have loved Erin Aubry Kaplan's writing since before I joined Salon, and I'm proud of this piece. If having a black president and first lady is going to narrow what we talk about, wow, that would be sad. But I promise it won't — at least not on Salon."
Yet amid the self-righteous fruit throwing, there emerged out on the blogs some very thoughtful—and thought-provoking—commentary from other black women. Some liked the piece. Others were very torn about what Erin had written, like this from the blog What Tami Said:
A happy side effect of an Obama presidency will be that it may help to "normalize" blackness. Malia and Sasha Obama's fuzzy twists and cornrows may normalize girlpie hair.

[SNIP]

But…but…but…why, in perhaps black women's finest hour in this country, must it still be about…the butt.

[SNIP]

In the end (no pun intended), the article gave a bunch of folks license to talk all up under a black woman's clothes, speculating on her body parts. To borrow a phrase from Joe Biden: That's not change; that's more of the same.
Still others found themselves to be quite upset by the Salon article. For example there was this from a twenty-something black woman who blogs as Sylvia M at Comments From Left Field. :
Do not, do not, do NOT reduce a black woman to her body parts. We are no longer on the auction block. We are no longer museum exhibits. If you deign to respect a black woman as a full human being, do not celebrate her accomplishments by pointing out the nappiness of her hair or the fullness of her booty.
There are many other reactions still to be found scattered across the web, some celebratory, some snarky, others genuinely pained—all making it clear that what Erin brought up is anything but a simple issue.
As I said at the beginning, when I first read the story I liked it. I still do.
Even as a skinny-ass, middle-aged white girl, I identified. I understood that, in the end, the article wasn't about butts—Michelle Obama's or otherwise. It was about the delight in seeing in the White House a dynamic woman who seems to fully inhabit herself on a multiplicity of levels, including her girly-girl, clothes-loving, sexy self. The sight is, for many of us anyway, incredibly cool, and surprisingly freeing.
But saying all that aloud in a public forum, as it turns out, is complicated. Very complicated.