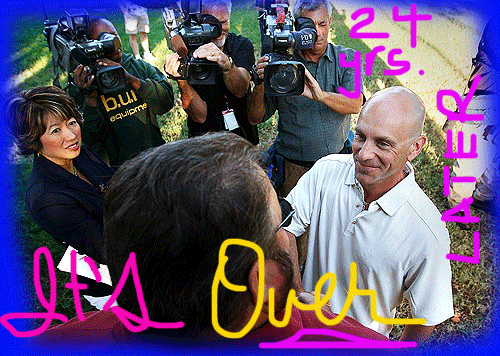 In a fascinating and welcome turnaround, the LA District Attorney's office has dropped charges against Bruce Lisker, the man who was recently released from prison after spending 24 years in prison due to what many believe was a wrongful conviction. Lisker is 44-years old.
When he was 17, Lisker was convicted of the beating and stabbing death of his mother, Dorka Lisker, whose body was discovered in a bloody scene at the Lisker's Sherman Oaks home. Bruce Lisker was tried and convicted as an adult, and sentenced to life in prison in 1985.
Early last month, U.S. District Judge Virginia A. Phillips overturned Lisker's conviction stating that Lisker was convicted on "false evidence" and that his attorney (who is now a court commissioner) did not adequately represent him.
But although Lisker was released, the DA's office strongly hinted they would go ahead with a new trial.
Initial doubts about the case had come to light when an LAPD Internal Affairs sergeant named Jim Gavin responded to an ethics complaint about the main officer on the Lisker case, Det. Andrew Monsue. The more Gavin looked into things, the more he began to believe that what he was looking at was no simple misstatement by an officer, but a rush to judgment in a murder investigation that might have the wrong person in prison.
However, his bosses at IA, then headed by Michael Berkow, thought Gavin was overstepping his bounds and told him to cease and desist.
He mostly did so—but handed over some of what he'd found to Lisker's lawyer.
Gavin also began talking to LA Times reporters Matt Lait and Scott Glover who wrote an excellent 2005 account of the murder investigation and subsequent conviction that raised a great many troubling questions about Lisker's guilt.
Since that time, Jim Gavin, who essentially acted as a whistleblower, calling attention to what he believed might be a grave miscarriage of justice, appears to have been marginalized by some sectors of the LAPD, a department where he still serves.
As to why the DA decided not to proceed, DA spokesperson Sandi Gibbons, stated that, while "…we remain confident in Mr. Lisker's original conviction of the second-degree murder of his mother, Dorka…" the prosecution was unable to go to trial due to the fact that much of the original physical evidence had been "destroyed" (not comforting to know, whatever one believes about the Lisker case) and some of the witnesses had died.
"Given these factors and policy considerations, we cannot proceed to trial. "
In other words, Gibbons said when we talked, although the prosecutors' view of the case has not changed, the state of the available admissible evidence assuredly has.
This is obviously great news for Bruce Lisker, and in the view of many, very good news for justice in general.
---
After his release, amid TV cameras Bruce Lisker thanks private investigator Paul Ingles, one of those who worked on his case: the above photo and other photos from that day by Robert Gauthier / Los Angeles Times