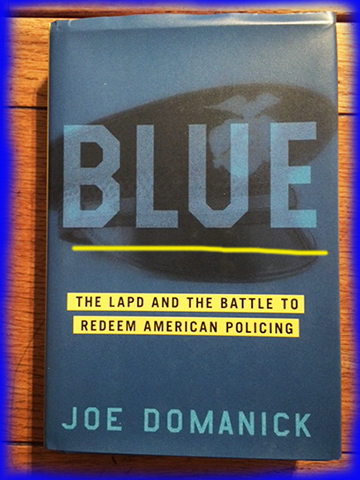 Award-winning journalist and author Joe Domanick has been a long time critic of bad policing, particularly when it has been displayed by the Los Angeles Police Department. His fascination with—and in many ways, affection for—LA's complicated, powerful, historically brutal and arrogant, yet often innovative and iconic police department brought us To Protect and to Serve: The LAPD's Century of War in the City of Dreams—a deeply researched, and immensely engaging history of the agency's first 100 years, which won its author a 1995 Edgar award for best fact-based crime.
Now Domanick has written a new book about LA's cop shop called Blue: The LAPD and the Battle to Redeem American Policing. Stupendously timely and written with a finely calibrated understanding of the city's history, and its unique cultural interweave, BLUE's page-turning narrative is borne aloft by a string of vivid nonfiction characters, including, of course, the agency's most recent chiefs, Bill Bratton and Charlie Beck. But, while the heart of the book is a grand tale of the multi-layered struggle to reform the LAPD, Domanick also uses LA's police department as a lens through which to examine the state of U.S. policing in general, and the crossroads at which it has presently arrived.
We will talk more about Domanick and Blue in the near future. But, in the meantime, here are a couple of clips from the rave review of Domanick's book by Mark Horowitz, the staff editor for The New York Times Op-Ed section, which appeared in Sunday's NYT Book Review.
…Crime in Los Angeles had been increasing at twice the national average. Between 1980 and 2000, there were 11,500 gang-related homicides in Los Angeles County. "L.A.'s gangs were not simply growing but metastasizing."

The city's incompetent and brutal police functioned like "an army of occupation that waged war on the residents of black South L.A., Mexican East L.A. and Central American Pico-Union in the name of crime suppression." During one operation, in South Los Angeles, 25,000 were arrested, though relatively few were charged with any crime. "It seems astounding," Domanick writes, "that such a plan of concentrated, indiscriminate mass arrests would be executed in a major, liberal American city a quarter of a century into the post-civil-rights era." Even the police dogs were out of control, surely a metaphor of some kind. Between 1989 and 1992, they bit 900 people, resulting in countless lawsuits.

Domanick is steeped in his city's rich history, its fraught racial and ethnic conflicts and the complex demographics that befuddle so many outsiders. I lived there in the '80s and '90s, during recessions, earthquakes, the Rodney King beating and the '92 riots: Domanick gets everything right. His brief portrait of the 1995 O.J. Simpson trial, for example, is a valuable corrective. O.J.'s lawyer Johnnie Cochran was no racial show boater, though the national media treated him like some sort of West Coast Al Sharpton. Cochran was a brilliant and highly respected local attorney who made his reputation trying police-abuse cases. "He knew what black jurors knew deep in their bones," Domanick writes, "that racism, planting evidence, shading the truth and lying in court had been part of the Los Angeles Police Department's modus operandi throughout its history." The trial was always about the dysfunctional L.A.P.D., never O.J.

Validating Cochran, the decade climaxed with the infamous Rampart Division scandal. Officers were discovered to be routinely framing people, robbing and shooting them, planting evidence and stealing drugs. How long it had been going on or how many other units were involved, nobody ever knew. There was no in-depth probe. The department proved beyond a shadow of a doubt that it was incapable of policing itself.

Enter Bratton.
More soon.

---
I DON'T WANT TO DIE TOO YOUNGGGGG!
And in other news, the FBI will participate in the investigation into the death of an unarmed black Texas college football player, Christian Taylor, who was fatally shot by a rookie Arlington, Texas, police officer during a burglary call at an Arlington car dealership. The officer had yet to complete his field training.
A video shows Taylor behaving erratically at the dealership before the shooting.
Meanwhile the well-liked college student's twitter feed, which showed a repeated concern about social justice in general and police violence specifically, went viral, particularly his now famous tweet that reads: I don't wanna die too younggggg