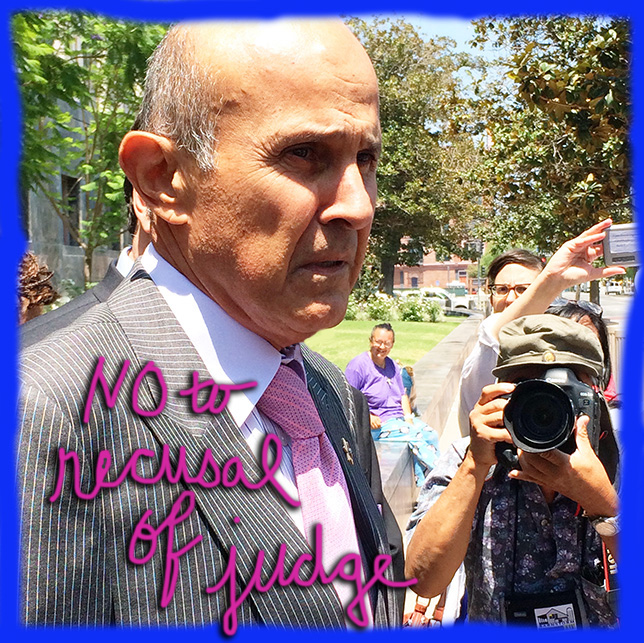 FEDERAL JUDGE SHOOTS DOWN LEE BACA'S EFFORTS TO HAVE TRIAL JUDGE REMOVED
On Thursday, U.S. District Court Judge Otis D. Wright, II, denied the motion filed by attorneys for former Los Angeles County Sheriff Lee Baca to recuse federal Judge Percy Anderson from presiding over Baca's trial, which is due to begin on December 6.
Late last month, Baca's legal team led by attorney Nathan Hochman, filed three dramatic pre-trial motions, one of which was to try to force the recusal of Judge Anderson, whom the defense argued could not be an objective jurist.
Hochman's argument for recusing Anderson centered around statements that Anderson made when he rejected Baca's plea deal. The defense argued that those statements indicated that "the Court predetermined that Mr. Baca is guilty of conspiracy and obstruction of justice," even though, at the time, Hochman pointed out, the former sheriff had yet to be indicted on those charges.
Mr. Baca, if you'll remember, pleaded guilty in February to one count of lying to federal officials. In return for his plea, he was to receive a sentence of between 0 and 6 months in prison.
Judge Anderson rejected the plea because of the low sentencing range, saying it trivialized the harm that Baca had done to the department and to the community at large.
"It's one thing to lie to an AUSA," Anderson told Baca. "It's another thing entirely, as the evidence has shown, where the chief law enforcement officer of the County of Los Angeles is involved in a wide-ranging conspiracy to cover up abuse and corruption occurring in the Men's Central Jail."
Anderson was, of course, also the judge who presided over the trial of the six former department members who were previously convicted of obstruction of justice for allegedly getting in the way of the FBI's investigation into abuse and corruption in the jails, plus the two different trials of former LASD deputy James Sexton, who was convicted of the same charges. Perhaps, most significantly, Anderson presided over the trial of Paul Tanaka, where the part that Lee Baca did or did not play in allegedly trying to derail a federal investigation repeatedly came up in testimony.
Baca and company argued that given the various statements Anderson made during the sentencing hearings, the judge should not remain. "Even if the Court were to offer that it could put these predeterminations aside," wrote attorney Hochman, "the standard for recusal is whether the Court's appearance of impartiality may be reasonably questioned, not whether the Court is actually biased against Mr. Baca."
But in an 11-page ruling, Judge Wright disagreed.
"In order to prevail on a disqualification motion based on bias," Wright wrote, "the defendant must provide facts which 'must give fair support to the charge of a bent of mind that may prevent or impede impartiality of judgment.' Judge Anderson's remarks do not even approach the category of expressions of dissatisfaction or annoyance or anger directed at either the defendant or defense counsel which the Court has found permissible, much less an indication of a 'bent of mind that may prevent or impede impartiality of judgment.'"
In the final analysis, Wright continued, "Baca has failed to offer facts which would lend supportfor the claim that disqualification of Judge Anderson is warranted in this matter."
(Interestingly, Wright, who was appointed to the federal bench in 2007 by George W. Bush, served as a member of the Los Angeles County Sheriff's Department from 1969 to 1980, by which time he'd graduated from law school and was ready for his legal career.)
Wright's denial of the motion to get rid of Anderson may or may not bode well for the other two significant motions that Baca's team filed last month.
Specifically, defense attorney Hochman also filed a motion asking for Baca's trial to be moved to another part of the state of California, claiming that, due to the "constant, inflammatory, and far-reaching media coverage surrounding this matter,a trial within the Central District of California, particularly within Los Angeles County, will violate Mr. Baca's due process rights."
And in another interesting move, Baca and company asked for lead government prosecutor Brandon Fox to be removed from the prosecution's team, claiming that the defense needs to call Fox as a crucial witness.
On Monday, October 31, the not-recused Judge Percy Anderson will hear the motions to move the trial out of LA County, and to recuse prosecutor Fox.
So stay tuned.
---
AND IN RELATED COURTROOMS: PAUL TANAKA'S APPEAL TO THE 9TH CIRCUIT PAUSES THE GO-TO-PRISON CLOCK
Back in late September, U.S. District Court Judge Percy Anderson ruled that the fact that Paul Tanaka, the former second in command of the Los Angeles Sheriff's Department, was appealing his conviction didn't mean he could stay stay out of prison while he waited around to see what the Ninth Circuit Court of Appeals would do.
Instead, Tanaka was ordered to report on October 7, either to the low-security federal prison camp in Englewood, Colorado, or to the U.S. Marshals office in downtown Los Angeles, to begin his five year sentence—appeal or no appeal.
But, Anderson's ruling is only part of the dance between the courts and Mr. Tanaka's attorneys, Dean Steward and Jerome Haig, who—following Anderson's ruling—quickly filed their appeal with the Ninth, which automatically stopped the clock anyway when it came to their client's report-for-prison day.
This means Tanaka can stay out of prison until the Ninth Circuit decides whether or not it will hear the former undersheriff's appeal. The appeals court could say no, but that is unlikely.
Then, presuming the Ninth Circuit agrees to hear Tanaka's appeal, the clock is further stopped until the hearing, and then until the ruling. If Tanaka loses his appeal before a three-judge panel at the Ninth, then he and his attorneys can still ask to appeal en banc, which means to the court as a whole, which again stops the clock….and so on.
The former undersheriff of the nation's largest sheriff's department was convicted of obstruction of justice and conspiracy to obstruct justice pertaining to allegations that Tanaka personally directed and oversaw deliberate efforts to upend the FBI's investigation into a culture of brutality and corruption inside the LA County jails, which began in 2010.
Seven of the other former department members who were also convicted of obstruction of justice charges filed appeals with the Ninth Circuit and, after hearings early this summer, lost their appeal. Six of the seven have requested to be heard en banc. The seventh, former deputy James Sexton elected not to continue to try to avoid prison. Instead, he left the en banc appeal behind, and arranged to turn himself in on August 31, to begin his 18-month sentence. He will try a U.S. Supreme Court appeal when he gets out.
Former LASD Captain Tom Carey, was originally charged with the same obstruction charges but, in a deal made with the government, pleaded guilty to lying on the witness stand during the 2014 trial of James Sexton, and is due to be sentenced in January.
---
MEANWHILE, THE CASE OF FORMER LOS ANGELES SHERIFF'S DEPUTY BAN NGUYEN CONTINUES TO MOVE TOWARD TRIAL – UPDATED
The retaliation case involving former Los Angeles County Sheriff's deputy Ban Nguyen, who is suing the sheriff's department along with former undersheriff Paul Tanaka and others, is due to begin trial on October 19.
UPDATE: We just learned today, that the trial has now been moved to January.
In early 2015, Nguyen filed a civil lawsuit alleging that he was retaliated against when he refused to falsify paperwork for certain unsuitable job candidates favored by department higher ups, particularly those candidates supported by former undersheriff Paul Tanaka.
The retaliation got worse, Nguyen alleges, when he was asked to raise money for Tanaka's 2013 campaign to become LA County Sheriff, and he refused, explaining that he didn't favor Mr. Tanaka for that post.
After being what he describes as forced into retirement, Nguyen decided to sue the former undersheriff, and the Los Angeles County Sheriff's Department, for alleged violations of his civil rights along with violations of the state labor code and more. Nguyen also names in his lawsuit two LASD captains, and two department sergeants. (Kevin Hebert and Judy Gerhardt, are the captains named, although both have since been promoted to commander.)
Many of issues outlined in Nguyen's civil complaint suggest that this trial will be an intriguing one.
More as we know it.