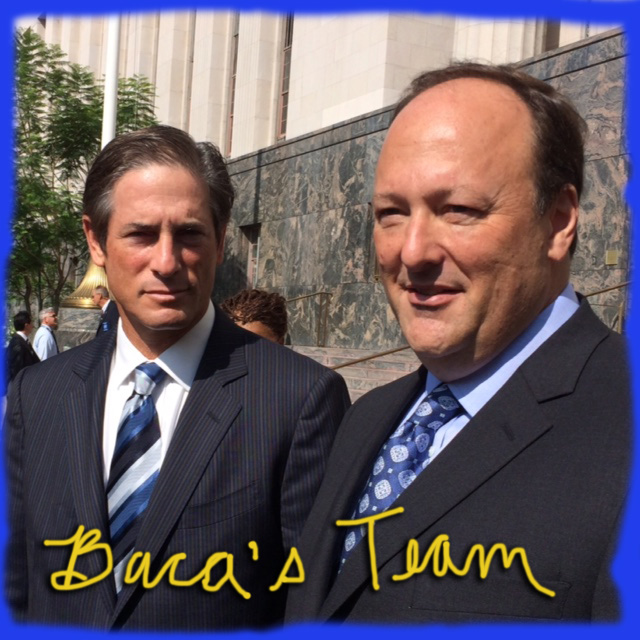 UPDATE: When Lee Baca, his defense lawyers, and the prosecution team returned from recess at 1:30 p.m., Baca's attorneys announced to Judge Percy Anderson that they would be withdrawing from the plea deal, and felt there was no choice but to go to trial. The trial for the former sheriff is now set to begin on September 20.
Details to follow.
---

SEARCHING FOR AGREEMENT
When former Los Angeles County Sheriff Lee Baca returned to the court of U.S. District Court Judge Percy Anderson at 8:30 a.m. on Monday, August 1, his attorneys made one last effort to save the plea deal that Anderson dynamited two weeks before at a previous hearing. If Baca walks away from the deal, then he will assuredly be indicted by the government and proceed to trial.
The defense team's Hail Mary was the notion of what is called a "settlement judge," a kind of outside mediator within the federal system who can help parties save plea deals that have become stuck.
But after a cluster of sidebars with the judge and the prosecution, plus a half-hour recess, there was no resolution, and the settlement judge idea in particular was deemed a non starter. (It turned out that the prosecution has its own rules on the matter that preclude it from joining in such a strategy.)
"All sides are trying" added Zweiback. "But right now there's a good likelihood that we're going to trial."
The other wild card in the mix, said the attorney, is the fact that "Mr. Baca's disease has progressed." (But we'll get to all that in a minute.)
Finally, around 10 a.m., Judge Anderson agreed to one more recess asking all the players to return to court after lunch at 1:30 p.m.
---
JUDICIAL CONCERNS
Anderson too appeared to want a resolution, but he also reportedly reiterated in the sidebars the concerns that caused him to reject Baca's plea deal in the first place two weeks ago. Unlike more conventional plea deals, this particular federal deal has built constraints that allow only for a sentence within the range of 0 to 6 months in federal prison. Thus the deal precluded the judge from handing down a prison term of more than six months.
Those following the Baca sentencing saga may remember that, at the previous sentencing hearing on Monday, July 18, Anderson's tone was flinty as he informed the former sheriff, along with attorneys for the prosecution and the defense, that a six-month sentence "would trivialize the seriousness of [Baca's] offenses, his lack of respect for the law and the gross abuse of the public trust…."
But Anderson did not say what sentence would be acceptable to him, leaving the defense and prosecution with a guessing game as they tried negotiate with each other to craft a new and mutually acceptable deal that, most crucially, Judge Anderson would also accept.
Were it not for the constraints of the plea deal, under federal sentencing guidelines Anderson could sentence the former sheriff to as much as 5 years in a federal prison. Thus if the defense knew for sure that Anderson was leaning toward, say somewhere between one year and 18 months, rather than between three and five years, perhaps he and his attorneys would keep the deal in place and go ahead with sentencing, rather than taking a chance on a trial. Yet, if Anderson believed only the upper ranges were appropriate, then the trial option becomes more attractive.
On Monday, August 1, however, the judge explained that he felt he couldn't legally tip his hand and let the defense know what kind of sentence he felt was fair, because it would be deemed an interference in the plea-making process according to Rule 11, of the Federal Rules of Criminal Procedure.
---
GO TO TRIAL, GET MORE CHARGES
To remind you how everyone arrived at this quandary, here—again—is the backstory: In February of this year, the former sheriff pleaded guilty to one count of lying to federal officials having to do with an FBI investigation into corruption and brutality by deputies inside the sheriff's department-run LA County jail system—an investigation that, according to the government, Baca, his former undersheriff, Paul Tanaka, and others attempted to thwart.
Specifically, Baca admitted that he lied to the FBI and members of the U.S. Attorney's Office during a round of questioning on April 12, 2013. At that time, among other denials by Baca, the former sheriff falsely claimed ignorance of the fact that, in 2011, two LASD sergeants were going to approach FBI special agent, Leah Marx, and threaten her with arrest, hoping to get information about the feds' rapidly expanding investigation.
If all efforts fail to find a resolution to the plea deal standoff, then a trial becomes the only option. And that will mean additional charges, according to Zweiback, who said that the prosecutors had indicated that they would definitely add a charge of obstruction of justice and likely conspiracy to obstruct justice, the same two charges of which former LA County undersheriff Paul Tanaka was convicted. Anderson also presided over that trial, and sentenced Tanaka to five years in a federal prison. (Tanaka's conviction has been appealed to the Ninth Circuit, thus he remains out of prison at this time)
Zweiback, a former assistant U.S. attorney has been with his client through the lengthy plea process.
On Monday, however, in advance of a possible trial, he was joined by a new team member, attorney Nathan Hochman, who was the Assistant Attorney General for the US Department of Justice's Tax Division, and also served as an Assistant U.S. Attorney for the Criminal Division of the Central District of California.
---
BACA'S WORSENING HEALTH
As mentioned above, Monday's negotiations have been further complicated by the fact that, according to his attorneys, Baca's health has worsened. Specifically, Zweiback said, the former sheriff's Alzheimer's has progressed. "He had early stage Alzheimer's," the attorney told reporters. Now it has progressed to "normalized dementia"
When asked if Baca understood all that was going on in Monday's hearing, Zweiback was firm. "He very much understands the significance of what is going on and has been intimately involved in every phase of this process.
"What my client wants is a degree of certainty." said Zweiback. "He wants this very much to be over. He wants it to be over for his family. And he wants it to be over for the members of the Los Angeles County Sheriff's Department, especially—and for himself, to be able to move on.'
But to agree to a situation "where he has no idea what he's walking into, said Zweiback, "he has no alternative but to fight for his life and go to trial.
Thus far, however, the certainty all parties appear to seek has been elusive.