On Tuesday morning, July 5, attorneys for former Los Angeles County Sheriff's deputy James Sexton, and six more department members who were convicted of obstruction of justice in a trial separate from Sexton's, tried to convince the 9th Circuit Court of Appeals that their convictions should be overturned, and that U.S. District Court Judge Percy Anderson should be replaced in any future proceedings, should Sexton or the six be retried.
Most of the former members of the Los Angeles Sheriff's Department who have been convicted by federal prosecutors, are similarly appealing their cases (unless, like former sheriff Lee Baca, they have taken a deal, in which case appeals are precluded).
Former undersheriff Paul Tanaka and his attorneys, unsurprisingly, filed an appeal before the sun went down on the day of his conviction.
But the appeals of Sexton and the six others—namely former LASD members Gregory Thompson, Stephen Leavins, Gerard Smith, Mickey Manzo, Scott Craig, and Maricela Long—were the first to actually appear in front of the 9th Circuit. Thus the arguments put forth by the defense and countered by the prosecution, were both interesting, and closely watched.
The defendants' attorneys traditionally are given very little time to make their legal pitches in front of the three-judge panel, which heard Tuesday morning's cases for Sexton and the six others, so presentations have to be brief, persuasive and to the point.
In the cases of all seven, attorneys argued, among other things, that the defendants didn't really obstruct justice, but were following lawful orders.
Among the issues that seemed to catch the attention of the 9th Circuit panelists are the following:
---
JUROR NUMBER FIVE
In the trial of Greg Thompson, et al, one issue flagged by the defense had to do with the dismissal of a certain juror, by U.S. District Court Judge Percy Anderson, who presided over all trials pertaining to the alleged obstruction of the FBI's investigation into corruption and brutality inside the LASD-run LA County jails, which included the hiding of a federal informant from his FBI handlers in an operation that came to be known, unofficially, as Operation Pandora's Box.
Here's the deal:
On the fifth day of jury deliberations, Juror Five sent a note to Judge Anderson asking to be dismissed from the panel.
Jurors, of course, can be legally and appropriately dismissed for a host of reasons. That is why any court is wise to have a good supply of alternates on hand.
In the trial of the six, one juror had already been dismissed earlier in the deliberation process because she suddenly had an emergency that affected her childcare situation. No one raised any particular objection to her exit. Emergencies are emergencies.
(We were to learn later that this mom juror was reportedly leaning strongly toward acquittal, so her dismissal was bad luck for the defense. But those are the breaks, not grounds for appeal)
A few hours later, however, a second member of the jury panel, Juror Number Five, sent the note to Judge Anderson. It read as follows:
Due to duress, I would appreciate your consideration in accepting my resignation from this case. Always loyal to our justice system and the privilege to serve my decision has been clouded with fear of retaliation.
Juror Five was an anxious-appearing woman who always seemed to keep her distance from the rest of the pack, when it was time for the jury to leave the building.
According to the defense's initial brief, the judge asked the juror if she feared "retaliation" from an "outside source." But reportedly, that wasn't the issue. She said, the defense writes, that her feelings would not affect her ability to deliberate personally. But she did not believe that there was a fair exchange of ideas among he panel, and she was also doubtful that a fair and impartial verdict could be reached. (Or words generally to that effect. )
In their second brief, the defense went further:
Two things, taken together, make Juror Five's dismissal unlike what occurred in any of the cases cited by the government, or any case of which Defendants are aware. First, juror dismissal usually results from a claim of misconduct made by another juror or jurors. Here, no one complained about Juror Five, she raised her concerns with the court. Second, after discussing her concerns with the court, Juror Five stated, repeatedly, that she could continue with deliberations, and there was no good reason to doubt her – after all, it was she who raised her concerns with the court. On the other hand, there was ample reason to believe that her initial request to be excused stemmed from a dispute amongst jurors about the merits of the case. (Ital. from WLA.)
In other words, the defense suggested that the judge improperly and unnecessarily dismissed Juror Five, who was distressed—not because she was fearful for her safety, or because she personally could not continue deliberate fairly and impartially—but because she was in disagreement with the majority, which upset her.
To put it another way: Juror Five, had she not been dismissed, arguably could have produced a hung jury, and thus a mistrial. (The defense attorneys did not say this directly, but the possibility was implied.)
The defense attorneys say more in their briefs (the second of which you can find here), and several of the court watching attorneys who were present when the dismissal occurred mentioned that they thought letting Number Five go could cause Judge Anderson problems on appeal.
The panel seemed very interested in this issue, and two of the judges asked a string of questions. What those questions portend is impossible to say.
---
TO EDIT OR NOT TO EDIT
When it was Sexton's teams' turn, his attorney, Tom O'Brien, focused primarily on two issues, both having to do with Sexton's grand jury testimony.
The first of the two issues, had to do with editing, in particular whether Judge Anderson allowed the prosecution to introduce an improper and misleading edit of Sexton's grand jury testimony that essentially changed its meaning by excluding certain contextual sections that, according to the defense, would have given the jury a different and, by definition, more accurate view of what Sexton did and didn't know.
(James Sexton, we should remind you, was tried twice. The first trial resulted in a mistrial caused by a hung jury, which was evenly split, six to six.)
In the first trial, according to Sexton's defense team, the prosecution read a mostly intact portion of Sexton's grand jury testimony to the jury, which—in both trials—they characterized as a confession.
In the second trial, a portion of grand jury testimony was also presented. But in trial number two, the defense contends, the original text was selectively edited.
"Selectively editing the transcript—-including significant context–—allowed the jury to be misled," the defense wrote in their briefs, and reiterated to the three 9th Circuit judges Tuesday morning.
This is from one of their briefs, which were delivered to the panel weeks ago:
"Similarly, the Government eliminated numerous other statements clarifying Sexton's intent and knowledge behind his alleged confessions. As described in the Opening Brief, the Government withheld from the jury numerous statements regarding Sexton's actual lack of foundation for his alleged confessions, such as: 'there were rumors,' 'we as young deputies were speculating,' 'I was not privileged to the entire information," "I had conversations about this with . . . my peers and just trying to establish what we were doing,' 'innuendo,' 'we're baby faced in there," "I'm not going to detain a U.S. Attorney at gun point'….and so on.
To make their point clearer still, the defense included the following: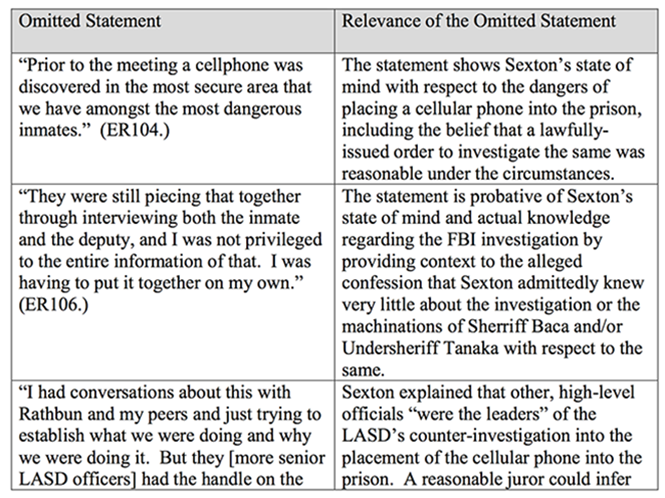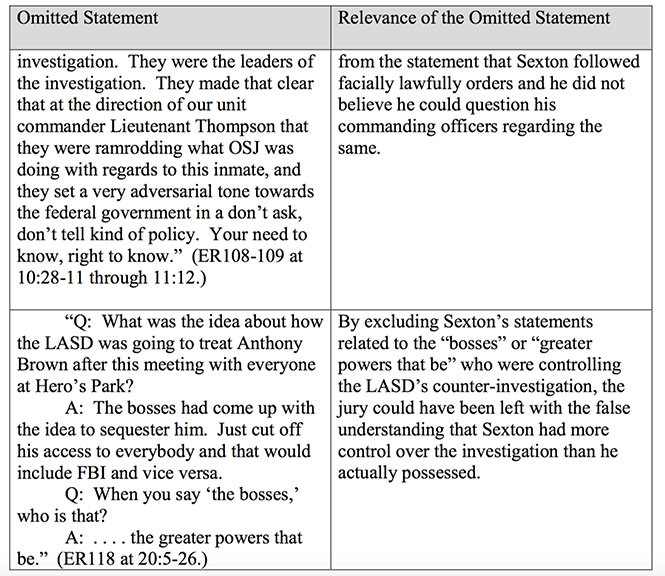 One of the justices asked a number of questions about why the editing made such a big difference, while the other two judges made notes, their expressions impassive.
---
THE LEGALITY OF BEING A TARGET
The second issue in Sexton's attorneys emphasized, both in their briefs, and in oral arguments, was the idea that the prosecution grievously erred when it reportedly failed to appropriately notify Sexton that he was a target before he testified twice under oath in front of the grand jury, particularly the first time.
(Interestingly, Sexton testified that first time without an attorney, because his lawyer from the deputies' union, ALADS, failed to show up. But that's another issue altogether, and not relevant to the appeal.)
In any case, believing himself to be a cooperating witness, not a potential defendant, Sexton didn't demand to have an attorney present. Nor did he invoke his 5th Amendment rights, or claim a faulty memory when answering questions that could have put him in legal jeopardy.
Here's a clip from Sexton's attorneys' argument:
A target must be notified of his status and rights prior to being subpoenaed for Grand Jury testimony. That did not occur here. The Government specifically advised Sexton, and his counsel, that he was not a target of the investigation (a claim that was false). (Sexton's prior counsel stated under penalty of perjury that "it was obvious to me that I had been misled and James Sexton had always been a target defendant").

By its own admissions—particularly given its reliance on the evidence at trial—the Government believed it had sufficient facts linking Sexton to a crime. It, therefore, had a duty to notify Sexton (or counsel) of his target status prior to obtaining a sworn "confession."
Using that first Grand Jury testimony as a "confession," wrote the defense, without letting Sexton know he was a target, is the equivalent of introducing a confession obtained by questioning a suspect without a Miranda warning.
The attorneys for Sexton and for the six will likely argue other points. But, as mentioned above, these are the legal questions we'll be watching with the most ardent interest.
The prosecution replied to all of these and other points in their various briefs, and in Tuesday's arguments.
Tuesday morning we will see how the 9th Circuit's panel reacts.
By the way, the three judges who listened to Tuesday's arguments and who will decided the fates of the seven defendants are:
1. Judge Ferdinand Francis Fernandez, a 1989 G. H. W. Bush appointee, stationed in Pasadena
2. Judge Richard Clifton, a 2002 G. W. Bush appointee, stationed in Honolulu
3. Judge Michelle Friedland, a 2014 Obama appointee, stationed in San Francisco
More in a while.
So, stay tuned.