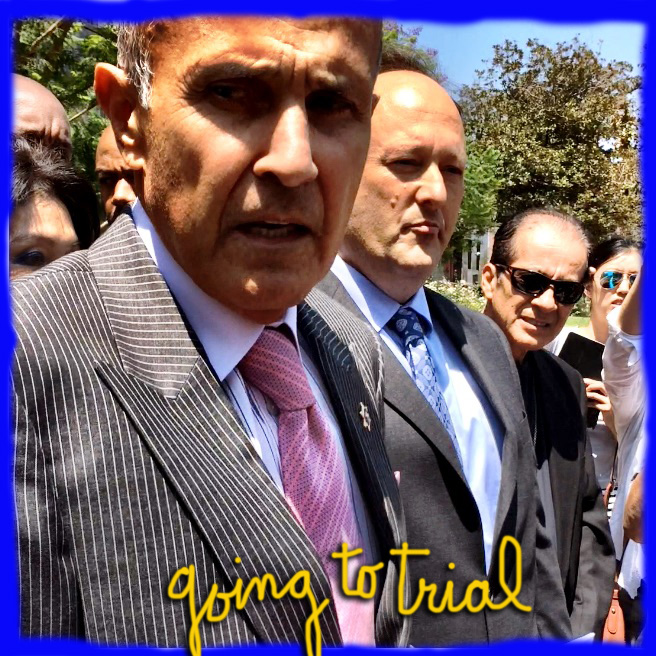 THE DEAL CRUMBLES
Former Los Angeles County Sheriff Lee Baca returned to the court of U.S. District Court Judge Percy Anderson at 8:30 a.m. on Monday, August 1, where his attorneys made one last ditch effort to save the plea deal that Baca agreed to in February, and that Judge Anderson dynamited two weeks before at the former sheriff's first sentencing hearing, instead of sentencing Baca to six months in federal prison, and thus concluding his case.
Now at just after 1:30 p.m. after five hours of sidebars, out-of-court negotiations, and several lengthy recesses, Attorney Michael Zweiback, stood up, walked to the attorneys' podium to address the court, Baca beside him, and announced the decision that had likely been in the cards since everyone assembled in the courtroom five hours earlier.
"Your honor," Zweiback said "….unfortunately we have failed to reach any kind of resolution that could be acceptable to the court," despite the fact that both parties "tried diligently."
Therefore, "we request that our plea be withdrawn, and we be allowed to proceed to trial."
Anderson asked Baca if he was in agreement. "Yes, your honor," Baca replied. He appeared ready for this outcome.
The judge, who has a reputation for liking to move is calendar along at a brisk clip, announced that he was going to set a date for trial.
Voire dire—jury selection—would begin September 20, 2016, at 8:30 a.m., Anderson said, with the last pre-trial hearing scheduled for September 12, at 3 p.m. (Obviously Anderson planned ahead for this eventuality.)
Zweiback said he almost certainly intended to petition for more time, since the prosecution had given them "a terabyte worth of data…"
Assistant U.S. Attorney Brandon Fox countered saying that, the giant pile of data notwithstanding, this would be a fairly "straightforward" case, with multiple previous trials that have already laid out the issues.
---
THE CIRCUITOUS ROUTE TO TRIAL
Monday's sentencing hearing came about because, two weeks ago, at the first sentencing hearing, on Monday July 18, Percy Anderson surprised court watchers by firmly rejecting Baca's plea deal, which specified that when Anderson selected a sentence for Baca, he remain within the constraints of a 0 to 6 month term in federal prison.
Instead, Anderson informed the former sheriff, along with attorneys for the prosecution and the defense, that a six-month maximum sentence "would trivialize the seriousness of [Baca's] offenses, his lack of respect for the law and the gross abuse of the public trust…."
Anderson's rejection of the plea deal meant Baca had the choice of accepting whatever sentence Anderson decided to impose, which could go as high as five years, or working with the prosecution to come up with a new deal that both parties could live with, and that Anderson hopefully might accept.
Option three was that Baca and company could withdraw altogether from the plea deal, meaning that the former sheriff would take his chances in a full-scale, high profile trial. Of course, if Baca decided to go to trial, it was virtually guaranteed that the government would add some new charges on top of the single count of lying to federal officials, which had consituted the plea.
The new charges would almost certainly be obstruction of justice, and conspiracy to obstruct justice.
Eight department members had already been convicted of those two charges, all with Anderson presiding at their trials, including the former under sheriff, Paul Tanaka, whom Anderson sentenced to five years in a federal prison.
(For more on the back story on the plea deal, and Anderson's rejection of it, go here and here.)
---
"HISTORIC MOMENT"
After court adjourned on Monday afternoon, Lee Baca and his legal team, met with reporters on the steps of the federal courthouse, where the former sheriff addressed everyone briefly, and then read from a prepared statement.
"I want to first of all thank the thousands of people who I've come across since I retired," Baca told those assembled, "people who have come to me on their own initiative to say how much I have done, and how much the sheriff's department has done to make their communities safer,"
"Go to trial and die in jail!" hissed a heckler who suddenly turned up in the photo-journo mob, but who was quickly yanked out of the way,
"This is a very historic moment in my life, obviously," Baca continued. Then he announced that he would read his statement, after which he would take no questions.
Baca's prepared statement was as follows:
For the peace of my family, to avoid a lengthy and expensive trial, and to minimize the court drama associated with this case, several months ago I entered a guilty plea to the one charged filed against me.

"Be very clear—one charge!" Baca said with emphasis, breaking for a moment from the prepared script.

"I am withdrawing my guilty plea today and will seek a trial. I have made this decision due to the untruthful comments about my actions made by the Court, and the U.S. Attorney's Office, that are contradicted by the evidence in this case.

"While my future and my ability to defend myself depend on my Alzheimer's disease I need to set the record straight about me and the Los Angeles County Sheriff's Department on the misleading aspects of the Federal investigation..while I am capable of doing this.

"I want to thank my friends and family for encouraging me to stand up for what is right. My spirits are high and my love for all people is God's gift to me…"
And with that, federal marshall's escorted him to a friends vehicle that was waiting at the curb, and Baca was gone.
---
DIMINISHED CAPACITY?
Once Baca had been ushered away, his attorneys, Michael Zweiback, and a new addition to the team, Nathan Hochman, said that due to Baca's "catastrophic illeness," and the uncertainty of Judge Anderson's sentencing intentions, they had to choice but to go to trial.
Zweiback also said their team didn't believe the government could prove their case and, when asked if the trial wasn't a big risk for the defense, Zweiback said that the prosecution has "the biggest risk" with its case. "They now have the burden of proof."
Hochman when further. "I think the prosecution would like this to be an open and shut case," he said. "But I think the prosecution is going to be a bit surprised."
Zweiback and Hochman said that Baca's illness will definitely come into the trial. For one thing they said, they have evidence that "the arc of the disease started" while Baca was still the sheriff.
When asked whether Baca's health had impeded his ability to function as sheriff during the time in which the alleged obstruction occurred, Zweiback said, "Well, he was certainly delegating more responsibility in those days…."
And so the drama continues.