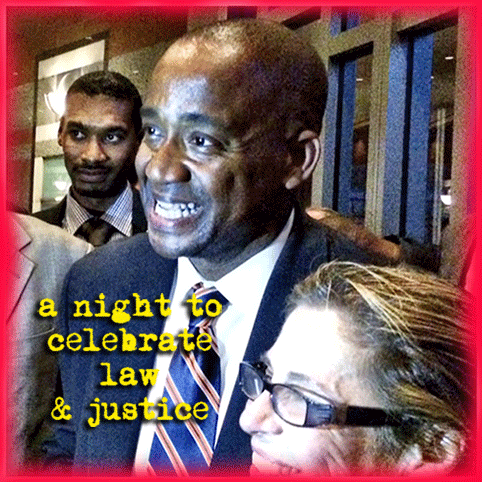 ANDRÉ BIROTTE SWORN IN AS FEDERAL JUDGE
By 4 p.m. on Friday night, courtroom 650 at the Edward R. Roybal Federal Building —plus two overflow rooms—were absolutely jammed with judges, lawyers, higher echelon law enforcement types, local lawmakers and others, including U.S. Attorney General Eric Holder, all of whom had come to witness the formal investiture of André Birotte Jr as a United States District Judge.
Birotte, if you remember, was nominated to the federal bench by President Barack Obama on April 3, 2014, and confirmed unanimously by the Senate on July 22, 2014 (an impressive feat in itself, considering the current fractious state of that august body).
The son of Haitian immigrants, Birotte graduated from Tufts University in 1987 with a B.A. in psychology, then came to Southern California to attend Pepperdine University School of Law. He began his legal career in Los Angeles as a deputy public defender. In 1995, he moved to the prosecutorial side of things as an assistant U.S. Attorney.
In May 2003, the Los Angeles Police Commission unanimously selected Birotte to serve as the LAPD's Inspector General at a time when the department was reeling disastrously from the aftermath of the Rampart scandal and struggling to redefine and reform itself. Birotte is generally acknowledged as a significant part of that reform.
In 2009, while he was still serving as LAPD IG, Birotte was nominated for the job of U.S. Attorney by President Barack Obama, after Senator Diane Feinstein strongly recommended him. Five years later, Feinstein again recommended him for the judgeship.
"In 15 years of [vetting] people for the senator," said Trevor Daley, Feinstein's state director who was tasked to check up on Birotte. "I've never gotten the kind of positive feedback on anyone as I did on André."
Other speakers at the investiture were similarly effusive.
Birotte was a "champion on the individual as well as serving the underserved," said former police commission chairman Rick Caruso. "Yet he never sought the spotlight.
Eric Holder praised Birotte for cracking down on public corruption and drug trafficking while also understanding that "we will never be able to prosecute and incarcerate our way to becoming a safer nation." Holder also pointed to CASA, the sentencing diversion program that Birotte championed, "which serves as a model for smart on crime initiatives throughout the nation."
Now Birotte would be "strengthening and making more fair the justice system to which he has given so much of his life," said Holder.
When it came time for the newly-minted judge himself to speak, Birotte quoted a poetry fragment by poet Antonio Machado, that he said had influenced him.
…Wanderer, there is no road,
the road is made by walking.
Indeed, Birotte doesn't appear to have set his sites on the positions he has attained as part of some grandly ambitious lifeplan. Instead, according to his own account, and the accounts of those who lauded him on Friday, he has arrived at the present moment by "walking," as the poet suggests—a.k.a. by doing the work that appeared before him, while guided by a strong sense of justice and compassion.
In fact, if it had not been for his wife's encouragement, Birotte told investiture crowd, "I'm not sure that I would have put myself out for these positions."
Birotte thanked a long list of people (including his faithful group of morning workout partners at his gym). He confided to the crowd that among the most important talismans he brought with him into his new courtroom were "my father's medical bag and one of the many purses that my mom would keep by her side."
At the mention of his mom, who died just a few years ago, Birotte choked up visably. He struggled similarly when he told his wife how much she and their kids meant to him, and also when he thanked Judge Terry Hatter, who had been a longtime hero, and who swore him in. Each time, the "baby judge," as he called himself, was refreshingly unapologetic for his unruly emotions.
Although the investiture began just after 4 p.m., more than three hours later guests still lingered at the post-ceremony reception in the Roybal building's lobby, as if wishing to bask a bit longer in the evening's prevailing sentiment—namely that this particular judgeship, thankfully, had landed in very good hands.
---
AS ELECTIONS HEAT UP BROWN OPPONENTS SAY REALIGNMENT MADE CALIF. COMMUNITIES LESS SAFE, BUT ACTUAL NUMBERS SAY OTHERWISE
As we noted yesterday, although realignment was not originally a big issue in this year's gubernatorial campaign, now Jerry Brown's opponents are bringing up the topic with increasing frequency. Yet, while critics' contend that realignment has harmed public safety, the state's still falling crime figures don't agree. Still, when it comes to pointing to lasting victories for the governor's signature policy, even Brown and other advocates admit that realignment is a complicated work in progress.
Don Thompson of the Associated Press has more on the story (via the Sacramento Bee). Here are some clips:
As Gov. Jerry Brown seeks re-election next month, Republicans say decisions he made to reduce prison overcrowding are endangering the public by putting more criminals on the streets.

About 13,000 inmates a month are being released early from crowded county jails while they await trial or before they complete their full sentences. More than 5,000 state prisoners had earlier releases this year because of federal court orders, legislation signed by the governor and a recently approved state ballot initiative.

Yet those statistics don't tell the full story.

Crime rates statewide actually dropped last year and did so across all categories of violent and property offenses, from murder and rape to auto theft and larceny, according to the most recent figures from the state Department of Justice.

[BIG SNIP]

Even as crime rates have dropped, realignment is presenting challenges for counties throughout the state. The total county jail population in California has increased by nearly 11,000 inmates since realignment took effect in October 2011.

Probation departments now handle offenders whose most recent convictions are for lower-level crimes but who may have serious or violent criminal histories.

County officials also say they are ill-equipped to deal with other offenders who used to go state prisons, including those with mental illness and those serving multi-year sentences.

"The population most likely to be the most problematic is the population being funneled to the counties," said Margarita Perez, who was acting chief of the state's parole division before realignment took effect in October 2011 and now is assistant probation chief in Los Angeles County.

Despite the tougher population, probation officers said they are becoming better at handling those inmates.

"There's more of a culture of tolerance, more of a culture of using any resources at your disposal to try to get this individual to turn around instead of a philosophy of lock them up," Perez said.

Dean Pfoutz is one of those trying to benefit from the new emphasis on rehabilitation.

His roughly two decade-long criminal history includes a three-year prison sentence for assault and another eight years for an assault causing serious injury to a girlfriend. He most recently served 16 months for receiving stolen property.

Despite his violent past, he is being supervised by Sacramento County probation officers instead of state parole agents because his most recent crime, possession of stolen property, is considered a lower-level offense.

Pfoutz said he is benefiting from the county's approach.

"It's more hands-on here than parole. With parole, it's like, 'Just don't get arrested,'" he said before attending a self-help class at the probation center he visits five days a week. "They're pulling for us to do all right."
---
SPECIAL ED LEADS TO THE JUVENILE JUSTICE SYSTEM FOR TOO MANY AMERICAN STUDENTS
Although much of the concern about the disproportionate use of over-harsh school discipline has been focused on students of color, experts are increasingly aware that kids with mental disabilities are also disproportionately pushed into the so-called school-to-prison pipeline.
Jackie Mader and Sarah Butrymowicz of the Juvenile Justice Education Exchange have the story. Here's a clip:
Cody Beck was 12-years -old when he was handcuffed in front of several classmates and put in the back of a police car outside of Grenada Middle School. Cody had lost his temper in an argument with another student, and hit several teachers when they tried to intervene. He was taken to the local youth court, and then sent to a mental health facility two hours away from his home. Twelve days later, the sixth-grader was released from the facility and charged with three counts of assault.

Officials at his school determined the incident was a result of Cody's disability. As a child, Cody was diagnosed with bipolar disorder. He had been given an Individual Education Program, or IEP, a legal document that details the resources, accommodations, and classes that a special education student should receive to help manage his or her disability. But despite there being a medical reason for his behavior, Cody was not allowed to return to school. He was called to youth court three times in the four months after the incident happened, and was out of school for nearly half that time as he waited to start at a special private school.

Cody is one of thousands of children caught up in the juvenile justice system each year. At least one in three of those arrested has a disability, ranging from emotional disability like bipolar disorder to learning disabilities like dyslexia, and some researchers estimate the figure may be as high as 70 percent. Across the country, students with emotional disabilities are three times more likely to be arrested before leaving high school than the general population.

…..The vast majority of adults in American prisons have a disability, according to a 1997 Bureau of Justice Statistics survey. Data hasn't been updated since, but experts attribute the high percentage of individuals with disabilities in the nation's bloated prison population – which has grown 700 percent since 1970 – in part to deep problems in the education of children with special needs.

In Mississippi and across the country, the path to prison often starts very early for kids who struggle to manage behavioral or emotional disabilities in low-performing schools that lack mental health care, highly qualified special education teachers, and appropriately trained staff. Federal law requires schools to provide an education for kids with disabilities in an environment as close to a regular classroom as possible. But often, special needs students receive an inferior education, fall behind, and end up with few options for college or career. For youth with disabilities who end up in jail, education can be minimal, and at times, non-existent, even though federal law requires that they receive an education until age 21.
---

PAY TO PLAY CAMPAIGN CONTRIBUTIONS—THAT'S CLEARLY CORRUPTION, SAYS JIM MCDONNELL IN NEW PPOA INTERVIEW
In Part 2 of the 3-part interview series that PPOA Prez Brian Moriguchi has conducted with Los Angeles County Sheriff candidate Jim McDonnell, the candidate talks about personnel issues, like promotion strategies, and other matters that have been subject to corruption at the LASD in the past—plus how he plans to "put the shine back" on the badge "that means the world" to so many officers.
---
ALSO, SEE REPORT ON WEEKEND FORUM WITH MCDONNELL BY FRANK STOLTZE
KPPC'S Frank Stoltze reports that Jim McDonnell, the frontrunner for Los Angeles County Sheriff, "…is not yet prepared to support subpoena power for a proposed citizen's oversight panel, although authority watchdogs say is important to reforming the troubled department."
Read the rest of Stoltze's report here.