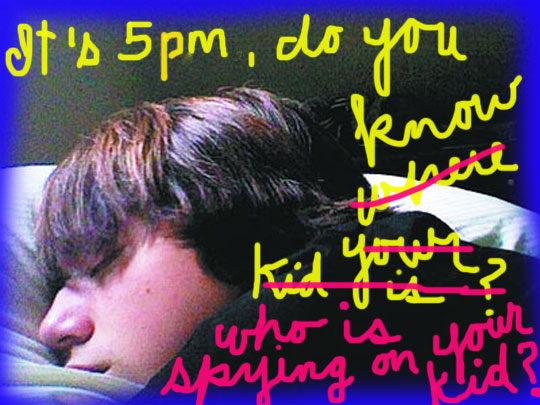 Lower Merion School District, a suburban school district near Philadelphia, gave nearly 2,300 high school students their own laptop computers.
What a good idea! How great for the students!
Well, as it turns out, yes and no. It seems that, to make sure the computers were secure, the district installed a nifty tracking system into the laptops that, when activated, took surreptitious photos of anything or anyone within reach of the computer's webcam.
Thus, when students reported their laptops lost or stolen (which several dozen of them did at one time or another) district officials activated the program—and the photo snapping began, with the snapees none the wiser.
In five cases, the snapping continued after the computers were retrieved. In another 15 cases, the program was activated for mysterious reasons when no computer was reported lost or stolen at all.
In total, the district snapped—and stored—58,000 images of students, one every 15 minutes when the machines were on.
One of those students, Blake J. Robbins, was photographed when he was sleeping, when he was partially undressed, and at who knows what other times. (What did you do when you were a teenager and alone in your bedroom? Never mind. Don't answer that. TMI.) Robbins never had his computer stolen or lost—-and he is suing.
According to the Philadelphia Inquirer, Robbins found out about the web cam surveillance when the assistant school principle scolded him for "improper behavior in his home," according to the class action lawsuit. Evidently she thought he was doing drugs on camera, when he was actually eating candy—Mike and Ikes to be exact.
(HELPFUL NOTE TO SCHOOL ADMINISTRATOR: When possibly illegally spying on someone, let's say, for example, a minor child not your own, it is generally considered unwise to spontaneously lecture the object of your surveillance about something you saw them doing when they believed they were at home entirely alone.)
The Inquirer has much, much more here and here.
According to the AP, the FBI has opened a criminal investigation into possible wiretap violations by the district, and U.S. Sen. Arlen Specter, of Pennsylvania, has introduced a bill to include webcam surveillance under the federal wiretap statute.
The photo above, one of those allegedly taken by the secret photo program, shows Robbins sleeping at home at 5 p.m. on Oct 26, 2009.
The mind simply reels at the new and appalling possibilities that this laptop spying story suggests.
PS: The comments section at Boing-Boing features an interesting conversation about the school's policy and other schools that have tinkered with something similar.