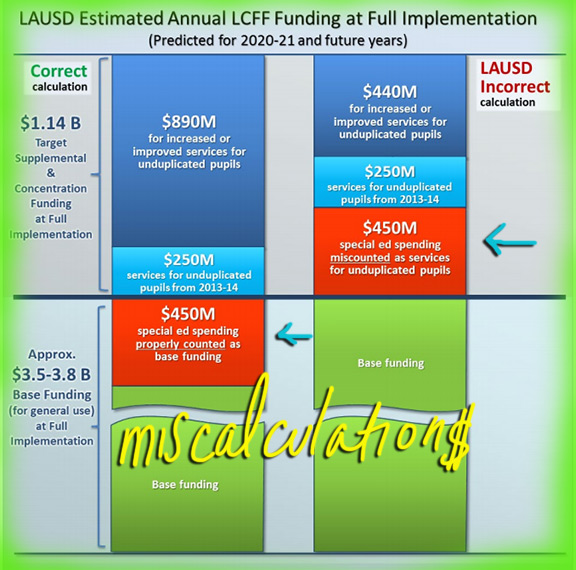 LAUSD TAKING STATE FUNDS AWAY FROM KIDS WHO NEED IT MOST, SEZ LAWSUIT
In Mid June, a UC Berkeley and United Way report found that the Los Angeles Unified School District had misappropriated state funding set aside for kids who desperately need it.
In response, the ACLU of SoCal and others have filed a lawsuit against the school district, alleging misuse of $126 million earmarked for foster students, English-learners, kids with disabilities, and kids from low-income households in the 2014-2015 school year, and if left unchecked, will deprive those kids of $2 billion in funding over the next decade.
According to the lawsuit, between the 2014-2015 and 2015-2016 school years, the school district is counting close to $450 million in separate special education funding (required by law) as funds that "increase or improve" services for those targeted high-needs students. That number will hit $2 billion by 2021, and add an additional $450 million every year thereafter.
Despite the school board planning out how best to spend a total of $145 million most of the money did not make it to those students. Instead, the LAUSD spent money re-hiring nurses, librarians, and other staff members at elementary and middle schools, according to the UC Berkeley and United Way report.
The suit was filed by the ACLU of Southern California, Public Advocates, and Covington & Burling LLP on behalf of Community Coalition of South Los Angeles and an LAUSD parent, Reyna Frias.
Here's a clip from the ACLU:
"LAUSD is breaking its promise to provide my children and millions of other students in the future, with the services they need and the law says they should receive," said Ms. Frias, whose children qualify for the funds targeted by LCFF.

The plaintiffs are represented by Public Advocates Inc., the ACLU of California and Covington & Burling LLP.

"Community Coalition has spent decades working to transform the social and economic conditions in South Los Angeles," said Alberto Retana, president and CEO of the Community Coalition of South Los Angeles, a plaintiff in the lawsuit. "We want to ensure that our students aren't short-changed by LAUSD's budget process. We see too many students in our public schools struggling because they don't receive the services they need to thrive academically."

The law directs school districts to use state funds under LCFF to "increase or improve" services for the targeted students. Each district calculates what it will spend partly on what it has spent in the past on such services. The lawsuit alleges that by counting prior spending for "special education" — which the district is already required to provide — as spending on services for low-income students, English language learners and foster youth, LAUSD has in effect reduced its specific legal obligation to those very students by over $400 million in 2014-15 and 2015-16 combined. Over time, if allowed to continue the practice, LAUSD will short-change these students by over $2 billion by 2021, and $450 million additionally every year after that.

"If every district uses its new LCFF funds to pay for things it's already legally required to do like LAUSD, the promise of California's new funding law will evaporate overnight," said John Affeldt, managing attorney with Public Advocates. "LCFF requires that LAUSD use these hundreds of millions of dollars to deliver new and better services to targeted students."
---
SCOTUS JUSTICE BREYER AND HIS 40-PAGE DEATH PENALTY DISSENT
On Monday, in a 5-4 ruling, the US Supreme Court upheld Oklahoma's three-drug cocktail execution method challenged by three OK death row inmates after three lethal injections were botched last year.
Justice Stephen Breyer didn't just disagree with the ruling. He wrote a colossal 40-page dissent focused on the constitutionality of the death penalty, even though the issue was not directly before the court.
The New Yorker's David Cole has more on the issue. Here's a clip:
Justice Breyer raised a still more profound question: Is the death penalty unconstitutional, as a form of "cruel and unusual punishment" prohibited by the Eighth Amendment? Capital punishment is expressly mentioned in the Fifth Amendment, which requires a grand-jury indictment for a capital crime, so the Court has never held the death penalty unconstitutional under all circumstances. But, in 1972, the Court did declare the death penalty—as it was then administered—unconstitutional, reasoning that the imposition of death, at the time left to the unfettered discretion of prosecutors and juries, rendered the sanction so arbitrary as to be cruel and unusual. As Justice Potter Stewart famously put it, "These death sentences are cruel and unusual in the same way that being struck by lightning is cruel and unusual." (Four years later, the Court restored the death penalty, concluding that new procedures and requirements were, in theory, sufficient to limit arbitrary decisions.)

[SNIP]

There are about fifteen thousand murders a year in the United States. Last year, we executed thirty-five people. Studies, Breyer notes, have consistently found that what determines who lives or dies is more likely to be race, geography, or the quality of one's lawyer than the defendant's culpability. In addition, DNA evidence has demonstrated that, no matter how many procedural safeguards we put in place, human error is inevitable. A hundred and fifteen people convicted and sentenced to die have subsequently been found innocent of the crime, and that number certainly will continue to rise. Last year alone, six death-row inmates were exonerated, but not before spending more than thirty years each on death row. Capital cases are notoriously beset by errors; from 1973 to 1995, state and federal courts found constitutional errors in nearly seventy per cent of all capital cases before them.

What's more, Breyer noted, defendants today routinely spend decades on death row while their cases are reviewed. That lengthy period of intense uncertainty, nearly always spent in solitary confinement, adds to the cruel and unusual character of capital punishment. The thirty-five individuals executed in 2014 spent, on average, nearly eighteen years on death row. In 1960, the average delay between sentence and execution was two years. As Justice John Paul Stevens argued in 2009, such delays expose inmates to "decades of especially severe, dehumanizing conditions of confinement"—in particular, the solitary confinement that Kennedy finds so problematic. And the delays undermine whatever deterrent or retributive value death sentences are supposed to provide, as a penalty carried out several decades after the crime is unlikely to serve as a warning to others or to offer much solace to the victim's family. "The upshot," Breyer writes, "is that lengthy delays both aggravate the cruelty of the death penalty and undermine its jurisprudential rationale."

The problem, Breyer suggests, may be irresolvable. We can have executions without long delays, or we can have the procedural review necessary to avoid unfair executions, but we can't have both. If the Constitution requires both, the death penalty may well be unconstitutional.
---
EXPANDING AGE ELIGIBILITY FOR LAW THAT GIVES LIFER INMATES WHO COMMITTED CRIMES AS KIDS A SECOND CHANCE AT PAROLE
In 2013, Gov. Jerry Brown signed a law that gave a second chance at parole to kids who committed murder before the age of 18 and sentenced to life-without-parole. Now, a bill that is making its way through legislature, SB 261, would expand the age of eligibility for early parole hearings to include lifers whose crimes were committed before the age of 23.
The bill passed through the Senate in early June, and through the Assembly Committee on Public Safety on Tuesday. Now, it heads to the Assembly Committee on Appropriations.
San Jose Inside's Caitlin Yoshiko Kandil has more on the bill. Here's a clip:
The California legislature passed SB 260, a youth offender bill that set up a new parole process for those who were minors at the time of their crimes. These youth offenders could now visit the board of parole hearings ahead of schedule—after 15, 20 or 25 years, depending on their original sentence—and have their age at the time of the crime considered "with great weight."

"I didn't know there were people out there fighting for individuals like me," Mendoza says. "As a young inmate, you spend so many years believing that you're being thrown away, and now they're picking you up, saying, 'We see the potential that you have.' After so many years, it started to make me realize that I should prove people right for a change."

Mendoza went before the parole board, eager to show that he was "no longer that 15-year-old boy." After 17 years—more than half of his life—Mendoza got his release.

Today, the 34-year-old lives in Oakland, works full-time for a marketing firm and is studying to get his bachelor's degree in business marketing at San Francisco State. Mendoza's story isn't unusual—so far, there hasn't been a single incident of recidivism among several hundred SB 260 parolees. With the success found in changing the law, California's legislature is now deliberating SB 261, which would expand the young offender parole hearings by upping the age of eligibility to 23.

"SB 260 and 261 give young people hope, give them an incentive to change," says state Sen. Loni Hancock (D-Oakland), who authored both bills. "And really, it's only an opportunity. The board of parole hearings is very tough, and they only grant parole in less than 15 percent of cases—but it's an opportunity that means a lot to the individual human beings."
---
FORMER CA SENATOR LELAND YEE PLEADS GUILTY
On Wednesday, Former CA Sen. Leland Yee pled guilty to one felony count of racketeering and faces up to a 20-year maximum sentence.
Leland Yee was arrested last March in an FBI corruption sting for alleged gun trafficking in exchange for donations to his campaign for California Secretary of State. A long-time associate of Yee's and head of an international crime ring, Raymond "Shrimp Boy" Chow, and 24 others were also picked up in the sting.
Before his indictment, Yee authored a number of important juvenile justice and foster care bills as senator (some of which we have pointed to here and here).
The Sacramento Bee's Alexei Koseff has the update on the Yee corruption saga. Here's a clip:
"Guilty," Yee said, when asked by Judge Charles Breyer how he was pleading.

"Are you pleading guilty of your own free will, because you are guilty?" Breyer asked.

"I am," Yee said.

As part of the agreement, Yee admitted to exchanging political favors for campaign contributions, including:

▪ $10,000 to help a business secure a contract with the California Department of Public Health. According to the revised indictment, Yee met with undercover agents representing a software consulting company client, Well Tech. One of the agents said he wanted to position Well Tech to compete for state grants and contracts.

▪ $6,800 to issue a proclamation honoring a community organization in Chinatown that prosecutors allege is connected to criminal activities. According to the indictment, Yee gave the proclamation to Chee Kung Tong at a celebration of the group's anniversary.

▪ $11,000 to introduce an undercover FBI agent to another state senator with influence over medical marijuana legislation. Senate Minority Leader Bob Huff has said he thinks he was "State Senator 2" in the affidavit. He said he met with Yee and "some long-haired guy in plain clothes" to discuss Republicans' views on the legislation.

Yee also admitted to conspiring to extort several individuals who, at the time, had an interest in pending legislation extending the state athletic commission and changing the workers' compensation program for professional athletes.

And he acknowledged offering to facilitate a multimillion-dollar arms deal for shoulder-fired missiles and automatic weapons with a source tied to Muslim rebel groups in the Philippines – a particularly bizarre and damaging allegation for the staunch gun-control advocate.

[SNIP]

Donald Heller, a Sacramento defense attorney, estimated that Yee ultimately would be sentenced to 30 to 37 months in prison, much less than if he went to trial.

He said Yee could work with the prosecution to corroborate evidence against other defendants or target new ones, but there was no confirmation in the plea agreement either way.

"If he's agreed to cooperate, I would expect there's going to be a lot of soiled underwear at the Capitol," said Heller, who represented lobbyist Clayton Jackson during a massive corruption scandal in the early 1990s that ensnared several members of the Legislature. "Political corruption cases are not usually isolated to one member."