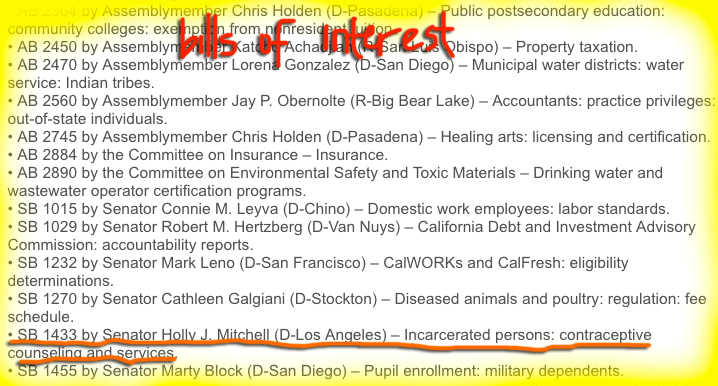 CALIFORNIA's JUSTICE-RELATED BILLS—SOME SIGNED INTO LAW, AND SOME "STINKERS"
On Monday, California Governor Jerry Brown signed a bill giving all female state prisoners access to contraceptive counseling and their birth control of choice, upon request. The bill's author Senator Holly Mitchell (D-Los Angeles) notes that some women incarcerated in California can have conjugal visits.
"This law means that an inmate will be able to more fully engage in family planning before she's released, enhancing the likelihood of a successful re-entry into society," said Mitchell.
The bill, SB 1433, will require corrections facilities to provide incarcerated women who can become pregnant with information about the availability of family planning services behind bars. SB 1433 requires those services and contraceptives to female inmates at least 60 days before their scheduled release from prison.
Another bill Brown signed into law on Monday, AB 2083, will authorize disclosure of otherwise confidential information—like mental health records, child abuse reports, and criminal background information—to interagency child death review teams.
These teams help local agencies look into suspicious child fatalities, in order to identify child abuse and neglect-related deaths. The teams also work to make sure that siblings and other non-offending loved ones are connected with appropriate services following the death of a child. The bill passed through both the Senate and Assembly with full support before receiving the final stamp from Brown.
The LA Times Editorial Board has listed several bills—so-called "stinkers"—that have reached Brown's desk, but (according to the board) should not be signed.
The first bill the board believes Brown should veto is AB 2888, a well-intended bill introduced in response to the very unpopular six-month jail sentence given to Stanford rapist Brock Turner.
Under current law, many felony sex crimes—rape by force, aggravated sexual assault of a child, and others—disqualify those convicted from receiving a sentence of probation. Prison time must be served. But sexual assault of someone who is unconscious or too intoxicated to consent (a la Brock Turner) does not carry a mandatory prison sentence. That would change if the governor chose to sign AB 2888.
By prohibiting probation, the bill would create new mandatory minimum sentencing, as justice reformers and lawmakers work to reduce the prevalence of mandatory minimum sentencing, which disproportionately affects people of color.
The Sacramento Bee's editorial board also criticize the "heavy-handed" bill, which would take sentencing discretion away from judges and give it to prosecutors.
AB 2888 is also running in opposition to Governor Jerry Brown's Proposition 57, which voters will decide on in November. Prop. 57 increases non-violent felony offenders' access to early release credits. The ballot measure would bar inmates accused of violent felonies included in Penal Code Section 667.5, which does not count rape of an unconscious person as a violent offense.
A group of 25 feminist organizations wrote a letter to Brown, calling for a veto of AB 2888. In the letter, they explain that while raping someone while they are unconscious isn't any less harmful than raping a conscious person, "mandatory minimum-term laws are a harmful, mistaken solution to our rightful anger over the Brock Turner case and the many others like it."
In the letter, the women's groups argue that mandatory minimums can even dissuade victims, particularly those assaulted by a family member, partner, or friend, from reporting assault. "When survivors do come forward, mandatory minimums deter prosecutors from pressing charges against particular defendants—namely those who, like Turner, are white and wealthy—and make juries less likely to convict," the letter reads. And the threat of mandatory minimum sentences doesn't actually reduce assault. "Studies have shown that the severity of sanction does not deter violence," the letter continues.
Vice's Tess Owen has more on the letter.
Another bill the Times editorial board believes Brown should veto is SB 813, the bill to eliminate the statute of limitations for sexual assaults (which is currently 10 years).
The bill was triggered by the fact that the statute of limitations has been up for many of the dozens of women who have come forward and accused Bill Cosby of sexual assault. Proponents believe the bill would get rid of "arbitrary" deadline for seeking justice. Opponents of SB 813 argue that removing the statute of limitations would make wrongful convictions more likely.
---
BROWN APPROVES FUNDING "HOUSING FIRST" STRATEGY FOR HOMELESS VIA $2 BILLION IN BONDS
On Tuesday, Brown also signed budget bill AB 1628, which officially authorizes the state to issue up to $2 billion in bonds to fund the "No Place Like Home" Initiative.
The "No Place Like Home" money will go to counties to pay for permanent supportive housing for chronically homeless people suffering from mental illness.
Senate President pro Tem Kevin de León (D-Los Angeles) says developing supportive housing "will improve the quality of life in our communities and give hope to thousands of Californians currently living in despair across our state."
---
SOCIOLOGIST DISCUSSES NEW BOOK ABOUT POLICING SKID ROW
In spite of law enforcement efforts to provide compassionate "relationship policing", relations between police and Skid Row's homeless are tenuous, says sociologist Forrest Stuart.
In his new book, Down, Out, and Under Arrest: Policing and Everyday Life in Skid Row, sociologist Forrest Stuart explains why law enforcement's "therapeutic policing" model may seem more like punishment to LA's homeless, rather than compassion.
Stuart argues that giving people who commit minor infractions—like entering a crosswalk after the countdown clock has started ticking—a choice between receiving a ticket and taking advantage of available services, does not build trust between Skid Row residents and officers, even if the strategy is well-intentioned. Instead, Stuart believes ramping up permanent affordable housing—with those services—is a better strategy.
Stuart discusses his book on KPCC's Take Two with hosts A. Martinez and Alex Cohen. Here's a clip:
Police in Skid Row would target people who do that and give them a ticket.

At the same time, however, those officers will say the ticket can go away IF that person gets assistance from one of the nearby social service providers.

"There's this notion that people have chosen to be poor, that people have chosen to have chronic addictions," says Stuart. "When we talk to officers, one of the ideas is, 'I want to make this place as uncomfortable as physically possible so people don't want to live here.'"

Stuart says that officers, themselves, see that they are acting out of compassion for the people of Skid Row and that those social services will help get them off the streets and out of the neighborhood.

"What I was hearing time after time was that these officers would have to throw their hands up and say, 'I'm not a social worker, I'm not a case worker. But yet the city has asked me to deal with all of these social issues,'" says Stuart.

Meanwhile, the people of Skid Row getting those citations viewed service organizations with suspicion and distrust, according to Stuart.

Couples would need to be apart because shelters and services are separated by gender, for instance, or shelters would force residents to abandon most of their belongings to bring in just one bag with them.

"These spaces – people look at them as not a real, viable alternative," he says, "but now they've got police saying, 'Either you go into these places or else we're going to arrest you.'"