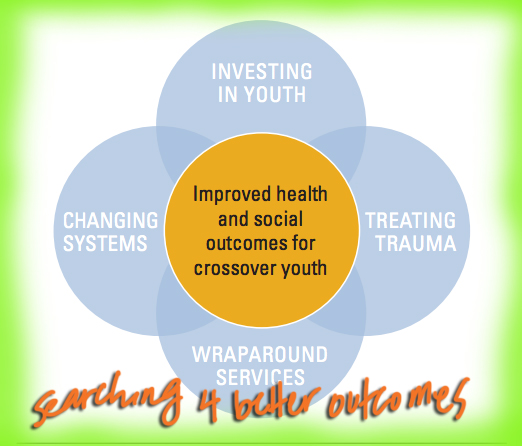 DATA-GATHERING, TRAINING, AND TRAUMA-INFORMED PRACTICES ARE MUSTS FOR GIVING CROSSOVER KIDS BETTER OUTCOMES
The California Child Welfare Co-Investment Partnership has released an analysis of the abysmal outcomes of kids involved in both the juvenile justice and child welfare systems, as well as recommendations for improving outcomes for the state's so-called "crossover youth."
There are around 67,000 California kids with open child welfare cases and 40,000 kids in the juvenile justice system, according to the report. Unfortunately, there's not an exact tally on how many kids fall into both categories, but some studies have estimated that 50-65% of kids in the juvenile justice system have had contact with child welfare through reported or substantiated neglect or abuse, and there are 4,000 kids in probation-run child welfare.
Crossover (or "dual-status") kids often face trauma, neglect, and instability. And communication between agencies serving crossover youth, including school districts, can be patchy or nonexistent, making it hard for kids to access important services and enroll in school. The kids are more likely to face jail time, less likely to finish high school or college, and less likely to be able to consistently hold down a job than their peers who are involved with just one system.
"We are beginning to understand the complex factors that result in so many youth from the child welfare system ending up in the juvenile justice system," said Neha Desai of the National Center for Youth Law. "These factors include underlying, unprocessed trauma, lack of consistent adult support, as well as unintended consequences of system involvement. Deepening our understanding of these issues will enable us to both more effectively disrupt the path from child welfare to juvenile justice as well as better respond to youth who do end up crossing over."
The report recommends bringing health, education, and law enforcement agencies into collaborative discussions and interventions, as well as greatly increasing the amount of data gathered on the crossover population and what strategies are working to improve their outcomes.
The report also recommends providing targeted training to judges and court appointed counsel on how to best help these vulnerable children.
"When it comes to dealing with crossover youth, there is so much yet to be done," said Judge Michael Nash, who after 20 years of presiding over the Los Angeles Juvenile Court and supervising the Juvenile Dependency Court, was selected to be LA County's child welfare czar. "It's one thing to have adequate protocols developed and agreed to at the high levels of administration. It's another thing to adequately train judicial officers, attorneys, social workers, probation officers and others on proper implementation, and yet another thing to get the players in both systems to understand the importance of the need for consistent communication and collaboration at every stage of the proceedings with respect to each and every crossover youth."
The report also recommends employing cultural, gender-specific, and trauma-informed programs and services to help crossover kids succeed.
"These outcomes affect all of us," said Sue Burrell, a policy director at Pacific Juvenile Defender Center. "Involvement in juvenile court contributes to a horrible cycle of poverty and involvement in the criminal justice system. By perpetuating a system in which youth are unable to succeed, we deprive our community of the energy, skills and creativity that young people would contribute if they were not so hobbled by their juvenile pasts.
(The Partnership is a group of organizations invested in improving outcomes for foster kids, and is comprised of the Casey Family Programs, Conrad N. Hilton Foundation, Stuart Foundation, Walter S. Johnson Foundation, Zellerbach Family Foundation, the California Department of Social Services, the Judicial Council of California, and the County Welfare Directors Association.)
---
DOJ TO STEP IN AND REVIEW EMBATTLED SAN FRANCISCO POLICE DEPARTMENT
On Monday, the US Department of Justice announced it would launch a review of the San Francisco Police Department's policies and practices, via its Office of Community Oriented Policing Services (COPS). The announcement follows the controversial shooting of Mario Woods, which led to ongoing protests and requests for DOJ intervention by SF Mayor Ed Lee, SFPD Chief Greg Suhr, and the ACLU of Northern California.
"In the days and months ahead, we will examine the San Francisco Police Department's current operational policies, training practices and accountability systems, and help identify key areas for improvement going forward," said Attorney General Loretta Lynch. "I am confident that together we can make certain that our officers have the tools and training they need to do their jobs, and that every member of the San Francisco community has the protection and service they deserve."
The DOJ is also employing it's COPS program, called the Collaborative Reform Initiative, in Salinas and Calexico.
---
WHAT RESTRUCTURING PROBATION SHOULD LOOK LIKE
Today (Tuesday), LA County Supervisors Mark Ridley-Thomas and Sheila Kuehl are expected to introduce a motion to form a working group to look at the feasibility of a civilian watchdog group to oversee LA County Probation. The scope would likely be similar to that of the commission created to oversee the LA County Sheriff's Department. Later this month, the Board of Supervisors is also slated to consider splitting probation into two departments, one for juveniles, and one for adults.
In advance of the Board of Supervisors meeting, an LA Times editorial says the commission's primary function should be to address misconduct and mistreatment of probationers (rather than just the department's problematic spending and hoarding). The editorial also suggests providing the same level of rehabilitative care to young adults that is offered to juveniles. Here's a clip:
…There is no consensus on how probation should be structured or managed. Some counties have two separate departments, one for juveniles, one for adults. In some counties, the chief probation officer is appointed by the presiding judge of the superior court, in others by the board of supervisors.

Los Angeles County's department is monitored not just by the board, but also by numerous commissions, committees and councils. Yet the department is currently without a chief probation officer — no surprise, given that the board has moved leaders in and out at a rate of one every other year — so it's the right time to think about mission, structure and oversight…

It may seem a bit odd to add a layer of supervision over probation, a department that already reports directly to the board. If the supervisors are unhappy with the operations and administration of the department, including the way it spends (as some of the their recent statements suggest), they have only themselves to blame. But if they are instead seeking the kind of oversight that can examine allegations of mistreatment of probationers, misconduct of officers and poor conditions of confinement, an oversight commission may well be in order. As would, perhaps, an inspector general.

And it may seem strange to ask whether there should be separate oversight commissions for the juvenile and adult sides of the department, when the board hasn't even taken up the question, broached on this page last month, of whether the department should be split — and whether supervisors ought to be looking for one new leader or two. But they are expected to vote later this month on whether to study splitting probation into two departments, one for juveniles and one for adults.
---
CA BILLS WOULD PROVIDE HOUSING AND MENTAL HEALTH SERVICES TO EXPLOITED KIDS AND CREATE A TASK FORCE TO COLLECT TRAFFICKING DATA AND TRAIN LAW ENFORCEMENT
California Assembly Speaker Toni Atkins has introduced two important bills to combat sex trafficking. The first, AB 1730, would set up temporary housing, trauma-informed mental health care, and mentoring services for children (many of whom are involved in either or both the child welfare and juvenile justice systems) rescued from the sex trafficking industry.
A companion bill, AB 1731, would form a task force to gather and report data on sex trafficking victims, the people who run trafficking operations, and those who buy sex. The group would use this information to train law enforcement to recognize and stop trafficking enterprises.
"Human trafficking is modern day slavery and, unfortunately, this crime is growing rapidly in our state," said Speaker Atkins (D-San Diego). "According to the FBI, the San Francisco, Los Angeles and San Diego metropolitan areas comprise three of the nation's 13 areas of 'high intensity' child sex trafficking exploitation in the country. Victims of human trafficking are some of our most vulnerable members of society, and we cannot allow this injustice to continue."