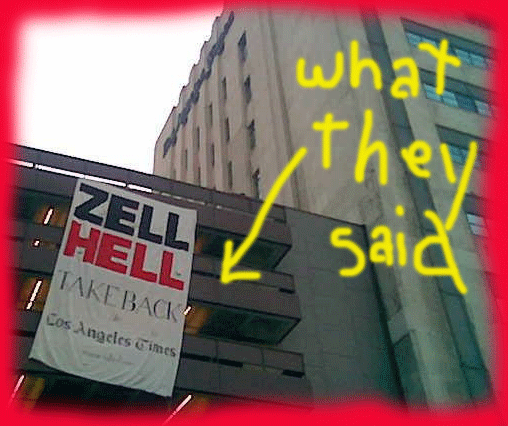 I'm a bit slow on the uptake this morning so didn't check my email until just now….or I'd have had this up earlier. Courtesty of Mr. Sam Izdat over at TellZell.
LOS ANGELES, Calif—Merry pranksters scaled a Los Angeles Times building Thursday to unfurl a three-story high banner protesting news cuts by the paper's owner, real estate billionaire Sam Zell.

The banner was hanging from the historic Times building in downtown Los Angeles. It read: "Zell Hell: Take back the Los Angeles Times." A website address on the bottom directed the curious to the mysterious protest site by an anonymous Times employee: www.tellzell.com

"Like many of us, he got in over his head in the mortgage crisis," said one Times employee who participated in the banner drop. "He can't afford what he bought. But instead of selling his house, he's chopping it into pieces."

The banner was taken down rather quickly after its unfurling. "The security guards were smiling, though," reports TellZell.
Kevin Roderick at LA Observed has some speculation as to the identity of Sam Izdat aka the Instained Retch who is the now nationally read blogger behind TellZell. The Retch answers here and says he's definitely not a union guy, but an LA imes journalist.
Here's a video of the last moments of the banner drop.