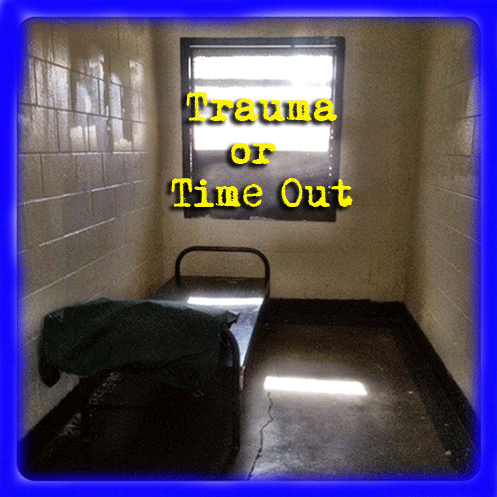 CALIFORNIA BILL TO CURTAIL USE OF SOLITARY CONFINEMENT FOR KID GETS SHOT DOWN IN LAST COMMITTEE
California's SB 124, which would have greatly reduced the use of solitary confinement for kids, was defeated in a state assembly committee on Thursday. The bill, sponsored by Mark Leno (D-San Francisco) had already been passed by the California senate, and the crucial Assembly Public Safety Committee. It had one more committee hearing left—namely in the Assembly Appropriations Committee—before heading to the Assembly floor.
SB 124 never made it out of that second committee.
An impressive list of supporters, including the LA County Board of Supervisors, had gotten behind the passage of SB 124.
At the same time, SB 124 faced opposition by law enforcement, and particularly strong opposition from organizations representing county probation officers, who run most juvenile facilities in California.
The bill was amended several time to try to placate its primary opponents.
SB 124 would have established important guidelines aimed at keeping youth in the classroom, programs, and counseling, and out of long-term isolation.
Thursday afternoon, some advocates were pointing fingers at Appropriations Committee chair, Jimmy Gomez (D).
We will know more in the next few days about why the bill was defeated.
The video below features young activists who experienced solitary in their youth, and who now work to end or drastically limit the use of the practice for kids.
---
LA COUNTY SHERIFF & OTHERS PUSH FOR REAL PENALTIES FOR BUYERS of CHILD SEX, INSTEAD OF THE WRIST SLAPS THEY NOW RECEIVE
In LA County, men who buy favors from under-age girls who are sex-trafficked into prostitution now are typically charged with misdemeanors and hit with fines in LA County.
All that may change as a Los Angeles task force looks at ways to use existing California laws to hit johns with felonies that result in prison time and possible registration as a sex offenders.
LA County Sheriff Jim McDonnell is one of those county officials who strongly favors the push for real punishment, not just a minor slap on the wrist.
The AP's Tami Abdollah has the story.
Here's a clip:
"What are johns? They're pedophiles, they're child molesters," LA County Sheriff Jim McDonnell told The Associated Press. "If we can take away the demand and very clearly let people know this is going to ruin their life … We're hoping that's going to be a disincentive."

The county is the nation's most populous, with more than 10 million residents. A taskforce that's expected to be in place this fall will pursue the stiffer charges, a push that puts Los Angeles at the national forefront of "appropriately going after the buyers" of child sex workers, according to Malika Saada Saar, head of the Washington D.C.-based Human Rights Project for Girls.

For about a decade, Scandinavian countries have pioneered the so-called Nordic model, which aims to attack sex trafficking by targeting customers to decrease demand. The concept has gained traction in the United States in recent years with states including Massachusetts, New York and Colorado increasing fines and penalties. And law enforcement has started to move away from arresting women for prostitution and treating them like criminals.

California is one of the nation's top four destinations for trafficking human beings, according to the state attorney general's office, and transnational gangs are increasingly trafficking humans because it's low risk and highly profitable.

Five girls working for a trafficker seven days a week brings in an estimated $600,000 to $800,000 annually. The average age in California for a girl who is sex trafficked is 12 years old and some are as young as 9 years old, McDonnell said. The average age of entry into sex work nationally is 15 years old, said Ziba Cranmer, executive director of Washington D.C.-based nonprofit Demand Abolition.

California doesn't have a specific law treating johns as traffickers, so jurisdictions such as Los Angeles and Alameda counties are trying to use existing sex laws against buyers.
---
WHY IS THERE A RISE IN LA'S CRIME? FOR LOTS OF DIFFERENT REASONS, SAYS AUTHOR AND CRIMINAL JUSTICE ANALYST JOE DOMANICK
Crime in LA has been diving for more than a decade. So why did it rise more than 20% during the first half of 2015— with felony assaults up 26% and robberies up 19%.
In an Joe Domanick in an LA Times Op Ed, author and analyst Joe Domanick points to an interweave of probable causes. (Domanick is the associate director of the Center on Media, Crime and Justice at John Jay College of Criminal Justice, and author of "Blue: The LAPD and the Battle to Redeem American Policing.)"
Here's a clip from his essay:
Here in Los Angeles, the rise might also be attributable in part to the Los Angeles Police Department crime stats simply being reported more honestly. An irrefutable Los Angeles Times investigation of the department's crime numbers for the first half of 2014, for example, discovered the misclassification of 1,200 violent felony assaults as misdemeanors, thus making it appear that serious violent crime was going down when in fact it went up by 14%.

There are also broader national trends that might be affecting L.A.'s crime rate. According to Ron Noblet, the dean of gang interventionists at the Los Angeles Urban Peace Institute, the heroin epidemic plaguing the Northeast has finally started to hit Los Angeles.

"It's moving now from middle-class kids in the west San Fernando Valley to Chicano and African American areas such as South Los Angeles and East L.A.," says Noblet. Thus we might be seeing heroin become a crime-rise factor like crack was in the 1980s, both in terms of strung-out users committing crimes to feed their addiction and gangs fighting turf wars over drug distribution rights.

But I'd like to take an educated guess on what might be the key factor causing L.A. crime to rise: Something may be happening akin to the eras of the Watts riots of 1965, the high-crime crack war years of the 1980s and early '90s, and the 1992 Los Angeles riots. And it's this: a new Gilded Age of obscene wealth, stunning, low-wage income disparity and grinding poverty have come together to make ghetto and barrio life ever more desperate. As a result, the steam is once again pressing against the engine cap, just as it did during those infamous times.