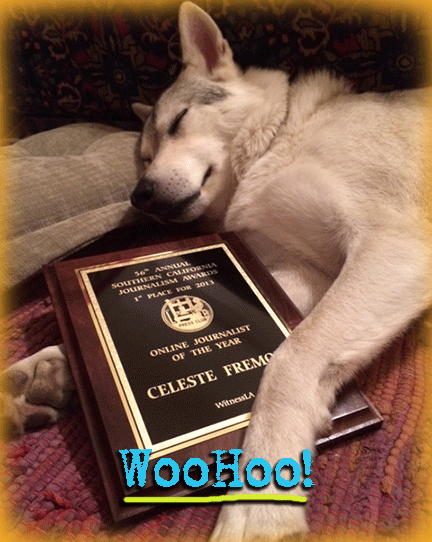 WLA'S EDITOR TAKES HOME SOCAL JOURNALISM AWARD
I am very happy to report that WitnessLA's editor, Celeste Fremon, has won 1st place at the SoCal Journalism Award for the "Online Journalist of the Year" category.
The judges called Celeste's work for 2013: "a compelling look into problems in the Los Angeles Sheriff's Department. Celeste did a great job decoding complex issues into a fascinating narrative."
The rest of the winners can be found here.
---
LA TIMES EDITORIAL CALLS FOR CIVILIAN OVERSIGHT OF SHERIFF'S DEPT.
Citing the Inspector General's undefined power and tenure, an excellent LA Times editorial calls on the LA County Board of Supervisors to create a nine-person citizen's oversight commission to watch over the Sheriff's Department. The editorial says the commission should hold public meetings, and be free of micromanagement by the Supes, and that members should serve for set terms.
Here's a clip:
The board started out on the right foot last year when it created the Office of Inspector General. It was designed to replace both a special counsel, who presented regular reports and recommendations to the Board of Supervisors but didn't get enough public attention to spark any follow-up, and the Office of Independent Review, which relied too much on the sheriff's voluntary cooperation to be a credible monitor.

But the supervisors rejected the strong recommendation of the Citizens' Commission on Jail Violence to appoint the inspector general to a set term and make him removable only for good cause. And the board still hasn't brokered an agreement with the Sheriff's Department over the scope of the inspector general's powers. So no matter how strong the work ethic and integrity of Inspector General Max Huntsman, he is an at-will employee of the Board of Supervisors with no law establishing his power or authority to investigate the sheriff.

Meanwhile, the county's contracts with its previous monitors expire Monday, so for the first time in two decades there will be no independent sheriff oversight. Despite the opportunity and necessity for improvement, the county is in danger of falling backward.

Forward momentum will depend on more than new promises by the supervisors to do a better job of keeping an eye on the sheriff. It will require the board to create a citizens oversight commission that conducts its meetings in public and has the kind of insulation from micromanaging that so far the board has denied the inspector general. There should be nine members on the commission, enough for each county supervisor to appoint one while still allowing sufficient appointments by other authorities to prevent the commission from becoming the board's proxy. Members should serve for set, nonrenewable terms, and be removable only on a showing of good cause.
---
LAST YEAR THE FCC LIMITED WHAT PRISONERS PAY FOR INTERSTATE CALLS, BUT COMPANIES STILL GOUGE PRISONERS FOR OTHER SERVICES
In prisons all over the country, private companies—Global Tel-Link and JPay, in particular—are charging inmates preposterously high fees for phone, internet, and money services. Unfortunately, the brunt of the costs fall on the families of the incarcerated. And there's no real competition from other companies who might charge lower fees. Global Tel-Link and JPay both pay cash-strapped cities, counties, and states incentives to secure their contracts within prisons. (In New York State, where these commissions are forbidden, inmates pay a fraction in comparison—72 cents for a 15-minute call.)
Global Tel-Link and JPay both have contracts in California through which they overcharge California prison and jail inmates' loved ones.
In August of last year, the FCC placed a cap on how much companies can charge inmates for interstate calls at 25 cents per minute. That was a significant victory, but Global Tel-Link and JPay can (and do) continue to charge prisoners and their families shocking fees for in-state calls, money transfers, and other services. (For previous WLA reporting on this issue, go here.)
The NY Times' Stephanie Clifford and Jessica Silver-Greenberg have the story. Here are some clips:
It is a lucrative proposition, in part because these companies often operate beyond the reach of regulations that protect ordinary consumers. Inmates say they are being gouged by high costs and hidden fees. Friends and families say they have little choice but to shoulder the financial burden.

But private enterprises are not the only ones profiting. Eager to reduce costs and bolster dwindling budgets, states, counties and cities are seeking a substantial cut in return for letting the businesses into prisons, a review of dozens of contracts by The New York Times found. In Baldwin County, Ala., for instance, the sheriff's department collects 84 percent of the gross revenue from calls at the county jail. A Texas company has guaranteed the county at least $55 a month per inmate, according to a copy of the contract…

Some corrections departments use the commissions to provide services, said Steve Gehrke, a spokesman for the Washington State Department of Corrections. In Washington State, all commissions go toward compensating victims and improving services like libraries.

But even some industry executives see problems with the current setup, saying the commission system encourages providers to charge inmates more, not less, for services. Companies often win contracts based on how much they will offer states via commissions, rather than the rates they charge inmates.

Global Tel-Link, of Reston, Va., has contracts with 2,200 correctional operations serving at least 1.1 million inmates. It argued in recent comments to the Federal Communications Commission that the more states and cities demand in commissions, the more it will charge inmates. "There is no free lunch," the company said.

[SNIP]

While the F.C.C. capped interstate telephone rates at 25 cents a minute earlier this year, after agitation from prisoners' rights advocates, local phone rates can still be steep and other fees vary widely from state to state. For instance, using a phone to transfer $10 into an inmate's account via JPay to the Southeast Correctional Center in Charleston, Mo., costs $3.95, while a similar transfer to the Illinois Youth Center in Chicago runs $5.95.

Placing a 15-minute in-state call from a Union County, N.J., jail costs $8.50, according to the New Jersey Institute for Social Justice, which recently filed a petition asking for lower in-state rates. In New York State, which does not accept commissions from providers, a 15-minute phone call costs just 72 cents.
---
CDC: WAYS TO PREVENT YOUTH VIOLENCE
Every day in the US, an average of 13 kids, teens, and young adults (between the ages of 10-24) are victims of homicide, and more than 1600 are treated in hospitals for assault-related injuries. In fact, homicide is the third leading cause of death in young people nationwide. And 10-to-24-year-olds comprised 40% of arrests for violent crimes in 2012.
A new report by the Centers for Disease Control and Prevention says that youth violence and its devastating effects on kids (especially minorities), families, and their neighborhoods can be prevented, and lists evidence-based solutions communities can implement to counteract this violence.
The report suggests a number of tools and programs, from parenting and family training, to bolstering early childhood education, to data gathering, and policy-reform. Here are some examples:
The Strengthening Families program teaches parents to use discipline, manage their emotions, and communicate with their child and teaches youth strategies to deal with peer pressure, manage stress, and solve problems. Evaluations of this program have shown significant reductions in aggression, hostility, and conduct problems and improvements in parent's limit-setting, parent-child communication, and youth's prosocial behavior.

Multidimensional Treatment Foster Care is for youth who need out-of-home placements and includes extensive training of foster parents, family therapy for biological parents, skills training and support for youth, and school-based academic and behavioral supports. This program has been shown to significantly reduce delinquency, violence, and violent crime and sustain improvements over time.

Cure Violence (formally known as CeaseFire) works to interrupt violence, particularly shootings, and change norms about the acceptability and inevitability of violence. An evaluation found reduced shootings and killings and fewer retaliatory killings in most communities where the program was implemented.
These smart, evidenced-based recommendations are a hearteningly long way from the Superpredator theory of the mid-1980s.
---
TWO DIE IN LASD CUSTODY
Two people died in LA County Sheriff's Dept. custody on Saturday. A man suspected of being under the influence of drugs was arrested in Lancaster after struggling with deputies. The man became unresponsive in the back of the patrol car, and officers were unable to revive him.
And later that afternoon, a woman was found dead in her bunk at the Santa Clarita Valley Sheriff's Station jail. The woman had been booked on possession of a controlled substance two days prior, on Thursday.
LASD homicide detectives, Internal Affairs, and the LA Coroner's Office are investigating both deaths.
KPCC has the story.