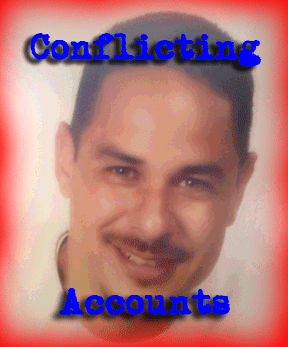 WITNESS AND DEPUTIES HAVE DIFFERENT STORIES ON OFFICER-INVOLVED FATAL SHOOTING
A woman who witnessed a deputy-involved shooting on Nov. 10th said that officers shot an unarmed man while his hands were on his head and his body was turned away from the deputies. The officers involved said that Jose de la Trinidad was reaching for his waistband when the shots were fired. We suspect this story will not go away any time soon.
LA Times' Wesley Lowery has the story. Here's a clip:
Two sheriff's deputies had attempted to pull over De la Trinidad and his brother for speeding as they were leaving a family quinceañera. De la Trinidad's brother was driving the car and fled for a few blocks before the car came to a sudden stop in the 1900 block of East 122nd Street in Willowbrook, a residential neighborhood tucked just off the 105 Freeway.

According to the deputies' account, De la Trinidad jumped out of the passenger seat.

His brother, 39-year-old Francisco de la Trinidad, took off again in the car. One of the four deputies on the scene gave chase in his cruiser, leaving Jose de la Trinidad on the sidewalk and three deputies standing in the street with their weapons drawn.

The deputies said Jose de la Trinidad then appeared to reach for his waistband, prompting two of them to fire multiple shots into the unarmed man. He died at the scene.

Unknown to the deputies at the time, Estefani sat perched in her bedroom window, directly overlooking the shooting.

Estefani said De la Trinidad did jump out of the car after it came to a sudden stop. After he ran toward the deputies a few feet, they ordered him to stop and turn around — which he did immediately, she said.

Seconds later, the deputies opened fire, she said.
---
CA TRUST ACT REVAMPED AND ABOUT TO BE REINTRODUCED
A revised version of the TRUST Act, the "Anti-Arizona bill vetoed by Gov. Brown just two months ago, is expected to be introduced Monday.
KPCC's Ruxandra Guidi has the story. Here's a clip:
San Francisco Assemblyman Tom Ammiano (D-San Francisco) intends to unveil the new Trust Act on Monday. His office has not yet said what revisions have been made.

Activists have billed the TRUST Act as an "anti-Arizona" law aimed at keeping undocumented immigrants arrested for minor offenses from being turned over to immigration officials for deportation.

The proposed law was intended to counter the federal Secure Communities program, which shares law enforcement fingerprint data with the FBI and Immigration and Customs Enforcement (ICE). It would require local police to release people who have been arrested once bond is posted, as long as they have no serious convictions.
---
SCOTUS DEBATES HENDERSON V. UNITED STATES AND INJUSTICE
SCOTUS justices Wednesday discussed a case in which a man was sentenced to an overly long prison term so that he could receive rehabilitation while incarcerated. While everyone seemed to agree that the man, Amarcion D. Henderson, should not have had to serve the extra time, no one could agree on what should be done, if anything, to fix the error.
Washington Post's Robert Barnes has the story. Here's a clip:
"There's always an injustice when the district court has gotten it wrong," Justice Antonin Scalia said. "The district court got it wrong, applied the wrong rule. Justice has not been served."

But at the same time, Scalia continued, "we don't say, 'We want to do justice.' We say, 'We're only going to do justice if it was clear' " to all at the time that a mistake was being made.

The mistake in Henderson's case was that the federal statutes on sentencing do not allow a judge to extend someone's sentence in order to facilitate drug rehab. But that was not settled law when a judge sentenced Henderson to five years in prison, above the federal guidelines of 33 months to 41 months.

By the time the U.S. Court of Appeals for the 5th Circuit considered Henderson's appeal, it had been settled. A unanimous Supreme Court in 2011 said the federal statute was clear that "a court may not impose or lengthen a prison sentence to enable an offender to complete a treatment program or otherwise promote rehabilitation."

But the appeals court upheld Henderson's sentence anyway, because at the time of his guilty plea, it was not "plain error" for the judge to have imposed the sentence he did. And plain error is part of the test that courts must use to decide whether to get involved when a defendant's lawyer has not objected to a judge's mistake.
---
WILL SCOTUS TAKE ON GAY RIGHTS CASES?
Don't forget, SCOTUS is deciding today, Friday, whether to take on any or all of ten possible gay rights cases on the table from the lower courts. The justices could announce their decisions as soon as this afternoon, otherwise we are likely to know Monday morning.
Wednesday, we posted on part one of a four-part series navigating the legal controversy of gay rights by Lyle Denniston over at SCOTUSblog. (Here are parts two, three, and four.)