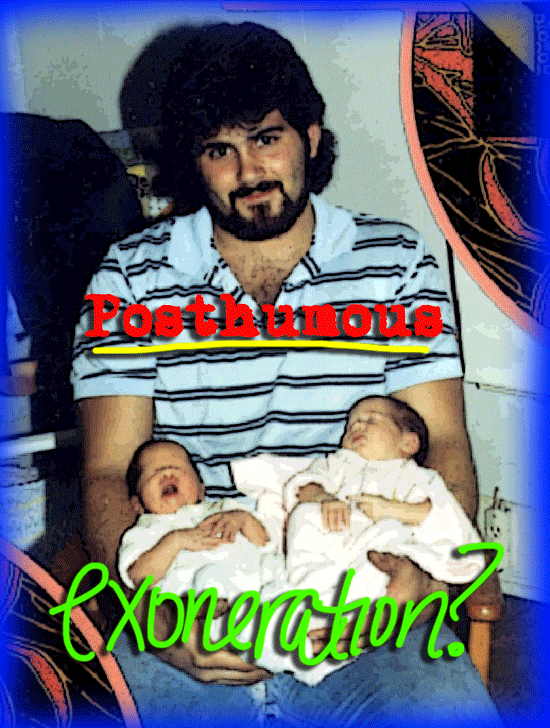 FAMILY OF EXECUTED MAN SEEKS PARDON EIGHT YEARS LATER
We are just over a week away from voting on California's list of ballot propositions, among them Prop 34, the measure that would replace the death penalty in the state with a sentence of life without the possibility of parole. Therefore it is interesting timing that the now famous case of Todd Willingham, the Texas father of three who was executed in Texas in 2004 for setting a house fire that killed his daughters, is back in the news again.
Willingham is believed by many to be the first provably innocent man executed in the US—at least in modern times. (We wrote about the Willingham case here and here. Also, be sure to read the original 2009 New Yorker story—here.)
Now, eight years after his death, members of Willingham's family are requesting a public hearing to clear his name.
Ethan Bronner of the New York Times has the story. Here's a clip:
The case of Cameron Todd Willingham of Corsicana, Tex., has drawn attention because it seems to offer evidence that an innocent man was executed based on flawed science. Spurred partly by this case, the Texas fire marshal recently agreed to re-examine questionable arson convictions.

The battle to clear Mr. Willingham's name has symbolic value for those fighting to end the death penalty. Six years ago, Justice Antonin Scalia of the Supreme Court wrote that he was unaware of "a single case — not one — in which it is clear that a person was executed for a crime he did not commit."

Mr. Willingham's conviction was based heavily on testimony by the Texas state fire marshal, who asserted that the scene offered clear signs of arson. Recent research has raised substantial questions about his conclusions and led to a review of other arson convictions in Texas. That research is scheduled to be presented to a panel of fire experts by January, and advocates say it could lead to the reversal of several wrongful convictions.

"Todd's last words were: 'Please clear my name. I did not kill my children,' " said Stephen Saloom, policy director of the Innocence Project, which has led the work on this case, with the pro bono assistance of the New York law firm Schulte Roth & Zabel. The Innocence Project is affiliated with Cardozo Law School at Yeshiva University.

"All the evidence against him has been disproven," Mr. Saloom said. "There have been nine reports issued about this case over the years. We are saying to the board: you couldn't have known before, but now you have all this evidence before you."
By the way, Jimmy Carter has an op-ed for the LA Times on why he believes CA voters should pass Prop 34. In another LAT op-ed, former prosecutor and judge, James A. Ardaiz, tells readers why he thinks Prop 34 deserves a "no" vote.
---
JERRY BROWN DISCUSSES PROP 30 ON SOCAL CONNECTED
KCET SoCal Connected's contributor Madeleine Brand will interview Gov. Jerry Brown on the first show of the season and Brand's first outing since she left KPCC. Brand and Gov. Brown will be focusing on Prop 30, which would provide much-needed money for CA schools, including programs to keep kids from dropping out. Prop 30 would also provide money to the counties for reentry and rehabilitation under realignment, programs which aren't adequately funded in many counties including Los Angeles. The show airs tonight, Monday, at 7:00p.m. and 10:30p.m. Here's a clip from the KCET announcement:
They will talk about the propositions on the November ballot and the race for the presidency. Gov. Brown has been campaigning hard for Proposition 30, which would raise taxes to pay for funding gaps in the state, especially in education. Passage of Prop 30 seemed like a sure thing, but the latest polls indicate a very close contest. If Prop 30 fails, it automatically would trigger additional budget cuts to education. Political observers not only see Prop 30 as a referendum on whether California voters will support higher education through tax hikes, but a referendum on the Governor himself.
---
UNDOCUMENTED STUDENTS BANNED FROM GEORGIA COLLEGES ATTEND UNDERGROUND SCHOOL
A new underground (literally) school, Freedom University, has sprouted up in response to a Georgia law that bans undocumented students from attending the top five GA universities and requires out-of-state tuition be paid at other public colleges.
NPR's Cathy Lohr has the story. Here's a clip:
About 35 students meet every Sunday at an undisclosed location in Georgia to study. They are undocumented and banned from attending some of the most prestigious colleges in the state.

Georgia is one of three states to bar undocumented students from attending schools. But a group of professors at the University of Georgia has created a fledgling school to provide a place for students to learn.

They call it Freedom University, named after the schools set up during the civil rights era to teach African-Americans in the Deep South. University of Georgia history professor Pam Voekel is one of the volunteer instructors.

"They really do see this as a civil rights struggle," she says. "They are being excluded from higher education, and so we went with that as part of that kind of tribute to that prior struggle."