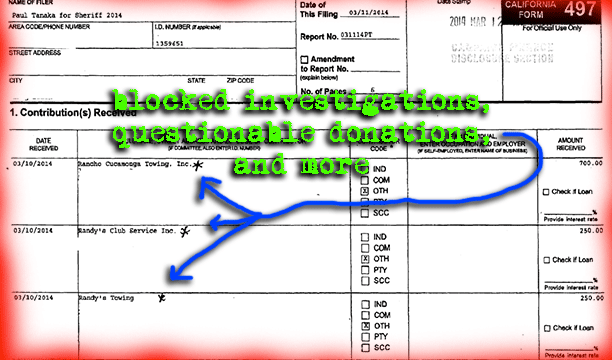 FBI DOCUMENTS EXPLAIN WHY BUREAU KEPT SHERIFF'S OFFICIALS IN THE DARK ABOUT JAIL INVESTIGATION
The FBI chose not to tell former LA Sheriff Lee Baca and other top department officials of the bureau's recent investigation into alleged misconduct in county jails to keep the department from obstructing the probe, according to a packet of FBI documents and emails obtained by the LA Times.
The LA Times' Cindy Chang and Jack Leonard have more on the matter. Here are some clips:
In explaining the need for secrecy, federal agents wrote that the Sheriff's Department had interfered with previous FBI investigations. The agents described instances in which sheriff's officials allegedly retaliated against an informant, denied agents access to a key source in jail and prevented a federal task force from gaining access to "jail communications."
The FBI documents allege that former Undersheriff Paul Tanaka thwarted an investigation into suspected contraband smuggling by a deputy at Pitchess Detention Facility.
According to one memo, sheriff's officials prevented FBI agents from interviewing an inmate who had been cooperating.

"LASD, specifically Tanaka, made it difficult for the FBI to pursue an effective investigation and the case was eventually closed," the memo said.
There are other justifications for the secrecy, according to the FBI documents. For instance, Baca's nephew, Justin Bravo, a deputy with a questionable past who worked in the jails, was suspected by the FBI of "egregious" inmate abuse:
Jail inmates told the FBI that the nephew, Justin Bravo, was the leader of a group of deputies who carried out unprovoked assaults, according to one FBI record.

Bravo was hired by the Sheriff's Department despite his alleged involvement in a fight with San Diego police and arrests on suspicion of drunk driving and burglary, The Times reported last year. In 2001 in North Carolina, Bravo pleaded guilty to a misdemeanor involving a car break-in.

More recently, Bravo was put on paid leave in connection with a criminal probe by the Sheriff's Department into whether he had abused an inmate. He was disciplined and is back on the job, according to a department spokeswoman. She declined to elaborate, citing confidentiality laws.

Richard A. Shinee, Bravo's attorney, said the description of his client as an "egregious inmate beater" was based on unreliable second- and third-hand accounts.
The documents also pointed to a long-rumored "pay to play" culture within the department, including allegations that Baca handed out concealed weapons permits to campaign supporters, that LASD members pressured tow truck companies for donations in exchange for contracts with the department, and that Tanaka specifically tried to steer garbage removal contracts as a Gardena city councilman:
According to an FBI case summary, sheriff's captains were ordered to collect $10,000 per station from tow truck companies that had contracts with the stations. The donations went either to Measure A, which would have raised the county sales tax to pay for more law enforcement officers, or to a campaign fund backing Tanaka's successful run for Gardena mayor, the FBI contended in the documents.

An unnamed towing company official told investigators "it was known in the towing industry that if you wanted a contract with LASD you had to donate money to local politics," according to the case summary.

Also according to the summary, Waldie terminated a towing company's contract after the owner spoke to the FBI about the alleged pressure to donate.

Waldie, who retired in 2011, called the allegation "absolutely preposterous."
In an interview with KPCC's Frank Stoltze back in May, former sheriff candidate Todd Rogers said as a captain he was leaned on by a superior officer who wanted him to award an exclusive contract to a towing company that had supported Sheriff Baca. Here's a small clip from the interview:
Rogers says the superior officer, whom he declines to name, noted that captains hold the authority to choose which companies receive lucrative Sheriff's Department towing contracts in their jurisdictions. He wanted Rogers to "strongly consider" giving an exclusive contract to a company the assistant sheriff described as "very supportive of the department and the sheriff."

"I didn't want the one tow company," Rogers said. "I told him no."
We took a quick look at Tanaka's sheriff campaign donation lists. The most recent contribution report (mid-May) available to the public includes a few towing company donations.
And while there may be more, we found entries on pages 6, 7, 9, 11, 12, and 17 of this March 2014 donation report.
Here's another donation from April of this year.
And if you skim through this 2013 list, you'll find another towing company donation, and other interesting contributions.
There's a lot more, so be sure to read the entire Times story. All this information from the FBI cannot help but raise one obvious question: what—if anything—does it suggest about possible future indictments?
---
FEDERAL JUDGE GIVES LAWSUIT AGAINST CALIFORNIA PRISONS' RACIAL LOCKDOWN TACTICS CLASS ACTION STATUS
U.S. District Judge Troy Nunley granted class action status to an inmate's lawsuit challenging a California prison policy of putting prisoners on lockdown by race after a fight breaks out involving even one member of a racial group. For instance, when individual Hispanic inmates fight, all inmates labeled by the CDCR as Hispanic can be locked down and deprived of things like yard and recreation priveleges, phone calls, and family visits.
The Associated Press has more on the ruling. Here's a clip:
The lawsuit was originally filed in 2008 by one inmate, Robert Mitchell, after he and all other black inmates at High Desert State Prison in Susanville were locked in their cells following a fight. The legal challenge will now apply to all male inmates.

Gangs in California prisons typically are based on race, and fights often involve members of one race against one another. State law says the department can target specific racial and ethnic groups only when necessary to prevent further violence, and the response must be "narrowly tailored."

The U.S. Justice Department last year intervened in the case, saying the practice violates the equal-protection guarantee of the 14th Amendment. Attorneys say no other state has a similar policy.
---
PROSECUTORS READING DEFENDENTS' PRISON EMAILS WITH THEIR LAWYERS
The NY Times' Stephanie Clifford has a story highlighting the emerging problem of federal prosecutors reading emails between federal prisoners and their lawyers, and using the correspondence to their advantage. Defense lawyers argue that the emails are the only efficient means of communication with the clients to whom they are trying to provide adequate representation, and should remain under the protection of attorney-client privilege.
Here are some clips:
The extortion case against Thomas DiFiore, a reputed boss in the Bonanno crime family, encompassed thousands of pages of evidence, including surveillance photographs, cellphone and property records, and hundreds of hours of audio recordings.

But even as Mr. DiFiore sat in a jail cell, sending nearly daily emails to his lawyers on his case and his deteriorating health, federal prosecutors in Brooklyn sought to add another layer of evidence: those very emails. The prosecutors informed Mr. DiFiore last month that they would be reading the emails sent to his lawyers from jail, potentially using his own words against him.

Jailhouse conversations have been many a defendant's downfall through incriminating words spoken to inmates or visitors, or in phone calls to friends or relatives. Inmates' calls to or from lawyers, however, are generally exempt from such monitoring. But across the country, federal prosecutors have begun reading prisoners' emails to lawyers — a practice wholly embraced in Brooklyn, where prosecutors have said they intend to read such emails in almost every case.

The issue has spurred court battles over whether inmates have a right to confidential email communications with their lawyers — a question on which federal judges have been divided.

[SNIP]

All defendants using the federal prison email system, Trulincs, have to read and accept a notice that communications are monitored, prosecutors in Brooklyn pointed out. Prosecutors once had a "filter team" to set aside defendants' emails to and from lawyers, but budget cuts no longer allow for that, they said.

While prosecutors say there are other ways for defense lawyers to communicate with clients, defense lawyers say those are absurdly inefficient.

A scheduled visit to see Syed Imran Ahmed, a surgeon accused of Medicare fraud who is being held at the Metropolitan Detention Center in Sunset Park, Brooklyn, took lawyers five hours, according to court documents filed by one of Dr. Ahmed's lawyers, Morris J. Fodeman. The trip included travel time from Manhattan and waiting for jail personnel to retrieve Dr. Ahmed.

Getting confidential postal mail to inmates takes up to two weeks, Mr. Fodeman wrote. The detention center, like all federal jails, is supposed to allow inmates or lawyers to arrange unmonitored phone calls. But a paralegal spent four days and left eight messages requesting such a call and got nowhere, Mr. Fodeman wrote.