THE LOS ANGELES SHERIFF'S DEPARTMENT AND SEX TRAFFICKED KIDS
A few days ago, I spoke with Los Angeles County Sheriff Jim McDonnell about, among other topics, the many challenges involved in running—and reforming—the huge and uniquely complicated agency that is the department under his care.
At some point in the conversation, I changed the subject slightly and asked McDonnell about the recent emphasis that he has put on the issue of sex trafficked children.
If you'll remember, we reported two weeks ago on McDonnell's announcement that he had appointed a regional task force to "seek to dismantle the criminal enterprises" and "bring to justice traffickers." He said that the task force would also go after "individuals who create the demand that sustains these crimes"—–in other words, the johns who buy sex from children but who, in the past, have been charged with the equivalent of a minor traffic ticket. But no more. "They're pedophiles. They're child molesters," he said to the press.
At the same time, McDonnell instructed the troops to treat the girls (or boys) being sold for sex by the traffickers, as the victims they are—a change in viewpoint that the sheriff said was still a complicated work in progress.
I brought up the topic, in part, because some have questioned the sheriff's focus on this particular issue, when there are so many areas of LA County's still-troubled department that call loudly for attention. Yet McDonnell seemed clear about the crucial nature of the trafficking problem.
"I believe we can create a national model," he told me. And he also believes, he said, that such a model can make a difference to the increasing number of children who are being sold for sex in LA County, and nationwide.
We at WitnessLA agree that the matter of sex trafficking of kids is an issue that demands our attention—now, not later.
We have several comprehensive stories in the works on this and related topics. In the meantime, here's a mini-story to act as a reminder why it's important to keep the topic of child sex-trafficking victims front and center.
---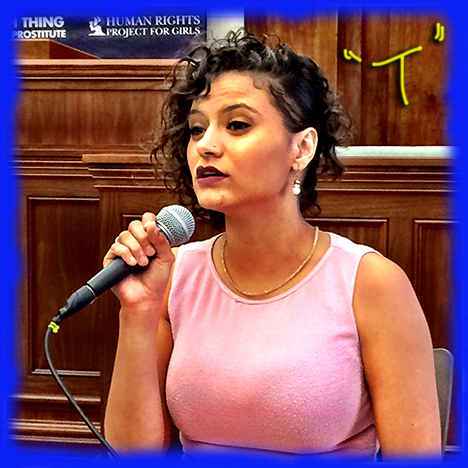 BRANDED CHILDREN
Ruby,* who is 21 years old, is a survivor of child sex trafficking. She was sold to men for sex from the time she was twelve years old until she managed to get away at 17. Most girls who are sex trafficked are "branded" by their pimps, Ruby told me when we talked. This means, she said, they are forced to wear a tattoo, or some equivalent sign that marks them as the property of the man who sells them. In Ruby's case, her pimp's brand of choice was "The Shark," words that used to run in dark script on the side of her neck, from her hairline down toward her chin.
Ruby had this mark of ownership removed at at a non-profit that works with at risk young men and women. But simply getting rid of the ink wasn't enough since, even the best tattoo removal leaves small dark shadows on the skin. So Ruby had a long-stemmed rose drawn over the area where the self-named Shark once put his stamp.
Ruby's friend, Bella*, who is now 22, was first sex-trafficked when she was 11-years old. Bella still seemed very fragile as she told me about her experiences, her voice soft and unsure. She said she was ordered to get a tattoo after three months with the man who sold her for sex. "You had to get the brand after three months or else he'd make you," she said. Fearful of his volcanic anger, she just did as she was told. In Bella's case the mark was even less personal than what Ruby was forced to wear on her skin. Bella's brand, which is still on her forearm, reads READY TELLER.
Ruby has a part-time job working for a non-profit, and hopes she can get Bella in there too. The young women need work so they can support themselves, of course, but more than anything, said Ruby, they need to work to help redefine themselves. It's something she grapples with every day, she said, not to go back to the feeling that darkened her psyche for so many years, which was the belief that she was worth nothing.
** Ruby and Bella's names and distinguishing details have been changed for their protection
---
VICTIMS/SURVIORS/LEADERS
I met Ruby and Bella late last month at a press conference that kicked off a campaign called No Such Thing as a Child Prostitute, which aims to change the way we think and talk about child victims of sex trafficking. During the 3-hour event, sponsored by the Human Rights Project for Girls (Rights4Girls), and by the California Endowment, Sheriff McDonnell spoke with force on the topic, as did LA County supervisors Sheila Kuehl, Don Knabe, and Mark Ridley-Thomas, plus Cal Endowment president, Dr. Robert Ross. But the day's most affecting speakers were a group of women who were once victims of sex trafficking, but now have now become advocates and leaders, helping girls like themselves find ways to cope, heal and, eventually, thrive.
Charity Chandler-Cole, who is now on the board of the Anti-Recidivism Coalition, said she first became aware of the issue of children being sold for sex when she was a kid locked up in LA County's main juvenile hall because she had herself stolen a pack of underwear. (No comment on the wisdom of locking up a kid for stealing underwear.) In the hall, as it is known, she met girls—ranging in age from 11-years old to 17—who had been arrested as prostitutes. "But the very people who violated them—their Johns—were out there leading their lives, unpunished."
Later, when Charity was placed in a foster care group home, she said she saw "girls being released to their pimps at night as long as they came back at a certain hour." After a time, Charity too was sexually exploited by those who were supposed to protect her. Eventually, she ran away from placement—-and was arrested for running away. In other words, it was she, not her exploiters, who was punished.
Jessica Midkiff another survivor/advocate remembered how she rationalized what was happening her during the days when, as a young teenager, she was being sold for sex. "I thought—a lot of us thought—that we were put on earth to please men. That's what we told ourselves. We felt as though we had no future. We just tried to survive the next exploiter—survive the next rapist."
Jessica also explained why it is so essential that we change the way we talk about trafficked children. "The word prostitution needs to be removed from our vocabulary," she said. "People still call me a prostitute. Even some people in my family. They tell me, "Nobody's ever going to love you, you're never going to get married, because of what you used to do.'"
After Jessica finished, Charity told another story. "My little sister was fifteen years old when she got pregnant from one of her rapists," she said. Since her sister was far too young to be a mother, Charity took in her nephew, who is now 9-years old, and has been raising him since. "Last night he was crying because he got in trouble at school for something." Charity said. "So I asked him why he was crying. He said, 'Because I'm in pain.'" Charity asked him why he was in such pain, since the boy hadn't received any severe punishment, either in school or at home. "He said, 'Because my dad's a rapist and it's in my blood to be bad.'"
Charity was stunned. She had never told her nephew any such thing about the man who fathered him. But evidently his young mother had. "So these men aren't just raping children," Charity told the crowd, as she too began to tear up. "The damage doesn't always stop there." It can ricochet and become generational.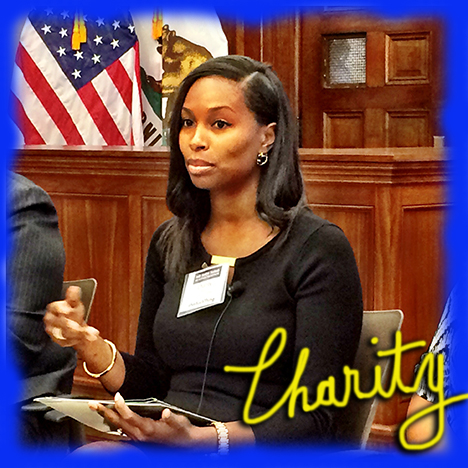 There were more stories after that, including a speech by Withelma "T" Ortiz Walker Pettigrew, another survivor/advocate, now a college student who, because of the dynamic nature of her advocacy and leadership, was named one of Time Magazine's 100 most influential people last year—among other recent honors.
A child of drug addicts, "T" also said she was raised in LA County's foster care system, where she was moved from family to family, with no real stability. "So at the age of 10 when I met a man who said he would take care of me and love me," T said, "I went with him." For the next seven years, her "protector" did not protect T at all. He sold her—over and over and over. "He sold me on the streets, on Craig's list, in massage parlors, in strip clubs." When she didn't meet his quota, he beat her. "But my story is very similar to many stories I've heard all over the country…." Her mission now is to help all those girls like her gather the courage and the hope necessary to get out and become whole.
---

THE ROAD AHEAD
So what to do?
The road ahead isn't an easy one, admitted Michelle Guymon, the director of LA County Probation's Child Trafficking Unit, and a woman who obviously cares a great deal about doing right by the county's child victims.
"We're trying to work away from a protocol that begins with arresting these girls."
Guymon's unit is part of a "new protocol" that is being developed, which involves a series of wrap-around services to help young victims, which are triggered from the minute the kid comes in contact with law enforcement, and begin rolling out to surround the girl or boy with help, attention and next-step solutions, ideally, in the first hour.
"Prior to the new protocol," Guymon said, "in the pilot areas of Compton and Long Beach, there were 94 arrests" of sex trafficked kids." Yet, in the year and three months since the protocol has been put into place in those some two areas, "there have been two arrests."
But, while the all-hands-on-deck approach appears promising, creating a comprehensive and effective system of intervention—rather than arrest—that can function on a countywide scale, requires resources that presently don't exist.
Still, there is progress. And it must be built upon, say advocates.
So why should we be cheering the LASD's leadership for their involvement in this difficult issue —when the department has many other critical issues that also require the sheriff's attention?
Simple. Because the matter of sex trafficking affects thousands of California children who are being raped in our cities and counties every single day. And they can't wait.