On Monday, April 16, a Detention Services Officer was escorting a young probationer to the infirmary at Los Padrinos Juvenile Hall in Downey. At some point along the way, the kid allegedly assaulted and choked the officer, who is now on leave.
On Thursday, April 5, there was reportedly an assault by another young probationer, this one on Unit KL at Central Juvenile Hall. In both cases, the officers received medical treatment.
These incidents are part of a striking increase in assaults on officers inside LA County's  juvenile halls by kids in the county's custody. Data provided by the LA County Probation Department shows that in 2015, there were 98 juvenile assaults on officers and staff in the halls. In 2016, that number nearly doubled to 182 assaults. In 2017, it shot up again to 314.
The department wasn't able to provide specifics about dates, locations, nature or severity of assaults, as it doesn't track that data, a department spokesperson said.
It appears that this spate of attacks is mostly taking place in the halls, and not in the longer term juvenile probation camps. LA County's juvenile halls are short term facilities, akin to jails for adults, and also the place where kids facing serious charges wait for their cases to be settled.
"It's not every day," a DSO who works at Central Juvenile Hall told us. But "the severity has increased," said the officer, who asked that he not be named. "Before, it was mostly just pushing and now it's more violent."
With the end of six years of federal oversight of LA County's juvenile probation camps in 2015, the county's recently approved massive youth diversion plan, and the much-lauded opening of Campus Kilpatrick last summer, it seemed as if things were on the right track.
Yet, a 500-page assessment of the LA Probation Department released on February 13, 2018, commissioned by the county, and conducted by Oakland-based Resource Development Associates (RDA), reported that "Department staff and youth described the juvenile halls as unsafe environments for everyone inside them."
Then came recent reports of a spike in the use of pepper spray, and now this.
So what's going on?
---
What's behind the rise in assaults?
Luis Dominguez, acting Deputy Director of the Detention Services Bureau—meaning he oversees the county's juvenile halls—said it would be premature to speculate on the reason for the spike in assaults before conducting a thorough analysis. "What is evident, based on the numbers that we pulled [for WitnessLA's inquiry] is that the number of assaults have increased significantly over the last three years," he said.
In general, youth assaults on officers are rare, said Sue Burrell, Policy Director at the Pacific Juvenile Defender Center, a nonprofit that provides support to juvenile trial lawyers, and other juvenile attorneys, to "ensure quality representation for children throughout California."
"It's very common to have fights between youth in facilities because it's a completely unnatural situation and people are stressed," she said. But "attacks on staff are usually when there's a generalized crisis in a facility and the youth are very frustrated."
The various groups who work in and around juvenile probation each point to different theories behind this "generalized crisis," which only partially overlap.
One factor frequently mentioned in connection with the increase in assaults has to do with plunging morale among the officers. This is due in part to the frequent turnover in department leadership, said Deborah Lares, president of the Professional Managers Association, AFSCME 1967, a.k.a. the supervisors' union Los Angeles County has had at least five Chief Probation Officers over the past 10 years, which "has been really hard on us," she said.
(Chief Terri McDonald took over the large and complicated agency on January 1, 2017, after former probation chief, Jerry Powers, retired under a cloud.)
"Chiefs come in with their own philosophies and protocols," said Lares, "and we're jumping from one style to another." The result, she said, is a level of chaos and confusion regarding what is considered an acceptable response from an officer in the event of an assault.
In the RDA report, the study's authors noted that "morale is particularly low among line staff in the juvenile institutions"–in other words, the camps and the halls. "Though there are some variations between facilities," the authors wrote, "most institution line staff interviewed do not believe that the Department cares about their well-being or safety; instead they feel expendable and 'just a number.'"
Another factor mentioned by several officers we spoke with, and also by a representative from SEIU 721 at the January 31 meeting of the Probation Department's Safety Commission, was the "need for experience and maturity in the halls." The union rep said he was "concerned that newest and youngest employees are being thrown into hardest environment," meaning the juvenile halls.
Luis Dominguez said that bringing the newest employees to work in the halls is not a recent development. "The majority of staff come in through our juvenile halls," he said. "That's where our promotional ladders are."
But the question is whether these new DSOs are being properly trained in how to diffuse and deescalate difficult situations with kids who are often dealing with severe trauma and other challenges.
At a recent Probation Commission meeting, attorney Maureen Pacheco, with the Los Angeles Alternate Public Defender's office, told Mitchell and Dominguez that she thought the officers at the "compound" at Barry J. Nidorf Juvenile Hall in Sylmar, where she had clients, needed "particular" attention when it came to training. The compound is the facility's highest security unit, and houses kids fighting serious cases. Pacheco said she and her colleagues were "seeing a profound increase in the number of incidents, assaults, and fights" in the unit.
Her paralegal, she said, was on the phone with one of her clients "who was attacked by another youth while he was in a staff office" making the phone call. Pacheco said she talked to one of the hall's supervisors about the problem, who told her that the officers working in the compound were "very, very inexperienced."
Pacheco also said she had noticed that the compound kids, some of whom had been at the hall for two to three years, were not receiving much in the way of programing.
"I don't know what's going on," she said, "but I think this needs some attention."
Burrell confirmed that the situation Pacheco described can be a recipe for disaster. "If kids are spending a huge amount of time in their rooms because of understaffing and underprogramming," frustrations tend to boil over and end in violence, she said.
---
Turnover and understaffing
Several sources told WitnessLA that the assault crisis is due in part to understaffing and high staff turnover.* These sources said that many shifts in the halls end up being understaffed, in part, because officers are leaving faster than they can be replaced. A significant percentage of officers are also out with an injury, we were told. Some of those injuries, according to one retired supervisor from Central, are exaggerated. Due to the low morale, he said, "People just say 'screw it,' and stay home."
The result, sources say, is that people fresh out of training are being assigned to more challenging units where experienced officers have traditionally been assigned.
"Right now [new officers] are being thrown to the wolves, and then they quit because they're not ready for it," one Central officer said. "I've talked to many people who decided to look for employment elsewhere, because they say this isn't what I was told to expect. They're just completely blown away that this is the type of environment they're going into."
The authors of the RDA report heard from officers that "inconsistent staffing levels [were] due to a high number of staff under investigation, staff that are injured, or staff that call out sick. Both the Department's line staff and leadership acknowledged in interviews that newer staff in the halls feel underprepared to face day-to-day challenges."
Asked whether these factors have contributed to a greater number of inexperienced staff in the halls at this time, Dominguez offered a different explanation. "The change is probably, given [the AB 109] legislation and some of the [subsequent] programs out there within our department, that there's been more promotional opportunities for our staff so they may be promoting at a quicker pace," he said. "And as we're running new academies, [new graduates] are back-filling those vacancies."
Regarding the high rate of officer injury, Dominguez acknowledged that there is "a significant number of work-related injuries right now," but said he will have to complete an analysis of the situation before he can offer a theory as to why this might be.  
The net effect, deputies say, is that inexperienced officers can find themselves dealing with kids they haven't been sufficiently trained to handle.
For instance, staff trained for the position of Group Supervisor, Nights (GSN) work the10pm-6am shift, when kids are in their rooms and activity on the units is generally calmer. But officers told us that due to understaffing, GSN staff are often "held over," required to work consecutive shifts the following day so that there are enough officers on the unit.
"This works fine when it's done once in a while," Lares said, "but it's my understanding that it's happening on a regular basis."
Other current and former DSOs we spoke with described a similar pattern.
And that's when things can easily go south, they said.
When the GSN staff work the more active and demanding day shift, things can get dangerous if they have not been adequately trained for it, or if they are sleep deprived, because "your decision-making process might be inhibited and reaction time slowed," explained one officer.
---
Losing Control
John Tuchek, 1st Vice President of the Association of Probation Supervisors of Los Angeles County, SEIU 721, pointed to current disciplinary policies, as another possible factor in the "generalized crisis."
"Staff are scared to act" for fear they will be terminated, Tuchek said. "The attitude right now is, 'I am not going to intervene in any incident, because I don't want to lose my job.' And the kids understand this. They're not dumb."
The reported lack of proactive supervision can allow a minor incident to escalate. "If you don't set limitations for kids, you lose control," Tuchek said. "We know that from raising our own kids. And if you let kids run amok, they don't feel safe. And if the kids don't feel safe, the staff don't feel safe."
Dave Mitchell is Deputy Director of Juvenile Institutions, meaning he oversees the county's juvenile probation camps. In response to the point that officers are "scared to act" during an assault in defense of themselves or their colleagues, Mitchell said, "There's this perception that they'll be in trouble if they get involved and we're dispelling that perception. You would be in more trouble if you didn't get involved and you allowed someone to get hurt as a result of not getting involved…Follow the policy, get involved. Even the utilization of [pepper] spray, if it's done appropriately, then you're within policy. You're not going to get in trouble."
Or, as another higher-up in the department put it, "If you assault a kid," or you "lie about seeing someone else assaulting a kid," you don't belong in this department.
But many staff members are still fearful.
---
Kids with needs
Another frequently cited element in the rise in officer assaults is the changing population of youth in the halls. In both LA County's juvenile halls and camps, the number of kids in residence has fallen dramatically as juvenile crime has continued to drop, and reforms have diverted kids with nonviolent offenses to community programs rather than the juvenile lockups they would have been sent to in years past.
At the same time, according to data provided by the Los Angeles County Department of Mental Health, the average daily number of open mental health cases has jumped significantly since 2016.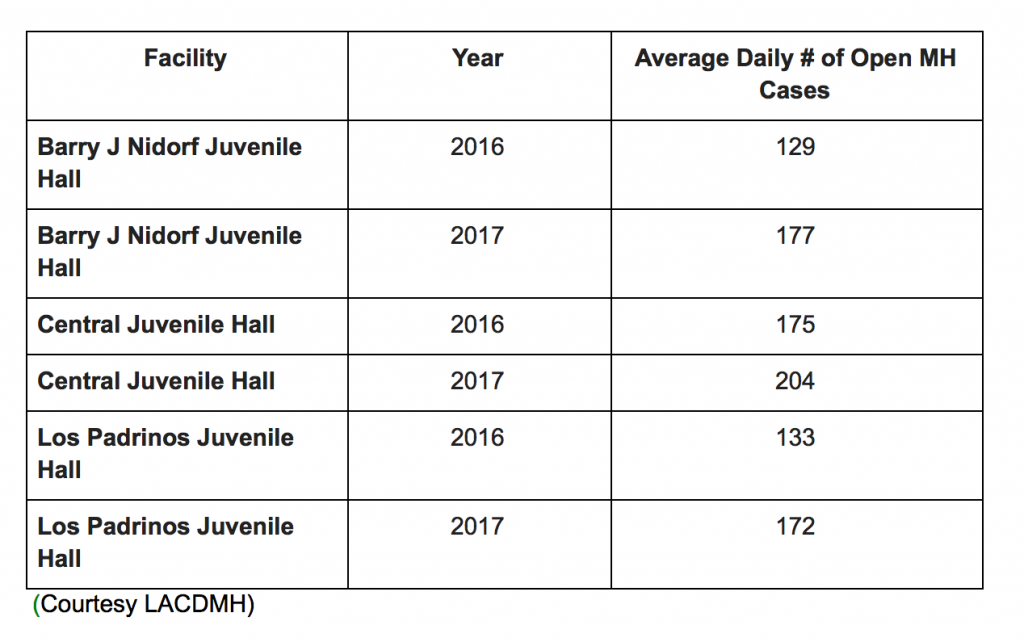 "Populations in the halls are low, which is good," explained Lares. The problem is that, by default, many of the youth who now wind up in the juvenile halls are more "serious offenders with serious mental issues." At the very least, some of these kids need the support of officers with more resources and training than an inexperienced and/or sleep-deprived officer might possess.
Sue Burrell pointed out that juvenile halls are being used as de facto mental health treatment facilities, which does a disservice both to the kids who need intensive, professional treatment and to the officers expected to handle these kids despite having no mental health background. "Juvenile hall isn't a treatment facility," she said. "I do feel for those staff, because they aren't trained to deal with high level mental health disorders. I feel like they're doing the best they can, but those children shouldn't be in juvenile hall."
One officer told WitnessLA that officers receive "barebones minimum health training," an issue that was also mentioned in the RDA report.
A lot of these kids can be violent, the officer said. Some of the most volatile kids are housed in what is known as an Enhanced Supervision Unit, where kids who may need more supervision are placed. "But even then, it's rough. Sometimes you feel like you're trying to drain the ocean with a teaspoon."  
At the same time, officers in the halls complain that, in general, they have a shrinking set of tools with which to respond to kids who act out.
---
Hope and solitary
One officer who spoke to WitnessLA, but asked that his name not be used, believed the rise in assaults on officers began in May 2016, when the Board of Supervisors voted to prohibit the use of solitary confinement for kids in county facilities, except in circumstances when the safety of the youth or staff was involved, and then only for strictly limited periods.
The special housing units (SHUs) in LA County juvenile halls were replaced with "Hope Centers." The idea was that by creating a non-punitive environment that includes soothing colors and comfortable furniture, in combination with "behavioral incentive programs," and the like, an upset kid would have a place to calm down safely without experiencing the well-documented adverse effects of lengthy confinement in a cell.
(California instituted similar limitations throughout the state in September 2016, and the law went into effect on January 1 of this year.)
The ban on solitary was to roll out over five months. But at three facilities, Central Juvenile Hall among them, it was reportedly instituted within just a few weeks of the board of supervisors vote, with very little in the way of preparation for the staff.
"It's our goal as a department, when we take a perceived tool away from them is to give them skills and training to replace that tool," Dave Mitchell said. "We really need to give our staff the requisite tools to deal with this type of kid [who previously would have been put in the SHU]."
So what is on the horizon for the officers at the county's three juvenile halls to replace the tools they feel have been taken away?
---
Tools and Training
According to John Tuchek, one possible intervention to stem the violence is to bring more radios into the facilities.
"Radios are a major factor for safety," he said. "If we had radios maybe then we could call for help and prevent assaults on staff, and prevent kids from getting hurt."
But at the moment, Tuchek said, there aren't enough to go around, so officers are at times unable to communicate if they're in need of help.
Other ideas discussed at the January 31 Safety Committee meeting were to "reach out to minor's family to inform them when behavior is poor," and to create localized committees devoted to safety at each facility.
According to Dave Mitchell, the committees would be led by superintendents at each facility and would be made up of line staff, teachers, nurses, and therapists. The idea, said Mitchell, would be to engage hall staff in finding ways to create safer environments at each facility.  
Multiple new committees didn't impress some of the officers, however. "We've been committee'd to death," one officer told WitnessLA.
"To improve this situation, we need enough staff on duty to be able to supervise properly," said Deborah Lares. "We need people with backgrounds in law enforcement, probation, public safety, and mental health–we need resources to do the right training in the right way."
The conclusion that additional training is needed seemed fairly universal, particularly in the case of the new recruits who wind up working in the halls as their first stop after graduating from the training academy.
"Staff reported they felt unprepared to deal with conflicts and other challenges they face during their workday," according to the RDA study, "and some expressed frustration they are no longer allowed to use certain disciplinary techniques to manage conflict." In recent years, they wrote, regulation changes have required juvenile halls to reduce the use of pepper spray for controlling violent conflicts and also to end the use of the secure housing unit (SHU). "While these changes were designed to increase safety for the youth in detention, without these disciplinary tools some staff feel more at-risk because of insufficient training to support the transition."
Eventually, the "LA Model"–the governing theory behind the probation department's model facility, Campus Kilpatrick–is supposed to be instituted in all the county's juvenile facilities. The goal is to shift what will be a reduced group of six camps and the three halls into therapeutic, research-guided, "trauma-informed" environments that help and heal, not punish, kids in county lock-up.
At Campus Kilpatrick there have been zero assaults on staff and reportedly only ten uses of force by staff.
Despite that, the only LA Model-related training scheduled for the county's juvenile halls so far is an eight-hour, one day workshop for officers on trauma-informed care.
The LA Model is comprehensive. It includes training in Dialectical Behavior Therapy (DBT), for example, which has been demonstrated to help incarcerated young people better understand, reframe, and redirect their emotions and impulses. DBT also appears to successfully address staff burnout, which is common in both adult and youth lockups.
Another training component comes from the famed "Missouri Model," which pioneered the use of rehabilitative and therapeutic methods in youth facilities, rather than the traditional "correctional" methods.   
And according to Mitchell, after officers at Camp Glenn Rocky in San Dimas were trained per the LA Model in December and January, the staff saw a difference right away. "Their use of the Hope Center has diminished completely," he said.
But  the average stay in the halls is so much shorter than in the camps, Luis Dominguez explained, that the department isn't sure if the current, camp-based LA Model will translate to the halls. So for now, the trauma class is the only rehabilitation-oriented training on deck.
"The trauma class is just one small piece of the overall training picture we have to incorporate in the halls," Dominguez acknowledged. "It won't solve all of our challenges."
That overall training [for the halls] is not yet designed. In designing it, the officers' needs should be as much of a priority as the kids', said Sue Burrell.  
"Whatever model or intervention the department settles on, that focus on mental health should extend to staff, as well." she said. "There's so much focus now on trauma-informed care, and when you have a trauma informed-system, staff are a part of that. You take care of staff, and realize that they are scared sometimes or don't know what to do, and you make sure they have a place to go."
Burrell described a model she's familiar with in which officers have a debriefing session and a meeting with a mental health counselor any time they've "done something they didn't want to have to do," like restrain a kid or act in self-defense.
It's crucial, according to Burrell, to allow officers to feel that describing their experience won't jeopardize their positions.
"We expect so much of these people," Burrell said. "And it is really a hard job."
Despite their frustration, most officers WitnessLA spoke to for this piece went out of their way to say they were drawn to this work because they wanted to help kids. "You don't come here for the money, you really don't," Tuchek said. "You come here because you want to work with kids."
But officers interviewed for the RDA report said that, in the halls, "there were inadequate opportunities for positive, rehabilitative engagement with youth."
One retired officer recalled a phrase he picked up from a former co-worker who "was tough on the outside but had a real soft spot for the kids." While the kids were eating in the dining hall, the officer said, he would tell them, "You may not like us or what we do, but we love you."
---
*Data provided to WitnessLA from the Probation Department did not bear out either theory about the cause of increased turnover in hall staff—in fact, the data don't demonstrate an increase in staff turnover over the past few years at all, neither in terms of discharges nor promotions. The exception was an unusually high 20 discharges from Barry J. Nidorf Juvenile Hall in 2017.
---
Top photo of entrance to Central Juvenile Hall/WLA